I'm excited to share this post of drawing ideas for kids with you. It took forever to put together, but I'm hoping it will be a great resource for people looking for cool drawing ideas!
Drawing Ideas for Kids
It's fairly obvious that kids like to draw, but sometimes plopping a stack of blank paper and some markers in front of them doesn't cut it.
That blank white paper can be enough to shut your imagination down completely. Luckily, I'll be acting as your drawing ideas for kids' superhero today.
Behold the epic list of 100 kids drawing ideas and you can thank me profusely in the comments. Or just pin or bookmark this post to come back to later…
Looking for some more low-key sketchbook ideas? I got you covered for those, too.
---
Why I'm Obsessed With Kid's Drawing Ideas
Drawing is the backbone of art-making. Really. And I know there are plenty of people in art-related fields who don't draw. But let's see how many ways I can beat this point to death:
Practicing drawing helps train the eye to see what is really there and not what you presume to be there.
Drawing helps train the hand to be comfortable with using, um, drawing utensils.
Drawing is easy to start and stop- it can be done anywhere, at any time. You don't need a big space or fancy setup to draw; you just need to be willing to do it.
Making quick drawings is an excellent way to warm up your brain and hands for any type of art-making. Or anything, really. Make a few doodles before a test, before bedtime, during dinner…. tap into the subconscious creative brain pockets. (I'm not a doctor, but I'm sure that's the medical term.)
Establishing a drawing practice when you're a child can lay the foundation for a lifelong drawing habit. Here are some health benefits of drawing.
Since I'm tired of coming up with benefits of drawing for kids, and since you probably are already a fan of drawing, or you wouldn't have clicked through to read this post, I will now delight you with 100 tantalizing drawing ideas for children to try.
P.S. I'm not focusing solely on traditional drawing here- we've got a little bit of everything, from drawing from observation to doodling on photos.
Drawing for Kids
I have the projects loosely based on age group, but feel free to try the drawings with any age kid – you can modify them according to their interest and ability. Click on an image to see more or scroll below each gallery to read a short synopsis and you can click through from there.
Easy Drawing Ideas For Very Young Kids (0-5ish)
1. Mess-Free Paint Drawing 2. Drawing From Life 3. Draw With Blocks 4. Preschool Sharpie Shoes 5. Draw on Maps 6. Mixed Media for Preschoolers 7. Mixed up Hand Turkeys 8. Toilet Roll Scribblers 9. DIY Edible Finger Paint
10. Drawing With Paint 11. Foil Scribbling 12. Box Drawing 13. Helmet Drawing! 14. Scribbly Stenciled Hearts
Easy Drawing Ideas for Young Elementary Kids
15. Crayon Transfer Drawing 16. Drawing With Yarn 17. Falling Back Portraits 18. Surprise Folded Creatures 19. Draw While Listening to Book 20. Crops Perspective Drawing 21. Cave Drawings 22. Popsicle Stick Tracing 23. Household Object Drawing
15. Crayon transfer drawing is such a cool twist to using a classic drawing medium.
16. Drawing with yarn! Yep, true story. This project is inspired by Harold and the Purple Crayon.
17. This is a really cool way to introduce perspective to younger elementary kids! Falling Back in Space Portraits.
18. A hilarious way to make drawing fun for any kid – surprise folded drawing creatures.
19. This is more of a general idea, but it's cool to see what pops into kids' minds to draw when they're listening to a book.
20. Rows of crops are a great idea for a perspective drawing project.
21. Hellooooo, cave drawing!
22. We love easy overlapping tracing projects like this popsicle stick art.
23. Household objects prompt some great drawing ideas.
24. Chalk Pastel Monsters 25. Double Doodling 26. Skyscraper Drawings 27. Bird and Word Drawings 28. Hand Shadow Monsters 29. Van Gogh Sunflowers 30. Finish the Leaf Drawings 31. Tips for Self Portrait Drawings 32. Mirror Symmetry Drawing
24. Fun, bright chalk pastel monsters!
25. Double doodling is a totally cool way to really focus on what you are drawing in a fun way.
26. Skyscraper drawings. There isn't much here in the way of instruction, so here's my guess: Draw the buildings and watercolor paint them in. Mount on black paper and draw the background with pastels. What do you think?
27. I love this project so much. SO MUCH. Drawing words over a bird drawing based on a poem. Sweet.
28. These hand shadow monster drawings are just loads of fun times.
29. Every kid needs to try their hand at Van Gogh's sunflower drawings.
30. This finish the leaf drawing idea is a great observational study.
31. This post is really a bunch of tips and best practices for when young kids start to draw portraits.
32. Mirror symmetry drawing is a great drawing game and fun practice.
33. DIY Temporary Tattoos 34. Road Trip Drawing 35. Elephant Drawing 36. Mixed Media Drawing 37. Grid Line Drawing 38. Monkey Portraits 39. DIY Dry Erase Book
33. What kid wouldn't want to join in when the end result is a page of temporary tattoos drawn by them?
34. Road trip drawing prompts are an amazing way to get kids drawing instead of staring at the iPad in the car.
35. This just looks like a good elephant drawing and painting fun.
36. Magazine pictures make great drawing starters for elementary kids.
37. Gridline drawings that you can color in or leave plain.
38. Monkey portraits are such a great way to round out learning about primates.
39. DIY dry erase-book. I love this idea for a no-stress drawing session.
Cool Drawing Ideas for Older Elementary Kids
40. Draw Water Droplets 41. Contour Line Shoes 42. Cool and Warm Hands 43. Observational Drawing 44. Thumbprint Self Portrait 45. Character Tracing 46. Sharpie Shoes 47. Picasso Self Portrait 48. Doodle Cubes
40. A cool study in drawing water droplets.
41. Contour line shoe drawings – these are given an added twist when the mini stick figure people come in!
42. I like the combo of color study and line drawing in these cool and warm hand drawings.
43. Kids can ease into drawing the human form with these cool little wooden figures.
44. Thumbprint self-portraits use the lines of your thumbprint to write about yourself. I love those drawing/writing art projects.
45. We're big fans of tracing. Lots and lots of tracing is a great way to learn composition and warm up the drawing skills.
46. Sharpies and Converse are a match made in heaven for creative kids who want to fancy up their kicks.
47. These Picasso Self Portraits are a pretty cool way to get a cubist look to your drawings.
48. Drawing goes 3-dimensional with these very cool doodle cubes.
49. Drawing on Rolls of Paper 50. Cool Still Life 51. Feather Drawing 52. Abstract Shadow Tracing 53. Pi Math Art 54. Draw 3D Letters 55. Parabolic Curve Drawing 56. Looking Up Cityscapes 57. Speed Drawing
49. This whole post is full of fun ideas for using large rolls of paper, but I particularly love the amazing Circulatory System going on in this one!
50. This is a fun way to liven up a regular still-life drawing.
51. Feather drawing is just an all-around good idea.
52. One of my favorite drawing activities ever is this abstract shadow drawing project.
53. This is the single best math art project there ever was.
54. Because kids like to draw words with cool letters.
55. Okay, this is the second-best math drawing project of all time.
56. Looking up Cityscapes make me a little dizzy, but they're so good.
57. Speed Drawing – what a fun way to sneak in a bunch of drawings.
58. Name Doodles 59. Through the Keyhole Drawings 60. Geometry Trees 61. Grid Drawing 62. Leaf Doodling 63. Micrography
58. Name Doodles. Arting up your name is always a big hit.
59. Through the keyhole drawings. This project was done by Middle School age, but I bet 4th/5th grade would have fun with this.
60. These Geometries couldn't be easier to draw, and the result is awesome. We love easy kid drawing ideas.
61. Grid drawing is such an effective way to facilitate kids really looking at what they are drawing.
62. Leaf doodling, because sometimes there are so many leaves that fall down, and you just need to draw all over them.
63. Micrography is a big name for a snappy drawing project that includes words.
64. Andy Warhol Cans 65. Double Cursive Tangling 66. Alien Perspective Drawing 67. Paul Klee Castles 68. Banners
64. Super fun Andy Warhol drawing projects.
65. Double Cursive tangling so you can see if the kids have been practicing their cursive writing.
66. A friendly alien makes a guest appearance in this perspective drawing project.
67. Exploring Paul Klee and different media with these Paul Klee Castles.
68. Banner drawing practice is fun to do instead of homework.
Cool Drawing Ideas for Teens
69. Cropped Face 70. Drawing Negative Space 71. Erase Your Face 72. Metamorphosis 73. Card Self Portrait 74. Foreshortening
69. I love the idea of honing in on part of a face to draw.
70. Josef Albers would teach his students to draw the negative space they saw inside/between objects.
71. Erasing part of your face seems like a fine drawing for kids' idea. Maybe a little painful.
72. So cool! Metamorphosis art is the best idea ever.
73. I like playing card self-portraits as a nice detail-oriented drawing project.
74. Here's a great example of a foreshortening drawing study.
75. Mandala 76. Draw Lips 77. Easy Tangle Drawing 78. Cross Hatching 79. Blind Contour Drawing 80. Tangle Drawing Portrait 81. Loose Line Landscape 82. Looping Letters 83. Giant Tree Drawing
75. This Mandala project blows me away, and she provides amazing, detailed steps.
76. Let's practice drawing smoochy lips.
77. This easy-tangle drawing idea chases away all anxiety and fears of not being a good artist.
78. I love this drawing project for deeply diving into using crosshatching.
79. Blind contour drawings get really cool with the addition of highlighters.
80. A super fun way to break up the surface of a portrait drawing.
81. This is inspiring as a way to get students to draw landscapes really loosely and almost scribbly.
82. Looping Letters to practice hand lettering. She's got some great lettering tutorials here.
83. This is for inspiration. All teenagers should make a giant drawing at some point.
84. Blackout Poetry 85. Giant Tape Drawings 86. Cool Line Design 87. Rock Mandalas 88. Grid Tangle Drawings 89. Restaurant Sketch 90. Copy the Spider 91. Facial Feature Practice 92. Extended Line Drawings
84. Here's a really cool twist on blackout poetry with the addition of drawings.
85. Maybe not in the grocery store, but I would love to see the big tape drawings a whole gaggle of teenagers comes up with.
86. This is a meditative line design technique that looks like it would be pretty fun to color in.
87. I like the idea of a whole collection of doodled mandala rocks.
88. Tangling in a grid portrait is a great way to practice value.
89. Restaurant sketches could translate into lunchroom sketches for high school students, or maybe dinnertime sketches.
90. Another great way to practice detailed drawing is to copy half of a spider or another, less creepy creature.
91. If you're tired of drawing your own face, you can always cut out some magazine facial features to practice drawing.
92. Here's a nice juicy drawing project to focus on for a while: Extended Linear Line Drawing.
93. Random Circle Doodling 94. Drawing Wood Grain 95. Lined Paper Drawing 96. Portrait- White on Black 97. Marble Drawing 98. Oil Pastel Fruit 99. Small Landscape Series 100. Tessellations
93. This example from a 'Wreck This Journal' book is a fun reminder that doodling circles are a great way to fill up a page.
94. Practice drawing wood grain! Do it!
95. No doubt you've seen this sort of thing before, but it's a good example of making that lined paperwork for you in art.
96. Ahhhh it's so fun the first time you use white pencil or pastel on black paper. Isn't this a great look?
97. Marble drawing for the win.
98. Teens can experiment with oil pastels with a close-up fruit drawing.
99. Explore a series of small landscape drawings as a great sketchbook practice.
100. Another really well-explained drawing project! This one is all about drawing tessellations. So cool.
The teens will also most definitely dig my 50 sketchbook ideas to use as warm-ups or more drawing ideas.
---
More cool drawing ideas here:
Inspired by these drawing ideas? Check out my Drawing Games for Kids post, too. You'll love it!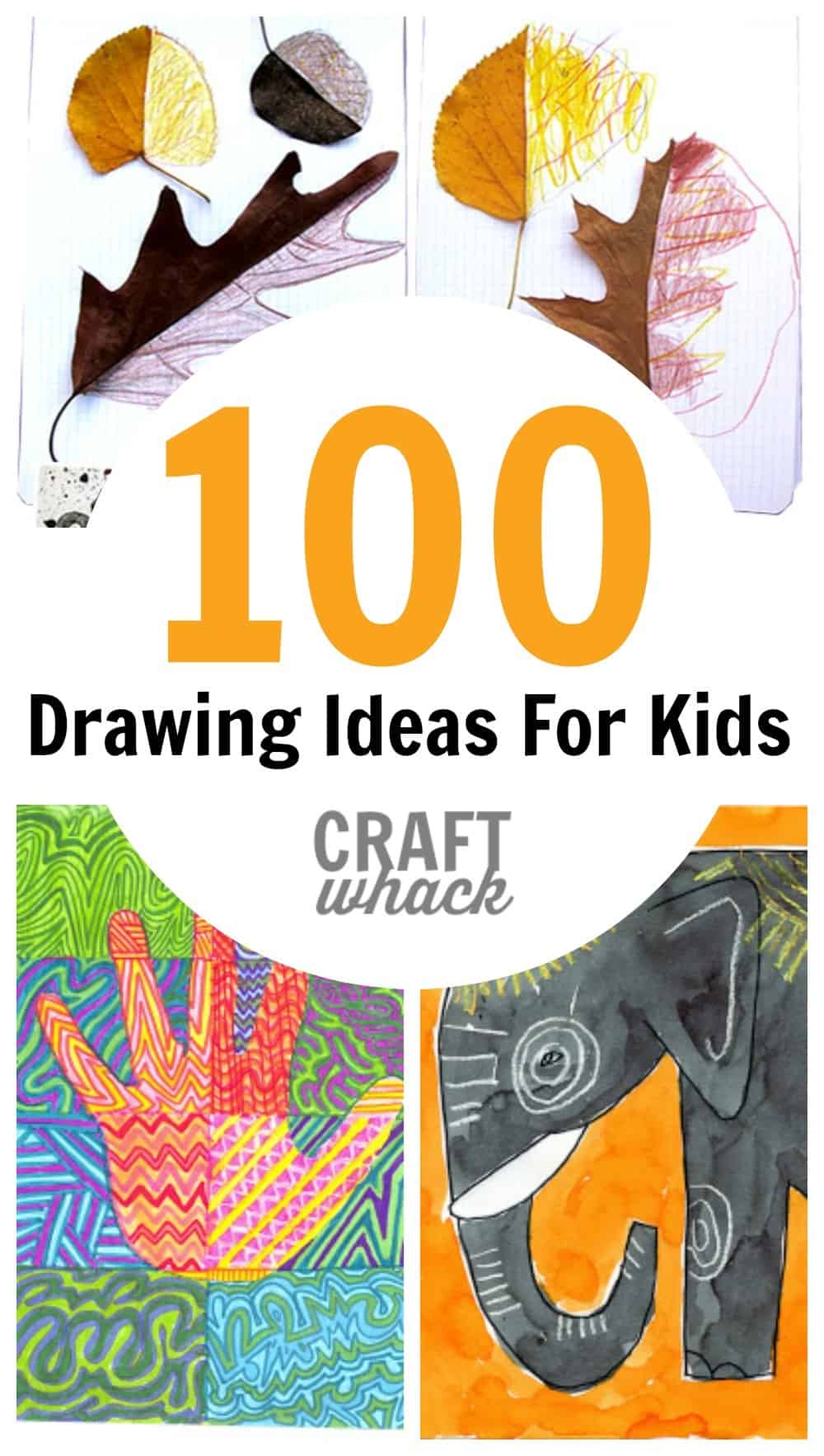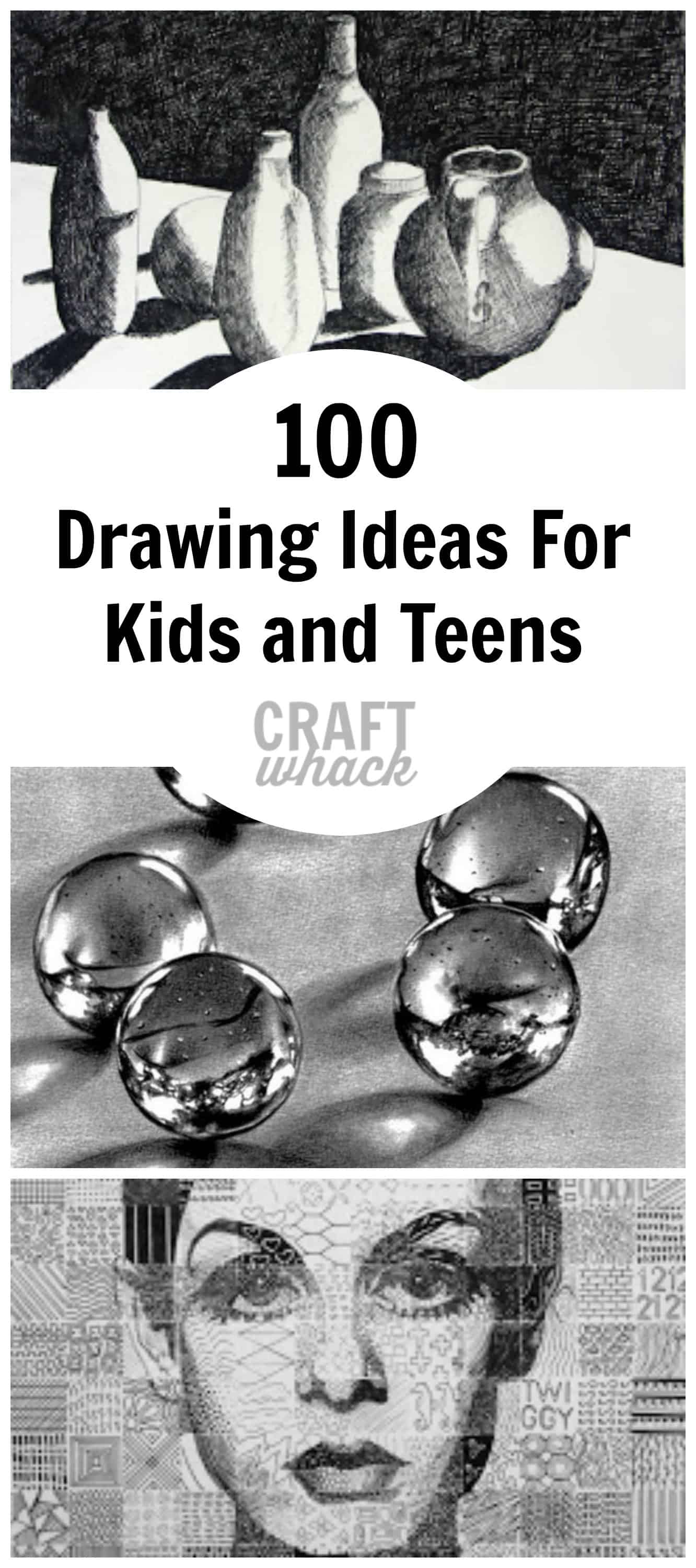 Comments
0 comments