Apparently I'm a little obsessed with the visual mysteries of Ancient Greece lately. As I was researching for The Golden Ratio in Art post, I stumbled upon some images of labyrinths and I haven't been able to stop drawing them since.
Do you want to learn how to draw a labyrinth? I didn't even know I wanted to draw one until I tried it. They are super-easy and fun to draw, but of course can get much more complicated. You can take your drawings and go to town with decorating, coloring, doodling, and generally making them into gorgeous art pieces.
First, some background info. to fill your brains with smartness.
What is a Labyrinth?
Not a maze!
At first glance, a labyrinth looks like a maze, but once you start following it, you realize you're just going down one long, boring path. there aren't any offshoots where you get lost, get to a dead end, and have to back-track.
That long, boring path is actually quite meditative once you figure out you won't need to use your brain to find your way to the end, which is precisely what labyrinths are used for.
Many people use small labyrinth drawings to trace the path with their finger. This can have a relaxing and centering effect, and is one way to practice mindfulness.
Labyrinths actually date back over 4,000 years and can be found in cathedrals, caves, hospitals, schools, you name it. I feel like they're more prevalent than we might think, but not many people know the actual history behind them. In fact, if you do a search for the history, it's hard to pinpoint where/how they came about.
How to Draw Labyrinths
Draw a 3 Circuit Labyrinth
Here's your simplest labyrinth, and here's how to draw it:
Draw a small plus sign on your paper, about a third of the way down the page. (You'll need space above it.)
Draw a dot in each 'corner' if you were to draw a square around the plus sign.
Draw an upside down 'u' shape, connecting the top of the plus with the dot to the right of it.
Moving clockwise, connect the next open dot to the left to the end of the right side of the plus.
Keep drawing lines from the next open spot to the left to the next open spot to the right. See this drawing and my video to make this clear.
Draw a 7 Circuit Labyrinth
Here's where labyrinths start to get more fun. The 7 Circuit labyrinth is more fun to draw, and this is when I decided I would start drawing and coloring in my labyrinths. (See further down for what I did.)
Basically the concept is the same as drawing a simple, 3-circuit labyrinth, but you are adding more circuits. (Duh, thanks, Jeanette.)
Draw the plus sign, as before. Make sure you place it a little further down on the page, because you will be adding more above the plus than below it.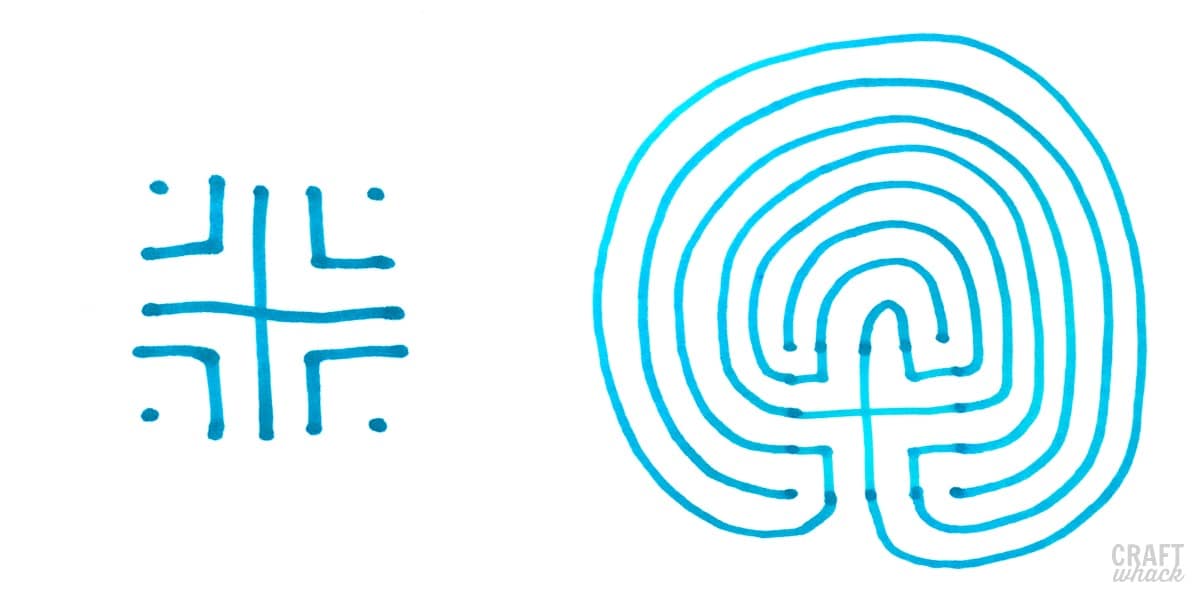 Draw an 11 Circuit Labyrinth
HOLY WHAT!? Let's see if we have enough paper to fit an 11 circuit labyrinth. You need to probably go a little smaller if you're working with regular printer-sized or A4 paper. I always work on white card stock, because I'm the bomb.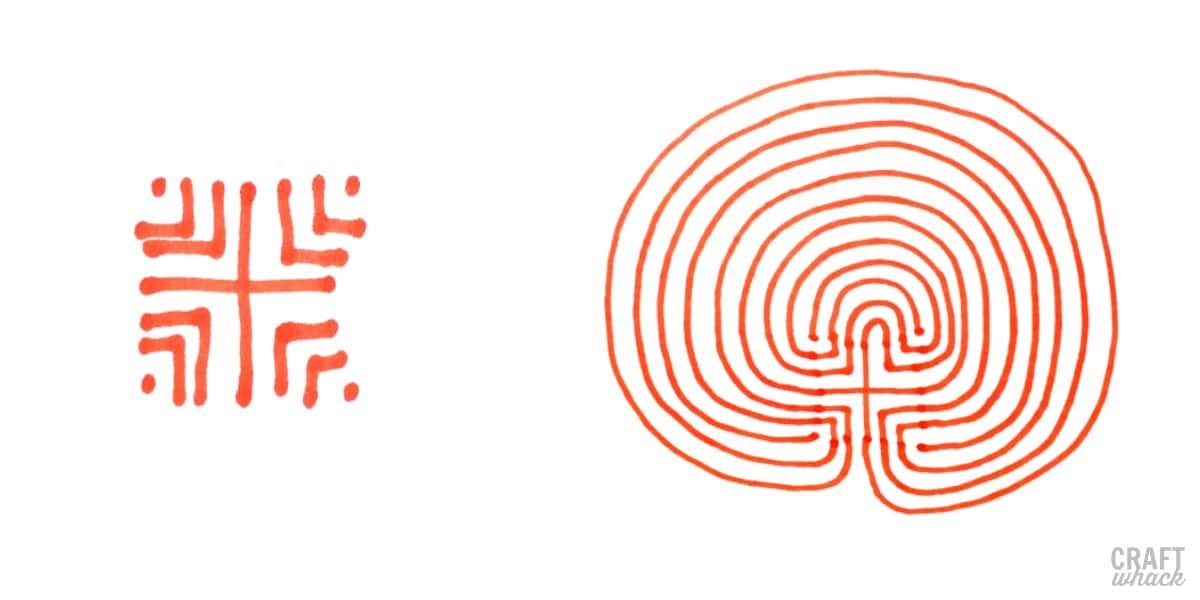 Tip: As you can see by the labyrinths above, you can tell easily where the marker lines start and stop. Try drawing the labyrinth in pencil first, then going over it with marker. It looks much better, and you can curve the corners that the pluses make in the center so the whole labyrinth looks smooth and lovely.
Some people draw labyrinths by alternating the direction the lines go. For instance, they will draw the first line going from the plus sign to the right dot, but then they will draw the second line, still in the same place, but they will draw it from right to left. This confuses me, so I just draw all the lines from left to right.
Don't think I didn't consider pulling out a huge roll of paper to see just how big I could go with the labyrinths. But then I had to make the very important decision to make a giant labyrinth or doodle all over my current labyrinths…
Labyrinth As Art Project
Since you now know how to draw labyrinths (isn't it fun!?!?) you can take this knowledge a step further and color and doodle your labyrinths. I didn't start this post out intending to get all arty with my labyrinths, but they definitely lend themselves to artistic exploration, so I grabbed my markers and had some fun.
Why did I cut them out? No idea. They just looked lonely on the big pieces of paper and I decided they would look much better as little rounds.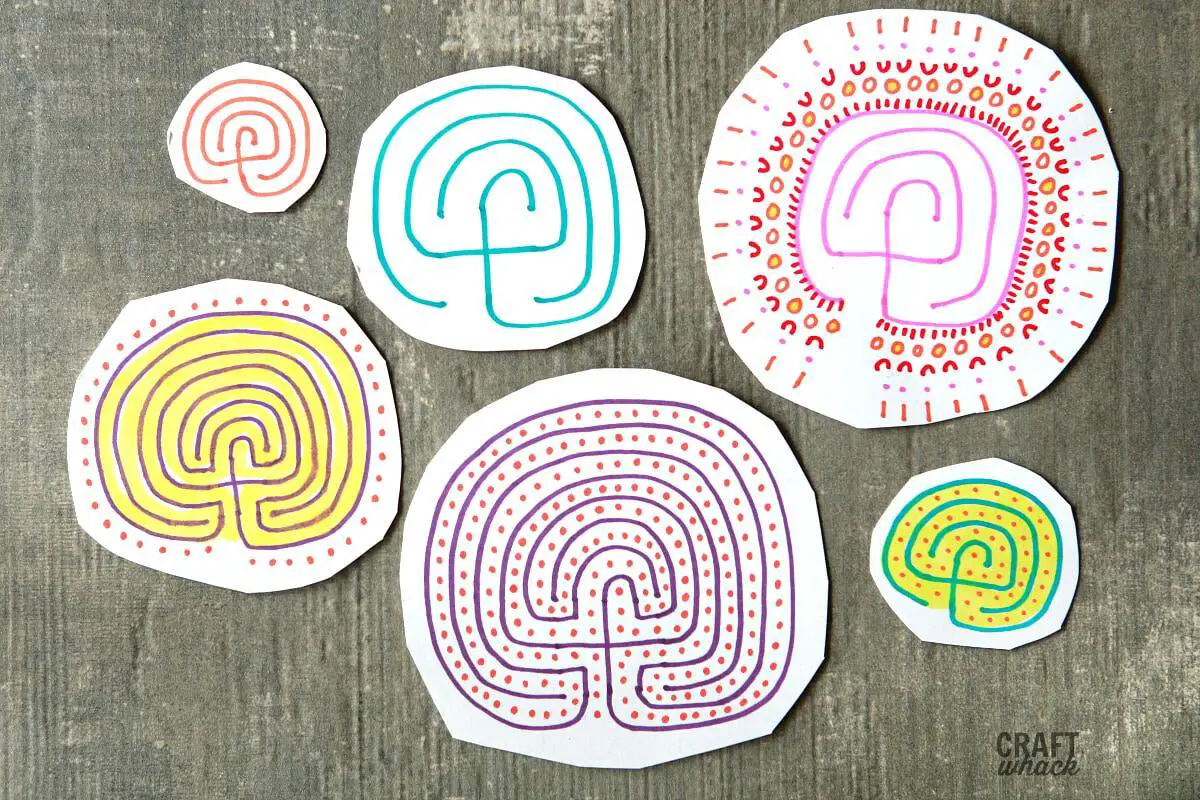 Here are some that I made after it dawned on me to draw them in pencil first:
White gel pen on black paper labyrinth! Yay! If you've used a white gel pen, you'll know they aren't as smooth-going as colored ink. I used this to my advantage and made a little bit of a sketchy labyrinth.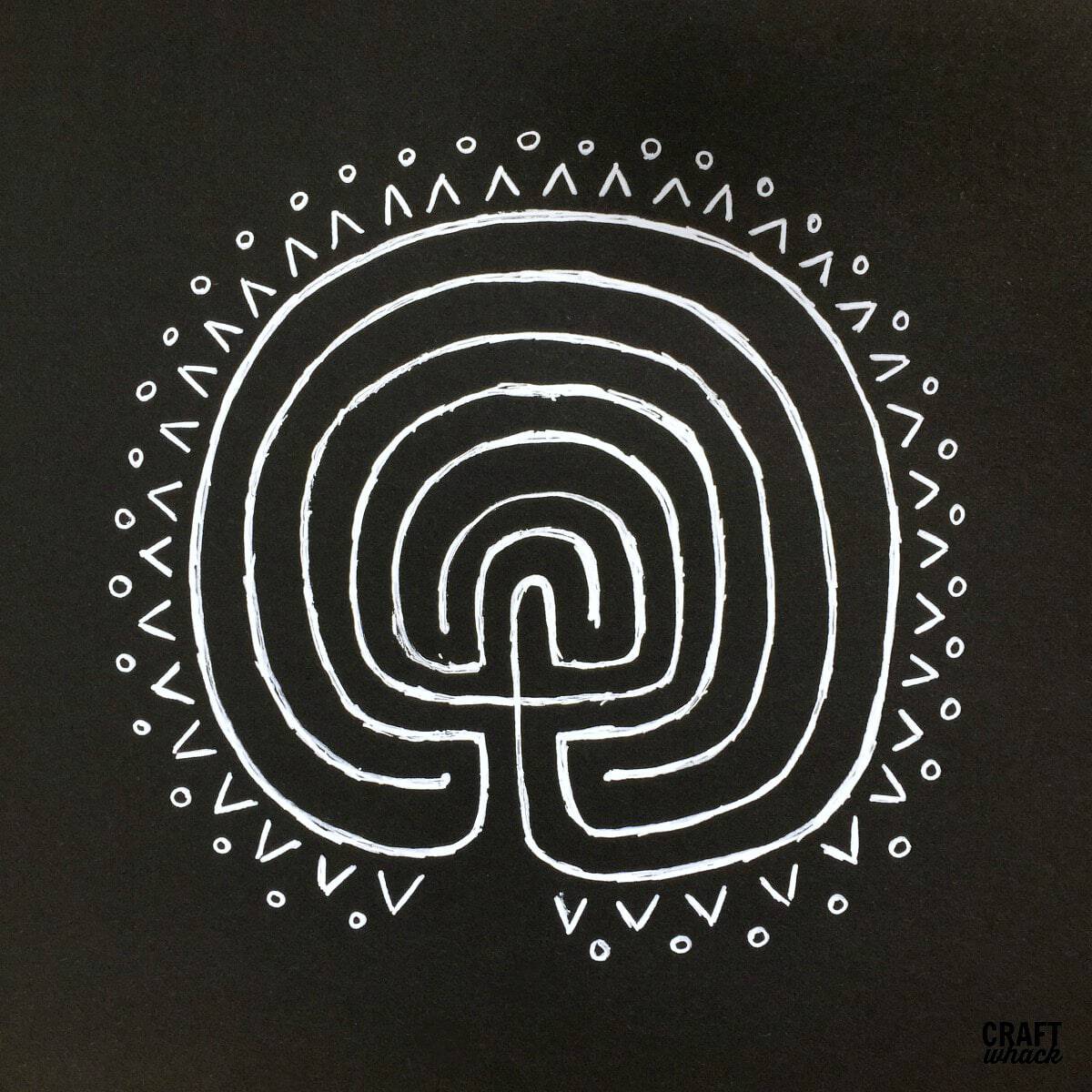 Make a Walkable Labyrinth
You can build on your newfound skill of drawing labyrinths and make some to walk through on the beach. Draw them in the sand, or use rocks or shells to define the walls. This tutorial shows you how to make a stone labyrinth for your yard.
I think it would be fun to make a huge rock labyrinth like the one below, knowing it will be washed way eventually, but hopefully other people will enjoy it in the meantime.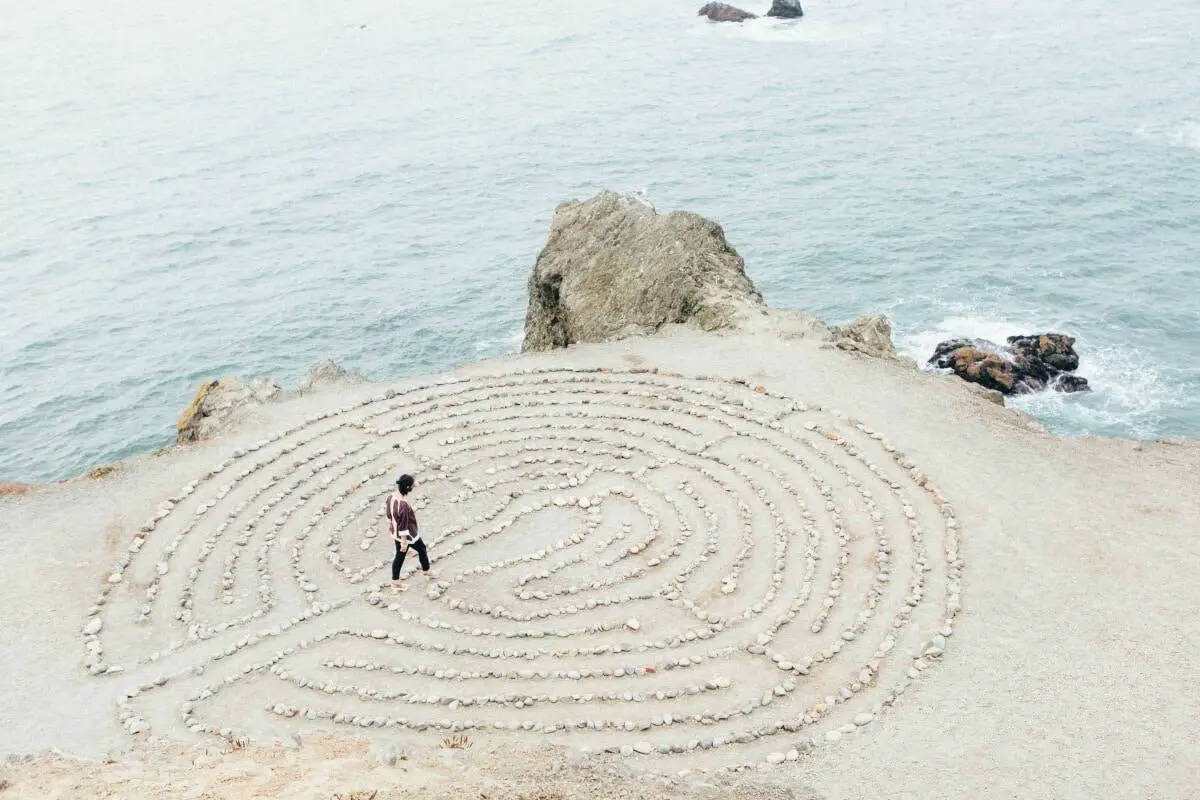 What to do With Your Drawn Labyrinth
Meditate or pray using it as a tool for focus.
Make art labyrinths
Decoration: labyrinths have widely been used as decorative motifs, and you can use the symbol in printing, stamping, sewing, carving, etc.
How to do A Labyrinth Meditation
Place your labyrinth drawing in front of you on a table.
Using your finger, slowly trace the path from the outside to the center of the labyrinth. (Using the pointer finger from your non-dominant hand is said to help you focus better.)
Keep your breathing slow and steady the whole time and focus your attention only on your finger tracing the path.
Pause for a moment and take a few deep breaths.
Trace the path back out to the beginning, still breathing slowly and focusing only on the path.
Sit quietly for a moment and observe your thoughts and feelings. Feel free to take some time to write or draw after your labyrinth journey.
Decorative Labyrinths
Labyrinths are cool-looking, right? You can use them as decorative objects or in decorative objects around your house. People have been designing with labyrinth-inspired shapes for centuries.
Use them as borders for your Bullet journal, incorporate them into your doodles, stamp them onto cards or fabric, paint them onto your walls.
Buddha Grove has some gorgeous labyrinths that you can buy for home use. (Most come with pointer sticks to follow the path with.) I also found these beauties from Etsy makers:
Bamboo Finger LabyrinthBuy Wood Labyrinth NecklaceBuy Carved Stone LabyrinthBuy Chartres Sand LabyrinthBuy
Absolutely go spend some time on The Labyrinth Society site if you want to learn more about these fascinating designs. They also have a labyrinth locator so you can see if there is a labyrinth anywhere near you to go walk.
Books about Labyrinths
There really aren't a ton of books about labyrinths out there, but here are 2 that look great:
Classical Labyrinths: Construction ManualBuy Way of the Winding Path: A Map for the Labyrinth of LifeBuy
Materials I Used in My Labyrinth Drawings
White card stockPrismacolor markersSharpiesBic Permanent Markers
Comments
0 comments