Candy corns are a much-loved treat, especially around Halloween, and they are very recognizable and iconic candy. If your child enjoys candy corn, candy corn coloring pages are a great activity for them to do, and a few of these can even be used to decorate for the holidays.Candy corns are very simple shapes, which makes them particularly good for anyone who wants to help their young child practice coloring, but they can also have complicated patterns or contain other aspects that make them more challenging and suitable for older children.We've gathered up some great, varied options for all age ranges, so you're bound to find a candy corn coloring page to suit your children here.
1. Bat Candy Corn
Source: https://www.coloringall.com/coloring-pages/candy-corn/candy-corn-bat/
Candy corn is constantly associated with Halloween, and this Bat Candy Corn is perfect for getting into the spooky spirit. It takes the best of candy corn's simplicity and combines it with a few more challenging aspects.
The wings have three sections, which can be colored individually or all as one. The eyes, mouth, and pointed fangs offer further challenges, but overall, this is still a pretty easy coloring page for youngsters.
They will love helping out with the decorations by creating candy corn bats. These can be cut out and hung up as part of your theme.
2. Super Simple

Source: https://twistynoodle.com/candy-corn-2-coloring-page/
If you want the simplest of Candy Corn coloring pages, you're in luck; this one is literally just one candy corn, with two stripes dividing up the three sections. The sections are large, making them easy to color, and the divisions are clear.
Your child might choose to stick to the true colors of candy corn, or experiment with other hues "" whatever they want to do will look great. Encourage them to stay within the lines and not overlap too much as a way of honing their coloring skills.
3. Early Learning Candy Corn
Source: http://getdrawings.com/candy-corn-coloring-page
This Candy Corn is geared toward helping the little ones think about the letters, shapes, and colors. It has a dotted letter "C" for them to draw over in both large and small (since capitals and lowercase look almost identical). It also has the same for them to color in.
The words candy corn appear at the bottom to be colored, and the candy corn itself has three sections, a happy face, and vertical stripes. These are all great exercises that involve different skills, so this is a real "learning" coloring experience for your child to have a go at.
4. Smiling Candy Corn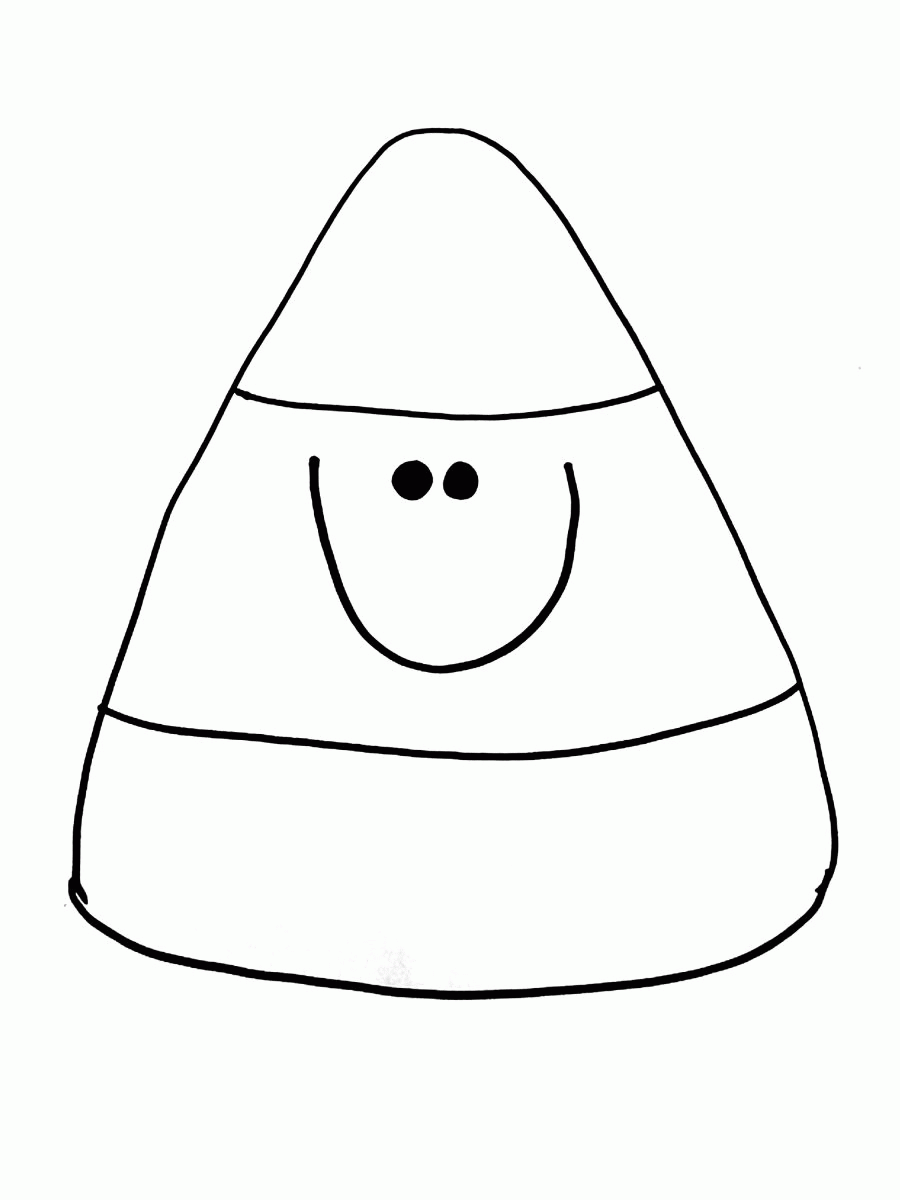 Source: https://coloringhome.com/coloring-page/1702728
If your child responds well to faces but you'd rather give them very simple candy corn to color, this Smiling Candy Corn is a great option. It has soft, slightly wavy curves, and a very simple face, so it's perfect for a little one to have a go at.
They can choose different colors for the stripes, or do the whole thing in one color if they're just getting the hang of coloring.
5. Three Candy Corns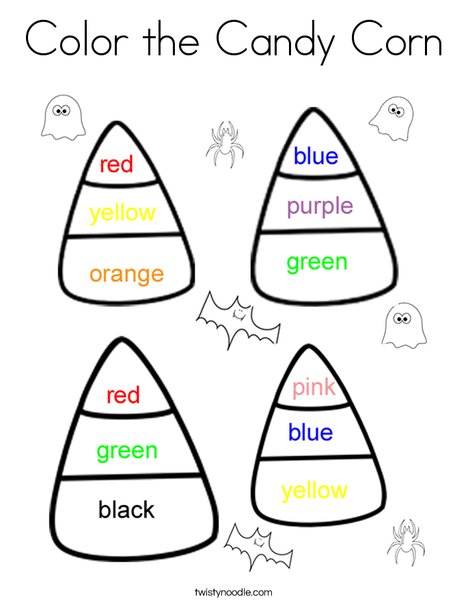 Source: https://twistynoodle.com/color-the-candy-corn-7-coloring-page/
If you want to encourage your child to think a bit more about horizontal and vertical coloring and the effects they have, these Three Candy Corns are perfect. With one almost upright, one horizontal, and one diagonal, your child will have to think about how to fill them in.
They also nicely show how objects behind other objects can't be seen, and encourage your child to think in very simple terms about perspective and what is behind what. They are a great option for youngsters, but a little more challenging than the single candy corn.
6. Color-Coded Candy Corns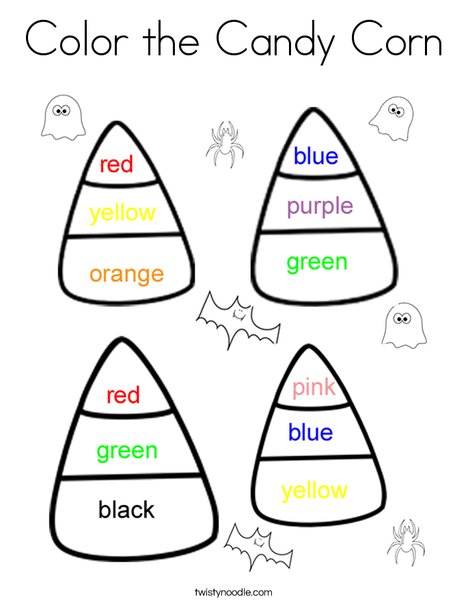 Source: https://twistynoodle.com/color-the-candy-corn-7-coloring-page/
The final simple choice before we move onto some harder candy corns, these Color-coded Candy Corns are another great learning exercise, with the color your child should use written on the relevant section.
The color has also been printed in the relevant hue (the word "blue" is blue), which will help your child with word recognition and make the process easier. The picture has some other fun, Halloween-themed shapes around the edges to be colored in, too!
7. Many Patterned Candy Corns

Source: https://www.primarygames.com/holidays/halloween/coloringpages/70-candy-corn.php
These Patterned Candy Corns would be ideal for an older child or an adult to color. They have lots of different shapes and patterns and overlap with each other to form a great picture. With plenty of colors and some careful thought, they'll look fantastic colored in.
8. Trick-Or-Treat Candy Corns

Source: https://www.vectorstock.com/royalty-free-vector/candy-corn-coloring-page-trick-or-treat-vector-17978664
If you love the above option but would like a more Halloween-y vibe, this Trick-Or-Treat Candy Corns page would be perfect. It has many of the same patterns, but is arrayed around the words Trick Or Treat, which can also be colored in.
This would make a great card or decoration, and older children can have lots of fun with the stars and swirls.
9. Easy Patterned Candy Corns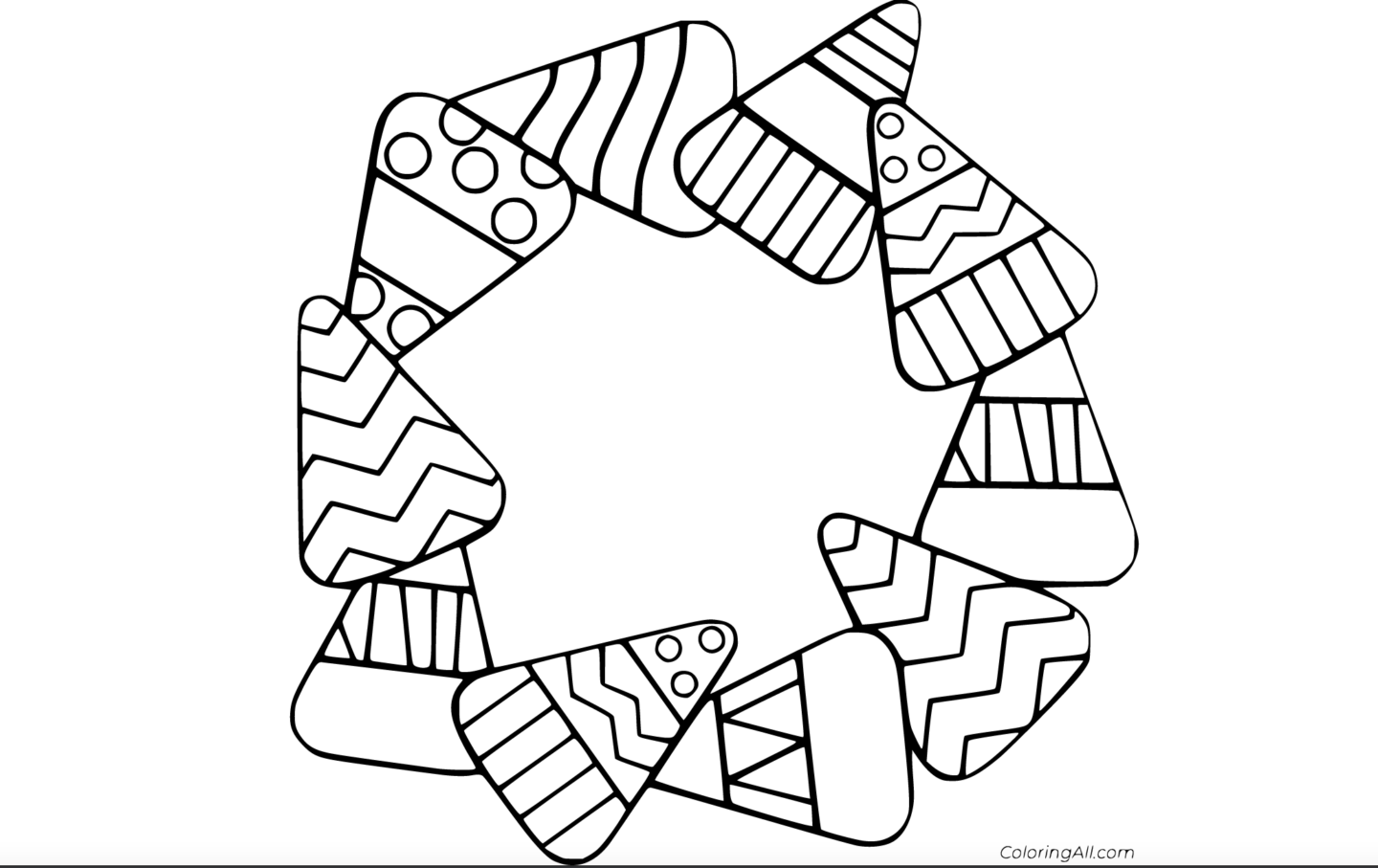 Source: https://www.coloringall.com/coloring-pages/candy-corn/candy-corn-wreath
If the above options are a bit too tricky, but the idea of patterned candy corns sounds appealing, this Patterned Candy Corns coloring page will be perfect. It has some simple zigzags, some circles, some stripes, and some irregular angles to color "" all of which a child should manage without much difficulty.
You could also write a Halloween-y phrase or the child's name in bubble letters in the middle so they can color that in too. This is a perfect "medium difficulty" candy corn coloring page, a step above the early year options, but not an adult-level difficulty.
10. Complicated Patterned Candy Corns

Source: https://www.teacherspayteachers.com/Product/Candy-Corn-Zentangle-Coloring-Page-4765872
If you're the opposite, and you're looking for something harder, these Patterned Candy Corns should tick the box. They are covered in flower petals, leaves, Celtic knots, and waves, and they would look beautiful colored in.
Any older child or adult could enjoy this, and if you choose the traditional candy corn colors, it will still be very clear what it is; the distinctive sections and shape remain, in spite of its complexity.
Alternatively, you could do any other color scheme, and it would still look wonderful, even if not everybody can guess what it is!
Conclusion
Candy corns are great ways to get kids engaged with coloring and learning, and can make a fantastic "Letter C" teaching exercise. They can also be as complex or simple as you like. You could even draw some simple shapes onto one of the easy candy corns if you want to up the difficulty just a little bit.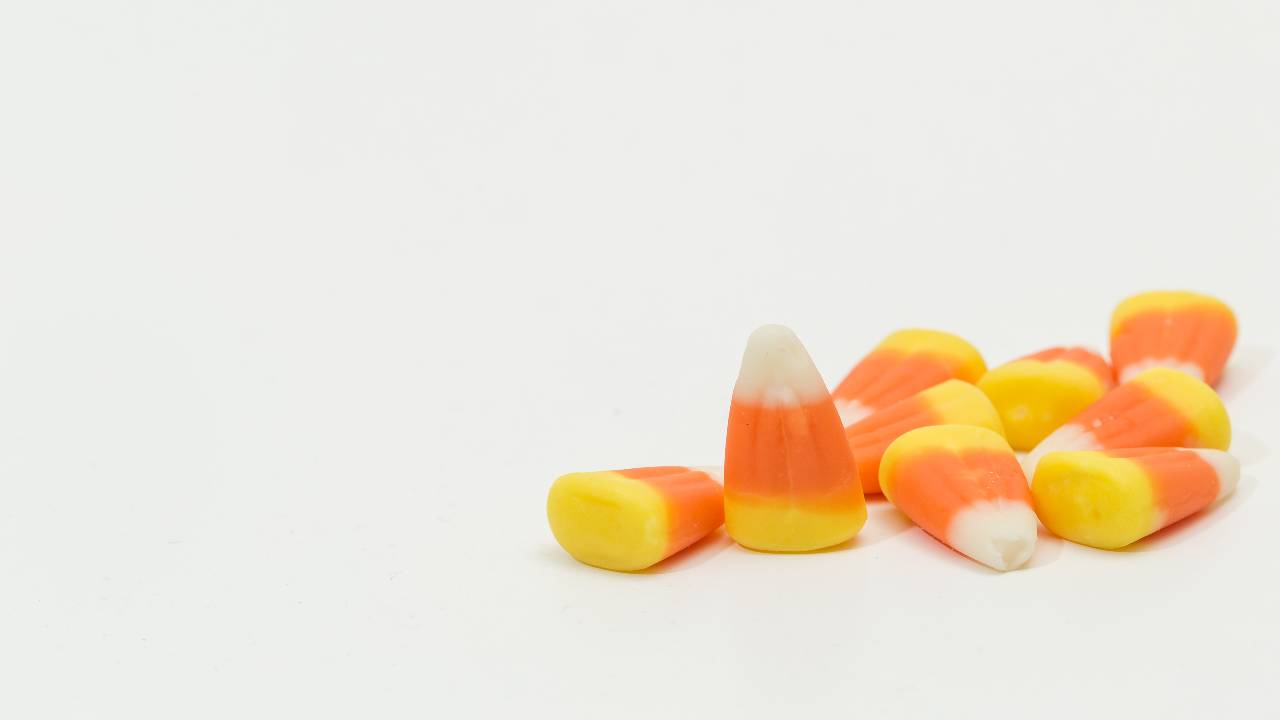 Comments
0 comments