Building forts is perhaps one of the best impromptu games we all enjoyed as kids. No one really teaches you how to build a fort, but it somehow became a universal game that all children silently agreed upon.
So while make-shift forts are their unique type of fun, you can still build full-on forts for your children.
We found cardboard boxes to be an awesome tool for this particular role. Cardboard boxes are great because they're affordable, versatile, and readily available. In addition, they come in all shapes and forms, and you can shape them whichever way you like to make the fort of your dreams.
So, to give you some inspiration, we brought together some cardboard box fort ideas.
Without further ado, let's jump straight in.
28 Cool & Creative Cardboard Forts Ideas
Here are 18 creative fort ideas that you can try out with cardboard boxes.
1. Fun Cardboard Box Fort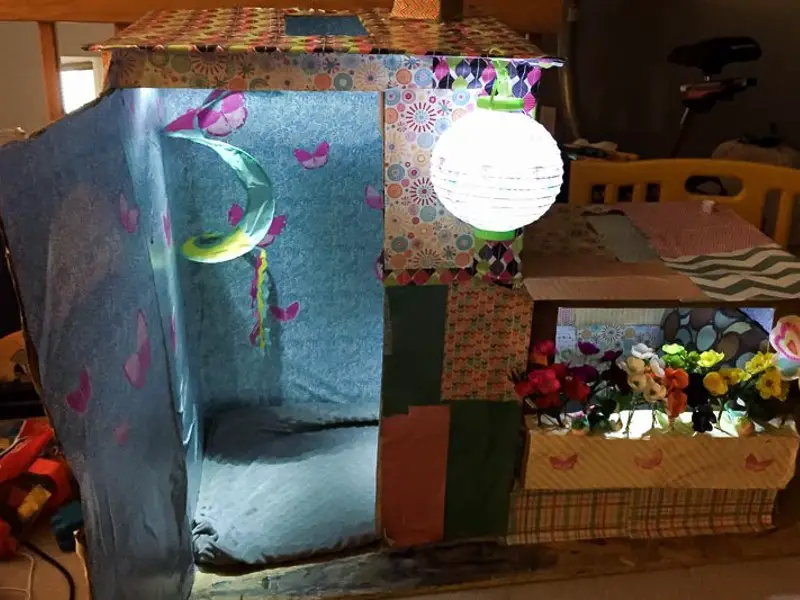 This fort can be anything your child has ever dreamed of. With simple cardboard and a few other supplies, you can create a fort with a chimney, window, balcony, door, and whatever else you wish to add.
There's no particular theme for this project, so tailor it to your and your child's preferences.
Fun Cardboard Box Fort from Hands On As We Grow
2. Mario Cardboard Fort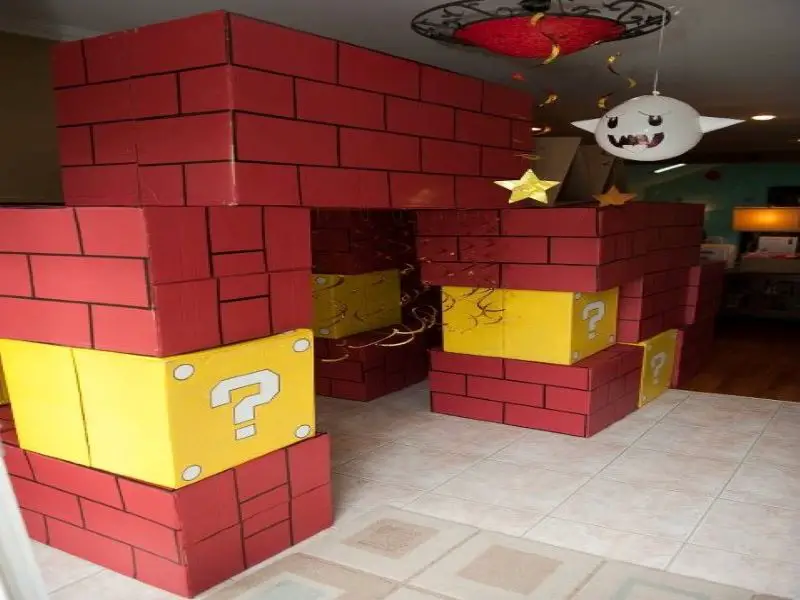 Who wouldn't appreciate a sweet whiff of nostalgia?
This cardboard fort will make the perfect addition, and centerpiece, to your Mario-themed party and will definitely bring back some memories. Of course, it helps that this massive fort requires minimal effort and looks stunning when set up.
Mario Cardboard Fort from Pam-a-rama Ding Dong
3. Cardboard Barn Fort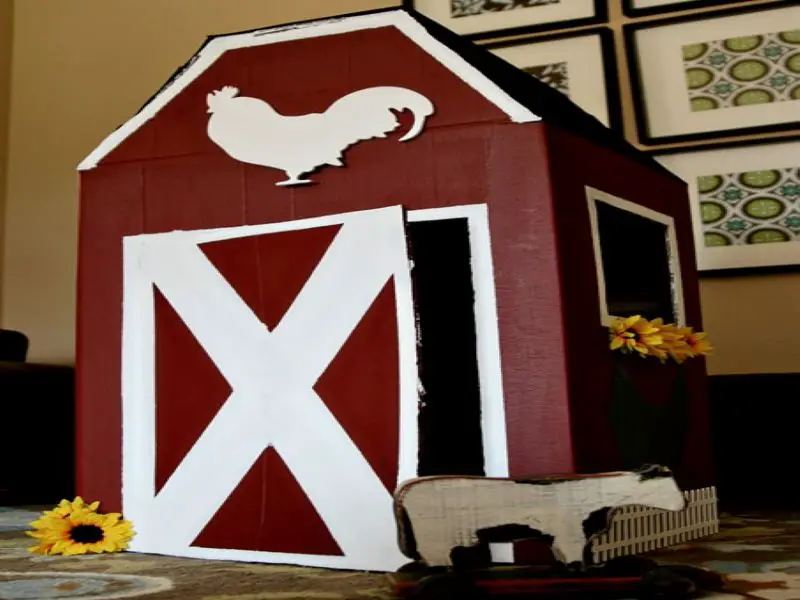 Take your barn house inside with this DIY fort project. If you're a countryfolk, or if your kid holds a special appreciation for barns and their animals, then this fort craft is for you.
The project won't take a lot of effort, and the final product is quite convincing.
Cardboard Barn Fort from See Vanessa Craft
4. Space Rocket Fort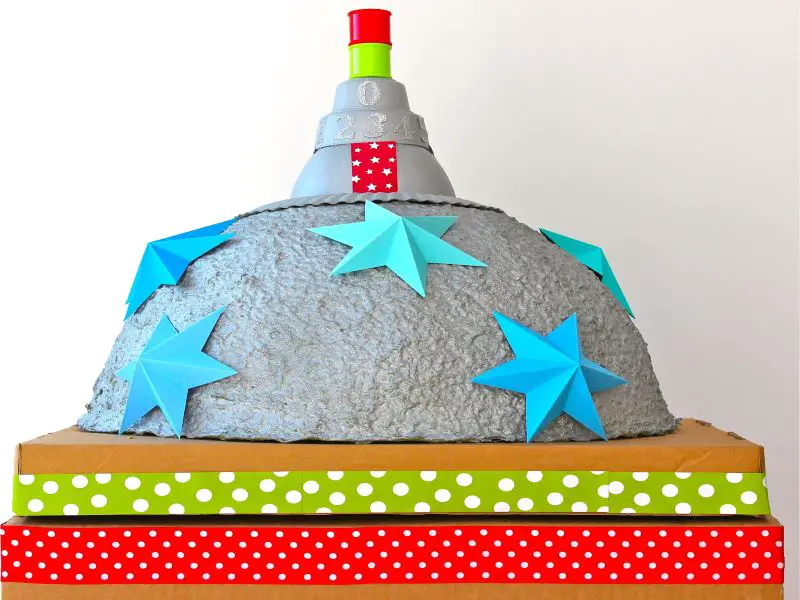 So many children share a passion for outer space and rockets, so this fort idea will come in handy. The fort is colorful, to say the least, and the rocket is adorned with cute little gadgets.
It's always fun to add things from all around your house to make your rocket fort even more unique.
Space Rocket Fort from Kate's Creative Space
5. RV Cardboard Fort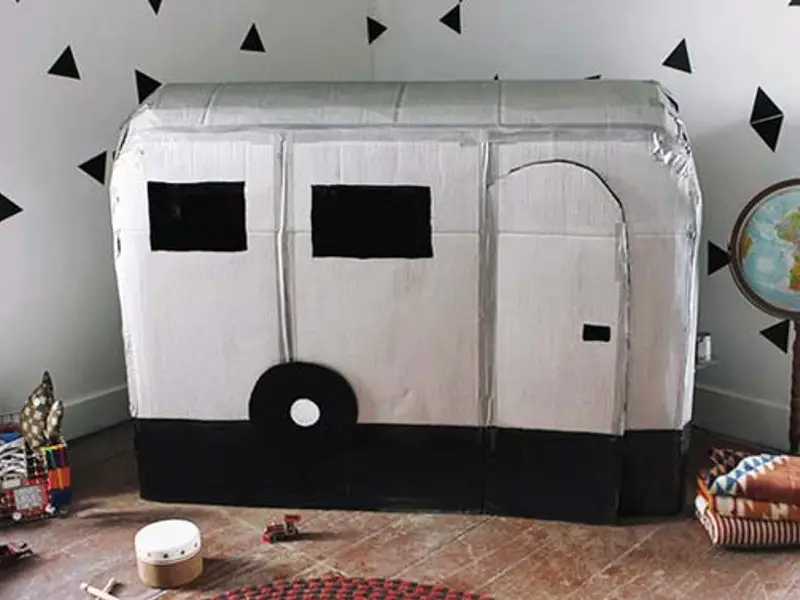 Does your child have a true camper's spirit? Then this fort project is for you. With this one, you'll be able to give your kid their very own cardboard RV that they can pretend-ride in your living room.
The "vehicle" is spacious, and it's guaranteed to accommodate hours and hours of boundless adventures within its walls.
RV Cardboard Fort from The Merry Thought
6. Igloo Cardboard Fort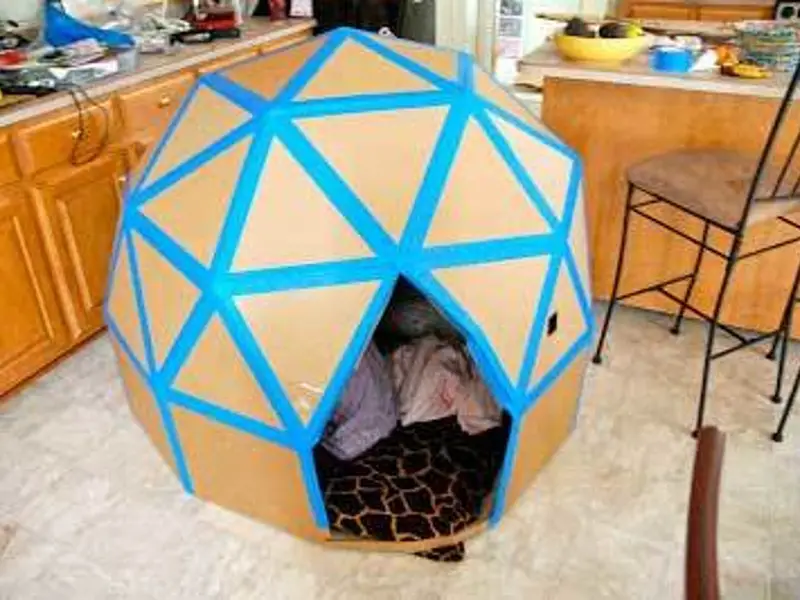 If you don't live in the Eskimos but would still like to experience igloos, you can do that with a few cardboard boxes. Cardboard igloo forts are great because they're relatively easy to make and will surely hold many of your children's memories.
All you have to do is cut up and glue together a few cardboard triangles, and you're good to go.
Igloo Cardboard Fort from Tales of a Monkey, a Bit, and a Bean
7. Pizza Parlor Cardboard Fort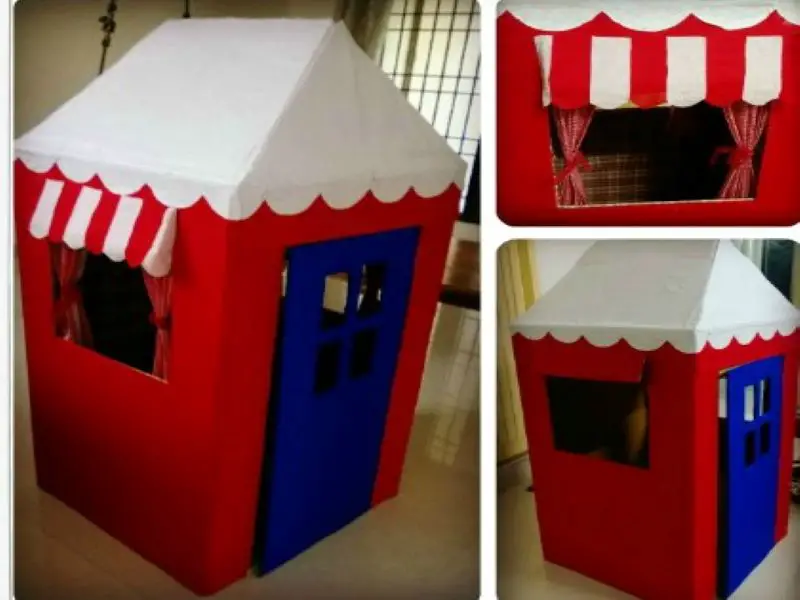 Open up your own pizzeria right in the middle of your home with this cardboard fort project. The cool thing about this fort is that it can double as both a pizzeria and a miniature house.
This is especially great because you can use the same project for two completely different games. It's less work for you, and more fun for the kids; everyone's a winner with this one.
Pizza Parlor Cardboard Fort from Artsy Craftsy Mom
8. Giant Colossal Fort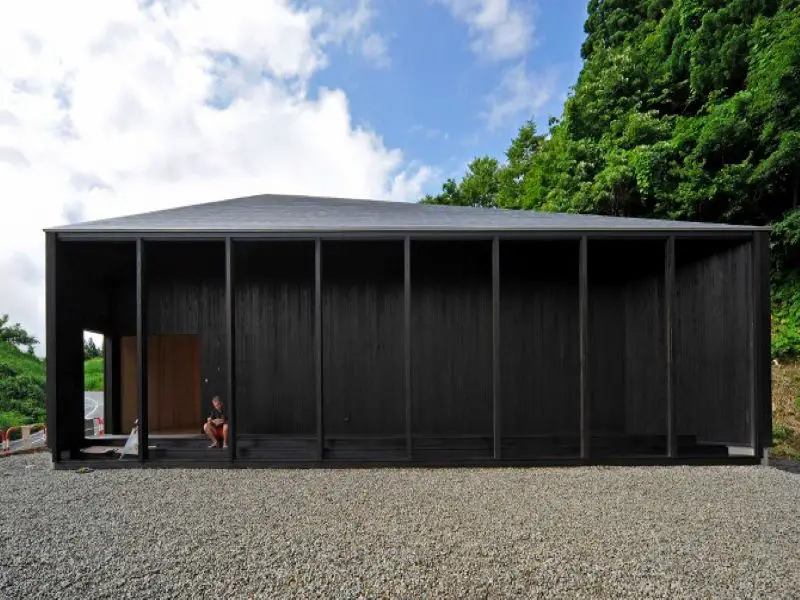 If you're a fan of unique architecture, this one might spark your interest. With this towering fort project, you can give your child an awesome fort while channeling your inner designer.
So, if this sounds like you, get your cardboard ready, and let's get working.
Giant Colossal Fort from Super Colossal
9. Cardboard City Fort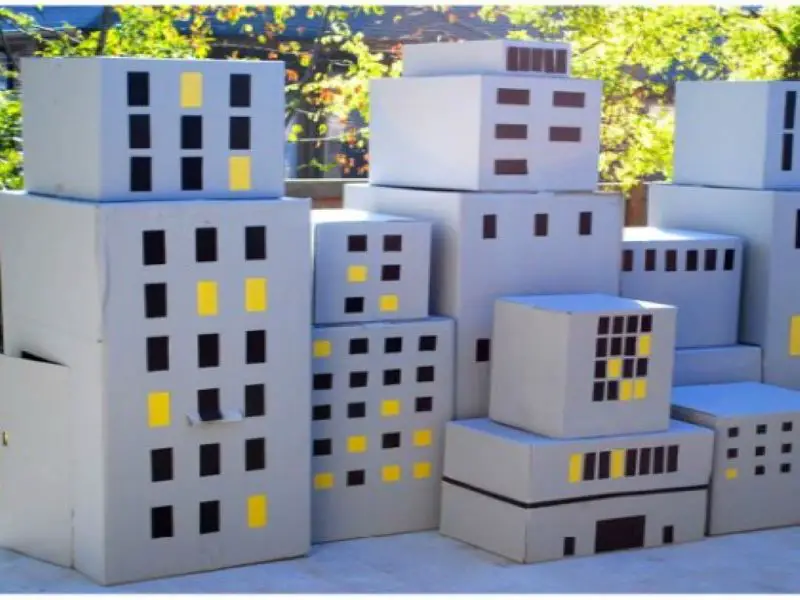 Another themed party fort over here! If your kids are superhero fans, give them their own Gotham City fort for their next birthday party. The project will surely be the party's main focus, and all the kids will love it. The good news is that the fort isn't hard to make and will live way beyond the party.
Cardboard City Fort from Pizzazzerie
10. Make-Shift Playhouse Fort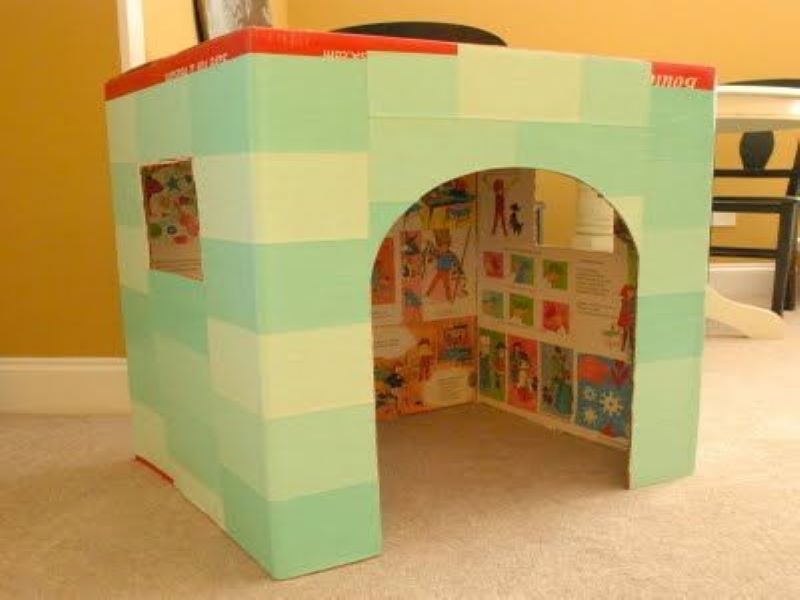 This make-shift playhouse fort is quite easy, but it may be targeted toward a younger audience. All you need for this one is an old cardboard box and some decoupage, then you're all set.
Also, make sure you choose a box that your toddler can comfortably fit into to make the playhouse.
Make-Shift Playhouse Fort from Life as a Thrifter
11. Collapsible Playhouse Fort
Cardboard forts are great, but they can easily take too much space. Luckily, this collapsible playhouse fort offers a solution.
With this one, your kids can set up the fort when it's playtime then neatly put it away once they're done. It does the job, doesn't take too much space, and is quite simple to implement.
Collapsible Playhouse Fort from SheKnows
12. Cardboard Castle Fort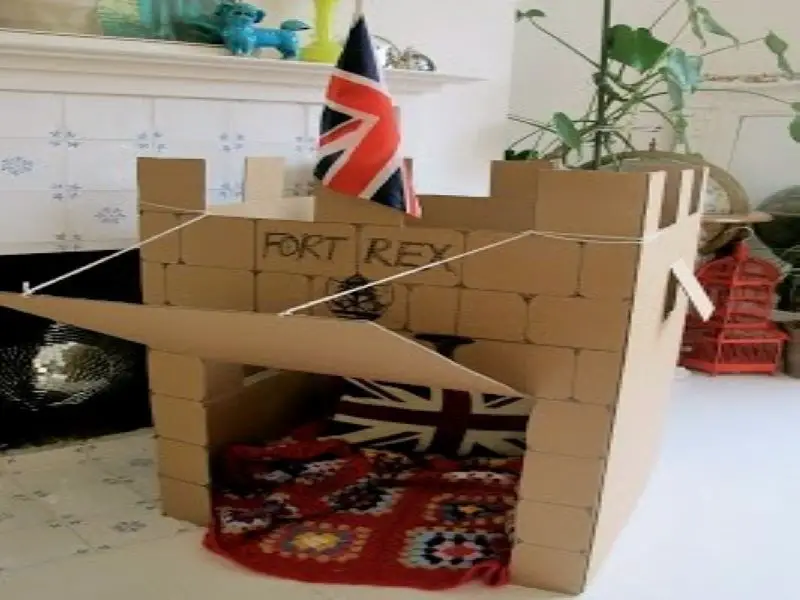 In this project, you can give your kids a semi-realistic cardboard castle. The fort itself is pretty straightforward, and you can have the kids raise the flag on top of it for some extra action.
Adding a suspended door and some decorations will definitely take your fort to the next level.
Cardboard Castle Fort from Kat This Kat That
13. Cardboard Clubhouse Fort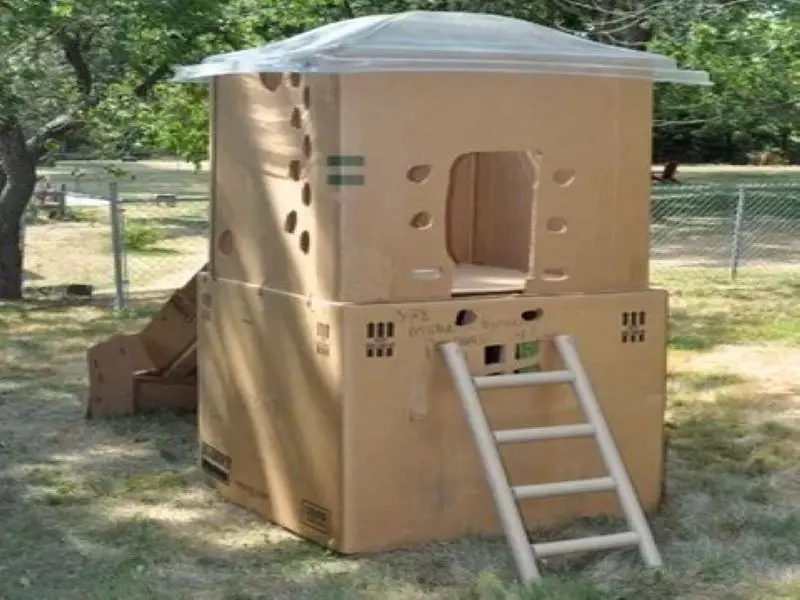 If you can't give your kids a treehouse, this cardboard clubhouse may be the next best thing. The fort is two stories, has stairs, a door, and a slide, so it'll surely keep your kids busy for some time.
Another nice thing about this clubhouse is that you don't need to do much decorating; it looks pretty awesome as is.
Cardboard Clubhouse Fort from Instructables
14. Cardboard Rocket Ship Fort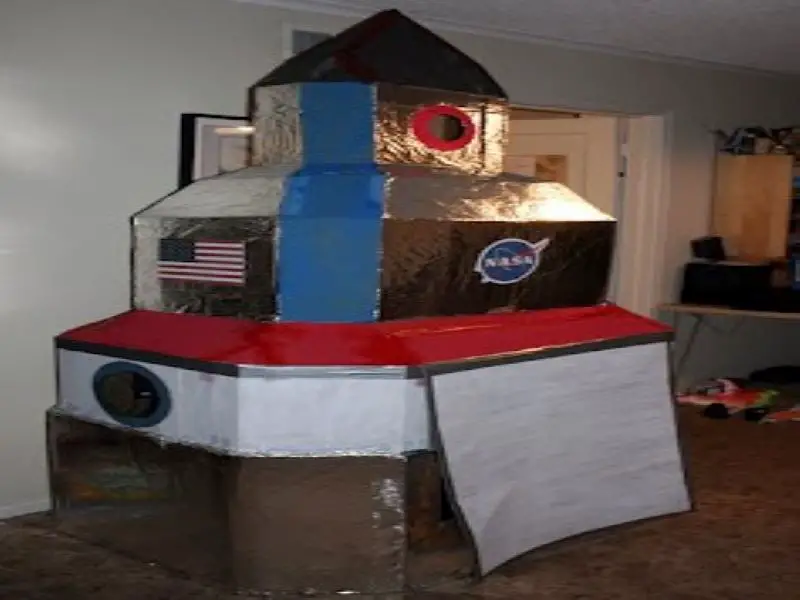 This is another fort idea for all the little astronauts. All you need for this one is some cardboard boxes, a ton of foil, and your spirit of adventure.
This rocket ship fort is massive, which adds a lot of fun to the game. You can even make a small control unit on the inside to make it more realistic.
Cardboard Rocket Ship Fort from Filth Wizardry
15. Farmer's Market Cardboard Fort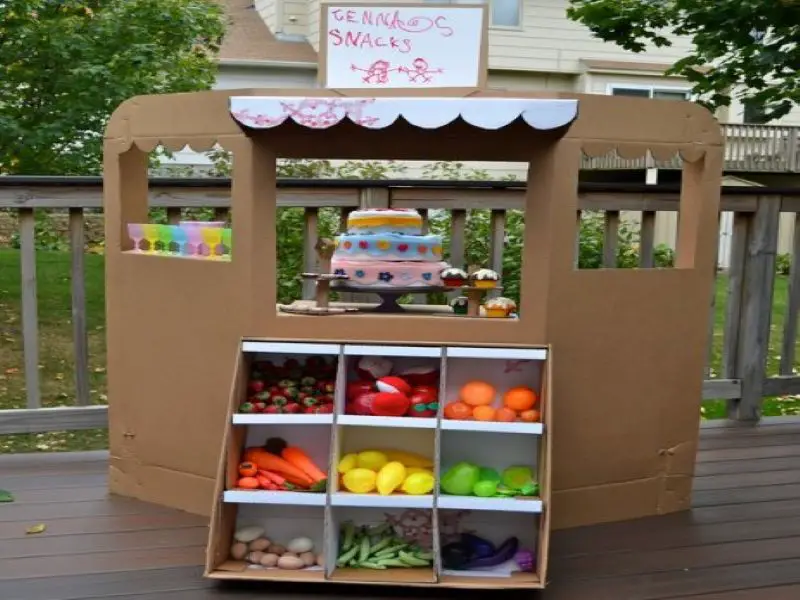 Your kids can now sell you fruits and veggies straight out of their cardboard fort. This fort will give your children their own grocery store, which may be a great opportunity to teach them some math if they're old enough.
They often enjoy the concept of trading, so giving them a fort that can double as a farmer's market is a win-win.
Farmer's Market Cardboard Fort from ikat bag
16. Gingerbread House Fort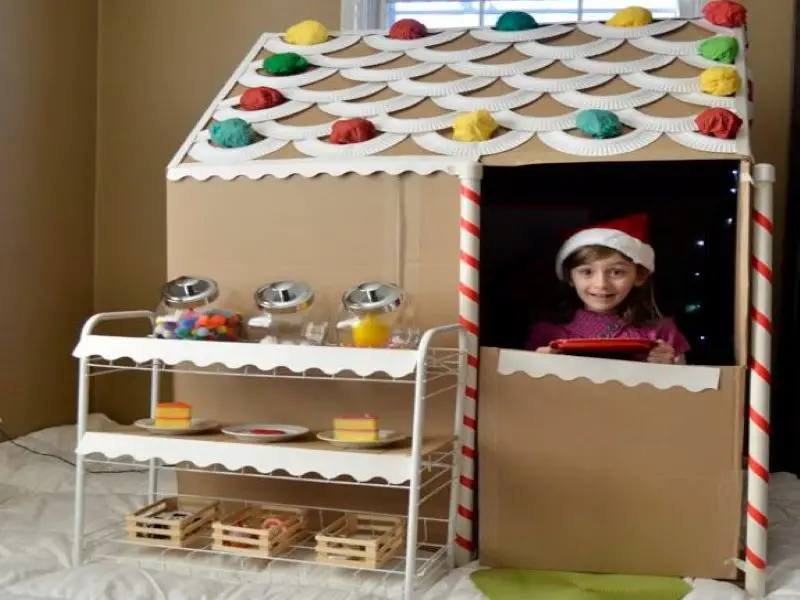 A life-sized gingerbread house is what we're making with this project. There's usually a particular charm associated with turning everyday items into life-sized pieces, and this fort craft does exactly that.
Now, your children will be able to enjoy their gingerbread house cookies while chilling in their gingerbread house forts.
Gingerbread House Fort from Inner Child Fun
17. Colorful Fort Castle
Just because you're creating a castle doesn't mean you can't add all sorts of colors and character to it. So, gather up all your delivery boxes, and let's get building. With this fort castle project, your kids can make it whatever they like.
Colorful Fort Castle from Built by Kids
18. Cardboard Playhouse Fort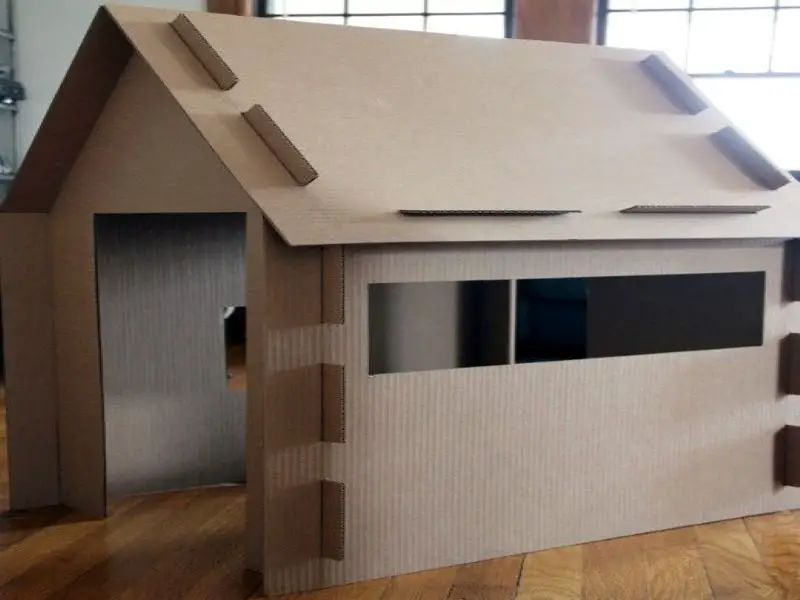 Playhouses are great because they give your child a sense of independence. With this fort project, you'll be able to give your child a cardboard fort that's minimalistic yet very professional-looking at the same time.
Watch how this fort becomes a major part of your baby's life, and prepare to embrace all the fun memories.
Cardboard Playhouse Fort from Project Little Smith
19. Barn-Themed Cardboard Fort
Do you have a son or daughter who's just obsessed with farm animals? If the answer is yes, this barn fort idea is for you! To create this cool fort, you'll need one big plain cardboard box, masking tape, scissors, and paint.
When you have all the supplies, fold the top flaps to form the barn's roof. To enhance your fort design, we recommend adding fake flowers to the barn doors. This fun cardboard box fort is perfect for a rainy day playtime session inside. It's certainly a fort Old MacDonald would be proud of!
A step-by-step tutorial for this fun cardboard box barn is available on See Vanessa Craft.
20. A Gingerbread House from Cardboard Boxes
There's no better way to celebrate the jolly season with your little elves than to make a cardboard gingerbread house for them! This cute cardboard box fort is a bit complex to make, so one box won't be enough. You'll need at least 4 large boxes, duct tape, and some white paper plates for decorating.
To add a fun twist to your cardboard gingerbread house, you may want to add some strokes of red to your paper plates. This way, they can look like peppermint candy! You can also add a chimney and some candy racks near the windows so your child can have a tasty treat while playing.
An implementation of this cardboard gingerbread house can be found on Inner Child Fun.
21. DIY Cardboard Camper Playhouse
Do you want to embark on a camping trip with your kid but don't have the time? With this cardboard playhouse, you can have a blast and make a lot of fun memories without leaving your kid's room! Depending on how big you want your RV cardboard fort, one big box can be enough.
Use a box cutter to transform your large box into the RV of your dreams, and add tape to secure the parts in place. Make sure your cardboard box fort is sturdy so your children and their friends can enjoy it for years to come!
For more information on how this DIY cardboard camper playhouse can be created, check out The Merrythought.
22. Greengrocer Cardboard Box Fort
Going to the grocery store or farmers' market with your parents for the first time is certainly an unforgettable experience. Eyeing the different stalls and produce with child-like wonder; ah, those were the days! So, let's recreate this memory with this greengrocer cardboard box fort idea!
To make the shop front, you'll need a big piece of cardboard. Once you lay it out in the spot you want, prop it against two smaller cardboard boxes to keep it upright. Now that you have the main building, you can decorate as you see fit. Don't forget to cut out a window so that you can chat with your young greengrocer while they're playing!
You can find more detailed instructions for this greengrocer cardboard fort on ikatbag.
23. Haunted Cardboard Box Fort
If you want to take your fall celebration to the next level this year, you can't go wrong with haunted cardboard forts! Fortunately, creating Halloween-themed forts won't break the bank and will only take a few hours of your free time.
Start by folding the top flaps of your large cardboard boxes into a straight edge to create the roof. To add a door, cut out a big hole in front of the house. You can use crayons to draw fake windows or add two holes if you're going for a more realistic design. Spray paint the house black and add a dash of glitter or some rubber spiders to finalize it!
For more ideas on how you can decorate your cardboard box haunted house this fall, visit Happy Toddler Playtime.
24. Cardboard Box Log Cabin
Wish you had a cabin in the woods you could take your kids to? With some household items, you can recreate the same experience at home! You only need a large moving box, two dozens of toilet paper tubes, and glue. Cut the cabin's door open using scissors or a knife, then glue the toilet paper tubes along the cabin's top and sides.
The cylindrical shape of the tubes will give the illusion that the cabin is made of logs! For extra comfort, place some pillows and blankets inside the fort. You can make multiple cabins and put them next to each other to form a camp!
A complete guide on how to make this cardboard box and paper towel log cabin is available on Craiglistdad.
25. Rocket Man Fort
Most kids are deeply fascinated with outer space and tales of brave astronauts, so why not mix education and playtime and make your own cardboard box rocket forts? With just one packing box, you can make the rocket's frame.
As for the domed payload, some fiber matting liner should do the trick. Colorful craft paper can also come in handy if you're looking for ways to add extra pizzaz. Don't forget to cut out a door to allow your future captain to enter their shuttle! Want to watch your kids' imagination run wild? Use bottle caps and stickers for a realistic control panel.
Here's an implementation of this rocket man fort on Kate's Creative Space.
26. DIY Cardboard Castle
Cardboard castles are the more upscale version of traditional cardboard forts. If your kids are into the fairytales of beautiful princesses and gallant knights, this fun cardboard castle idea will tickle their fancy.
Building the castle's frame itself is easy enough, but you'll probably need a few hours to work on the drawbridge and tunnels. So, this project idea isn't the most practical, especially for busy parents. However, you can turn this project into a fun bonding experience by encouraging your kids to help sketch the castle's banners and flags.
For more ideas on how to embellish this fun DIY cardboard castle with your kids, check out From Scratch.
27. Two-Story Cardboard Fort
You know what's better than a conventional cardboard fort? A two-story one! Instead of throwing your old cardboard boxes, you can make a two-story clubhouse that'll be the envy of all the children in your neighborhood!
You'll need two cardboard boxes, wood screws, tape, and some zip ties to secure the boxes in place. Some lumber is also a must if you want to add a slide to your fun clubhouse. Since you'll need to use sharp tools like knives and chainsaws, it's better not to have your kids around while you're working on this project.
More details on how to make this 2-story cardboard clubhouse for your children can be found on instructables.
28. Collapsible Reading Fort
Building massive cardboard forts is a breeze when you have a big house or backyard. On the other hand, if you're short on space, creating a fun-looking cardboard fort can be challenging. Don't sweat it, though, because this collapsible reading-fort idea is just what you've been looking for!
With some colorful tape and well-placed cuts, you can turn this fort into a collapsible one you can store for many years of fun playtime! To fire your kid's imagination, put some blankets and your kids' favorite books inside the fort to turn it into a reading nook.
For a step-by-step tutorial on how you can create this super cool playhouse, visit sheknows.
Cardboard forts are a staple in innovative roleplay activities. So, instead of letting old boxes clutter your house, you can turn them into cardboard forts for your kid.
Even if you're not typically a hands-on person, you can still use our list of cardboard box fort ideas for inspiration!
This marks the last of our 28 creative cardboard fort ideas. We hope you found all the inspiration you needed while going through the list. However, you can always use an empty cardboard box as a fort, and your kids will enjoy it.
Comments
0 comments