Nightmare Before Christmas is a classic movie that is popular with both kids and adults, and Jack Skellington has to be one of the most iconic and recognizable characters from Burton's movies.Whether it counts as a Christmas movie or a Halloween movie (or both), you and your kids can enjoy coloring some amazing Jack Skellingtons.So, with that in mind, here are some top picks. No matter what you like, there's bound to be a Jack Skellington coloring page you'll enjoy. Some are good for young kids, while others are aimed at older children and adults, but all are great fun and perfect for at least one of the winter holidays "" possibly two!
1. Santa Skellington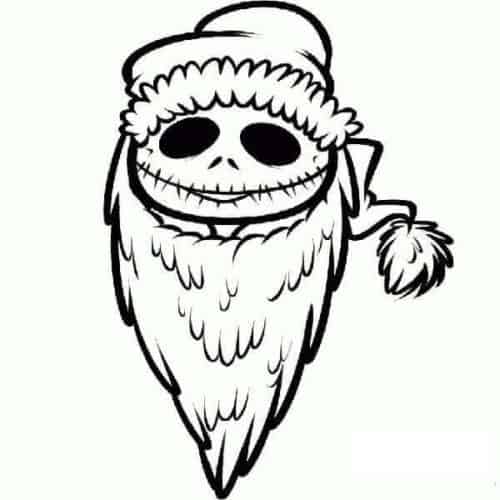 Source: https://www.scribblefun.com/the-nightmare-before-christmas-coloring-pages-to-print/
If you need any more difficulty in deciding which holiday to color for, this Santa Jack Skellington is here to make things harder. This is a great, simple coloring page for kids of almost all ages, and they can spend some time working out how to color shaggy edges in the beard.The shapes are simple, and it shouldn't take too long to do "" and this would make a great decoration pinned up on a door for Halloween. If you want to add a spooky background, that should be easy to do as the page leaves plenty of white space.
2. Jack And Sally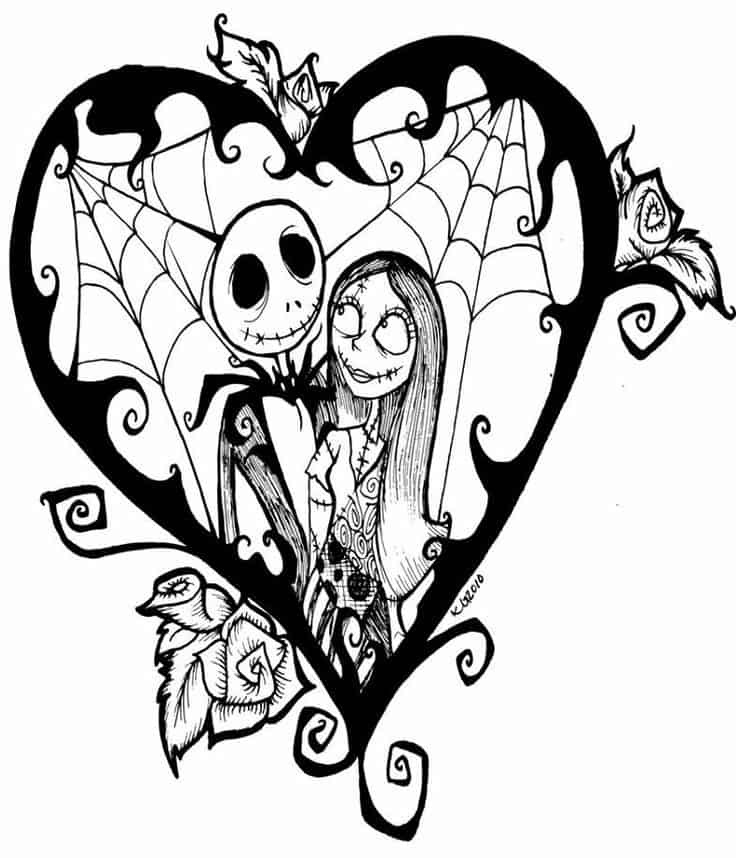 Source: https://www.bestcoloringpagesforkids.com/free-printable-nightmare-christmas-coloring-pages.htmlThis one would make a lovely front to Valentine's card, especially when colored, so why not have a go at this Jack and Sally coloring page? You could do the heart all in red, bringing a splash of color to the dark hues, or leave it white with just the characters colored in.You could also go a little abstract and color between each twirly spider web, or write the recipient's name in swirly lettering inside the heart.The roses add an extra element of color to this, and you could either do them in a bright hue or choose a muted color to match the characters.
3. Jack And Zero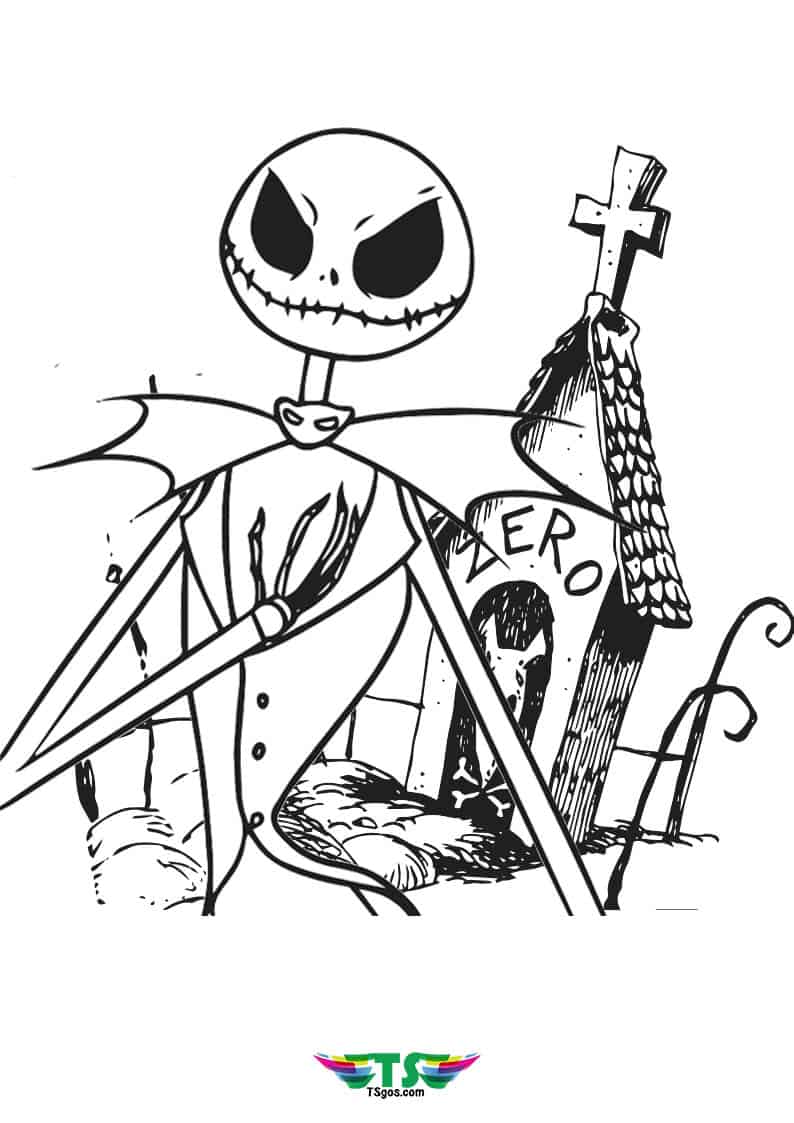 Source: https://tsgos.com/2020/12/14/jack-skellington-coloring-page-free-printable-for-kids
If you are keen on coloring full scenes, the Jack and Zero coloring page is a great option. This is a little dark and morbid, in keeping with the movie.You will need to choose your colors carefully (or help your child choose) to make sure you don't end up trying to add dark colors on top of dark colors "" or you'll lose the detailing. Try and think about how you're going to do each part before you start coloring so you don't spoil the picture.
4. Jack Skellington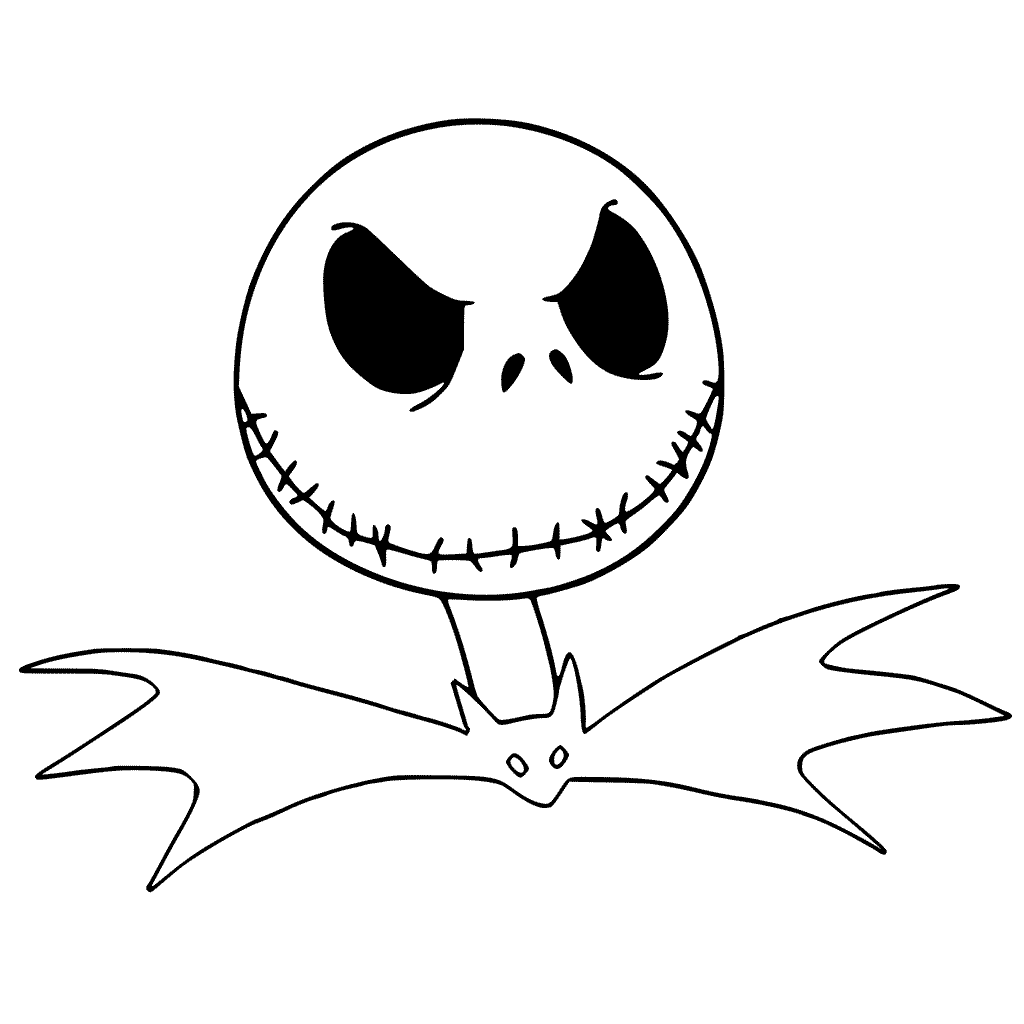 Source: http://getcoloringpages.com/coloring/231763For a really simple option, this Jack Skellington is perfect. Just Jack's head, neck, and necktie. It is a very easy coloring page, even for a young child, but it will still look fantastic. Older children can spend time working on the shading of Jack's head, and carefully edging around the eyes on the necktie.Remember, just because Jack's face is white in the movie doesn't mean you can't go for a whole myriad of colors when you're coloring him in! Anything goes when it comes to art.
5. Trick-Or-Treat Jack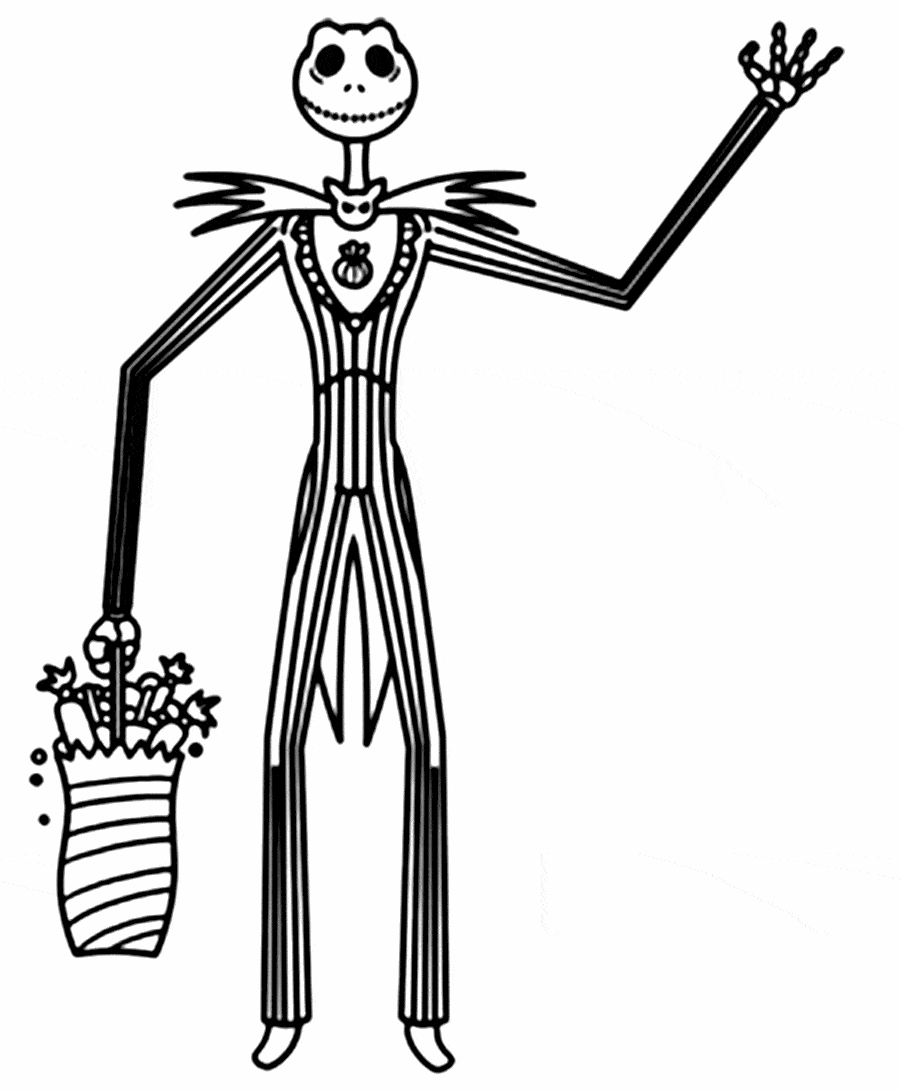 Source: https://www.bestcoloringpagesforkids.com/free-printable-nightmare-christmas-coloring-pages.htmlThis Trick-Or-Treating Jack Skellington would be great for young children to practice coloring straight lines. They could make each stripe of Jack's suit a different color, or just choose two colors and alternate. Some children might prefer to simply do one color for the whole coat, though this won't make the most of the stripes.The bag of candy offers good coloring fun; a child can add all sorts of hues there, and enjoy doing the stripes of the bag too.
6. Jack And Sally 2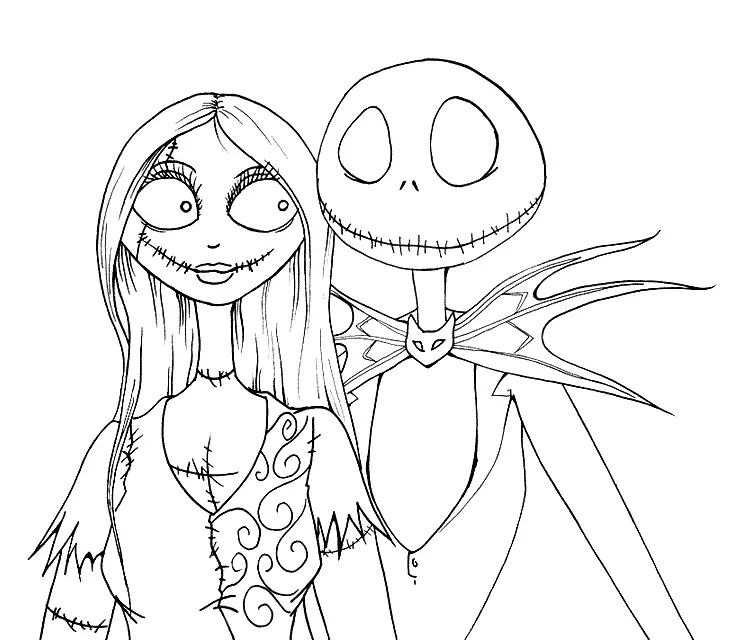 Source: https://www.getcoloringpages.com/nightmare-before-christmas-coloring-pagesAnother cute Jack and Sally coloring page, this one is more detailed and has more room to experiment with colors and shading. You can really get creative with this one, and its sophisticated lines will probably appeal more to older children or adults.This would again make a really cute project to do with a partner, or gift to them when it's finished. You don't have to have drawn it yourself for it to be romantic!
7. Mandala Jack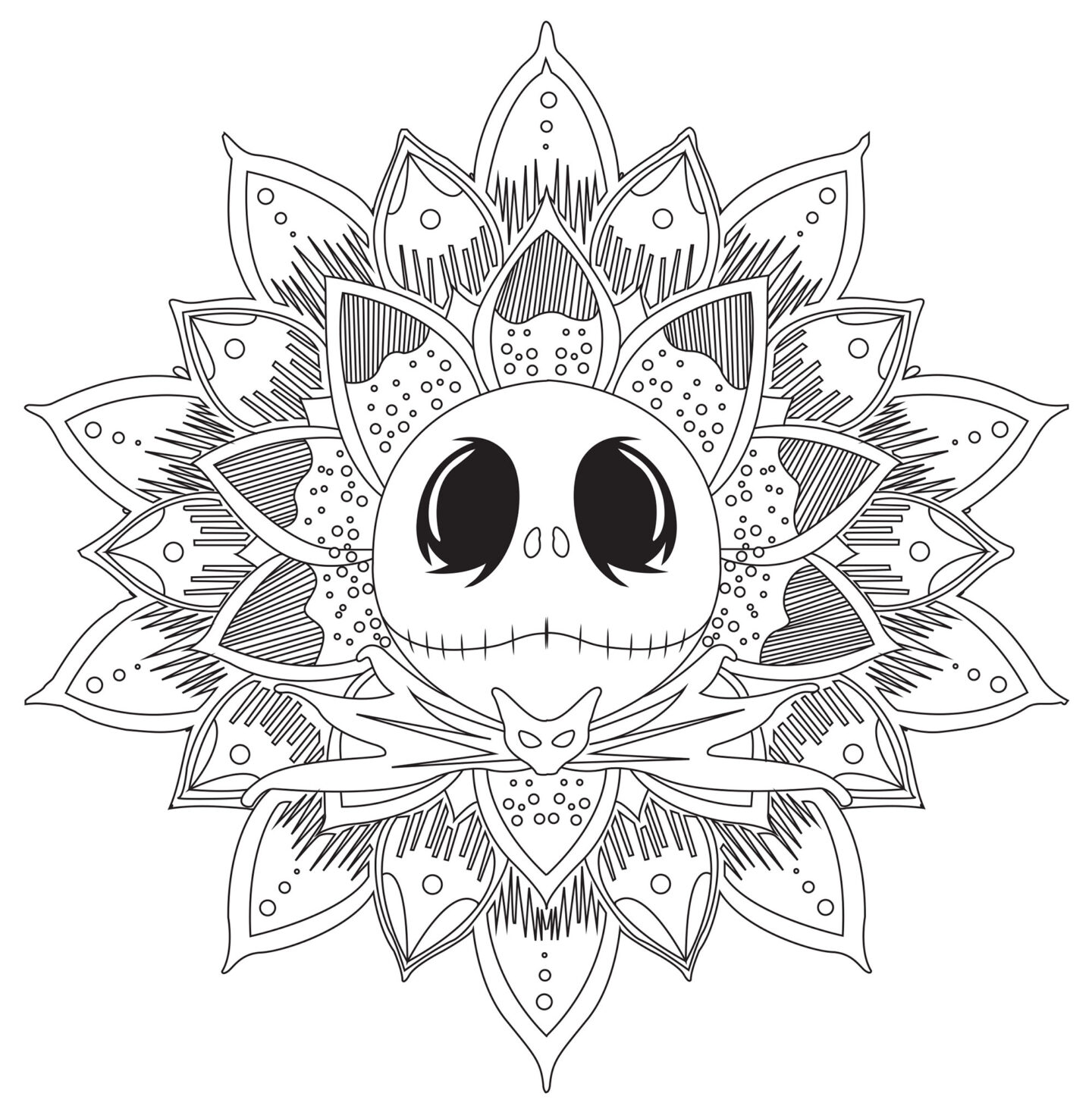 Source: https://www.justcolor.net/ngg_tag/the-nightmare-before-christmas
If you love mandalas and you love Jack Skellington, this Mandala Jack could not be better suited to you. It's fun, and a great opportunity to pair bright, vivid colors with Jack's muted tones. This would look stunning mounted and stuck on a wall.Definitely not one for little kids, the patterns are very complex, and will suit even the most enthusiastic colorer. Intricate lines, curves, dots, and diamonds: this coloring page has it all.
8. Cast Of Nightmare Before Christmas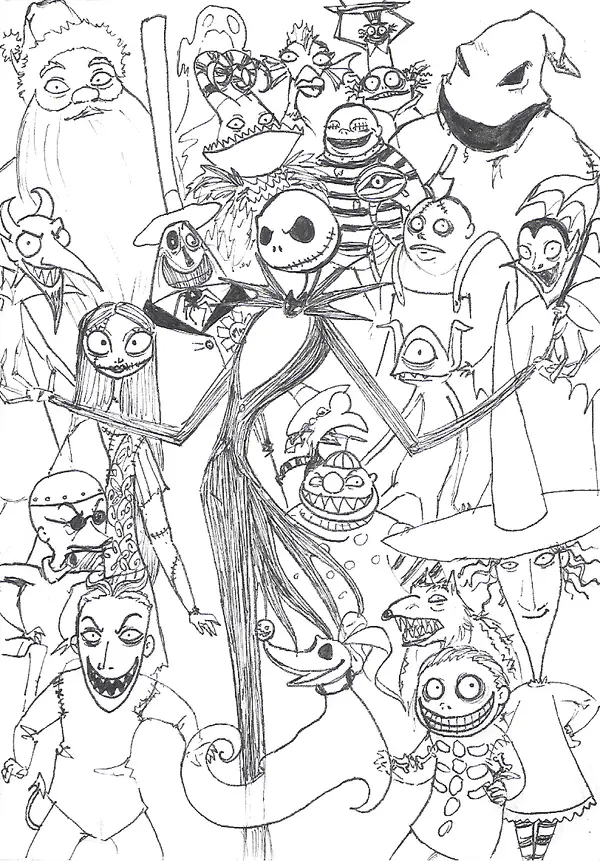 Source: https://coloringhome.com/coloring-page/1678090Jack and Sally might not be the only characters you love, so if you want a detailed and complicated coloring page, try this full Cast of Nightmare Before Christmas. You will see most of the characters there, with Jack in the center in all his slim splendor.This definitely represents a time investment, but it's great if you'd like a long project.
9. Pumpkin King
Source: https://drawingboardweekly.com/jack-skellington-coloring-page-with-wife-1000/A rather dark picture, this Pumpkin King coloring page is again geared at adults, and there's so much to do on it. Gravestones, stone walls, wisps of cloud, the pumpkin, and of course the characters, you won't quickly run out of parts that need coloring.Older children may enjoy this, but things like the swirls on Sally's clothing might prove a little too sophisticated for some, and they'll need a lot of patience to color the whole picture!
Conclusion
Jack Skellington coloring pages range from super simple to complex scenes involving all the characters, so whatever you're looking for, you'll find one you love. You can use these coloring pages as holiday decor or even as cards, or just do them for the fun and relaxation of coloring in!
Comments
0 comments