If you have a Cricut machine, the more you make with it, the more you'll want to make. Those of you who already have Cricut machines are all nodding your heads in agreement, aren't you?
Once you make your first few Cricut paper projects and vinyl projects, you start to realize just how versatile these die cutting machines really are.
Making monogrammed mugs with the Cricut is one of the easiest Cricut crafts you can tackle, but also one of the best- everybody loves mugs, and there's no end of cute quotes or images you can cut from vinyl and stick on your mug.
This Cricut vinyl mug tutorial uses the stick-on vinyl, but there's also a way to use heat transfer vinyl on your mugs that we will try in another post.
How to Make Monogrammed Mugs With a Cricut Maker
If you have some old plain mugs lying around, grab those, but I like to buy these 4-packs of white mugs so I always have some on hand if I need a last-minute gift.
Supplies
MugsAdhesive vinylTransfer tapePlastic scraper
Designing Your Mug
Make sure your mug is clean and nice and dry before you stick the vinyl on. I like to wipe off the surface of my mugs with rubbing alcohol to remove any extra junk on there.
Open Cricut Design Space and click on "templates" on the left of the screen.
Find mugs, and click that, then insert it onto your canvas.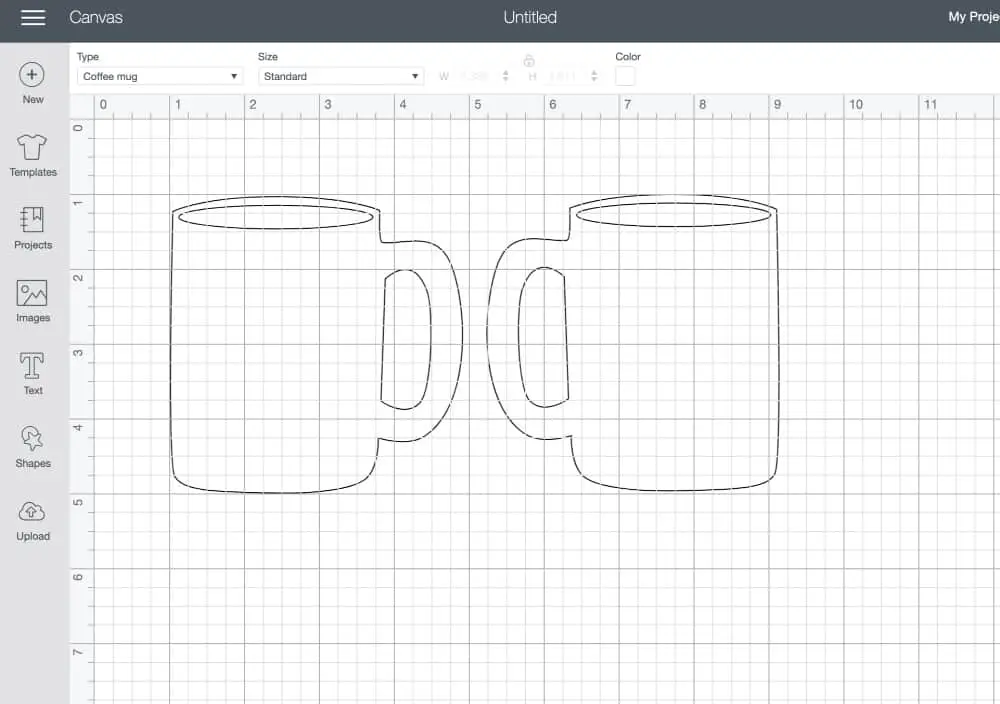 Resize the mug to match your mug size by dragging the double arrows out or in (arrows show up when you click on the mug drawing.)
Don't worry- the mugs aren't included in your project when you go to make it; they're just there so you can play around with how your design looks.
You can go 2 ways here to find your initial:
Click on 'text' to add some text into your design, and find a font you like to use for your initial, or:
Click on 'image', enter either letter or monogram into the search box, and scroll until you find the letter in a design you like.
I positioned the F on the mug and resized it up and down to see what I liked the look of. I added 2 "F's" because I wanted to add one to both sides of the mug.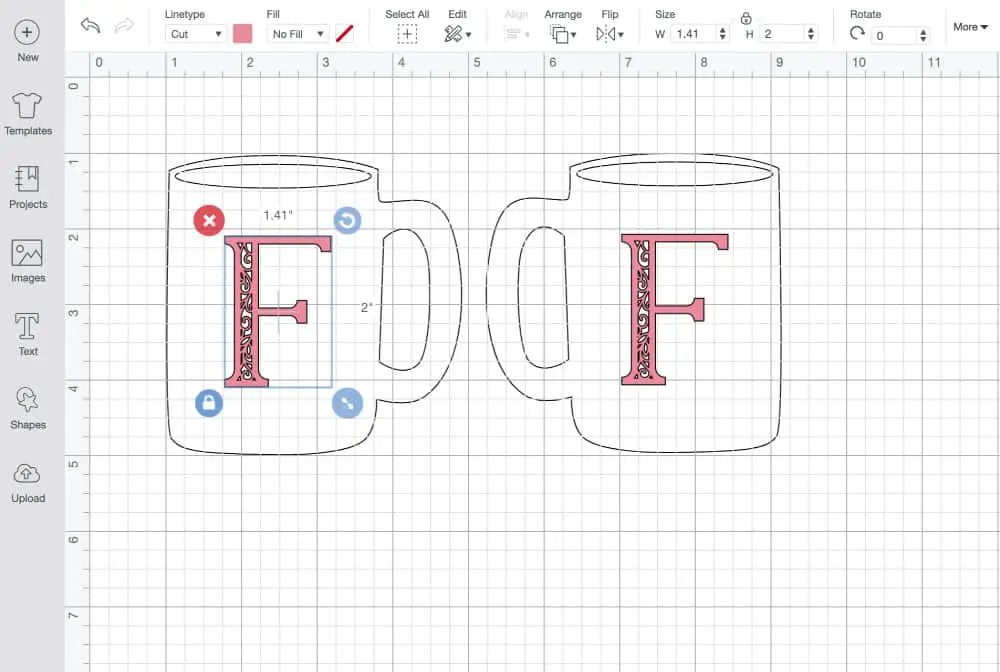 Making the Monogram Mug
Once you're happy with the size of your monogram, you can click 'Make it' and load your vinyl onto your mat and into the machine.
I used the vinyl setting and regular pressure for cutting.
When your vinyl is finished cutting, remove the vinyl from your Cricut machine and cut the piece of vinyl off of the main piece so you can reuse the rest for another project.
Cut a piece of transfer tape slightly larger than your vinyl, and stick
Peel the background vinyl away from your image, slowly and carefully. Some little pieces may want to pop up with the background, so just push them back with your weeding tool.
Weed out the inner pieces that need to be removed.
Press your piece of transfer tape face down over the vinyl image and scrape it with the scraper, ensuring you get the whole thing.
Flip it over and peel the backing paper off of the vinyl, then press the image down onto the front of your mug.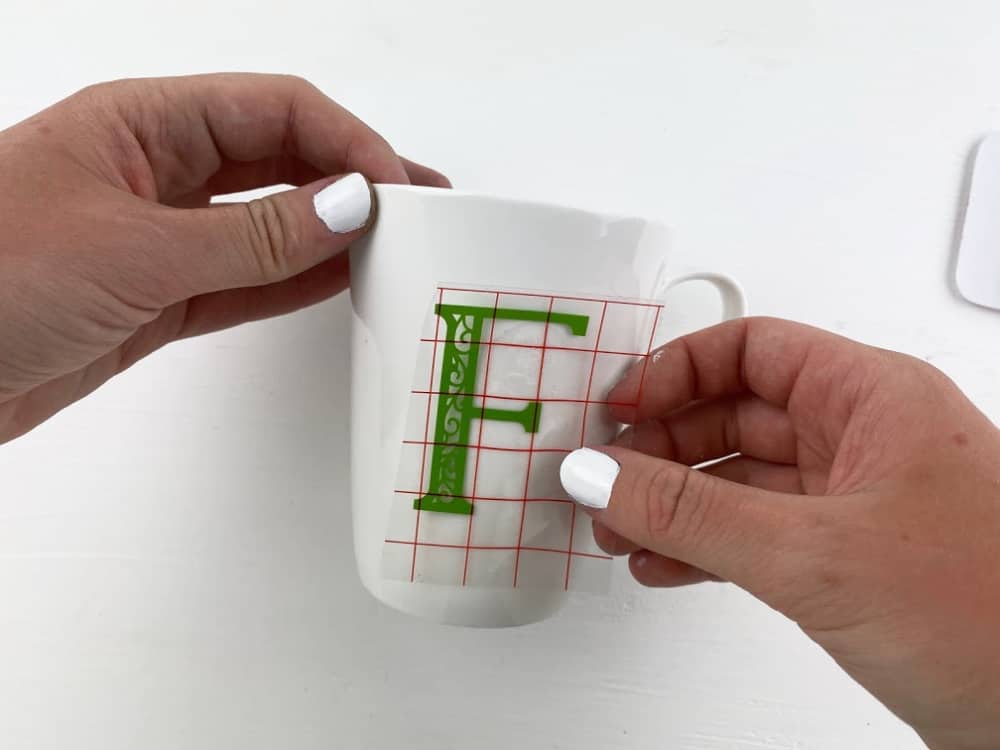 Press the vinyl onto your mug surface firmly with the scraper, and you're done!
I recommend hand-washing these mugs gently to prolong the life of the vinyl.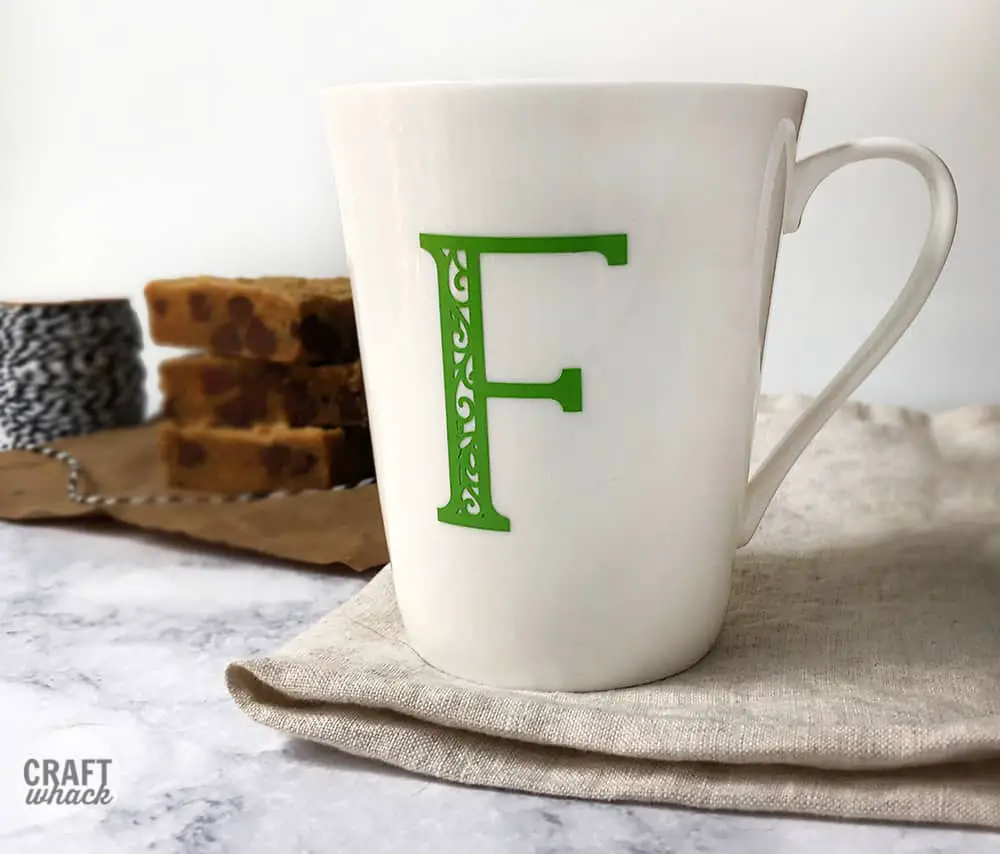 Comments
0 comments