Yep. I wrote a book, and it's full of drawing games and tangle art ideas for you. They're easy and fun. Some are quick, some take a little longer, but all of them will give you a reason to pick up a pen or marker and take a moment to make something, and have fun doing it.
It's a book for your kids to devour. A book for you to devour. The book to prompt spontaneous creativity and laughter in your home, and the book for you to realize that you don't have to be a trained artist or crafty DIYer in order to get all creative up in your grill. Whatever that means.
All you need to do is whip out some drawing materials (I highly suggest buying new ones because that's just plain fun), open to any page, and follow the incredibly clear, fabulously entertaining directions.
What's Inside
The book is separated into 4 chapters, with each chapter focusing on different types of drawing approaches. This book is not for the budding artist who wants to refine their techniques or learn advanced art processes.
It is for the people who don't think they are artists, for artists who want to take a break from making "important art", for kids who want to have fun while at home, waiting for dinner at a restaurant, traveling, visiting Grandpappy, or instead of paying attention in math class.
It is great resource for art teachers to plan sub lessons.
Chapter 1
Simple Drawing Games- The first projects are simple drawing games, and are just that- ways to loosen up, play around with drawing, have fun alone or with friends.
This project, Geometry Trees, is taken from chapter one of the book:
Chapter 2
Games With Friends- This chapter takes the silliness factor to a new level, because these drawing games are done with friends. Some will have you snort-laughing and actually enjoying drawing, even if you feel you are "not artistic".
Synchronized Drawing is so so so much fun to do, and all you need are a couple of markers and some paper.
Chapter 3
Mixed Media Games- I tried to not include any obscure art materials in here, and I think it's fun to see how you can explore different art materials in fun, playful ways.
You probably have catalogs lying around, so this Synchronized Drawing is a fun way to put them to good, art-making use.
Chapter 4
Tangle Games- Here's where we get into the tangling. I approached this chapter not so much as starter pages for people to tangle in, but as prompts to get you exploring new ways to draw with pattern. Tangling is fabulously relaxing and meditative, and I wanted to include fun ideas that would get kids interested in it as well as break apart from the semi-strict ideas of Zentangle®, which is a trademarked name and technique.
Double Cursive Tangling is reason enough to keep kids learning cursive writing.
Here's what some people are posting about my book on Instagram, and please also go read the reviews which are making me so happy I could spontaneously explode.
Here are the reviews by my amazing blogging friends, and I hope you find some new creative blogs to follow!
Sugar Aunts
And for the love of all things creative, don't leave me hanging! Post your lovely creations on my Facebook wall, Tweet them to me, Instagram tag me @Craftwhack, whatever! I want to see! Scroll down under the pic to buy now!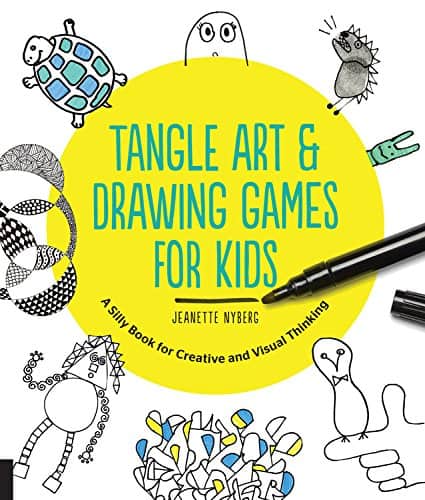 View our REFUND POLICY here.