A word about Zentangle® – It is a technique invented by Rick Roberts and Maria Thomas; please click here to see the official Zentangle site to read and learn more about it.
---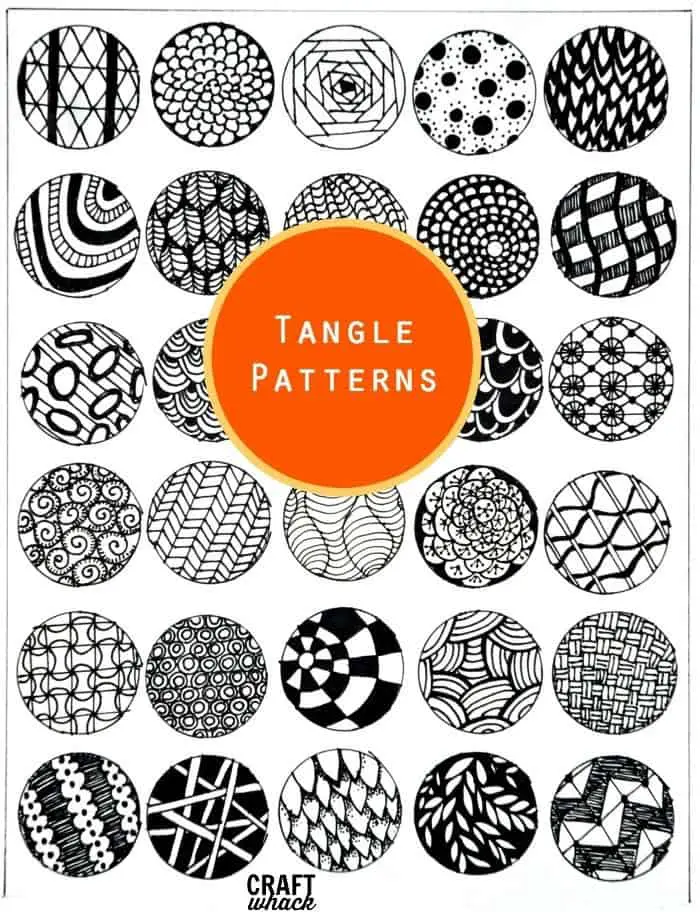 I've got TWO things for you today! A free printable of Zentangle patterns (inspired by the Zentangle method.  for your downloading and printing pleasure. As seen below, I have designed some completely awesome tangle starter pages.
Buy Starter Pages
Plus, tangling is freakishly fun, relaxing, and does something magical with the creative pods in your braingoo. It taps into them and makes them sing.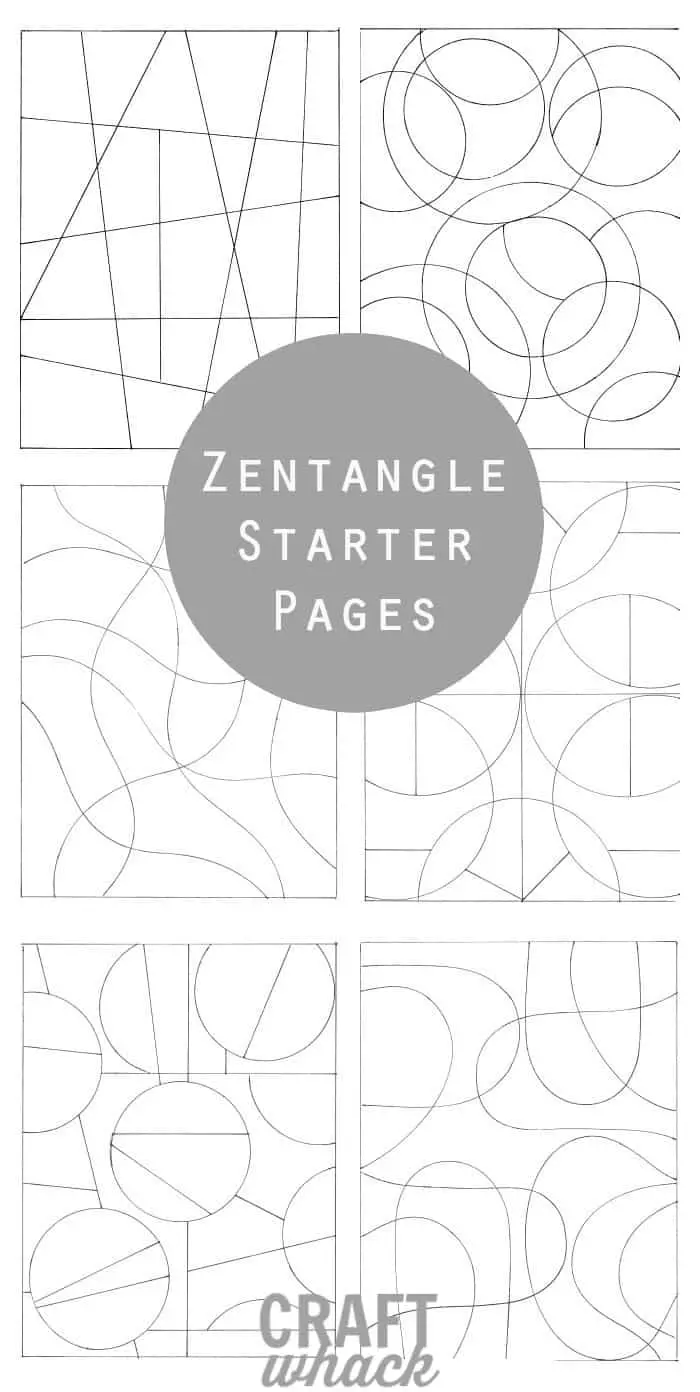 In fact, if you have several of these sheets lying around, don't be surprised if you soon find other members of your family and random friends sitting around the table with you, drinking root beer floats and chatting about the vastness of space and other fascinating tidbits.
Tangling tends to bring out the best in people.
I had the best time in the whole world designing these starter pages, and I tried to give a good mix of different styles for you to work on according to your whim. Feel free to print out the Zentangle® patterns pdf here to use with my starter pages, or you can use it as inspiration to come up with your very own patterns. Or, heck, just print it out and hang it on your wall.
Find Tangle Starter Pages Here:
 Original Tangle Starter Pages Tangle Starter Pages Round 2 Save Money With the Entire Dozen
Wanna see my finished masterpiece? I decided to make an extremely colorful tangle: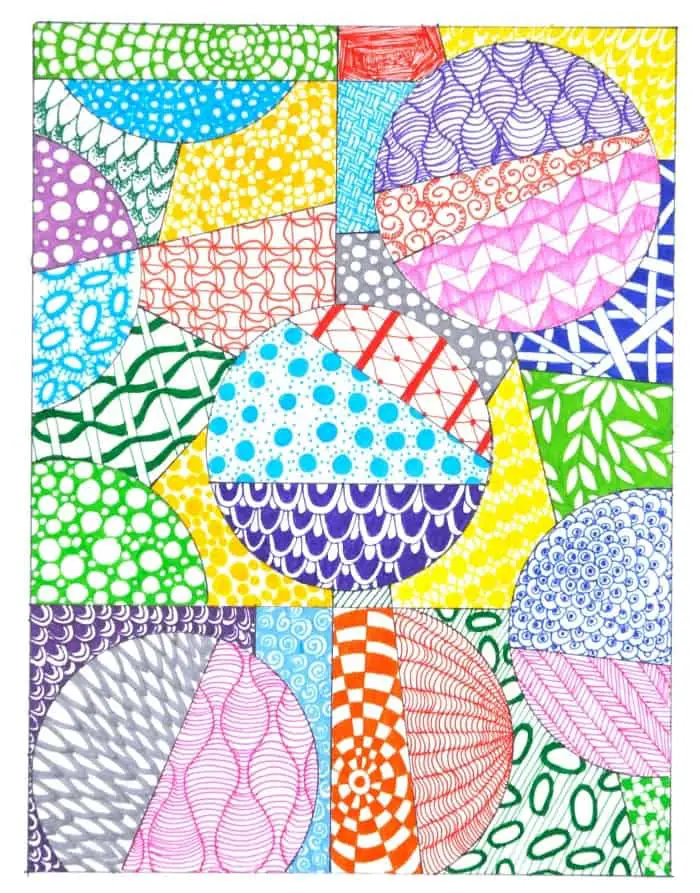 More Zentangle Ideas:
Print the same design out for everyone to work on and see how different they look when they're finished.
Limit yourself to using just black to tangle, or maybe 2-3 colors.
Tangle with a friend: you start one page, your friend starts another, then you switch pages after abut 30 minutes.
Print the starter pages out on heavy white card stock. Fill in the white spaces with watercolor or marker-color, and tangle over them after they dry.
OMG, combine tangling and glitter! Fill in some shapes with glue, sprinkle glitter over them, and POW!
After you finish tangling, seal your masterpiece with shiny Mod Podge.
Kid craft: cut out tangled circles and Mod Podge both sides with a few coats to use as coasters! (Much better teacher gift than a bruised old apple.)
Here's another Zentangle project I came up with- a totally easy way to get kids tangling.
Check out these cool ideas, too
Zentangle animals – lots of beautiful inspiration here!
My book, Draw Your Own Damn Coloring Book, for easy directions to draw lots of cool coloring or tangle starters!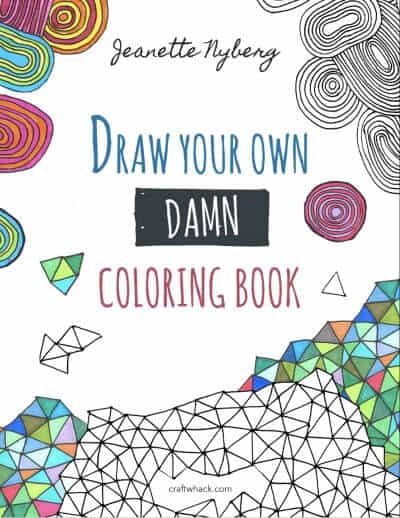 Pen recommendations: 
Sharpies!

Sakura 3-Piece Zentangle Pen Set

Sakura Fine Point Gel Ink Pen Set, Assorted Colors
White card stock:
Neenah Exact Index Cardstock
And lastly, tell me what you think! You like? You hate? You fall asleep?