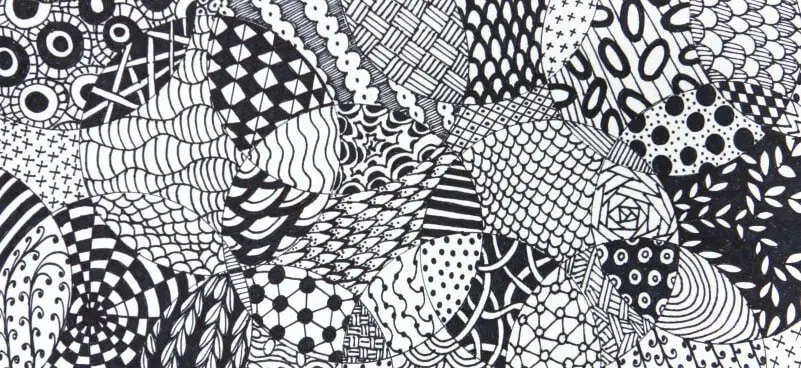 This Easy Zentangle project is still (after 4 years) a favorite on my blog, and I know exactly why.
Doodling is incredibly relaxing. I'm realizing that making art in a repetitive way with cool patterns is on par with all the good effects people get from coloring books, but it appeals to people who want to be a little more active in their Arting.
When I first made this tangle tutorial, I didn't realize that Zentangle™ had a lot of rules and guidelines, so I'm slowly switching to calling these projects 'tangles' instead.
My approach is a bit looser than Zentangle, in that there aren't certain patterns, techniques, and certified teachers.
Pretty much anything goes here if you have a pen and paper and a willingness to invest in a little time drawing. You will be happy you did- let's get tangling!
How to Make This Zentangle Project
Okay. Grab a black ultra-fine Sharpie, a piece of white card stock, and something round i.e. a half-used roll of colored duct tape.
Trace circles all over the paper, overlapping some. I used my Sharpie for the circles, but feel free to use a pencil first and then tracing over the circle with your marker.
Draw patterns inside the resulting spaces. This tangle drawing took me a few hours to finish, so if you want to start smaller, you can either just make a few overlapping circles in the middle of the page and leave them outside of the page blank, or cut/rip your paper in half and just tangle on half of it.
[adthrive-in-post-video-player video-id="XD1nHSE2″ upload-date="2018-12-16T19:23:20.000Z" name="Tangle Circles" description="Doodle draw some easy tangle circles"]
Extra Zentangles Tips
Don't worry too much about your initial circles – if they aren't perfect, they will be lost in the sea of patterns you draw.
You can alternate darker and lighter-looking patterns so you have an overall visual balance on the page.
I approached mine by filling in the patterns starting in one area and moving out, without regard to what the overall result would look like. This appeals to my artist's brain, which is trained to take the finished product into consideration, carefully planning out the composition and balance of my lines and patterns.
You really can't go wrong with this project- it's going to look cool no matter how you fill the spaces. The only thing I really paid attention to was trying to alternate where I put dark and light patterns. And to a lesser extent, how I balanced the rigid and the wiggly patterns.
If you see a spot that looks too empty, you can go back in later and add more lines/patterns.
You can repeat patterns! Especially in something like this, that has so many spaces to fill, relax into just drawing the patterns. It's easy to find patterns that are on the other side of the page that you can repeat. They will look different in different spaces, too.
Don't worry if you make a mistake. I make around 3-4 mistakes with every drawing I do. No big deal- work it into your whole page somehow. Take a slow, deep breath or 5, know that you can and hopefully will be doing 30,000 more of these, and use your 'mistake' as a way to start a new pattern.
I like to use this sort of project as a way to relax.
It's a completely awesome way to jump off the screens for a while and become absorbed in something creative.
You can make it as mindless or mindful as you want, but I like to protect my intention to relax into this and not make it a big stressful project.
It's sort of like knitting in that way; you can pick it up and put it down at will.
Where to Find Tangle Patterns
I have put together a tangle pattern cheat sheet for you as a great place to start. You can also do searches on Pinterest and Google for 'Zentangle patterns' or 'doodle patterns'. If you want to get super cool about this, check out your library for books on patterns. There are some amazing books out there chock full of visual inspiration.
Tip: Keep a tangle pattern sketchbook to flip through whenever you are in the middle of a drawing and need some inspiration.
What do I do With The Finished Drawing?
This might be fun to color or watercolor in – remember since this is black and white you can easily scan your finished drawing and print copies out to color.
Incidentally, if you like that idea, I have a whole book of ideas for drawing your own coloring pages, and most of these work amazingly well to incorporate Zentangle into!
If you are using letter-sized card stock, you can cut these in half or quarters and send them as postcards. Let's hear it for snail mail!
Laminate them and use them as placemats or coasters or just weird surfaces to color on for your kids
Paint a watered-down layer of gesso over this and use it as an art journal page
Cut them up and collage them (This is my go-to idea for every project on this site) 🙂
Take it to a copy store and use their laser printer to make copies. You can use laser prints in print transfer projects. YUM.
Use them as your paper for making Gelli plate prints.
Oh, also, I used a Sharpie marker, because I am in love with Sharpies.
Many people prefer Micron pens, for this or any sort of ink drawing.
Easy Zentangle Patterns Resource
If you want to read more about Zentangle and immerse yourself in project ideas, hit up the official Zentangle site.
I had no idea it was such a huge 'thing', with officially certified teachers and all that. If you click over, they also link to their videos and blog where there are a ton more ideas for Zentangle.
This book is fantastic if you find yourself wanting more:
 One Zentangle A Day: A 6-Week Course in Creative Drawing for Relaxation, Inspiration, and Fun (One A Day)
More Tangle Supplies (Including for white-on-black)
 Studio Series Artist's Tiles: White (75 pack) Sakura Pigma 30062 Micron Blister Card Ink Pen Set, Black, Ass't Point Sizes 6CT Set Zentangle Basics, Expanded Workbook Edition: A Creative Art Form Where All You Need is Paper, Pencil, & Pen (Design Originals) 25 Original Tangles, Beginner-Friendly Practice Exercises, & Techniques Sakura Gelly Roll Moonlight Pen Set, 1 mm Bold Tip, Assorted Colors, Pack of 10 Studio Series Artist's Tiles: Black (75 pack) Sakura 37488 Gelly Roll Classic 08 (Medium Pt.) 3PK Pen, White
---
My book, Draw Your Own Damn Coloring Book, offers up the same amazing relaxation benefits as Zentangle. You follow each set of easy directions to make your own (damn) coloring pages, that you can then choose to color in or tangle.
 Draw Your Own Damn Coloring Book
GUESS WHAT!? 
I have a free pdf for you to download full of Zentangle patterns. Plus…. browse the Craftwhack store for your favorite Tangle starter page. They're rad. And here's a cool way to do some tangling on top of watercolor.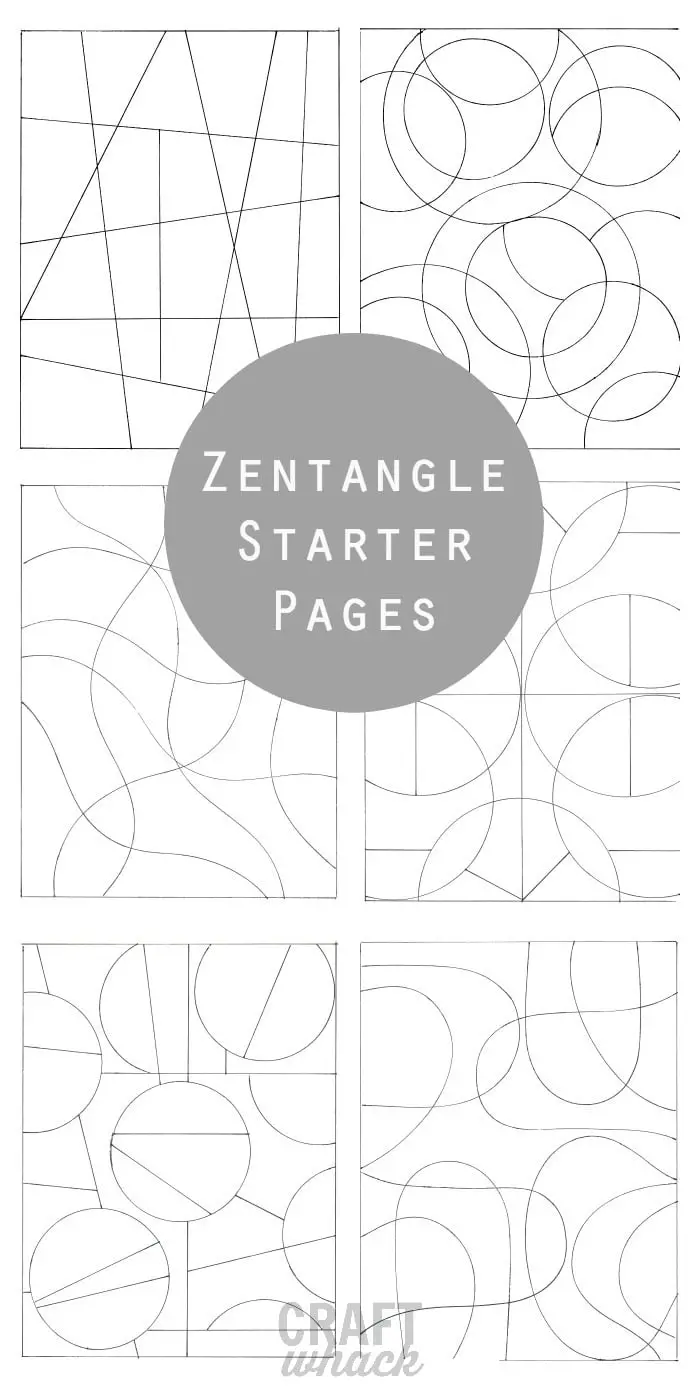 Keep Exploring Zentangle:
Related: More ways to relax through art-making