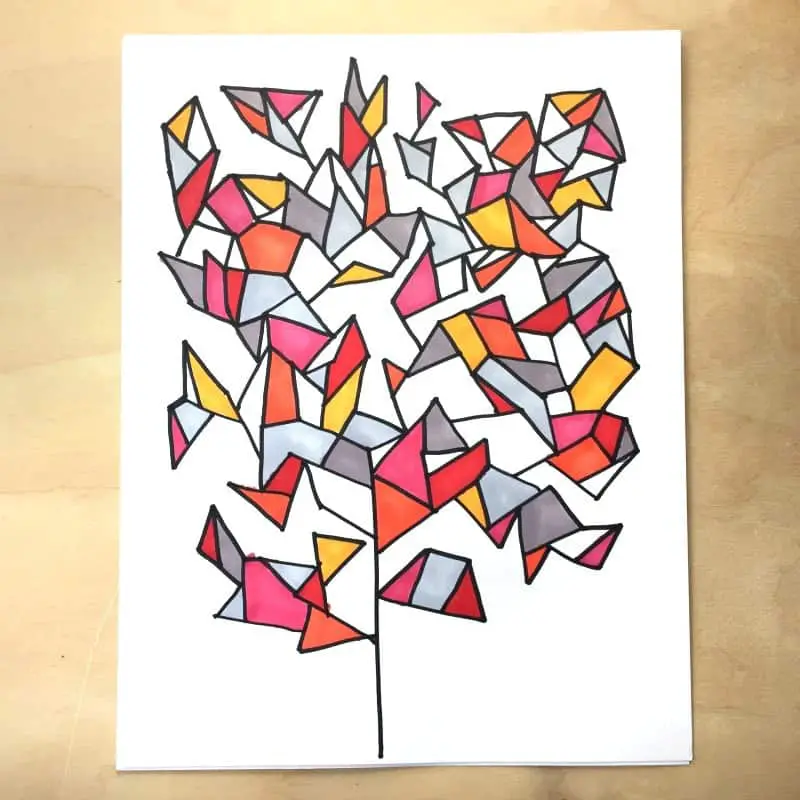 This month I am counting down the weeks until my book is officially released all over the place. I decided to share with you 1 project a week for 4 weeks (that is 4 projects, in case you are mathematically challenged.)
Each project will correspond with a different chapter in the book. Bonus question: How many chapters in the book?
This first project is a simple drawing game that I named, Geometry Trees, or Geometrees. Doesn't that sound lovely? It is! And it's easy beyond belief. Good for kids, good for you.
Grab a black Sharpie and white card stock, plus some extra markers if you are in a coloring mood.
Step 1: Draw a straight line about a quarter of the way up the page.
Step 2: Start drawing straight lines out to represent branches. Don't plan too much where they go, just fill up the page with your tree.

Step 3: Close up some or most of your tree with lines- basically your tree is turning into a bunch of small geometric shapes, thus the fabulous name.

Step 4: Color them in if you so desire. This is your chance to make your own coloring page, instead of coloring in someone else's artwork.


Step 5: Buy my book. It's full of fun drawing games and tangle ideas. You and your kiddos will LOVE them. really.

Step 6: You'll probably love these posts on lots of sketchbook ideas and even more drawing ideas for kids.

Tangle Art and Drawing Games for Kids Book and Project Series: