It's amazing how prehistoric creatures can turn boring party decorations into a spiffy birthday party! Dinosaur birthday party ideas are super fun and will make your kids happy, especially if they're fans of the Jurassic world.
If your children love dinosaurs, then having them create these dinosaur decoration ideas will ensure they have a roaring good time! Don't worry; you don't have to look far and near, as we have here the best dinosaur party ideas you could ask for! So let's get to it.
1. Dinosaur Dessert Table
Party food is what makes a party great. But, when it comes to a dinosaur party, you need to keep the theme in check. Start off your dinosaur party decorations with a nice backdrop to take you back in time, add all the dinosaur-shaped balloons, cover the table with leaves and plants, and voila!
If it's a birthday party, don't forget the dinosaur birthday cake and fossil cookies to compliment the whole dinosaur party theme!
Learn how to create a dinosaur dessert table on Catch My Party.
2. Roar Balloons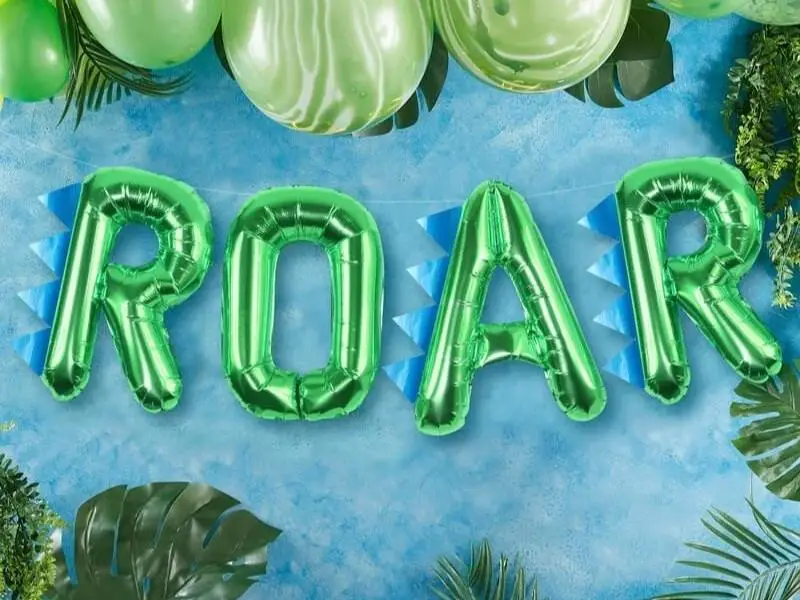 Are you searching for dinosaur-themed balloons? The 'Roar' balloon banner might just be what you need for your dino party! It's pretty cute, verdant green, and is a super popular idea for any dinosaur-themed birthday party. Plus, they're must-have dinosaur party supplies. When it comes to DIY projects, this one is almost effort-free!
Learn more about Roar Balloons on Country Living.
3. Dinosaur Candy Huggers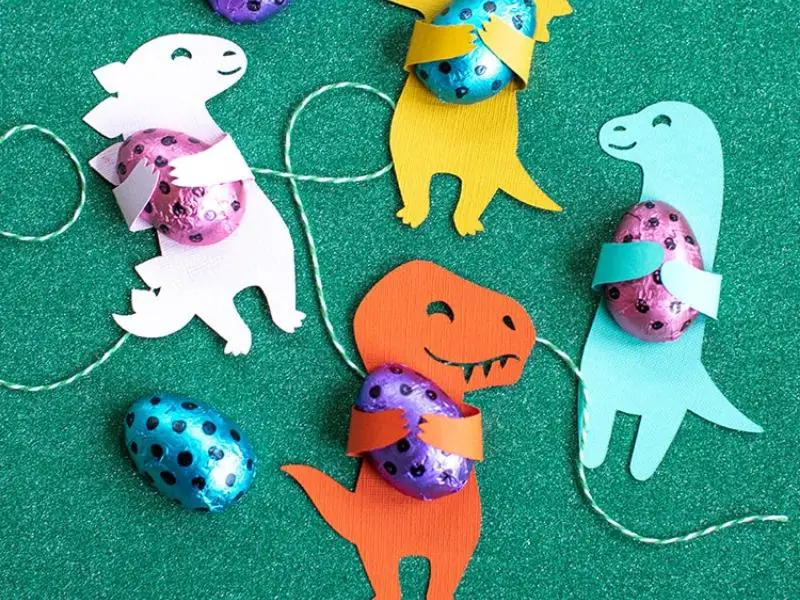 As far as dinosaur decorations go, this one's pretty popular in these special-themed parties, and your friends will absolutely love them. Dinosaur candy huggers are a big hit with kids. What's even better is that you don't need to have a dinosaur birthday party to craft these cute little creatures! Instead, you can decorate your kids' rooms with them at any time of the year!
Visit Lia Griffith to learn to make Dinosaur Candy Huggers.
4. Printable Dinosaur Footprints
If you want to have a fun dinosaur party, creative party activities should be in order. But how do you tell your guests they need to do a certain activity without spoiling the fun? Simply use dinosaur footprints to lead them where the fun activity is! You can also use them to lead them to the food table or a mini dinosaur dig site.
The color theme for any dinosaur-themed party is green, but you can also have orange and yellow footprints.
Check out American Greetings to learn more about printable footprints.
5. Felt Dinosaurs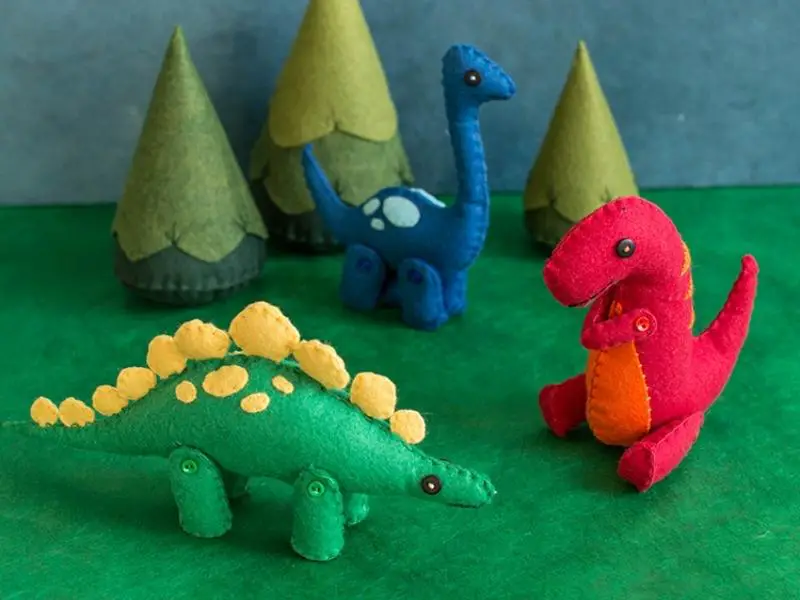 Want to know what will add charm to a dinosaur birthday party? These cute little felt dinosaurs decorating each room! Even the biggest dino-mite fan will love them, probably even more than plastic dinosaurs. Additionally, felt dinosaurs are a great idea for fun dinosaur party favors.
See the tutorial for felt dinosaurs at Lia Griffith.
6. Dino Dig
Dinosaur party activities are exciting, so if you're having a dinosaur party, don't miss out on the chance of having a dinosaur dig decorating the space. With this clever craft, you can bury dinosaur eggs, toys, and all sorts of diggable items into the sight. After your little ones have successfully dug them out, reward them for their hard work!
Learn more about the dinosaur dig site and kit at Cub Scout Ideas.
7. Dinosaur Cake Decorations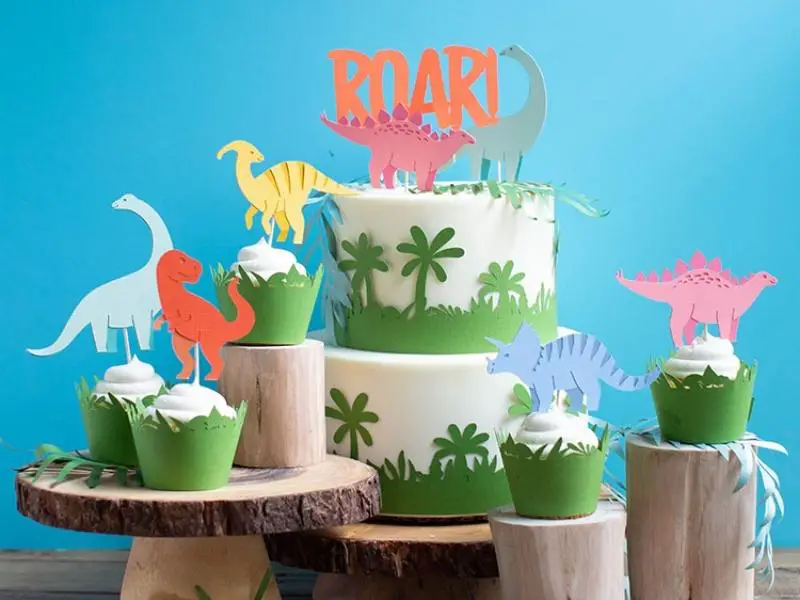 A ready-made dinosaur cake is amazing for any themed party, but you'd be happy to know you can make one at home with simple party decoration items! From green cupcake wrappers to dinosaur bones toppers, with this idea, you'll have the best dinosaur party food you could ask for!
Learn more about dinosaur cake decorations from Lia Griffith.
8. Dinosaur Party Hats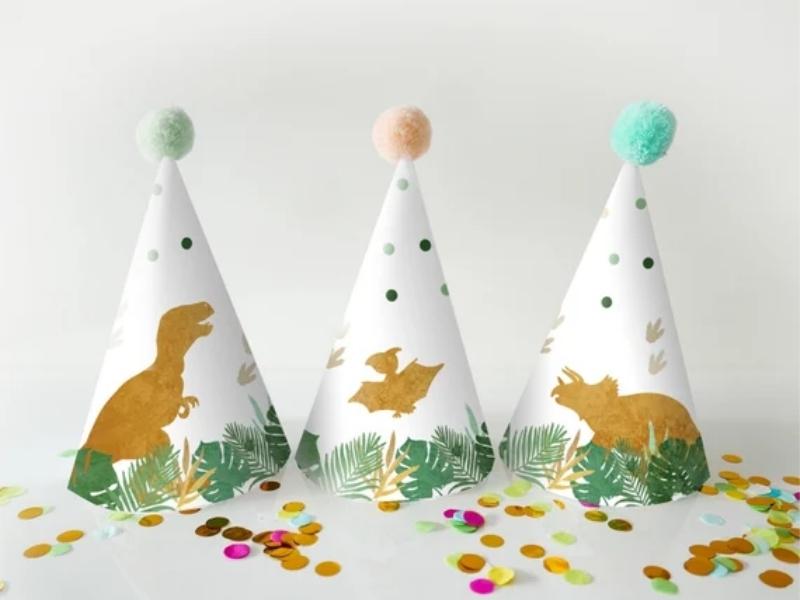 While hats aren't exactly used to decorate a dinosaur birthday party, they're still a nice addition to the appeal of the dinosaur party theme. A party hat will always be a nice item for your kid to play around with. Plus, what's the point of celebrating dinosaurs if you're not wearing a T-Rex party hat, right?
See more dinosaur party hats on Catch My Party.
9. Dino Bones
Have you ever looked at a pretzel and thought, "that looks like a dinosaur bone?" If not, covering pretzels with white chocolate will surely help you visualize that. Not only do they add more to dinosaur party decorations, but they're delicious treats that girls and boys of all ages will instantly love.
Check out Catch My Party to learn more about these dino bones.
10. Dinosaur Pinata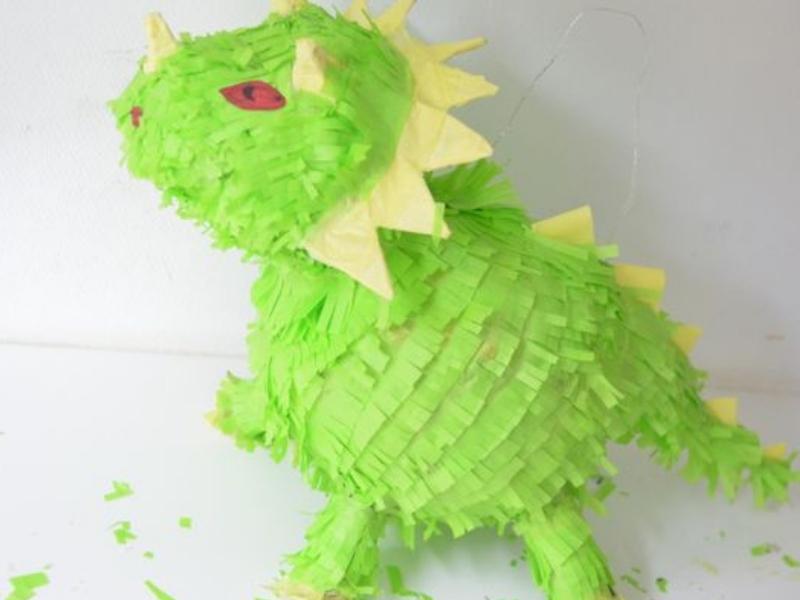 Pinatas are one of the best dinosaur birthday party ideas you could provide for your little ones. They're great in terms of decorations, and they'll provide all the treats your guests could ask for! Pinatas for a dinosaur birthday party don't need to be dinosaur-shaped; they can also be egg-shaped or have it number-shaped, whichever your birthday boy or girl asks for.
Learn how to make a dinosaur pinata at Guide Patterns.
11. Dinosaur Pipe Cleaner Toys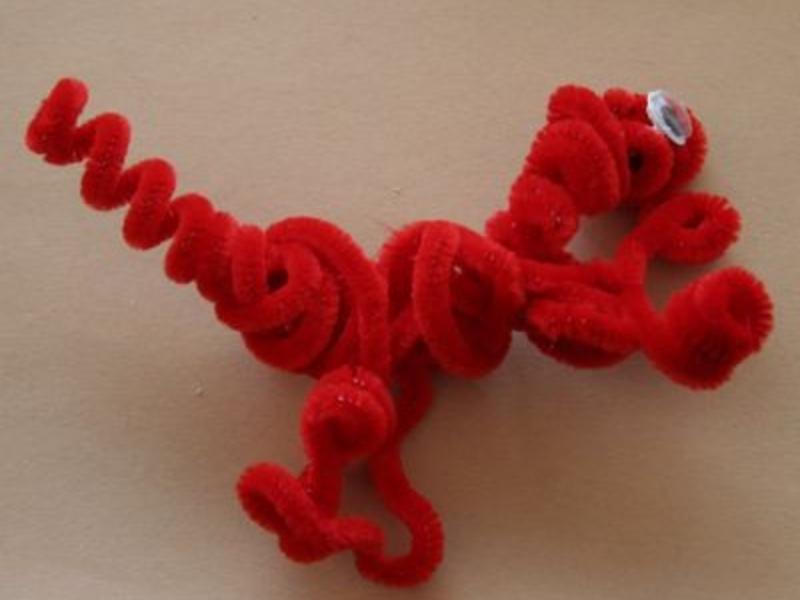 If you're running out of ideas for dinosaur party favors, this craft is certainly for you! Pipe cleaners are super versatile and can be shaped into all sorts of things which will help you decorate your space a great deal.
Add some googly eyes to them, and you'll have a cute little T-Rex for your guests! No need to purchase dinosaur toys to have fun with dinosaurs! Put these cute little crafts into bags, and your party favors will be all set.
To craft the dinosaur pipe cleaner toys, visit make and takes for the full tutorial.
12. Paper Pterodactyl Puppet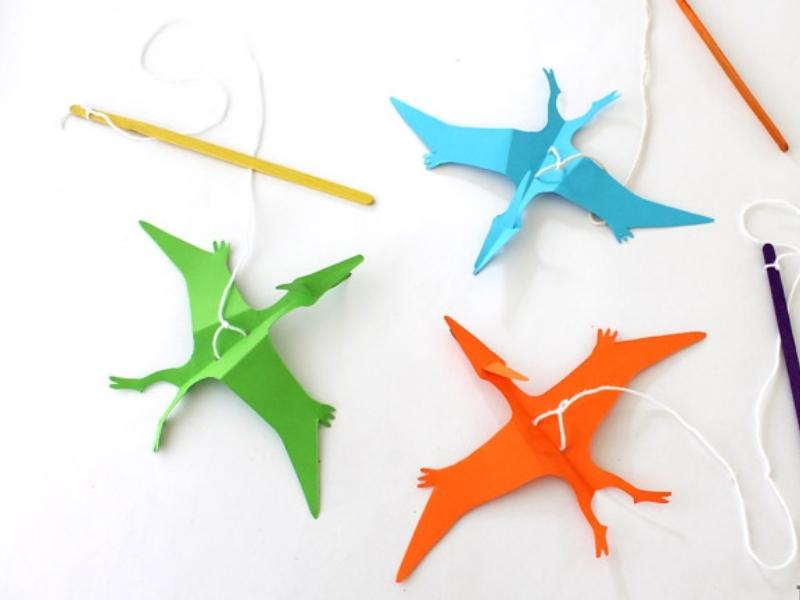 Here's a great idea your little paleontologists will surely love to help out with. These paper pterodactyl puppets are pretty simple to make, and it's almost mess-free. In addition to that, they can decorate any part of the house, and they won't look out of place. What's more, if your little girl or boy is having trouble getting into crafting, creating this craft is a good start.
Visit The Craft Train to know more about these puppets.
13. Dinosaur Snowglobe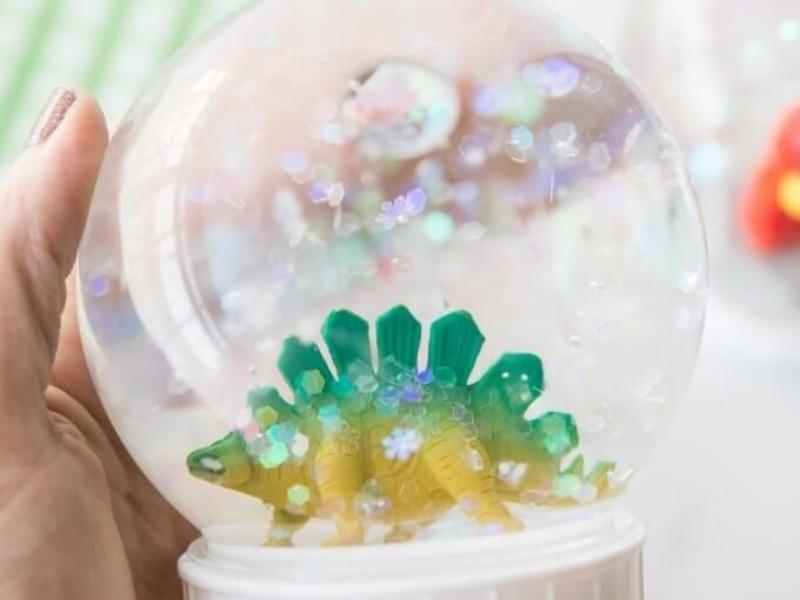 Crafting a dinosaur snowglobe might seem out of the realm of possibilities, but don't worry; this is one of the easy-to-implement ideas, and, yes, you can decorate the house with these shiny crafts in time for your little one's birthday party!
Note that you can add any type of dinosaur inside the snowglobe, so choose wisely!
See the tutorial for the dinosaur snowglobe at Little Bins for Little Hands.
14. Egg Carton Dinosaurs
Are you looking for simple, short, and sweet dinosaur party ideas? You'll definitely dig this one! (no pun intended). The colorful egg carton dinosaur is the easiest dino craft you can create right off the bat. You don't need special supplies for this one.
All you need to some egg carton, acrylic paint, googly eyes, and pipe cleaners, and you'll have brand new decorative items or party favors depending on how you'll use them.
Get the full details for this project on Our Kid Things.
15. Marbled Dinosaur Messy Play Painting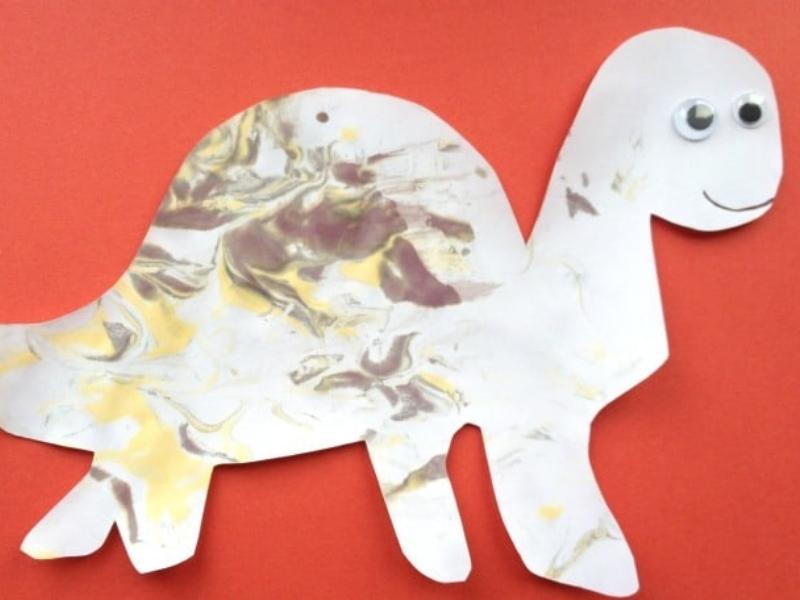 If you want to support the little artist in the family who's also a fan of dinosaurs, they'll adore this dinosaur messy play painting to no end! Just after they're done playing with the marbling effect on paper, you can cut out the dinosaurs, give them some googly eyes, and then show your kids more support by decorating the house with these art pieces!
Learn more about marbled dinosaur messy play paintings from Crafts on Sea.
16. Tissue Paper Dinosaur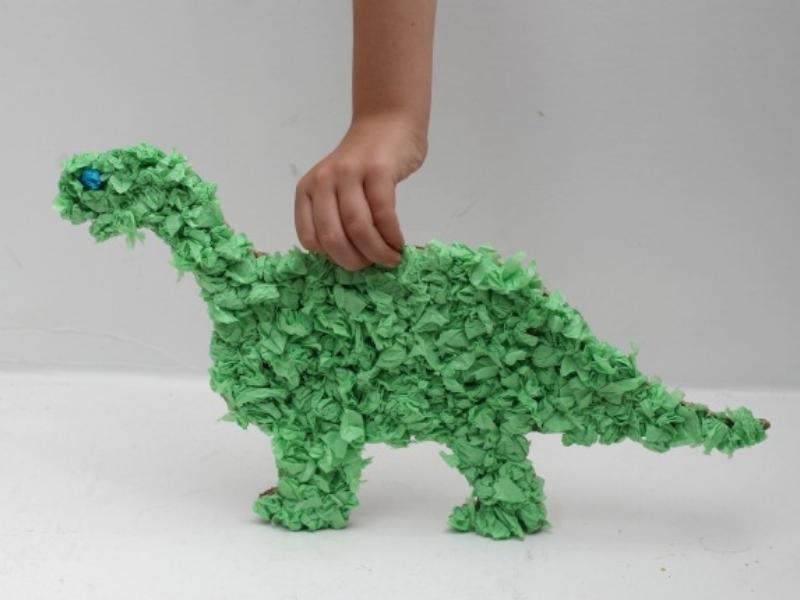 Here's another easy way you create your favorite extinct creature. This is yet another simple craft that you can make along with your kids, and the tutorial is pretty straight to the point; thus, you will find little to no trouble creating this tissue paper dinosaur. Whether regular or T Rex-shaped, it's great to have one of these dinosaurs at a party!
Learn the exact steps for this craft on Mom Unleashed.
17. Mini Dinosaur Jar Craft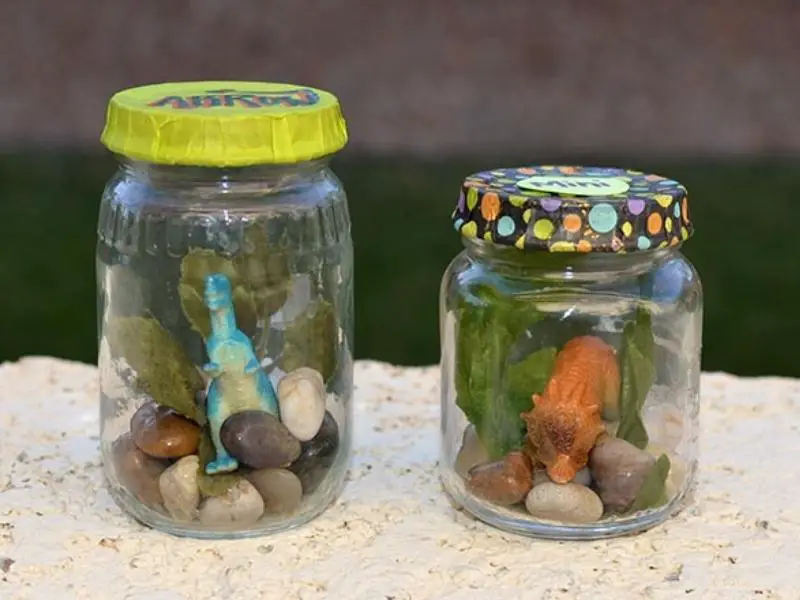 What's better than an empty mini jar, you ask? The answer is one that has a toy dinosaur inside! These jars are super cute and can almost blend into any space you put them in. Of course, decorating the jar itself as well as the lid is a subjective matter, so make sure that everyone gets their own little jar to decorate.
Check out how to make these mini dinosaur jars at Artsy Momma.
With these 17 awesome crafts, you're guaranteed to throw the best dinosaur-themed party! Don't forget to have fun with your loved ones as you carry out these ideas, and, finally, happy crafting!
Comments
0 comments