Mirrors are landmark interior decor. They can be a great focal point that decorates your room and makes it look more expansive when they reflect light.
However, the main problem with mirrors is that the best-looking mirror frames are often too expensive. And splashing so much money on a fancy mirror frame feels heavy on the heart.
But instead of settling for a basic mirror frame, how about taking matters into your own hands? Or, specifically, giving some personality to your decor with DIY mirrors.
It may sound intimidating, but fortunately, there are many simple and fantastic ideas you can apply to your own mirror frame. And the best part is that you have complete flexibility, so you can apply your desired designs that may not exist in decor shops.
So keep reading to find out more, as we've compiled a list of the best DIY mirror frame ideas.
DIY Sunburst Mirror Frame
We're starting strong with this one! This beautiful frame looks like one of those expensive mirror frames in the stores, but it's actually a relatively inexpensive project.
You can use metal, wood, or other materials you like to create the sun rays and use wood glue to stick it around your round mirror. And if you have a frameless mirror, the results are even better.
Here's a tutorial on sunburst mirrors by Love Create Celebrate.
Gold Dipped Mirror Frame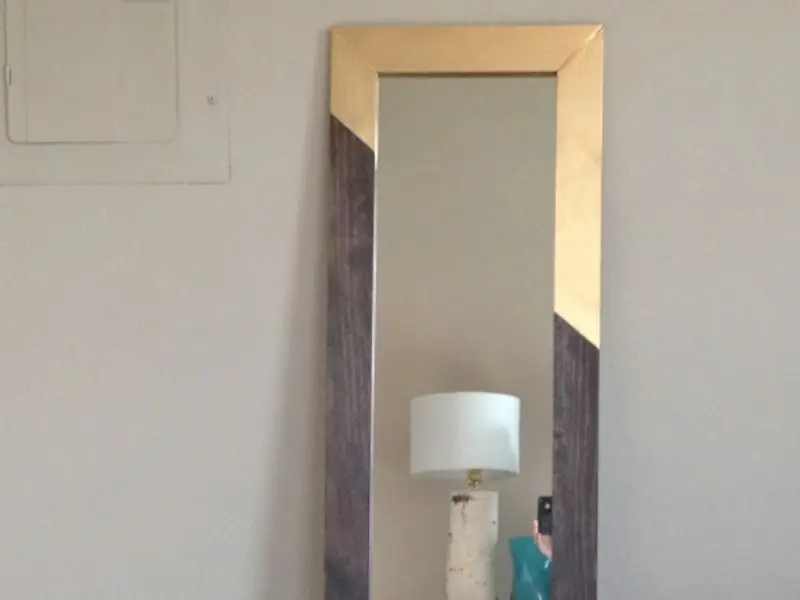 There's always something special about decor with a gold accent! And a golden mirror frame will add that sparkling fancy touch to your room.
This is a cheap and easy DIY project. All you need is a gold spray paint can and filler to avoid spray painting the mirror itself, and that's it. You can even use a cheap framed mirror or an external plain mirror frame.
Check out the instructions on gold mirror frames by Pretty Providence.
Pottery Barn Inspired Mirror
This is a perfect mirror if you love minimalist design. It's a pretty simple project to create in a short period with affordable supplies like mirror tiles, plywood, and strong glue sticks or a hot glue gun.
The result is a beautiful paneled mirror that looks good on whatever frame you like. You could even compile this project with another one on this list if you'd like.
Here's a step-by-step guide on making a pottery barn-inspired mirror by Bree At Last.
No Grout Mosaic Tile Mirror
Mosaic tiles are a favorite design pattern in home decor because of how much artistic value they convey in a simple manner. In our opinion, this mosaic mirror frame texture fits best as a bathroom mirror.
Once again, this is an effortless DIY mirror frame that anyone can do with a few cheap supplies and tape. Plus, you can choose any colors you want, so there's a lot of versatility in the color scheme.
Check out the instructions for making a mosaic tiled mirror by the DIY Village.
Jute Mirror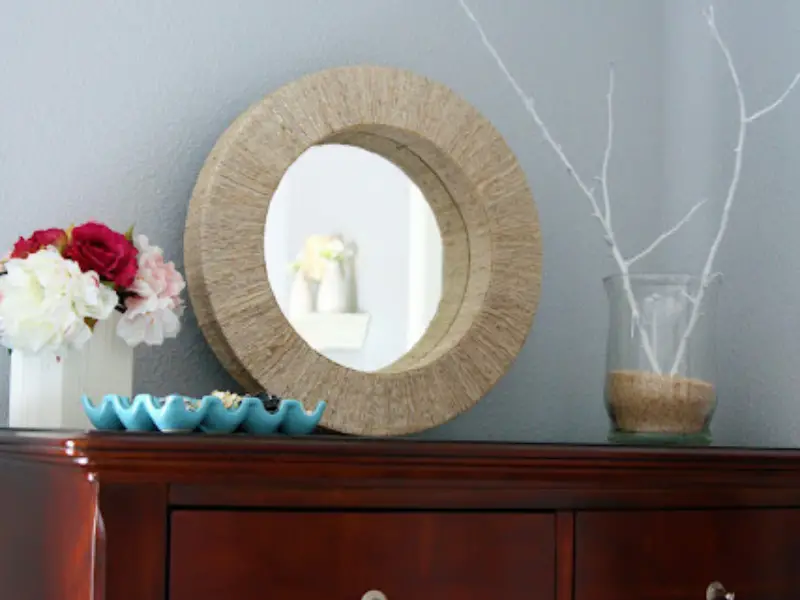 Do you have a small mirror but wish you had a larger one? We might not have the magic formula to expand your mirror, but we certainly know how you can make your small mirror feel larger.
To transform your round mirror into a jute mirror, all it takes is a pair of jute spools, a foam wreath, and some glue.
Read the tutorial for making a jute mirror by Vans Rensbugs.
PVC Pipe Mirror
Sometimes, DIY crafts are all about getting old objects that seem useless and turning them into beautiful art pieces. Or, in our case, a beautiful mirror.
So if you have some PVC pipes and an old mirror lying around, you can clean them then use whatever cutting tools you have to repurpose them into an attractive mirror with a beautiful frame.
Click here to read this PVC pipe mirror tutorial by Thrifty and Chic.
Round Wood Mirror Frame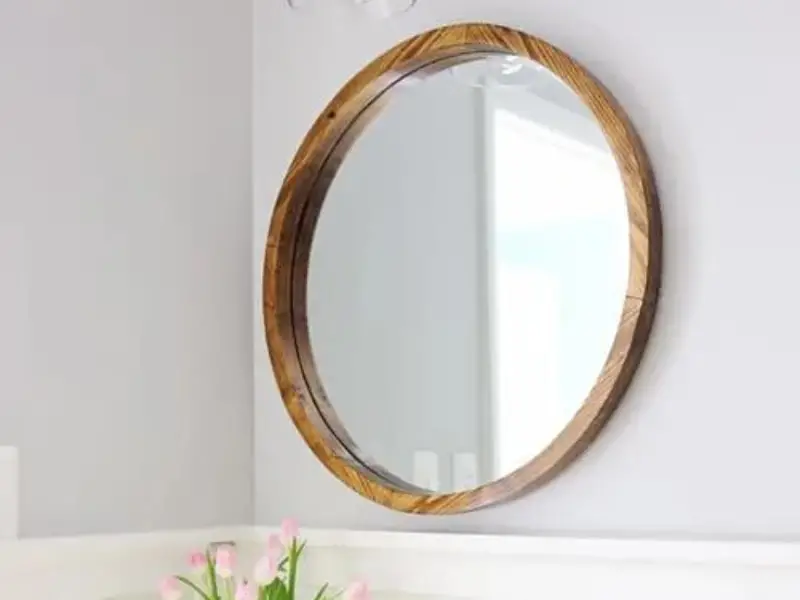 Here's an excellent budget-friendly idea for those who have wooden decor or live in wooden cottages. And it doesn't cost hundreds of dollars like those wood mirrors you see in some stores.
All you need is a bit of handiwork, and you can create your DIY round mirror frame. But don't be intimidated by the idea of working with wood because it's not as complicated as it sounds. You could even do it with a small round mirror and a picture frame.
Here's a pretty easy-to-follow tutorial on round wood mirror frames by Angela Marie Made.
Clothespin Wreath DIY Mirror Frame
Who knew you could make such a fabulous mirror frame using these basic house supplies from the Dollar Store? Well, now we're certainly convinced!
Yes, we know plain clothespins often look ugly. But allow us to introduce you to the vast world of clothespin crafts, which rely on other supplies like spray paint to give pins a new look, just like this DIY mirror frame.
Still not convinced? Maybe this clothespin wreath mirror full tutorial by Mod Podge Rocks will change your mind.
Rustic Wood Full-Length Mirror Frame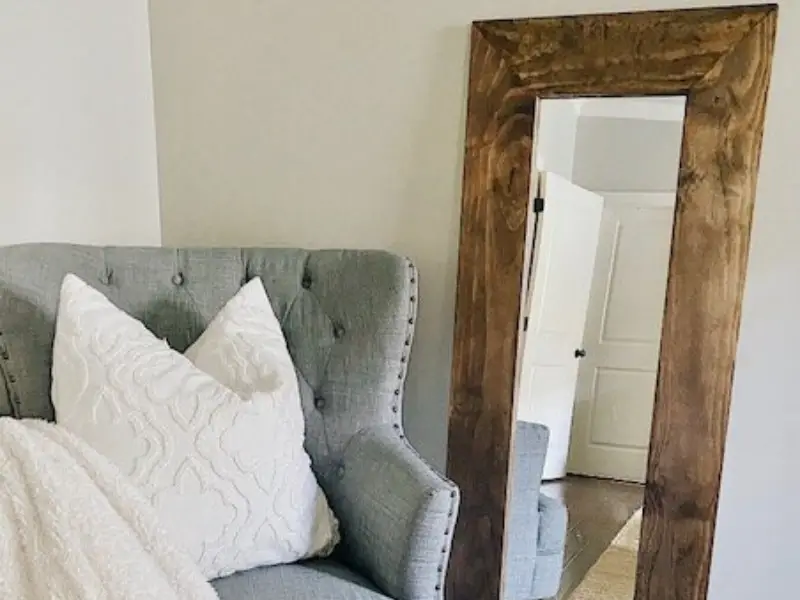 Do you want to add a rustic farmhouse touch to your interior? You can do this with just a full-length mirror and a few supplies that won't cost more than a couple of hours worth of work if you're buying them from scratch.
You can use regular wood or plywood to create this mirror's frame. And there are several tutorials online for each type, so it all depends on what you want.
Here's a tutorial using rustic wood to make a full-length mirror frame by She Gave It A Go.
Amethyst Crystal DIY Mirror Frame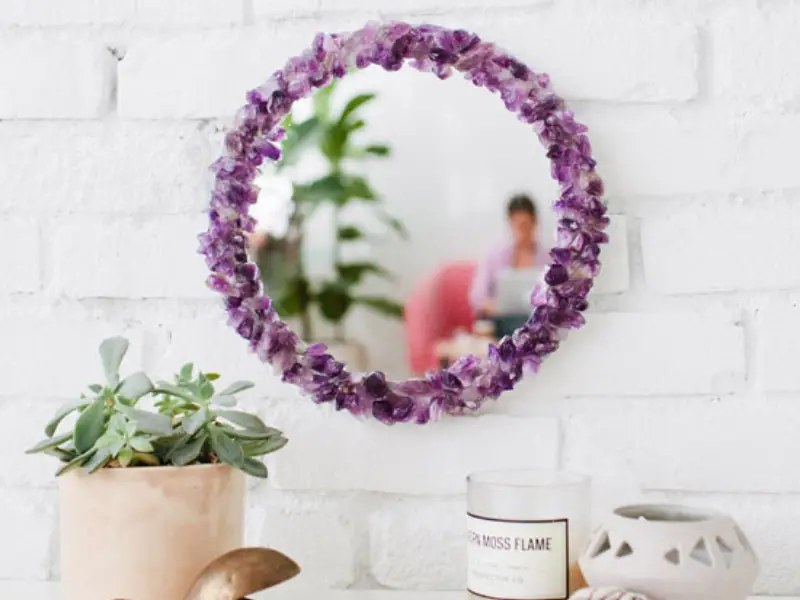 We often like to include at least one DIY project involving crystals. So if you love the purple color, then amethyst is the perfect crystal for you.
And don't worry about your budget. Amethyst is actually a reasonably affordable precious stone. You can order amethyst pieces online and some glue to stick them together and to the mirror frame.
Read about how Design Love Fest made their amethyst DIY mirror here.
DIY Unique Patterned Mirror
Here's a unique idea we found. It doesn't use standard house supplies like most other DIY projects here. But it blooms with creativity and beauty that's guaranteed to inspire and impress your guests in an instant.
This design originated in Photoshop, so you might want to go the same route. Of course, you'll also need a jigsaw to cut it on plywood, driftwood, or whatever other material you want. But once the project is finished, you'll be left with a jaw-dropping and unique mirror frame.
Here's the tutorial for this unique patterned mirror on All Things Thrifty.
DIY Mirror Frame With Plastic Spoons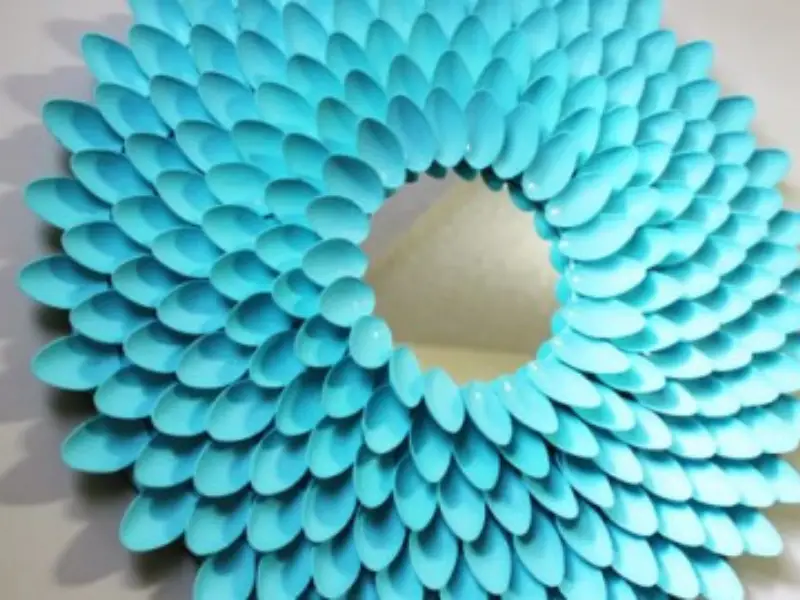 This is an easy and fun project that you can do with your kids. And plastic spoons aren't exactly expensive utensils, so this entire project will cost you peanuts.
You'll also need some paint and adhesive, but this is no big deal. You also get to decide on the mirror frame color since you can paint it whatever you want.
Here's a tutorial on plastic spoon mirror frames by DIY Joy.
Half-Circle Mirror With Hanging Fringe Wall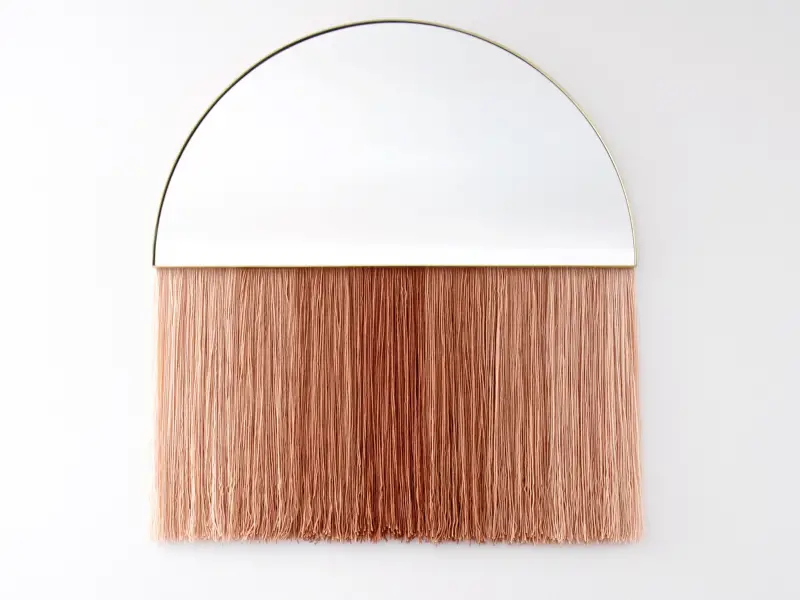 If you have a basic half-moon mirror, you can turn it into this creative-looking mirror and then hang some yarn off it using glue.
And for those who only have round mirrors, don't worry! You can use a glass cutter tool to shape your mirror as you like and smooth its edges using sandpaper. And you can also paint your yarn with a different color if you'd like.
For instructions, read this half-circle mirror with hanging fringe wall by The Vintage Rug Shop.
Easy Driftwood Mirror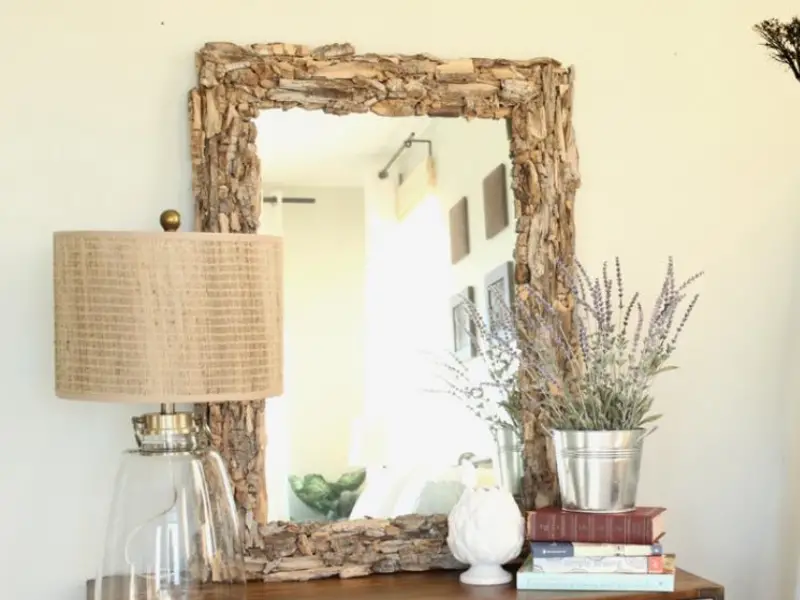 If you have a summer home or resort or simply want to give your house a summery vibe, then here's a creative idea that won't take much time, money, or effort.
It looks natural, almost like it came out of a cozy beachside hut. And the texture is just something else!
Follow this tutorial by the Wood Grain Cottage to create your driftwood mirror.
DIY Flower Mirror
Bring a spring vibe to your house with this artsy flower-themed mirror frame! To create this mirror, you can use peonies, tulips, roses, thistles, or other flowers in your local area.
And don't worry about withering. This project involves creating an efficient water path for flowers because this is meant as a long-standing house decoration, not a temporary two-day project for a gala event.
Read this DIY flower mirror tutorial by Paper & Stitch to get started.
And that's it for our DIY mirror frame ideas! Remember that you can add your touch to any of these projects since most use mirror frames of different sizes or supplies of different colors. It all depends on what suits your home.
Comments
0 comments