Crafting with melty beads, like Perler beads or pony beads, gives you unlimited space for creativity. You can use the colorful beads to craft accessories, decorations, wind chimes, etc.
If you have a pony beads jar but lack ideas on how to use it, here's the inspiration you need. We've made a list of 22 pony bead craft projects that you can attempt with your kids. So let's jump in!
1. Beaded Neck Kerchief
Add western vibes to your everyday outfits with a beaded neck kerchief. You'll only need a bandana, some pony beads, and a dash of creativity. You can use the colors you prefer or go with the classic black and white look.
Learn how to make a beaded neck kerchief on Square Dance Sewing.
2. Valentine's Day Wind Chime
Put your pony beads to good use and make this truly striking Valentine art with your kids. It's a relatively easy craft that'll take just a few hours to complete. Afterward, the sweet pony bead heart craft will look stunning hung up on your front porch or above your door.
Check the instructions for Valentine's day wind chime on No Time for Flash Cards.
3. Pony Bead Pumpkins
Making pony bead crafts is always so much fun, especially when they're autumn-themed. You can encourage your kids to make those adorable pony bead pumpkins and add them to your every-year Thanksgiving decorations.
Head over to Cutesy Crafts to learn how to make pony bead pumpkins.
4. Egg Carton Spy Glasses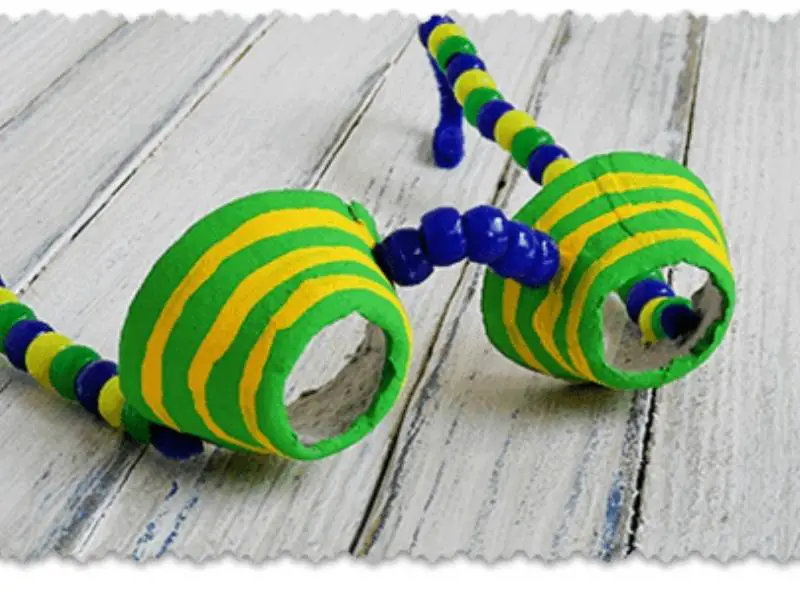 All kids have adventurous souls and appreciate an outdoor activity now and then. You can make the activity time more exciting with a pair of egg cartons and pony bead glasses. You can have the craft ready in no time, and if you want more egg carton crafts ideas, check craftwhack.com.
Find out more about egg carton spy glasses on Crafts by Amanda.
5. Candy Cane Ornaments
Celebrate the merry season with a set of adorable candy cane ornaments. You can use red pipe cleaners for the body and red and white beads for decoration. Afterward, either hang them on your tree or put them up as decorations in your house.
Get the tutorial for candy cane ornaments on A Little Craft in Your Day.
6. Snow White Crown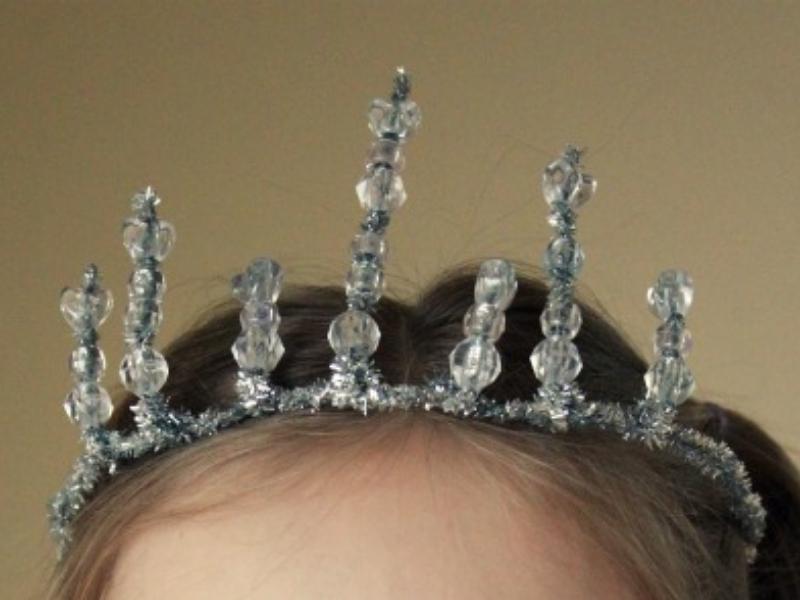 Does your little girl have a costume party coming up? If so, it's time to craft this mesmerizing crown. You'll only need pipe cleaners and crystal clear beads. By the time you're done with the craft, your kid will be the fairest of them all!
Read more about Snow White crown on Make and Takes.
7. Colorful Coasters
Don't we all hate the annoying watermarks that glasses leave on tables? Finally, you can bid them farewell with those colorful pony bead coasters. You can choose the color palette you want and melt pony beads using the oven.
Check the instructions for colorful coasters on Wouldn't It Be Lovely.
8. Silly Snake Crafts
This awesome craft will improve your kids' fine motor skills and give them a fun-filled few hours. First, they'll make silly-looking snakes out of pipe cleaners and pony beads. After they finish, they'll have brand new toys to add to their toys box. Alternatively, you can use a colorful snake as a backpack charm for your kid's kindergarten bag.
Find out more about silly snake crafts on Kids Activities Blog.
9. Melted Pony Bead Bowl
Add colorful vibes to your dinner table with this decorative bead bowl. Since this project is such a fun craft that doesn't take much time, you can let your kids join in the fun for a childish touch.
Learn how to make a melted pony bead bowl on PBS.
10. Pony Bead Ring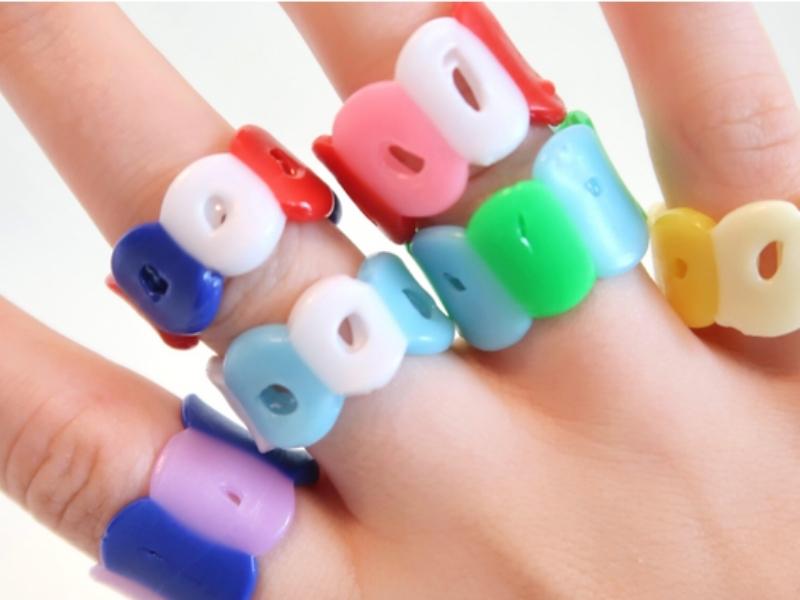 This pony bead ring craft will look like a unique fashion statement on your kid's hands, and it's pretty easy to make. You can let your kids practice creating amazing patterns with pony beads or make the ring yourself and send it out as a birthday gift.
Read more about the pony bead ring on Megan Weller.
11. Pony Bead Butterfly
Do your kids chase butterflies everywhere and get mesmerized by how they fly? If so, give them a closer look and let them craft cute butterflies out of pony beads. The gorgeous colors and random patterns will make the butterflies stand out among your kids' toys.
Get the tutorial for pony bead butterfly on Where Imagination Grows.
12. Pony Bead Fish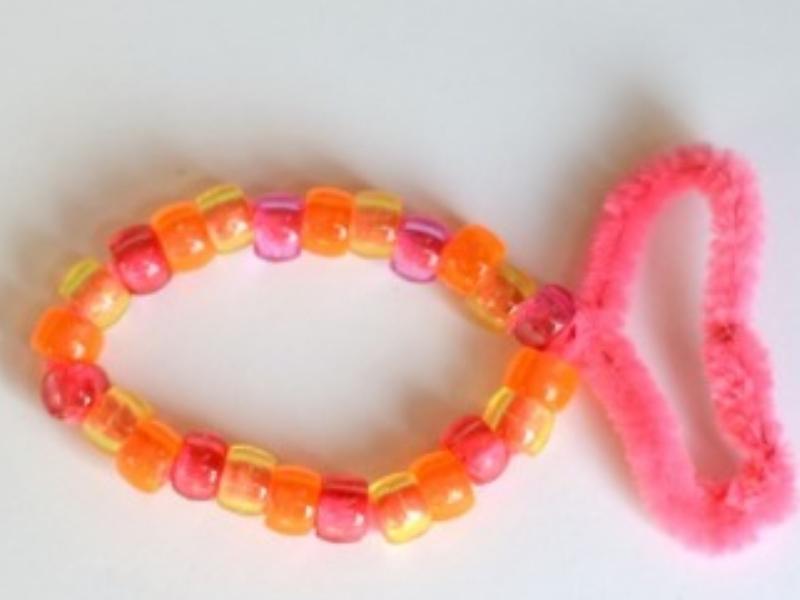 With summer approaching, you can give your kids summer-themed crafts to keep them entertained. Take this project, for example. They'll make a cute, colorful fish out of pony beads. It's one of the easiest pony bead crafts for kids and won't cause much mess around your place.
Check the instructions for the pony bead fish on Fun Family Crafts.
13. Pony Bead Snowflake Ornament
Making snowflake ornaments out of pony beads should be number one on your to-do list on Christmas eve. The craft will get your kids excited for the merry season, and you'll have adorable and colorful ornaments to hang on your Christmas tree.
Find out more about the pony bead snowflake ornament on The DIY Mommy.
14. Melted Pony Beads Necklace
Put your melty pony beads to good use with this truly beautiful jewelry piece. The necklace will look charming around your neck, and you can customize it to make any shape imaginable!
Read more about making the melted pony beads necklace on Second Chances by Susan.
15. Melted Bead Suncatcher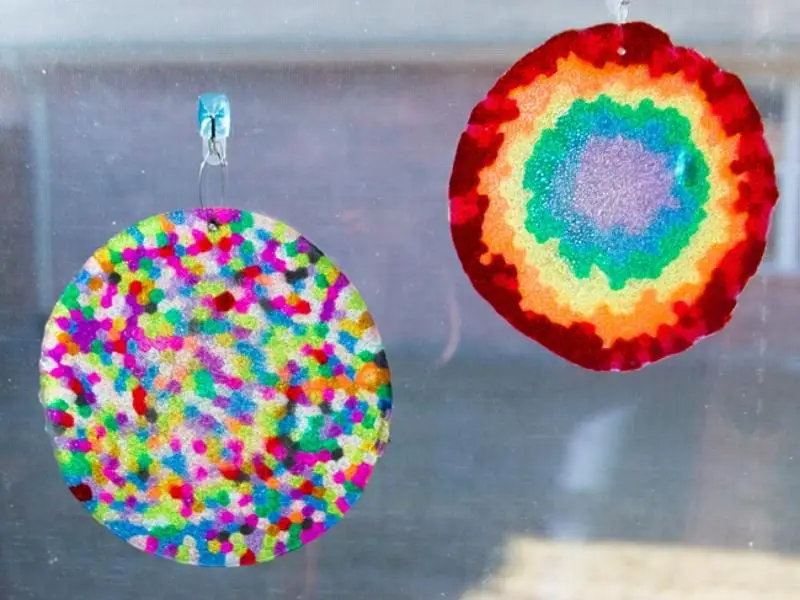 Suncatchers emit beautiful iridescent sunrays inside your house, and you can craft one using your colorful pony beads jar and color matching skills. It's a perfect craft if you have some time on your hands, and you can let your kids join in on the fun since it's pretty simple.
Get the tutorial for the melted bead suncatcher on Kids Activities Blog.
16. Pony Bead Flag Craft
Celebrate the 4th of July with a fun craft that your kids can easily attempt. First, they'll make an American flag craft using pony beads. Then, after they finish, they can hang it in their room as a celebratory decoration.
Check the pony bead flag craft instructions on I Heart Crafty Things.
17. Lovely Hair Clips
Do you want to revamp your little girls' accessories drawer without breaking your bank? If so, you can help them make those lovely melted pony bead hair clips. This way, you'll improve your kids' fine motor skills and give them a fun time and new accessories.
Learn how to make lovely hair clips on The 36th Avenue.
18. Dreamy Suncatcher
This dreamy project works as both a suncatcher and a dream catcher, and you can make it with your kids using colorful pony beads and threads. It'll be enjoyable to craft and will add joyful vibes to your kids' room.
Find out more about the dreamy suncatcher on Babble Dabble Do.
19. Little Princess Fairy Wands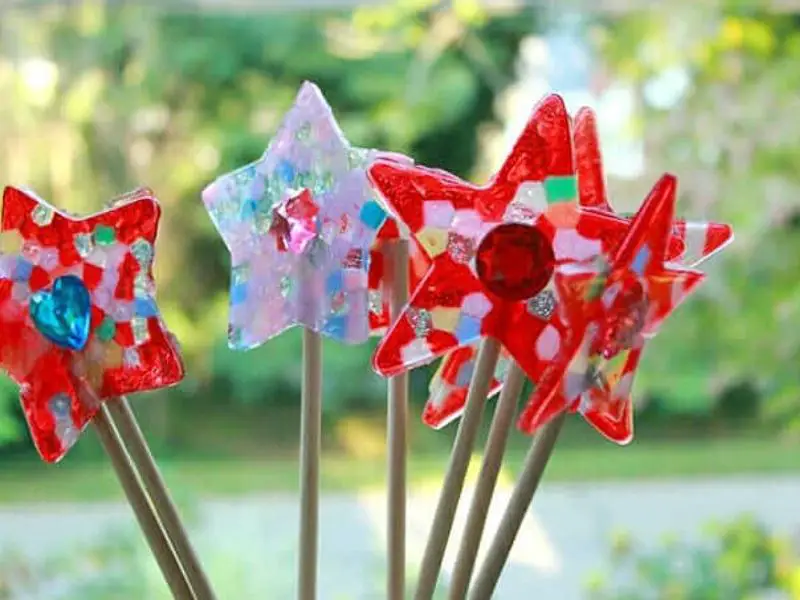 Whether your little girl has a birthday party coming up or wants to dress like a princess for Halloween, she'll love those adorable fairy wands. They'll go perfectly with her costume, and you can craft them in no time using pony beads.
Get the tutorial for little princess fairy wands on Artful Parent.
20. Pony Bead Bracelets
Spice up your kids' outfits with some colorful pony bead bangles. And since they're easy to make, you can let your kids choose their favorite colors and start crafting. This way, you'll keep them entertained and have a quiet moment for yourself.
Check the instructions for pony bead bracelets on Teaching Tiny Tots.
21. Fabulous Lizards
If your kids love pony beads, you can encourage them to craft some fabulous and colorful lizards. They can use their creativity and try different color patterns. After they finish, you can let them use the lizards either as keychains or backpack charms.
Find out more about fabulous lizards on Sugar Bee Crafts.
22. Football Keychain
This pony bead craft is ideal as a gift for a football lover. If your kid is a fan of the game, you can surprise them with a keychain that has the same colors as their favorite team. They'll be ecstatic with the gift, and it won't take you more than a couple of hours to finish.
Learn how to make a football keychain on Woo Jr.
Pony bead craft projects are insanely easy and entertaining. And now that you have your inspiration, you can plan a fun-filled weekend for your kids!
Comments
0 comments