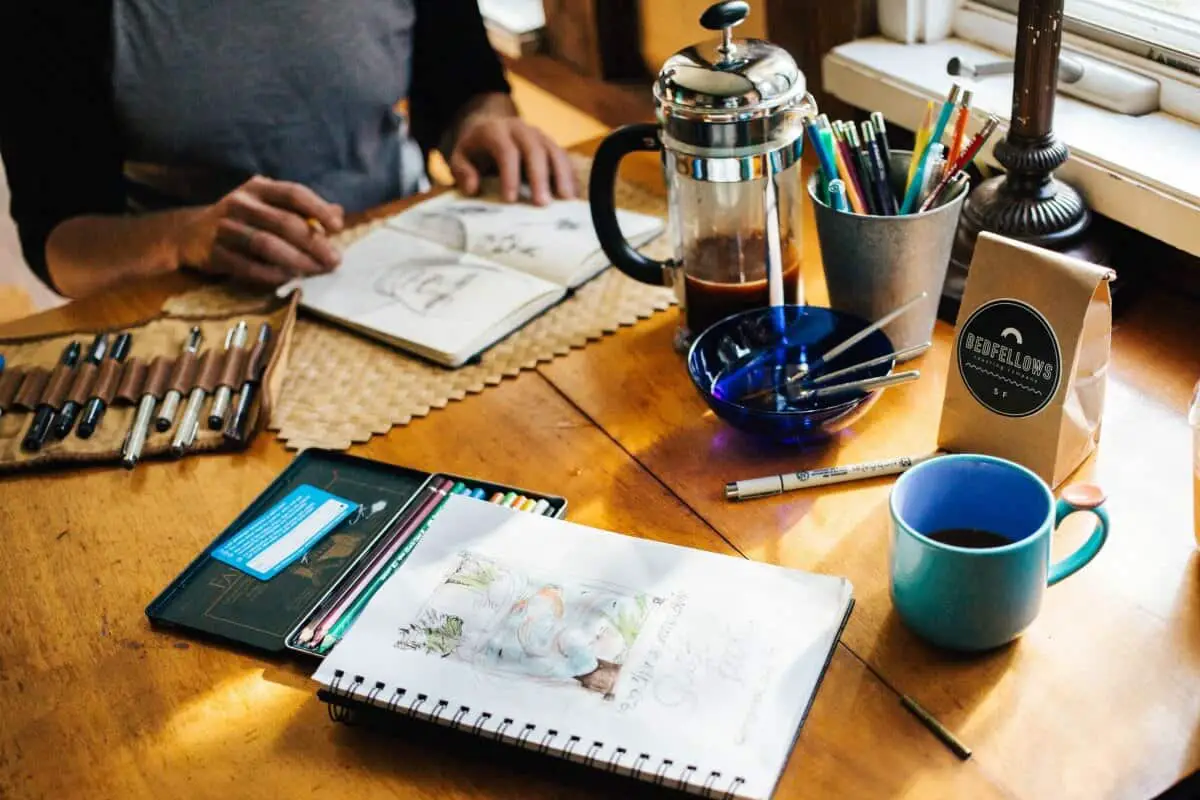 Photo by Rachael Gorjestani
There you are, hanging out with your sketchbook, ready to get all arty, and suddenly your brain freezes.
Your gnarled fingers clamp down on your pencil, and you let out an awkwardly loud screech of angst. You need ideas.
I've got yer sketchbook ideas, fella. All the sketchbook ideas you could possibly want (well 50 of them, at least.)
Plus, an extra bonus section for tips on how to switch up your sketchbook to make it even more exciting and fun.
These ideas will appeal to current sketchbook-lovers as well as those just getting started, and you weirdo art students and teachers will find all sorts of easy drawing ideas that you can make more complicated to challenge yourselves further.
Let's jump on into the sketchbook ideas, including a printable drawing ideas list download you can access.
Further down the page, you can find tips for breathing some new life into your sketchbook if you're in a rut or tend to approach every page the same way. (Guilty)
(If you still can't decide on your perfect sketchbook, this will help you choose.)
50 Sketchbook Ideas
3 animals wearing clothes
a long, full page of a worm
Practice drawing your thumb in different positions
Blind contour drawing of your bed
Draw your dinner
Cut a rectangle out of a piece of paper, tape it to a window, and draw only what is inside of the rectangle
Set up an impromptu still life using 5 things in your pantry or cabinets
Trace around your hand and then go in and try to make it look like something other than a hand drawing
Draw a mug with someone or something peeking out of the top
Make up some underwater creatures
Fill a page with only a section of an animal
Turn your initials into a drawing of some sort of food
Separate your entire page with 6 lines, then fill in the spaces with different patterns
Draw something using only dots
Clouds
Underwear
Draw a self-portrait using a pencil, and smudge it with your fingers so it's as blurry as you can make it
Big huge cartoon eyes
Draw the outline of something without using lines. You have to just use the edge of a pencil to shade around where the object outline would be
Draw a skeleton the best you can, just from memory
Stacks and stacks of cars
Draw the simple house shape you used to draw as a kid, but then fill it in with tons of details
Half your face, half someone else's – it can be a magazine face
Draw something (object or still life) using all cross-hatching
Fill your page with stars, then color in all the negative space
Cut out eyes, noses, and mouths from a magazine, tape them onto your page, and copy them
Draw a basic face shape on your page, then separate it into lots of geometric shapes to color in or draw patterns in
Write your name in the center of the page, then draw things, people, ideas, whatever that you love around your name
Splatter ink, watercolor, tea, what-have-you on your page and turn it into something cool
Cut shapes out from magazines and use them to 'draw' something on a sketchbook page
Find an image of an old master painting, and copy it into your sketchbook
Make a simple line drawing, then write all over the top of it- try to 'draw' the words with beautiful lines
Find some texture that you like and do a few close-up studies of it in your sketchbook
Use liquid ink or a Sharpie to draw a black animal silhouette then use a white gel pen to draw its skeleton over the black
Draw all the flowers you can think of without looking at any reference pictures (or flowers). Make 'em up if you wish
Make a page full of copied logos
Start with a tiny circle in the center of your page, then draw outward, filling your page with tiny drawings
Hands, hands, and more hands
Fill the page with a grid and draw as many insects as you can think of (or makeup)
Draw the cover of your favorite book or album art
2 circles- shade one to look like a ball, and the other to look like a hole
Draw an object, but personify it by giving it a face
Spoons and forks
Inside corner of a room
Outside corner of a building
Marbles
Crumpled paper – bonus points for shining a light on it from the side so you have dramatic lighting
A glass of water with or without ice
Scribble, scribble, scribble
Tree and fill in the trunk area with a really unusual pattern
Printable Drawing Ideas List
Click here to download a printable version of this list.
Tips for Making Your Sketchbook More Fun
Try to limit yourself to shorter sketches on some of your pages, especially if you tend to approach each sketchbook page like it needs to be a masterpiece! You can set a timer for 5 minutes for a few pages, and limit yourself to filling 5 pages each in 5 minutes time. (You can always go back in later and add more.)
Try your hand at different media. Sometimes it's fun to sketch the same thing on 3 different pages, in 3 different materials: try a pencil, pen, crayon.
Switch up your style sometimes. Usually, draw Manga? Try setting up a small still life or doing a self-portrait as realistically as you can.
Always draw landscapes? Draw a few pages of your beloved sleepy dog. (You don't need to show anyone these pages if you hate them.)
Change your position. Try standing up and drawing with your sketchbook propped up on the wall, and drawing with your non-dominant hand.
We tend to get comfortable and closed up while sitting with our sketchbook nestled up close to us, and just making these physical adjustments sometimes can make us approach our sketching session with fresh eyes.
Warm-up your hands and brain by making some big, stupid scribbles on a piece of paper for a minute or two before you tackle the sketchbook.
Take 10 deep breaths or meditate for a few minutes before you begin. You want to approach your sketchbook with a sense of presence and actually enjoy what you're doing.
By all means, go check out my list of 100 drawing ideas for kids, because you'll no doubt find some more great sketchbook ideas there you'll want to try.