This page contains affiliate links.
I'm assuming, based on the title of this post, that you are looking for the very best art supplies for kids. While this might be a bit objective, I have pretty strong opinions on which art supplies to buy kids when they're younger, and then when they grow a bit older and are still obviously in love with art.
We have trillions of art supplies at our house, so I take for granted that we will always have something new for the kids to experiment with. While it's great to have mass quantities of strange items with which to make art, the basics are always important to have on hand.
Here's my list of what I would start with if your house isn't stockpiled. I would make sure you have the items under Basics for younger kids and add the Extras in as you go.
Materials you may think are redundant can give vastly different results when they are experimented with. For example, Sharpie markers are great to draw with if you want clean lines, but black ink used with pens with different sized nibs can produce looser, sketchier lines. Watercolor paints are translucent, while acrylics are thicker and opaque, but can be watered down considerably to get a translucent effect. Magic!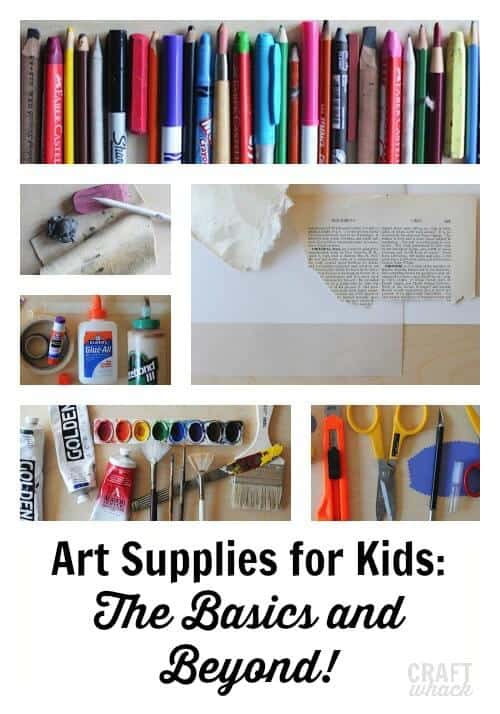 For some of the items in the Basics category, I've listed the cheaper basics for younger kids, and then the better-quality art materials to look for if your kids are older or have taken to a particular medium. Quality makes a big difference.
 Basics
Drawing pencils – Regular old pencils will work fine for younger kids. You may want to switch up to some drawing pencils as they get older. Drawing pencils come in different weights, with the harder the graphite, the lighter the mark it makes.
See: 100 cool drawing ideas for kids
Crayons – Crayolas work perfectly fine here. At some point, I recommend trying Beeswax Crayons
, which give a rich, saturated effect, are all-natural, and last for a super long time.
try: this fun crayon transfer technique
Colored pencils – For young kids, I would buy the Crayolas
, but once they're about 7, your kids will begin to appreciate the wonderful quality of Prismacolors. They have great color quality, and are soft and layerable, for kids who are starting to learn to blend colors.
Oil pastels – Pentel is a great brand for kids. I like their quality and they are non-toxic. Pentel oil pastels.
Markers – Start with the Crayolas, and move up to Prismacolor. or Copic. Especially if you have a teenager who is way into markers for something like, say, Manga, and you want to make then the happiest kid in the world. (Try not to faint dead away when you see the prices, but read the reviews to make you feel better about the quality of markers and how long they last.)
Sharpies – These are just fun and can be used on so many surfaces, in so many ways. Check out my Sharpie Project roundup.
Extras
Charcoal pencils and pieces – Charcoal gives the inky black, yet powdery soft look that no other material can. Char-Kole, 12 Pastels per Set
Micron pens – These pens are fantastic for tangling, pointillism, and any other illustrative purposes. Micron set
Inks and bamboo reed pens- Pen and ink drawing is a lovely way to draw. Kids are usually intrigued by this and the 'old fashioned' appeal of using a pen dipped into an inkwell. Set of 3 Bamboo Reed Pens and Speedball 2-Ounce India Ink, Super Black
Smudger/Tortillions – (If you call them tortillons, you will get extra points) When I discovered smudge sticks in Jr. high, I was smitten. These are perfect for use with charcoal or pencils, and keep the oil from your fingers off the paper when you want to smudge areas of your drawing. Smudger/ Tortillions Set
try: these smudging ideas
Kneaded Rubber Eraser- These are important for any kid who starts to make drawings as opposed to quick sketches. These erasers are moldable and eat up pencil marks beautifully. Kneaded Rubber Eraser
Watercolor pencils – I'd start with the Staedtler Watercolor Pencils and eventually move up to the Faber-Castell.
Fabric markers – I love the Sharpie brush tip fabric markers. Buy your kid some white canvas sneakers, a pack of these, and let them go wild.

Basics
Tempera paints – These are must-haves, because they are inexpensive and loaded with pigment.
Colorations Simply Washable Tempera Paints 16 oz. – Set of 11 Classic Colors
Watercolor paints –Prang watercolor pans are good starters. For older kids, liquid watercolors or higher quality pan paints are delightful. Winsor & Newton half pans.
Liquid Watercolors – These are really more like using ink, and you will fall in love with this stuff for everything from faux tie dye effect to dying pasta. We LOVE this brand.
Acrylics – I HAVE to add acrylics into the basics, because they are simply a wonderful paint. Yes, I am biased because I have used them forever and know them better than any other medium, but they're a great paint for kids. They can take on the qualities of watercolors or oils. Kids and adults love them! They're magic. Liquitex 24-Pack
Brushes – Cheap watercolor and acrylic brushes- You don't need great quality brushes when your kids start painting. They're just getting a feel for holding and manipulating brushes at first and probably will enjoy jamming the brush as hard as they can onto their paintings.
Beginner brushes
………Better brushes
Extras
Gel Mediums – Golden gel mediums are my favorites. You can do so many things with them, and this is great to show elementary to high school students all the different ways you can manipulate acrylic paints. Really, they're great to use with lots of different mediums. Try this sampler pack, then buy larger containers of the ones you use the most. Golden Acrylic Medium Sample Set.
try: this print transfer project
Brayers – These are necessary for printmaking, for spreading paint or ink over any surface, and for rolling your paper onto the print surface. We use 2-3 of them for each printmaking project. Speedball 4-Inch Pop-In Hard Rubber Brayer
try: gelli plate printing
Basics
Printer paper Yep, we go through tons of this stuff for quick drawings, playing with new mediums, test prints, etc.
Construction paper – Regular, generic construction paper is fine, but multi-colored card stock packs are outstanding! Construction Paper
….and….Cardstock Starter Kit
try: colored card stock sculptures
White card stock – this heavyweight paper can be used for drawing or painting projects, and can withstand more abuse than printer paper. Use this for younger kids before they graduate to using watercolor paper and drawing paper. White card stock
Extras
Watercolor paper – You need this heavier weight paper to hold up to wet materials, and it helps support heavy oil pastels and collages. This is cold press, meaning it has some texture to it.
Tracing paper – Many times we'll use printer paper held up to a window to trace through, but sometimes you absolutely need the translucency of tracing paper.
Art journals/sketchbooks – I'm pretty sure you can't have too many of these around. We have spiral bound and the more traditionally bound (which are perfect for making sketchbook cover art). Hardbound sketchbook
Large newsprint pad – for figure drawing/quick sketches on a larger scale. Newsprint is nice and cheap, and kids need to get used to drawing on a larger scale instead of being confined to 9×12 all the time.
Wooden boards – Instant painting surfaces! Buy some various pieces of pine at the hardware store, and keep them around to gesso and paint on.
Basics
Play dough – Buy your own, or make your own, but have this stuff around as soon as your kid can hold something without immediately jamming it in their mouth. 24 pack of Play Doh.
Self-hardening clay – I like the bucket of Crayola
stuff. It feels pretty close to real clay, and dries white. All ready to paint.
Extras
Modeling clay – This stuff is easy for little fingers to use, sticks to itself easily and never completely hardens. Many people use it as a step up from play dough. Crayola Model Magic
Sculpey – I would wait until your kids are about 7-8 to buy this, but it's definitely a favorite for bead-making. Sculpey III 
Clay tools –  You will definitely want a set of these at some point. Fingers get annoying at some point when kids try to manipulate clays, and that's where these come in. This set 
is better for fine detail, like for use with Sculpey. This set
 is better for working with the self-hardening clay and play dough.
Basics
White glue – You no doubt have a bunch of Elmer's lying around, but we don't usually use this glue. It's so wet and page-wrinkly. It's fine for young kids, but they will become frustrated with it eventually. My favorite thing to do with Elmer's is to spread an even layer over my palm, wait for it to dry and peel it off.
Glue sticks – These are awesome for gluing small bits and pieces, but I wouldn't use them over large surfaces. They're neat and fairly clean though, which is a triple mega bonus. 
I love plain old Elmers glue sticks. Yes, this is a link to a case of them. And yes, you will use this many. Oh, yes.
Extras
Mod Podge – This is a great staple to have around to use as a glue and a sealer and finishing coat. Absolutely superb for collaging. We alternate between this and gel mediums (see paint extras) for gluing all papers.
try: this tissue collage project
Spray adhesive – use in a well-ventilated place, and don't let young kids use this. They will end up with their hair glued completely to your sofa somehow. This is great for cover larger areas in a quick, even coat, or for covering 3 dimensional surfaces that are harder to spread glue on by hand. Elmer's Spray Adhesive
Basics
Scissors, duh – Not much to say here. Of course, there are better quality scissors, but just stick with the 14 pair you already have floating around the house.
Extras
Craft knife – Some sort of knife with replaceable or snap-off blades is important for precision cutting with paper. X-ACTO
 knife. Sometimes we use our cutting boards, ahem, as a cutting surface, but I heartily recommend using a self-heling cutting mat instead. Self-Healing Mat
Paper punches – These are just so wonderful. You could go nuts with buying tons of different shapes, but start off with 2 sizes of circles and maybe a square.
1-Inch Circle Paper Punch
More Places to Find Art Suppplies and Kits
Here are some favorites, but check out my big list of where to buy art supplies online.
Simon Says Stamp – I LOVE THIS PLACE!
Mister Art (They guarantee their prices)
Kiwi Crate (subscription service- craft material crates delivered to your door!)
 * Some of the above links are affiliate links. I use affiliate links to help support the billions of hours I spend researching and writing my posts. While these links don't make me rich, they do give me some money to buy caffeine, which keeps me blogging. (My caffeine of choice is Starbucks iced green tea.)