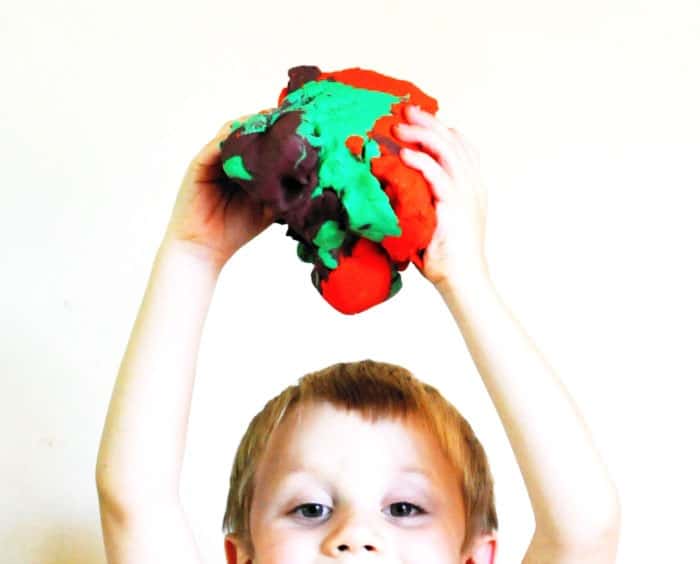 We make play dough from time to time – honestly I probably make it a whole lot more because it seems to be THE thing to do now amongst kid bloggers. And there's a reason- It's easy as hell to make and it provides endless opportunities for your kids to use their imaginations and get their hands moving.
I was thinking about play dough just the other day, (yes, my thoughts run deep) and how I would probably never write a post about play dough, and then a little play dough monster in my brain screamed really loudly at me and gave me a good idea: kids can learn color mixing through the magic of playing with wads of dough. Am I right, sisters?
You'll want a big old batch of this stuff, since you will be making 3 colors. Pop quiz: Which 3 colors are primary colors?
Here is the play dough recipe I use, and it is a good one. Honestly, there are so many good play dough recipes out there to try, and I usually like every one I make, as do my kids. You can't go wrong with a giant mound of fresh dough in front of you.
Playdough Recipe:
4 cups flour
3/4 cup salt
3 Tablespoons cream of tartar*
3 Tablespoons oil ( I used Canola)
2 1/4 cups boiling, hot, scalding water (or maybe a little less hot than that)
blue- 1/8 teaspoon
red- I used almost the whole container! Red dyes are always weird. I kept adding more in an attempt to get a true red, which never quite happened, but I did end up with a vibrant color…
yellow- 1/8 to 1/4 teaspoon
Mix up the flour, salt, cream of Tartar and oil in a big bowl, then add the boiling water and stir and stir and stir. Then knead and knead and knead until it feels like play dough. Add more flour or water as needed to get to the perfect consistency.
*****
Now you must separate the dough into 3 pieces and add coloring into each piece. I make a bowl shape and drip color in, then knead it up until the color is evenly incorporated into the dough. It makes a huge difference if you use this food dye instead of the regular old food coloring, because your colors will be MUCH more vibrant.
Since you guessed the primary colors correctly earlier, you will now have one large ball each of red, blue, and yellow. Separate these each into two balls and make new balls with:
half red, half blue
half red, half yellow
half blue, half yellow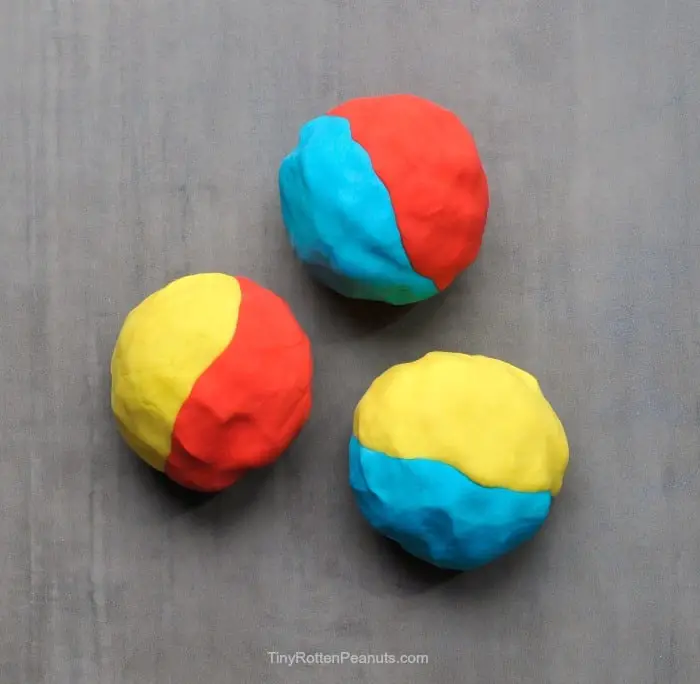 If you accidentally end up with extra balls, just whip them at your husband and laugh and laugh at him.
In any event, your kids will learn that when they mix the colors together they will get new colors! Secondary colors= orange, green, purple. Have them guess before they combine the dough what the resulting color will be.
Another cool thing to do with the leftover balls would be to see what happens when you mix like 3/4 yellow to 1/4 red – you'll get a paler orange than when you mix the colors equally. Plus you can delve into some more fractions, which is always a good time.
Enjoy the color mixing and don't be sad when all the colors are mixed together and result in a sort of pukey color.
Some playdough and slime humor for you here.
*Just what the WHAT is cream of Tartar, anyway? Every time I make play dough, I:
1. Wonder what Cream of Tartar is
2. Think of Mr. Burns
Click here to find out what Cream of Tartar is.
*****
Can't get enough of learning about color through playdough? Check out Babble Dabble Do's playdough color wheel project, and Art Bar's Pantone playdough project.