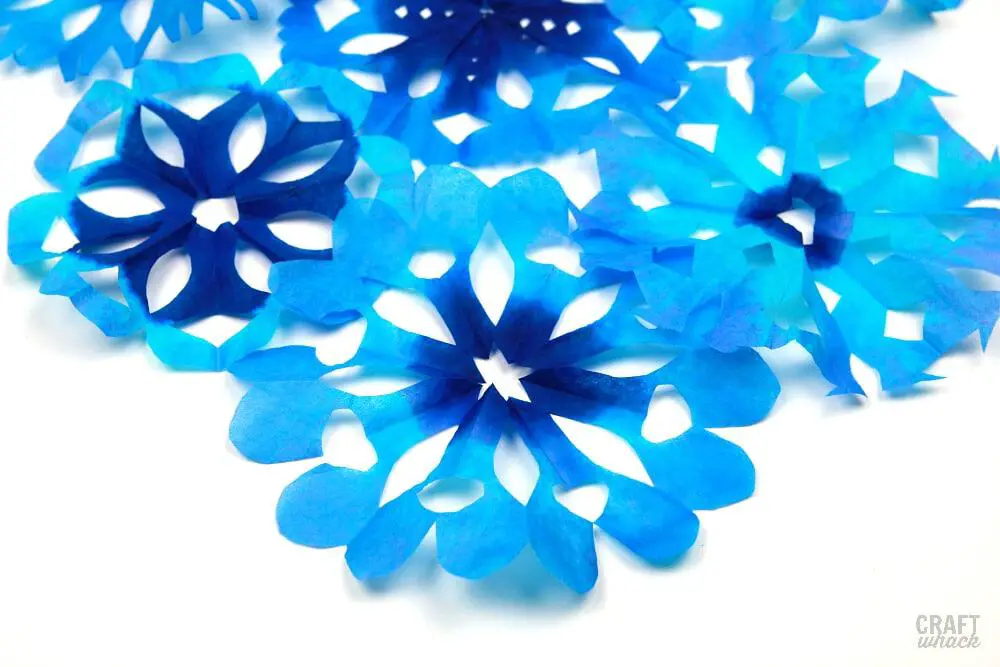 I know. The title of this post is cringe-worthy, but sometimes you need to just tolerate me to get to the good art projects. I've been wanting to tool around with coffee filter snowflakes for a while, and I had all sorts of great ideas on how to add beautiful colors to them, but it turns out there's only one perfect way to add color to coffee filters.
This stuff is gold. I really never thought I would be using this as much as I do, but I adore it. It's so saturated and wonderful, so if you have not snapped some up yet, do so here, and I'll link to some more ideas at the end of the post, because you'll immediately want to use it on everything.
Here's what I tried on the coffee filters first: 
Washable markers on coffee filters, spray with water to bleed them
Dip washable markers in water and color snowflakes
Sharpies on filters, spray with alcohol
Watercolor paint on filters
All with extremely MEH results. Here's how the liquid watercolor looks on the filters:
Did you hear angels sing? It's so beautiful. And I decided to go the ombre route so they would be extra-pretty. You will either want to pay close attention to my directions, or experiment yourself for what results you like best, because depending on how you use these, you'll get very different looks when the paint dries on the filters. Here's exactly whet I did after lots of trial and error.
Directions
Lay out lots of newsprint or newspaper or a big piece of kraft paper from a roll, to dry the snowflakes on.
Pour out some undiluted blue paint into one cup, and some paint diluted with water into another cup. I didn't measure the water- maybe about the same amount of water as paint.
Fold your coffee filters in half 4 times.
Dip the pointed end in the straight blue, then dip the other end in the watered-down blue.
Lay your snowflake aside while you dip several.
Unfold each snowflake and let them dry flat on the paper.
When they are dry, fold them back up and cut your shapes into them to make beautiful snowflakes. You can vary the sizes of the flakes if you cut off the edges of the folded filters.
Unfold and behold the blue snowflake magic!
I was tempted to add glitter glue to these, but refrained. Have at it if you are so moved.
Extra Tips and Info
This is messy business. Wear an apron or your designated art-making clothes. Also, your fingers will be blue for a couple of days; you can try wearing disposable gloves, but I have a feeling you won't be able to unfold the wet, slippery snowflakes with gloves on and you'll wad them up in a fit of crafting rage and whip them at your wall. thereby leaving blue splotches everywhere.
Experiment with how long to dip the folded filters in the paint. You'll see that the paint gets sucked up and spreads really fast.
If you let your filters dry while they are still folded, something weird happens with the paint and it gets a purple tint to part of it. It's pretty, but I wanted all blue.
Use nice sharp scissors, preferably with a small cutting point. I love these for small paper cutting.
Entirely optional if you're in a hurry, but give yourself lots of time to play around – there are so many directions you can go in with this technique. Here are some things to try:
Add in different colors to make crazy, wild, riotous psychedelic snowflakes like Babble Dabble Do did.
Splatter or drip the paints onto the filters first (use a small eyedropper or paintbrush)(This will be extra-messy.)
Dip just the very edge of the snowflake very quickly for a minimal amount of color.
Cut up your filters into shapes and make a collage instead of making snowflakes. This would look pretty collaged onto an art panel and sealed with Mod Podge.
More Ideas For Liquid Watercolors
Bubble prints that you can turn into mini books