Bulbasaur is a very popular Pokemon with many children, and it's great for kids to start practicing their coloring. It has just two major colors, green and teal, plus a darker teal for its markings (or just the bulb's green). With red eyes, it's very striking and instantly recognizable.
Most children will really enjoy coloring Bulbasaur, partly because of its satisfyingly rounded bulb. This is particularly good for older children to practice their shading on.
We've tried to choose a range of options so if your child is looking for a simple or a complex Bulbasaur coloring page, they'll find it in our list.
1. Bulbasaur Evolutions
Source: https://www.deviantart.com/madhuvati/art/Bulbasaur-Line-Coloring-Page-728911855
Kids who love Pokemon are always very proud of being able to rattle off all the evolution forms a Pokemon has "" and Bulbasaur Evolutions offers kids the perfect opportunity to color them as well.
It's quite a complicated page, especially with Venusaur, but will provide your child with great entertainment, and they can also have fun coloring in the letters and practicing the Pokemons' names.
Again, there's no background, but as there is so much else to color, the chances are your child won't feel the need for one.
2. Simple Bulbasaur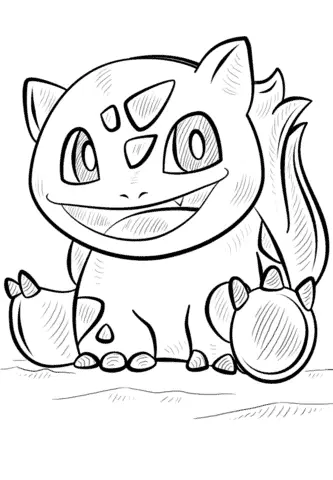 Source: https://www.pinterest.com.au/pin/101049585369313231/
If your child would like an easier coloring project, this Simple Bulbasaur is perfect. He does have some fiddly shapes to color in (his markings), but he has been drawn as simply as possible, and his bulb and body should be reasonably easy.
Your child could also color in the word "Pokemon" at the top of the page, or just leave this white if they aren't interested or feel it's too hard for them to do. This is probably about as simple as Bulbasaur can be.
3. Baby Bulbasaur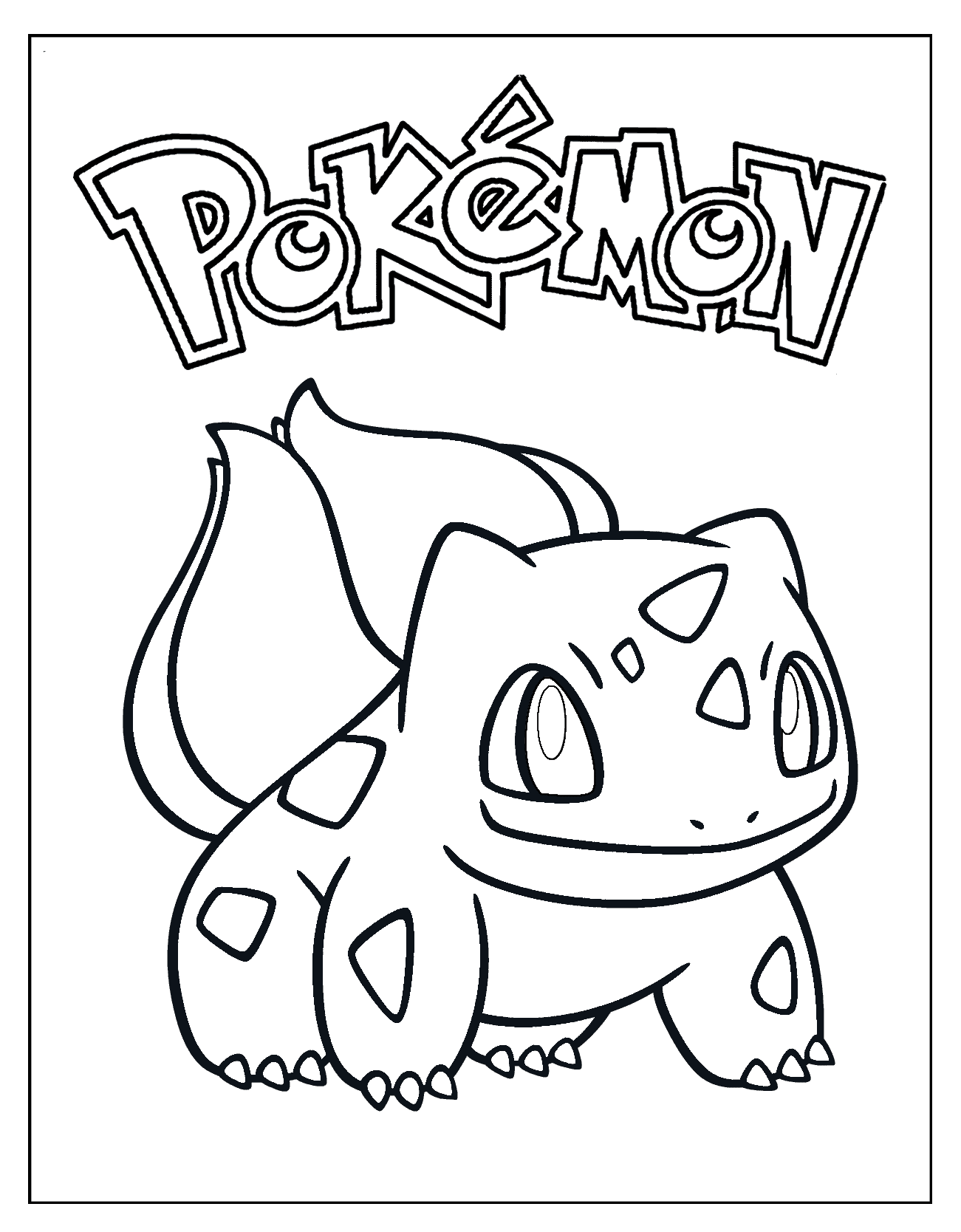 Source: http://www.supercoloring.com/coloring-pages/bulbasaur-pokemon
Baby Bulbasaur is super cute, and some shading has already been drawn in, so your child can just focus on getting the colors right. Fairly easy shapes have been used, with the markings again representing the most challenging parts.
There is a hint of a rocky floor here, so your child can fill in the background if they want to. They can also have fun choosing a color for the undersides of Bulbasaur's feet, or just use the same color as the rest of his body if they prefer.
4. Bulbasaur And Buddies

Source: https://www.getcoloringpages.com/bulbasaur-coloring-pages
Kids who love all three starter Pokemon will find this Bulbasaur and Buddies coloring page perfect. With Charmander, Bulbasaur and Squirtle all together, it's the ideal page for any fan.
All three Pokemon are in their fierce "attack mode," so it's a very dramatic picture for them to color, with Bulbasaur's vines lashing, and Squirtle about to leap into the air.
The drawing is relatively complicated, and with three separate Pokemon, it's probably geared at older children who have a bit more patience and slightly more refined motor skills. The reward for their patience will be three fantastic Pokemon, perfectly colored and ready to decorate their bedroom.
5. Bulbasaur Scene

Source: https://colorthatpokemon.webflow.io/coloring-pages/bulbasaurs-garden
If your child wants a longer coloring project, this Bulbasaur Scene has everything they could wish for in terms of coloring. It's absolutely adorable, with Bulbasaur clearly helping its owner out in their vegetable garden.
Your child can spend as long as they like coloring in carrots, cabbages, melons, the soil, the trees, the wall "" and, of course, Bulbasaur. This is a great picture if your child enjoys coloring for extended periods of time, or returning again or again. It would be perfect for an older Bulbasaur fan.
6. Color-Coded Bulbasaur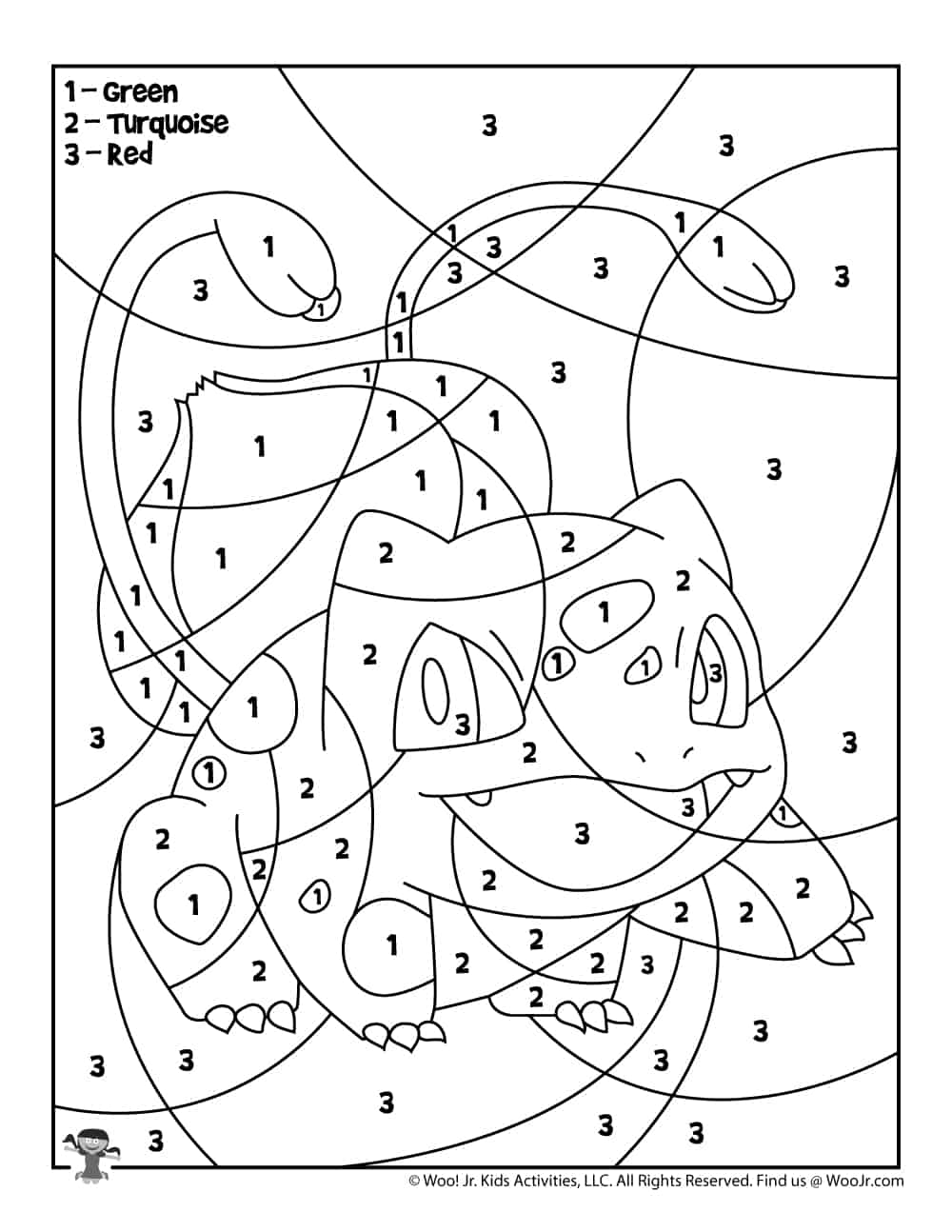 Source: https://www.woojr.com/pokemon-color-by-number-pages/pokemon-cbn-bulbasaur/
Color-coded Bulbasaur is an ideal option for practicing both numbers and coloring. Your child can look at the color key, get the corresponding pens or pencils, and have great fun matching the number to the color. This is a good exercise in logic and thinking skills, as well as motor control.
The Bulbasaur is quite simply drawn, and only three colors are needed, so although it taps into a different skill set, this is still a reasonably easy picture.
7. Leaping Bulbasaur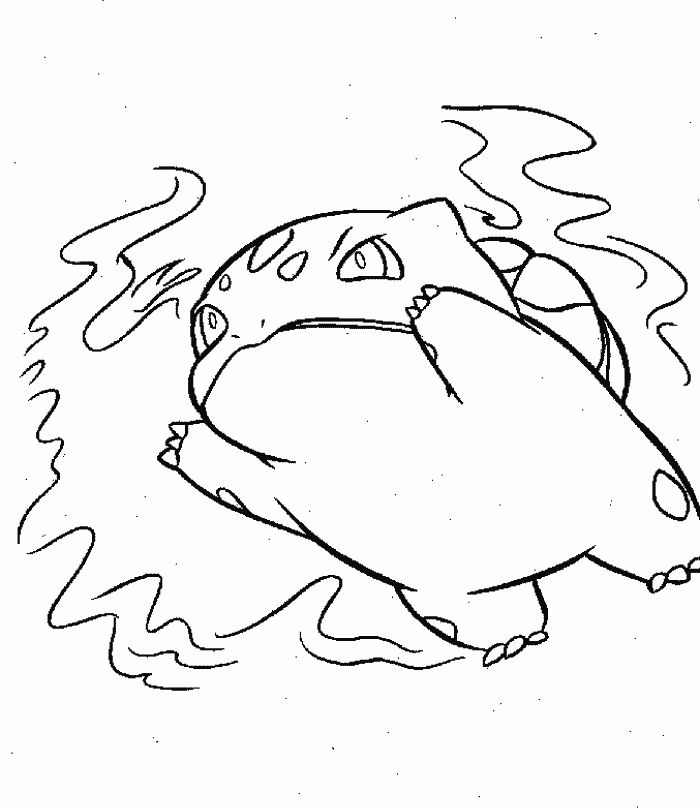 Source: http://clipart-library.com/clipart/19-KTngp6gAc.htm
Another action-packed option, Leaping Bulbasaur would be great for young children. Most of this coloring challenge will just be a single color: Bulbasaur's body. His bulb is visible behind, and there are some markings to color, but it's a fun picture that they should be able to do easily.
8. Flower Bulbasaur
Source: https://www.pngkit.com/
For children who like more background but wouldn't manage the complexity of the full scene, this Flower Bulbasaur would make a good choice. It's essentially the same as coloring Bulbasaur, but then has the addition of some pretty flowers and circles around the edge.
Your child could color these to match Venusaur's pink flower to represent Bulbasaur's evolution or any other color they like. The flowers offer a good difficulty level in coloring neatly around the centers!
Conclusion
There are Bulbasaur coloring pages suitable for any fan of any age, and even adults may enjoy some of these, such as the Bulbasaur Scene or the Flower Bulbasaur. Whether you want a complicated, sustained coloring project or a simple and quick fill-in, there will be a page that's perfect for you.
Comments
0 comments