Sunflowers are truly unique, especially considering how they follow the sun throughout the day. Add to this their delicious seeds, and how can any person not fall in love with sunflowers?
For many reasons, they make for a fascinating subject, and as such, loads of people adore making sunflower-themed crafts.
If you're one such DIYer looking for some inspiration, then you've come to the right place.
We've scoured the internet to find the most creative sunflower craft ideas, and we've listed some of them for you down below.
So, take a look and see if one speaks to your heart.
1. Sunflower Egg Carton Craft for Kids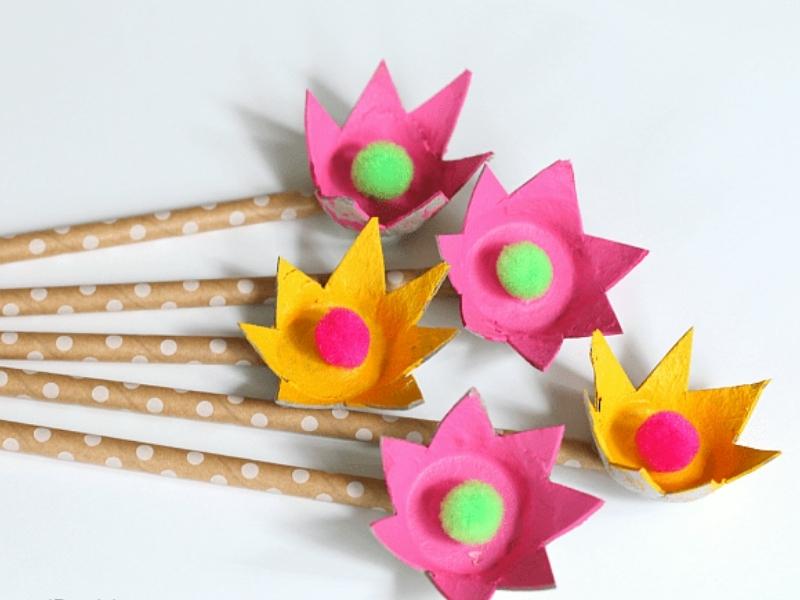 This sunflower craft makes creative use of materials you can easily find around the house or classroom. For example, you'll use an old egg carton, brown tissue paper, and scissors. Watch as your kids marvel at the crate's transformation into adorable sunflowers.
Visit Buggy and Buddy to start making a Sunflower Egg Carton Craft for Kids.
2. Painting Sunflower Craft
Get out the watercolor paint and markers for this sunflower project that lets you capture nature in its full glory. This fun project draws out your child's creative instincts by encouraging them to paint sunflowers using different art techniques. Also, for more watercolor painting ideas, check out Craftwhack.
Visit Nurture Store to learn more about the Painting Sunflower Craft.
3. Sunflower Suncatcher Craft for Kids
Invite the sun into your home with one of the most rewarding sunflower crafts for kids – a suncatcher! When creating this project, consider using food coloring to give the coffee filters standing in for the sunflower the distinct shade of yellow common to sunflowers.
Head over to Fantastic Fun and Learning to learn how to create this Sunflower Suncatcher Craft for Kids.
4. Noodle Sunflowers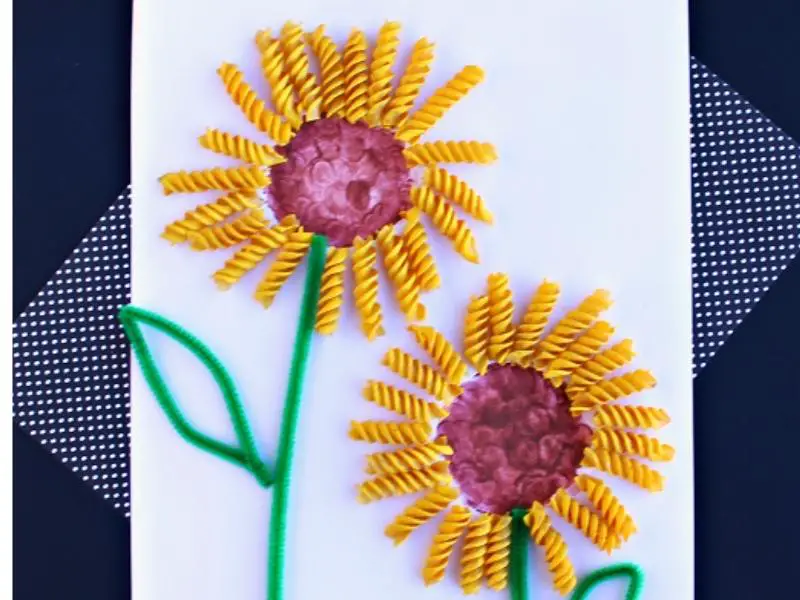 If you're hunting for a sunflower craft you can gift to friends and family, try making a greeting card out of noodles and some green pipe cleaners! Sunflower crafts like this one will bring a smile to recipients' faces.
You'll find the tutorial for making Noodle Sunflowers at Crafty Morning.
5. Tissue Paper Sunflower Craft
Celebrate the summer sun with a sunflower craft that gets some creative use out of tissue paper. Start by outlining a sunflower on a piece of card and spread glue within the lines. After that, cut the tissue paper into little squares and stick them on, and voila – the project is done!
Check out Craftulate to learn how to make this Tissue Paper Sunflower Craft.
6. Salt Dough Candle Holder Sunflower
Here's another sunflower craft that makes a fantastic gift! Make a flower candle holder out of dough and let your child decorate it after you've carved the baked batches into the shape of flowers. For best results, make sure not to paint the dough until after it's out of the oven.
Visit Learning and Exploring Through Play for the Salt Dough Candle Holder Sunflower tutorial.
7. Giant Sunflower
Create a giant sunflower out of an old oatmeal container to make your child grin from ear to ear. This sunflower craft involves recycling, so you'll be doing the earth a favor.
Get the instructions for making a Giant Sunflower at Inner Child Fun.
8. Sunflower Printing
If you're interested in sunflower crafts that involve paint, you'll love this printing craft. First, shape an empty toilet paper roll to look like a sunflower petal. Then, dip it into the paint before making petal imprints around a circle you've drawn on a white card. Finally, admire your handiwork once the paint dries.
Visit Learning and Exploring Through Play to start your Sunflower Printing project.
9. Pretty Crepe Sunflowers
Make some adorable sunflowers using a combination of cardboard and crepe or tissue paper. If you get them right, these handmade flowers can look pretty lifelike, so take care not to water them!
Learn how to make these Pretty Crepe Sunflowers at eHow.
10. Sunflower Handprint Keepsake
Try making a keepsake out of rolled salt dough and let your kids make handprints that overlap slightly. Then, paint the baked or air-dried dough using the colors of a sunflower. In the end, you'll have an adorable handprint keepsake. To prevent it from going moldy due to moisture, seal it in varnish.
Check out Learning and Exploring Through Play for the Sunflower Handprint Keepsake tutorial.
11. Sunflower Peep Cake
Do you want a sunflower craft that's edible and which you can do in as little as 15 minutes? If so, try baking a sunflower peep cake! The chocolate chips and yellow peeps are the secrets to making this delicious craft as they look like a big bright sunflower when put together!
Visit Spend With Pennies to learn how to make a Sunflower Peep Cake.
12. Sunflower Cookies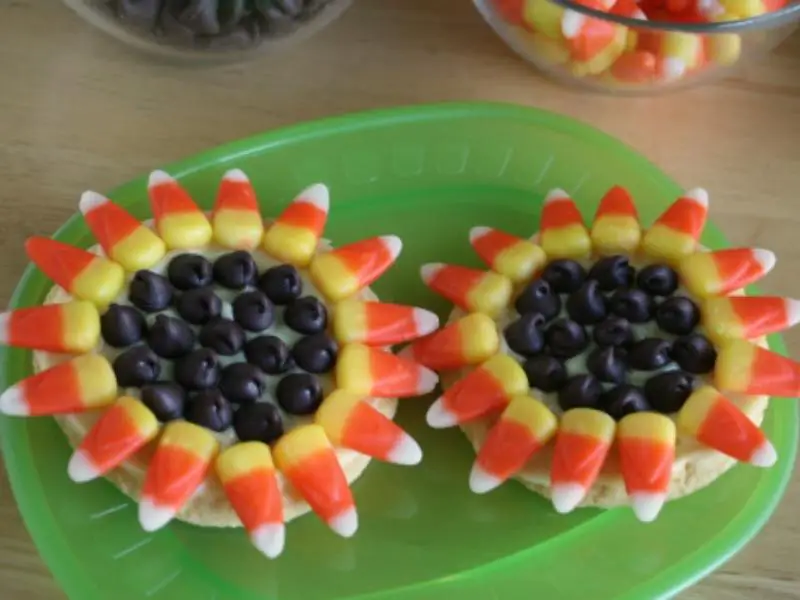 Sunflower Cookies are yet another edible sunflower craft that's tasty and fun to make! Your children will have a blast decorating sugar cookies to look like beautiful sunflowers with ingredients like chocolate chips, candy corn, and frosting.
Visit Make and Takes to learn how to make Sunflower Cookies.
13. Clothespin Sunflower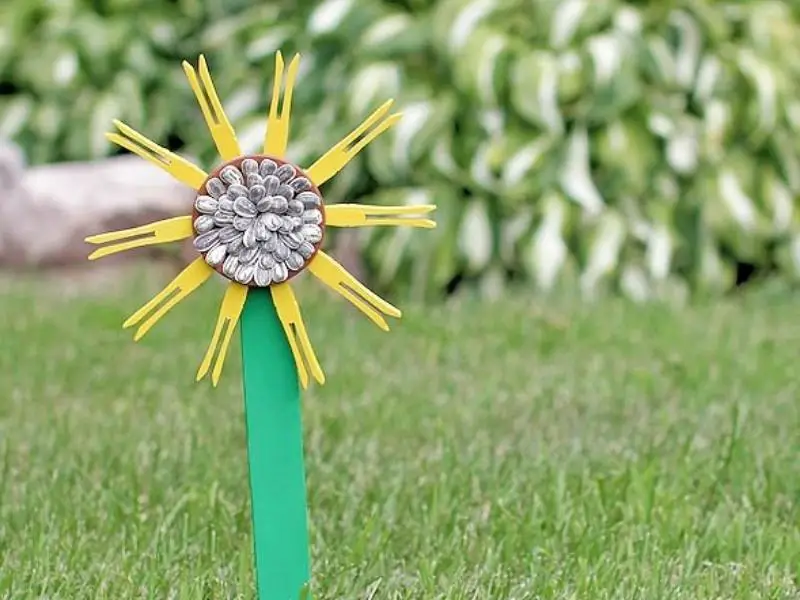 Are you looking for ornamental sunflower crafts? If so, this clothespin craft is just the project you need! Combine 10 old-fashioned clothespins, a canning jar lid, and a paint stir stick to construct a sunflower you can display in the backyard. You can even use it as a bird feeder by sticking sunflower seeds with peanut butter or lard to the canning jar.
Check out About Family Crafts for a step-by-step Clothespin Sunflower guide.
14. Upcycled Sunflower Craft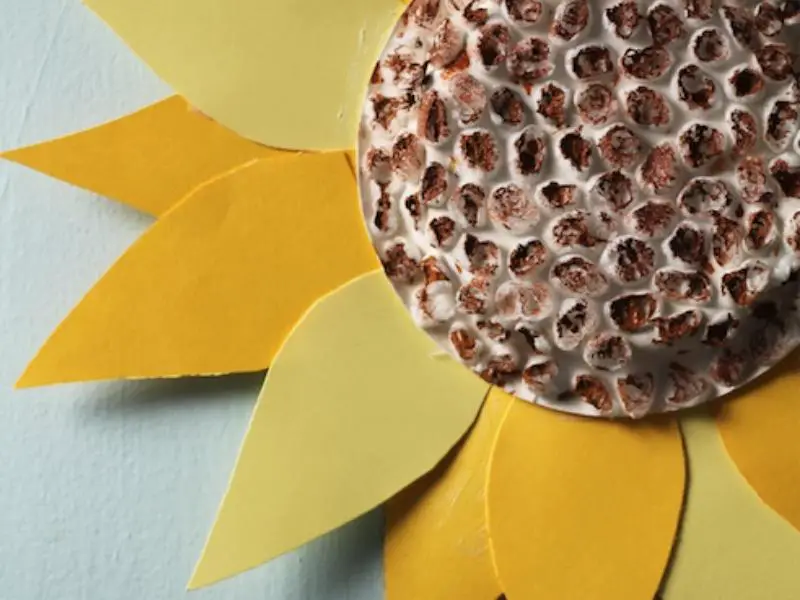 Upcycle an unused paper plate by turning it into a super cute sunflower! This is one of those crafts for kids that's perfect for a classroom setting. First, you'll need to glue some packing peanuts onto a paper plate and then paint them brown to emulate seeds. Then, allow the kids to glue the petals to the paper plate to encourage participation.
Visit The Classroom Creative for the Upcycled Sunflower Craft tutorial.
15. Sunflower Napkin Ring
Combine silk sunflowers with green pipe cleaners to create napkin rings you can use to decorate the picnic table during summer! Sunflower napkin rings are among the easiest crafts for kids of all ages.
You'll find the step-by-step guide for making a Sunflower Napkin Ring at She Knows.
16. Paper Sunflowers
Get the little ones involved in a project that uses lots of paper to make beautiful sunflowers. This craft is suitable for kids of all ages and is an excellent way to keep them busy on a particularly slow day. Just make sure to supervise younger kids as they work.
Get the Paper Sunflowers tutorial at That Artist Woman.
17. Simple Fork Sunflower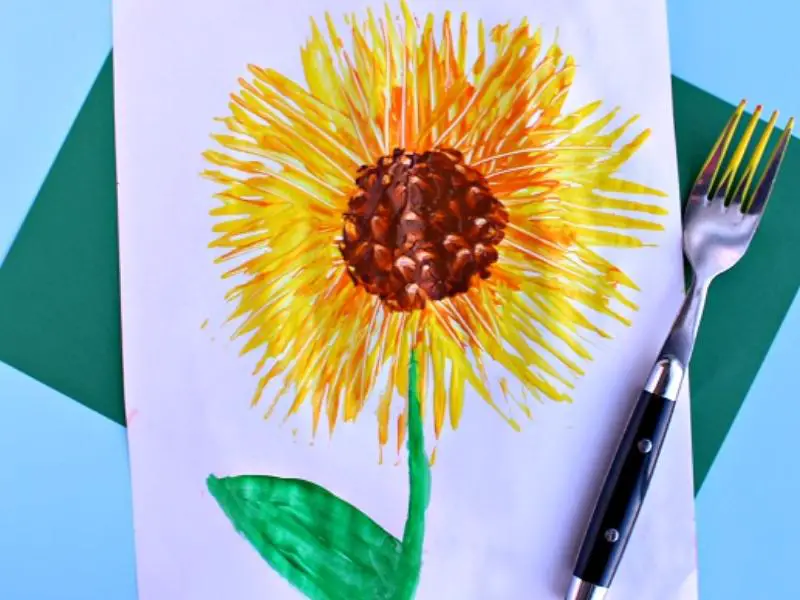 The best sunflower crafts for kids take everyday objects and use them in new and intriguing ways, as with this simple fork sunflower craft! Show your kids how to paint beautiful sunflowers using a good old-fashioned fork and watch their horizons expand.
Visit Crafty Morning to learn how to make this Simple Fork Sunflower.
18. Cupcake Liner Sunflower
In this project, your kids will use yellow cupcake liners. First, under your supervision, they'll use scissors to cut small wedges out of the cupcake liner. Then, let them glue sunflower seeds in the center. Next, stick the combination on bright orange paper for the finishing touch. This craft allows children to practice using their fine motor skills.
Visit Theot Toolbox to learn how to make this cute Cupcake Liner Sunflower.
19. Popsicle Stick Sunflower
You don't need a green thumb to make a popsicle stick sunflower, which is why this sunflower craft is fabulous! Unlike actual houseplants, you won't need to worry about how much exposure to the sun they get or how often they're watered. So, if you're looking for a low-maintenance way to bring some summer into your home, this is it!
Head over to Boy Mama Teacher Mama for the Popsicle Stick Sunflower tutorial.
20. Sunflower Wreath
Try your hands at making a sunflower wreath that you can place in your garden to feed the birds. You only need a grapevine wreath, flower seed heads, and a hot glue gun to do this project. Also, consider adding some coneflower to give the birds more to feed on.
Visit Garden Matter for the Sunflower Wreath tutorial.
21. Coffee Filter Sunflowers
Get the coffee filters, sequins, and green card stock out – you'll need them to make this adorable sunflower project. Sunflower crafts for kids can be an excellent way to sneak in some education during the creation process, so consider teaching your kids the different parts of a sunflower when putting this project together.
Visit The Imagination Tree to learn how to make Coffee Filter Sunflowers.
22. Paper Plate Sunflower
To make this sunflower craft, you'll need a paper plate, tissue paper, and sunflower seeds. The latter of the three materials will be glued to the middle of the plate to give it the distinctive look of a sunflower. If seeds prove hard to come by, you can always use bubble wrap instead. As a different form of play, let your kids have some fun with the bubble wrap.
Visit Glued to My Crafts for the Paper Plate Sunflower tutorial.
23. Felt Sunflower Change Purse
Do you want a fashionable sunflower-inspired project? If so, try making a felt sunflower change purse. You get to practice your sewing skills, and the final result makes a fabulous gift for your older children.
Check out Fun Family Crafts for the Felt Sunflower Change Purse tutorial.
24. Folded Paper Sunflower
Get some appropriately-colored construction paper and some blue card stock to make this folded sunflower craft that you can give as a gift. Scissors take crafting projects back to basics, and you'll be doing a lot of snipping when working on this project.
Visit I Heart Crafty Things to learn how to get started on this Folded Paper Sunflower.
25. Crochet Sunflower
Try making a sunflower using yellow and brown yarn. This sunflower-themed project allows you to hone your crocheting skills while paying homage to one of the most distinct summer flowers in the world.
Check out Skip to My Lou for the Crochet Sunflower tutorial.
Sunflower crafts are a fantastic way to get some crafting in during the summer months. Moreover, these crafts help keep kids engaged and can be educational. We hope this article provides you with lots of fun ideas you can try! Happy crafting!
26. Sunflower Rubber Band Ring
If you've got a loom on hand and some sunflower-colored rubber bands, then this craft is just for you. You'll end up with a cute sunflower ring that any kid would be delighted to wear.
Best of all, you can utilize the same method to make other flowers. That being so, you'll have yourself a colorful flower collection once you're done.
Learn how to make a Sunflower Rubber Band Ring on PandaHall.
27. Sunflower Party Banners
Are sunflowers your absolute favorite flower?
Then, you'll love decorating your living space with these awesome sunflower banners, especially if you're planning on having a party.
All you have to do is follow a few simple steps, and your home will look so much more cheerful.
Thankfully, you don't need to spend too much time or effort in order to do so.
Get more information on Sunflower Party Banners on DIY Inspired.
28. Painted Pinecone Sunflowers
Got a lot of pine cones lying around?
Then, this project will be a great way to utilize them. By painting them as sunflowers, you'll make use of something you would have otherwise thrown away. Not to mention, you'll also have yourself a lovely centerpiece in less than an hour.
Find out how to make Painted Pinecone Sunflowers on My Thrift Store Addiction.
29. Sunflower Egg Carton Painting
If you're looking for an easy sunflower craft for your kid, then this sunflower painting made out of egg cartons is just the thing. All of its supplies are inexpensive and easily acquired.
Most importantly, any kid will have a blast cutting up and painting the sunflowers. However, if you don't trust your kid with scissors yet, then make sure to do the cutting yourself.
Learn more about Sunflower Egg Carton Paintings on Easy Peasy and Fun.
30. Sunflower Change Purse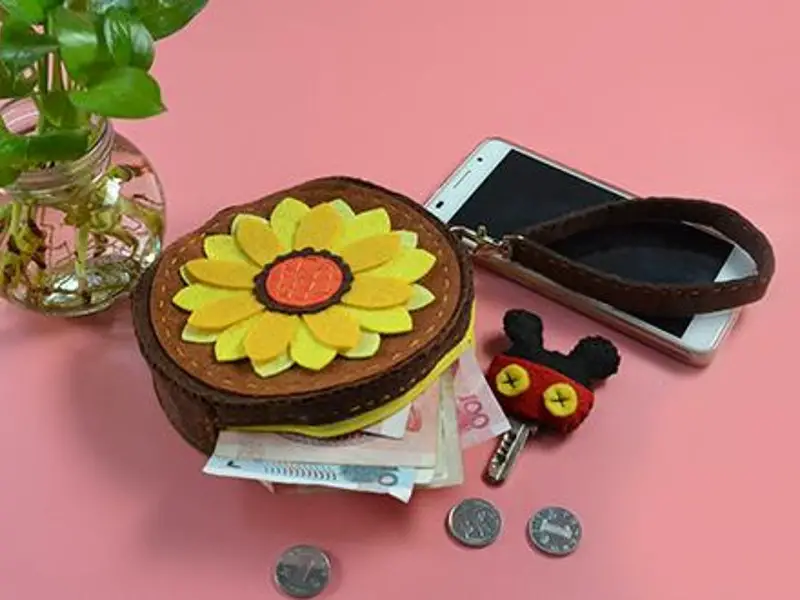 We all need a change purse to keep that loose change from getting lost. So, if you're going to get one, you might as well make this adorable sunflower change purse.
As long as you've got a functional glue gun and can sew a few stitches, you'll be able to make this change purse with minimal effort. So, don't be intimidated by how gorgeous it looks, and try your hand at it.
Get more details about this Sunflower Change Purse on PandaHall.
31. Shell Sunflowers
Did you know that by using shells and other easy-to-come-by objects, you can make yourself a stunning sunflower?
That's right; the simple materials can make an awesome three-dimensional sunflower that you'll be proud to display in your home.
So, next time you take a trip to the beach, make sure to hunt for some shells.
Go to Rhythms of Play to learn how to make Shell Sunflowers.
32. Mason Jar Sunflower Centerpieces
If you're looking for an easy and cheap way to make centerpieces for your dinner party, then you've come to the right place.
These fabulous centerpieces made of mason jars and sunflowers are a brilliant way to decorate your tables without having to spend a fortune.
Moreover, you can always tweak them a little to better fit your style or theme.
Discover how to make a Mason Jar Sunflower Centerpieces on Crafts by Amanda.
33. Fork-Print Sunflower Cards
Want an easy and enjoyable project for your child?
This ingenious fork-print sunflower card is the answer to your wishes. To tell you the truth, you won't find a more straightforward sunflower craft idea than this one, and the best thing about it is that you already have everything necessary for it in your house.
Learn to make Fork-Print Sunflower Cards on Crafty Morning
34. Giant Sunflower
This giant sunflower made of craft paper is a sure-fire way of getting your neighbors' attention this fall. You don't need to be a craft master to get it done, but you WILL need some free time.
However, if you get your loved ones to help you, the process will be much faster. And, of course, you're guaranteed to love the final product.
Make a Giant Sunflower by following the instructions on Aunt Peaches.
35. Salt-Dough Sunflower Handprint Keepsake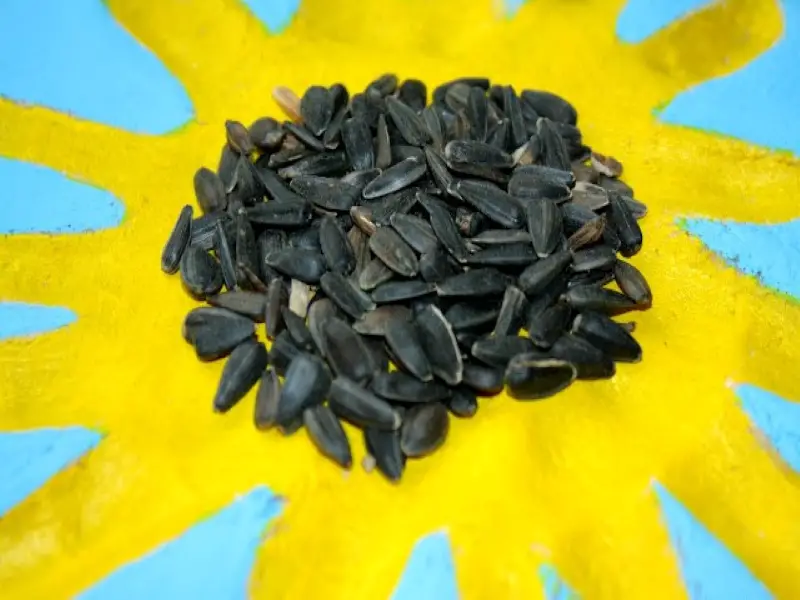 This sunflower made of sunflower seeds and a piece of dough is so cute that words can't possibly describe it. Not only is it so easy to make, but it also won't make a mess of your kitchen.
And as the years go by, it'll be a great way to call back the fond memories of when you made it. Just make sure to seal the end product properly to prevent mold.
Learn how to make a Salt-Dough Sunflower Handprint Keepsake on Learning and Exploring Through Play.
36. Sunflower Cake Toppers
Want to spice up your cakes or cupcakes a bit?
Try these charming sunflower cake toppers. They're honestly so darn pretty, and you won't have a hard time making a bunch. And of course, you can make them in different colors and sizes to make your cakes more animated.
Visit DIY Inspired to get more details on Sunflower Cake Toppers.
37. Coffee Filter Sunflower
These coffee filter sunflowers are an excellent way for your child to spend their afternoon. They aren't all that hard to do, but they're still challenging enough to test your child's abilities.
To top it off, they're pretty beautiful to look at when done right, and they don't require that many supplies. So, start painting some coffee filters, and make a day of it with your kid.
Get inspired by the Coffee Filter Sunflowers on Crafts By Amanda.
38. Clothespin Sunflower
Another creative sunflower craft idea is this clothespin sunflower. You'll need a paint stirring stick and some other materials you'll have at home to make a sunflower.
You can even add some sunflower seeds to make it more realistic. But even if you don't, you'll still end up with an incredible sunflower that you can display anywhere in your home!
Make a Clothespin Sunflower after visiting About Family Crafts.
39. DIY Sunflower Gift Wrap
Make yourself this stunning sunflower-themed gift wrap, and package the gifts of your sunflower-loving friends in it. Indeed, it's so beautiful to look at, but at the same time, it isn't tricky to make at all.
Moreover, you won't have a hard time getting the supplies for it, so make sure to try it out sometime.
Get more information about this DIY Sunflower Gift Wrap on Burlap and Blue.
40. Sunflower Thumbprint Cards
Want a cute card to send to grandpa this fall?
Then, get some paint, and sit down for this messy but fun project. Truly, these sunflower thumbprint cards will be the highlight of your kid's day. All you have to do is add some finishing touches to the cards and send them on their way.
Find out how to make Sunflower Thumbprint Cards on Red Ted Art.
41. Cupcake Liner Sunflowers
If you'd like a hands-on project for your kids that you can hang up on the fridge, try out these sunflowers made of cupcake liners.
They aren't all that challenging to execute, and the end product is quite good. But, most importantly, your kids will be thoroughly entertained for an afternoon, giving you some much-needed free time.
Learn to make Cupcake Liner Sunflowers on We Know Stuff.
42. Sunflower Kissing Balls
These dazzling sunflower kissing balls are just what you need to brighten up your balcony. They add such a cheerful and romantic vibe to the space around them, which is all a person can ask for.
Luckily, they aren't hard to make at all, though you may need to visit a few craft stores before you find the materials you need. However, the end product will be worth any trouble you go through.
Find out how to make Sunflower Kissing Balls on Crafts By Amanda.
43. Popsicle Stick Sunflowers
For a fun evening with your kid, why not put these popsicle stick sunflowers on the agenda?
This sunflower craft idea won't require anything major on your part; just lay out the materials for your kids, and they'll take it from there. Honestly, this craft is so fun; it'll be a shame to miss out on it.
Visit Boy Mama Teacher Mama to make your own Popsicle Stick Sunflowers.
44. Sunflower Cookies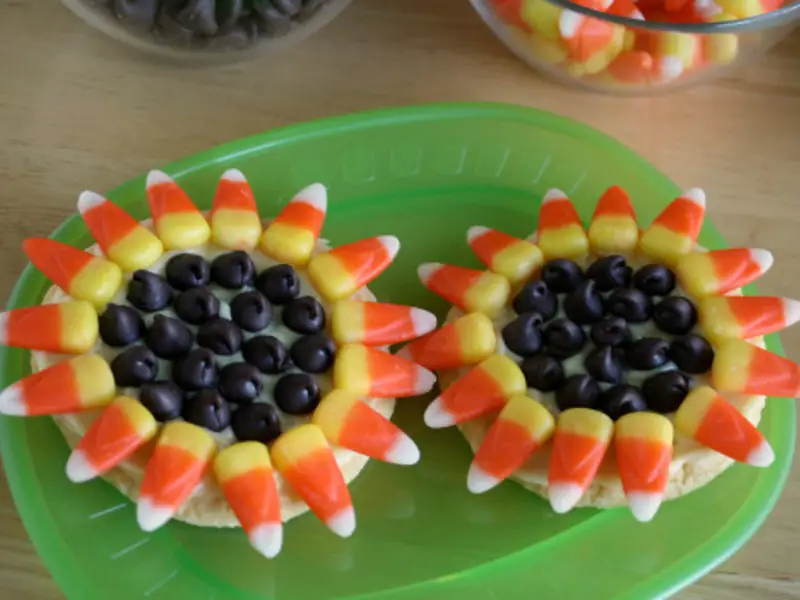 Got some candy corn left behind from Halloween?
Then, get ready to use them in these beautiful and edible sunflower cookies. Have your kids help you arrange the candy corn in the shape of a sunflower, then add some chocolate cookies in the center to complete the look.
Believe it or not, it's as easy as that.
Get instructions on how to make Sunflower Cookies on Make and Takes.
45. Noodle Sunflowers
Our last idea is another food-related one, though it's inedible this time. We're talking about these beautiful sunflowers made out of noodles. Your kids can arrange them to resemble sunflower petals.
As you can see, this project is effortless, and your kids will love the activity. It certainly beats the macaroni necklaces we made back in the day!
Discover how to make Noodle Sunflowers on Crafty Morning.
Overall, among the various sunflower craft ideas we've mentioned, have you managed to find a few you like? We certainly hope so, and most of all, we hope you and your family will have a lovely time crafting.
Comments
0 comments