Coloring is a fantastic activity for kids of all ages "" and for adults too, especially if you just want to do something relaxing and soothing for a while. Coloring pages come in a range of complexities, and if your child is into Owlette, you're bound to find one that they can enjoy.To help out, we've gathered some options so you can choose an Owlette coloring page for your child.
1. Super Simple Owlette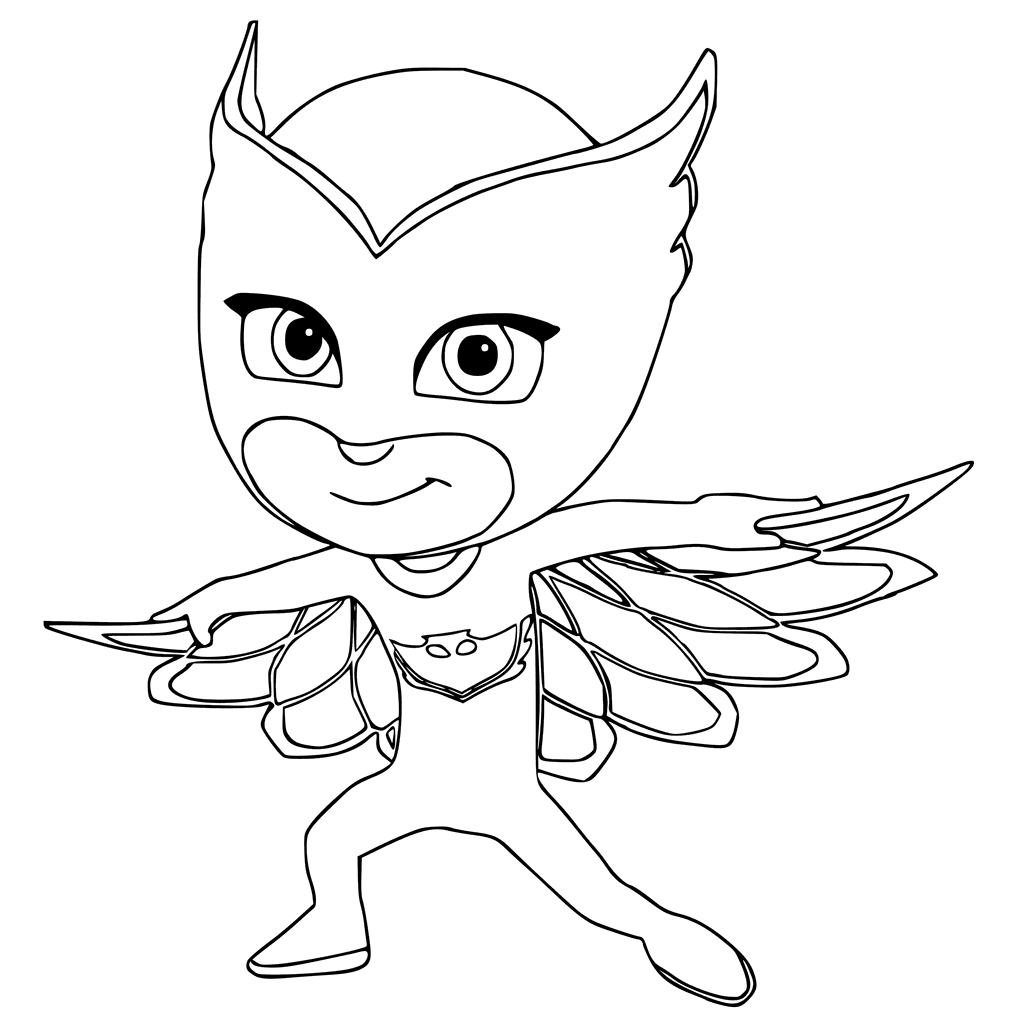 Source: https://www.getcoloringpages.com/images/8v/8vcze3c.pngIf your child just wants to color Owlette "" great, no problem! Most children should be able to manage this design, which is fairly simple and shouldn't take them too long to color in. They can attempt the more difficult details on the wings, which may prove a good challenge for them as they try to control the pencil (or pen) along with thin, curving lines.This Owlette looks suitably determined, ready for adventure, and while some of the shapes are more complicated to make it a more interesting process, most kids will find her a good challenge that they won't get frustrated by.
2. Super Simple Owlette 2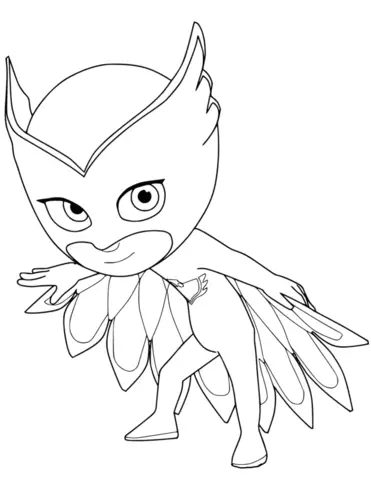 Source: http://www.supercoloring.com/coloring-pages/owlette-from-pj-masksVery similar to the first option, this Owlette is a little easier, without the thin lines to color in on the wings, and with a less detailed symbol on her chest.She's also couched in a somewhat more dramatic pose, which might appeal to your child if they are big fans of the show. They can have fun coloring in her large, intelligent eyes and either matching her suit to the show or choosing another color entirely "" it doesn't matter if they want to make their Owlette unique!
3. PJ Masks Team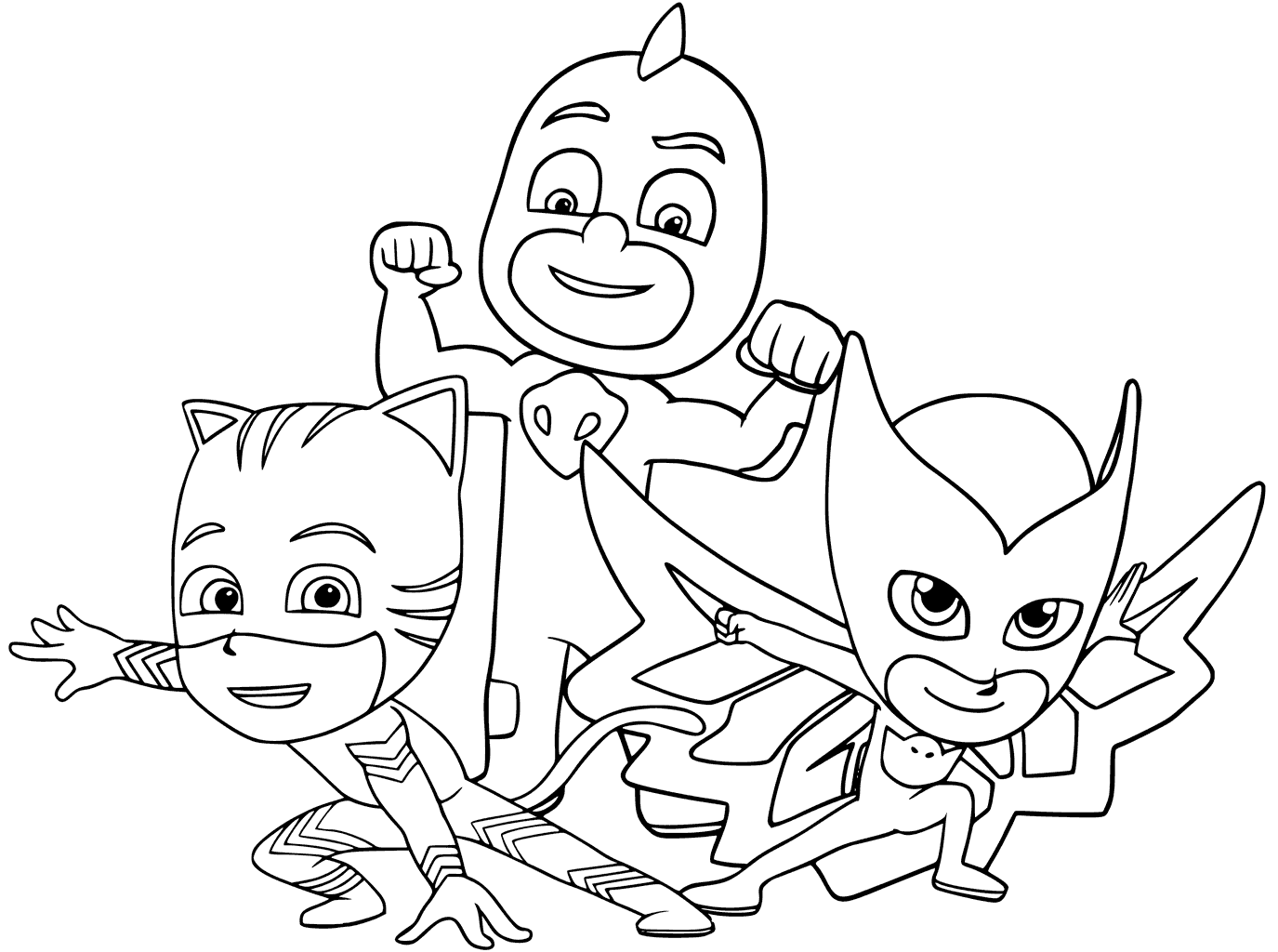 Source: https://www.getcoloringpages.com/pj-masks-coloring-pagesIf you want to present your child with a more involved coloring page that will give them a challenge without being impossible, this PJ Masks Team page is a great option. Presenting three characters will involve lots of colors and will take some sustained concentration and patience, but it also uses fairly easy shapes. The most challenging is probably the triangles and stripes on Catboy's suit. These are great for your child to practice their coloring skills on, as they'll have to be careful not to go over the lines.Again, there's no background, which makes this a less involved project, but it's still trickier than the solo Owlette coloring pages, and kids who love the show will probably enjoy getting to represent more than just one character.
4. Flying Owlette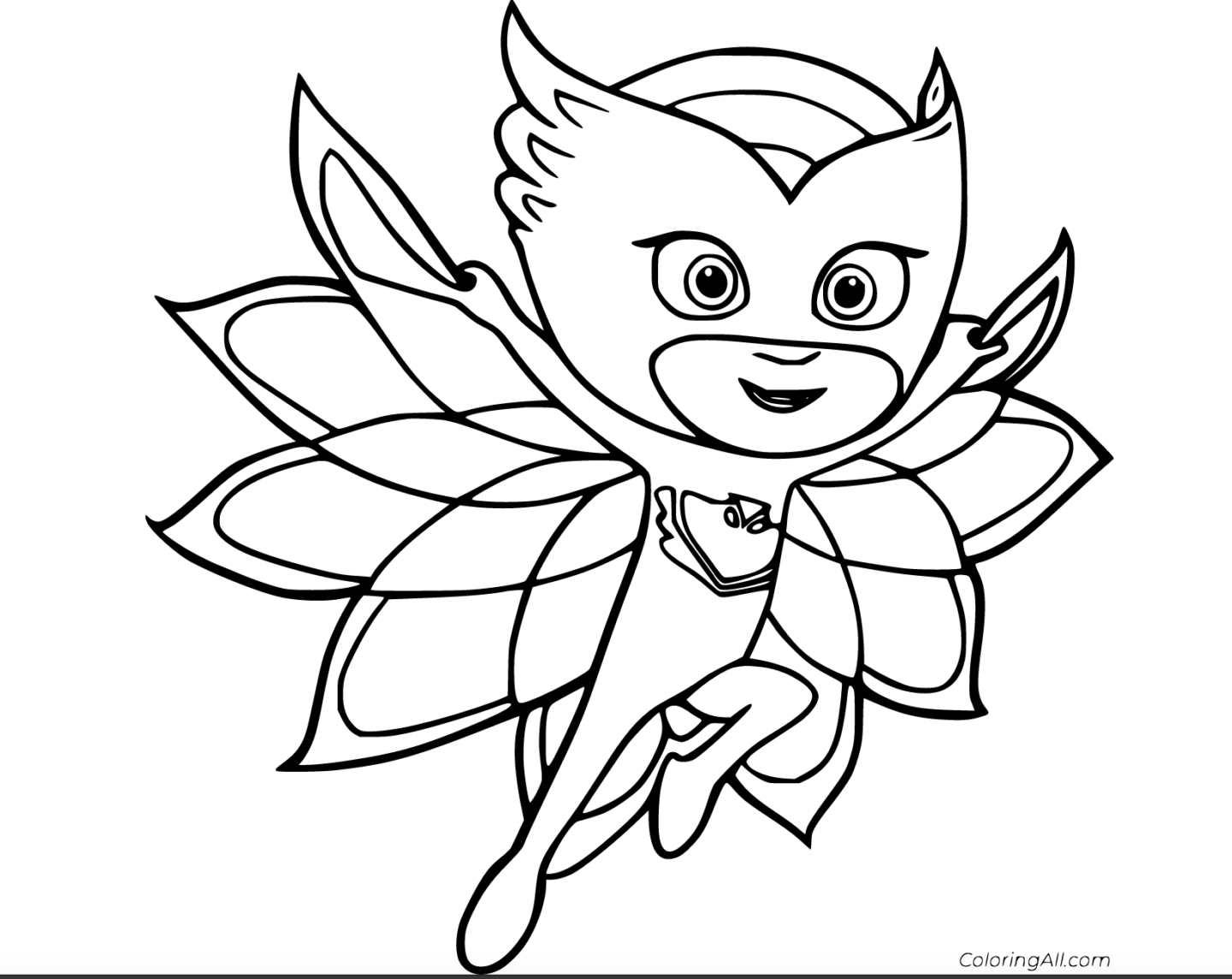 Source: https://www.coloringall.com/coloring-pages/pj-masks/flying-owlette-from-pj-masksYou might want to find a coloring page with Owlette taking flight, and this Flying Owlette is perfect if so. She's got a lovely, happy expression that will appeal to children, and with her arms raised, it's clear she's just about to take off.The wings have been kept fairly simple to make them easy to color, and there are no very challenging edges or angles, though the irises might test a child's control a bit "" in a good way.
5. Cartoon Owlette
Source: https://findcoloringpages.com/pj-masks-coloring-pages/pj-masks-owlette-coloring-page/Owlette is already pretty cartoony, but this Cartoon Owlette is an even more stylized version and would be easy for even little kids to color in. The lines are all very simple, and your child can have fun coloring the hearts and diamonds as well.Your child may also have fun drawing details on the wings, or they can just do one single color and leave the Owlette simple.
6. Owlette Trio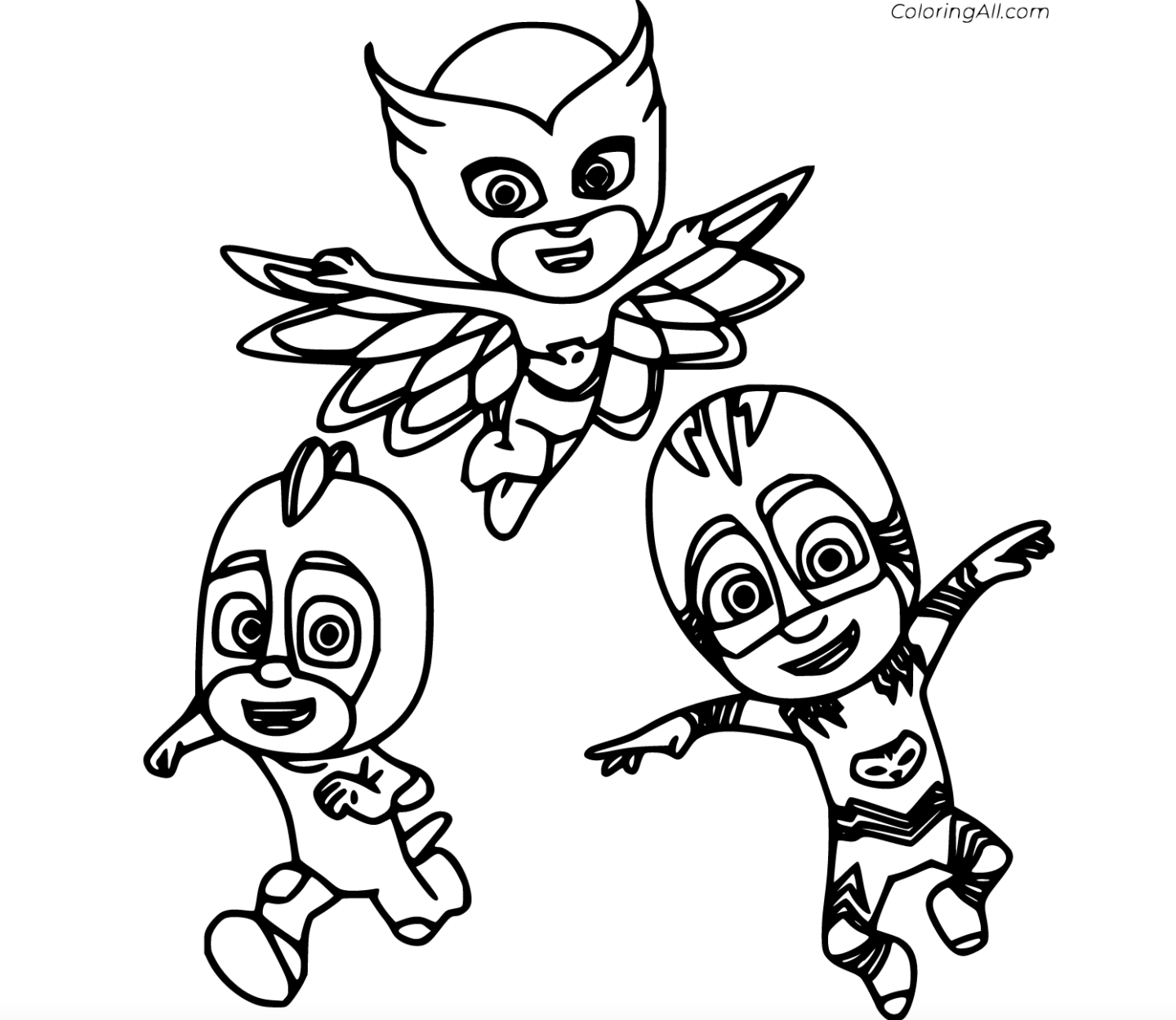 Source: https://www.coloringall.com/coloring-pages/pj-masks/pj-masks-gekko-owlette-and-catboyAnother take on Owlette and her team, this Owlette Trio coloring page has lots of challenging lines for your child to try and get the hang of. Again, Catboy's suit will present the most difficulty, but Owlette's wings are also detailed and can be done in several different colors.For a slightly older child, this should present the perfect level of complexity, but it's still a picture that can be completed relatively quickly, so they are unlikely to get bored while coloring it.
7. Pre-Transformation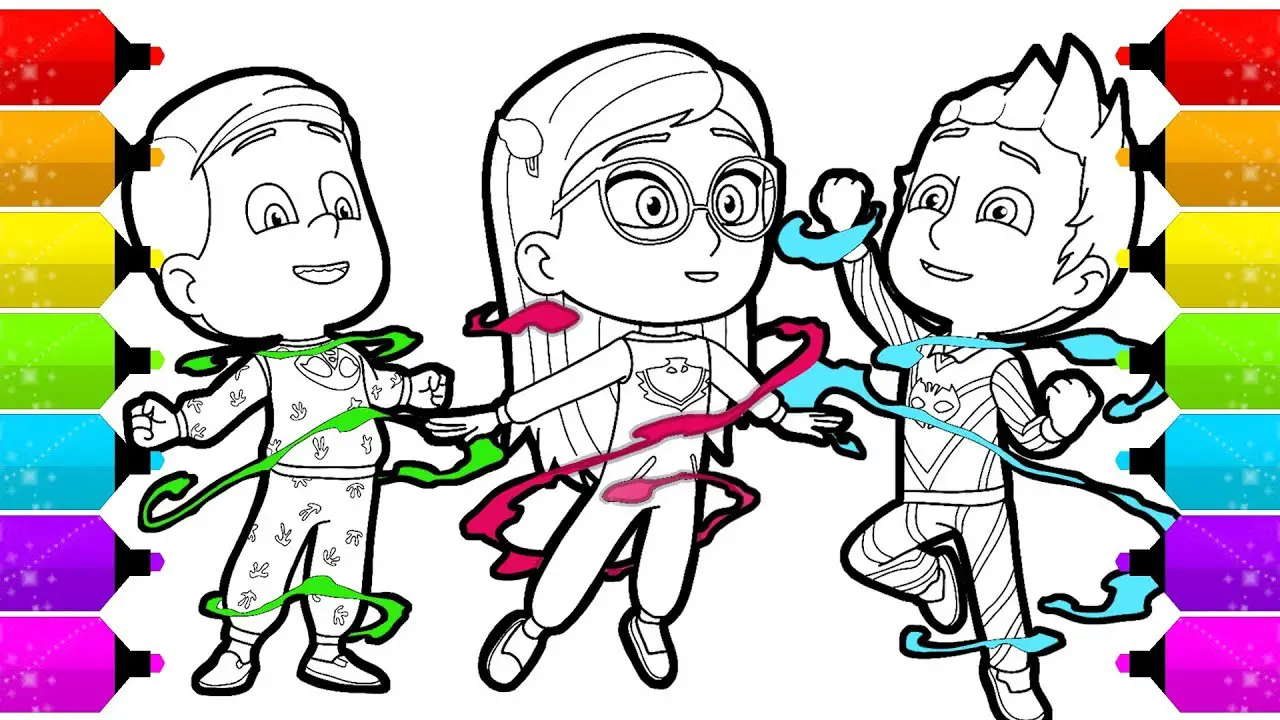 Source: https://dubaikhalifas.com/pj-masks-catboy-gekko-and-owlette-coloring-pages-transformation-youtube/If your child feels like coloring the characters before the transformation, this Pre-Transformation coloring sheet would be perfect. Each characters' pajamas have different designs, so your child can have fun trying to color the somewhat fiddly details, or just choose an overall color for each character.This page will also let your children color the kids' hair and faces, which might be more interesting and engaging to do than their masks for some children.
8. Detailed Owlette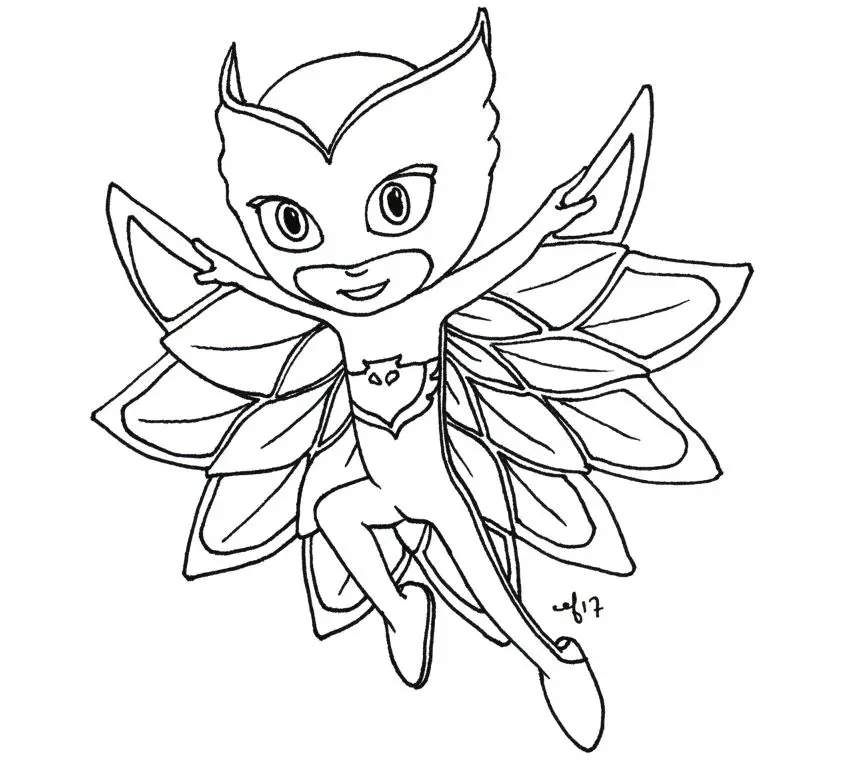 Source: https://onlineyyevzka.web.app/424-owlette-coloring-sheet.htmlFor the slightly older coloring fan, this Detailed Owlette presents intricate wings that your child can spend time coloring, as well as more details on the character's suit.Her eyes and face are more intricate too, and the graceful pose will appeal to most kids; she looks like she's just about to sweep off into the air.Again, your child can stick to the colors in the show, or have fun doing every part of the wing in a different color to make a rainbow Owlette.
9. Soaring Owlette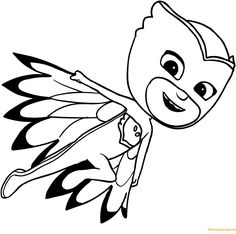 Source: https://www.pinterest.com/coloringpagesonly/pj-masks-coloring-pages/If your child wants details on their picture but they struggle with coloring, this Soaring Owlette has the tips of her wings already filled in, and the eyes and mouth have also been done.Your child can simply color the body, face, and mask, and add some detail to the stripe and wings, and they'll have a great Owlette to be proud of!
10. Join The Dots
Source: https://coloringpagesonly.com/pages/pj-masks-connect-the-dotsTo make a more interesting and challenging coloring project for your child, try this Join-the-Dots Owlette. Your child can have fun matching up the numbers and creating their very own picture to color in.The resulting image should be reasonably simple and easy to color, and as the eyes and some of the suit details have already been drawn in, the resulting coloring page will look great. Your child can just grab their pencils or pens and fill them in!
Conclusion
There are lots of ways to get great Owlette coloring pages for your child, and you can help them create whole new characters, or follow the color schemes and guidelines for the proper show characters. Whether they enjoy the complexity and want the challenge of lines and stripes and multiple characters, or they just want a quick Owlette to color, there are plenty of choices!
Comments
0 comments