Art kits are a seriously easy, effective way to get kids creating. I have always been smitten with art kits and even now I find myself lingering around the art kits area in stores to see what sorts of cool things companies have put together.
They're brilliant for busy families or parents who aren't quite ready to splurge on a ton of art supplies, because everything you need comes in the kit, and usually you can make several projects from those materials.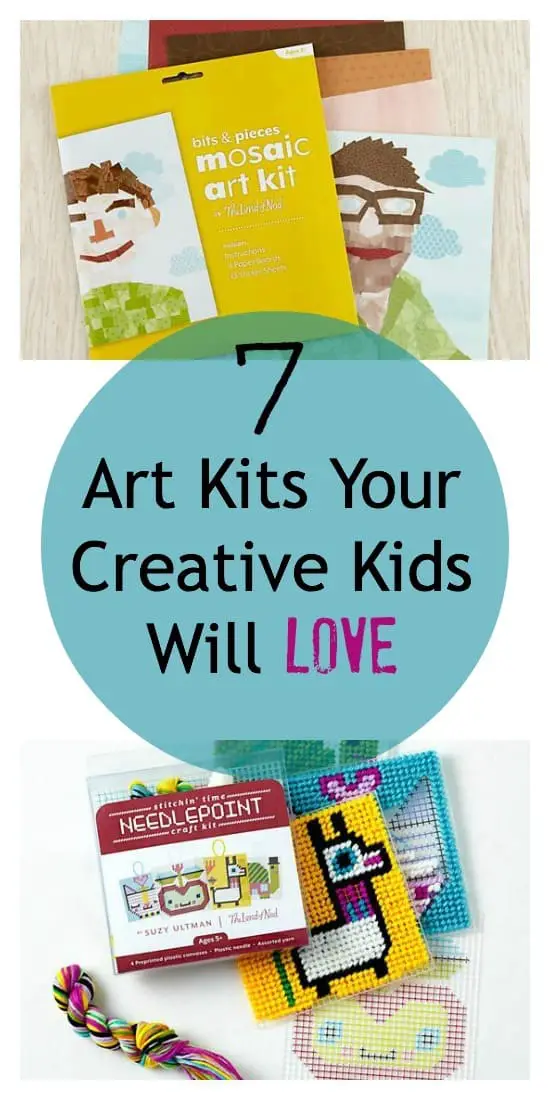 They're also a great way to try your hand at something new in a basically commitment-free way.
So. Now that I've sung the praises of art kits, I have several to present to you as AWESOME gift ideas. You know, in case you happen to be looking for gifts for anyone anytime soon.
Remember my post about Stubby Pencil Studio? I still love them. And they sell these adorable dinosaur fingerprint art sets. And looky! The kit includes little dino-part stamps. Stocking stuffer!
I'm sure you're aware of all the cool monthly art kit programs out there, but did you know that Green Kid Crafts has individual art kits you can buy? This one focuses on crafts from around the world and even includes a passport with stickers!
Projects include making Diwali Candles from India, designing an African Mask, making Japanese Lanterns, creating a Chinese Hand Kite that really flies, Aboriginal Rock Art from Australia, and Guatemalan Worry Dolls and a Worry Box from South America.
Be sure to check out all of their holiday specials, and you can of course choose from their different subscription plans as well.
So maybe your kids are a little excited about felt after making some felt coffee cup cozies. Or maybe they're yearning to try their hands at it, but whatever the case, Artterro makes a wonderful Felt jewelry kit. This is one of those things moms buy for their daughters and secretly can't wait to try their hand at.
This may look sort of boring, but to older kids who are already way into drawing, this Mixed Media drawing kit
 is a little slice of heaven. I'm going to go ahead and scream stocking stuffer! again for this one.
How cool and easy is this Mosaic Kit
from Land of Nod? You can use the pre-printed backgrounds and hundreds of stickers to make marvelous mosaics! I'm completely digging this, and I haven't seen any kits quite like this before.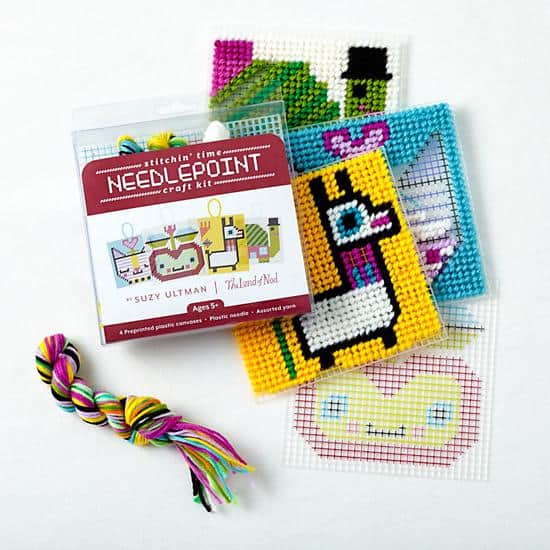 I just have to include this Needlepoint Kit
, too. I have such warm, fuzzy feelings about the awesome rug-hooking projects I did in the late 70's/early 80's (including a portrait of Grover). I imagine this kit would suck kids in and tap right into their brain's creative center.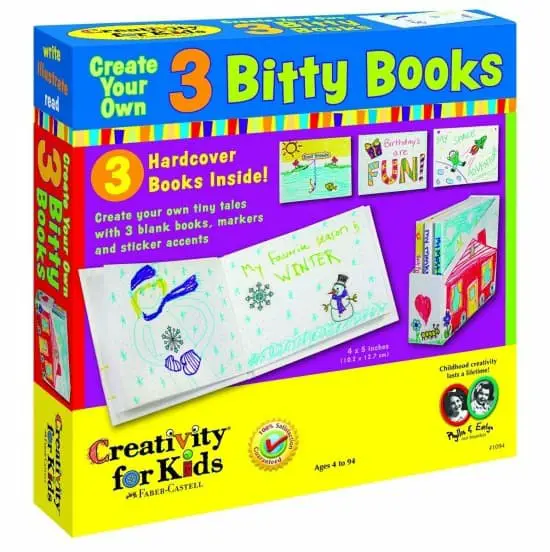 Kids are inevitably drawn to making their own books, and this Bitty Books Kit gives them 3 hard-cover blank books as well as markers and stickers to go to town. I love this because it's simplicity makes it the perfect gift to inspire open-ended creativity.
So…… are you ready to be completely inundated with gift ideas? I have joined up with over 50 other bloggers who have compiled their own theme-based gift guides. That's a lot of great gift ideas!
How do you find all of these gift guides? Visit Gifts for Kids: 50+ Gift Guides and our Pinterest board, both of which will include all of the gift guides for your perusal.