Have you ever seen something as fascinating as translating music sounds into writings? You look at a mere piece of paper, and magically, you hear music in your head.
Many musicians across time contributed to the elegant music notes' shapes we get to enjoy today. And while they're intended for music, they inspired many art shapes because of their unique curves and formations.
If you're as inspired by musical notes as we are, then you've come to the right place. We've gathered some music drawing ideas for you and your kids. So prepare your drawing tools and dive in!
Music Note With Initials Drawing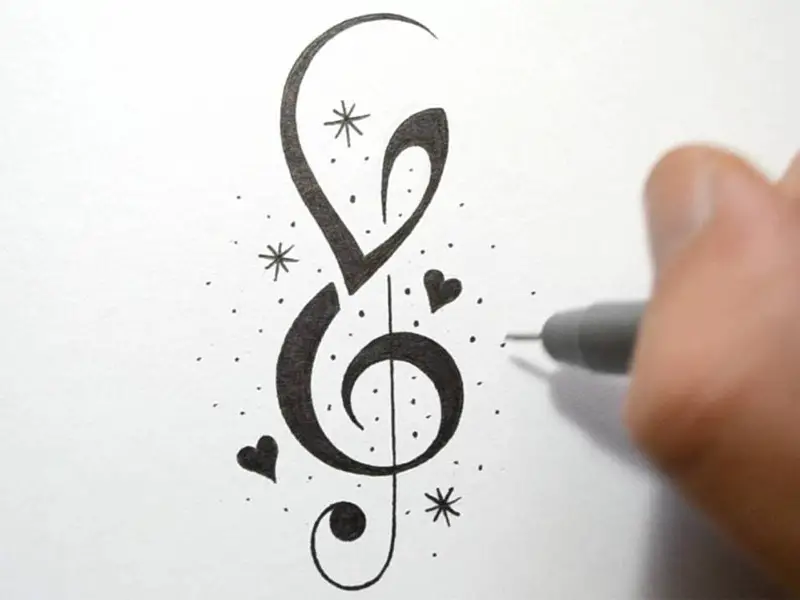 You can use this drawing as a unique signature, especially if you're a musician. You'll get to draw an elegant music note with the first letter of your name gracing it.
It's no secret that this idea requires some drawing skills to get the curves on the music notes right, but practice makes perfect.
Check the tutorial for Music Note With Initials Drawing on mycrafts.com.
Simple Music Notes Simple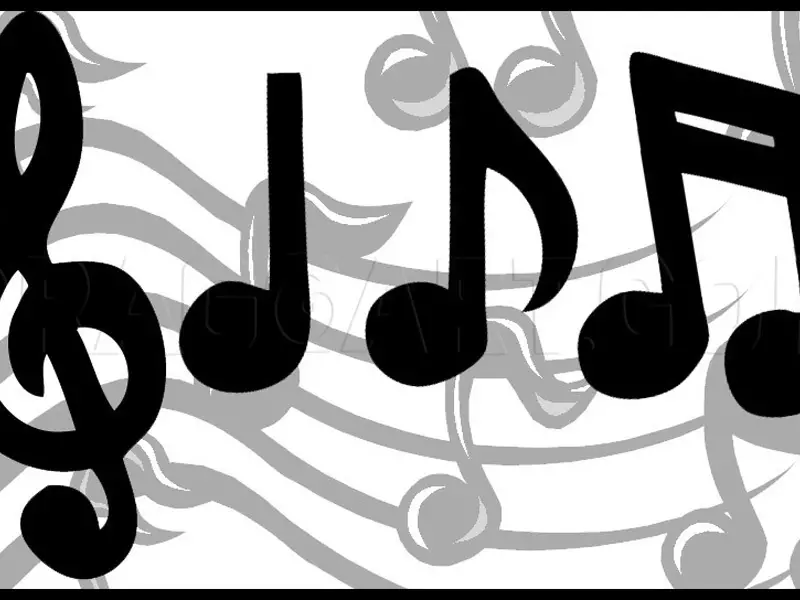 If you don't trust your drawing skills enough, you can start with simple music drawings like this one. It doesn't have any intricate details; instead, it features easy outlines. You can also start with a pencil instead of a marker until you get them right.
Get the tutorial for Simple Music Notes on dragoart.com.
Treble Clef Drawing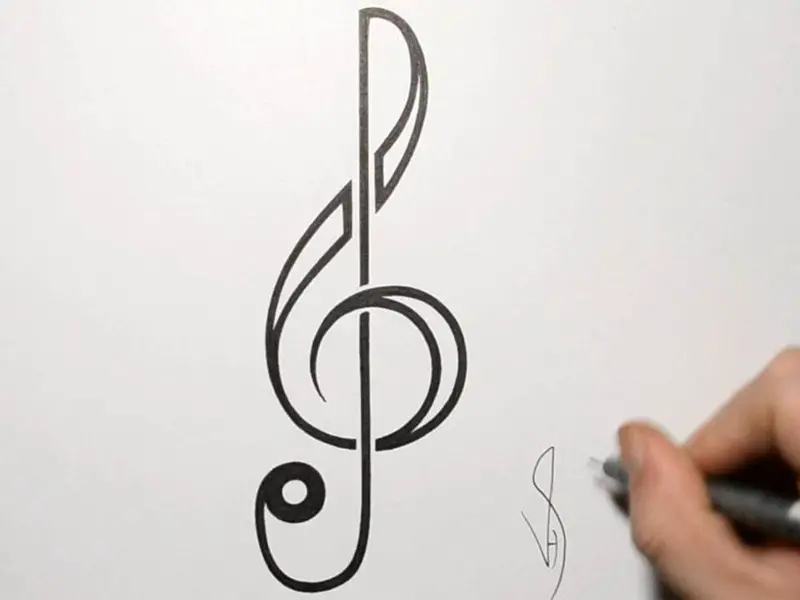 The treble clef looks pretty compelling to draw. There are many ways you can incorporate it into music drawings, and this way is one of the easiest. You can attempt this simple music note drawing using your pencil.
Just begin with the straight line, then draw the curves from there. After finishing, you'll have a beautiful piece of art.
Find out more about Treble Clef Drawing on eveningartbox.blogspot.com.
Music Notes Drawing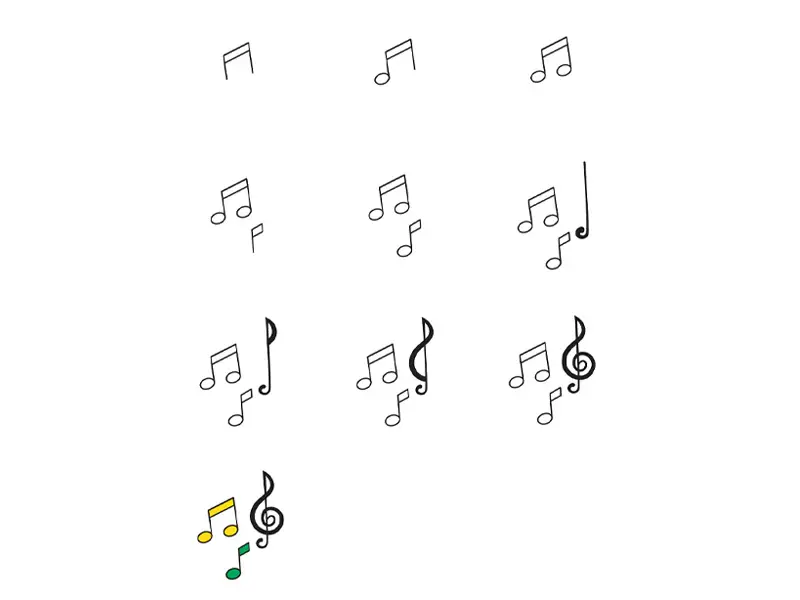 Music notes are creative, beautiful, and tempting to draw. They're also pretty easy and require only minimum imagination.
You'll draw some straight lines and connect circles at the end to indicate what sound will come out and the note's duration.
You can also involve your kids in creating this artwork since it doesn't require many tools and won't cause a mess around your place.
Check this step-by-step guide to Music Notes Drawing on iheartcraftythings.com.
Guitar Drawing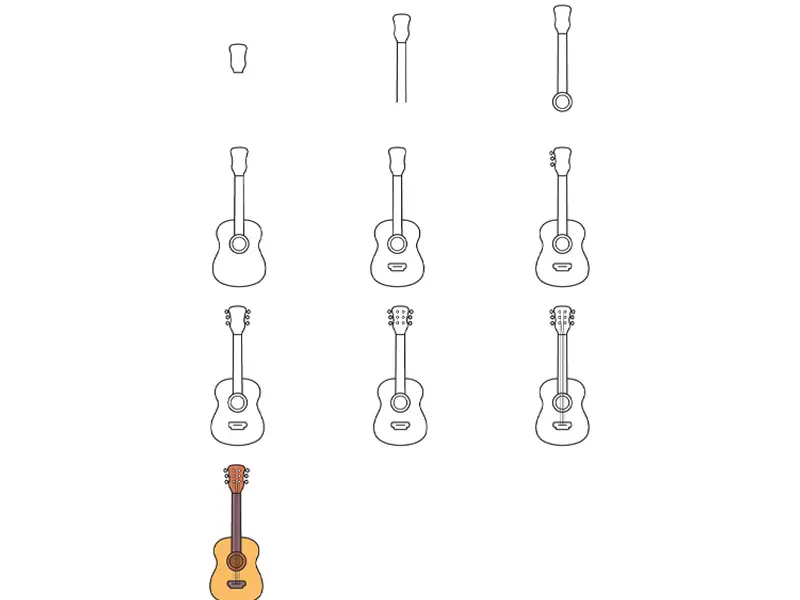 For music drawings, you don't have to limit yourself to music notes; you can also incorporate some musical instruments.
For example, this artwork consists of drawing a guitar.
Since it's pretty simple, you can invite your kids to join the fun. You can also add music notes around the guitar as a final touch.
Get the instructions for Guitar Drawing on iheartcraftythings.com.
Trumpet Drawing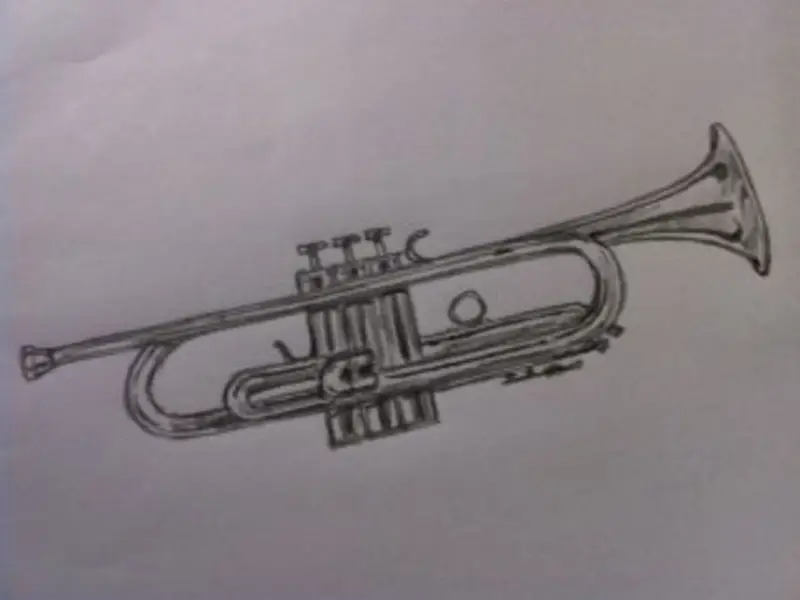 In addition to the beautiful sound that trumpets make, they also have elegant shapes. That's why they can be the main inspiration for your next art project. Since this drawing contains many details, your kids might not like it. But this doesn't mean you can't try it yourself.
Find out more about Trumpet Drawing on feltmagnet.com.
Wall Music Notes Drawing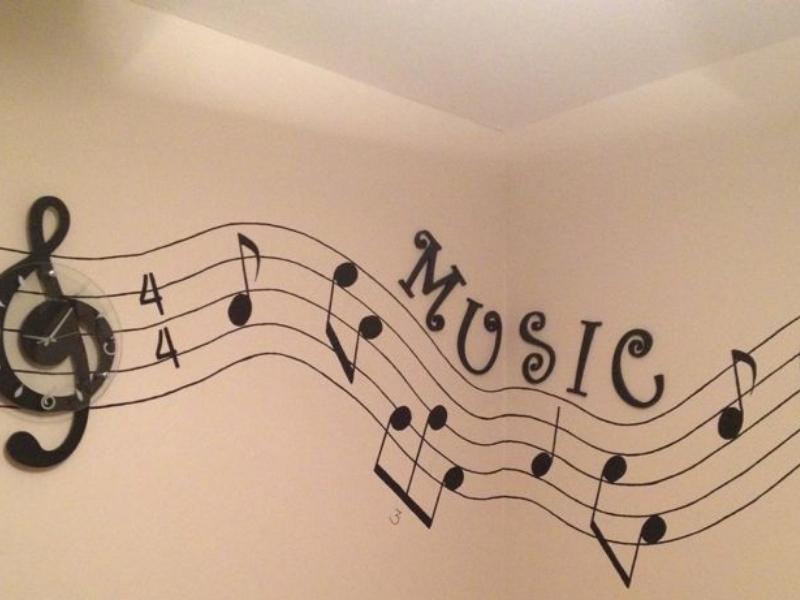 If you want your home aesthetic to reflect your passions and feelings, you can draw music notes on your room's wall.
If you're afraid of not getting them right the first time, you can first draw them on a small scale. Then, after you're done drawing, you can paint them to give your room some colorful vibes.
Check the instructions for Wall Music Notes Drawing on homeguides.sfgate.com.
Piano Drawing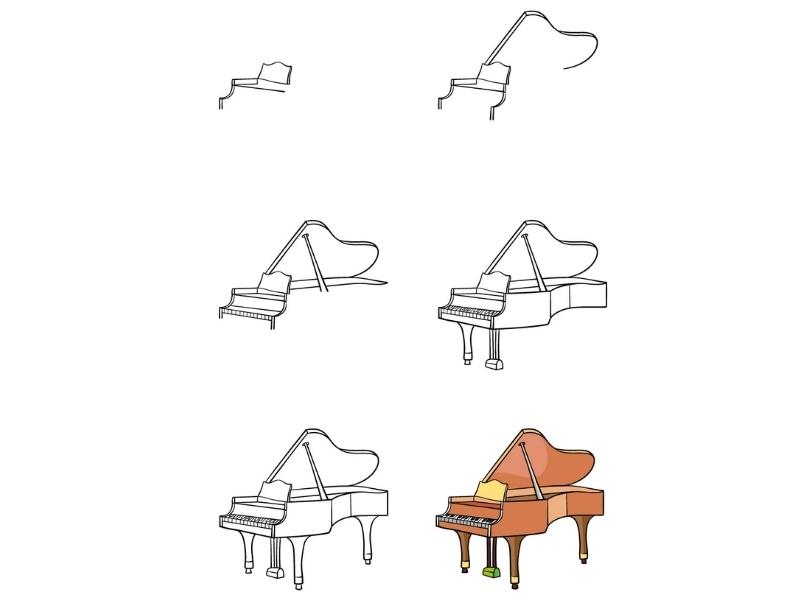 If your kids play the piano, you can encourage them to try out this simple idea. They won't only have lots of fun while creating it, but they'll also get to improve their artistic skills.
In the beginning, give them a pencil so that they can erase their mistakes if they make any. Later on, you can supervise as they outline their lines with a black marker.
This way, you'll feed their love for both music drawings and piano playing.
Get the tutorial for Piano Drawing on iheartcraftythings.com.
Button Music Art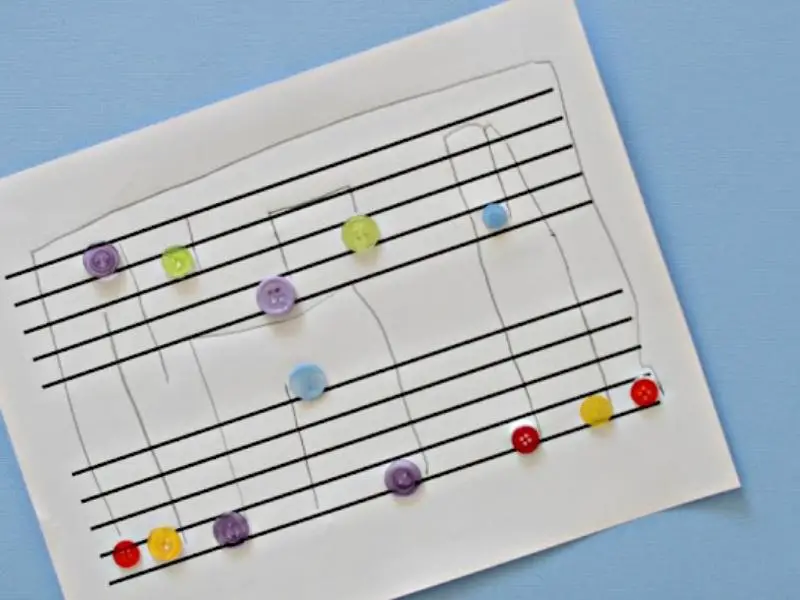 This music drawing is perfect for little kids who still can't hold their pencils right.
Under your supervision, your kids will only draw a simple straight line; then, they'll glue buttons to the place where the circle usually goes.
Although they won't draw an entire music note, they'll learn what it looks like and will get to explore enjoyable crafts.
Read more about Button Music Art on andnextcomesl.com.
Music Notes Art Drawing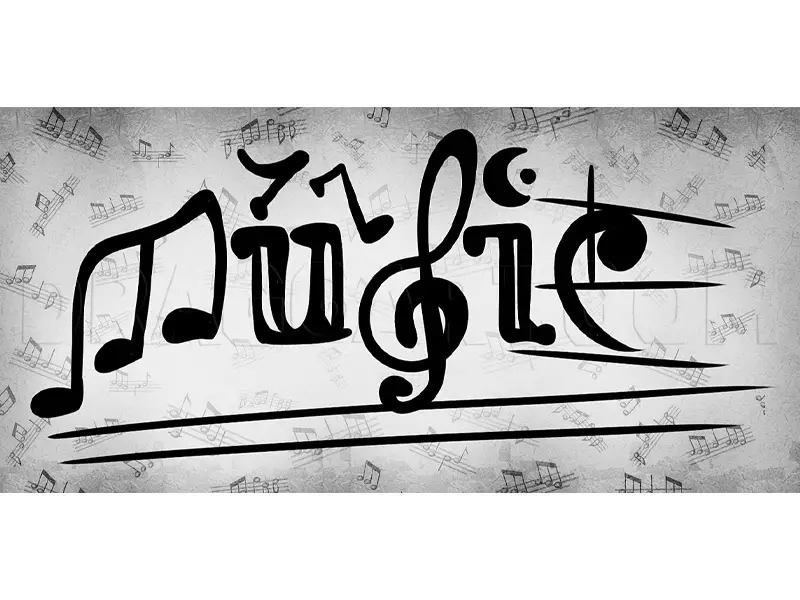 Musical notes are already beautiful on their own. How about integrating them into calligraphic art?
For this idea to work, it'd help if you wrote the notes you want to draw first. Then, if you like the outcome, you can start drawing it on a larger scale.
No matter what you do, you'll still have a beautiful piece of art to keep in your room after finishing.
Get the instructions for Music Notes Art Drawing on dragoart.com.
Music Box Drawing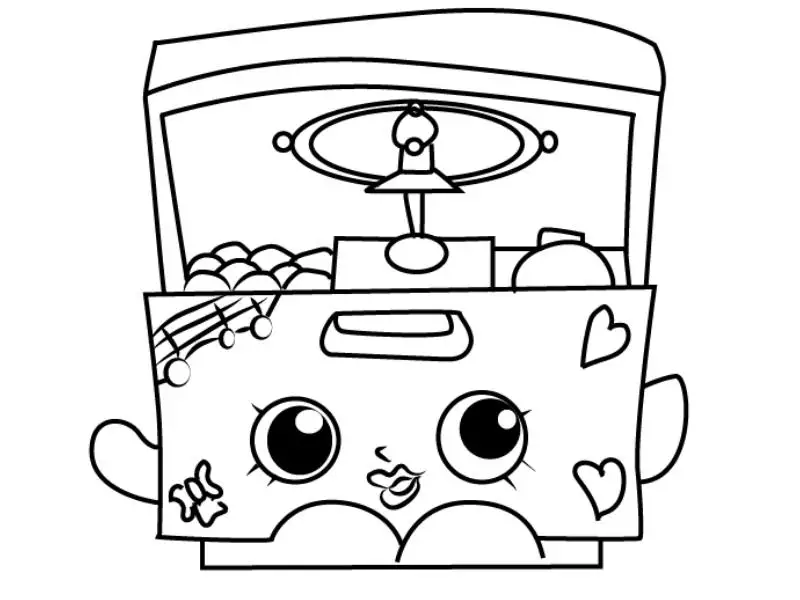 Music boxes work by a simple technique, yet they produce beautiful sounds.
Similarly, they're simple to draw and can produce lovely art pieces! You can work on this music box drawing with your kid as it's pretty easy and enjoyable.
After finishing it, you can give your kid watercolors or crayons to paint it.
Check the tutorial for Music Box Drawing on drawingtutorials101.com.
Treble Clef Elegant Music Note Drawing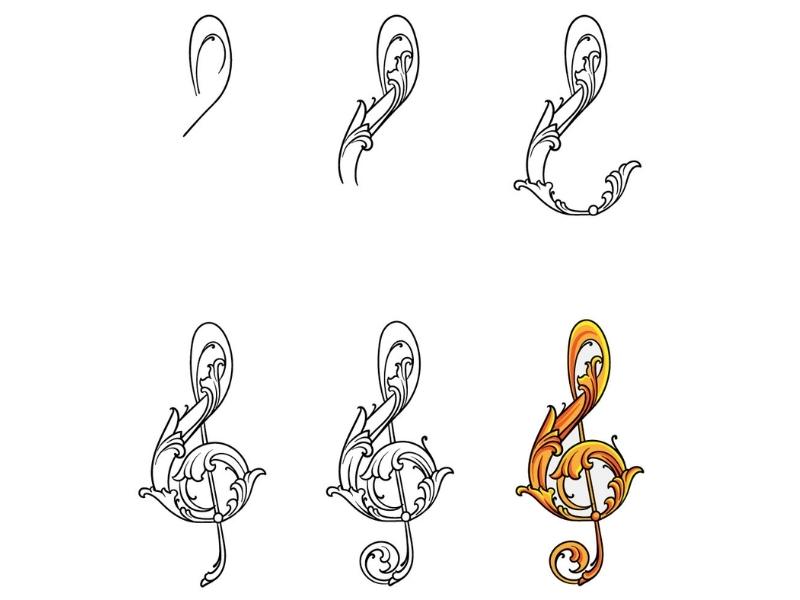 You can try this refined drawing as a creative take on the standard treble clef.
Although the intricate details will take you some time to get them right, you'll have an awe-inspiring musical artwork that you'll fall in love with within the end.
You can even add colors to breathe some life into the drawing after you finish it.
Read more about Treble Clef Elegant Music Note Drawing on iheartcraftythings.com.
Xylophone Drawing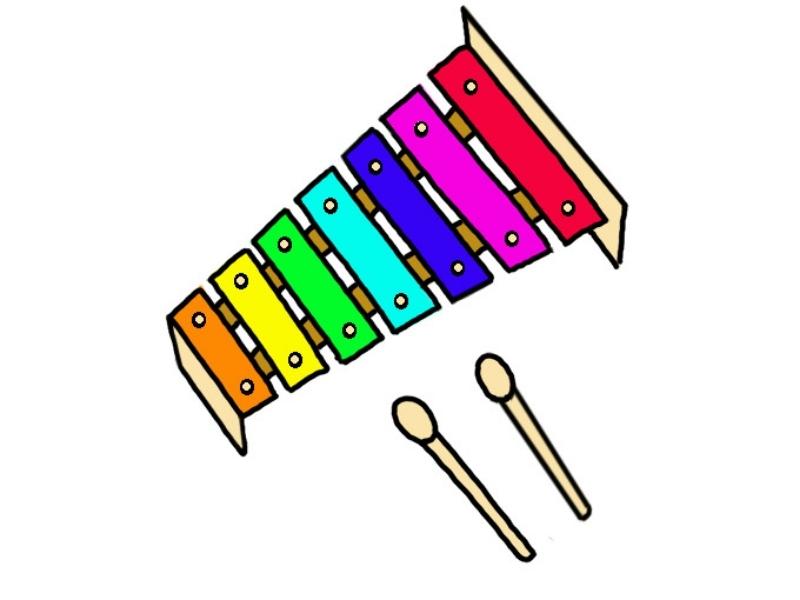 Xylophones produce cheerful sounds, and their bright colors make them a perfect inspiration for children.
So if your kids are passionate about playing music, you can let them start with this simple drawing and go from there.
Get the tutorial for Xylophone Drawing on drawinghowtos.com.
Saxophone Drawing
Saxophones have an attractive design that would look fascinating on paper.
You can start with the musical instrument, then draw music notes coming out of it.
And since this drawing is easy, you can involve your kids in it so that they can explore the music world for a bit.
Check the instructions for Saxophone Drawing on drawinghowtos.com.
Drums Drawing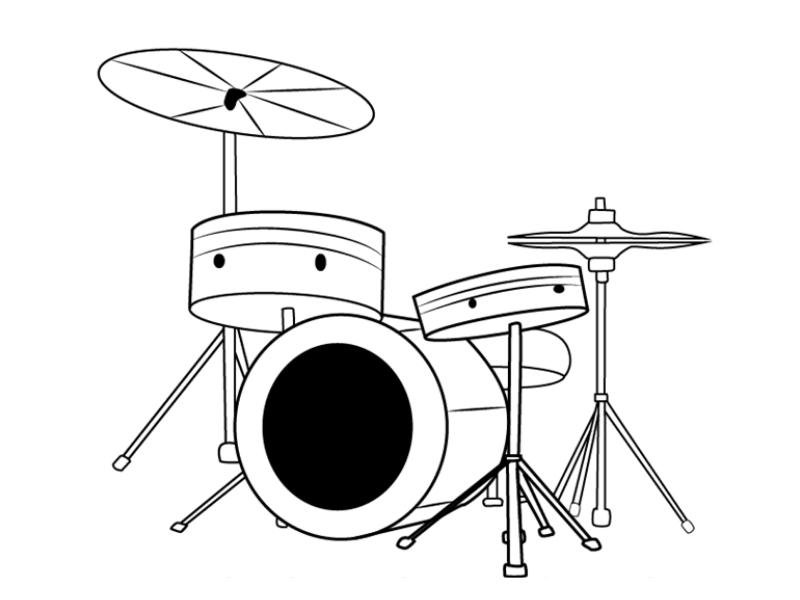 If your kids are passionate about drums, you can give them this drawing to try out. At least you'll have some break from the noise!
Let them follow the tutorial and remember to supervise as they use their pencil to draw the lines meticulously.
Then, as an extra activity, you can let them draw music notes around the drums and color them after they're finished.
Get the tutorial for Drums Drawing on drawingtutorials101.com.
Violin Drawing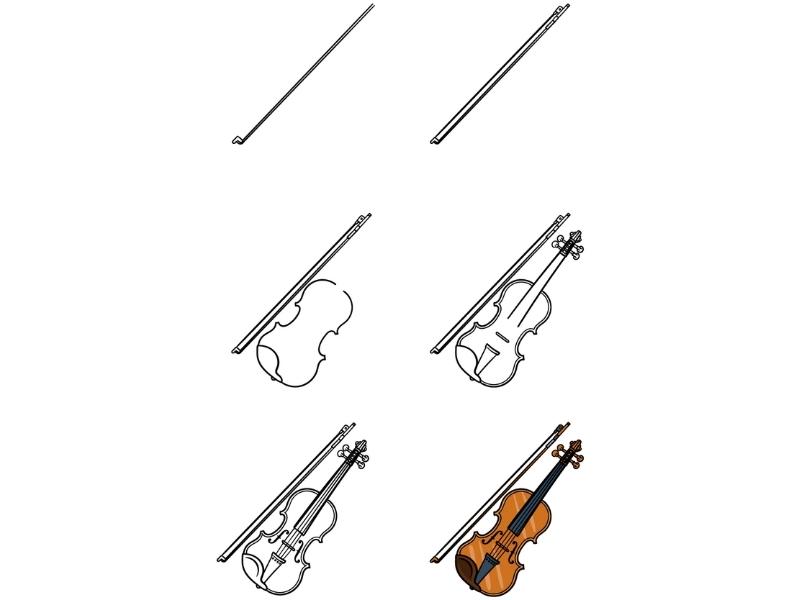 Instead of the usual music drawings that only contain music notes, you can give this violin drawing a try.
Violins already have an elegant shape that inspires many forms of art.
Also, if you look closely, you'll almost feel it looks like a music note.
And as a bonus point, the artwork is pretty easy; you won't face a challenge drawing the whole picture.
Check the step-by-step guide to the Violin Drawing on iheartcraftythings.com.
Incredible Piano Drawing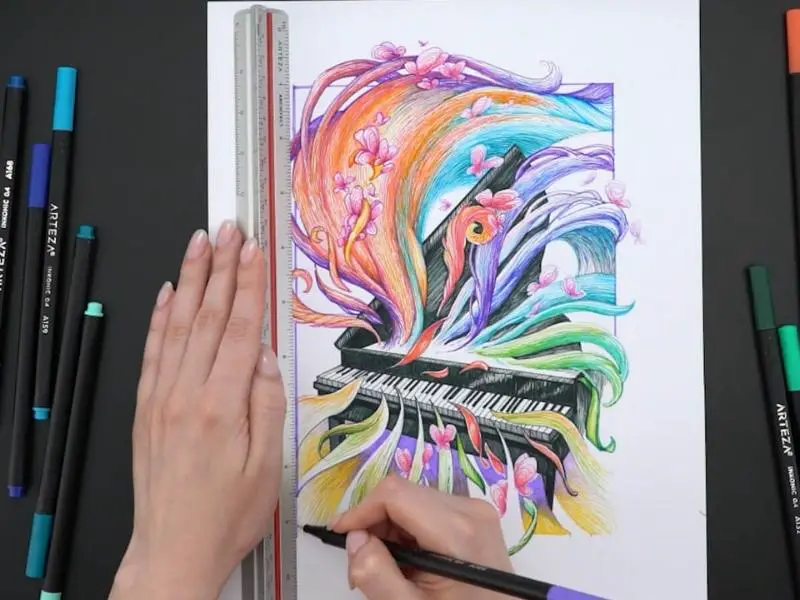 Among the many music drawings on our list, this is one of our favorites.
If you try it, you'll get to embody the flowing of music notes out of the piano keys using your pencil and art skills.
You'll almost feel like you can listen to a song every time you look at this picture because of how inspiring it is.
Unfortunately, since this idea is relatively hard, it isn't suitable for children.
However, you can let them try it under your supervision.
Read more about the Incredible Piano Drawing on arteza.com.
3D Illusion Music Drawing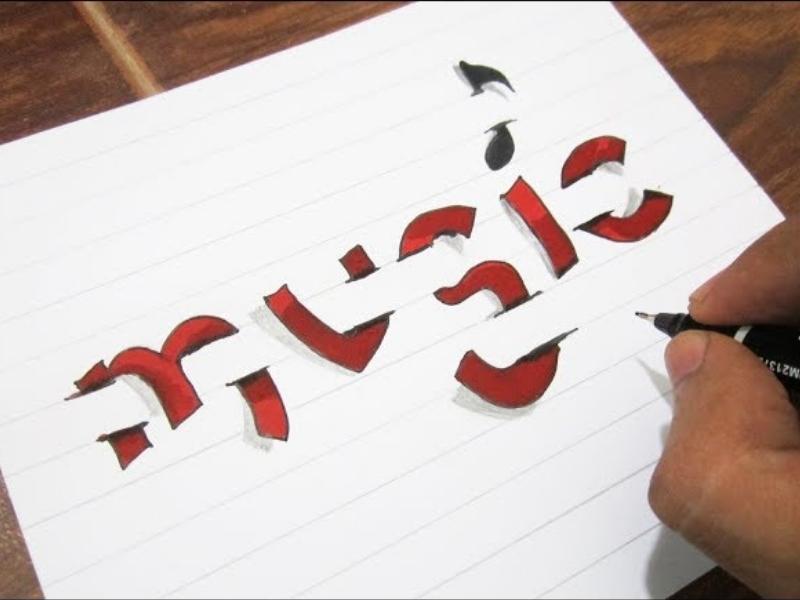 Do you want to trick your friends with an illusion drawing?
Then prepare your tools and start on this idea. You'll only need a pencil, some colors, and a sheet to get to work.
Although this idea might be challenging at first, the result will be worth your effort. You can even hang it on your wall afterward.
Check the instructions for 3D Illusion Music Drawing on k4craft.com.
Microphone Drawing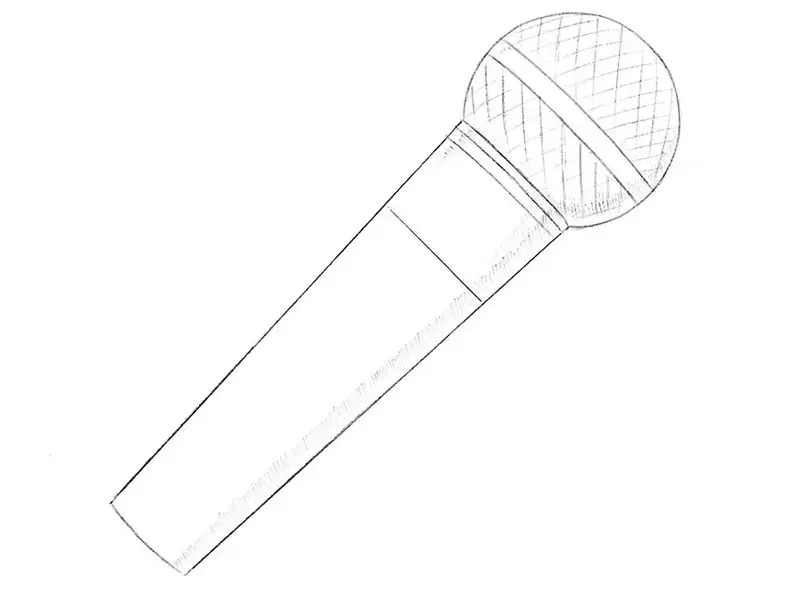 Microphones have many different shapes, but we'll stick to the standard one today for the sake of simplicity.
You'll merely draw the outline of its body with no meticulous details whatsoever.
After you finish this drawing, you can combine many ideas from our list and create a whole music-themed art project.
Get the tutorial for Microphone Drawing on drawingforall.net.
Now that you have enough music drawings to try out, you can let your imagination go wild and draw music notes and musical instruments in many different ways.
You can even combine the drawings to create a spectacular concert on paper!
Comments
0 comments