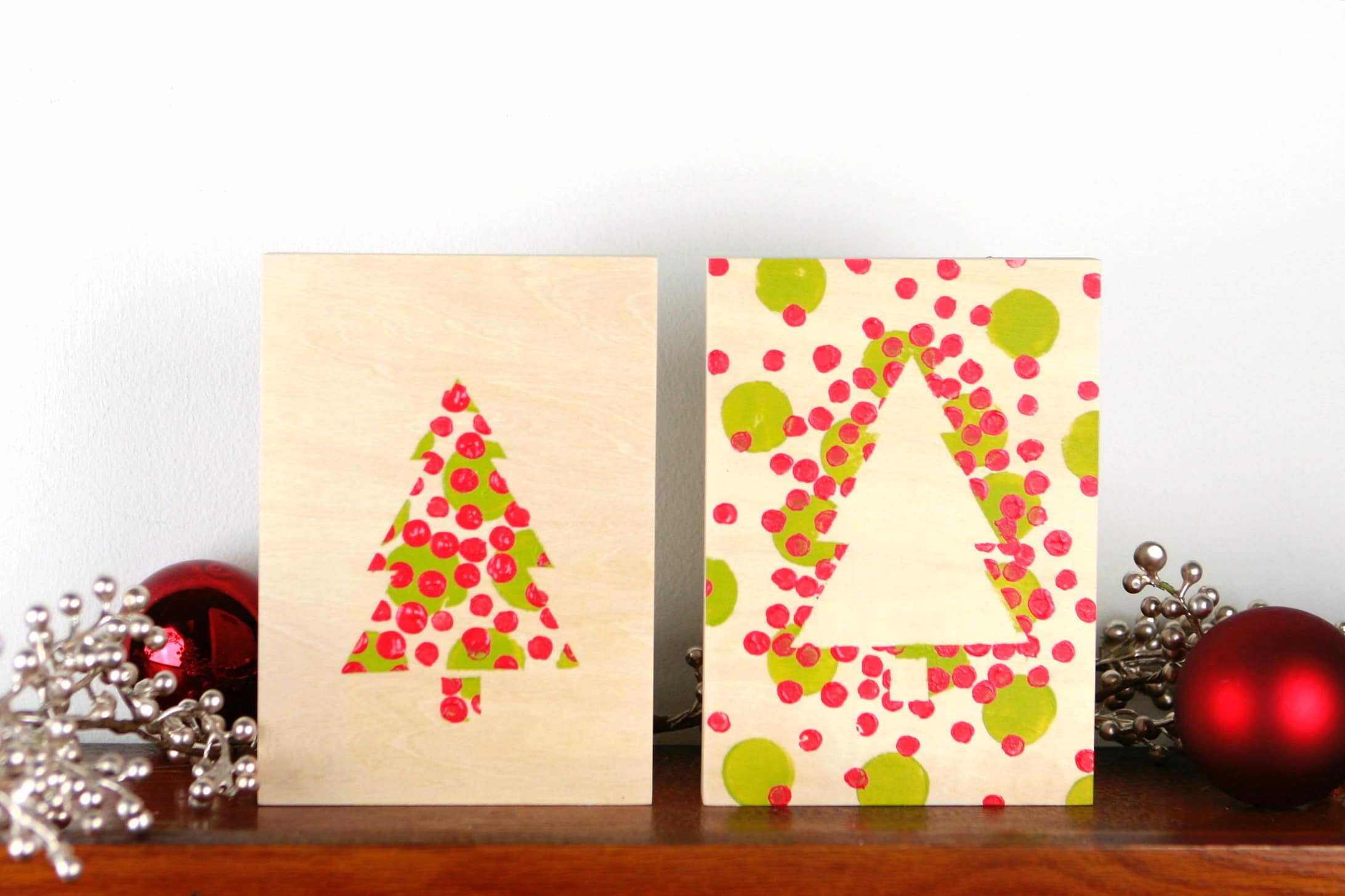 Christmas tree decor doesn't have to be all snowy scenes and ornaments; you can make some Christmas art to pull out every year too! The best part about this project is that your kids can make one, your 95 year old Grandma can make one, your pet elephant can make one.
It's THAT EASY.
All you need are a few simple supplies and the magic of Christmas in your heart. Optional: Christmas music, wine, candy canes, cozy slippers, fairy lights, and a roaring fire.
Actual Supplies
Wood painting panels – I use these from Blick, but I have bought panels on Amazon. Maybe these? I can't remember…
Craft paints – My green is Avocado and my red is Candy Apple, both Handmade Modern acrylics from Target.
Spouncer or craft foam marshmallow (that's what I call it) I WANT THESE.
Palette or something random to squeeze the paint out onto
Printer paper
Craft knife or scissors
This amazing repositionable tape
Optional: Mod Podge PODDDDDDDDDDGE and foam brush
Directions
Print out my cute little Christmas tree printout. You may have to print out a few as you adjust the size you want it for whatever size panels you decide to use. Small tree | Large tree
I used 5×7 for the small paintings and 8×10 for the large one.
Carefully cut out the shapes with a craft knife. You can optionally use scissors, but you will probably make a mess of the paper around the tree, and you will be needing this paper if you are making both of the 2 styles of small trees.
Tape some sweet, sweet repositionable tape onto the back of your tree, trunk, and star cutouts, and place them down on one panel. You don't even have to be that careful with placement because did I mention the tape is REPOSITIONABLE?
Tape down the outside paper onto the other panel. It helps to fold the paper down a little over the edges of the panel to center the cut-out.
Glob out a glob of paint in 2 colors or more if you are feeling colorful. I used Handmade Modern paint from Target for the red, and Blick paint for the green.
Now is when you need to make a big, important decision. Do you want to go all small dots, or some large and some small? I'm a fan of the 2 sizes, so I used my foam marshmallow first with the green paint, followed by the pencil erasers for the small dots.
Yep, pencil erasers. I spent 35 minutes searching my house for craft foam to make a small dot stamp from, but couldn't find any. Pencil erasers work just fine, and then you have an excuse to buy a bag of cute erasers to use with these painty-pencils.
When I made the tree with all small dots, I dotted the red on first, let it dry (with the help of a hair dryer), then dotted on the green.
Here's a li'l tip: dot heavily around the edges of your paper shapes so the actual shape of the tree, etc show up when you remove the paper. Stagger the dots a bit so it doesn't look like a straight line of dots along the edges of your paper. Does this make sense? Here, look:
You can remove the paper as soon as you are happy with your dot placements. As you can see I made fewer dots toward the outside of the panel.
Big important decision #2 is whether or not you want to finish it with Mod Podge. A layer of Podge soaks into the wood a bit and gives it a slight sheen. Your call.