Rainbow drawings and crafts are some of the universal art creations out there. Whether it's toddlers at kindergarten or grownup artists at their studios, there's always room for everyone to appreciate some colorful beauty.
So, to help you on your hunt for inspiration, we've brought together some rainbow drawing ideas.
32 Rainbow Drawing Ideas
Here are 20 unique rainbow crafts to get your creative juices flowing. So, let's get into it.
1. Pot of Gold Rainbow Drawing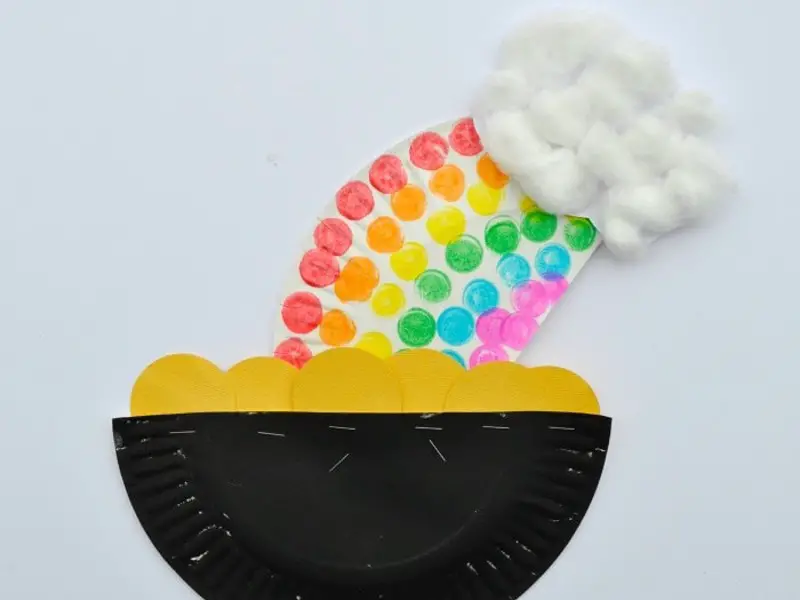 Kids always enjoy art that has a little story behind it. With this project, they'll create their very own paper plate pots of gold using basic art supplies. The process is so much fun, and the finished rainbow is art-wall-worthy.
Pot of Gold Rainbow Drawing from I Heart Crafty Things
2. Salt Crystals Rainbow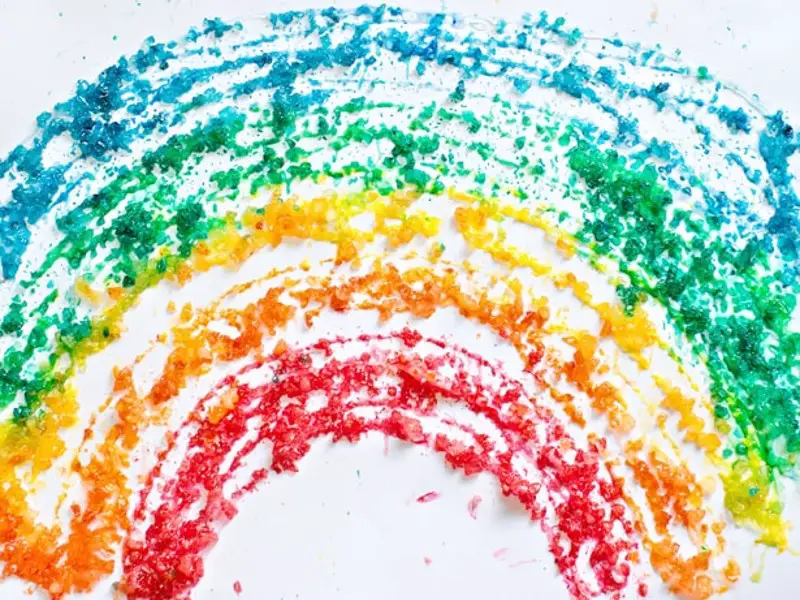 You may have tried different rainbow drawings before, but have you ever painted with salt? With this easy craft, you'll be able to create gorgeous rainbow drawings using homemade rainbow salt crystals.
Salt Crystals Rainbow from hello, Wonderful
3. Cosmic Rainbow Suncatcher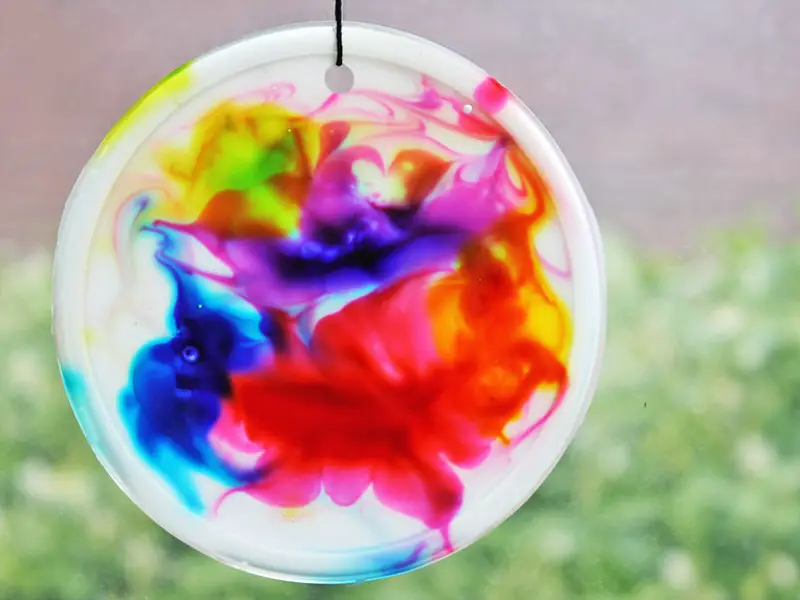 It's always fun to try different art mediums. So in this project, we step away from the basic paper and canvases to create the most breathtaking cosmic rainbows out of recycled materials.
The best part of this psychedelic suncatcher is that it takes about seven minutes to put the whole thing together if you exclude the drying time.
Cosmic Rainbow Suncatcher from Babble Dabble Do
4. Chalk Rainbow Poster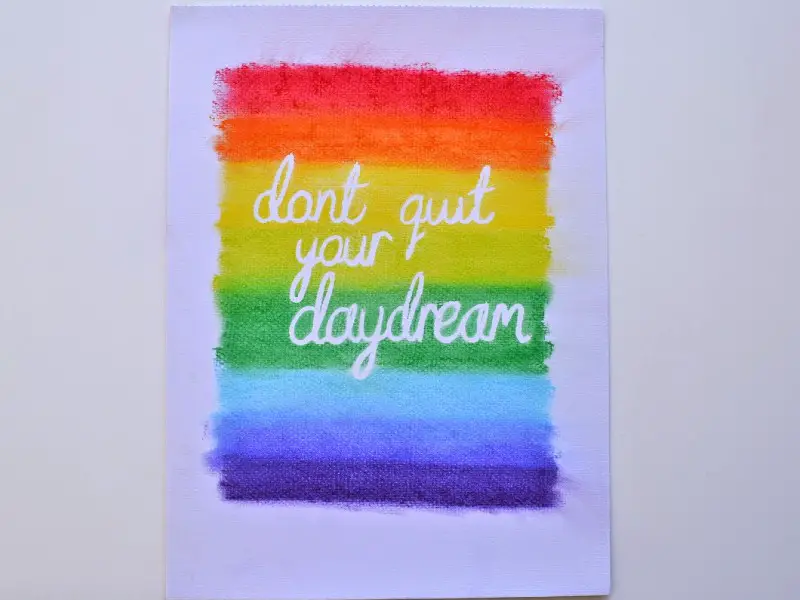 If you're one of those people who love inspirational quote posters, you'll definitely love this one. With this craft, you'll be able to create a rainbow chalk art poster with your quote glowing in the middle. Want a little hint?
The star of this project is a little bottle of masking glue.
Chalk Rainbow Poster from The Things She Makes
5. Rainbow Footprint Butterfly
You know the painting is fun when it gets a little messy. If you want to make art with your baby, but they're still too young to participate, you may be interested in this project.
With this one, you'll create the most beautiful rainbow butterflies using your baby's footprints. You may even try this with older kids if you're prepared to embrace the mess.
Rainbow Footprint Butterfly from Messy Little Monster
6. Straw Blowing Rainbow Art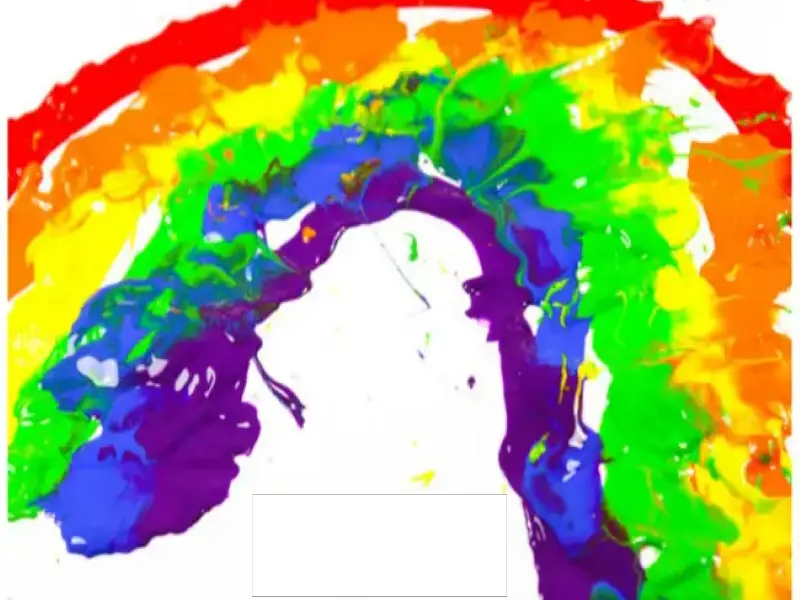 Paintbrushes are a thing of the past; today, we use straws. To make this beautiful rainbow painting, we'll try a new technique of spreading the paint.
Artists of all ages are guaranteed to enjoy this craft, and watching the paint flow is just mesmerizing.
Straw Blowing Rainbow Art from Arty Crafty Kids
7. Paper Towel Rainbow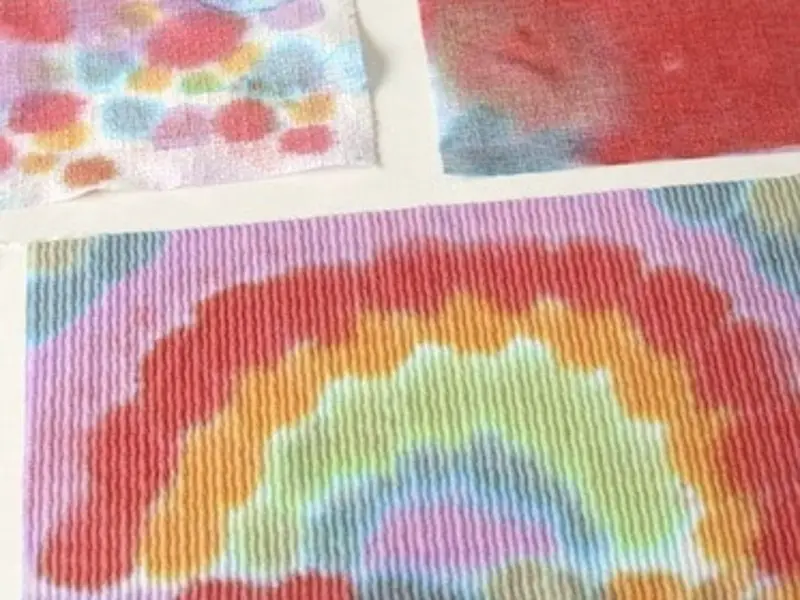 Unlike regular paper, paper towels absorb and diffuse paint almost instantly. While this may sound irrelevant, we'll use this particular property to create beautiful rainbow art.
Another cool thing about this project is that you can either use store-bought watercolors or make your own using dried-out markers.
Paper Towel Rainbow from Happy Hooligans
8. Melted Crayon Rainbow Art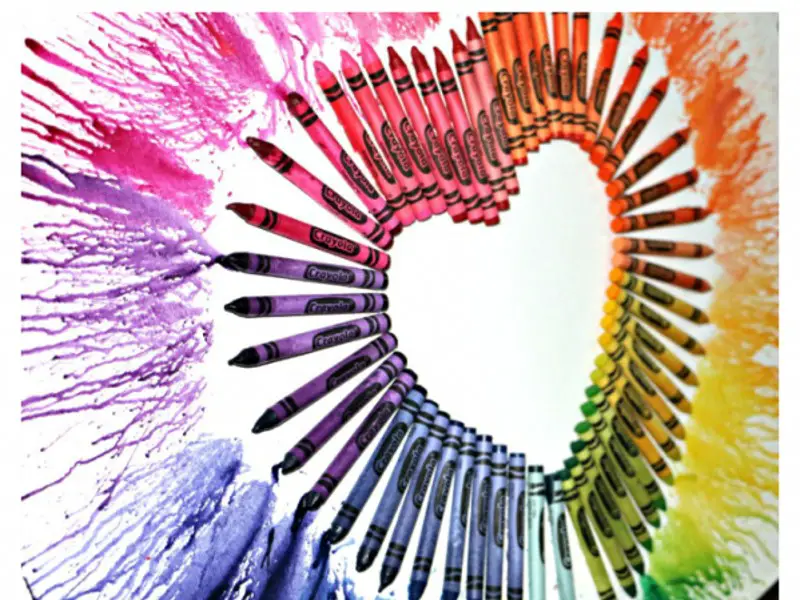 This list would surely be incomplete without a melted crayon rainbow project. With this one, you'll be melting the crayons to the shape of a heart. This isn't only a blast to make, but it'll also leave you with the coolest statement canvases ever.
Melted Crayon Rainbow Art from Mommy's Bundle
9. Pastel Rainbow Hearts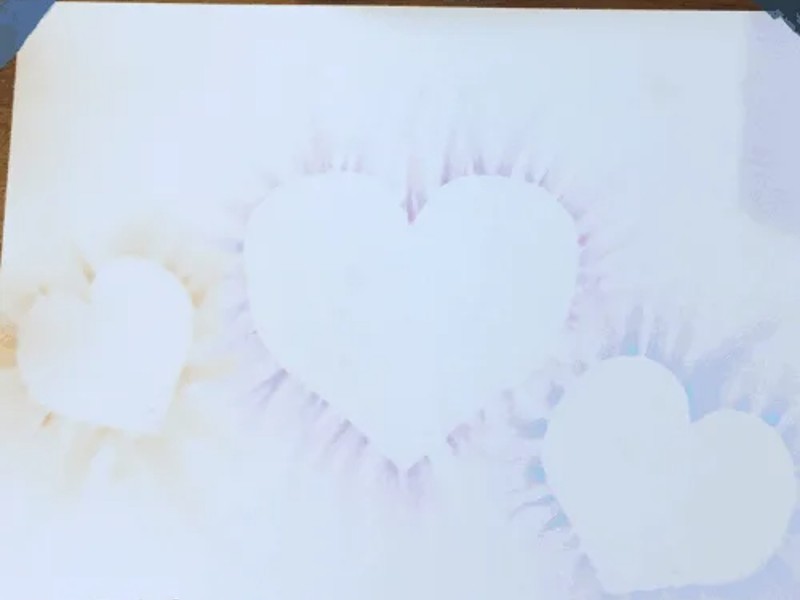 Another rainbow heart here, but this one is a lot softer. The technique here is different, too; instead of melting crayons, we'll be pulling pastels.
This project can also be a great way to train your kids' dexterity and get them to explore colors.
Pastel Rainbow Hearts from Twitchetts
10. Melted Crayon Rainbow Rocks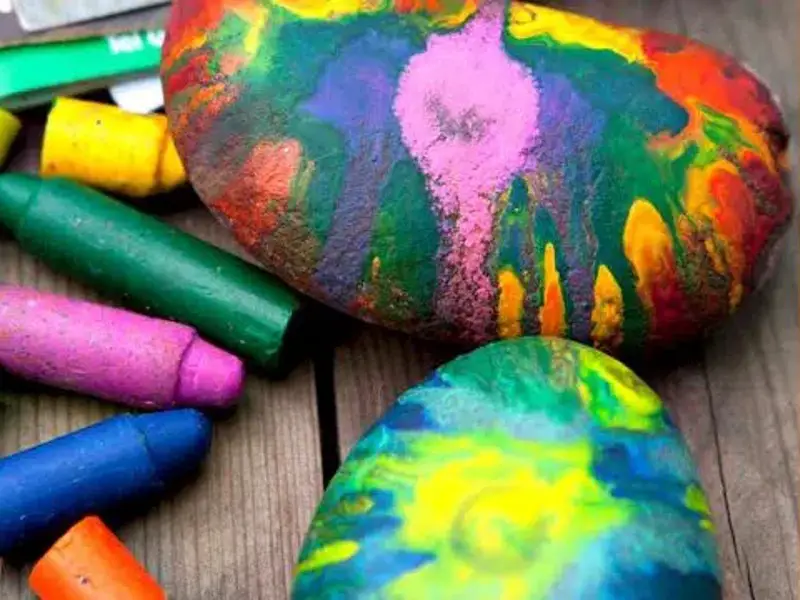 We've got the perfect project for those extra bits of crayon that you have. With this rainbow craft, you can create awesome, colorful rocks that you can either gift or use as paperweights. All you need to do is melt those crayons.
Melted Crayon Rainbow Rocks from Red Ted Art
11. Bleeding Tissue Rainbow Art
This rainbow project is tons of fun for all ages. The idea is: you set up your rainbow tissue and let it bleed onto your canvas. If you're feeling a little more adventurous, you can do this the next time it rains and let the rain do the bleeding for you.
Bleeding Tissue Rainbow Art from Mum in the Mad House
12. Marbled Rainbow Butterflies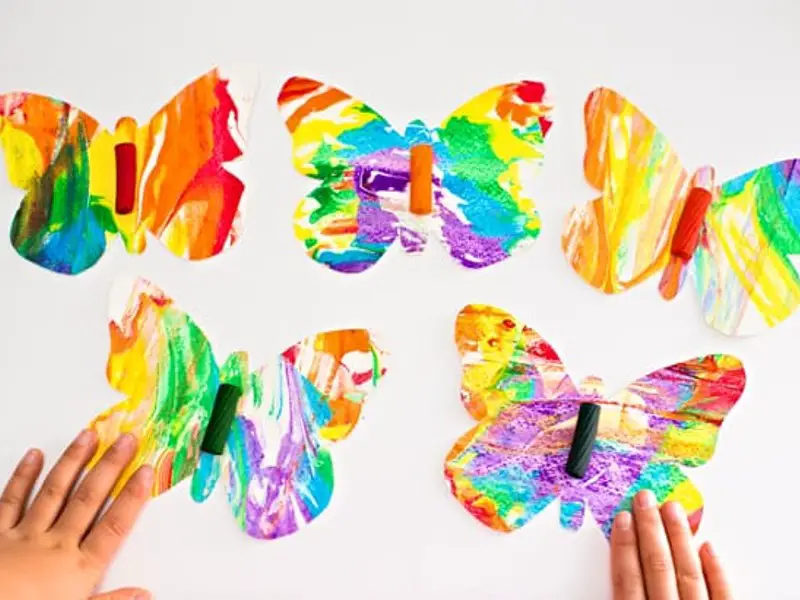 Who doesn't love a good marble painting?
For this art project, we're creating marbled rainbow butterflies with pasta tube bodies. If you're wondering what we'll use for the marbling, it's good old shaving cream.
Marbled Rainbow Butterflies from hello, Wonderful
13. Shaving Cream Rainbow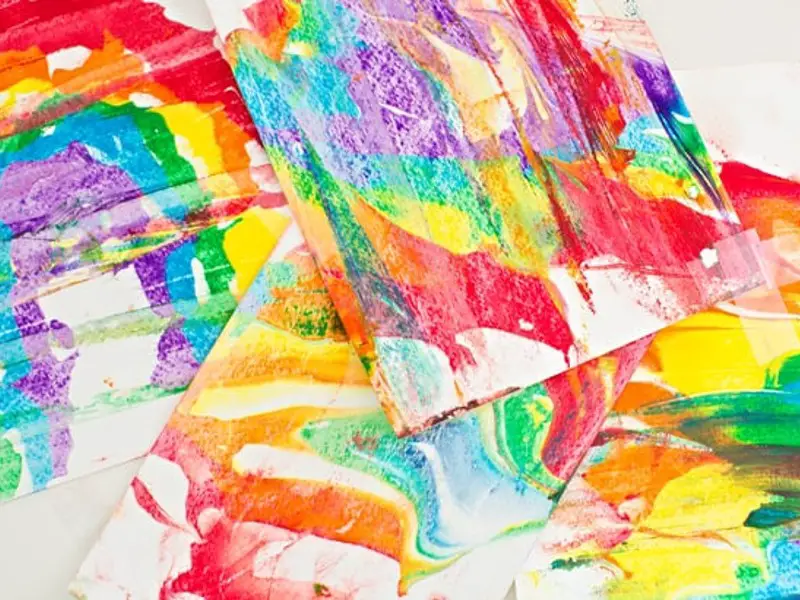 Another shaving cream rainbow craft here, but this one is more forgiving. All you have to do here is set up your supplies and enjoy the journey. There are no tasks, no guidelines; just you, your paint, and your creative spirit.
Shaving Cream Rainbow from hello, Wonderful
14. Rainbow Scrape Painting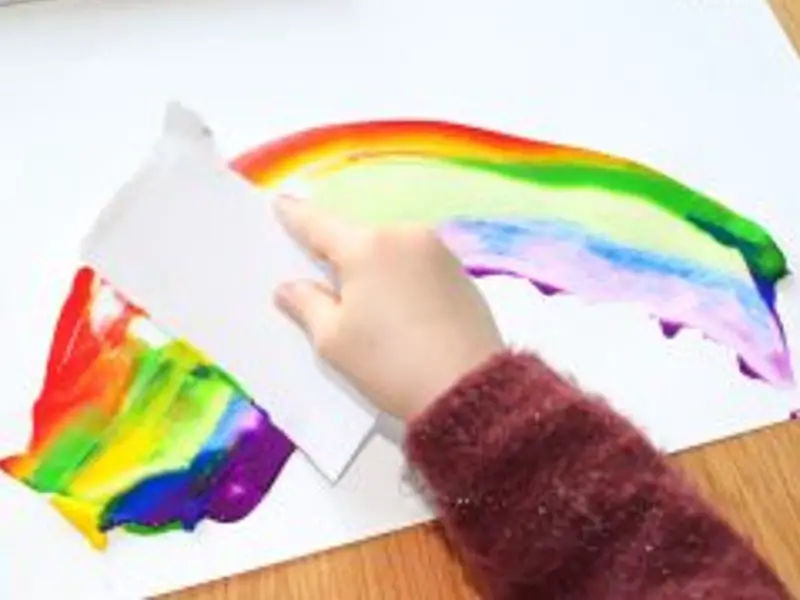 Create the famous rainbow swoosh with this project. Every time anyone says the word "rainbow," the signature arc instantly pops up in our heads. With this painting, you won't be drawing the swoosh; you'll be scraping it onto your canvas.
Rainbow Scrape Painting from Arty Crafty Kids
15. Cotton Ball Rainbow
This one's messy, but it's loads of fun. We can't say that it produces the most beautiful rainbows, but the process will teach your toddler a thing or two about colors and rainbows. If you have cotton balls and some rainbow paint, you're technically ready for the messy fun.
Cotton Ball Rainbow from Fireflies and Mud Pies
16. Handprint Rainbow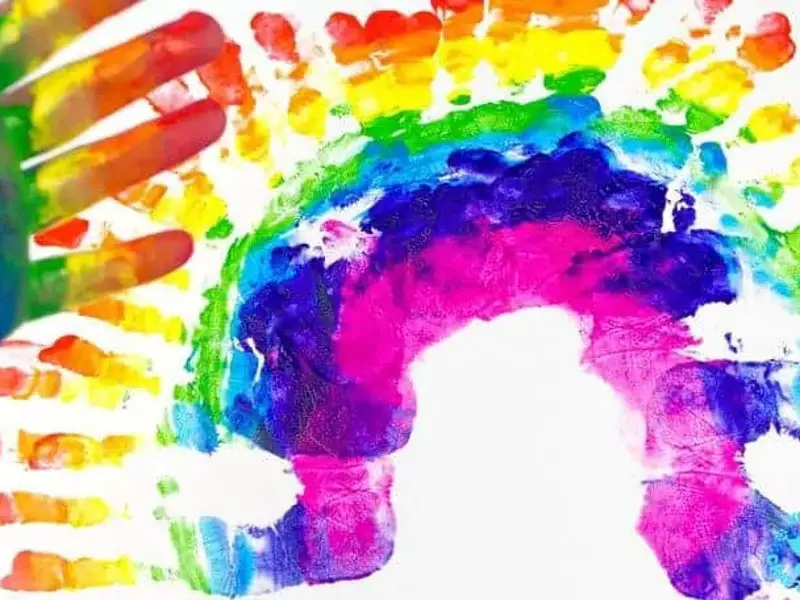 Time to slap on some handprint rainbows!
With this creatively sensory project, your kids will get the chance to explore color dynamics. Being able to freely explore the colors and their own creativity is important for your child's development. So, get your supplies ready, and let's get messy.
Handprint Rainbow from Kids Craft Room
17. Rainbow Paper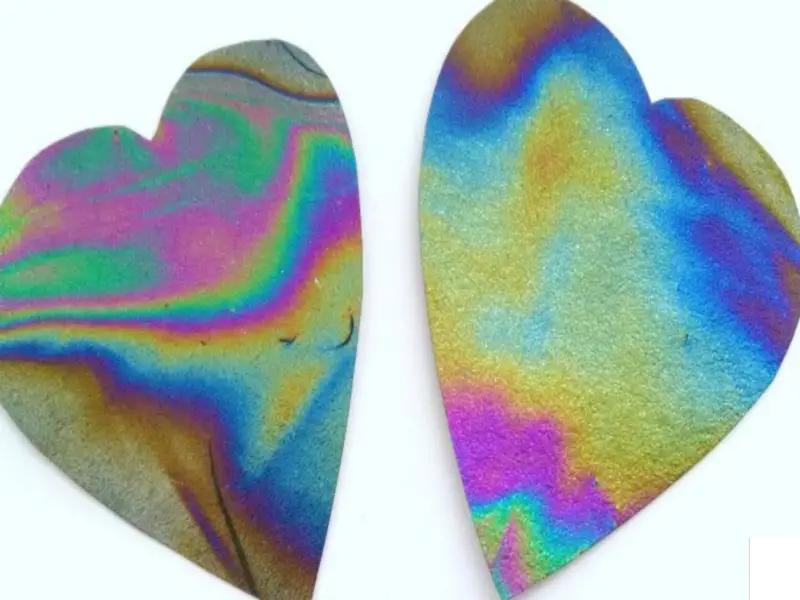 With this project, you'll be creating some rainbow paper. So to achieve that unique psychedelic effect, get your hands on some black paper and bright nail polish. This project also uses the hydro-dipping painting technique, so you know you're in for a ride.
Rainbow Paper from Science Kiddo
18. Rainbow Spin Mix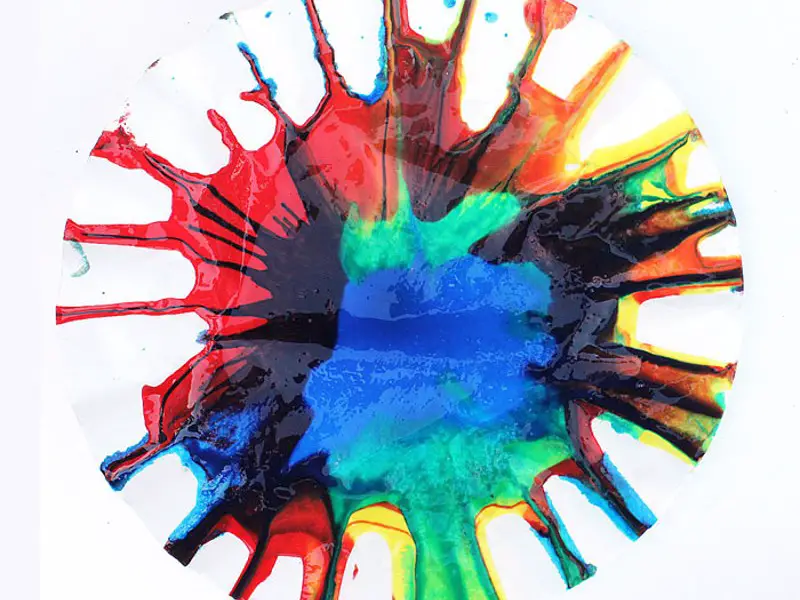 Salad spinners and coffee filters can now be used for different purposes. With this science-art project, your kids won't only try the spin mixing technique, but they'll also get a real-life demonstration of color theory.
Rainbow Spin Mix from Babble Dabble Do
19. Tie-Dye Rainbow Painting
Have you ever pipetted color onto your canvas?
With this fun project, you'll create the coolest tie-dye rainbow patterns using a pipette and some colors. Add a few cotton balls to the mix, and you get yourself a double-ended rainbow masterpiece.
Tie-Dye Rainbow Painting from Buggy and Buddy
20. Abstract Rainbow Art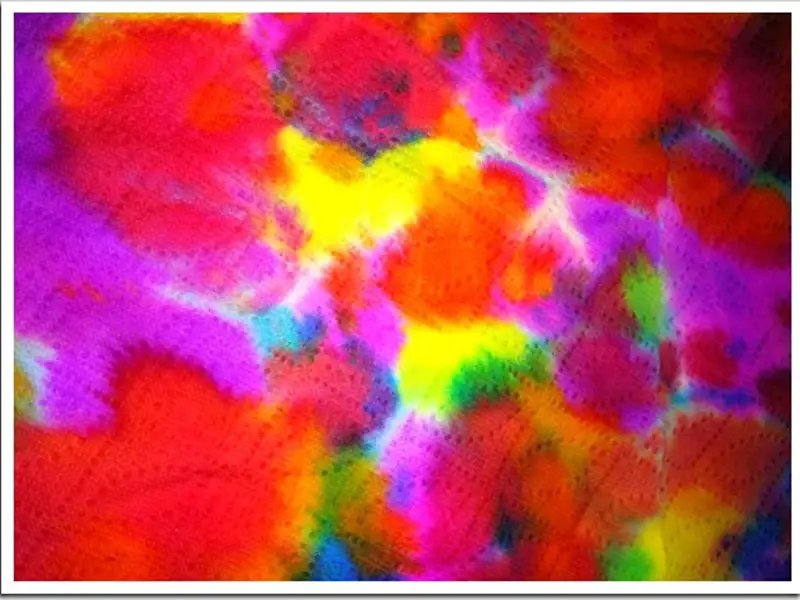 Once again, we're experimenting with rainbow pipetting. However, this time you'll be using the magical powers of tissue paper.
Once you get your supplies ready, watch how the colors flow and blend into each other to create unique art.
Abstract Rainbow Art from Casa Maria's Creative Learning Zone
21. Rainbow Leaf Prints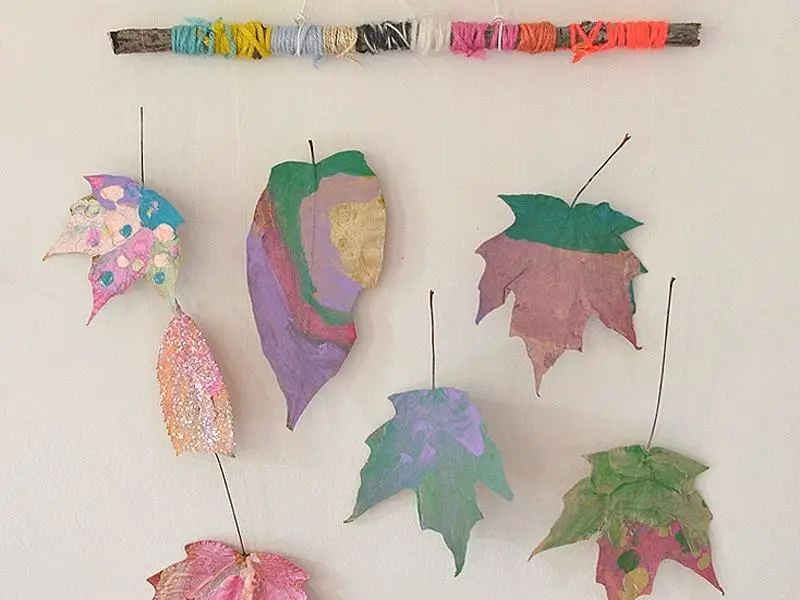 As far as drawing rainbows go, this art project doesn't involve drawing skills as much as the other activities on this list, so both younger and older kids will enjoy making this fun craft with ease. You'll need colored pens or crayons, leaves, and a damp towel.
Your kids will get to explore colors by applying various combinations of shades to the leaves. You'll have so much fun watching the shape of every leave printed out in different colorful ranges!
Find out how to create rainbow leaf prints on Art Bar.
22. Takashi Murakami Rainbow Flowers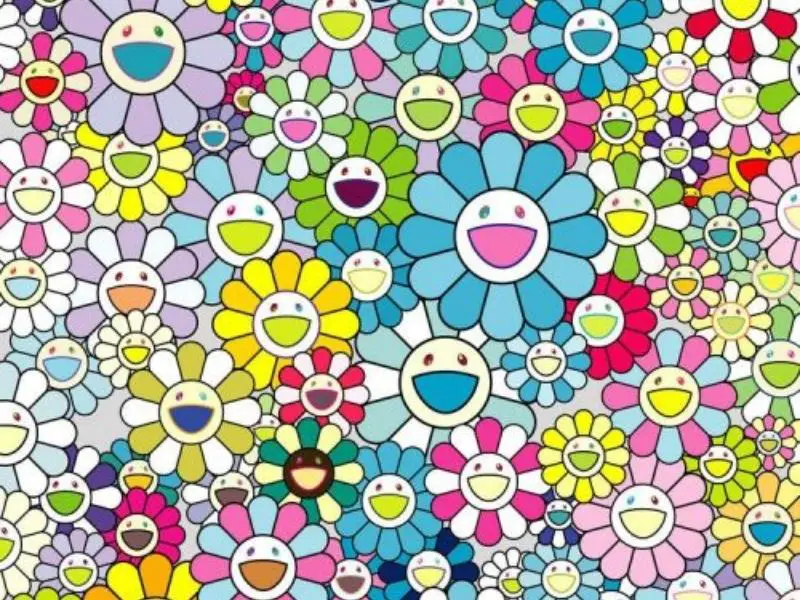 This is a fun rainbow project to help you brighten up your room with beautiful, bold colors, and it's one of the best go-to rainbow art ideas for Takashi Murakami fans!
You'll get to draw lovely flowers and color them as you please. It's all up to your imagination, the number of flowers you have, and how you'll style your rainbow.
You'll also have the chance to explore a mix of creative elements and envision Murakami's technique as you progress. This is a therapeutic activity, and the colorful flowers will be worth adding to your beautiful rainbow art collection.
Check out this super fun rainbow flower art on OSCA.
23. Melted Crayon Heart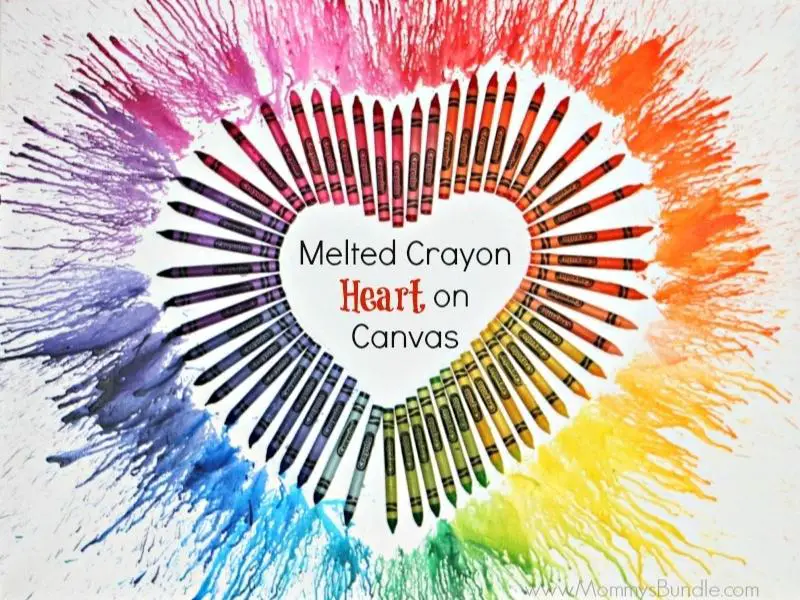 Do you love watching colorful crayons melt? If so, you'll have tons of fun creating beautiful rainbows out of them! Kids love their crayons, so you might as well help them create something cool and unique with them. Add color to your rainbow art collection by making these beautiful hearts and maybe use them as a framed painting in your room!
With some hot glue and crayons, your wonderful rainbow art will be set up and ready to go!
See the tutorial for the melted crayon heart on Mommy's Bundle.
24. Chalk Art Poster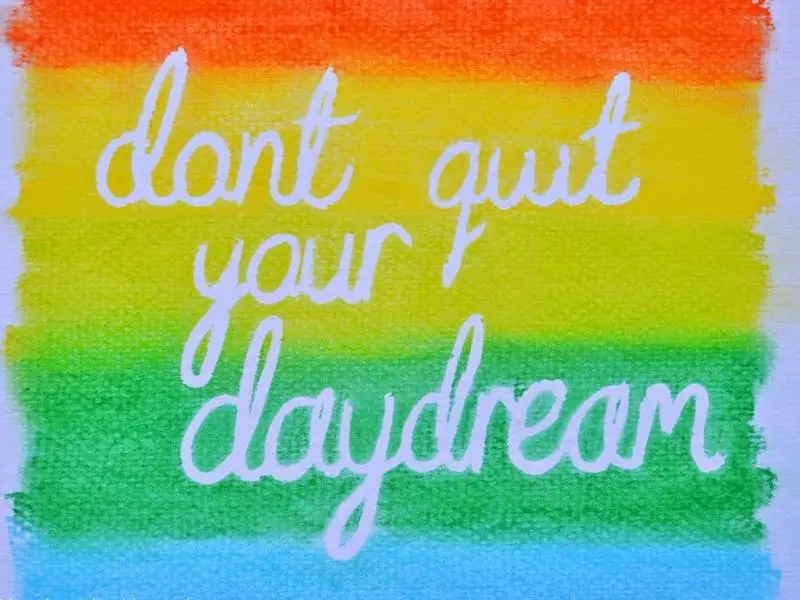 Here's another idea to unleash your creativity and fuel your inspiration. The chalk art poster is for parents and educators who want to instill positive messages for children of all ages. Plus, having the message you believe in framed in beautiful, colorful rainbow colors will surely add more life to your space.
With this fun craft, your kids will read positive messages every day and maybe create a poster of their own.
Learn more about the chalk art poster from The Things She Makes.
25. Rainbow Kitty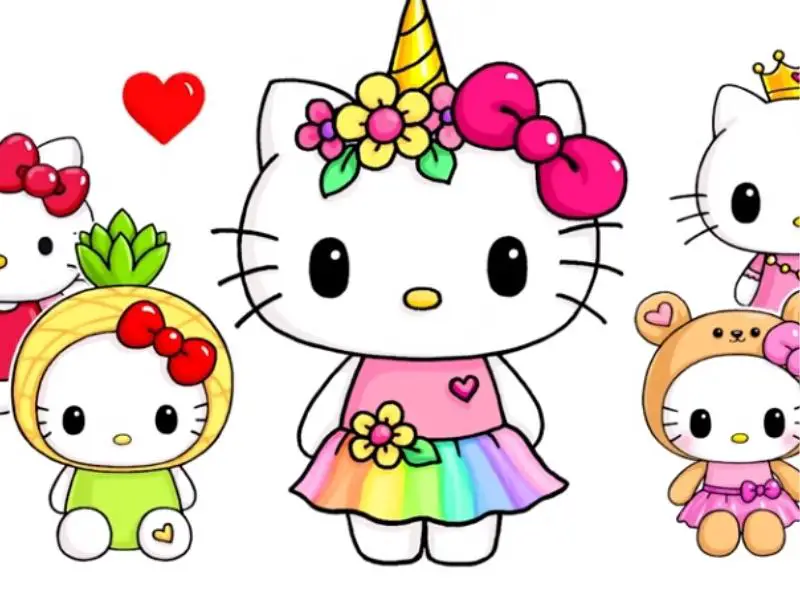 If your little ones love rainbow art and crafts, they'll definitely rush to have this fun rainbow art drawn on their canvas next. The rainbow kitty is a beauty to have on paper, and it's a hassle-free project involving little material besides paper, pencils, and crayons.
Your kids might struggle at first to nail the technique for this project, though, so be sure to make this a collective activity and create as many of these cute little kitties as your kids would want!
Learn more about this super fun rainbow kitty on Kidz Search.
26. Rainbow Dresses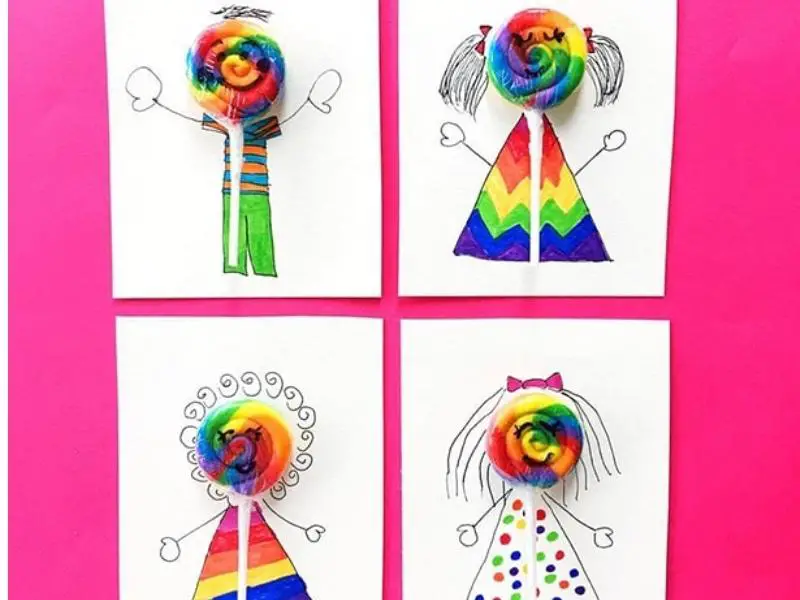 Beautiful rainbow art can also be infused into a sketch of your favorite characters. Your little girl will get excited once you dress up her favorite character in a fun rainbow dress. In fact, this rainbow project could count as a gift!
If this isn't the picture you're going for, you can still help your kids create random cartoon characters and color their gowns with pastel rainbow colors; it's a highly satisfying activity for girls of all ages.
Know out how to create rainbow dresses on I Heart Crafty Things.
27. Rainbow Salt Crystal Painting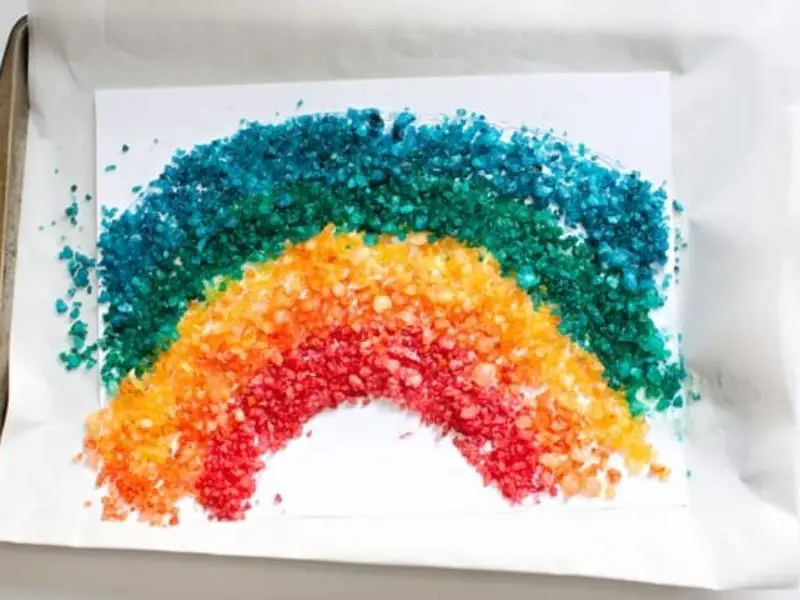 Kids love drawing with salt crystals, so if your little ones aren't introduced to this particular type of art, it's high time they try it out.
Rainbow salt crystals are simply mesmerizing and make for a truly stunning rainbow art piece that you can decorate your house with.
This is also the perfect creative art style for kids who like feeling the texture of their crafting material. They'll get to satisfy their tactile curiosities while also creating a variety of rainbow art projects!
Find out more about rainbow salt crystal paintings on Hello Wonderful.
28. Tissue Paper Suncatcher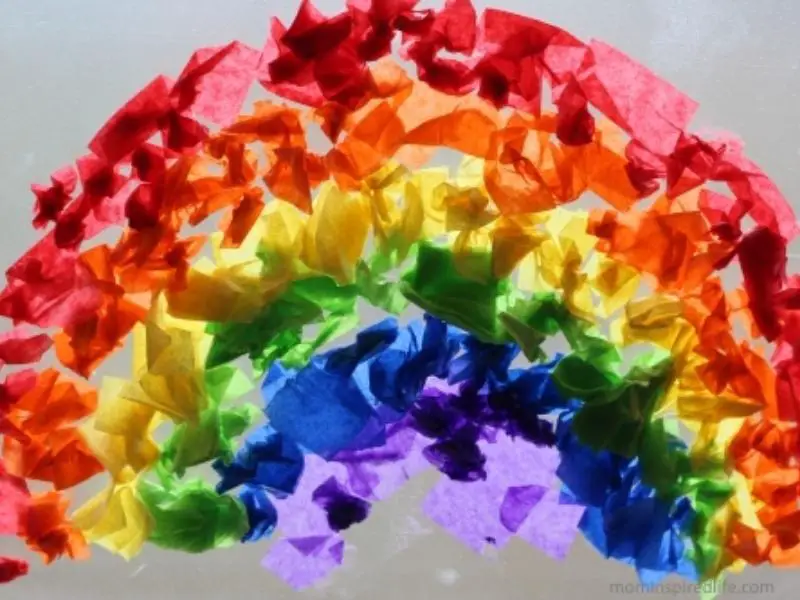 Do you want to know how to incorporate tissues into your rainbow art project collection?
This suncatcher will help you do so! Besides drawing typical rainbows on paper, you'll need colorful tissues to fill these rainbows, and voila!
There aren't a lot of steps for this simple rainbow drawing idea, so your children are guaranteed to get a beautiful rainbow every single time!
Visit Fun Learning for Kids to know more about tissue paper suncatchers.
29. Pointillism Rainbow Art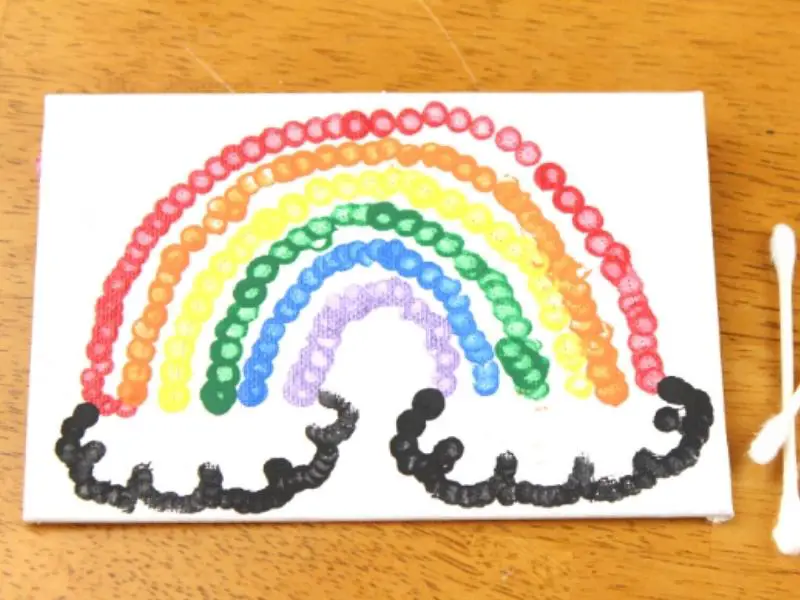 Pointillism is yet another creative method to get a beautiful rainbow. It's also relatively simple when it comes to painting rainbows. It'll be easy for children to learn how to use q-tips in this art project.
If your children love rainbows, this is one of the best art projects for them. However, if they haven't yet developed the necessary motor skills for this type of art, there's an array of easy-to-use substitutes instead of q-tips, like dot markers.
Check out the pointillism rainbow art painting on Coffee and Carpool.
30. Rainbow Heart Transparencies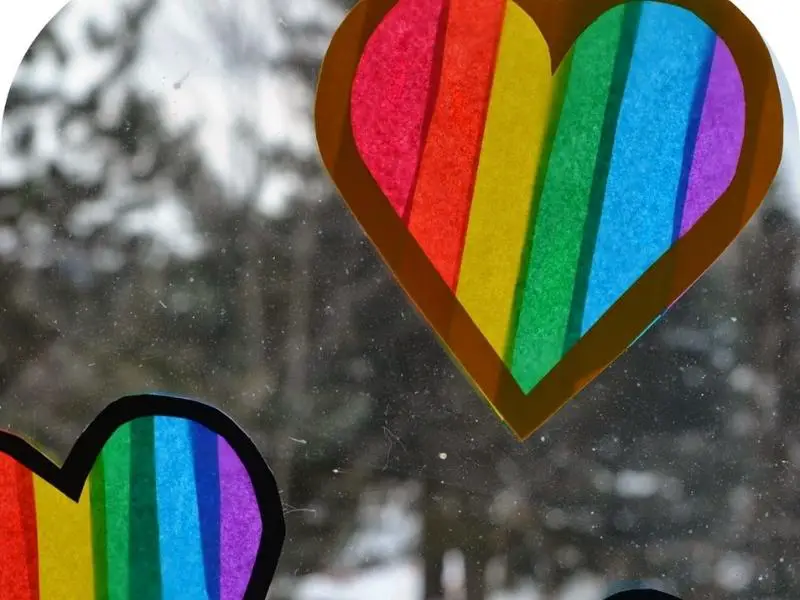 Rainbow arts can add life to your place. Whether it's winter, spring, summer, or fall – rainbows, especially rainbow heart transparencies, are a great way to enliven your humble abode with bright colors. Plus, these little crafts are a fantastic way to help your kids develop their love for art.
With pencils, cardstock, rainbow-colored paper, glue stick, and scissors, you'll have to brand new transparencies in no time! If you enjoy crafting from time to time, you'll enjoy making these with your kids.
Follow the tutorial for the rainbow heart transparencies on Twig and Toadstool.
31. Unicorns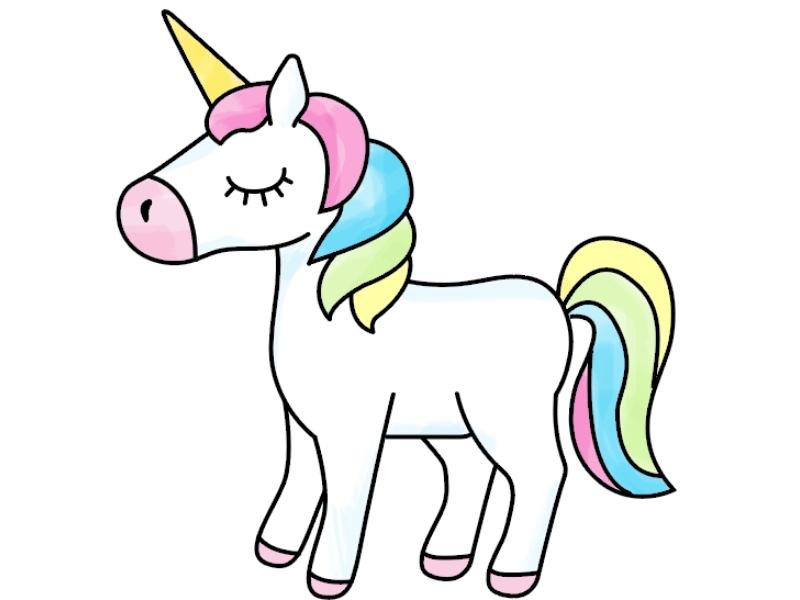 What's a better way to express your love for rainbow art projects other than drawing a beautiful unicorn with a shiny, rainbow-colored mane?
Unicorns are fascinating creatures, and teaching your kids how to draw them will undoubtedly make them happy! This isn't an easy project, however, so extra supplies, patience, and passion for rainbow arts are necessary.
Once you're done with drawing the unicorn, use pastels to color the mane, tail, and horn. However, kids can use any color to make their unique unicorns!
Check out the unicorn tutorial on Easy Peasy and Fun.
32. Rainbow Footprint Butterfly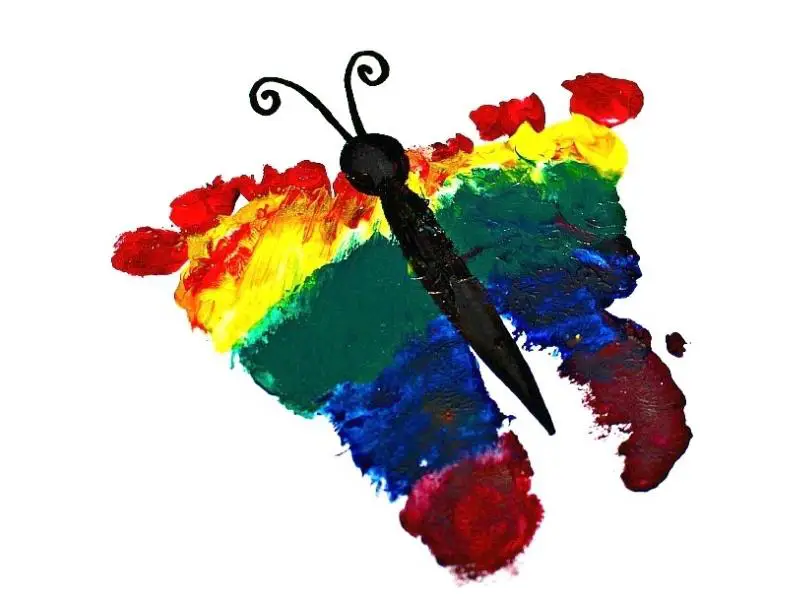 Painting is fun when things get a little bit messy. The rainbow footprint butterfly art is an excellent way to have your toddler participate in your art projects if they're too young to hold a pen and paper.
Also, it doesn't hurt that toddlers' feet are the perfect butterfly prints you could find!
Kids of all ages are welcome to join in the mess, too, if they're willing to try painting with their feet. What's more, this can make for a great family bonding experience.
Find more on the rainbow footprint butterfly on Messy Little Monster.
With these 32 wonderful rainbow drawing ideas, you're sure to make one of the best rainbow collages out there! Let us know which craft ideas you liked best, and happy crafting!
This concludes our "Special 20" list. Rainbows are indeed a beautiful thing of nature, and there's no better way to show appreciation than to create art.
Comments
0 comments