Do you hug art books? Because you should. I haven't (yet) had one hug me back, but that doesn't stop me from enveloping them in my flabby-ass arms and squeezing them hard.
Interestingly, I've also learned to appreciate physical books on a whole new level as I try to wean myself off of so much technology, and art books especially are perfect to enjoy in 2 stages:
Grab a beverage, small Post-its, blanket, couch, dog. Flip through your book(s) and tag each project or technique you want to try. This is what I refer to as the discovery stage. This is when you start getting SUPER INSPIRED and want to run make all the art, ever. You know what I mean.
Go make the art. Don't skip this step, because it's easy to get used to enjoying the inspiration high and then not bother to lift a finger making anything.
Are you ready to see which books I have to share with you? First, a disclaimer. I scored these books for total free, because not only am I sly, but also because The Quarto Group asked if I was interested in reviewing them. Also? I love The Quarto Group, because they published my book, which is awesome and you need right now.
Book #1, Crayon: An Artist's Colorful Guide to Drawing on the Go! is my favorite of the 4, for purely personal reasons: I am a Monika Forsberg superfan, and this book is written by her. Also, it is so good.
Related: previous spotlight post on Monika Forsberg
If you are a fan of Monika's work, this book is a must-have. Not only is it inspiring as hell, it's also full of tips and techniques for using water-soluble crayons. She includes some step-by-step instructions for drawing fun stuff like birds and tarts, but what I really love are the little tips at the beginning of the book to look for unexpected color combinations, practice a little with the crayons, and then just jump in and get drawing.
Not one to pass up a new art material, I picked up a few water soluble crayons and messed around. I drew a cat, and I don't even like cats.
Anyway, this book has just started me on a love affair with water soluble crayons. In my kitty drawings, I used blue, yellow green, and turquoise green, and now I have this set in my Amazon cart.
Oops! Now it will be here in 2 days. Thanks, Amazon Prime.
Book #2, If You Can Doodle You Can Paint, is by Diane Culhane, and gets me all jazzed up and excited to work in my sketchbook more. It's loose and experimental in nature, and I adore her fearless approach to playing with techniques and materials.
This book reminded me of getting lost in an artist's Instagram feed, where you get completely caught up in the beauty of the process of art-making. It's so inspirational and fun!
Luckily, I wasn't immediately moved to buy even more art supplies, but I was moved to crack open my latest sketchbook and randomly draw and make marks and have fun without trying to achieve any masterpieces.
In fact, I had my sketchbook open on my lap in the car, and let the bumps in the road move my hand across the page. Don't worry, I was the passenger. I was using one of my beloved Paper Mate Ink Joy gel pens; big puffy heart love to those pens.
Anyway, the gist of this book is taking your fun, loose doodles to the next level, and Diane gives you plenty of exciting prompts to do so.
The next 2 books, while I think they are wonderful and great and amazing, don't excite me the way the first do do. I feel so guilty writing that! But anyway, I'll give you a synopsis, and you can check them out further on Amazon if you want to see more.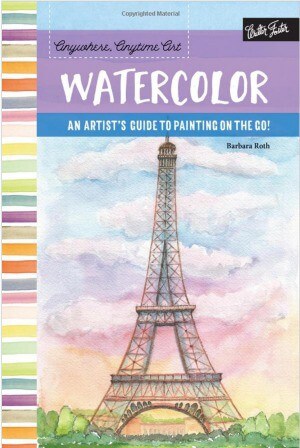 Book #3, Just for Fun: Drawing, by Lise Herzog, is a god, basic learn-to-draw book. I like that she gets into some basic perspective and composition, and shows you how to break objects you are drawing down into shapes. Her chapter on drawing people is a good introduction, and she touches in stylization in parts of the book.
I'm going to pass this book onto my 14 year old, as she is hot and heavy into drawing lately. I think it will be a fun one for her to work through.
Book #4, Watercolor: An Artist's Guide to Painting on the Go! is by Barbara Roth, and is all about getting your butt outside with your watercolors and painting scenes in the world.
While this is completely not my bag, I appreciate the easy-to-follow steps for how to achieve some watercolor effects, the number of her own lovely examples, and the information she gives on materials and preparation.
Check it out if you are interested in painting en plein air.
••••••••••••••••
Were you interested in seeing my cat drawing? Because, you know, here it is: