When an art project is as fun as this folded paper craft, you just have to make a Christmas version. Christmas break is when all the wee children are home and bored and crazy, and they need to keep their little hands busy and laugh until they pee with a Rudolph craft.
Here's how to make this, and I expect I will get some people who want a printable version, so I'll try to work on that, but it won't be anytime soon since I still have ALL of my Christmas presents to wrap.
In the meantime, the pencil and eraser are your friends. Watch the video and see how many times I redraw my lines, and then adjust them while I'm inking them.
Materials
Regular old printer paper
pencil
Eraser
Your favorite coloring-in tools (I love Prismacolors)
Sharpie
Directions
Crack your knuckles, stretch out your back, do 5 jumping jacks, and have a seat on your gluteus maximus.
Fold your paper back somewhere around 4″ from the top of the page.
Please ignore my hideous fingernails.
Fold it down so about 5″ is left at the bottom. (See video if you're confused)
With your paper still folded, pencil-draw Rudolph, starting with a big oval for his mouth area and a big old round nose.
Start the head right above the nose, and draw a big question-mark-like shape to make the back of the head and the back.
Draw the cute little ears and antlers that look like weird sea creatures.
Draw the giant cartoon eyes so your Rudolph is as cute as can be.
Draw a friendly little smile right where the paper folds.
Open the paper up and connect the mouth, oval area surrounding the mouth, and back of the neck.
Draw big, ferocious, scary fangs! AAAAAAAAHHHHHHHH Rudolph has turned into an evil predator!!!
Ink over your lines, then erase your pencil lines and blow the eraser dust all over the floor.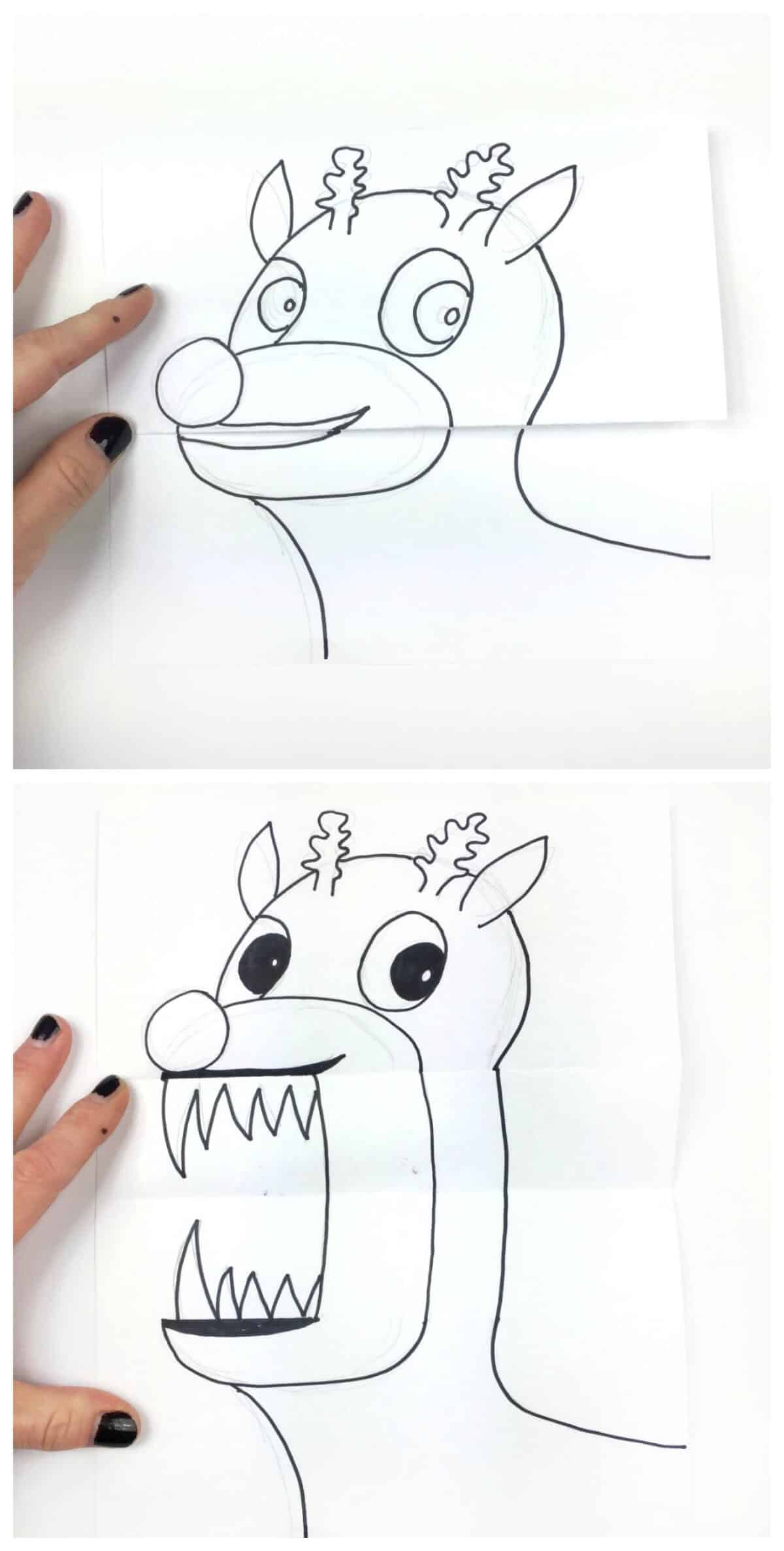 Color everything in using traditional deer colors or vibrant rainbow crazy colors. I colored the smile lips black because it looks cute, and I also messed up the bottom teeth and you could see them when the paper was folded, so check your pencil lines before you ink them!