Windows don't merely let in the fresh air, but they can let in a plethora of marvelous ideas! There are so many ways in which you can repurpose windows to create astounding artwork.
Some ideas are accessible to kids, whereas others are geared towards adults, and we're glad to walk you through them. So, grab a snack, and let us get you inspired with lots of creative window art ideas.
1. Abstract Geometric Window Art
Let your kids experiment with different shapes and colors to see how they interact with each other. All they have to do is cut colored transparency sheets into different sizes and layer them on a window. This way, you'll get them learning about abstract art and enhancing their motor skills simultaneously.
Get the instructions for Abstract Geometric Window Art from AndNextComesl.com
2. Mondrian Stained Glass Window
Your kids will love this fun and educational art project inspired by Mondrian's art. To start with, the use of painter's tape helps kids paint within the lines. They can use abstract and bold colors and leave the window to dry, creating amazing glass art. Also, you can wash the paint off.
Read more about Mondrian Stained Glass Window on WhatDoWeDoAllDay.com
3. Vintage Window Bathroom Towel Holder
This art project is for adults who want to repurpose a vintage window around the house. You add hooks and a wreath to turn it into a towel holder for your bathroom. The final product is charming and rustic. This project isn't only fun to make, but it's also handy.
Check out the Vintage Window Bathroom Towel Holder on Letsdiyitall.com
4. Repurposed Doilies and Window Frame
Do you have vintage crochet doilies and table runners lying around? Use an old window frame, and fix the lace to it. It makes for such a dainty and intricate design, and it's a beautiful way of showing off the dollies' designs. You'd be surprised by how easy it is to do this activity.
Get the instruction for the Repurposed Doilies and Window Frame from Fleamarkettrixie.com
5. Gorgeous Window Frame Jewelry Display
In this project, you get to turn an old window frame into a jewelry display. You get to add as many pins, triangle straphangers, and knobs as you have accessories. This way, you can finally have a place to store your necklaces, bracelets, and earrings. Even better, they'll be easy to access and add to your room's aesthetic appeal!
Learn about the Gorgeous Window Frame Jewelry Display from theborrowedabode.com
6. Multidimensional Stencil Window Frame Art
You can create stencil art if you have any old or thrifted vintage windows. We love how you can easily paint the art design or lettering sign on the window glass, thanks to the stencil. Not to mention, you can make the design multidimensional. Also, you can choose whichever stencil you want, thus creating an artwork that matches the aesthetic of your home.
Get the instructions for Multidimensional Stencil Window Frame Art on recreateddesigns.com
7. Painted Three Pane Old Window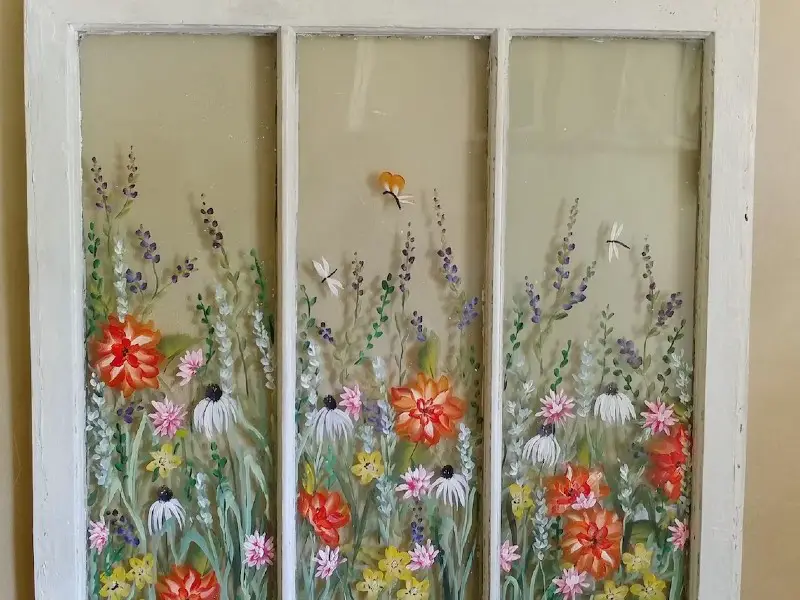 If you're an artist, you can recreate this window glass painting. Bring an old window with a three-pane layout, and have fun designing a layout for each pane and painting it with acrylics. Of course, you can go crazy with the window design you want! Then, hang it at your place for an artistic touch.
Get the details for the Painted Three Pane Old Window on Etsy.com
8. A Chalkboard for Little Messages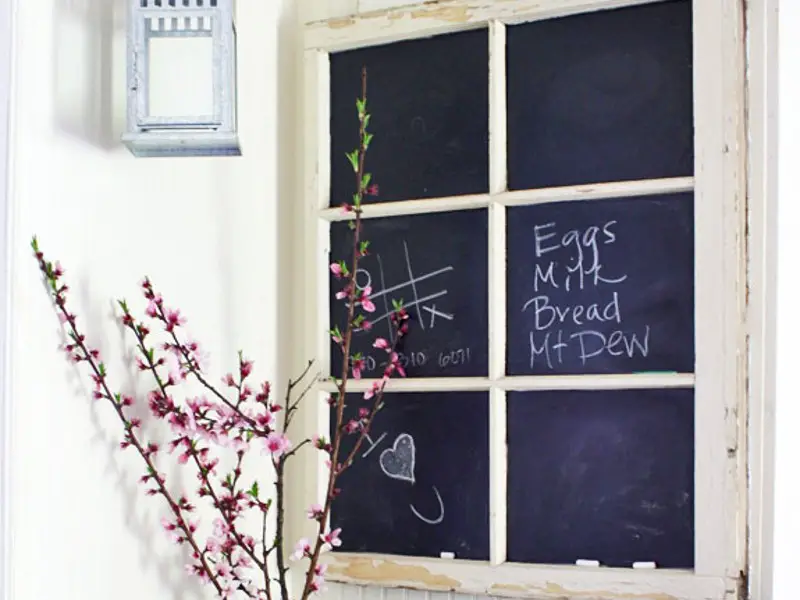 Do you want a charming piece to hang at your place? Well, you'll love this window-turned-chalkboard window. If you have chalkboard or chalkboard paint, the tutorial will guide you through the project. And the best part is you can hang it in the kitchen to jot down a grocery list or in the living room to make it an inspirational quote sign.
Learn about A Chalkboard for Little Messages on theshabbycreekcottage.com
9. Old Windows Score
This project is perfect for an enlarged photograph because you can use an old window frame as an amazing overlay. It has such a rustic and chic aesthetic. Also, it'll add warmth to your home as you showcase a beautiful family picture.
Check out the Old Windows Score on thehambyhome.com
10. Window Art
We're obsessed with this creative DIY project. You can decorate your window with colorful glass gems. This project is excellent for those who find art intimidating. It's also an idea that works for kids and adults. Where the little ones can create simple flower or sun designs with the gems, adults can go all out creating intricate mosaic landscapes.
Get the instructions for the Window Art on SouthernJunkChic.blogpost.com
11. Shabby Chic Window

Start hoarding old or thrifted windows for such window art projects. Then, find a floral print you love, and glue it on the glass for a simple craft. This can give you the impression of a beautiful floral view from behind a window. How cool is that?
Learn more about the Shabby Chic Window from pianoetadonne.blog
12. Lace Window Treatment
Do you want to transform your bedroom window without blocking the natural light? Well, this craft is for you. You can pick a feminine lace material and glue it to the window panes. It's easy and simple; it'll give you privacy and look breathtakingly beautiful, as it'll catch the light.
Get the instructions for Lace Window Treatment on 12Tomatoes.com
13. Make Garden Art With Old Windows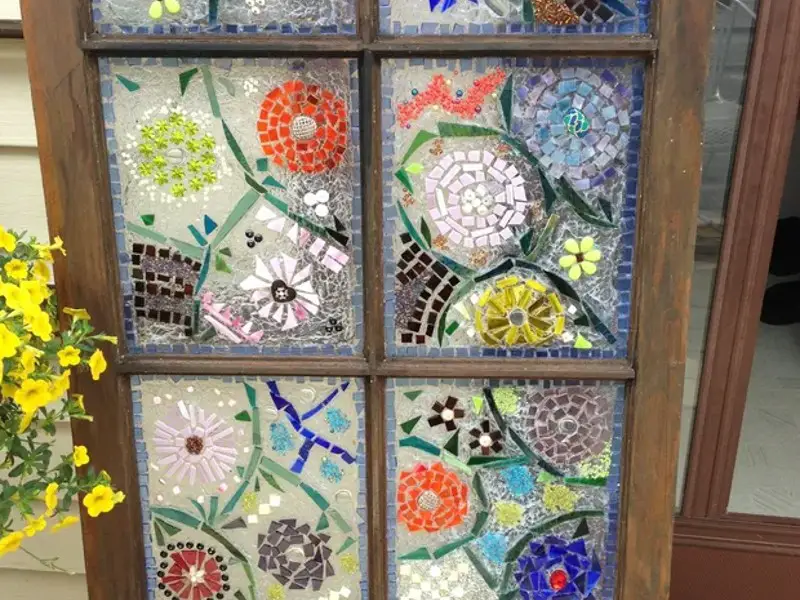 You can use an 8 pane window or a smaller one for such art projects. And you can bring old jewelry, crystal pieces, gems, colored glass, and beads; begin arranging them to fill inside the fun window art design. In this tutorial, the created artwork is floral, but you can switch it up if you want.
Get the instructions of Make Garden Art With Old Windows from Guides.brit.co
14. Faux Stained Glass Window Art Silhouette
If you want to unleash your creativity, this craft involves painting a faux stained glass window art silhouette. With glue and acrylic paints, you'll have a great time learning to blend the fall season-inspired background and the elaborate tree silhouette on top.
Check out the Faux Stained Glass Window Art Silhouette on practicalwhimsydesigns.com
15. DIY Window Paint
Do you think you don't have the supplies for window art projects? There's no need to worry because this fun craft requires DIY paints, which you can make with 3 pantry ingredients. Let your kids play around with the brush on the window, so they can make rainbow window art. Also, you'll find the paint removable, which is reassuring.
Read about DIY Window Paint on Nelliebellie.com
16. Stained Glass Paper Stars
Whether you're a parent or a teacher, your child will love to play around with this fun craft at home or school. You might not want your kids using stained glass pieces, which is why this window art idea requires colored tissue paper! And the kids can make whatever look they have in mind. Not to mention, you can remove the design easily.
Learn more about Stained Glass Paper Stars from Allfreekidscrafts.com
17. Faux Stained Glass Window Art
These art projects are suitable for kids and adults. You can use tape to separate the window panes into different shapes. Then, your kids can use their hands to color inside each shape, thanks to the washable finger paints. Leave it to dry, and voila! You'll have created great abstract window art designs.
Get the instructions for Faux Stained Glass Window Art on hometalk.com
18. DIY Window Clings
These window clings are way ahead of many window art projects out there. If you're a mama or a teacher, your preschooler will love to try this fun craft at school or home! With the help of cookie cutters, your kids will make different designs, which you can glue to any window.
Of course, the cutout shapes can be season-themed for fall, winter, or other things. In addition, the final product will look so good that you'll have a hard time believing your child made it!
Read more about DIY Window Clings on Teachingmama.org
19. Tulip Craft Coffee Filter Suncatcher
This craft will have your kids learning to use washable markers. You'll love the tie-dyed coffee filter suncatcher and the way colors blend seamlessly. It'll undoubtedly be a great art work to hang on your window. And here's a tip; to cut an even tulip shape, fold the paper in half.
Get the instructions for Tulip Craft Coffee Filter Suncatcher from There'sjustonemommy.com
20. Faux Stained Glass Suncatcher Craft
Try emulating stained glass windows by creating this faux stained glass suncatcher. Start by drawing intersecting lines on some inkjet transparencies with a black sharpie, so they resemble a stained glass window pattern. Then, flip the transparency over and color in the spaces between the intersecting lines with different highlighter colors.
Once the work has dried, you can make a frame out of construction paper and seal the colored transparency sheet inside with glue. Then, let your kids hang it on the window once it's complete.
Check out the step-by-step guide at Buggy and Buddy to learn how to make this faux stained glass suncatcher craft.
21. Handprint Suncatchers
Here's another window craft that uses salt dough to creative effect. However, instead of using a cookie cutter to cut out shapes, your kids can make handprints in the dough before it's baked and hung on the window. Don't forget to add glitter to brighten up the suncatcher.
Learn how to make handprint suncatchers by following the step-by-step guide at Homegrown Friends. Also, visit craftwhack.com for more handprint crafts.
22. Stained Glass Art Suncatcher
If you ask us, this stained glass art suncatcher fashioned in the shape of a house is an impressively creative project you can make to beautify your window. The supplies you'll need to get the job done include black fabric paint, contact paper, and an assortment of glitter glues to fill in the colors of the stained glass. Have fun doing this project with your kids.
Visit Green Owl Art to learn how to make this stained glass art suncatcher.
23. Colorful Plastic Window Clings
Turn sheets of plastic acetate into window clings that your child can have fun sticking against the window. You can grab some items around the house to use for cutting the sheets into a variety of shapes. Then, give your little one a spray bottle filled with water and let them have fun.
If you're looking for ideas for window art that can be created without making a lot of mess, it doesn't get better than this one.
Learn how to make some colorful plastic window clings by visiting Mama Papa Bubba.
24. Salt Dough Suncatchers
Want to get some baking in while working on a creative craft project at the same time? These amazing salt dough suncatchers might be just what you and the kids need to have some crafting fun.
To create this project, shape some salt dough into stars using a star-shaped cookie cutter and fill the opening with see-through pony beads. Then, pop the stars in the oven for approximately one-and-a-half hours, and voila! You now have nice, pretty suncatchers to hang from your window.
Visit Homegrown Friends to learn how to make salt dough suncatchers.
25. Personalized Suncatchers
Use contact paper, pony beads, tissue paper squares, and washi tape to teach your little one their name. You can encourage your child to pronounce each letter as they stick the tissue squares on. So anytime they see the personalized suncatcher, they'll remember learning what word the letters form.
Get the step-by-step guide for making personalized suncatchers at Happily Ever Mom.
26. Suncatcher With Crayon Shavings
With crayons, old newspapers, and wax paper, you can create a suncatcher with the kids to display on their bedroom window! Kids will enjoy creating this craft project because their imagination will run wild when fashioning the suncatchers into many recognizable shapes like hearts.
Create this suncatcher with crayon shavings by following the step-by-step tutorial at Buggy and Buddy.
27. Glue Heart Suncatcher
Next Valentine's Day, get your kids to make a glue heart catcher using heart-shaped cookie cutters, gems or beads, glue, and wax paper.
These window decorations are lots of fun to make, and your kids will love working with glue (particularly squeezing it out the tube). Plus, once they add the gems, they'll have a really interesting window ornament for their bedroom.
Visit Where Imagination Grows for the glue heart suncatcher tutorial.
28. Stained Glass Painting With Bottle Lids and Wax Paper
This window crafts idea features stained glass painted with the help of bottle lids. You can get your kids to dab paint on some wax paper before giving them bottle lids to press into the paint. If you're not impressed by how that sounds, wait until you see the finished art. We think they look like beautiful roses, but, as with all art, that's open to interpretation!
Visit Happy Hooligans to learn how to make a stained glass painting with bottle lids and wax paper.
29. Oil Suncatchers
With some baby oil, q-tips, and construction paper, you can make a suncatcher to catch the sunlight spilling through your windows. This is a great craft idea for the summer season when your kids are out of school.
Encourage your kids to cut the circular suncatcher out of the construction paper. After that, let them draw designs into the suncatchers using the q-tips as a brush and baby oil as paint. Your kids will love the final product.
Visit Meaningful Mama to learn how to make some oil suncatchers.
30. Abstract Window Art
Use the room's natural light to impressive effect by making rainbow abstract window art with colored transparency sheets you can easily procure from the Dollar store. Begin by cutting the sheets into different shapes using a pair of scissors. Then, dip the sheets in water to get them to stick to the window. It's a fun activity for children ages four and up.
Learn how to make abstract window art from And Next Comes L.
31. Melted Beads Suncatcher
Ever wonder what baked pony beads look like? It turns out they make great-looking suncatchers! Let your child arrange different colored pony beads in a muffin tin, then pop the tray into the oven for 30 minutes or so. Once you let the beads cool, hang them from the window using beading string and marvel at how your creations catch the sun's light.
Learn how to make a pony bead suncatcher over at School Time Snippets.
32. Window Table
What do you get when you put a window and a table together? A window table, of course! This window art idea creates a beautiful, rustic piece of furniture inspired by shabby chic decor.
Visit Marty's Musings to learn how to make a window table.
33. Yarn Suncatcher
Let your toddler engage in a spot of artistic expression using a string of yarn as the brush. The messy strokes on the contact paper will add an element of interest to the design once you bind a felt frame (in this case, Valentine's hearts) to the paper using spray-on adhesive.
Make a pretty yarn suncatcher by following the step-by-step guide at Minne Mamma.
34. Mondrian Window Art
Want to get your kids interested in making art using a window crafts project? You'll need ideas that model the works of actual artists. For example, your kids can easily copy the work of artists like Piet Mondrian, who inspires the style of these stained glass windows.
Using supplies like tempera paints (or poster paints), painter's tape, and paint brushes, your little ones will love the idea of painting on the glass window directly.
Visit What We Do All Day to learn how to make Mondrian wall art.
35. Nature Collage Suncatcher
Bring some nature to your window pane with art projects like this nature collage suncatcher where the natural world and windows collide.
With some contact paper, paper plates, yarn or ribbons, tape, and leaves, you and your little one can have fun creating a refreshingly natural-looking window ornament that makes inspired use of recyclable materials and flowers and leaves in the yard.
Get the nature collage suncatcher tutorial at Hands on As We Grow.
36. Simple Earth Suncatcher
Your kids will love making this simple Earth suncatcher with glue, blue and green glitter, a plastic lid, and q-tips. It's an excellent project to celebrate Earth Day, as the material used as the suncatcher (the plastic lid) is upcycled.
Follow the step-by-step guide at No Time for Flash Cards to make this simple Earth suncatcher.
All in all, we hope these window art projects for kids and adults bring you as much joy as sharing them with you brought us. Don't hesitate to share which project you want to work on below!
Comments
0 comments