Clay is quite the celebrity in the world of arts and crafts; it's affordable, versatile, and has been around for ages. There are so many different kinds of clay that can be used to create all sorts of pieces.
If you're looking for a sign to start working on your next clay project, this is it. We've brought together a bunch of air-dry, polymer, and ceramic clay sculpture ideas for you to go through. So without further ado, let's get into it.
Air-Dry Clay Sculpture Ideas
Clay Leaf Prints and Pendants Art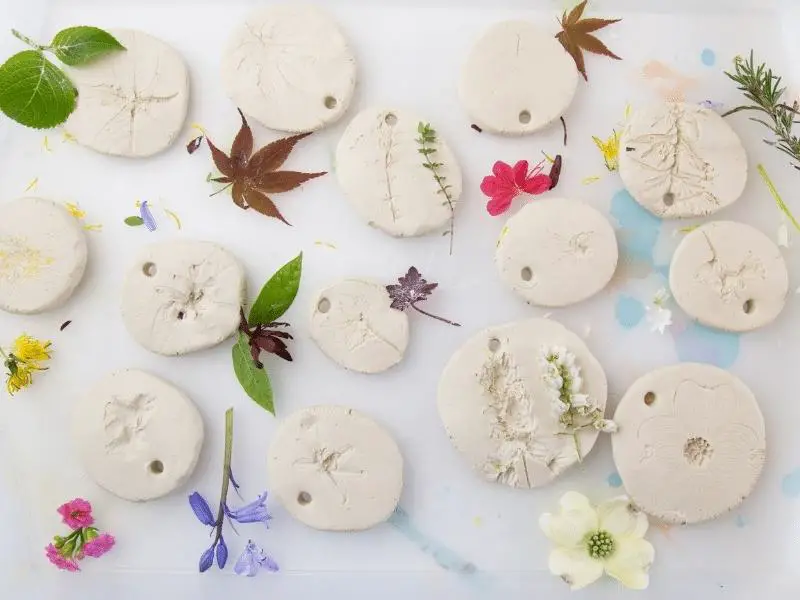 Make your own leaf print pendants by imprinting some leaves in air-dry clay. Make sure you poke holes into your pendant before the clay dries.
Once the pendant is dry, you can paint it in your colors of choice. Additionally, add beads to your pendant for an elevated look.
Learn how to make these clay leaf prints and pendants from artfulparent.com.
Mosaic Pasta Art
Pressing pieces of dyed pasta into air-dry clay makes the most beautiful mosaic paintings. Use different pasta shapes and colors for endless possibilities.
Get going with your kid on this quality clay pasta art project from buggyandbuddy.com.
Lace Clay Heart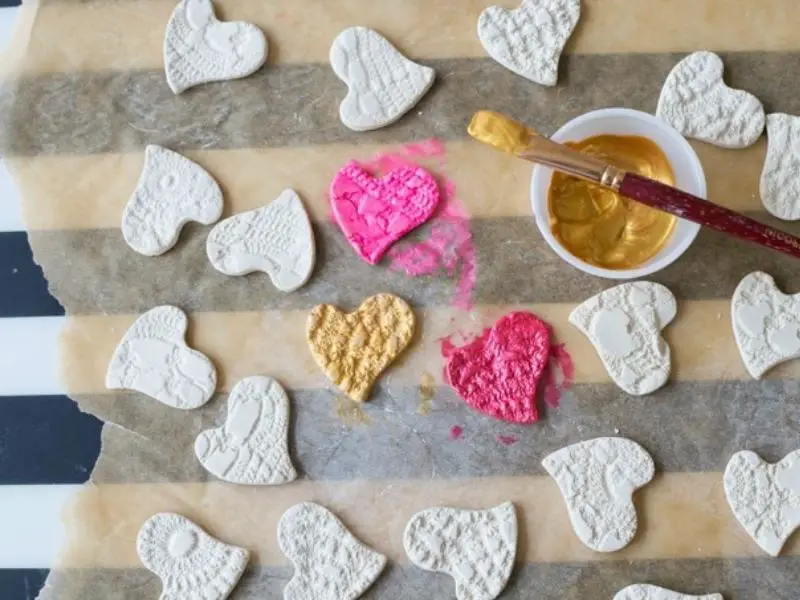 To create beautiful lace prints on air-dry clay, use a doily and a rolling pin. Utilize a cookie cutter to get that heart shape when your print is ready. Once you're there, you can go one of two ways: pendant or magnet.
Get the instruction on these lace heart ornaments from artfulparent.com.
Painted Pinch Pot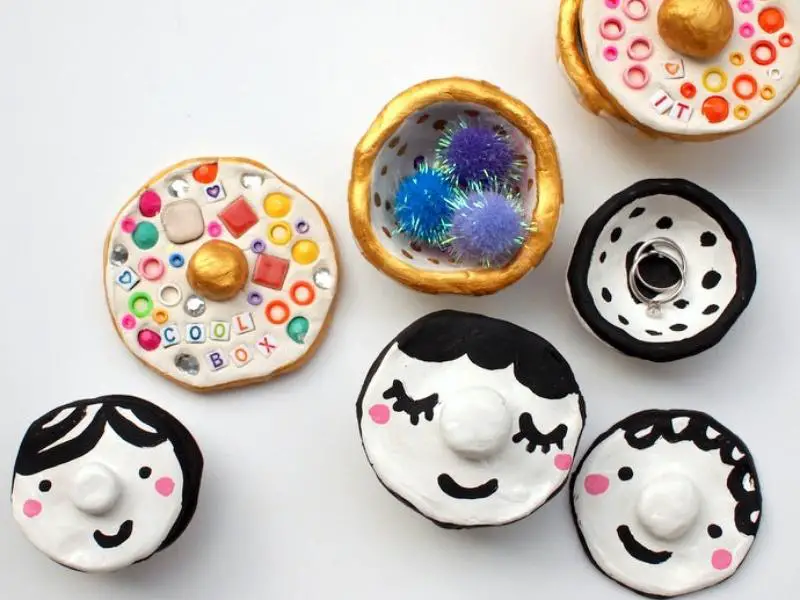 Pinch pots are one of the simplest and most common pieces of handmade pottery. This painted pinch pot air-dry clay craft is perfect for storing little kids' collections.
Sculpt a matching lid to complete your storage pot. You can also embellish it with mosaic for a unique look.
Get the instruction on these painted pinch pots from handmadecharlotte.com.
Sequined Rainbow Fish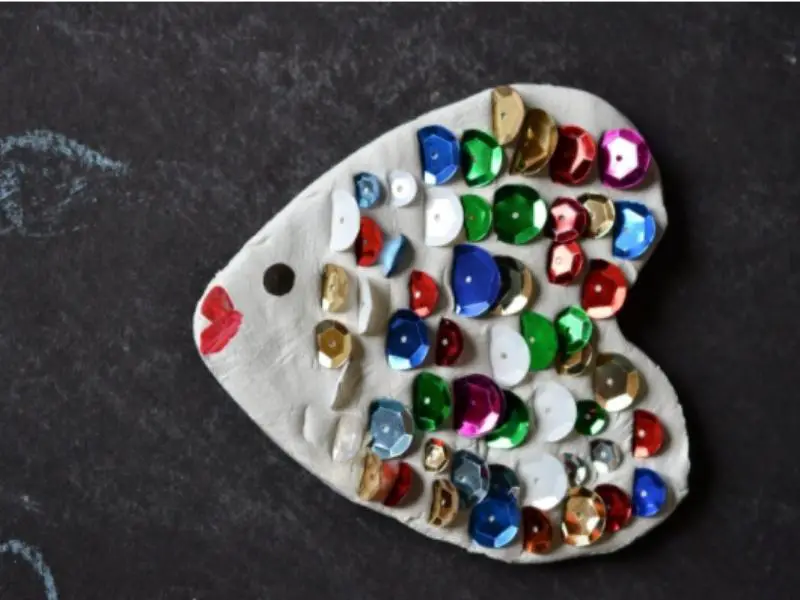 Who knew you could create the cutest fish with air-dry clay, paint, and a bunch of sequins? This project is a great way to keep the kids busy, and the fish sculptures are as good as it gets.
In addition, you can add magnets to the little fishes to display them on your fridge.
Get the instructions on these clay rainbow fish from gluedtomycraftsblog.com.
Clay Relief Tiles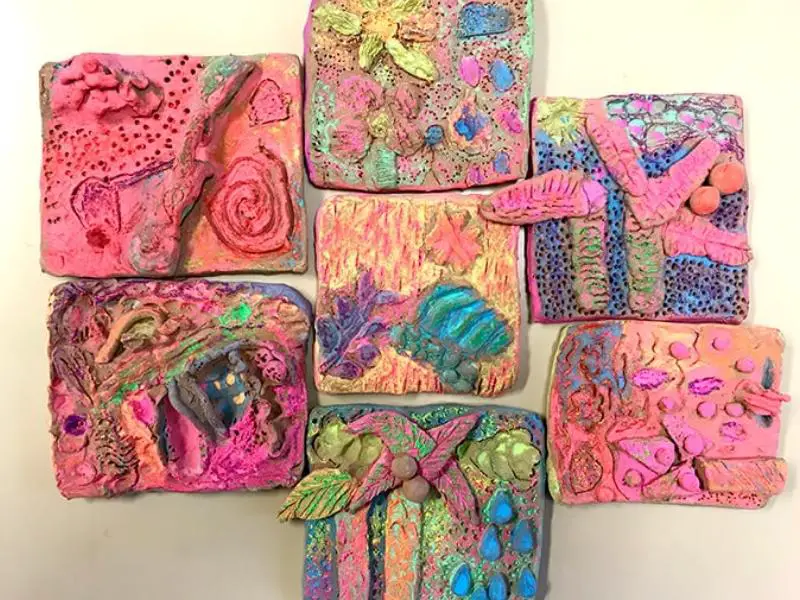 Relief tiles are tiles with elevated designs. With this craft, you can create gorgeous relief tiles with air-dry clay. This project is easy, fun, and foolproof.
Get your kids started on these colorful clay relief tiles from artfulparent.com.
Clay Fairy House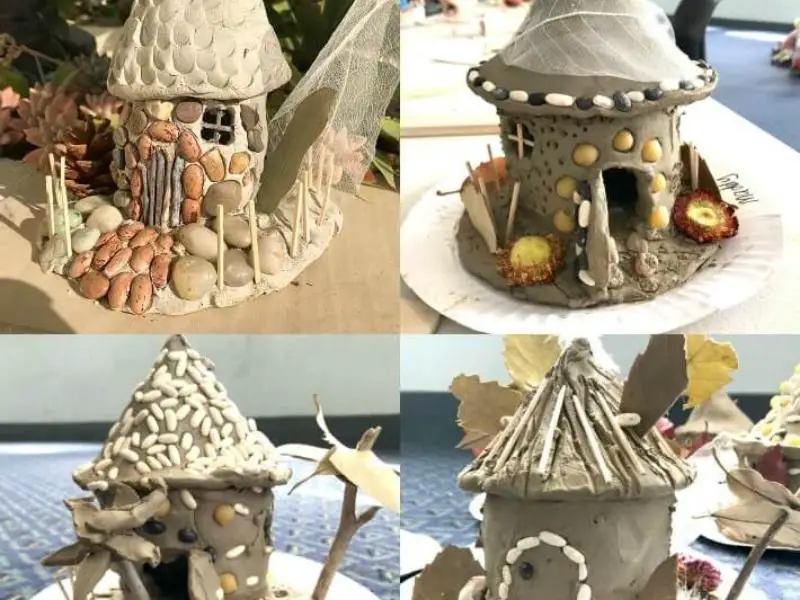 An air-dry clay fairy house is one of the most interesting and engaging projects you can create. The details are endless with the doors, windows, roofs, chimneys, and everything in between.
You'll give real room for your creative imagination with this one.
Learn how to make a fairy house with air-dry clay from artfulparent.com.
Small World Sculptures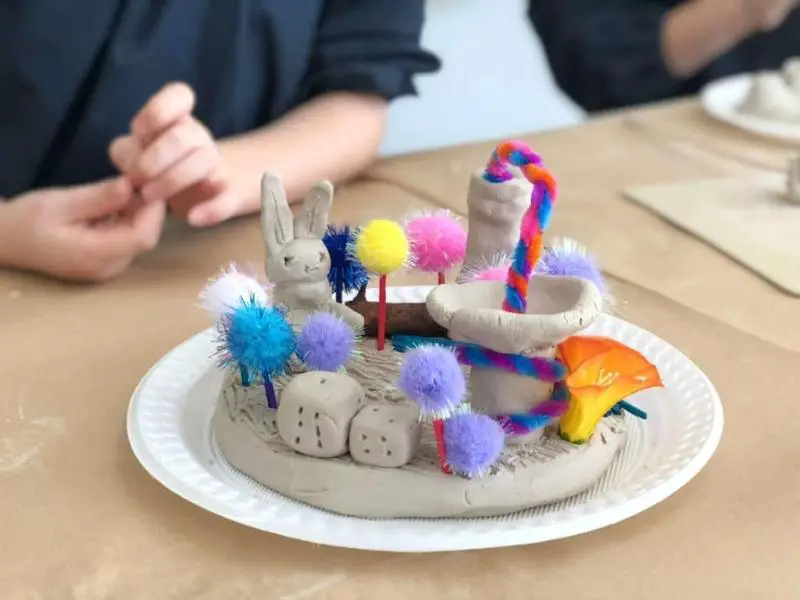 This air-dry art craft is creative madness. While clay is the main character here, the "worlds" can be filled with all sorts of imaginative details; there really is no creative limit with this one.
Be sure to check out these creative small-world ideas from artfulparent.com.
Stamped Clay Bowls
This art project is an awesome debut to the pottery world, and you walk away with a breathtakingly gorgeous bowl. You'll need a rubber stamp or any textured object to make the imprints, and the bowls can be used as ring dishes, gifts, or decor.
Start creating these air-dry clay bowls from gatheringbeauty.com.
Coil Hearts
"Drawing" with coils is awesome because coils are so easy to create, and the resulting sculptures are plain gorgeous. This beginner-friendly craft can be as easy or difficult as you like; the hearts look great either way.
Get on creating these clay coil hearts from artfulparent.com.
Air-Dry Clay Bird Sculpture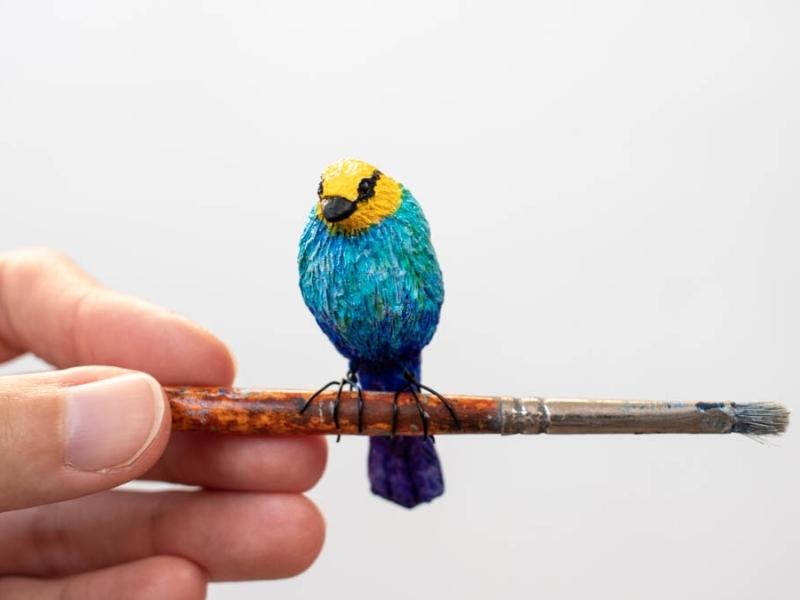 This may not be one of the easier projects on this list, but it's definitely worth it. With very simple materials, you'll be able to make a hyper-realistic, beginner-friendly air-dry clay bird sculpture.
Take a look at this air-dry clay bird from skillshare.com.
Polymer Clay Sculpture Ideas
Polymer Clay Car Clock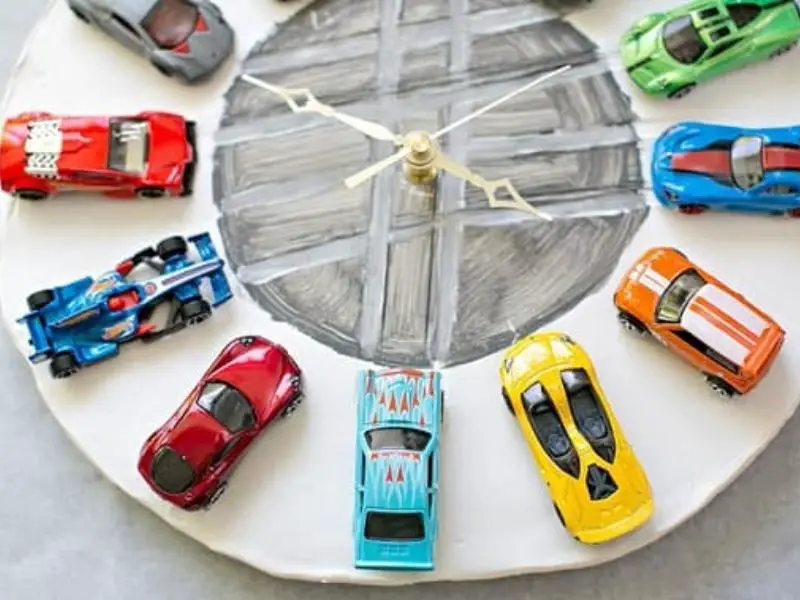 A clay car clock is possibly one of the best art creations you can make with polymer clay. With their detachable lego cars, these clocks make great additions to kids' bedrooms and an even greater medium for time teaching lessons.
Check out this DIY car clock from hellowonderful.co.
Caricature Mask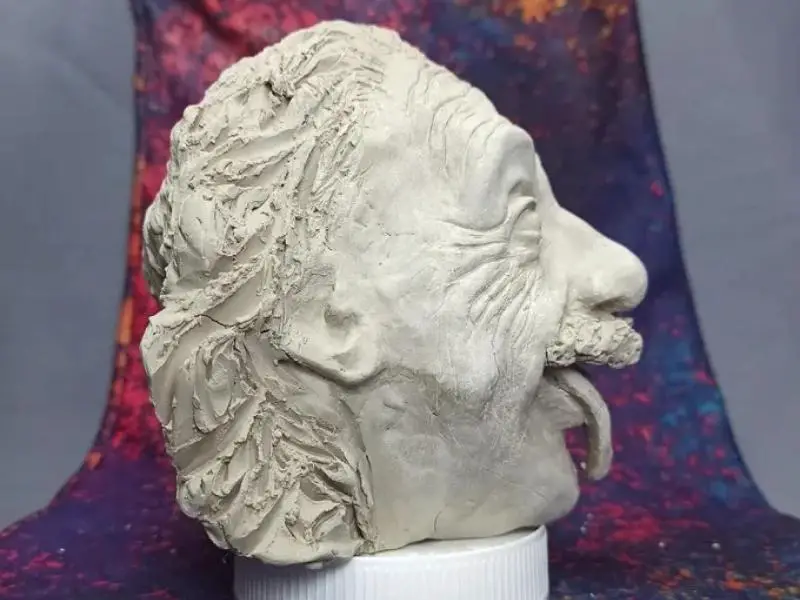 This easy project is pretty good practice if you're interested in pursuing clay caricature sculpting. Design your own characters and have fun watching them come to life. Additionally, observe how the whole mask changes with every added feature.
Create a caricature in clay from skillshare.com.
Wooden Beads Clay Necklaces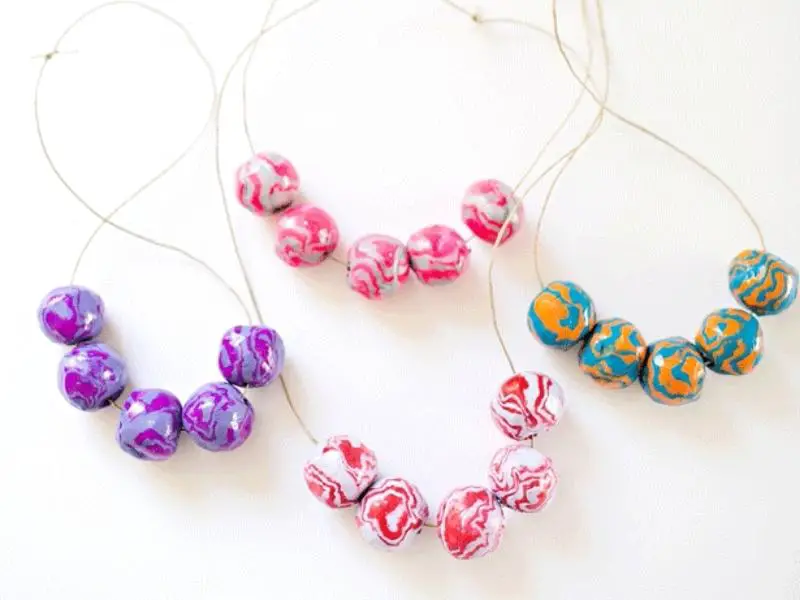 To create lighter polymer clay beads, use a wooden base; the wood creates a lightweight scaffold that adds structure and minimizes the required amount of dense polymer clay. Then, apply your creativity with the clay design patterns and bring your beads together in a beautiful necklace.
Make these clay wooden bead necklaces now from hellowonderful.co.
Pasta-Shelled Snails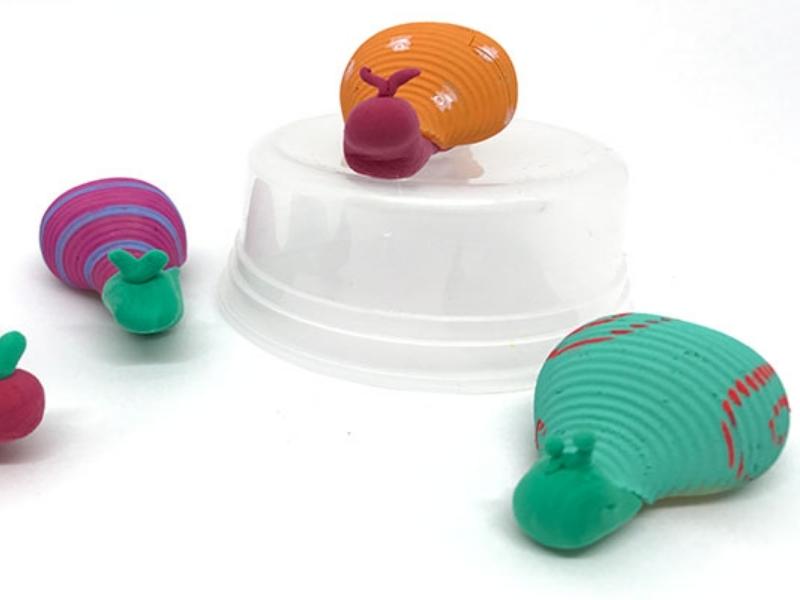 You're going to have the most fun creating these pasta-shelled clay snails. Use different pasta colors to add variety to your snail family.
Learn how to make these snails from mybaba.com.
Colorful Pinch Pots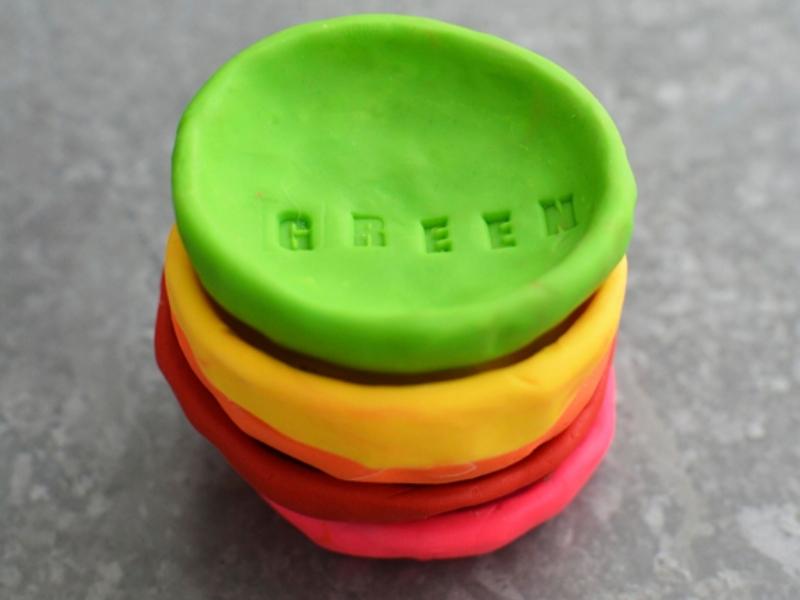 Polymer clay pinch pots are mess-free and look like they came straight out of a cartoon film. For this art project, roll different colors of polymer clay into balls and pinch them to form the pots.
Try to make at least one pot of each rainbow color. Then, once the pots are ready, you can use them for color sorting activities with the kids.
Be sure to check out these rainbow pinch pots from hellowonderful.co.
Alphabet Magnets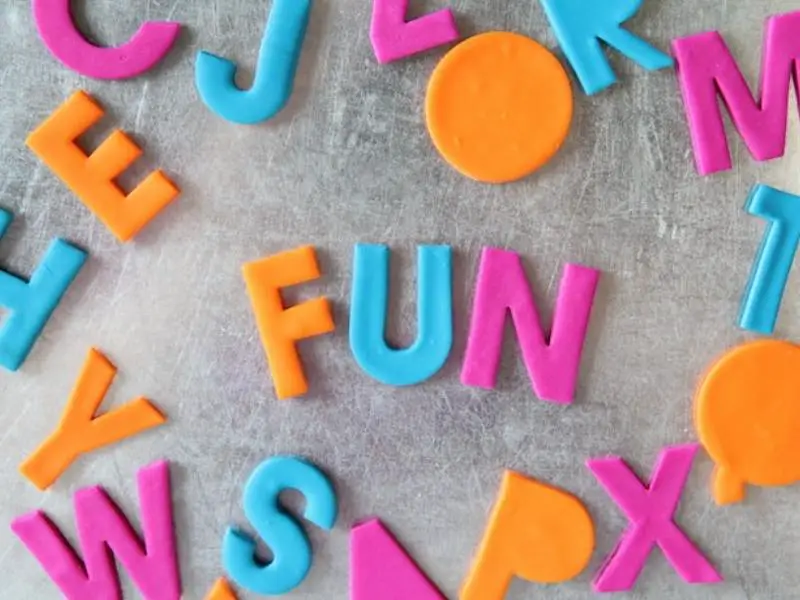 Teach your kids the alphabet with this fun clay craft; having the colorful letters sit on your fridge will speed up the learning process.
Then, as your child gets hold of it, you can start creating simple, 3-letter words with the magnets and working your way up as you go.
Start making these DIY alphabet magnets from handmadecharlotte.com.
Rainbow Snake Pots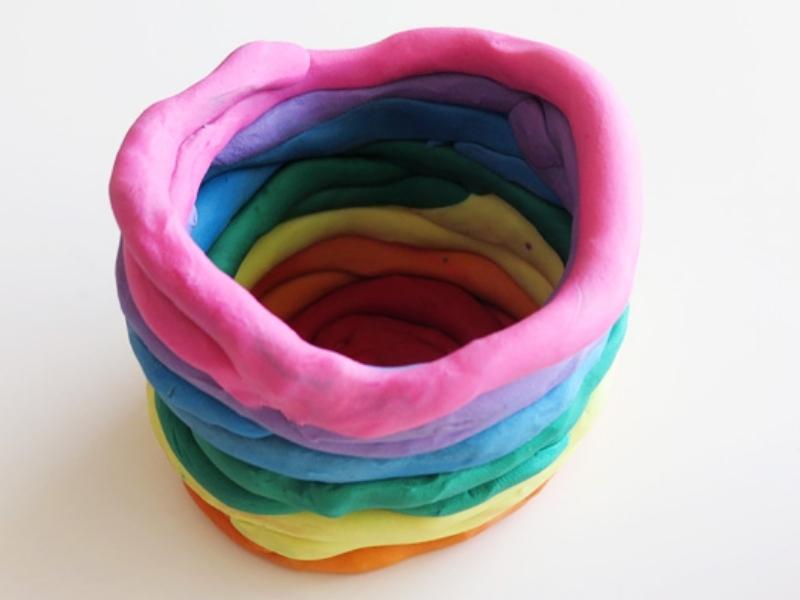 Kids and beginners are both sure to love these rainbow clay pots. To create these fun pots, layer loops of rainbow polymer clay and pop it in the oven; it's as easy as that.
Try your hand at these rainbow snake pots from childhood101.com.
Elephant Ring Holder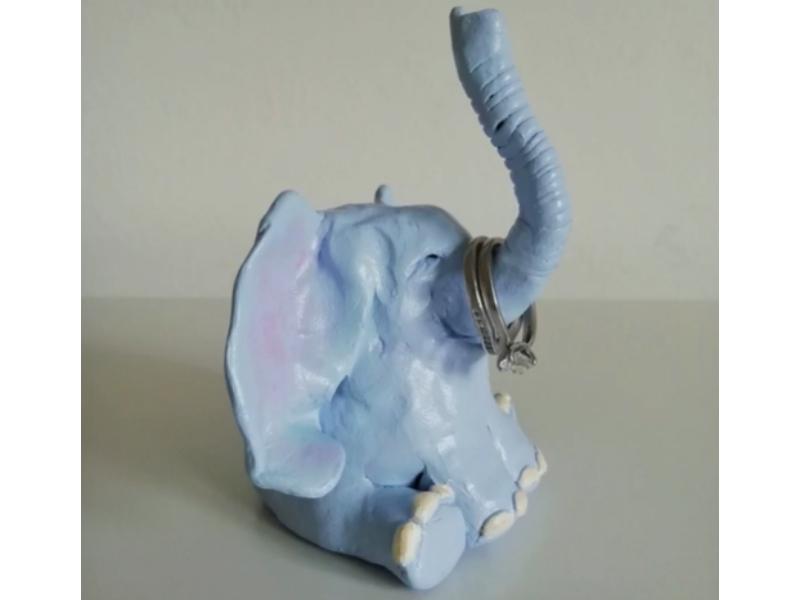 Elephant ring holders are very cute polymer clay sculptures that can function as ring holders.
The elephant's trunk can fit a good amount of rings, while the elephant adds an artsy touch to your space. You're going to love making these.
Get some inspiration on how to make this elephant ring holder from skillshare.com.
Clay Bangles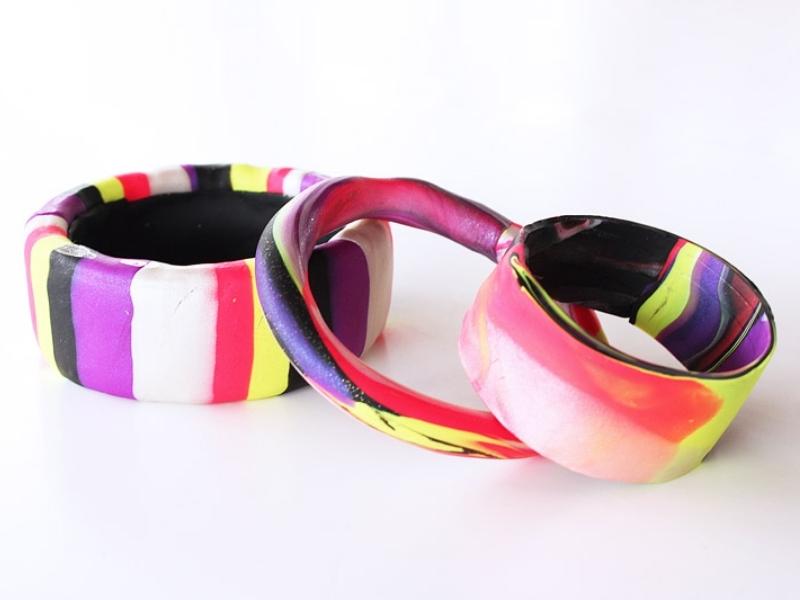 Polymer clay bangles are the new friendship bracelets. You can make all sorts of bracelets with polymer clay.
Explore the limits of your creativity with this fun craft; you can mold multi-color, vibrant bracelets or more toned-down, sophisticated ones.
You're the artist in this one.
Get six ways to make clay bracelets from babbledabbledo.com.
Bamboo Forest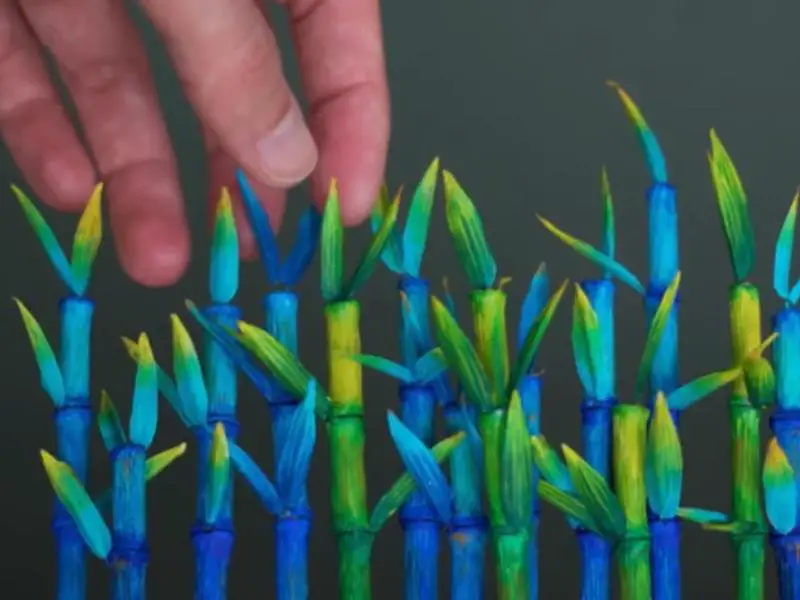 If you love a beautiful sculpture, this project is for you. This sculpture isn't the easiest, though, and is targeted more towards advanced sculptors; you'll be utilizing many materials and using different techniques and scales.
Get the scoop on this Miniature Bamboo from skillshare.com.
Ceramic Clay Sculpture Ideas
Clay Spoons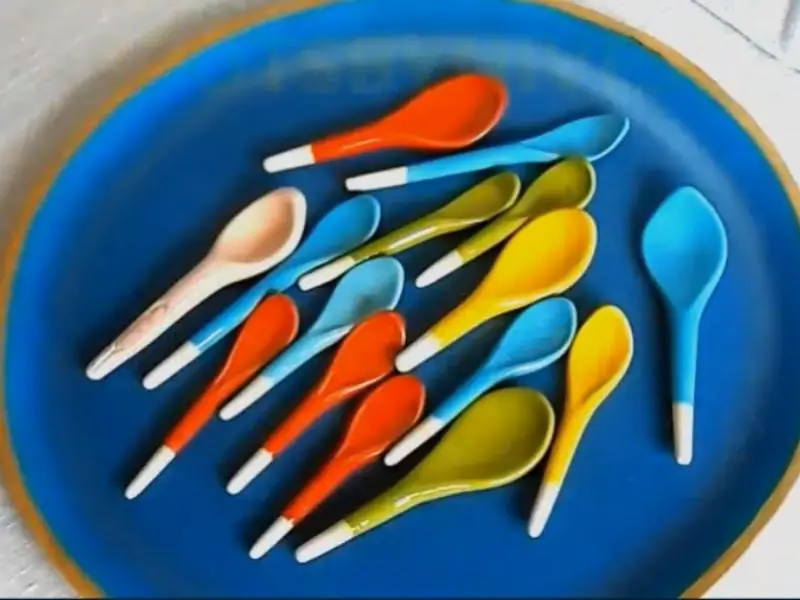 Try your hands at the famous, vibrant clay spoons with this project. The unique character and lack of uniformity give these spoons a signature handmade look that beats any store-bought spoon you ever had. Of course, it's always a great idea to experiment with shapes and colors.
Get step-by-step instructions on how to make these ceramic spoons on skillshare.com.
Clay Teapot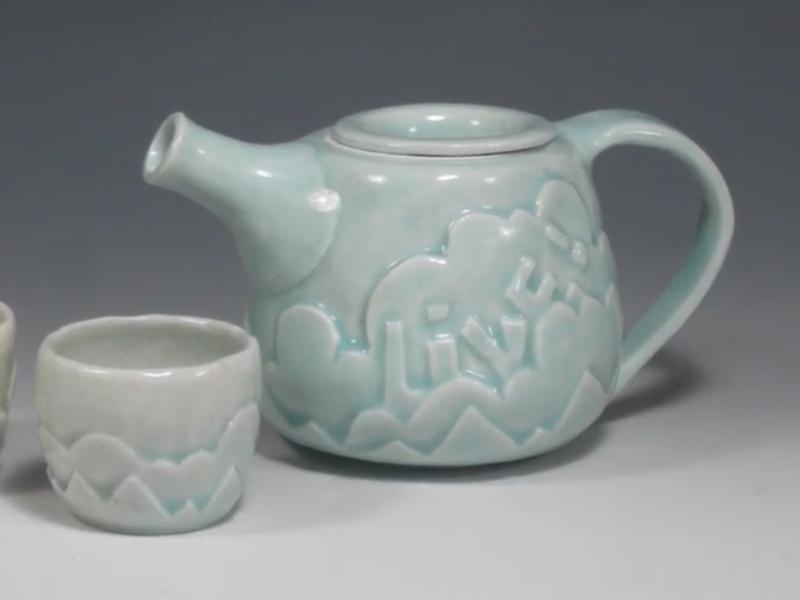 This art project is a great opportunity to bring your personality to life. Teapots are a classic addition to any home, and having your creative touch on yours is just awesome. So fill your teapot up and enjoy the best tea of your life.
Learn how to create this clay teapot at skillshare.com.
Clay Coil Pot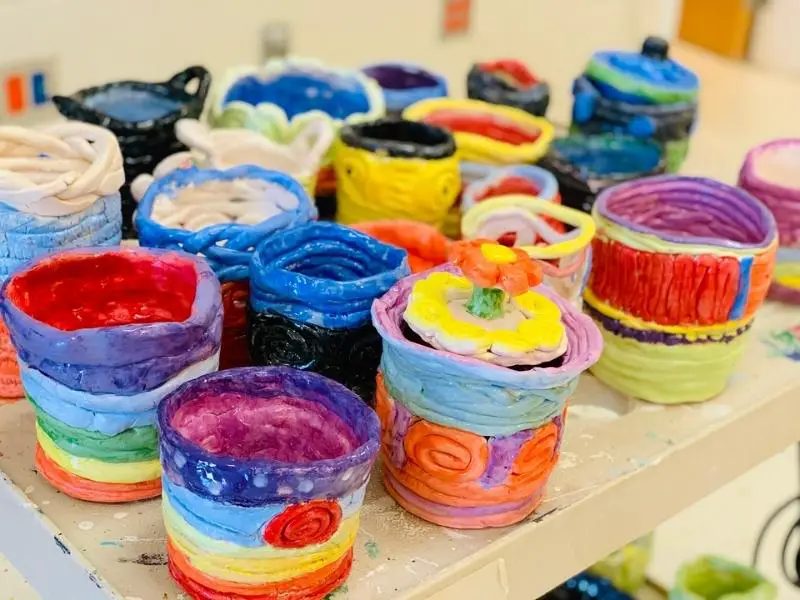 Coil clay sculptures have been in the pottery books for ages. Even though they may seem intimidating at first, these ceramic pots are very rewarding. You can always start simple and practice your way into more complicated projects once you're ready.
Understand how to make coil pots on deepspacesparkle.com.
Ceramic Clay Mug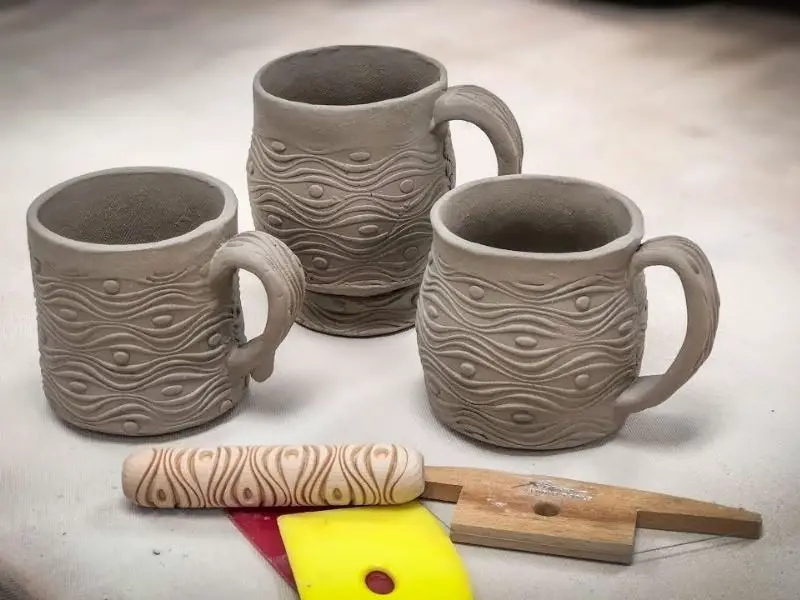 Nothing beats sipping your morning coffee from a mug you created. Ceramic clay mugs are super hot right now, and they're usually one of the first projects you create when you get into pottery.
So get your kiln all fired up and create some modern ceramic mugs. Always remember to have fun with it.
Get the instructions on how to make a modern clay mug from youtube.com.
Love Birds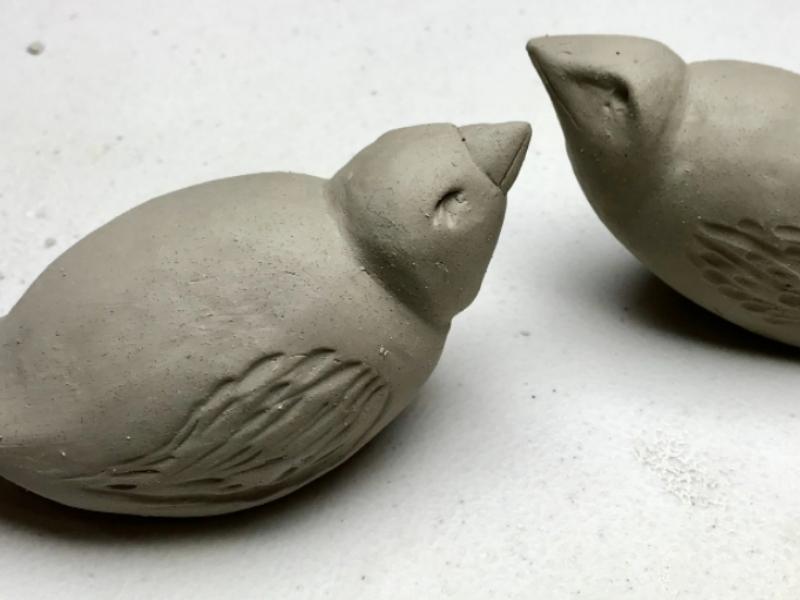 The only materials you'll need for this project are your clay and some basic sculpting tools.
You'll start off with a basic pinch pot structure and mold it out into your bird.
This sculpture is relatively easy, making it a perfect chance to practice your sculpting skills and tools.
Get the scoop on these ceramic love birds from skillshare.com.
To wrap it all up, we brought together a good variety of clay sculpting projects that utilize different types of clay. So now that you're all inspired, it's time to get your clay journey started.
Comments
0 comments