Monsters can be scary, but they can also be cute and fun. Because there is no 'right and wrong' look for a monster, they are a great theme for monstrous fun crafts for kids.
Your monster can have 7 eyes, a forked tongue and tentacles, or it could be pink and fluffy with razor sharp fangs! Inspire creativity on your next crafty morning with this list of easy monster crafts.
26 Monster Crafts for Kids
Monster Puppets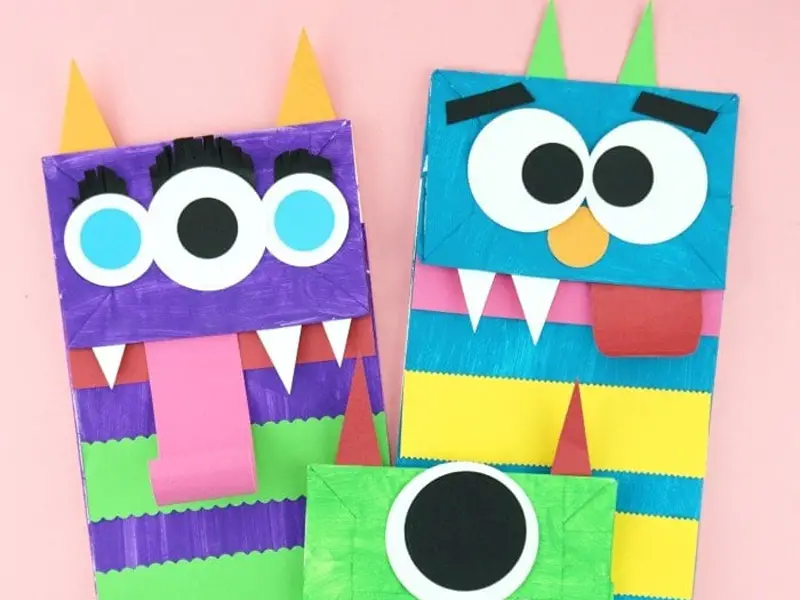 Kids will love making these fun monster puppets.
This craft uses paper bags as your monster's body and they can decorate them with spots, stripes, antenna, teeth, googly eyes, and even a long curly tongue!
Find out more at iheartcraftythings.com
Monster Bookmarks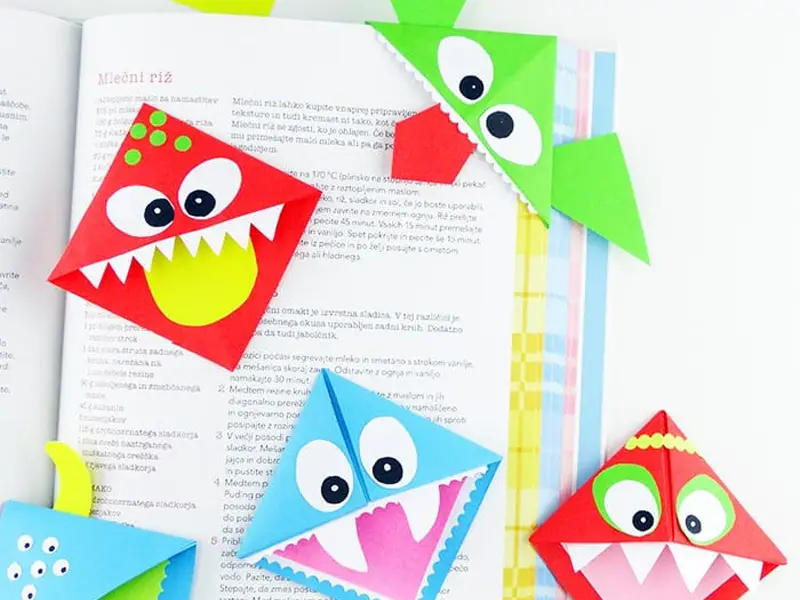 This easy craft is a good introduction to origami for kids, plus it also gives them a fun incentive to read more – win/win!
Made with paper and glue, you don't need much in your craft closet to begin this project at home.
Check out the details and video guide at easypeasyandfun.com
Monster Finger Puppets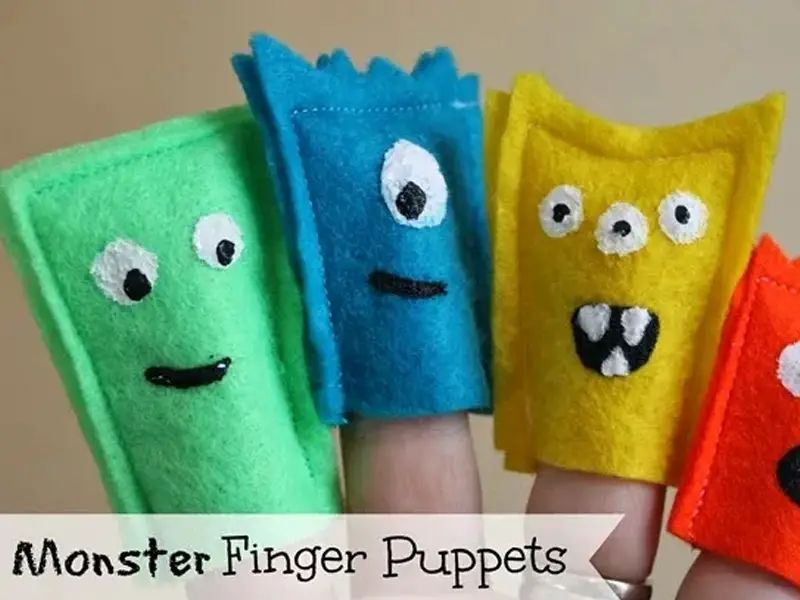 Great ideas don't need to be tricky!
Have fun making your own cute little monster finger puppets from felt and fabric paint.
This kids activities blog suggests you whizz up the puppet 'bodies' on a sewing machine, but you could also use this craft to begin to introduce older children to simple sewing stitches too.
Then paint on shapes for the eyes and teeth!
Find out how to make them at homemadeheather.com
Clothespin Monster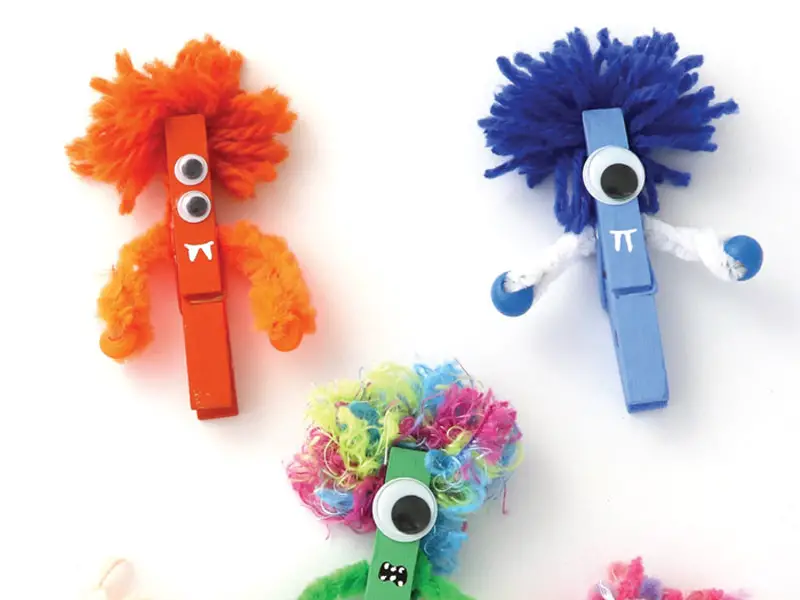 Make your own cute little monsters from clothes pegs (or clothespins if you're in the US!)
This craft is a fun way to spend a morning, and afterward, the pegs are super useful too!
Use them to decorate your party table at Halloween, add a magnet to the back and display your kids' drawings on the fridge, or even just hide them around the house for a fun monster hunt.
More info on these adorable monsters on the blog at thecrafttrain.com
CD Recycled Monster Crafts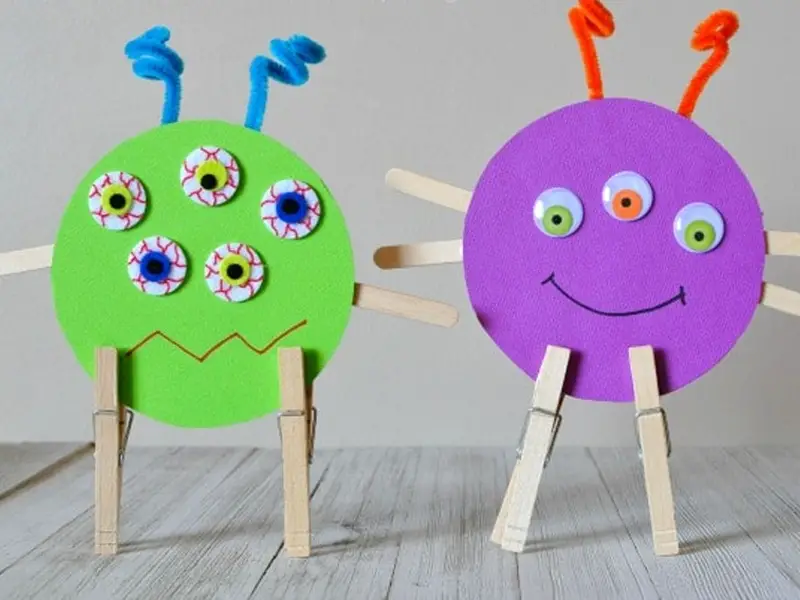 In today's digital age of iPods and streaming services, nobody really uses CDs anymore. Put your old CDs to good use by turning them into fun monsters with this craft from I Heart Crafty Things.
Check out more at iheartcraftythings.com
Roll A Monster Game
Monster activities can be craft and educational at the same time!
This super fun craft makes a game that your little ones will love to play. You just need felt and your imagination. Parent and toddler approved.
Find the free printable at homemadeheather.com
Embroidery Hoop Monster Craft
Make super cute monsters to decorate your kid's room. This craft is maybe better for kids that are a little older, as it involves hot glue and some sewing. But it will produce an end result that they will certainly be proud to hang on their bedroom wall.
Get the information on how to make these monster crafts at homemadeheather.com
Blow Painting Monsters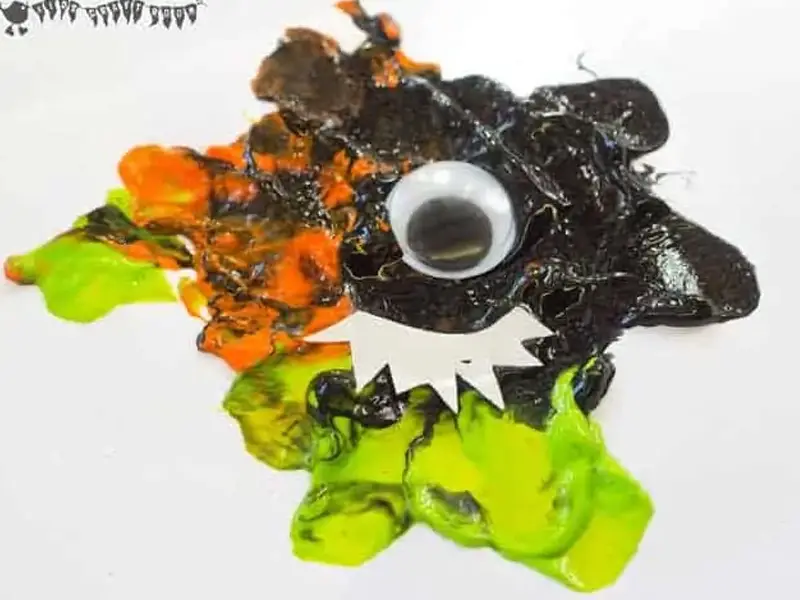 If your messy little monster loves all things paint, why not give them a painting project with a difference!
This blow painting monster craft is a fun way to create their own silly monster. It can be as big or small as they desire, depending on how hard they blow!
Afterward, they can use their imagination to turn their blow splurge into the monster's body and add cut-out shapes for other body parts.
Find out more about this easy peasy craft at kidscraftroom.com
Rock Monsters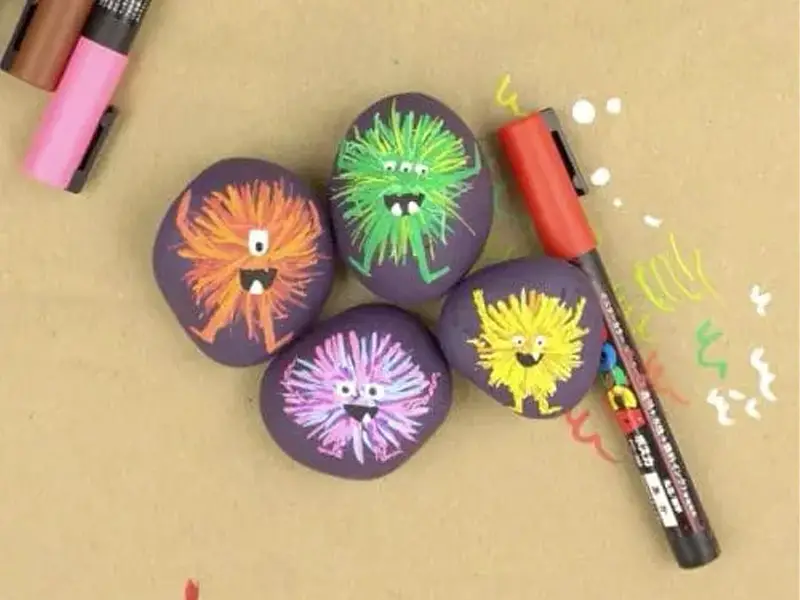 This monster craft is so much fun to make! Plus, they don't make a ton of mess as you think, as they're made with paint pens. So the clean-up is just as easy as popping the caps back on.
These fluffy-looking monsters are fun to make, but you could also seal them with varnish and hide them around your neighborhood to put a smile on the faces of others!
Find out how to make them at twitchetts.com
Handprint Monster Hug Cards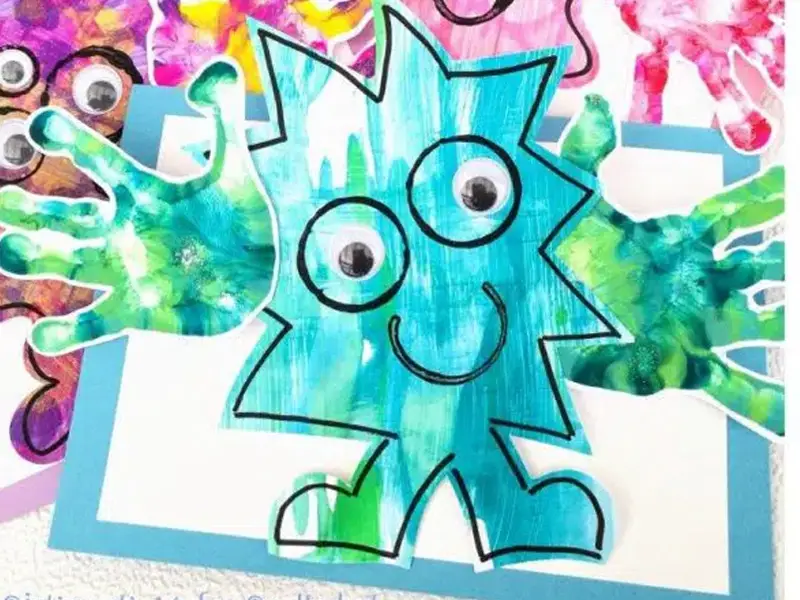 Do you have a birthday coming up? Or any other celebration? Or need to make invites for a monster theme party?
These cards are incredibly cute and share a loving hug!
Little ones will love splodging their hands in the paint and sticking on googly eyes too.
Make these crafts at redtedart.com
Paper Plate Monster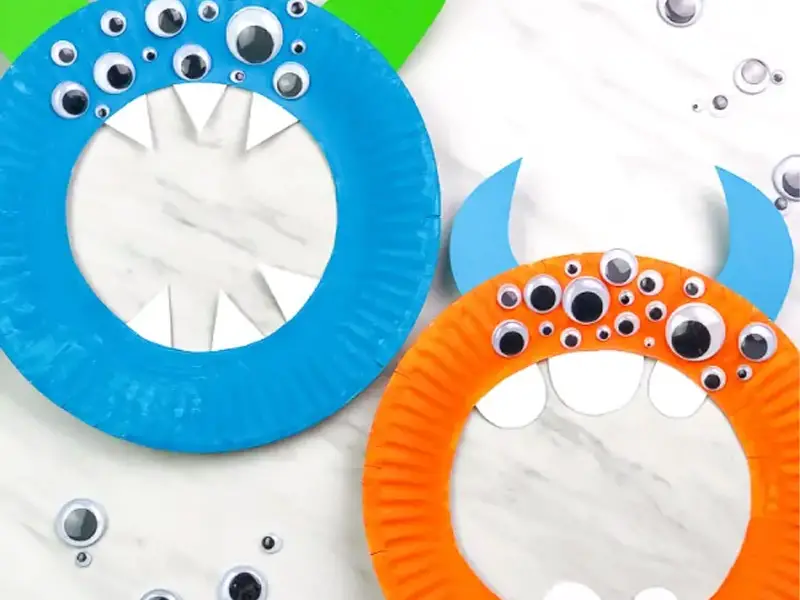 Toddlers will have so much fun when making these (not so scary) monsters from paper plates. Encourage counting skills too, as kids pile on the eyes and give their creation lots of pointy teeth.
Get the directions on simpleeverydaymom.com
Plastic Lid Monsters
Crafts are even more fun when they help to reduce waste. Recycle the caps from juice bottles and milk cartons to make these cute little monster caps.
Get the instructions at craftsbyamanda.com
Yarn Monsters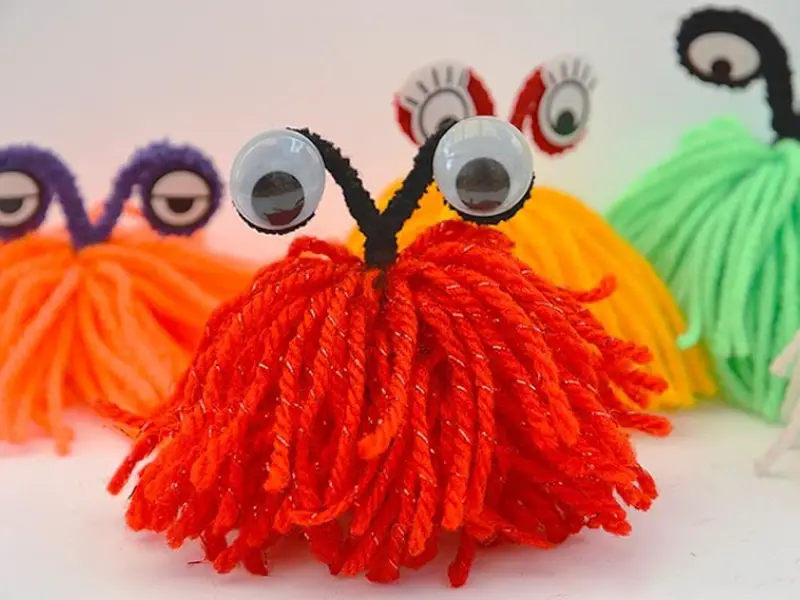 For one of the cutest monster crafts, check out this idea made from yarn!
With a vibe similar to Cousin It from the 'Addams Family, these hairy, silly monsters are not only adorable but easy to make too.
Find out more on these crafts at bluebearwood.co.uk
Plush Monster Craft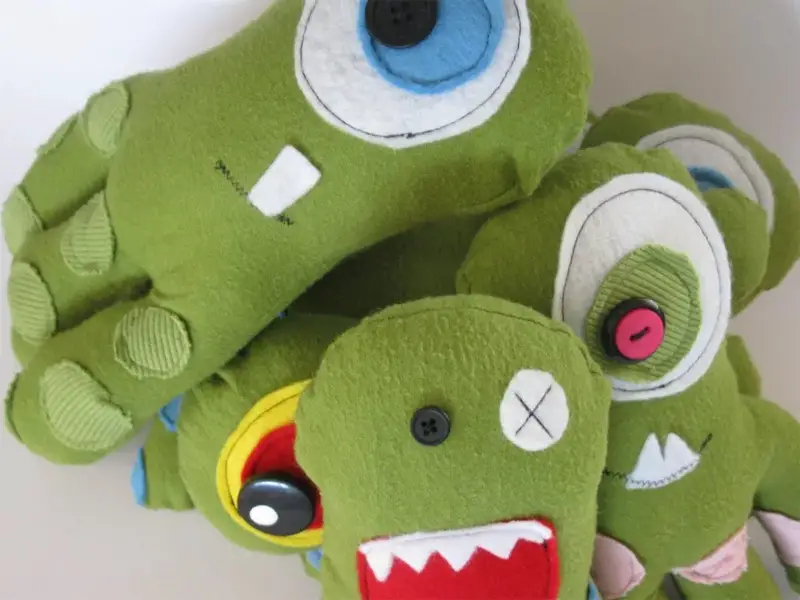 For a longer project that will keep your kids engaged, why not make their own monster plush doll?
Not only are they fantastic fun to make, but they will also love playing with them once they are finished. There's nothing more rewarding than seeing your own creation come to life!
Check out the guide at homemadeheather.com
Stick Monsters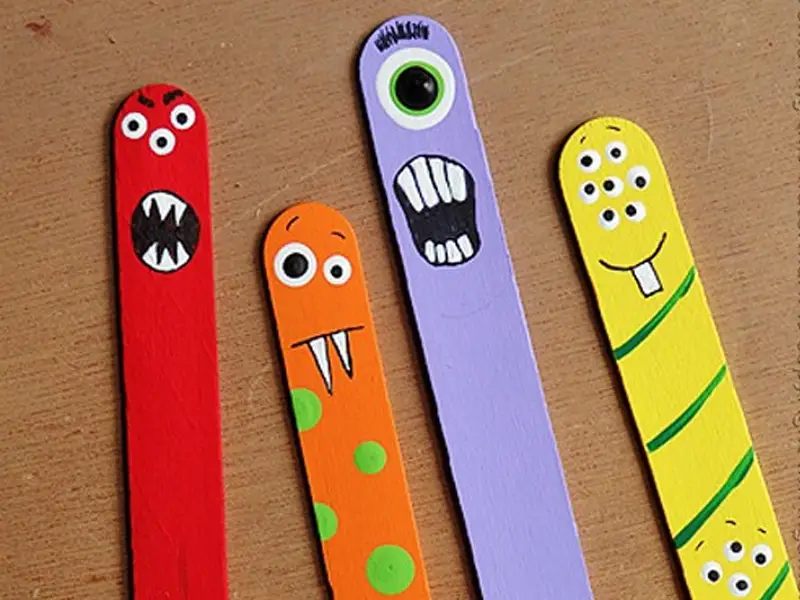 Make your own little monsters from popsicle sticks! Let kids plan their designs and paint them to life. These little sticks make great bookmarks for their reading book at story time.
Read more on these monster activities at craftsbyamanda.com
Monster Mobile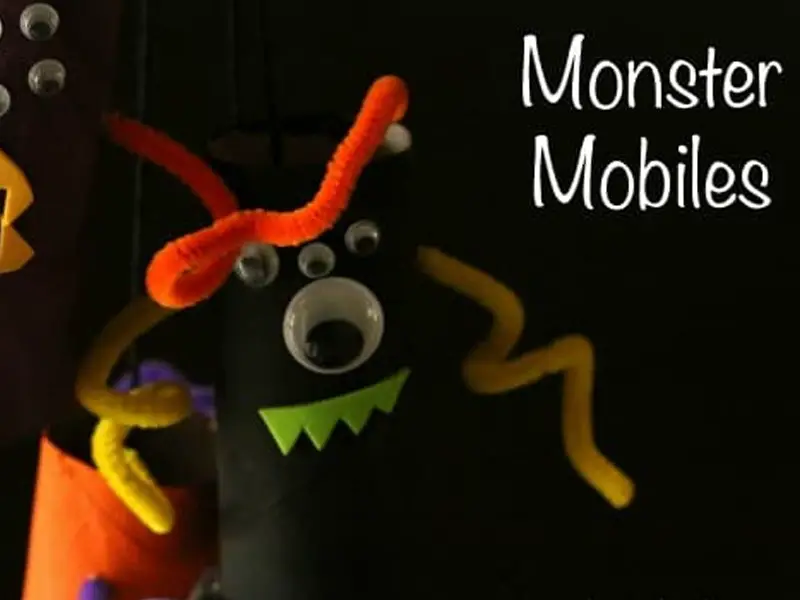 Turn the leftover cardboard tubes from toilet paper rolls into this super fun activity from Happy Hooligans.
Kids can paint and use bendy pipe cleaners and crinkle paper to make their own monster characters, and if they make enough, you can turn them into a mobile to hang in their bedroom too.
Find out more at happyhooligans.ca
Monster Pencil Toppers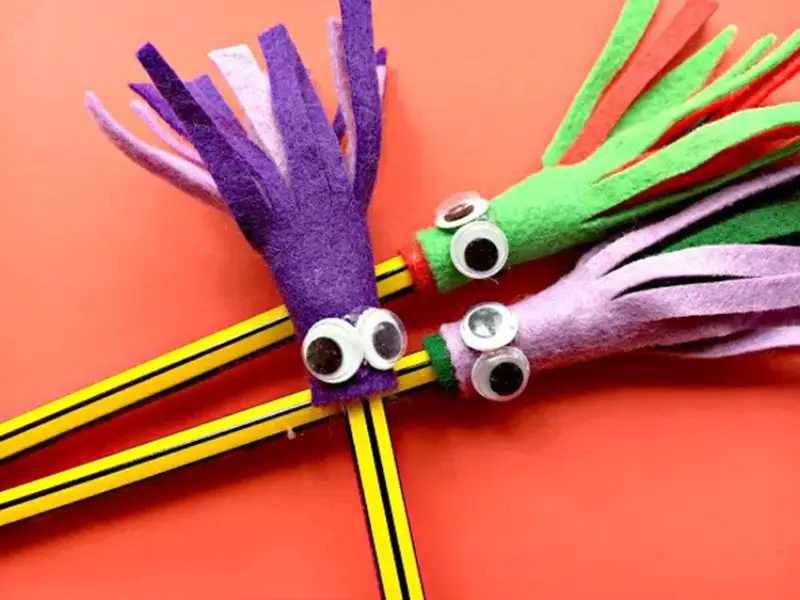 Never lose your pencils again with these fun monster crafts that personalize your pencil case. Kids will love making these fun pencil toppers, and then will be inspired to do some writing and drawing with them too.
Get this and other monster craft ideas at redtedart.com
No Mess Monster Craft
When planning Monster crafts for kids, quite often the cleaning up takes longer than the kids spent crafting and creating!
This craft idea promises to make the clean up easy, as well as producing a cute monster picture that your toddlers will love to create.
Check out this and other great ideas at kidsactivitiesblog.com
Monster Munch Activity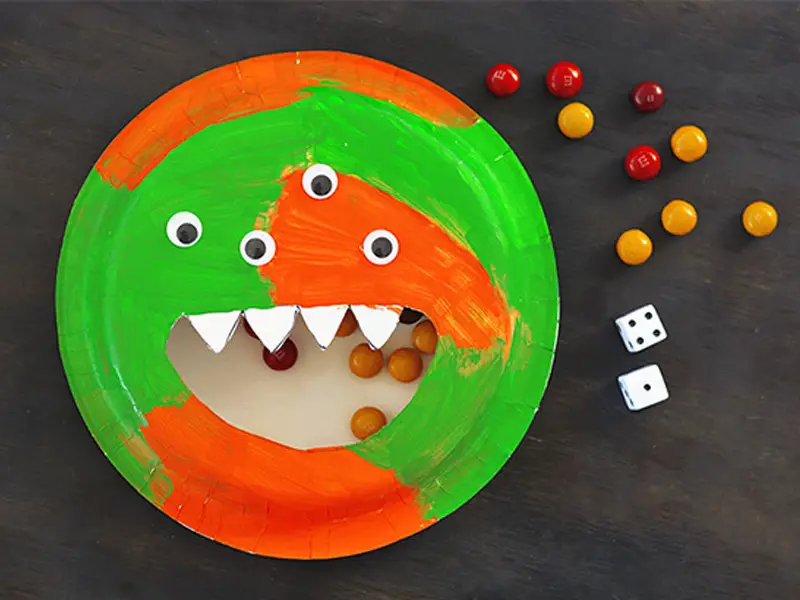 I love to create crafts with my kids, but also ones that have a purpose too. This craft creates a fun game to help kids learn counting skills too. (Plus they'll love to eat the candy afterwards!)
Find out more at iheartartsncrafts.com
Play Dough Monsters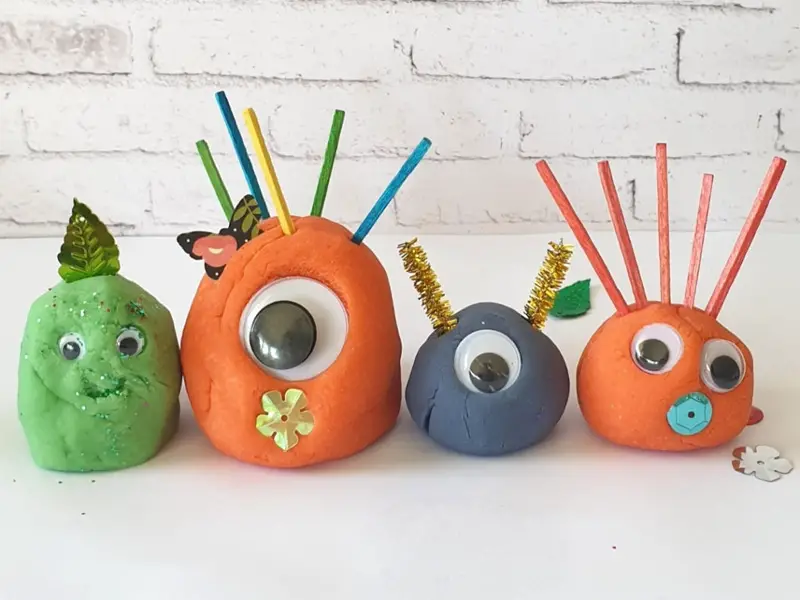 Combine junk modeling bits and bobs to create your own monsters from play dough. You can stick all sorts of sticks, pipe cleaners, and straws into the dough to create arms and legs.
Your kids' ideas will come to life and they can make monsters as scary as their creativity allows!
Find out more at diythought.com
Paint Drip Monster Pots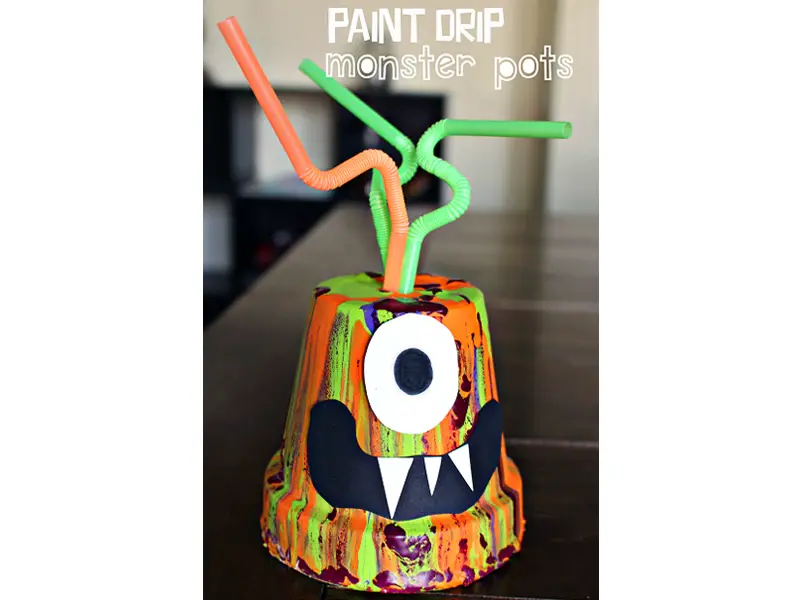 Turn old terracotta plant pots into funny little monsters with this paint drip activity. It's a bit messy, and the result will be unique every time.
When finished they are a cute way to decorate your porch on halloween, as a great alternative to a carved pumpkin.
Find out the instructions to make these crafts at craftymorning.com
Monster Apple Faces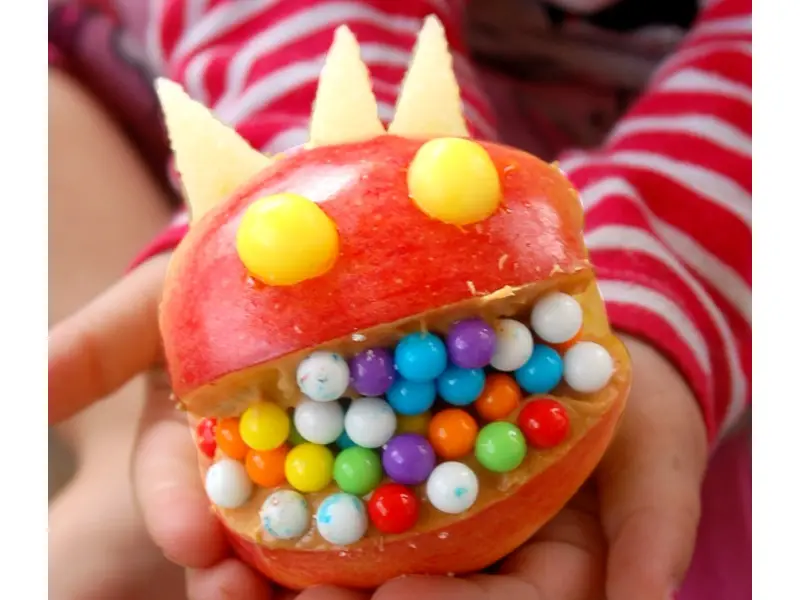 How about a craft that you can eat afterwards? Your child will enjoy turning an apple into a cool monster head by adding candy. They make a great gluten-free alternative to cake at a kids monster theme birthday too.
Make these apples with the guide from kidsactivitiesblog.com
Monster Number Cards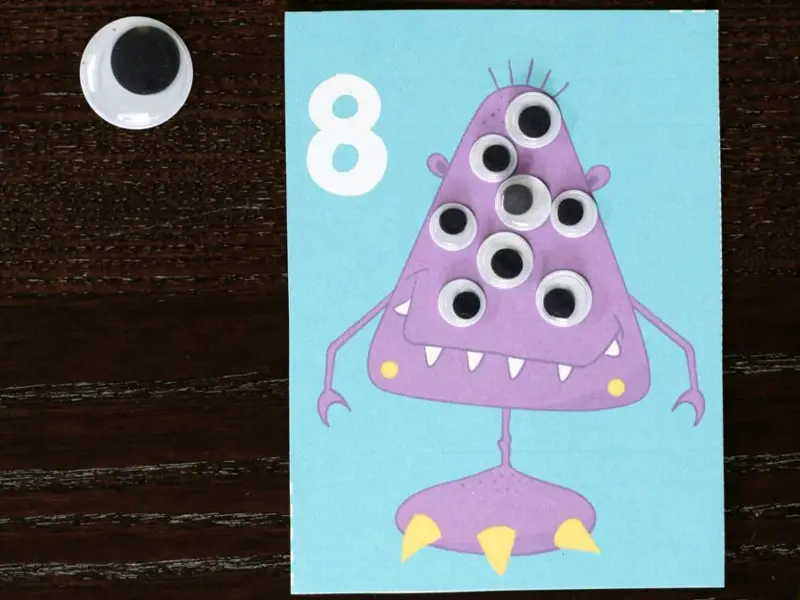 Make flash cards a fun way to learn numbers. Add eyes onto these super cute monsters as a great way to play and learn counting skills at the same time.
Grab the free printable at playdoughtoplato.com
Egg Carton Monsters
Turn your used egg cartons into little monsters with this great idea from The Craft Train. Not only are the final products extremely fun, you can also hide little treats inside for your own monsters to find.
Check out this, and other craft ideas at thecrafttrain.com
Candy Corn Monster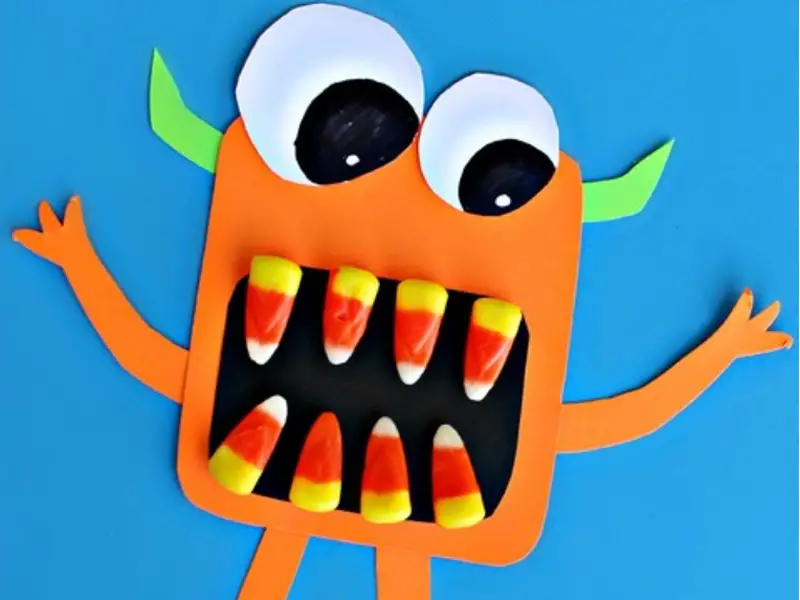 Candy corn is the traditional sweet treat of Halloween, but as well as eating it, you can turn it into a fun crafting tool and make a monster with fun teeth.
Get the information on this at craftymorning.com
Monster Craft Headband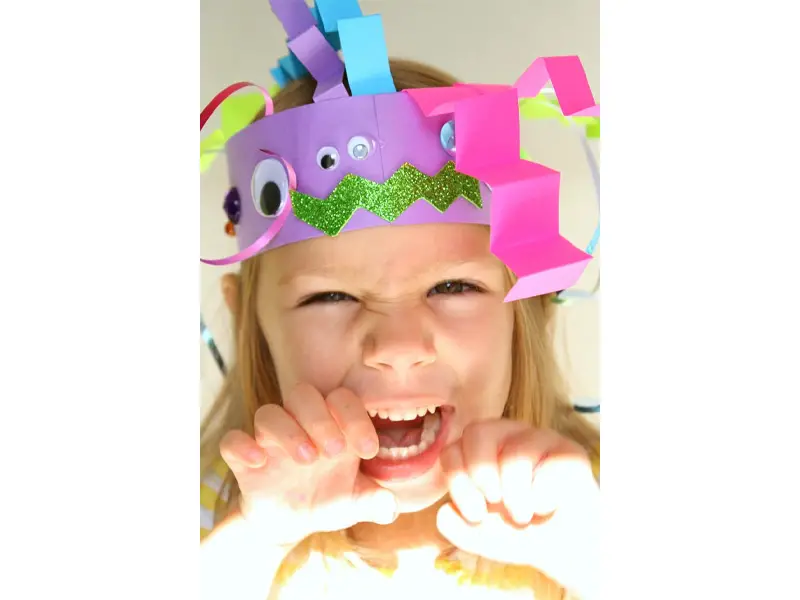 Turn your little monster into a real monster with these fun headbands! Using sticky eyes, ribbons, straws, and chenille stems, you can go wild and be inspired to make a monster as crazy as your imagination desires.
Find out more at fantasticfunandlearning.com
Best Monster Crafts for Kids that are So Much Fun!
Try these cute monster crafts at home. They are so fun to make and will keep little hands entertained for hours.
The only problem will be choosing which craft to do first.
Let us know which monster craft ideas you like best!
Comments
0 comments