Affiliate links may be included in this post. Thank you for supporting Craftwhack!
Spring art projects are popping up all over the place, and we've caught the bug! In this art project, we're focusing on tape resist and water color. Remember my poost on Watercolor Techniques? We dipped into those a little bit.
Materials:
Watercolor Paper
Watercolor paints
Blue painter's tape
Big old salt crystals, or anything you want to use along with the paints. See these watercolor ideas.
Directions:
Have your kids rip pieces of tape and "draw" with it on the watercolor paper. Avoid using the straight edges of the tape, as they don't look as good on the finished product.
They can use long pieces of tape and shorter pieces to form their flowers, and they will be focusing on the negative space. This means, they will need to think ahead as they are laying down the tape: whatever is not taped off will be painted, and will be the finished flower. Whatever is taped off will ultimately show up as white lines around the flower.
Have them use different paint brushed for the different colors to minimize mixing and ending up with muddy colors. (Unless, of course, they want to get adventurous and mix some colors! Bonus points.)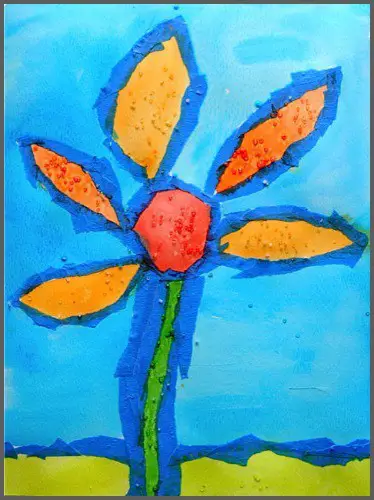 We sprinkled coarse salt on the flower and the stem because we were feeling nutty and wanted to add in a little texture.
Remember to let the paint dry before you brush off the salt! Peel off the tape verrrry gently. Honestly, we've never been able to peel off the tape perfectly- there are always a few little bits of paper that come up with the tape. You just have to embrace the paper's texture in these cases….