Spring art projects are popping up all over the place, and we've caught the bug! In this art project, we're focusing on tape resist and water color. Remember my post on Watercolor Techniques? We dipped into those a little bit.
Materials:
Directions:
Rip pieces of tape and "draw" with it on the watercolor paper. I avoided using the straight edges of the tape so everything looked a little rough and loose.
You can use long pieces of tape and shorter pieces to form your flowers, and you will be focusing on the negative space.
This means you will need to think ahead as you are laying down the tape: whatever is not taped off will be painted, and will be the finished flower. Whatever is taped off will ultimately show up as white lines around the flower.
I laid on my colors fairly evenly, nothing too fancy. Just different colors above and below the horizon line.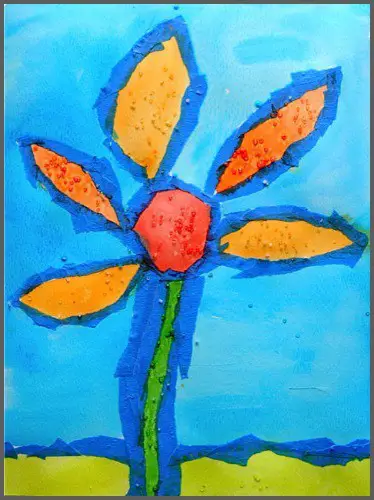 I sprinkled coarse salt on the flower and the stem because I was feeling nutty and wanted to add in a little texture.
Remember to let the paint dry before you brush off the salt! Peel off the tape verrrry gently. Honestly, I've never been able to peel off the tape perfectly- there are always a few little bits of paper that come up with the tape. You just have to embrace the paper's texture in these cases….
Here's another one I made using more subdued colors and I dabbed them on with the brush in almost a pointillism style. For this one, I taped the actual shape of the flower, so when I removed the shape the color was just left on the rest of the page, with a white silhouette of a flower.