What do you do when you literally have bins full of random papers and cast-off art projects like prints, painting experiments, and colored card stock remains from other projects?
You spread the paper allllll over the floor, grab yourself some cute little scissors and glue stick, crank the podcasts and go Easter crafty hog wild.
Directions:
After that, cut egg shapes from cardboard. I used thin cardboard, because thick cardboard hurts a lot to cut and makes me angry, and I probably shouldn't feel angry while holding scissors.
Next you can collage. I rolled out a big piece of kraft paper on the floor and added a little bit to the eggs all week. It was so fun to do it this way, because I would just randomly add some paper every time I felt like it.
Ideas:
Use cut and/or ripped paper
Dig out old gelli prints. Collage is prefect for these.
Use colored card stock you've cut or punched shapes out of. I used some of these as my final layer, so the paper underneath would show through the holes.
Don't think too much- flow with it and let yourself put paper pieces wherever you happen to feel like it. The beauty of collage is that you can add layers until it's 3 inches thick and cover over any areas you hate.
Add in some texture and dimension with tissue paper.
Don't worry about keeping exactly to the egg edge- it's easy to flip the egg over and cut off the extra around the edge later.
Here's how they looked after day 2:
I used a mix of scrapbooking paper, tissue paper, old book pages, wrapping paper, watercolor painting pieces and prints. Here's how they look now, and I'm still not sure I'm finished with them. I do like the colored paper pieces toning down the rest of it. Collage is fun, but again, when do you make yourself stop? 🙂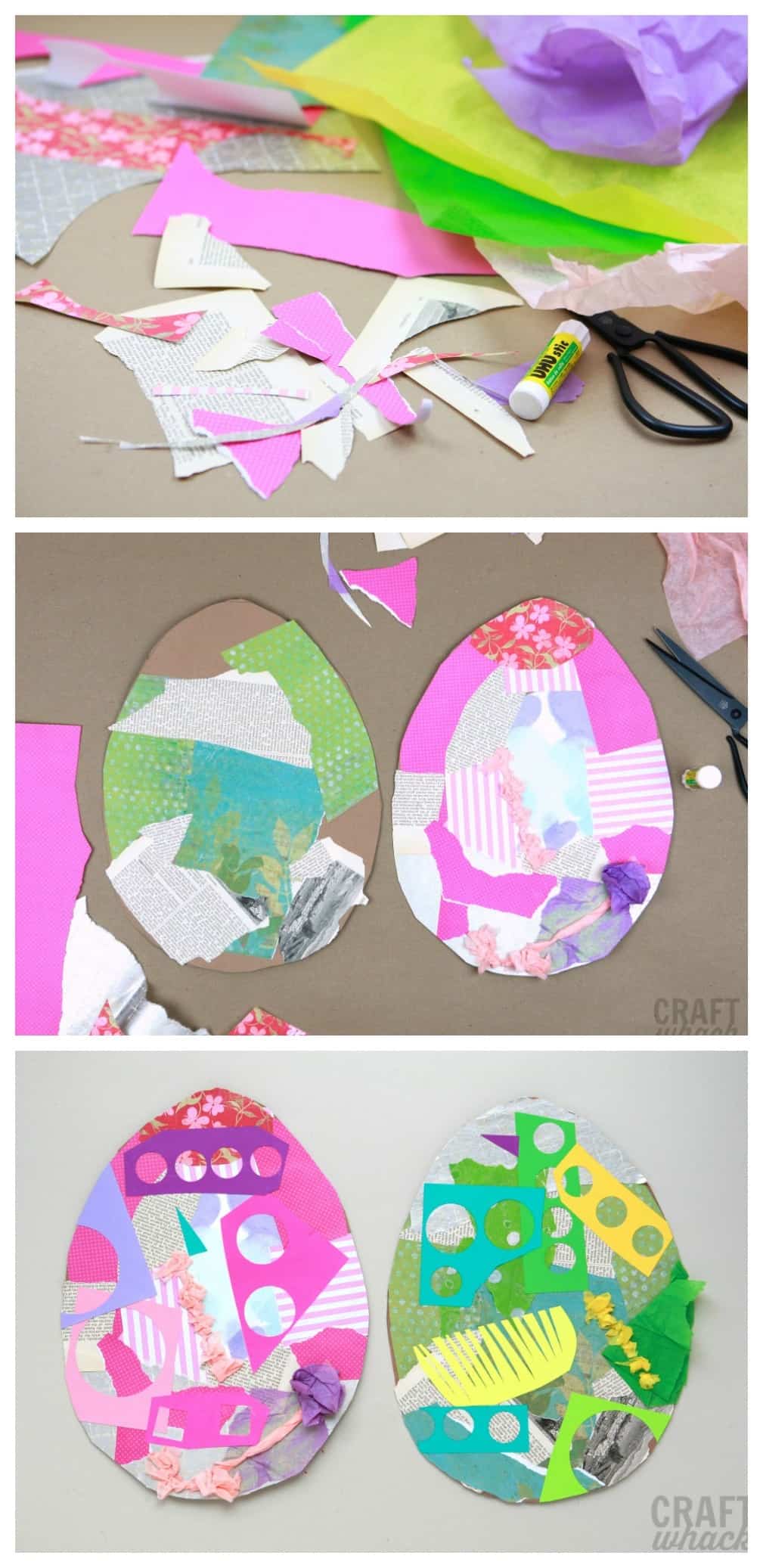 For a more in-depth, yet equally fun Easter craft, try these string Easter eggs, and have a gander at our alternative Easter egg ideas.
Some of our collage supplies included:
 Specialty Cardstock Starter Kit

 Chipboard

 Westcott Titanium Bonded Scissors With Soft Grip Handles