Now before you go yelling at me for spelling watercolor the European way, why don't you go ahead and break out your watercolors and then keep reading. Today I am excited and thrilled to share with you a guest post from my friend and creative wonder, Clare Etheridge.
I am so impressed and inspired by Clare, because she takes creating to a new level. Her
Instagram
and
blog (Cates Eat Dogs)
are packed full of her daily creations, and I always love seeing what she's making.
I decided I would force her to write a post (maybe 2 if you're lucky), for Craftwhack, and she felt sorry for me, so she agreed, because otherwise I told her angry elves would come eat her up if she didn't. It's amazing how well that works.
*****
A lovely quick way to paint a festive forest
Supplies
Jar of water
Watercolour paper
(make sure you have a few sheets because once you paint one lot of trees, you will want to paint more!)
How to
Get some green paint very wet on your brush and paint a very loose triangle shape, repeat to start as many trees as you want. Grab another shade of green paint and while everything is still wet, add the second shade quickly and loosely on top of the first layer.
Work fairly quickly to ensure the trees are wet while you paint.  This will give you a lovely bleed effect as you add layers.
Add some stars to the top of each tree and while you have the yellow or gold paint on your brush, tap some splatters across your trees.
Choose a contrast bright colour and get a brush full and gently tap some more splatters over the wet trees.  For my splatters I used orange and aqua blue.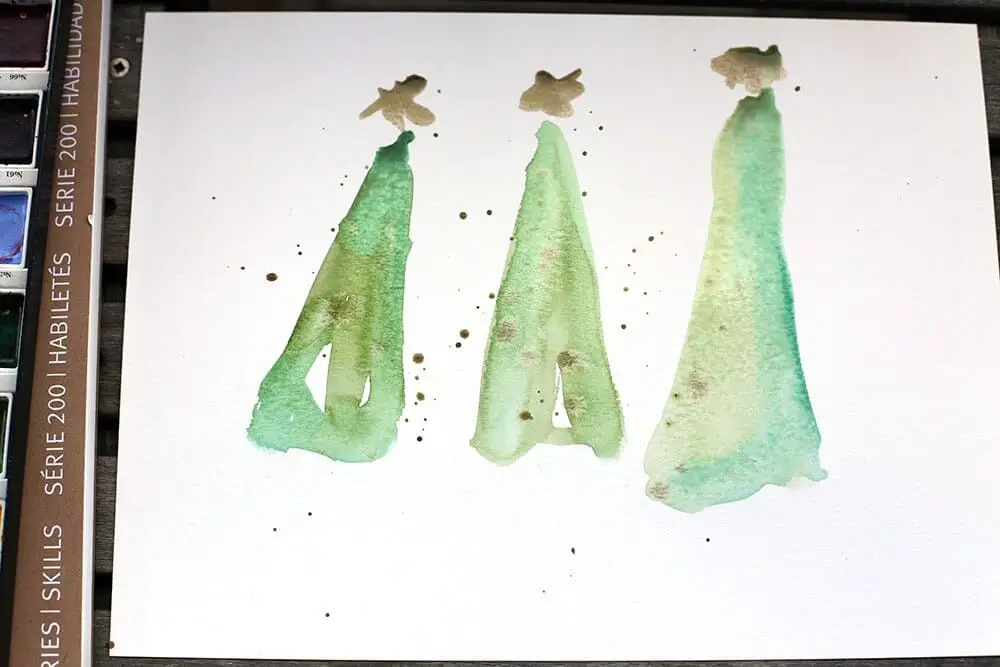 The splatters give a joyous and lively effect when they bleed into the trees and stay vibrant on the dry paper.
Dry flat and admire you amazing art!
You could add some text to the trees and use them for cards or frame your art for a festive gift.
THANK YOU, CLARE!!!
Clare is originally from the north of England and has lived in the mid-west of America since 2003, even though she has lived in the States for nearly 15 years, she still talks funny.  

Some things are just like home and some are not, she will often get lost in translation especially on the phone to the dentist office.

Her workplace is the local library where she is a part time librarian which is good because she loves books.

She stays out of trouble by going to lots of pilates classes backed up by lots of cardio!  She can also be found creating art on a daily basis, this fills up sketchbooks and keeps her sane.

Favorite ways to make art are gelli printing, painting with a sumi brush and ink and her all time winner is art journaling.
Here are some posts on Clare's blog that you really need to check out: