Tie-dye has been around since forever, but it's recently made a comeback, and it looks like it's here to stay.
You probably already know how tie-dyeing works. Get a white piece of fabric, scrunch, swirl, or fold it in a certain way, then add a few strategic rubber bands.
hen, apply your dyes and let the cloth rest in a plastic bag for a while. Finally, wash it, and voila, one brightly-colored pattern is born.
So, by now, you're probably wondering about the different patterns you can achieve with tie-dye. Well, wonder no more.
We've put together a list of 30 cool tie-dye patterns that you can do on your own. So, sit back, relax, and let's dive in.
Mermaid Scales Pattern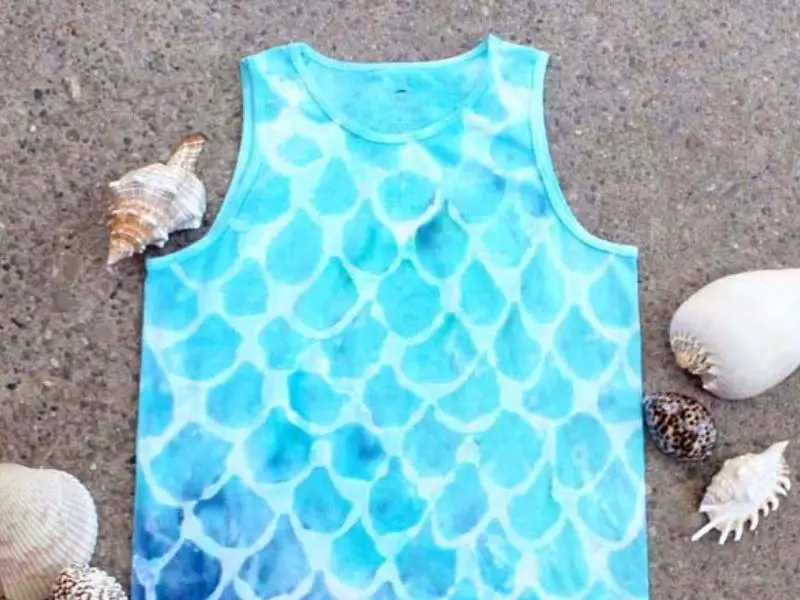 This mermaid technique is bound to become one of your favorite tie-dye patterns. Not only is it extremely easy to make, but it also looks insanely adorable.
Honestly, any fan of the little mermaid would love making or receiving a t-shirt or skirt with this pattern. So, get your materials ready and start this fantastic tie-dye project right now.
Learn how to make a mermaid scales tie-dye shirt on Doodle Craft Blog.
Spiral Tie Dye Pattern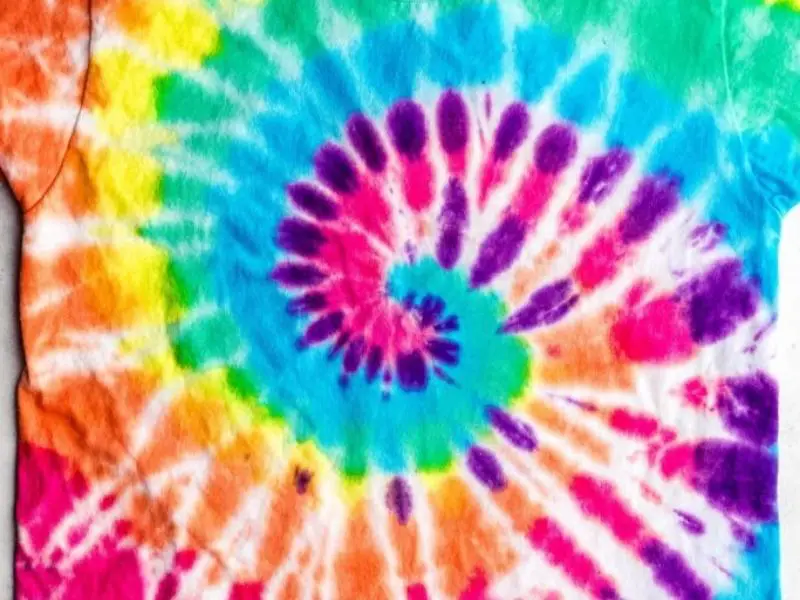 Yes, I know, it's not the most original pattern, but it certainly has its charms.
Basically, all you have to do is pinch, twist, and add rubber bands to your fabric item, and you'll wind up with an incredible spiral design. The natural fibers of your cotton material will be forever dyed, and you'll be the owner of a breathtaking shirt.
Learn to make your own spiral/swirl pattern by going on Sarah Maker.
Water Balloon Tie Dye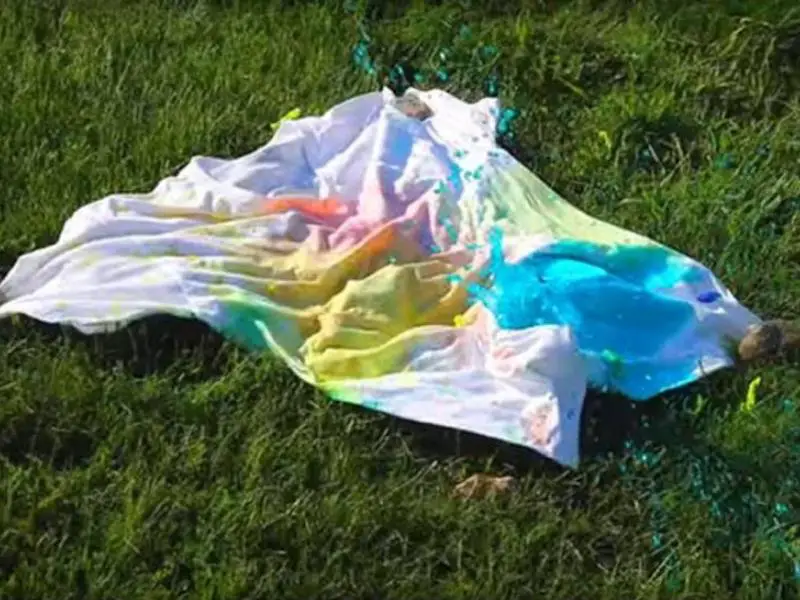 Looking to make a day of your tie-dye project? Why not try this awesome water balloon tie-dye idea?
Both kids and adults will love the activity, and you'll end up with unique pieces that'll truly stand out. Best of all, you won't need anything other than the most basic tie-dye supplies.
Try making a DIY tie-dye shirt with water balloons on Kimspired DIY.
Bleach Tie Dye
Who said tie-dying always had to be colorful? If you're not a fan of colors, but you'd still like some awesome tie-dye shirts, then bleach tie-dyeing is the answer to your prayers.
Simply pick any of the popular tie-dye patterns and fold your shirt accordingly. Then, bring out your bleach and ta-da. You have yourself a dark yet still cool tie-dye shirt.
Learn how to tie-dye a shirt with bleach on Chaotically Yours.
Captain America Tie Dye Pattern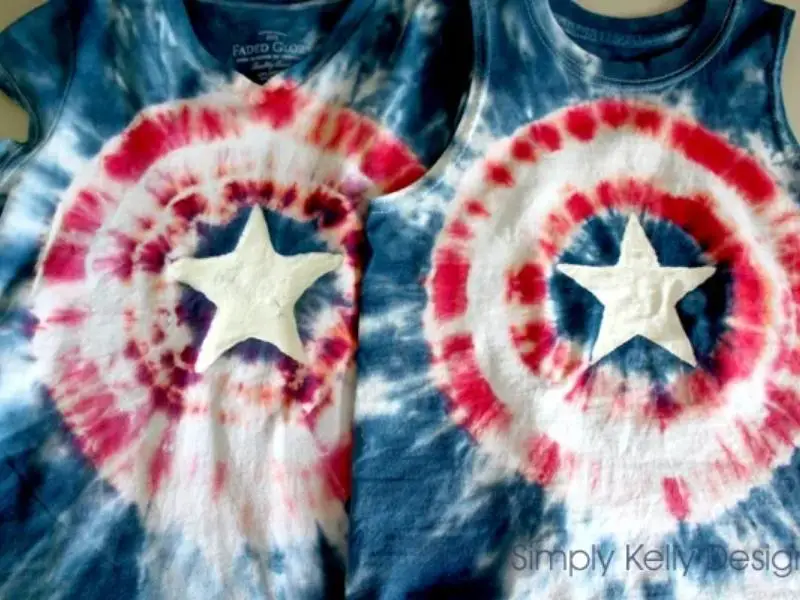 Who doesn't want to feel like a superhero every now and then? That's why I really love this Captain America tie-dye pattern.
It's so bright and colorful, yet it's kind of badass at the same time. And don't let the complicated pattern fool you. This is actually quite an easy craft project, and you don't need a whole lot to do it.
Discover how to make a Captain America tie-dye shirt on Simply Kelly Designs.
Bat Tie Dye Shirt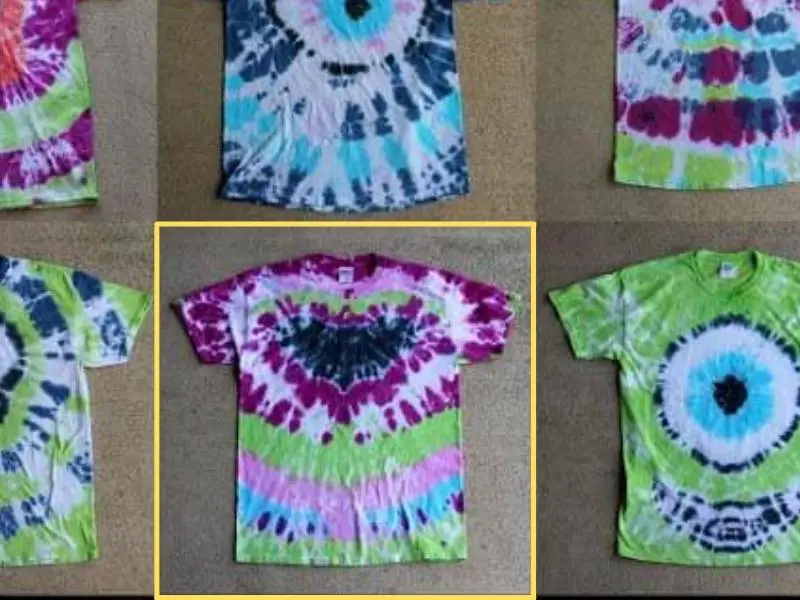 Want to express your love for Batman or just get in the mood for Halloween? Then, you'll find nothing better than this bat tie-dye folding technique.
It looks plenty spooky and mysterious, yet thankfully, it's not all that hard to do. Moreover, this technique can be applied to a variety of different cool designs, and you'll always wind up with a pretty fun result.
Get inspired by the bat tie-dye pattern on Doodle Craft Blog.
Sharpie Tie Dye Technique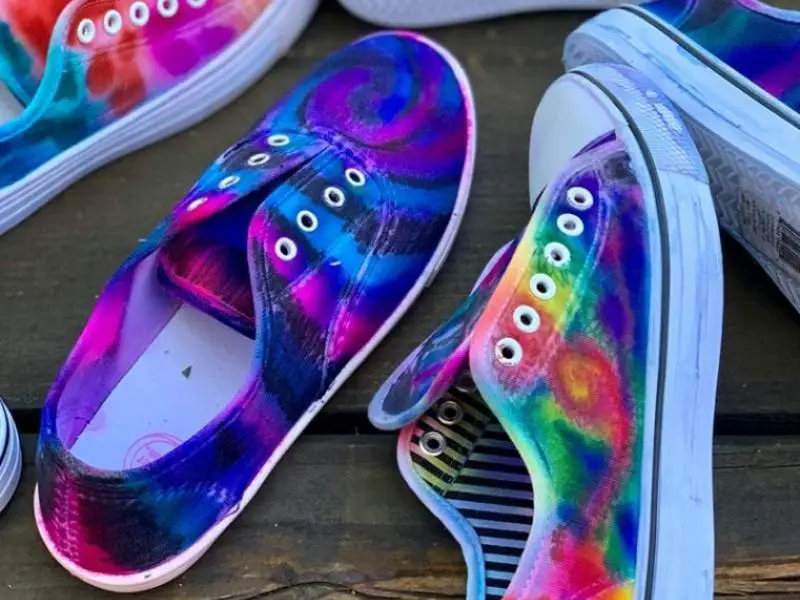 Thankfully, you don't have to buy a tie-dye kit to have a tie-dye-like result. You can achieve the same effect by using some different color sharpies.
Unfortunately, sharpies are hugely underrated in the tie-dye world. However, these little markers are great for the job. Not only are they much easier to manipulate, but they're also great for painting on small surfaces like socks and even shoes.
Learn how to make your own DIY sharpie tie-dye shoes on Fun Loving Families.
Galaxy Tie Dye Technique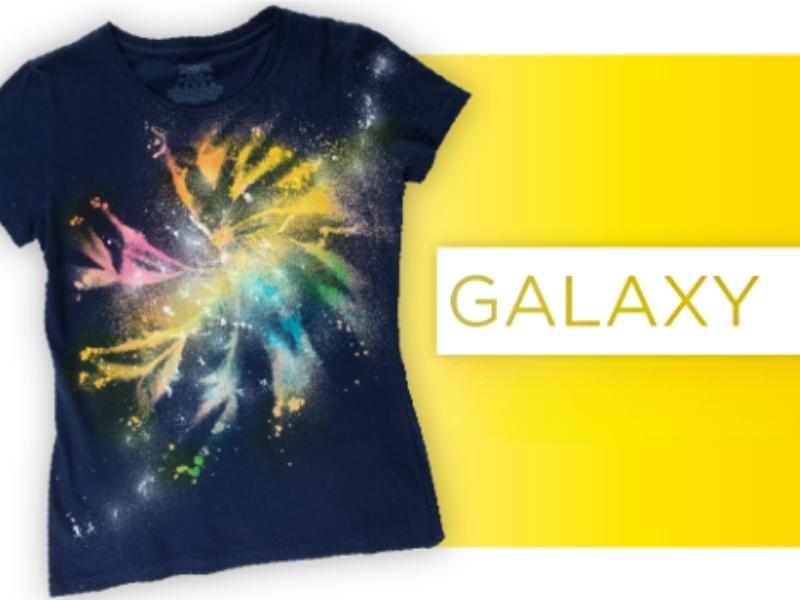 Luckily, you can wear a piece of space on your body by following this galaxy tie-dye technique. Simply get a dark-colored shirt, some bleach, and a few galaxy-colored dyes, and get to work.
I'd just like to stress the importance of wearing gloves with this technique as bleach can be highly irritating to the skin. So, it's best you leave kids out of this project until it's done.
Make your own galaxy tie-dye shirt by following the tutorial on Tie Dye Your Summer.
Watermelon Tie Dye Pattern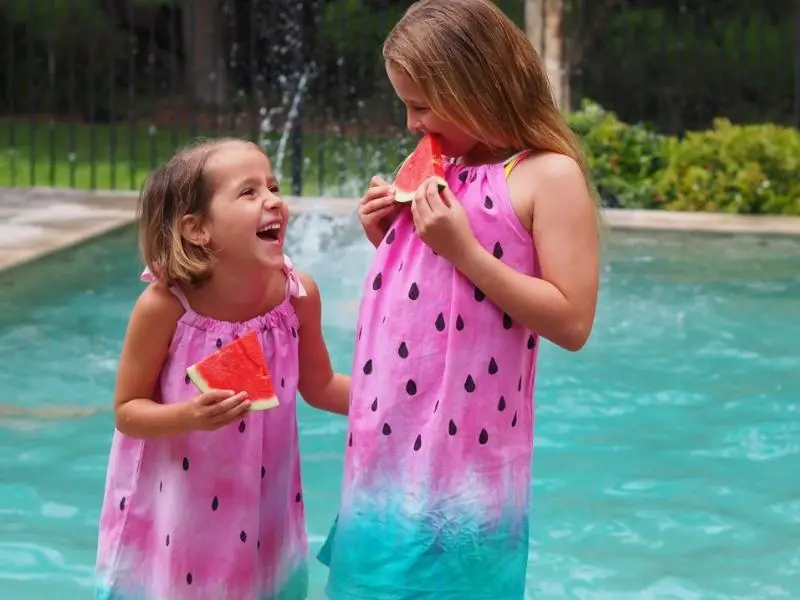 Want a good tie-dye design for the summer? Then this watermelon tie-dye pattern will be just the thing.
To tell the truth, this pattern is so cheerful and cute due to its bright colors. Moreover, it's also quite simple to make, and you won't need anything beyond the average tie-dye kit.
Get more information on making a watermelon tie-dye dress on Paging Fun Mums.
Sunburst Design
If you're looking to make a patriotic design that's perfect for the 4th of July, then this sunburst tie-dye pattern will fit the bill just right.
Who could've thought that just by using some tie-dye color and several rubber bands, you could have yourself a shirt with fireworks on it? Best of all, you can always change the colors of this design, and you'll still end up with an incredible result.
Learn to make this DIY sunburst design on Pineapple Paper co.
Rainbow Tie Dye Pattern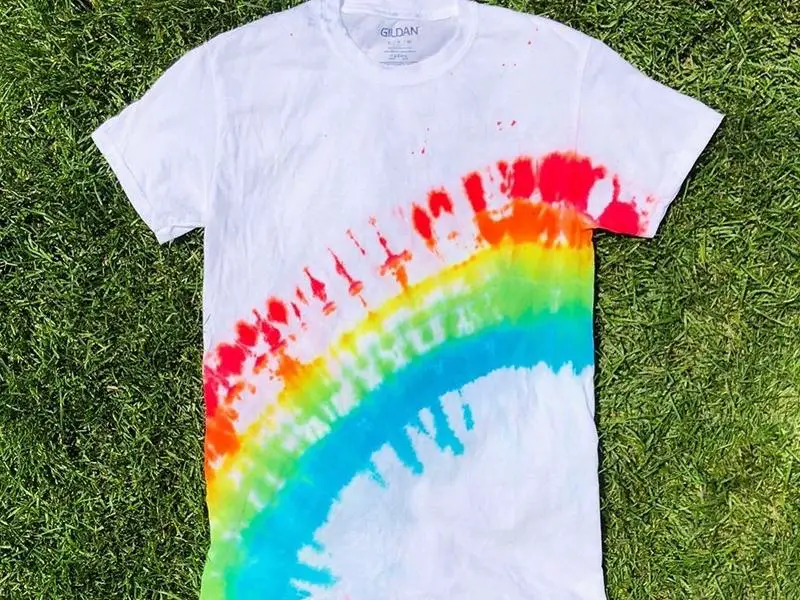 Ah, yes. The classic rainbow design. However, don't underestimate the power of a classic. It did become a mass favorite for a reason, right?
Honestly, I love all the different colors of this design. While it may not rank high in the list of unique tie-dye patterns, it makes up for it by its joyful and friendly vibes.
Discover how to tie-dye a rainbow arch pattern on The Neon Tea Party.
Heart Tie Dye Pattern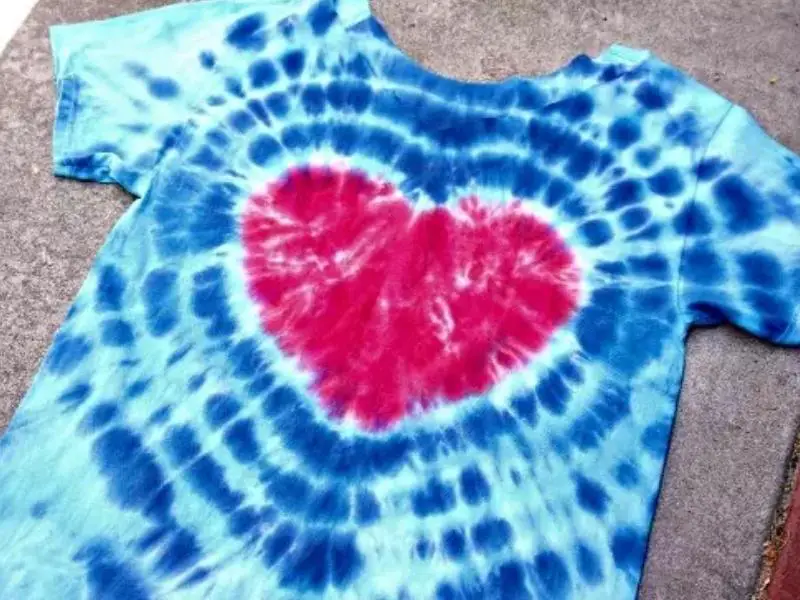 This heart shape design is another oldie but goodie. With the right colors, you can transform this traditional design into a work of art that'll be the envy of your friends and family.
Frankly, this heart design is perfect for a regular day or even a romantic holiday. And luckily, you can make it as subtle or as loud as you want just by altering the colors a bit.
So, go on Crafty Chica to learn how to make a tie-dye heart.
DNA Tie Dye Technique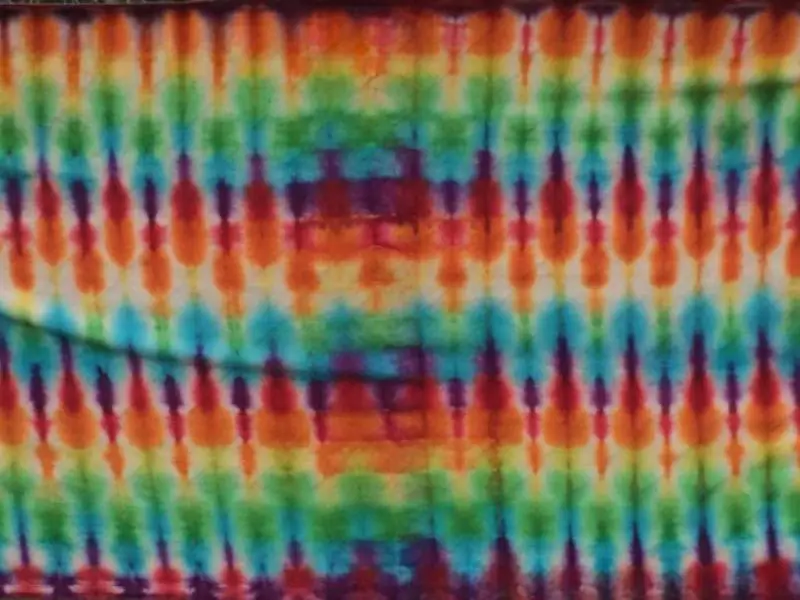 Among the various cool tie-dye projects out there, I think this DNA technique is truly worthy of its coolness.
It's genuinely one of the most intricate and unique patterns I've ever seen, and it makes quite the statement. Just one look at this design and everyone around you will be wondering how you did it.
Get the complete instructions on making this DNA tie-dye shirt on The House of Homemade.
Spider Tie Dye Method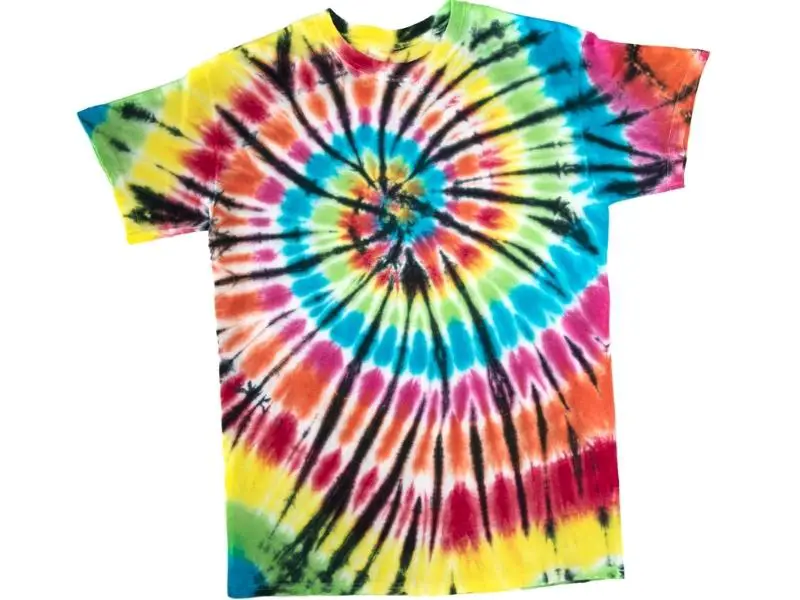 Want to tone down the typical bright hues associated with tie-dyed clothing? You'll find no better option than this spider tie-dye pattern.
Using this technique, you'll add a touch of black to your shirt without making it too appear closed-off. However, what I really like about this pattern is that it looks kind of eerie and spooky, which is always a bonus in my book.
Get the full instructions for this spider pattern on Tie Dye Your Summer.
Triangle Tie Dye Shirt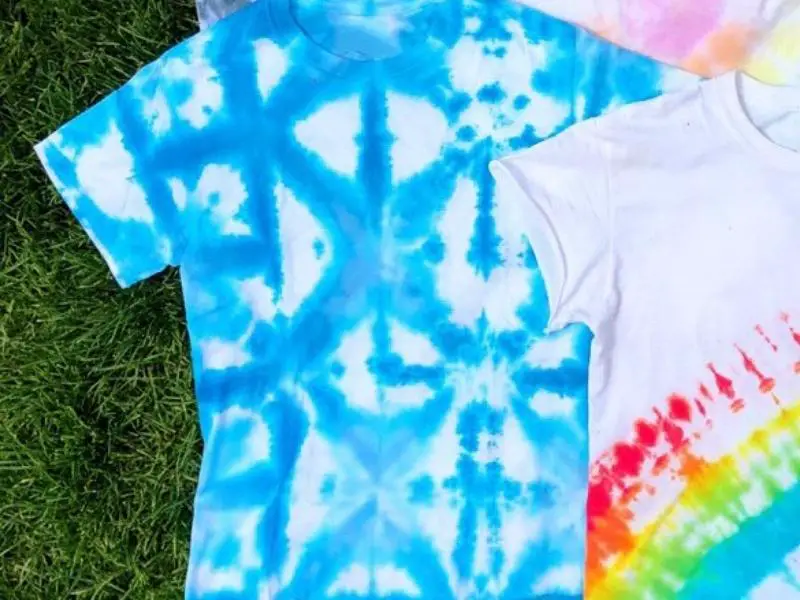 Looking for somewhat of a challenge? Then, you should go with this geometric triangle pattern. With this design, you don't just scrunch up a shirt, tie it with some rubber bands, and call it a day.
No, you have to methodically and systematically fold your shirt to get the look just right. Don't worry, though. The process isn't all that difficult, and by the end of it, you'll have yourself a really cool shirt.
Find out how to tie-dye triangles on your shirt on The Neon Tea Party.
Alien Glow Tie Dye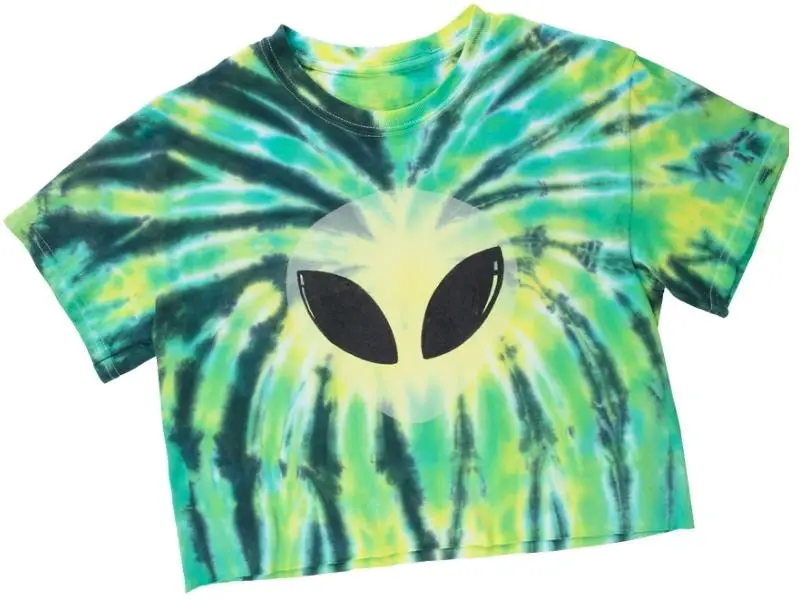 If the difficult tie dye folding techniques are giving you a headache, but you still want a cool tie-dye shirt, then this alien glow technique should be your go-to.
Fortunately, you don't need to spend hours properly scrunching and folding your shirt with this design. However, you'll still end up with some amazing t-shirts that'll be the envy of any sci-fi fan.
Get inspired by this alien tie-dye design of Tie Dye Your Summer.
V Tie Dye Pattern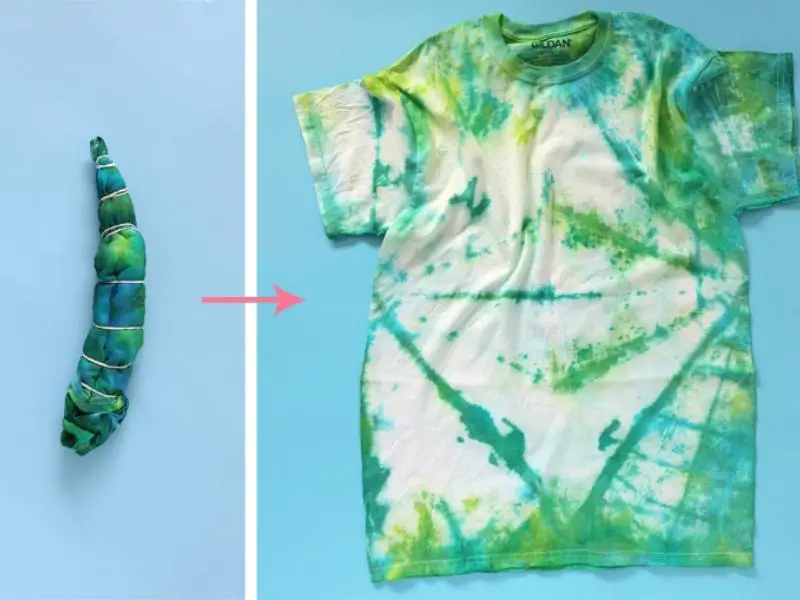 If you're sick of the overused spiral tie-dye design, then why not spice up your t-shirt using this V-shaped pattern? It makes for a really cool tie-dye pattern, yet it's fairly simple in execution.
Just get your rubber bands and start tying up your shirt. And always make sure to wear gloves during the tie-dye process to avoid staining your skin.
Make a V design and more by following the tie-dye tutorials on The Craft Patch Blog.
Five-Pointed Star Tie Dye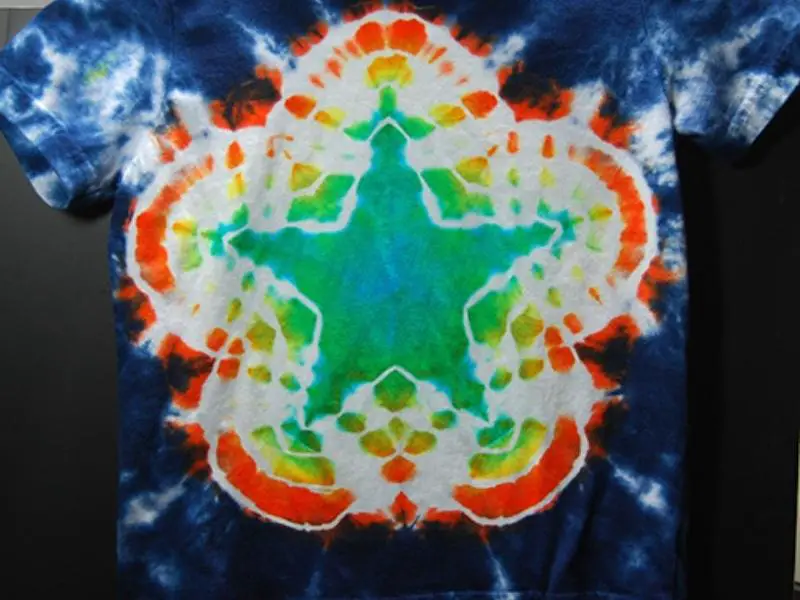 There's no doubt that stars are absolutely stunning to look at; however, are they cool enough to include on a t-shirt? This design makes the answer an absolute YES.
While this star design may not be the easiest thing to execute, it's well worth the trouble. Truly, by the end of the project, you'll be showing off your new tie-dye shirts to everyone you know.
Get the full instructions on how to tie-dye a 5-pointed star on Groovy Toad Tie Dye.
Stripes Tie Dye Shirts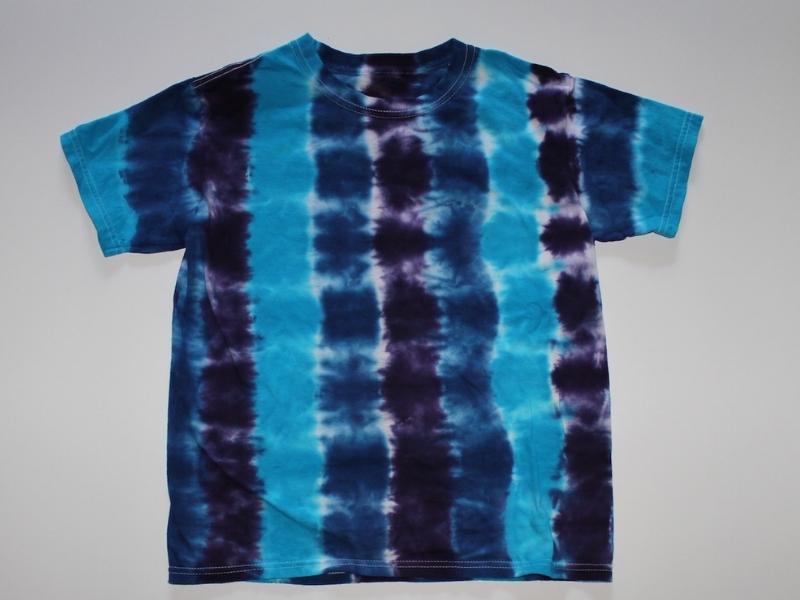 Among the different tie-dye techniques, I'd say this is the easiest and quickest way of tie-dyeing a shirt.
Just choose the style and dye colors you want, and start folding and tying away. You can fold your shirt lengthwise or transversely according to whether you want vertical or horizontal stripes.
Find out how to make a striped tie-dye shirt on DIY 4 Tie Dye.
Geode Tie Dye Pattern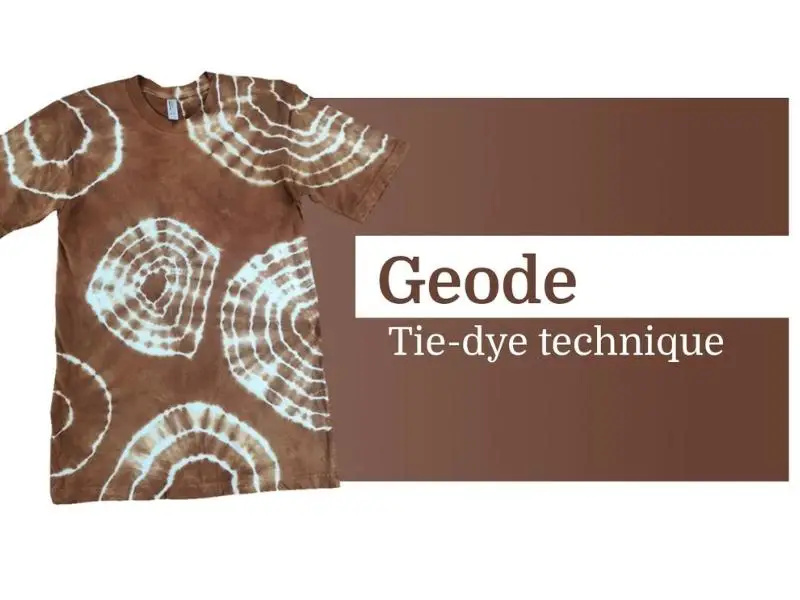 Want to show your love of colors? This geode tie-dye pattern will be absolutely perfect for the task. With this technique, you'll be able to make full use of your tie-dye kits.
Now, even though it can be a bit taxing to do, the end results are always mesmerizing. So, don't be scared of the challenge and try your hand at this brilliant technique.
Get instructions on how to make a geode t-shirt on Chandye.
One-Eyed Monster Design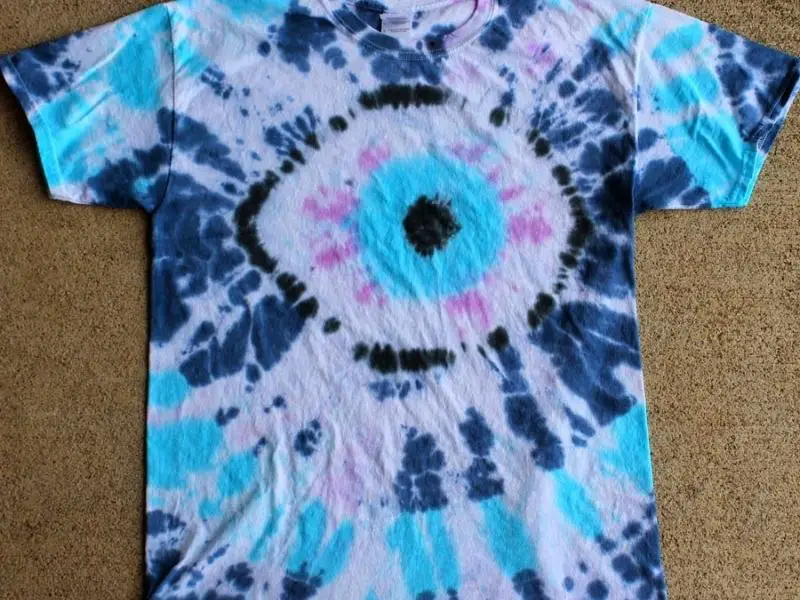 Does your kid like Monsters, Inc.? Then, you should try following this green, one-eyed monster design as an ode to Mike Wazowski.
This pattern is honestly so cool, and it looks so much like the Monsters, Inc. character. Just make sure to wash your shirt with cold water so that all the colors remain as vibrant as possible.
Discover how to execute this one-eyed monster design on Doodle Craft Blog.
Hidden Mickey Pattern
This hidden Mickey pattern is just what the doctor ordered for all of us who want to give a nod to our favorite childhood character.
Thankfully, the design isn't too in-your-face, yet you can still clearly see the inspiration behind it. Best of all, you'll have so much fun trying to get the shape just the way you want it, and any kid will love the end product.
Learn how to make this lovely hidden Mickey pattern on DIY 4 Tie Dye.
Chevron Tie Dye Technique.
This chevron technique plays up the traditional stirpes and makes for a more exciting pattern. Thankfully, though, it requires zero skills to make, so it's great for beginners. Just make sure to apply each rubber band correctly to make the pattern apparent. And try to choose colors next to each other on the color wheel, not complementary colors, to avoid ugly brown defects.
Find out how to make a chevron shirt on Tie Dye Your Summer.
Squares Tie Dye Method
Another clever use of geometric shapes is this wonderful square pattern. Moreover, it's a really fun way for kids and adults to bond over a pleasant project.
The best thing about this technique is Whether you decide to go with a red, purple, turquoise, orange, or blue dye, this pattern will always look fabulous. Just make sure to soak your shirt first in soda ash to get the best results, color-wise.
See how to make a square tie-dye shirt on Design Sponge.
Mandala Tie Dye Method
If you're really looking to impress your friends with your tie-dyeing prowess, this mandala tie-dye pattern is the way to go.
Among the different tie-dye patterns you may have seen till now, this one certainly takes the top spot. It looks incredibly beautiful and complex, but thankfully, it's still suitable for beginners.
Get the full instructions on how to draw a Mandala tie-dye pattern on Waxon Studio.
Ice Dye Technique
A slight variation on the tie-dye technique, this ice dye method is excellent for creating unique and random patterns, with the added bonus of being beginner-friendly.
Instead of the usual liquid dye and squirt bottle, you'll be using powdered fabric dye and ice, which, in my opinion, make for much less mess and much more interesting results.
Learn how to ice-dye a shirt on Sarah Maker.
Eyeball Pattern
Want another spooktastic tie-dye design for Halloween, or just a way to express how much sleep you're missing? This bloodshot eyeball design will hit the spot just right.
Simply use a washable marker to draw the eye, then start gathering your fabric in a way that ensures each marker line is straight. Then, add your rubber bands and dyes, and you're done.
Follow the tutorial for this eyeball design on Doodle Craft Blog.
Scrunch Tie-Dye Method
You should go with this tie-dye method if you want your shirt to have a unique and random pattern.
Thankfully, this is one of the easiest tie-dye designs to make, and yes, it's even easier than the spiral pattern. Just crumple up your shirt, tie it up with rubber bands or string, add dye to random parts, and viola.
Follow the scrunch technique on Sarah Maker to get the best results.
Bullseye Tie Dye Pattern
If you're not a fan of weird tie-dye designs, then this bullseye pattern will be an excellent choice.
You can do it on white or black clothing, and it'll look great on both.
However, what really sets it apart from the other easy tie-dye patterns is that, even if you mess it up, you can still tell what the design was supposed to be.
Make your own bullseye shirt by following the instructions on Sarah Maker.
Accordion Tie Dye Technique
Just as the name suggests, this method requires you to accordion fold your fabric in order to get the desired effect. Thankfully, though, you don't have to do much else.
You can choose just one color if you like simplicity, or you can go with multiple hues if you want to make a statement. Either way, the results will be stunning, and this technique will become a favorite of yours.
Learn the accordion tie-dye technique on Tie Dye Your Summer.
So, among all the different tie-dye techniques we mentioned, did a couple of ideas strike your fancy? If so, let us know which one, and show us your results. Finally, remember to have patience with tie-dyeing as it can be a bit hard to master from the first time.
Comments
0 comments