As Easter approaches, looking for Easter crafts that involve the cute bunny we all know and love is inevitable, especially when you have kids with a rich imagination and an endless love for bunny crafts.
However, this won't happen if you don't have easy Easter bunny ideas ready in hand. So, if you're having trouble finding these, don't worry because we've got you covered with 18 easy-to-make bunny crafts for kids and adults alike, so no one is left out!
Here are some of the Easter bunny crafts you can find:
1. Origami Bunnies

If you're looking for a special way to celebrate Easter, you'll find the answer with the giant origami bunnies. As far as Origami projects go, a large-scale origami DIY bunny is guaranteed the cuter option. With bright colors of your choice, they can brighten up the room and decorate the house of an Easter party!
Learn more about Origami Bunnies from ohhappyday.com
2. Easter Bunny Cupcake Liners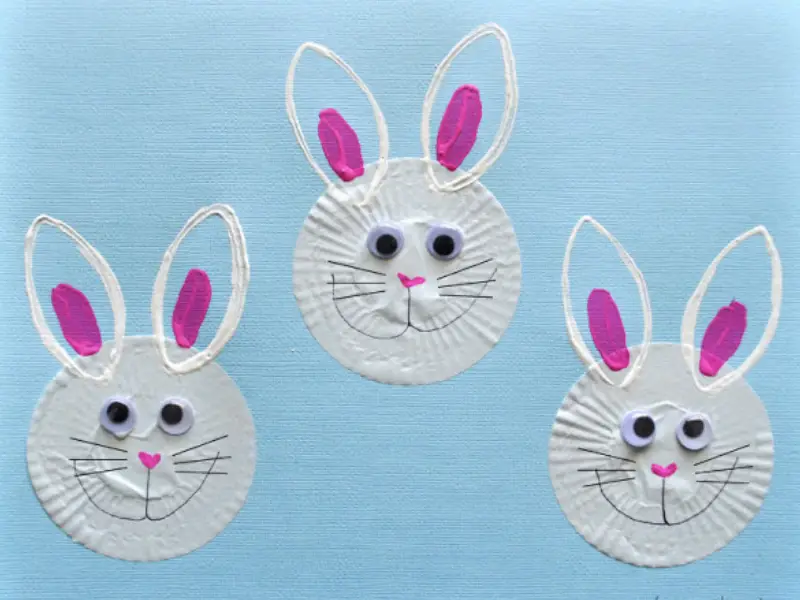 If cupcakes are one of your kids' favorite sweet Easter goodies, here's a good idea for you and your little one! An Easter cute bunny cupcake liner is a hassle-free craft, and it'll look super cute as you place cupcakes on them! There's a handful of steps to implement here, but it's nothing that preschoolers can't handle.
Know more about Easter Bunny Cupcake Liners from iheartcraftythings.com
3. Bunny Headband Craft for Kids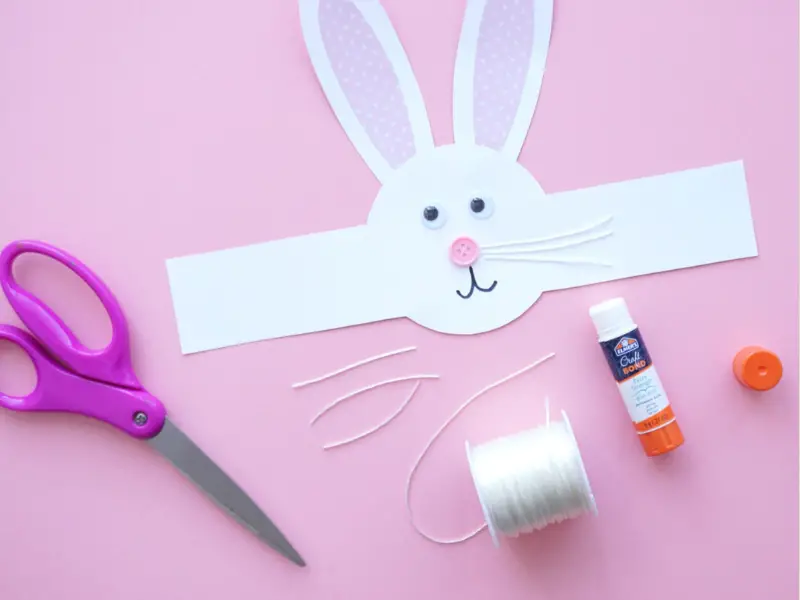 This is one of our top favorite bunny crafts! Does your little girl love playing dress-up and pretending she's a cute bunny? Helping her make this easy peasy craft with the bunny ears will make her dream come true.
Check the instructions for Bunny Headband Craft for Kids from fun365.orientaltrading.com
4. DIY Bunny Cakes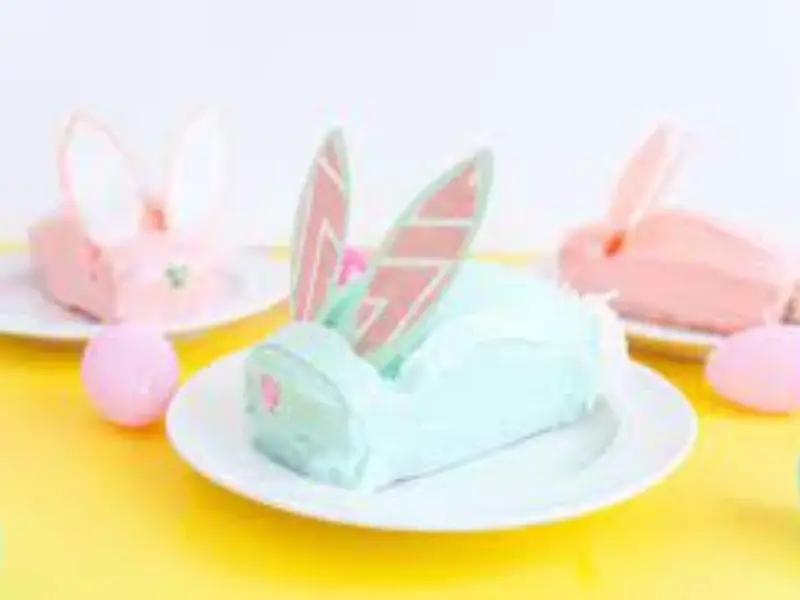 Looking for another simple craft that you can add to your table during the Easter season? What's a better way to do this than a sweet bunny cake? These colorful cakes don't just look cute, they taste amazing, and a simple everyday mom can bake it with the help of her kids.
Want to make your bunny cakes more fun for the kids? Add some bunny ears and cotton bunny tails!
Learn more about DIY Bunny Cakes from tellloveandparty.com
5. DIY Handmade Bunny Purse

Some children like to sew crafts more than implement scissor-and-paper bunny crafts. In this case, making this cute little purse is an excellent activity. On the plus side, handmade bunny purses make for amazing non-toy gifts during Easter.
Check the tutorial for the DIY Handmade Bunny Purse from aliceandlois.com
6. Felt Bunny Garland Easter Craft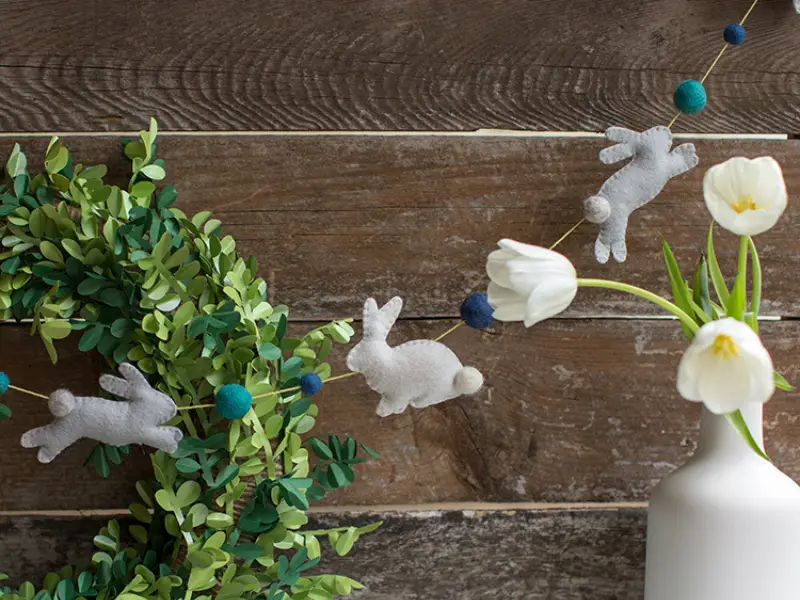 Here's another simple craft DIY project that'll help you establish a festive spirit in your home. This Felt Bunny Garland is one of the easiest projects for beginners and kids of all ages.
With a few felt sheets, felt balls, and scissor work, you can have your house decorated with cute little bunnies. It can get a little bit messy at first, but with parents' supervision, this project should be easily executed.
Read the instructions for the Felt Bunny Garland Easter Craft from liagriffith.com
7. Easter Bunny Banner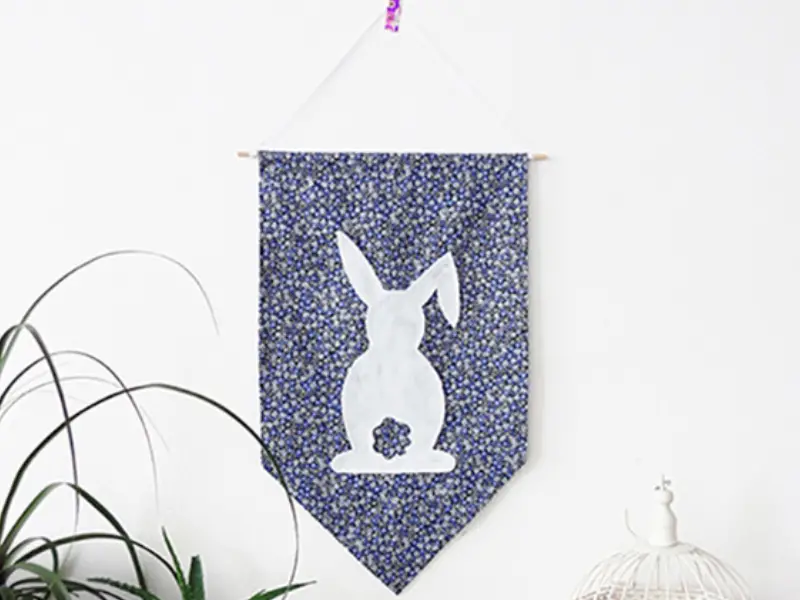 Searching for more easter bunny crafts that you can use to decorate your house or to announce that there's an Easter egg hunt going on in the area? Well, this Easter bunny banner craft will definitely be to your taste!
Creating this banner should be a quick, fun activity and, should you fancy it, all family members can make several banners and have their rooms decorated with them. In fact, this is a great opportunity for kids to go crazy with all the creative ideas they have in mind!
Learn more about Easter Bunny Banner from dreamalittlebigger.com
8. DIY Clay Bunny Bowls

Creativity has no bounds when it comes to Easter bunny crafts, so if you're looking for crafty things to hold jewelry, personal belongings, and more, the bunny-shaped clay bowls are perfect for this!
Clay art is pretty versatile, and it's a great way to let your kids create all sorts of adorable bunnies with it!
Check the DIY Clay Bunny Bowls from aliceandlois.com for more information.
9. Free Printable Bunny Gift Tag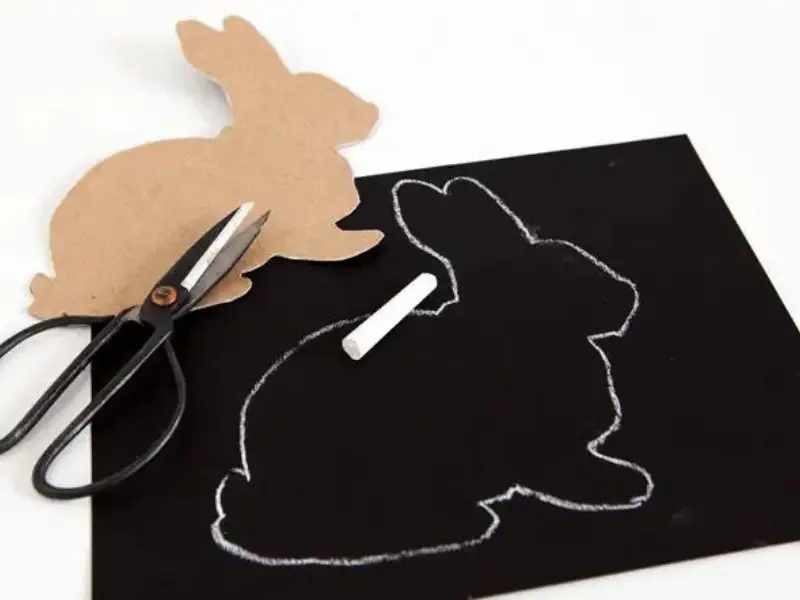 Who says that all adorable Easter bunny crafts require extra steps? With these free printables, you'll be able to hand over gift tags quickly and with no worry. All you're going to need to make these beautiful gift tags is to get the actual printables, cotton balls, scissors, chalk, black card stock, and some fun to share with your family!
Read the full steps of creating a Free Printable Bunny Gift Tag from inmyownstyle.com
10. Easter Bunny Flower Potted plant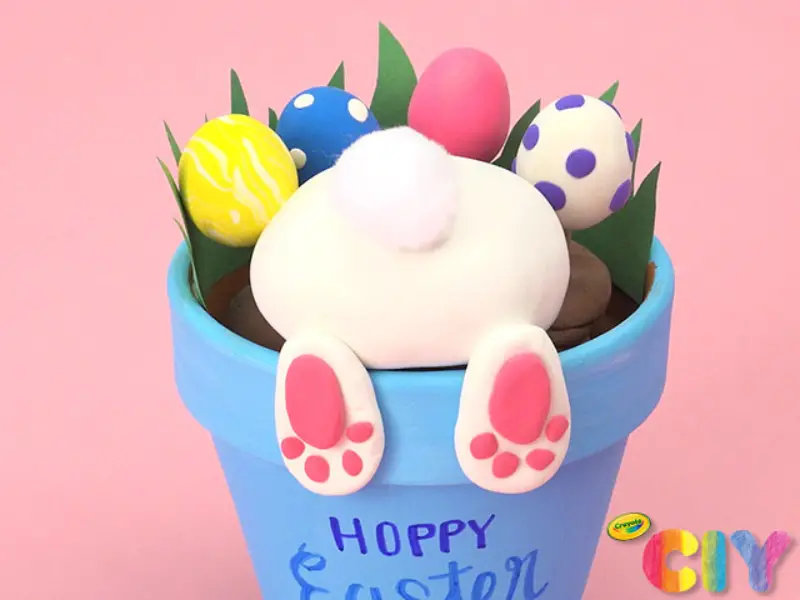 Potted plants can be decorated with Easter's cute bunny, or you can make Easter bunny-themed flower pot on your own. It depends on which decorations you prefer. However, the Easter bunny flower potted plant is the best way for kids to practice art.
So grab a pot, paint, and construction paper right away because kids of all ages love this fun project!
Check out the steps for the Easter Bunny Flower Potted Plant from crayola.com
11. Paper Plate Easter Bunny Mask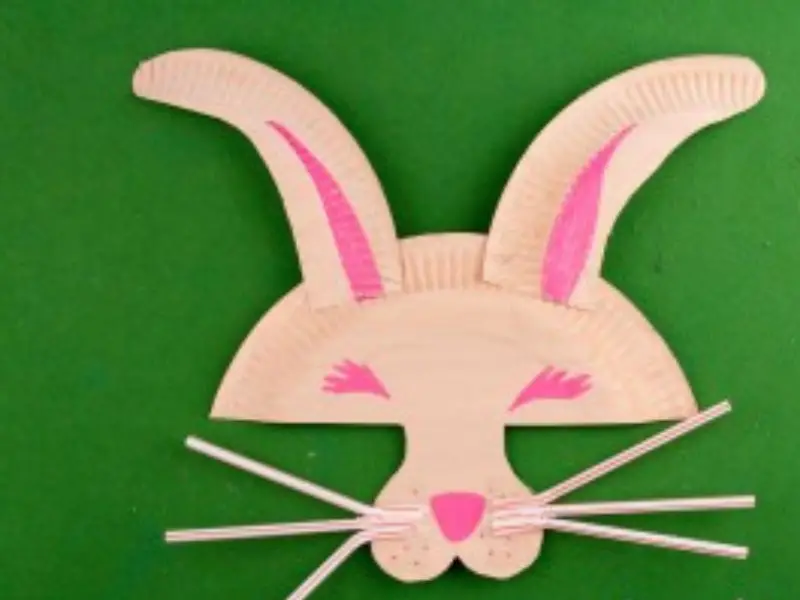 This craft is perhaps a bit on the conventional side, but it still makes for excellent face wear during the Easter holiday for kids. It's also the perfect mask to wear during Easter egg hunts or Easter-related activities!
The supplies for this project are quite easy to acquire: paper plates, felt pens, scissors, pencils, bendy drinking straws, and small cups.
Learn more about Paper Plate Easter Bunny Mask from kidscraftroom.com
12. Easter Treat Bags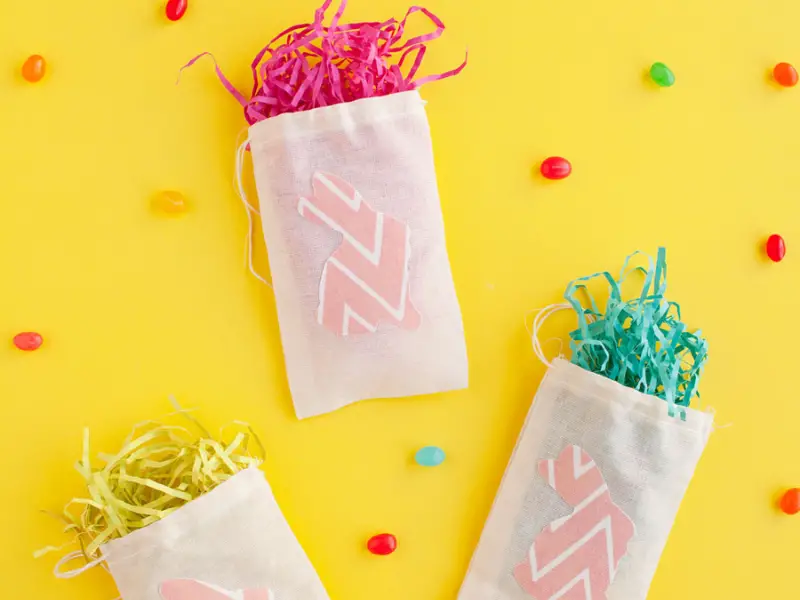 Do you have treats for your party guests and don't know where to pack them? Easy! Craft these cute little treat bags for kids and adults alike and live up to the festive spring spirit!
You don't need to get special fabrics for these bags; all you need is some leftover fabric and use that to make adorable little bags. Decorate them with bunnies or Easter eggs; the choice is definitely yours.
Know how to create these Easter Treat Bags from tellloveandparty.com
13. Easter Basket Craft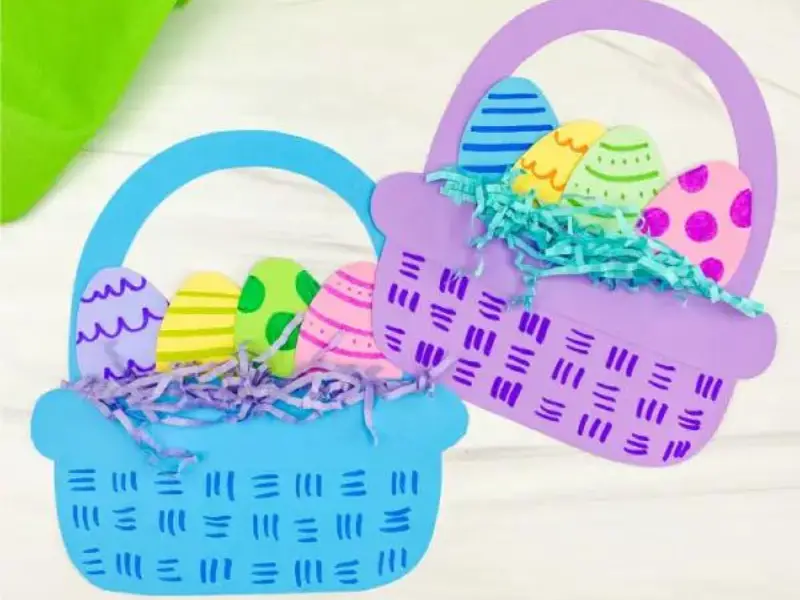 Easter baskets are an important part of any Easter egg hunt. If you got bored of seeing the same Easter baskets every Easter holiday, it's time to spice things up with these DIY baskets. With this DIY guide from 123Homeschool, you can make a cute little bunny, yellow chick, and flower baskets.
Plus, these baskets can hold anything, so don't shy away from placing any leftover candy or Easter eggs in them.
Know the instructions for the Easter Basket Craft from 123homeschool4me.com
14. Easter Bunny T-Shirt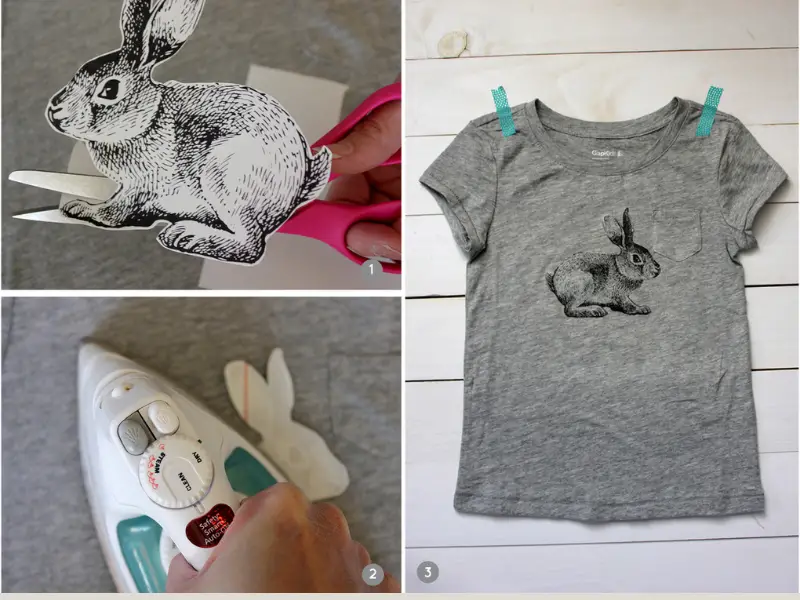 Wearing adorable Easter bunny t-shirts is a simple way of partaking in the spring festivities without a lot of work or embellishments. These iron-on bunny t-shirts are the perfect bunny crafts for kids who prefer simple Easter outfits. Additionally, these t-shirts will hardly take time for any simple everyday mom to make.
Check the instructions for Easter Bunny T-Shirt from aliceandlois.com
15. Easter Clothespins

You'd be surprised with the variety of items you can decorate for Easter! While clothespins don't exactly scream Easter holidays, the final result will definitely bring happiness to kids and adults on Easter. You can use these pins to decorate different items around the house, so make sure to use them in abundance.
Follow the steps to create Easter Clothespins from minimonetsandmommies.com
16. Fingerprint Carrot and Bunny Crafts for Kids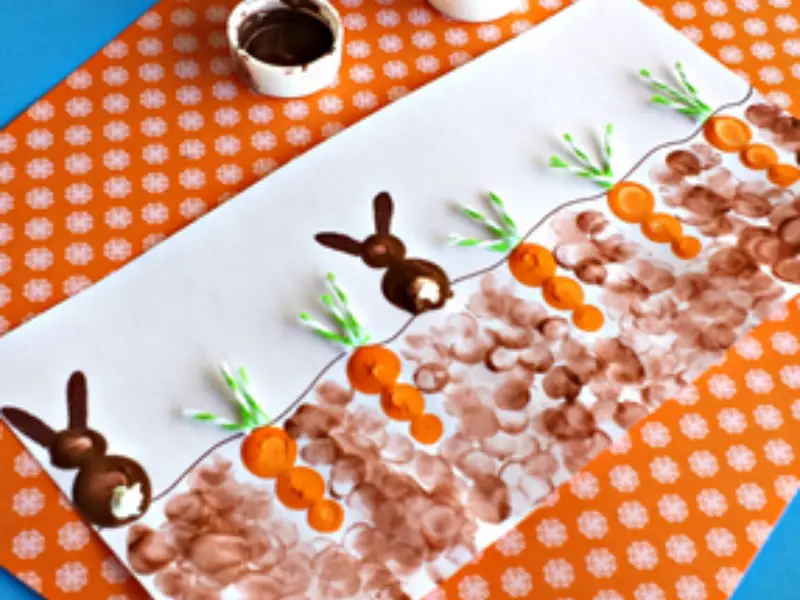 Kids' and toddlers' fingerprints are just so special, and combining them with Easter's cute bunny will definitely make Easter all the more worth it! With little paint supplies, you can have your little ones use their finger to create carrots and bunnies.
Learn more about Fingerprint Carrot and Bunny Crafts for Kids from craftymorning.com
17. DIY Bunny Bath Bombs

Getting ready for spring break? Don't start the day just yet without some colorful bunny bath bombs! What makes a bunny craft special is how it looks like a bunny with long, floppy ears, right? However, these bath bombs are special because you personalize them as you please.
You can choose a scent of your preference as well as a color. If you're making bath bombs for the whole family, this will be a fun time for everyone to pick and choose their favorite scents!
Find out more about DIY Bunny Bath Bombs from apumpkinandaprincess.com
18. Bunny Nose DIY Craft
Your kids don't like wearing bunny headbands all day long; the bunny nose craft might be up to their tastes! With pipe cleaners, popsicle sticks, and pink pom poms, you can make a cute bunny mask for children to play with.
Read the steps to making the Bunny Nose DIY Craft from akailochiclife.com
You now have 18 Easter bunny crafts to implement! Remember to start with simpler projects like Easter bunny cupcake liners and clothespins to get perfect results. Then, try out more projects, like the giant origami bunny craft.
What's important is to enjoy Easter, even if you don't get the chance to implement these ideas!
Comments
0 comments