Do you want to add a personal flair to your wardrobe? Something that would make your everyday outfits closer to being remarkable than mediocre. If so, it's time for some revamping!
Vans have been gracing our wardrobes with fashionable shoes since the 60s, and their styles are often ideal for customizing. If you own a pair and want to give them an attractive makeover, here's the inspiration you need.
We've made a list of 24 painted Vans ideas. Whether you love flowers, geometric lines, captivating patterns, or dreamy colors, you'll find your perfect match. So let's jump in!
1. Studded Sneakers
Give your favorite sneakers a flashy makeover with sparkly cone spikes and an adhesive or a heat gun. You'll have your hands full for a while, but having a one-of-a-kind fashion statement to wear on your feet will make your effort worth it.
Get the tutorial for the studded sneakers on Honestly WTF.
2. Galaxy Shoes
Do you want an out-of-this-world pair of canvas shoes to show off to your friends? If so, it's time to make those modish galaxy shoes. You can have your masterpiece finished in no time with a toothbrush, brushes, sponges, rubbing alcohol, and masking tape.
Check the instructions for galaxy shoes on DIY Craft Ideas and Gardening.
3. Glitter Shoes
Add sparkly vibes to your wardrobe with those stunning glitter shoes. They're pretty easy to make, and the glitter coat you'll apply will shine delicately over the sneakers, giving them an attractive, elegant charm.
Find out more about making glitter shoes on Plaid Online.
4. Hand-Painted Sneakers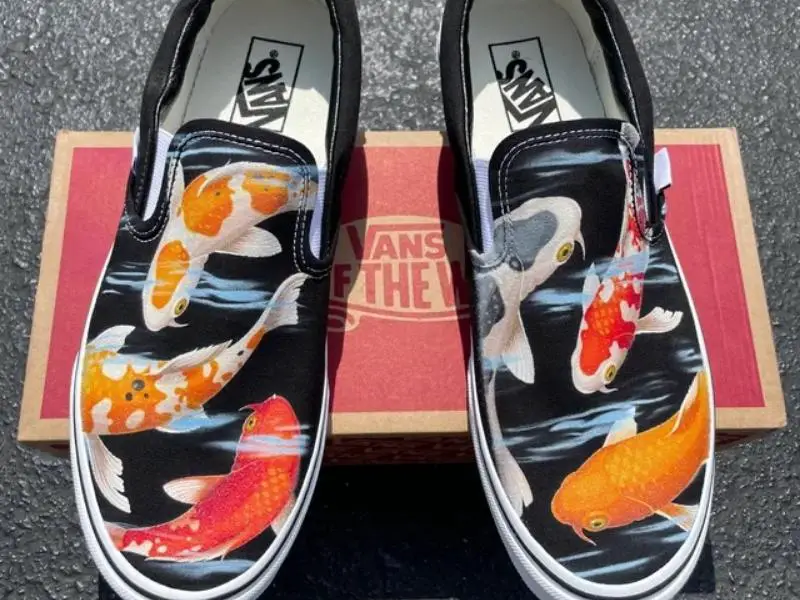 This idea revolves around a general painting technique that you can try on your canvas shoes. However, you can choose the drawings you want to adorn your sneakers with freely. No matter what you do, you'll have stylish hand-painted shoes to show off in your wardrobe.
Read more about hand-painted sneakers on Your Kicks.
5. Polka-Dot Sneakers
Giving your denim Vans shoes a polka-dot makeover might be the most straightforward idea on our list. You'll only need a white marker to draw the dots carefully, and you're good to go. And despite the easiness of their customization, the shoes will look store-bought once you're done with them.
Head over to Golden and Lovely to learn more about polka-dot sneakers.
6. Decoupaged Shoes
Decoupage is a unique art that gives off vintage vibes, and you can use it to revamp your Vans shoes. Although this tutorial uses leather shoes, you can use similar steps for sneakers but use mod podge instead of regular glue. First, apply thin coats of the adhesive; then, glue the painted paper you have to each canvas shoe.
Learn how to make decoupaged shoes on Violet LeBeaux.
7. Spring Sneakers
Spring is all about bright colors, and what's a better way to celebrate it than making custom shoes for yourself? This time, you'll use acrylic paint to draw fun and random patterns on your shoes. Then, you can spend the rest of the season bragging about your painting skills and your new Vans!
Get the tutorial for the spring sneakers on A Beautiful Mess.
8. Pineapple Sneakers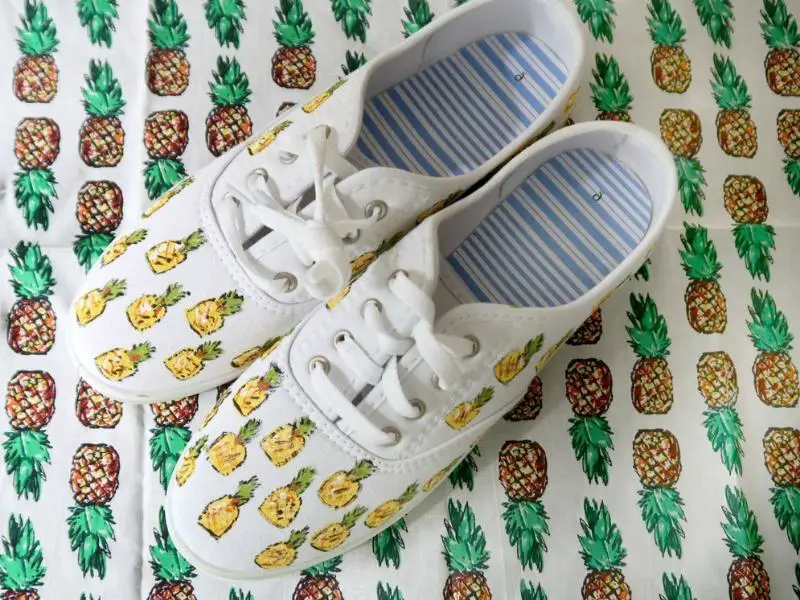 The fast-approaching summer season calls for a brand new pair of shoes, and if you don't want to spend any money, you can renovate your old Vans using fabric paints and brushes. While this project includes painting tiny pineapples on your sneakers, you can choose any fruit you want.
Check the instructions for pineapple sneakers on But First, Coffee.
9. Floral Vans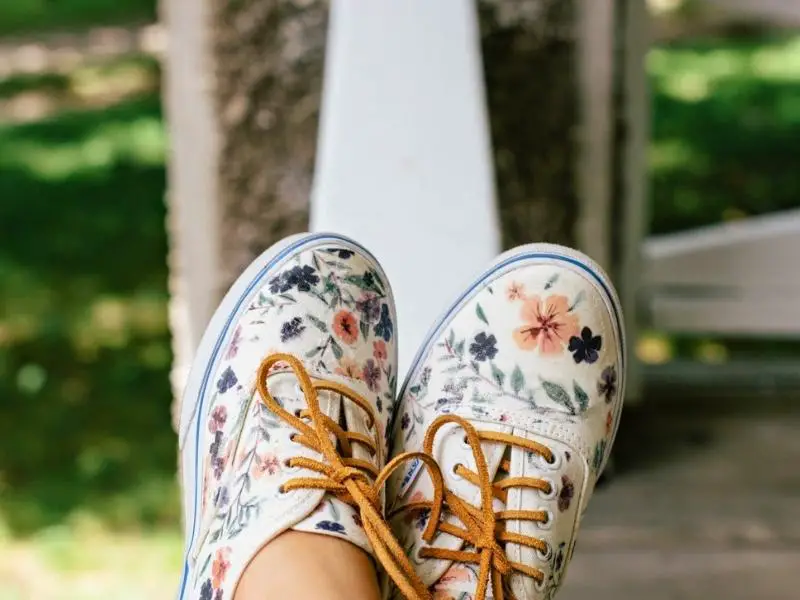 With iron-on printer paper and some creativity on your side, you can restyle your Vans into a floral masterpiece. First, customize the floral design you prefer on any design software. Then, print it on iron-on paper, and voila!
Once you apply the drawing to your Vans, you'll have a new pair of shoes to use till the end of the year.
Learn how to make floral Vans on Rooney Clothing.
10. Mermaid Shoes
Those mermaid shoes will be your new favorite pair to wear on the beach, and for the best part, they aren't that challenging to make and don't require many supplies. You'll need a U-shaped stencil, brushes, and fabric paint. You can use different colors for the scales or follow the stereotype of blue and purple.
Find out more about mermaid shoes on Make and Takes.
11. Glitter-Stenciled Sneakers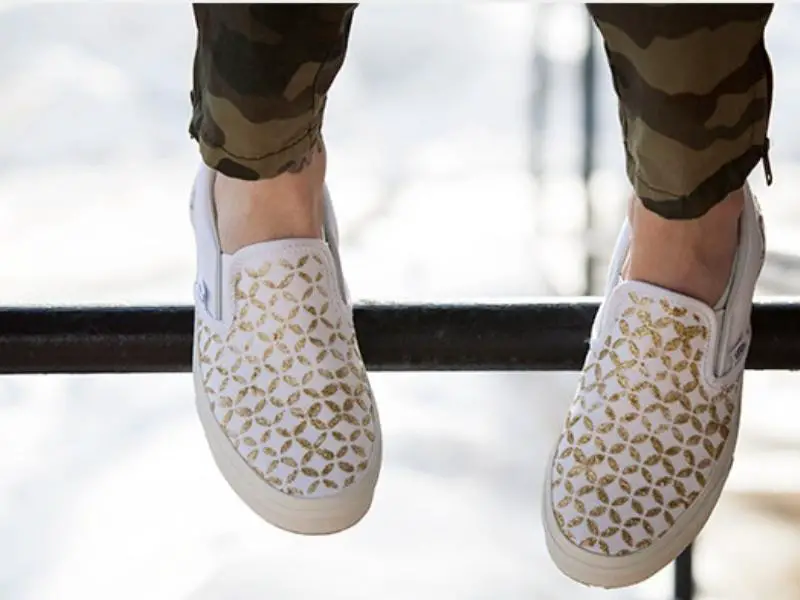 Remodeling old sneakers is an ongoing fashion trend, and you can join it with a pair of glitter-stenciled sneakers. First, mix your glitter with mod podge and put your stencil on the canvas shoe. Then, apply your blend gently over the stencil, and watch as the beautiful patterns adorn your sneakers. You can also speed up the drying process with your blow dryer.
Read more about making glitter-stenciled sneakers on Trinkets in Bloom.
12. Leather Vans
With leather paints and some patience, you can make art pieces out of your leather Vans. First, you'll choose a design you want to draw on your shoes, strip the shoe's original finish, and draw the design using a pencil. Then, you'll use acrylic leather paints to finish your drawing and protect your Vans with an acrylic finisher.
Head over to Instructables to learn more about painting leather Vans.
13. Dip-Dyed Shoes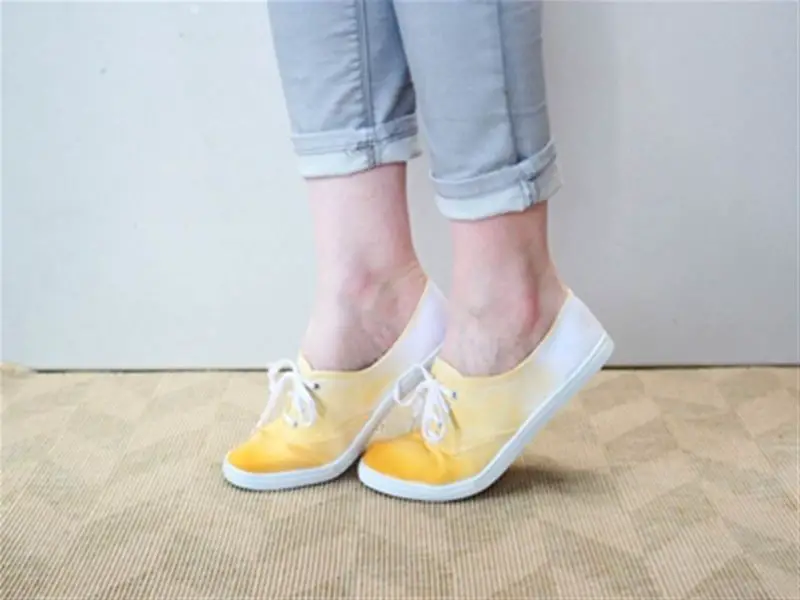 Dip-dye patterns have been gaining quite the splendor in the fashion world over the past years. Nowadays, people are dip-dyeing their hair, T-shirts, and shoes. In this project, you'll give your sneakers a dip-dye makeover with some vibrant colors, vaseline, and brushes.
Get the tutorial for dip-dyed shoes on Frankie.
14. Starry Night
The Starry Night painting is an explosion of Van Gogh's emotions and memories, and you can pay homage to your favorite artist by painting the unique picture on your Vans. We won't deny that it's a challenging project, but the custom shoes will look remarkable on your feet after you finish.
Check the instructions for Starry Night Vans on Yellow Mellow Life.
15. 4th of July Sneakers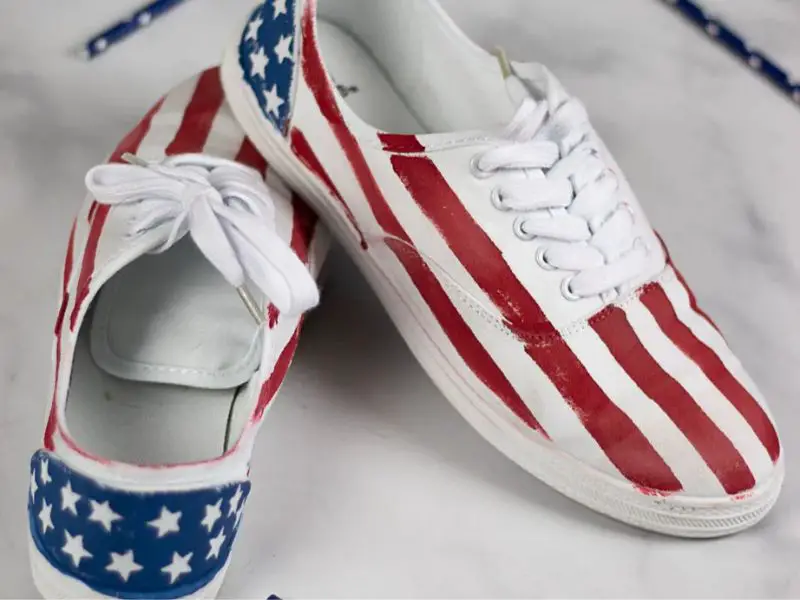 You can celebrate this year's 4th of July with a pair of customized shoes, and they'll go perfectly with the colorful theme of the day. To paint canvas shoes, you'll need chalk paint, masking tape, and little stars for the final decorative touch.
Find out more about making 4th of July sneakers on Leap of Faith Crafting.
16. Stranger Things-Inspired Sneakers
Ever since Stranger Things aired on television, people have been obsessing over its exciting story. So, if you can relate, why not make yourself a pair of Stranger Things-inspired sneakers? Although painting shoes isn't an easy task, it'll be fun to make.
Read more about Stranger Things-inspired sneakers on Wholesale Halloween Costumes.
17. Neon-Lined Canvas Sneakers
Neon colors add an irresistible charm to any outfit, and you can incorporate them in your upcoming sneakers makeover project. You won't need any expensive supplies, and you can paint shoes and finish the project in less than an hour.
Head over to Refinery 29 to learn more about neon-lined canvas sneakers.
18. Glow-In-The-Dark Sneakers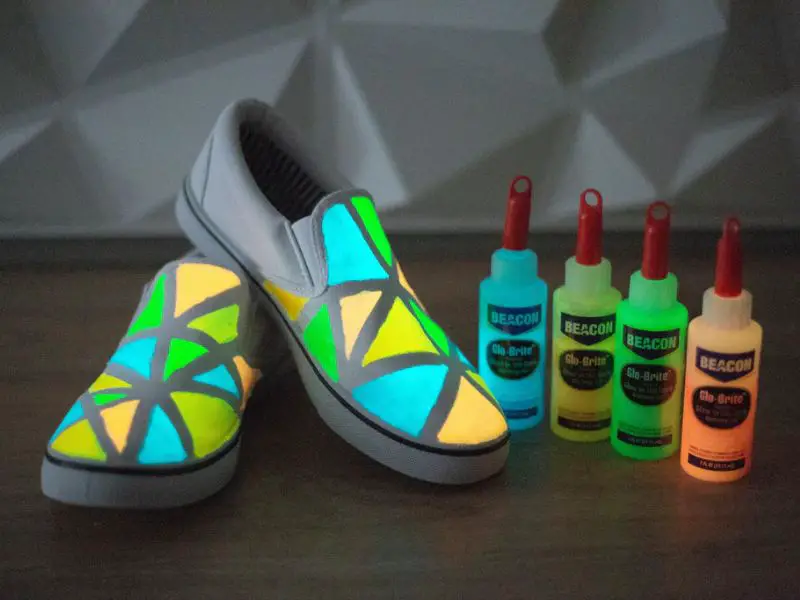 Do you want to stand out in any room you enter, even in the dark? If so, you'll love those unique glow-in-the-dark shoes. You can easily make them by painting thin layers of glowing gel on the surface of each shoe. As for the pattern, you can either follow the tutorial or choose the one you prefer.
Get the tutorial for glow-in-the-dark sneakers on Craft Box Girls.
19. Hydro-Dipped Shoes

Hydro-dipping is an exciting painting technique that results in swirly, wave-like patterns. You can implement it in your shoe makeover project and enjoy a fashionable and unique pair. You can also get creative and try different color combinations.
Check the instructions for hydro-dipped shoes on Polka-Dot Chair.
20. Avengers Shoes
Who doesn't love the Avengers? They assemble every once in a while, give us phenomenal movies, and leave Iron Man-shaped marks on our hearts. If you're still touched by The Avengers: Endgame events, you can make a pair of Marvel-themed shoes.
And the best part? You won't even have to do any painting. Instead, two packs of The Avengers-themed napkins will do the job for you.
Find out more about the Avengers shoes on Comic Con Family.
21. Embroidered White Sneakers
You won't have to paint shoes or use adhesives for this project. Instead, if you know how to embroider, you can give your white canvas sneakers an elegant makeover with minimum effort. First, choose the patterns you desire and draw them on the shoes using pencils. Then, follow your lines using embroidery.
Head over to Brit + Co to learn more about embroidered white sneakers.
22. Cat Sneakers
If your friend loves cats and their birthday is coming up, what's a better gift than customized cat sneakers? You'll need heat transfer vinyl and a few other crafting materials for this project. Luckily, it won't take you much time to finish, and it'll look adorable in the end.
Get the tutorial for cat sneakers on Persia Lou.
23. Halloween Candy Corn Sneakers
Halloween is all about wearing scary outfits and eating delicious treats, and you can celebrate it this year with a pair of candy corn-themed sneakers. The project doesn't include any fine details or complicated patterns, so you can prepare and finish it in no time.
Check the instructions for Halloween candy corn sneakers on RW Beyond the Box.
24. Tie-Dye Sharpie Shoes
This project's name might be a bit misleading; you won't tie anything in the process. However, you'll make it seem as if you tie-dyed your shoes.
First, use Sharpie markers to paint cool shapes on your shoe. Then, use an alcohol spray bottle to make the colors merge nicely. But don't forget to put a cloth or tape over the soles to avoid staining them. You can also find DIY tie-dye ideas on craftwhack.com.
Find out more about tie-dye Sharpie shoes on Fun-Loving Families.
Using some creativity and a few crafting supplies, you can give your shoes a fabulous makeover with minimum effort, time, and costs. So instead of spending a fortune on a new pair of sneakers, why not make your own?
Comments
0 comments