For us, trains are merely a means of transportation. But for kids, they're magical vehicles that embark on staggering adventures and sing on the way there. You can fuel your kids' love for trains with a few fun decorations and crafts.
We've made a list of many train decoration ideas that you can try out at home. So, without further ado, let's jump in!
1. Train Bed
Although a train bed won't transport you anywhere, it'll send your kids over the moon. It's the perfect decoration piece for a train-themed room. Building it will take you some time and effort, but the result will be worth it.
Get the tutorial for building a train bed on Instructables.
2. Railroad Crossing Sign
Whether you're throwing a train birthday party or decorating your kids' room, you need a railroad crossing sign on your wall. It'll add to the fun vibes in the room and won't take you more than an hour to make.
Learn more about the railroad crossing sign on Ink Blots and Polka Dots.
3. Wall Train Tracks
If your kids want a train theme in their room, it's time to decorate the wall with some train tracks.
You can easily craft them using wooden pieces, black spray, and heavy-duty tape. They'll also make for an ideal decoration for a train birthday party. You can get more train birthday party ideas on craftwhack.com.
Check the instructions for wall train tracks on Cherish 365.
4. Cardboard Train
With some creativity and hard work, you can transform a plain cardboard box into a fantastic train. You can either keep the cardboard train in the room as a cute decoration piece or take it outside so that your kids can play in it.
Read more about how to make a cardboard train on My Kidlist.
5. Train Pinata
This train pinata will be the star of your upcoming train birthday party, and you can make it at home using cardboard boxes and newspapers. While it won't survive as a decoration for long, it'll be fun for your guests and your kids' friends.
Find out more about the train pinata on E-How.
6. Train Cake
All birthday parties call for cool-looking cakes, especially themed ones. For your kids' train party, you can make a cake that looks like train cars holding food for guests. You can also surround it with themed cupcakes for extra glam.
Get the tutorial for train cake on I Love Cooking.
7. Paper Train
If you don't want to go out of your way to design a train-themed room but still want to make your kids happy, you can create this simple and colorful paper train. It'll look cute hung up on your wall, and the little ones will love it.
Learn more on how to make a paper train on Playdates to Parties.
8. Train Party Favors
No train birthday party is complete without favors. So when your guests arrive, you can surprise them with cute train-shaped boxes filled with candies.
The preparations won't take you much time as you can buy ready-made boxes, and the favors will go perfectly with the rest of your train party decorations.
Read more about train party favors on Chikabug.
9. Train Birthday Party Food Cars
Thomas the Train is an excellent inspiration for train birthday party ideas. In this project, you'll make cartoon-themed train cars using square bowls and colorful cardboard. Then, you can fill the bowls with food for the guests and little boys in your house.
Get the tutorial for train birthday party food cars on Kristine's Kitchen.
10. Toilet Paper Rolls Trains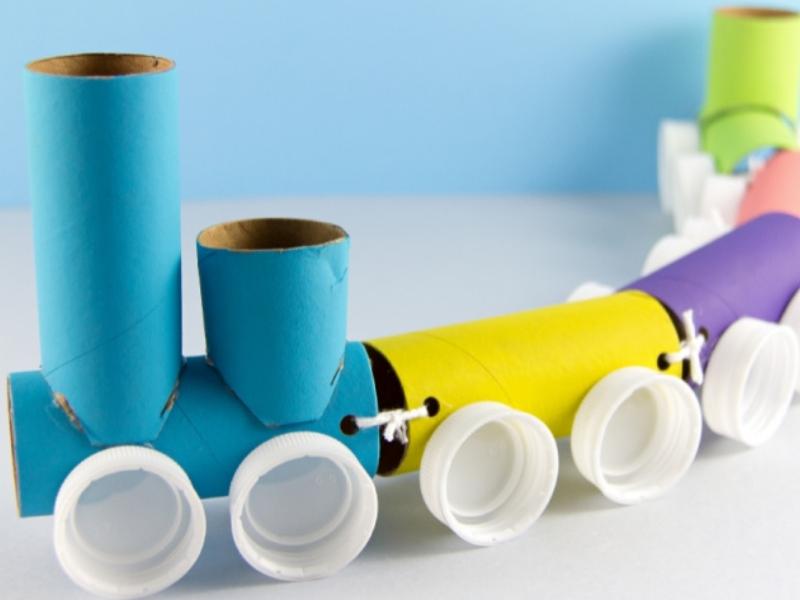 If your kids want to join in on the fun and create a train-themed decoration themselves, you can give them this easy project to try out. They'll use old toilet paper rolls, plastic bottle caps, and thread to make a long train.
After they finish, you can add it to the rest of the decorations in their room. It'll also serve nicely as a centerpiece for a train party.
Check the instructions for toilet paper rolls trains on Kids Activities Blog.
11. Toy Train Tunnel
Building a tunnel for your kids' toy train will be a fun experience that the little ones can get on it, and it'll make for a cute decor in their room. You can easily create it using a large cardboard box and scissors. If the tunnel is large enough, you can fit more trains inside it.
Learn more about making a toy train tunnel on Celebrate Every Day With Me.
12. Thomas and Friends' Costumes
If Halloween is coming up, you can put your crafting skills to use and make cartoon-themed costumes for your kids.
The inspiration for this idea is Thomas the Train, and you can use free printables instead of painting the cartoon character manually. The costumes will also make heads turn at a themed birthday party.
Find out more about Thomas and friends' costumes on hello, Wonderful.
13. Train Photo Props
Do you want to take memorable cool pictures at your kids' train party? If so, it's time to make some fun photo props using free printables and a dash of creativity. Then, your child can take an awesome photo with each guest at the party.
Take a look at train photo props on Brisbane Kids.
14. Mini Teddy Pull-Train
You can craft a creative storage unit for your kids' toys using shoeboxes and thread. By the time you finish, your kids will have a new transportation means for their toys and teddy bears. The pull-train will also work perfectly as a decoration for themed birthday parties.
Learn how to make a mini teddy pull-train on One Time Through.
15. All Aboard Banner
Hanging an All Aboard banner in your kids' room will add to the train-themed aesthetic they love, and it's easy to make. You can use free printables and cut them in the shape you want. Then, hang them through a thread and put them up in your little ones' room.
Find out more about the All Aboard banner at One Time Through.
16. Train Tracks
If your kids have toy trains with no tracks, it's time to make some cool ones out of cardboard and masking tape. The DIY project won't take you much time, and it'll make for a fantastic, playful decoration in your house.
Get the tutorial for train tracks on Preschool Toolkit.
17. Cardboard Box Trains
If you want to have some fun time crafting with your kids over the weekend, you can try your hands at these cute cardboard box trains.
You can take the cutting part and leave the coloring part for your little ones. In addition to the fun you'll have, the trains will look amazing in your children's room after you finish.
Check the instructions for cardboard box trains on Kids Activities Blog.
18. Train Balloon Wreath
For a simple idea that you can craft using some colorful balloons, you can make a train wreath to hang on your kids' room door. It's inexpensive to make and won't take you much time. It'll also work if you're looking for creative train party ideas.
Learn more about the train balloon wreath on Chickabug.
19. Cardboard Circus Train
Although your little ones can't ride in this cardboard circus train, it'll go perfectly with their room's theme and add colorful vibes to it. It includes some intricate details that you'll need to focus on, but it'll be worth every second of your time.
Get the tutorial for the cardboard circus train on Lovely Indeed.
20. Barrel Train
If you want to go out of your way, here's an incredible crafting challenge that you can take on this weekend.
You'll make an outdoor train for your children using barrels and wheels. It'll be big enough for both parents and children to ride in, and it'll look amazing in the middle of your backyard.
Find out more about the barrel train on TeeDiddlyDee.
21. Train Party Invitations
Out of the many party ideas on our list, this one is definitely the easiest. You can either print ready-made invitations or design new ones on your own. Either way, they'll make for memorable souvenirs from your kid's birthday party.
Take a look at train party invitations on Fun 365.
Now that you have many train decorations and party ideas to try out, you can spice up your kid's room with new colorful crafts!
Comments
0 comments