Birthday parties are fun to plan and decorate, especially when following a specific theme.
For example, if your kid loves trains, you can impress them with many cute ideas. That's where we come in to help!
If you don't have a clue where to start, we've put down a list of some of the best train birthday party ideas for inspiration! And the good news is that you can make most of them yourself or with the help of your family members or neighbors. So let's get started right away!
1. DIY Train Track Runner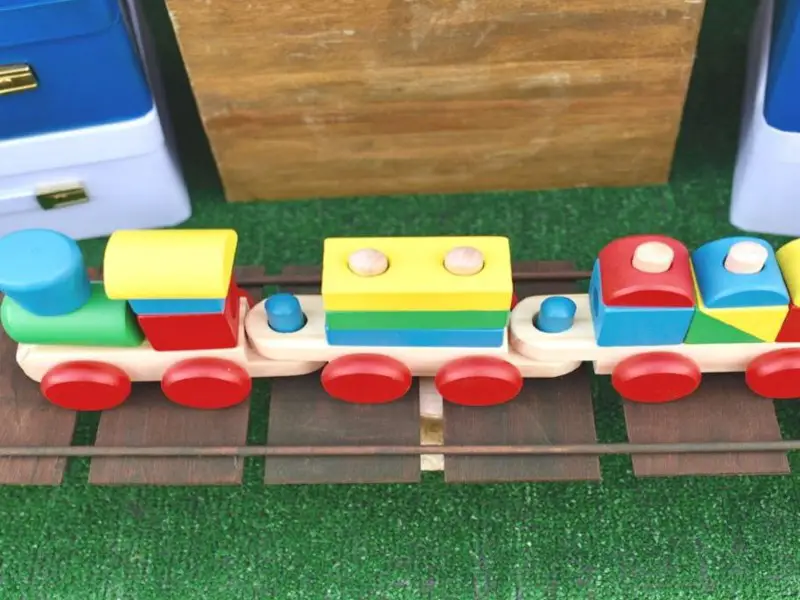 You can make this fabulous centerpiece in less than an hour and with minimum materials. It's a miniature version of train tracks, only much cooler, of course.
You can either put it on a table to showcase it to little kids or decorate it in whatever way you like. Either way, it'll impress your kid and their friends.
Get the tutorial for DIY Train Track Runner on fun365.orientaltrading.com.
2. Train Party Favors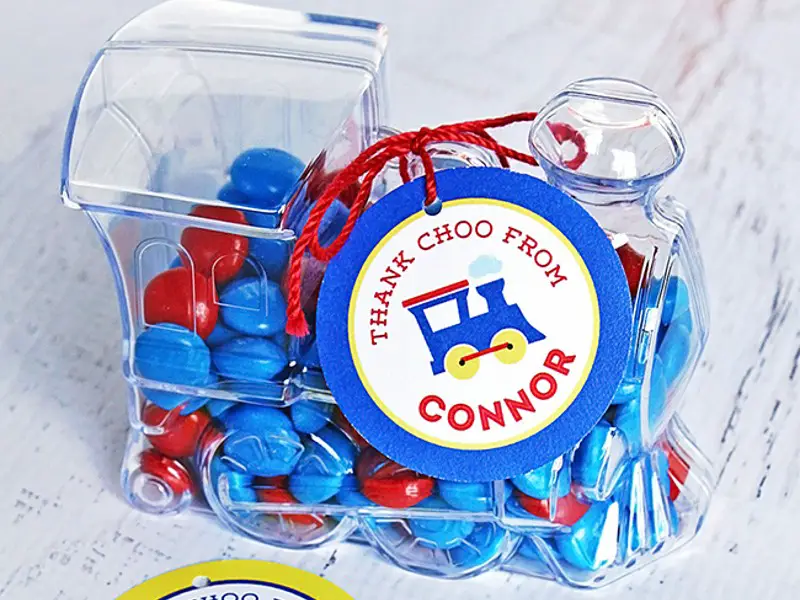 If you want to give each kid a giveaway on their way out of the party, you'll love those cute train party favors.
They don't require handy work and won't take much of your time. You'll merely purchase ready-made train candy boxes and fill them with your choice of candies.
Then, you can print little name cards and attach each one to a box.
Take a look at the Train Party Favors on blog.chickabug.com.
3. Train Cars Cake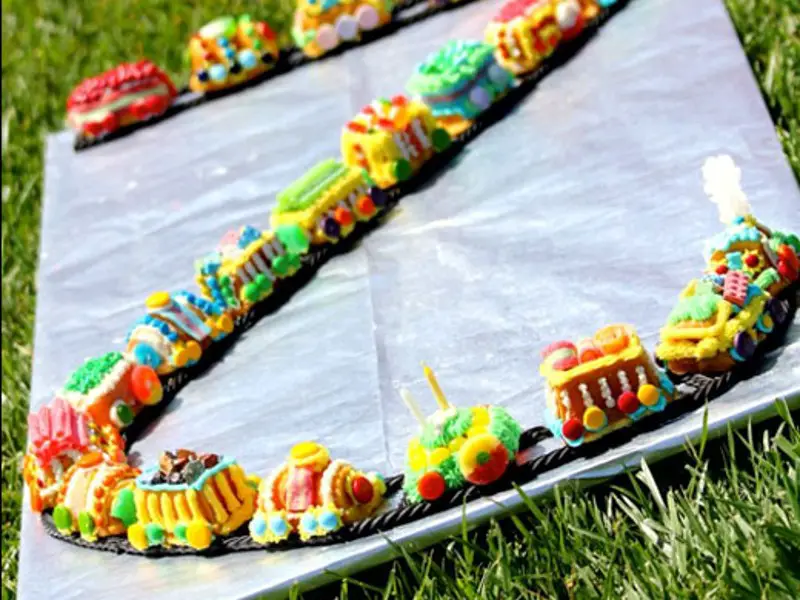 When it comes to themed birthday parties, creativity is a must. That's why you can't serve a regular cake as you would do on any birthday.
This time, you'll make a train cake with many different cars. You can arrange the cars to write a number or settle on a standard train shape.
No matter what you do, the cake will be the talk of the hour at your party.
Read more about Train Cake on blog.chickabug.com.
4. Train Birthday Party Decorations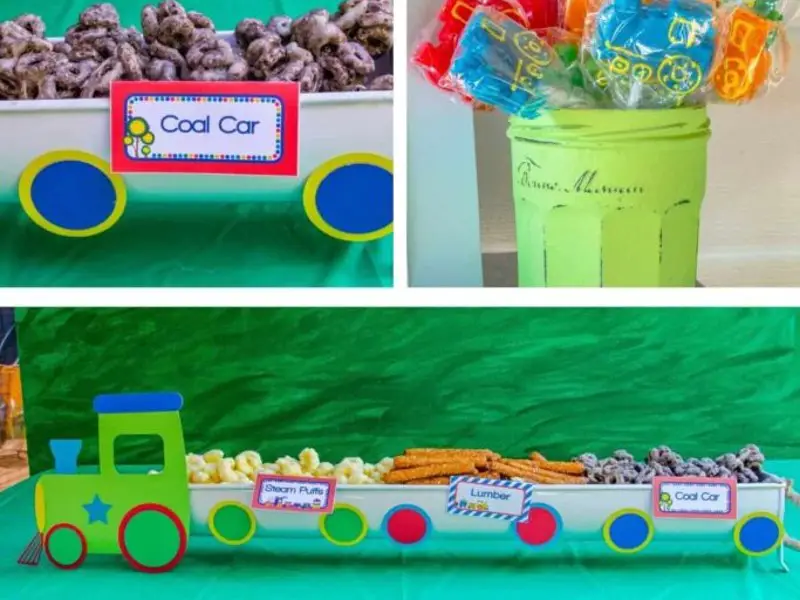 You can use train party printable as labels or make some of your own for the decorations. As for the party favors, you can 3D print a few trains.
However, if you want to make them yourself, you'll need materials like cards and scissors to create miniature trains for the kids.
Check the Train Birthday Party Decorations on playdatesparties.com.
5. Snacks Railroad Cars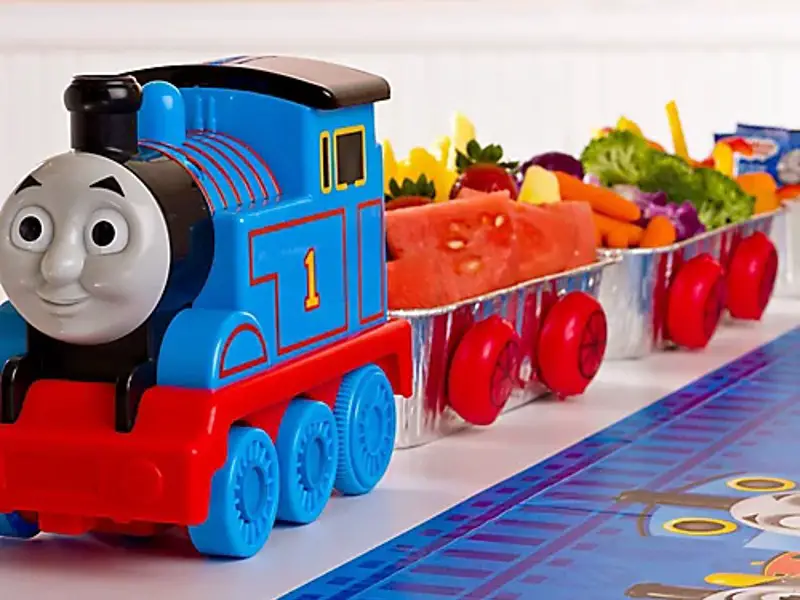 To serve snacks for your guests in a creative way, you can put them in railroad cars.
For example, you can use aluminum containers for your snacks and put mini cheeses instead of the wheels.
Then, arrange the containers to resemble a train and use a train toy as the train's head.
Find out more about Snacks Railroad Cars on partycity.com.
6. Thomas the Train Cake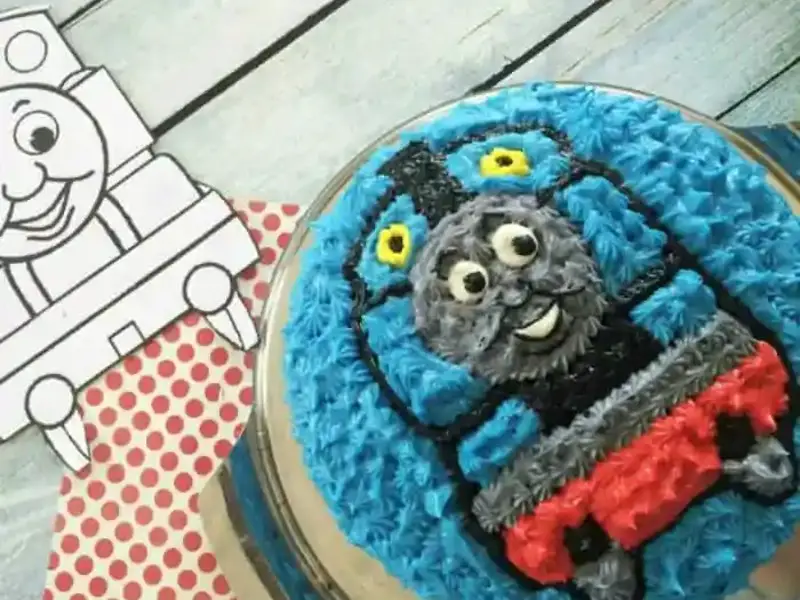 If your kid insists on a Thomas the train theme, we've got you! You can make this cute cake so that your kid can blow out the candles awesomely.
You can bake the cake in whatever size you want. The most important part is to stick to Thomas' theme color using food colorants.
Get the tutorial for Thomas the Train Cake on frugalcouponliving.com.
7. Stop Light Kabobs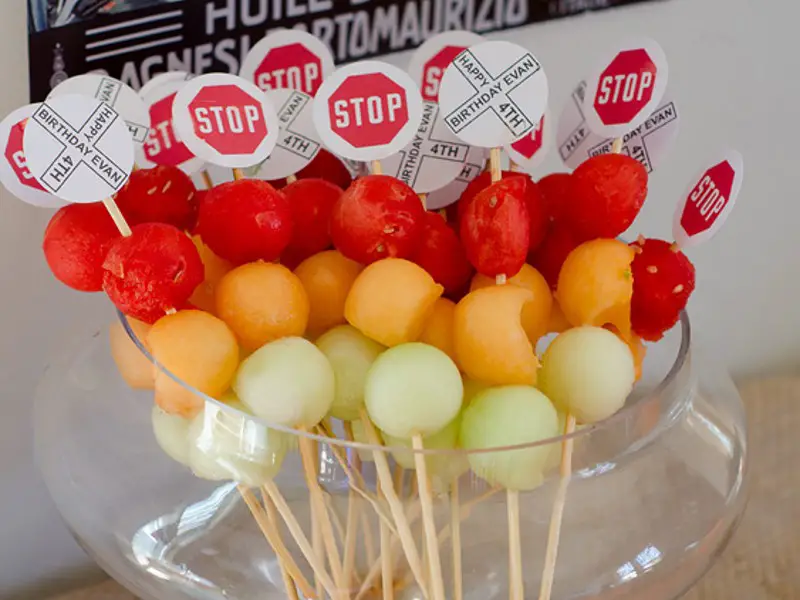 Healthy snacks are a bonus at kids' birthday parties, especially when they look this cool. Those kabobs won't take more than half an hour of your time.
First, you'll cut fruits in the shape of balls and place them on a stick. To resemble the stoplights correctly, you should use red, orange, and yellow fruits.
Finally, put a small printed card that stays "stop" on top.
Take a look at Stop Light Kabobs on bebehblog.com.
8. All Aboard Banner

Banners are easy and elegant decorations. You can either print or create this banner for your train-themed birthday party.
The vintage font will make the kids feel like they're boarding a real train. Also, your kids will appreciate the effort and details.
Check the All Aboard Banner on bebehblog.com.
9. Train Conductor Hats and Scarves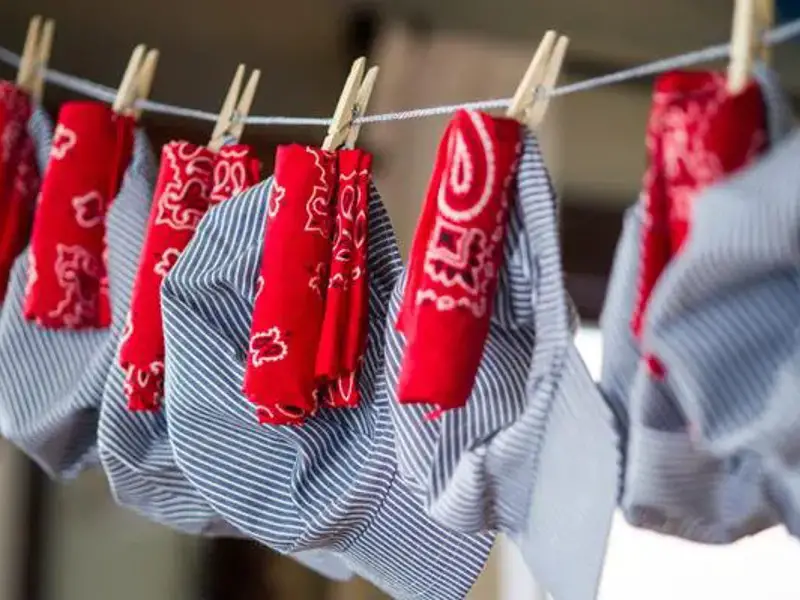 As a luxurious final touch to your party, you can leave around train conductor hats and scarves for the kids to take home.
It'll be a memorable gift that'll leave kids ecstatic. Also, the birthday pictures will be more fashionable with all kids wearing the same hat.
You can purchase the hats and the scarves separately and put them together yourself.
Check the Train Conductor Hats and Scarves on brisbanekids.com.au.
10. DIY Train Photo Prop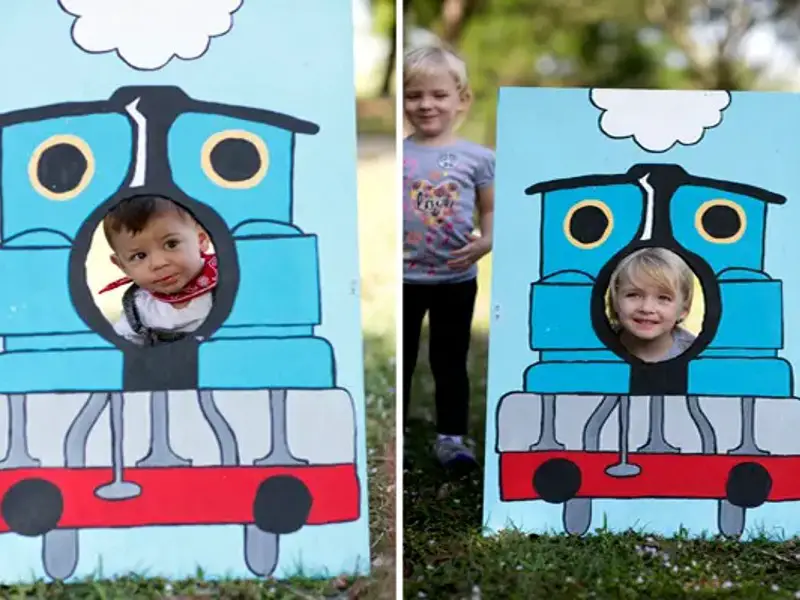 If you want your kid's birthday party to be unforgettable, you should make this adorable train photo prop.
It won't take much of your time since it's relatively easy. As for materials, you'll only need cardboard and different colors to paint the train.
Find out more about DIY Train Photo Prop on brisbanekids.com.au.
11. DIY Cardboard Train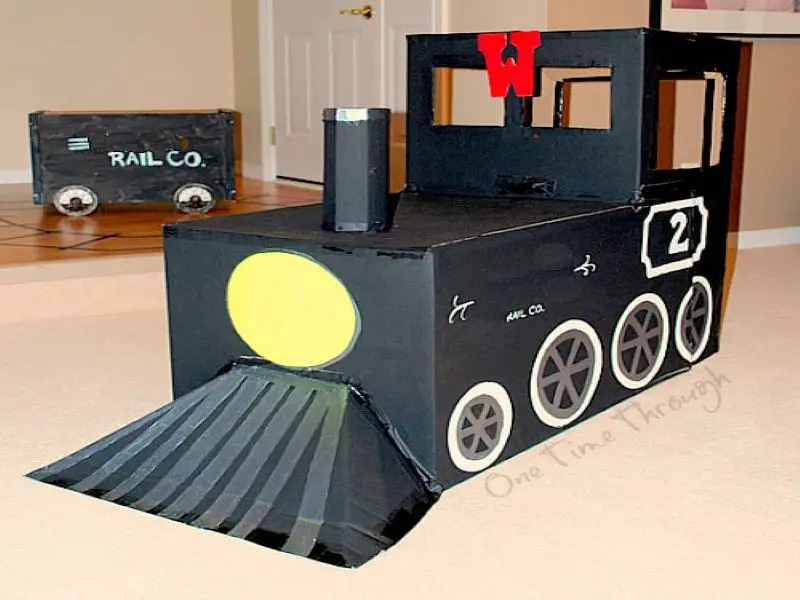 If you have time on your hands and you're willing to go extra for this birthday party, you can make this fantastic cardboard train.
You'll need packing boxes, duct tape, acrylic paints, construction paper, and scissors.
Although this project requires effort and skills, you'll enjoy making it, and your kids will appreciate it.
Check the tutorial for DIY Cardboard Train on onetimethrough.com.
12. Rolling Train Rides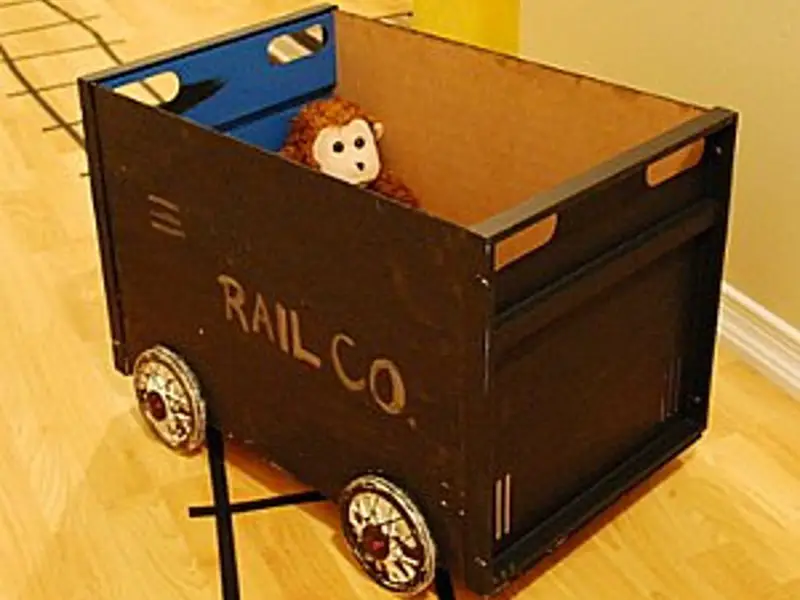 For this idea, you'll need a rolling box.
To give kids a fun time during the party, you'll convert the box into a hopper car. This way, kids will take turns riding in it.
You can paint the package according to your party's theme. For example, if your kid loves Thomas the Train, you can paint it red and blue.
Find out more about Rolling Train Rides on onetimethrough.com.
13. Mini Teddy Pull-Train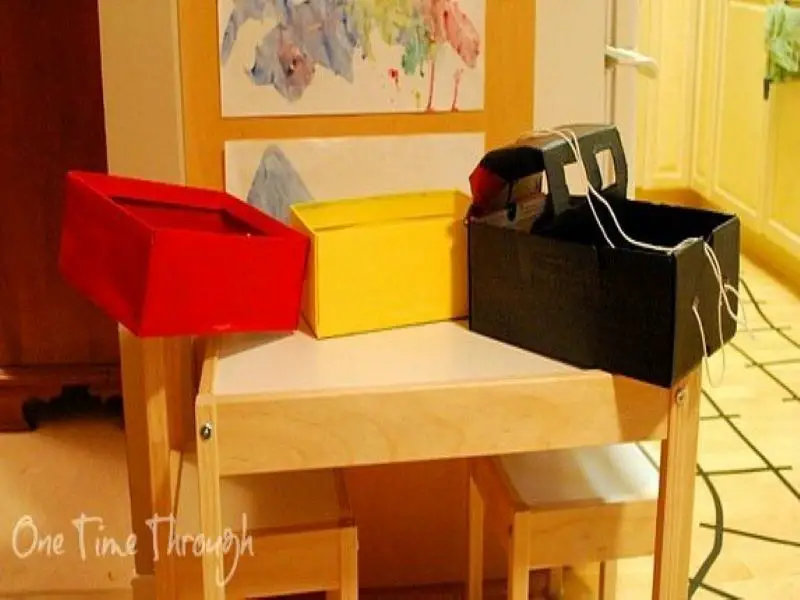 You can use three empty shoeboxes for this idea. First, you'll merely tie them together to create a pull-train.
Then, you can put your kid's favorite teddy and let them pull it around.
You can also put party favors inside the boxes and tell your kid to share them with their friends.
All in all, it's a simple idea that takes no time but impresses many.
Learn how to create Mini Teddy Pull-Train on onetimethrough.com.
14. Train Station Play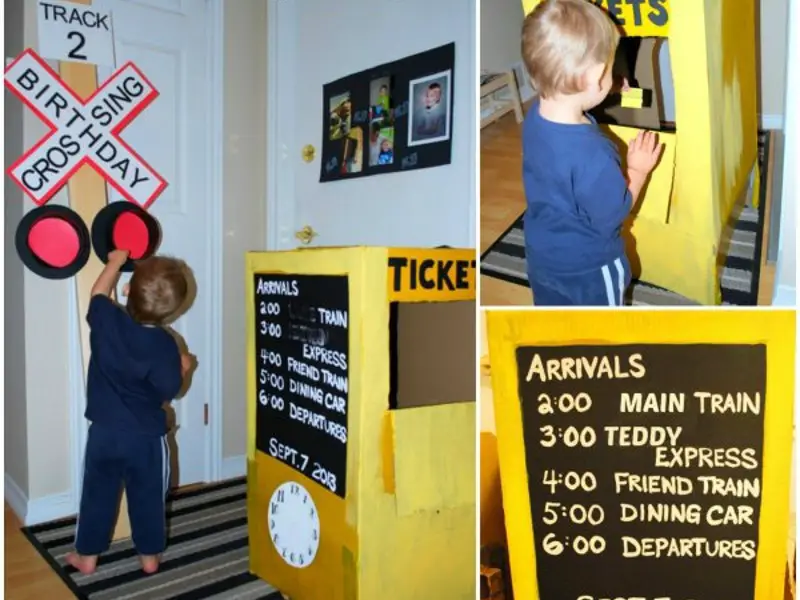 For an entertaining party, you can make this miniature train station. First, you'll make a train crossing sign along with a small ticket booth.
Then, you can write the party schedule on the side to resemble arrival and departure times.
Although it might take you some time to do this project, it's pretty easy and will astonish your guests.
Check the tutorial for Train Station Play on onetimethrough.com.
15. Train Cake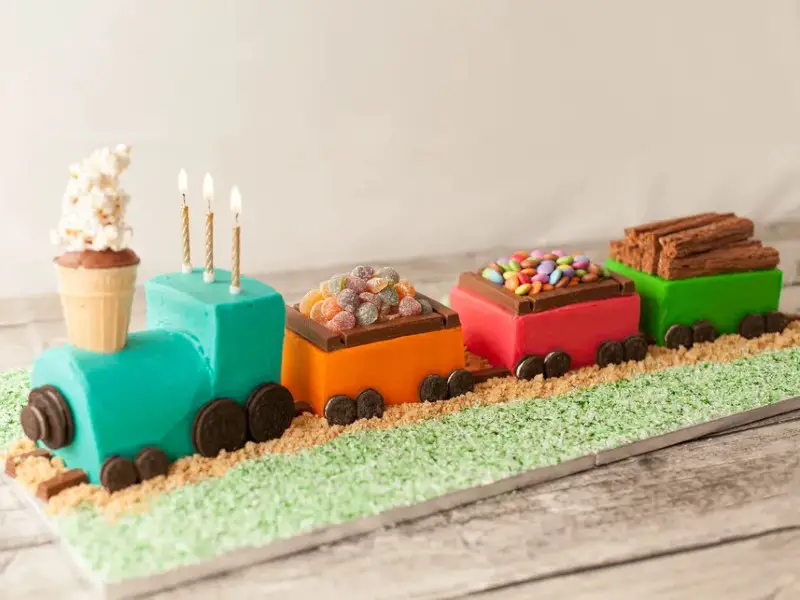 Another train cake idea that you can try out is this one. It's simpler than other ideas on our list but looks more fabulous than regular cakes.
It's also ideal for large birthday parties since it contains many sweets and candies to satisfy different tastes.
Also, you can feed a large number of guests by increasing the number of carriages.
Get the step-by-step guide to Train Cake on ilovecooking.ie.
16. Train Party Invitations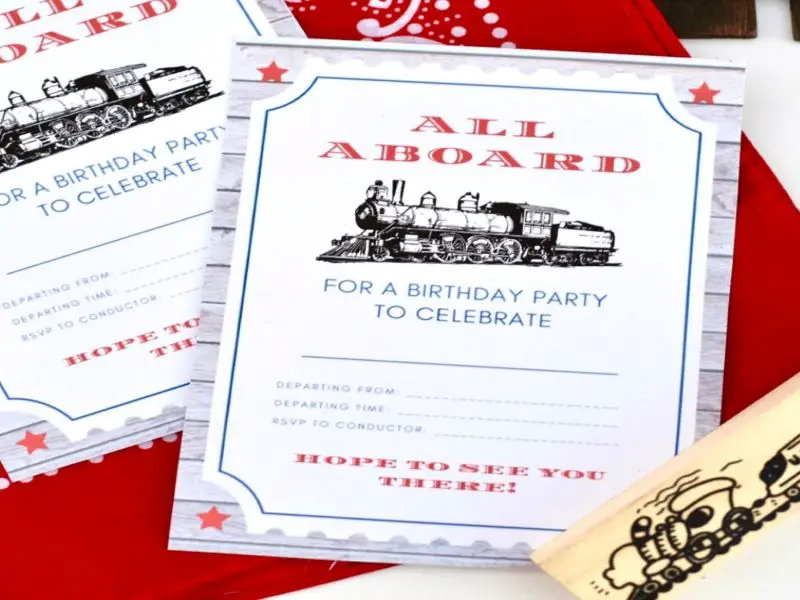 Although party invitations are a bit extra, they'll be memorable gifts for kids. You can either print ready-made train designs or customize your own.
As a personal touch, you can add names to each invitation.
Take a look at Train Party Invitations on fun365.orientaltrading.com.
17. Train Play Dough Play
All kids love some dough play. This idea doesn't require any effort at all. You'll only provide the kids with colored dough and a train-shaped cookie cutter.
Then, you can let them go all wild and create many miniature trains. However, it's worth mentioning that this game might get too messy.
But, all in all, it'll be an enjoyable activity to do at the party.
Check the Train Play Dough Play on onetimethrough.com.
18. Train Name Tags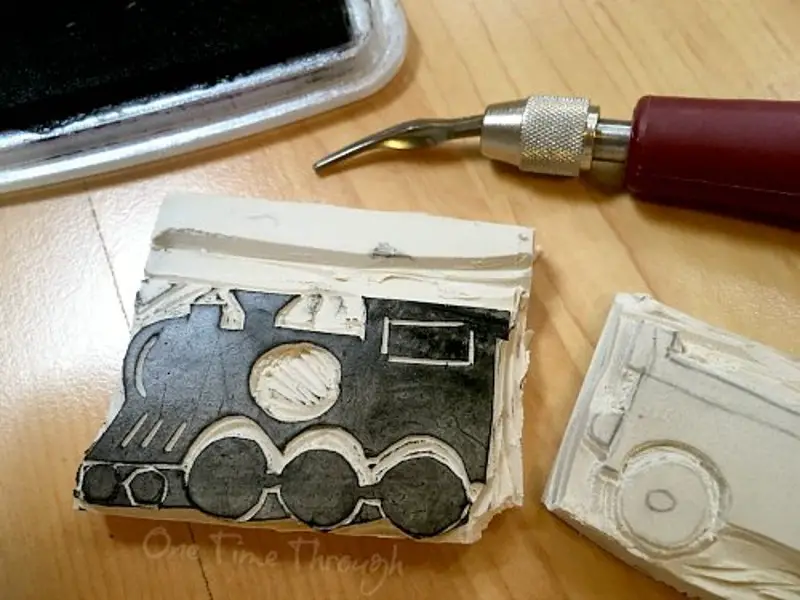 For this idea, you'll need to make a rubber stamp first. Thankfully, it's pretty simple if you like crafty projects.
Then, you can use the stamp to create many name tags. You can even stamp paper napkins and invitations.
Get the tutorial for Train Name Tags on onetimethrough.com.
19. Train Ticket Invites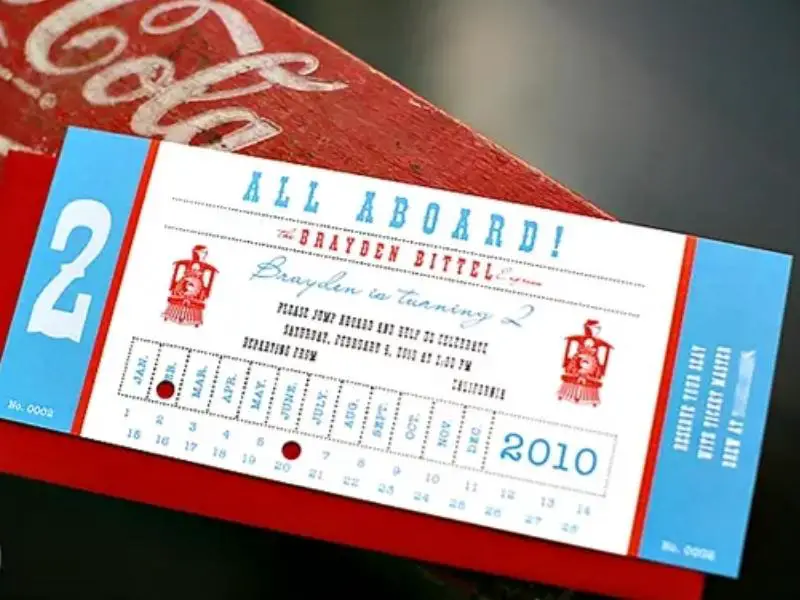 These cute train ticket invites can give the guests a hint of what the birthday party's theme is. The guests can also keep them as a way to remember the party forever!
If you have a printer, you can easily create and print these invites on your own. Alternatively, you can just make the design and use a printing service.
Learn how to make railway ticket invites on blovelyevents.com.
20. Table Decoration Tracks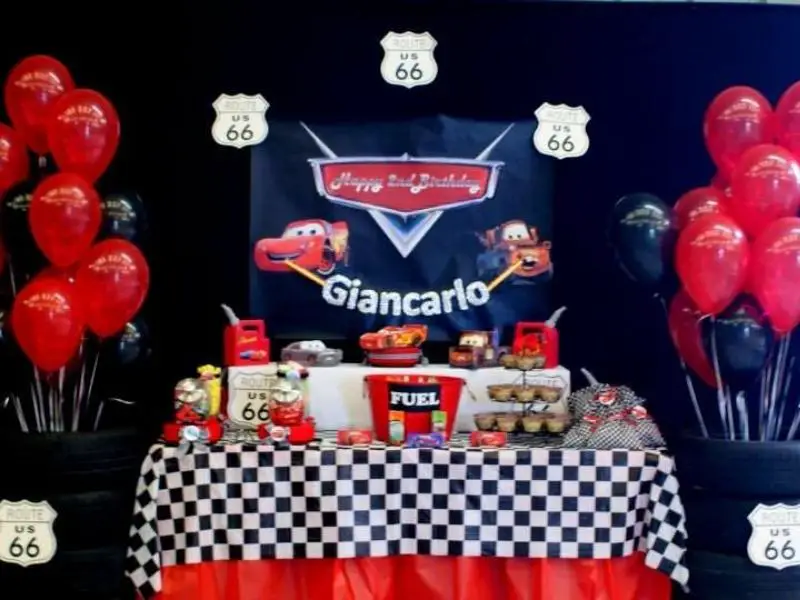 These table tracks will set up the scene pretty well, and they're super easy to create. Kids will love them when they sit at the table, and if you want to spice things up a bit more, you can add a small cardboard train to each chair.
Find out how to make table decoration tracks at catchmyparty.com.
21. DIY Place Cards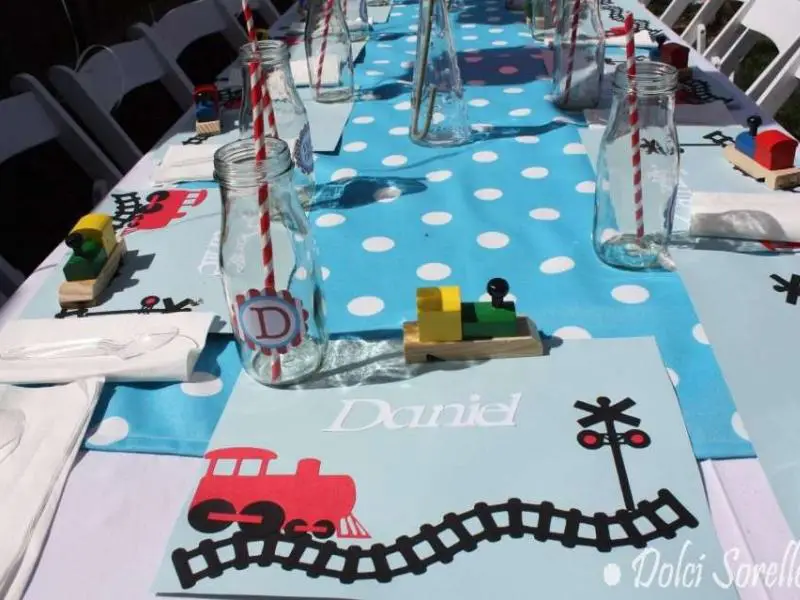 Assigning the places at your train birthday gathering with cute place cards will show the kids that you really care about them. But guess what? We're not going to use some generic place cards. Instead, we'll use a matching train theme to create some decorative DIY place cards that kids will love.
Check out the full DIY place cards tutorial on catchmyparty.com.
22. Printable Conductor Accessories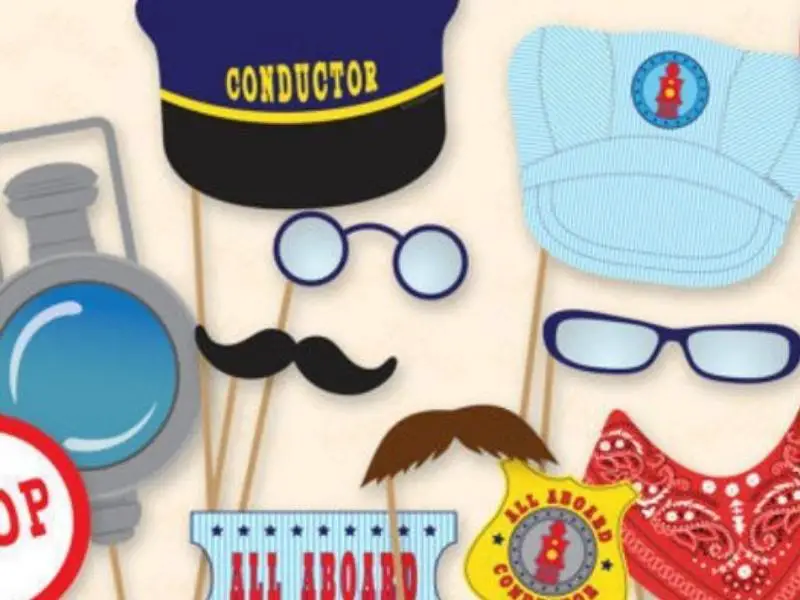 These cute little printable conductor accessories would be awesome in photoshoots. They can put a simple on the guests' faces, and there are lots of ideas for them. They include conductor glasses, hats, mustaches, badges, and signs.
Follow the in-depth printable conductor accessories guide on https://learni.st.
23. DIY Train Backdrop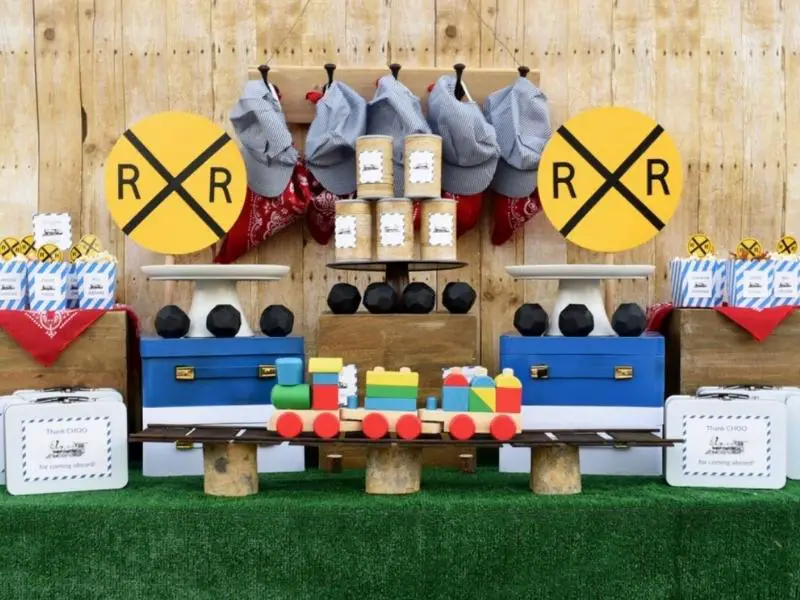 Do you want to make your kid's birthday photoshoot extra special? You should definitely create this DIY train backdrop. Decorations make photos even more fun, and the best part is that they won't require anything other than a large sheet of cardboard and some paint.
Learn how to craft a DIY train backdrop on ontobaby.com.
24. Cupcakes Train Birthday Cake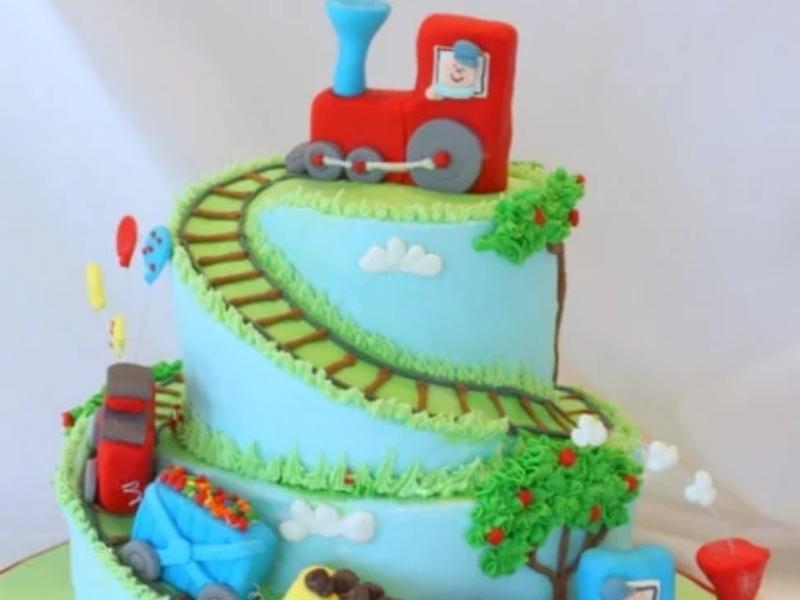 Delicious food becomes even more delicious when it looks nice, especially when it's a birthday cake. Nowadays, many people like to decorate birthday cakes with themes, so how about making a cupcake train birthday cake for your boy or girl? When the guests arrive, they'll definitely be impressed by it!
Get the step-by-step cupcake train birthday cake guide from mycakeschool.com.
25. Train Puzzle
Whether you have a son or daughter, they'll probably love passing the time with friends trying to solve this train puzzle. Your railway-themed birthday gathering will probably be full of action, so this can be a great way to let the kids rest for a while and do something while they sit around.
Find out how to make a train puzzle at etsy.com.
26. Train Party Games and Activities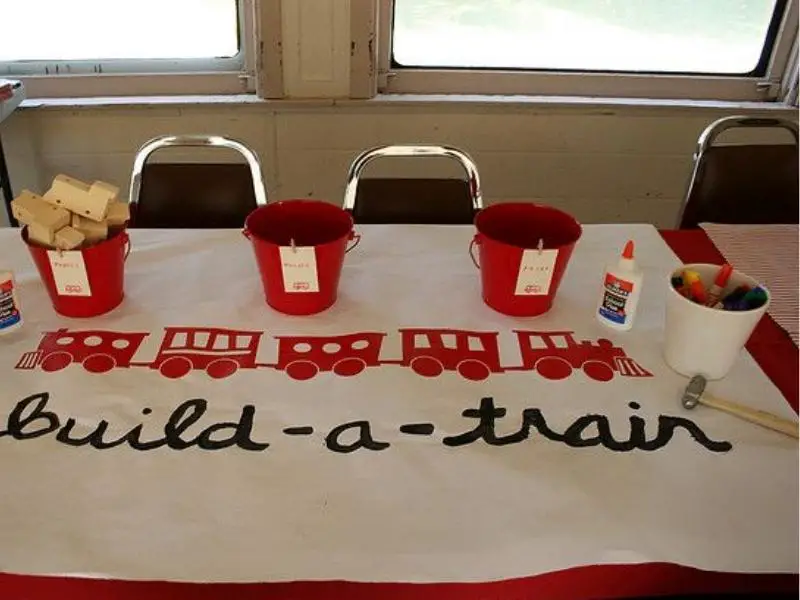 Setting up some games and activities at your train birthday party will keep the action going, especially since preschoolers and juniors love to move around and play games.
But instead of running traditional activities like trampolines and darts, you can get creative and create train-themed games from scratch.
Follow the detailed railway-themed birthday gathering games and activities on projectnursery.com.
27. Train Birthday Party Return Gifts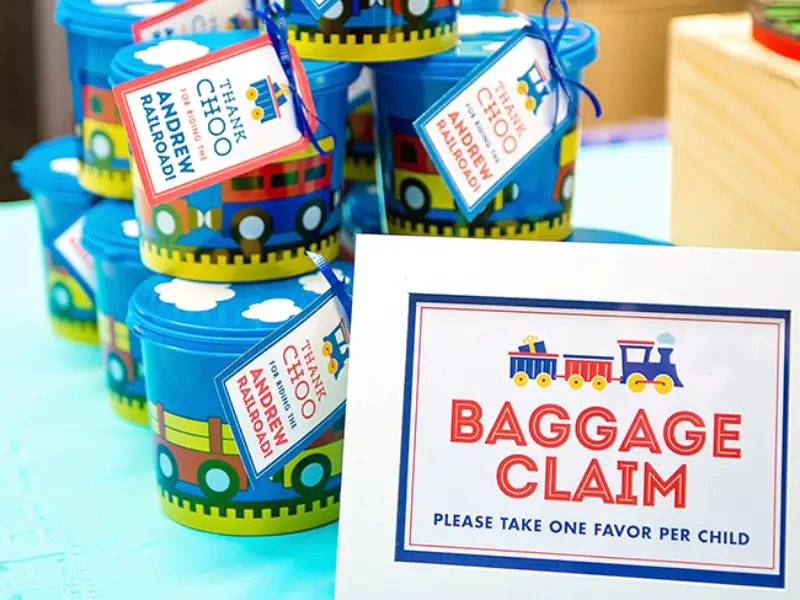 Kids love to take something home after leaving birthday parties, which is yet another opportunity to complete your child's birthday party's railway theme.
There are many things to try here, including printable favor tags and balloon wreathes.
Get some train birthday party return gift ideas from blog.chickabug.com.
28. Train Party Tracks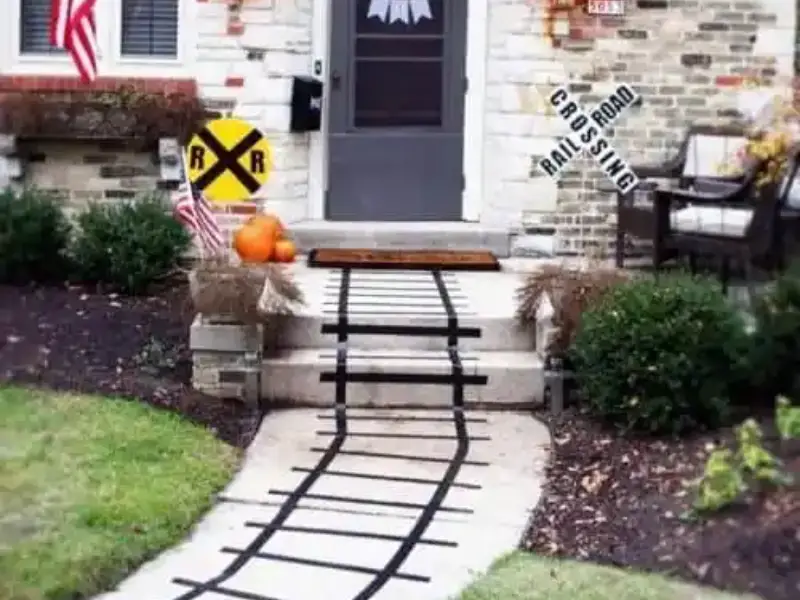 If you want to go all-in with your train party theme, putting tracks around the house would be adorable. You can use some cardboard trains for an even more realistic look.
You can make the track start from the house's entrance all the way to the dining room.
Get the train tracks party grounds design instructions on lifeinspired.typepad.com.
29. DIY Train Tunnel Entrance Decoration Party Ideas for Kids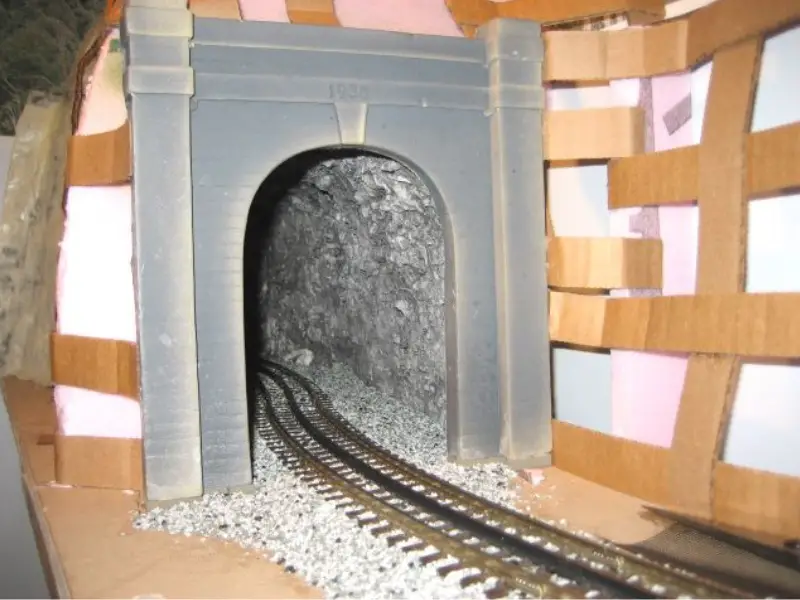 Kids are curious, and a DIY train tunnel decoration will make them want to know what's inside. It'll make the party's entrance look cute, and kids will have fun taking pictures around it.
Learn how to set up a DIY train tunnel entrance decoration on thelifeofsuz.blogspot.com.
30. Refueling Station Sign in Party Favors Snack Corner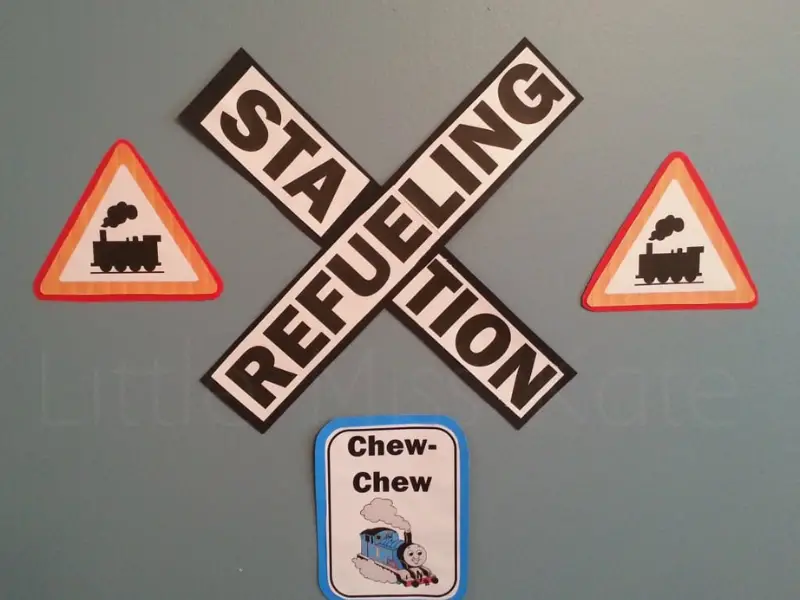 This refueling station sign-in snack corner is one of the coolest ways to present your child's train birthday party food and cake to the guests.
You can easily print the signs on cardstock at home, and when the kids start getting hungry, lead them to the party refueling station so they can charge up!
Learn how to create a refueling station sign-in snack corner on theexploringfamily.com.
31. Fun Car Train Sandwiches for Kids Party Treats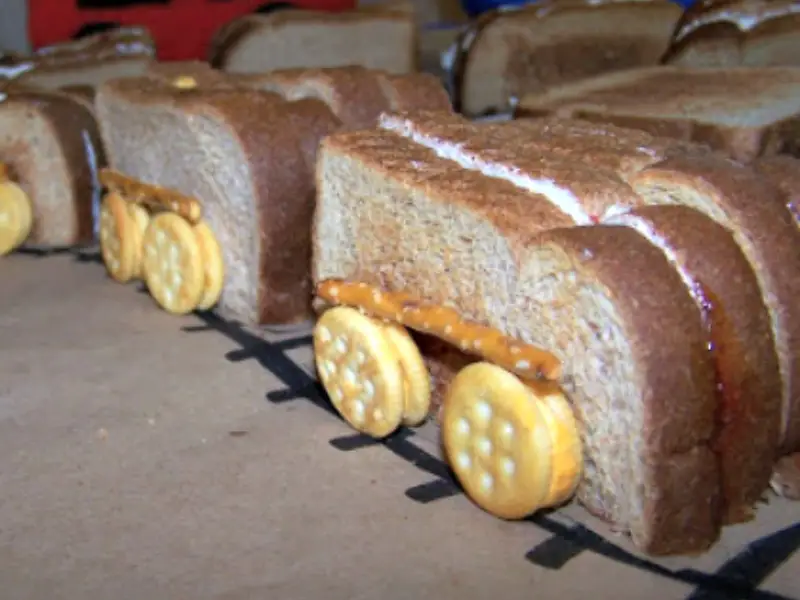 A party is no party without delicious wood, but instead of preparing food the good old way, you can make them match your birthday party railway theme.
All you need is toast, some cookies, and french salty tricks. Just make sure that you cut a small part of each piece of toast to be able to set it up like a car train. You can also arrange the snacks over train tracks for an even cooler presentation.
Get the detailed fun car train party sandwiches tutorial on https://www.playideas.com.
32. DIY Recycled Cardboard Train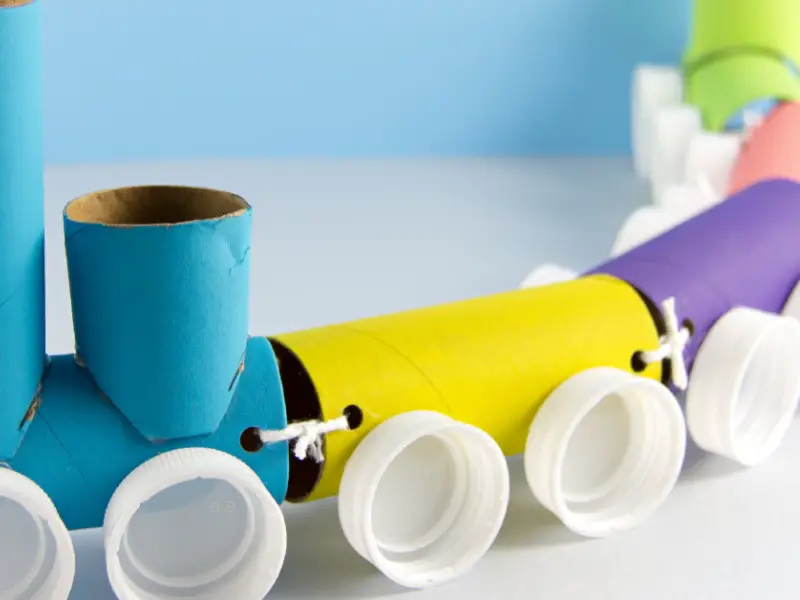 This cardboard train can make an excellent playground idea that you can set up in the middle of your backyard. Kids love playing around with mock trains, and the icing on top is that they'll take amazing pictures near the engine!
If you have some empty cardboard boxes, you can set up the train in no time. You'll just need someone to help paint it.
Get the instructions for DIY recycled cardboard train on kidsactivitiesblog.com.
33. Thomas and Friends Themed Oatmeal Container Train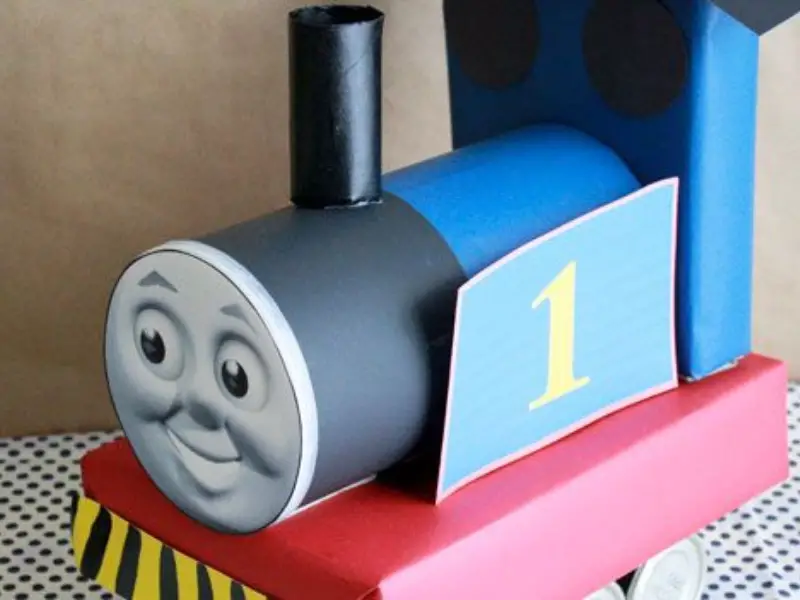 Got an empty oatmeal container in your kitchen cabinet? Time to give it a job and turn it into a Thomas and Friends-themed craft!
The beauty of this idea is that you don't need any special supplies to make it come to life. Just get an oatmeal container and some colorful paper.
Learn how to make a Thomas and Friends-themed oatmeal container train on www.pbs.org.
34. Thomas and Friends Inspired Costumes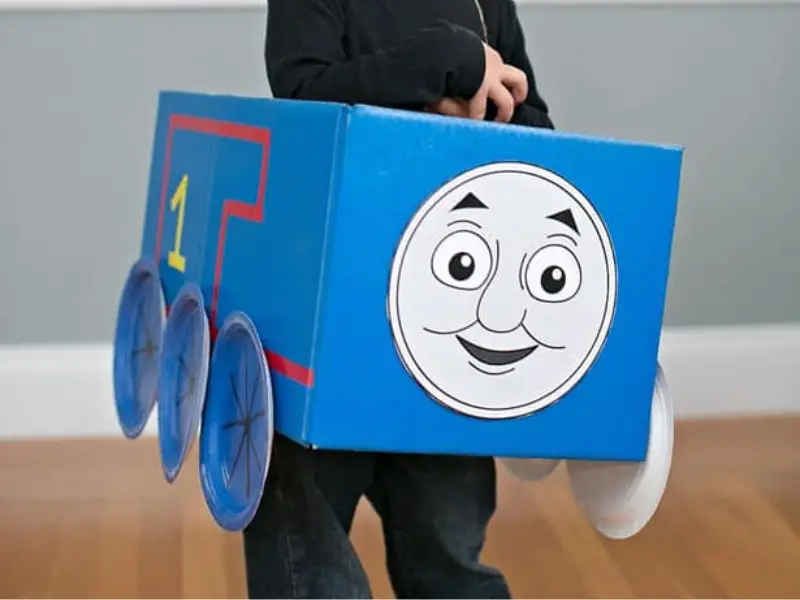 These Thomas and Friends-inspired costumes will make your children and their friends happier than ever! Kids love wearing costumes at birthday parties, so why not prepare some Thomas-themed costumes for your train-themed birthday gathering? It'll be so much fun for kids to watch their favorite episodes of Thomas the Train wearing them!
Check out the Thomas and Friends-inspired costumes guide on hellowonderful.co.
35. Train Crossing Sign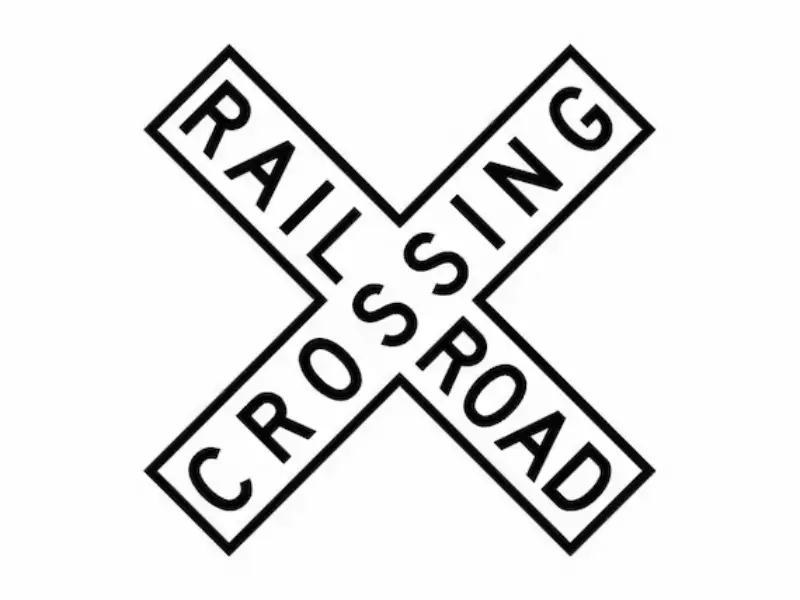 This train-themed birthday crossing sign is pretty easy to make, and putting it near the party's entrance would be a great way to decorate it. It'll also be a fun way to guide guests around the house.
Check out how to craft this train crossing sign on etsy.com.
36. Train-Shaped Goodness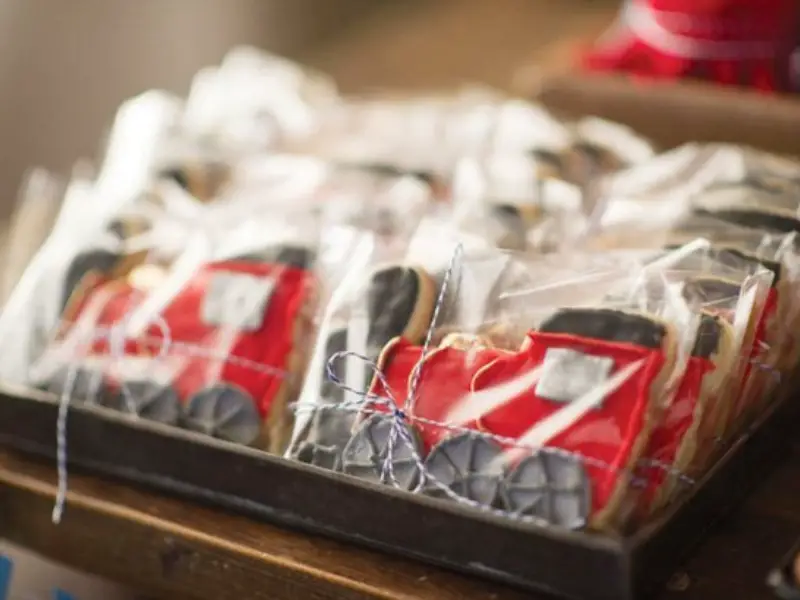 Serving cookies at your train-themed birthday party? Try cutting them into medium-sized pieces using a train-shaped cookie cutter. Your guests will eat a special treat, and at the same time, the dining table will look cool and fun.
Learn how to make train-shaped goodness on blog.hwtm.com.
Train Birthday Party Ideas Round-Up
That's all for today! You should now have a long list of ideas to start working on for your child's train party.
Most of these party ideas can be done at home with accessible supplies. You might need to pay a visit to your local stationery shop for more complicated crafts; other than that, you won't have a problem throwing the coolest train party for your child.
Now that you have many train birthday party ideas to try out, you can throw your kid an extraordinary, unforgettable party.
Comments
0 comments