Halloween is a time to have fun and go wild, whether you're an adult or a kid "" and a big part of Halloween is in the games that get played. If you're looking for some fun ideas for this Halloween, we've collected up some of the best Halloween puzzle games for you to have fun with.
Bean Bag Pumpkin Toss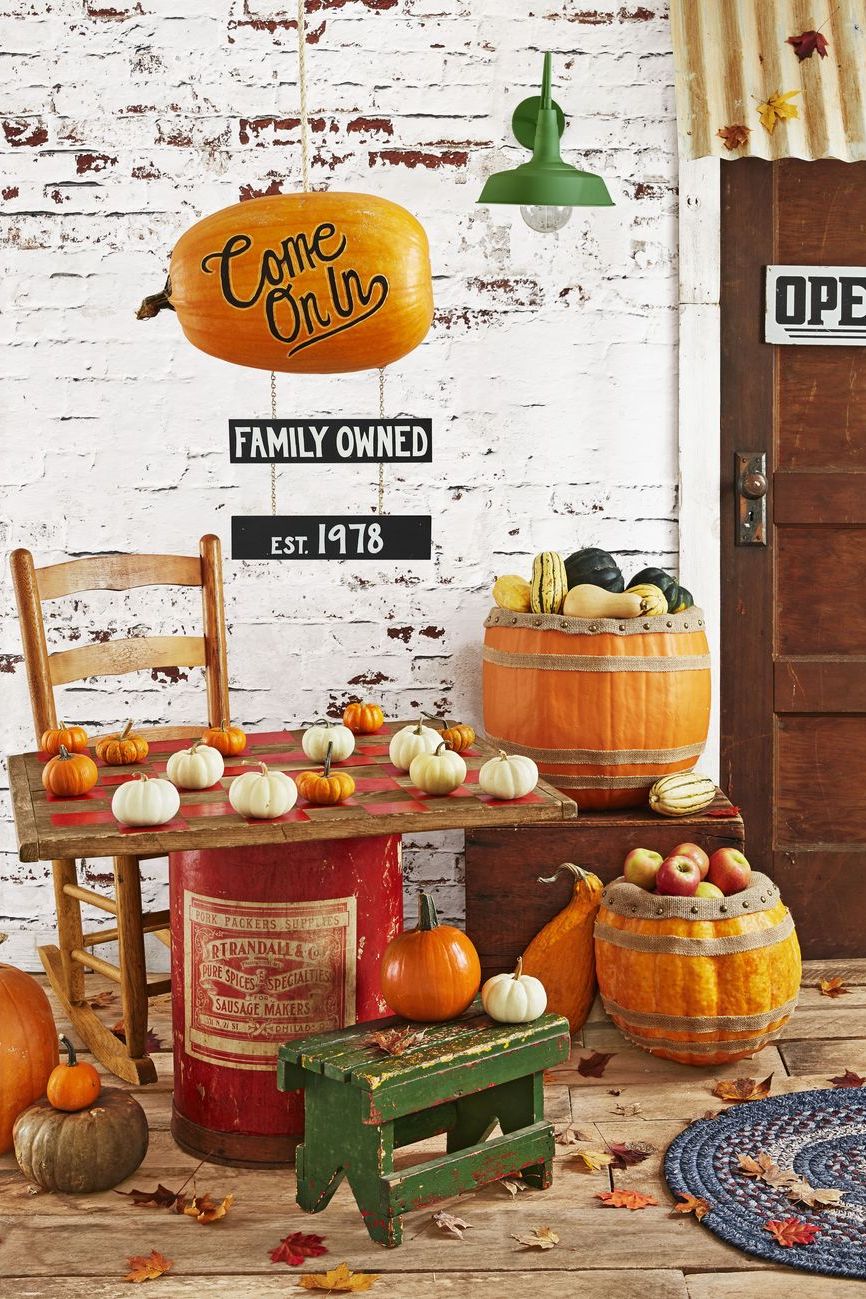 Source:https://www.goodhousekeeping.com/holidays/halloween-ideas/g2618/halloween-games/?slide=3
If you love a good bean bag toss, this will prove extremely popular at a Halloween party. This is great for anyone to have a go at, young or old, and even tiny tots can have a throw with the help of an adult. You also don't need many materials "" so here's a breakdown of how to approach it.
Components
You're going to need:
Two or three large pumpkins
A spoon for scooping out the pumpkins and a knife for carving
Bean bags
A pen to draw on the pumpkins
Step 1: Scoop Out The Pumpkins
First, you need to hollow out your pumpkins. You can either do this by cutting off the tops and scooping out the insides as you would for a traditional Jack O' Lantern, or you can use fronts.
You're going to be cutting largemouths at the front of each pumpkin, so it may be easiest to scoop them out from there. Draw a circle at the front to serve as a guide, and then cut this out. You can shape the mouths a bit if you want to, but they need to be big enough to toss bean bags into reliably.
Scoop out the insides and set them aside for use in soup or pumpkin pies, etc.
Step 2: Draw The Rest Of The Face
Draw on some eyes and a nose if you like. Remember, these pumpkins aren't going to have candles in so they won't be lit up, but you can still have fun with their faces and making them look scary or funny, depending on the vibe you're aiming for.
Step 3: Make The Bean bags
If you don't have some beanbags ready, it's simple to make them. There are lots of tutorials online, or you can just pour some rice into old socks and tie the tops off "" it's up to you. Halloween-themed socks would be perfect for this.
Step 4: Arrange The Pumpkins
You should set the pumpkins up on a small table (away from drinks and food and candles). You can put some further back or arrange them according to size.
Write out some points cards and score your pumpkins with different points depending on how easy the pumpkin mouth will be to land a beanbag in.
You may also want to put some tape on the floor to show adults where to stand, and arrange a scorecard alongside the pumpkins so you can turn this into a proper competition "" or just keep it casual and let people have fun without turning the points into a big deal.
You could also play a version of this game that involves tossing sweets into the pumpkin mouths, rather than beanbags, but make sure you have enough candy to continue the game even if some get munched.
Halloween-Themed Scavenger Hunt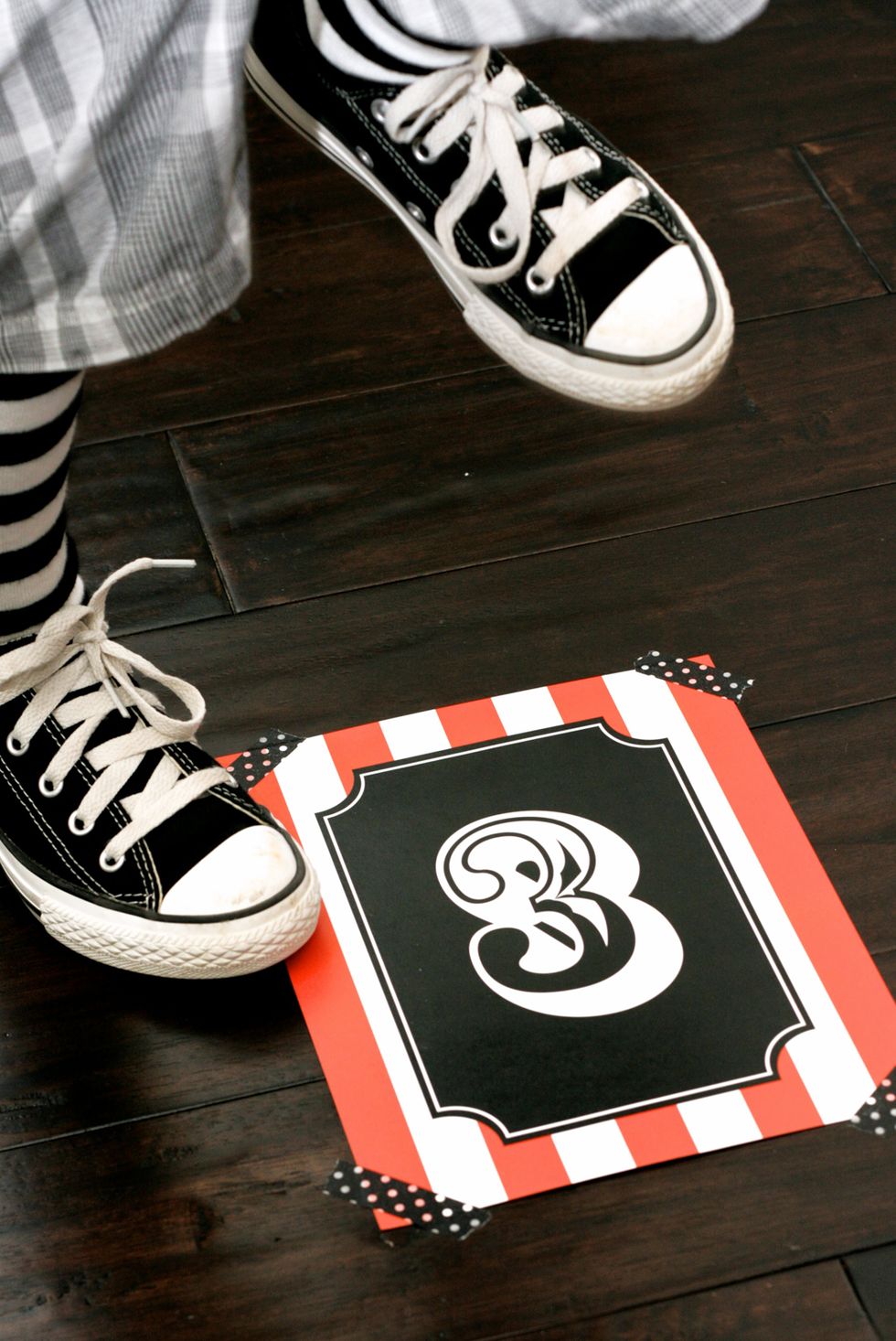 Source: https://www.goodhousekeeping.com/holidays/halloween-ideas/g2618/halloween-games/?slide=16
If you want something fun for the kids to do while the adults talk or dance, a scavenger hunt is a perfect idea. It shouldn't take too long to set up and it can keep kids of a certain age busy and happy for hours.
Components
You're going to need:
Scavenger cards (enough for all the guests, plus a handful of extras)
Items to hide (e.g. rubber spiders, candies, etc.)
Prize for the winner(s)
Pens/pencils for the participants
Step 1: Decide On The Hidden Items
Collect the things that you want the kids to look for. You can use pretty much anything, but a few ideas include:
A Jack O' Lantern with a particular feature or perhaps a number is written on it
A green spider (or another color depending on your decorations; just make sure it stands out)
Candy corns
Green slime
Count how many bats are in the room
Names on gravestones
Cauldron
These items will depend a lot on your decorations, but remember that as a cheap option, you can always print pictures of Halloween items and hide them around the room, so you don't need the actual props.
Step 2: Make Your Scavenger Cards
Build your scavenger card based on your items and either add checkboxes or space to write in the answers. You can scale up the difficulty for older players, or keep it really simple for the little ones.
Use stiff cards to create your scavenger cards; this will make it easier for the players to check off the answers as they go. Make sure you have spare pens and pencils too.
Step 3: Hide The Items
Make sure you hide all the items that you need to and then double-check your scavenger card works by doing a test run yourself. There's nothing more frustrating to kids than a game that doesn't work!
Step 4: Sort Out A Prize
Organize a prize in advance. You might want this to be candy, but it may be better to choose a non-edible reward since Halloween already revolves around sugar. Consider some Halloween-themed erasers or stickers.
Having several prizes can make the game more fun for kids and reduces the chance of tears and tantrums.
Skeleton Jigsaw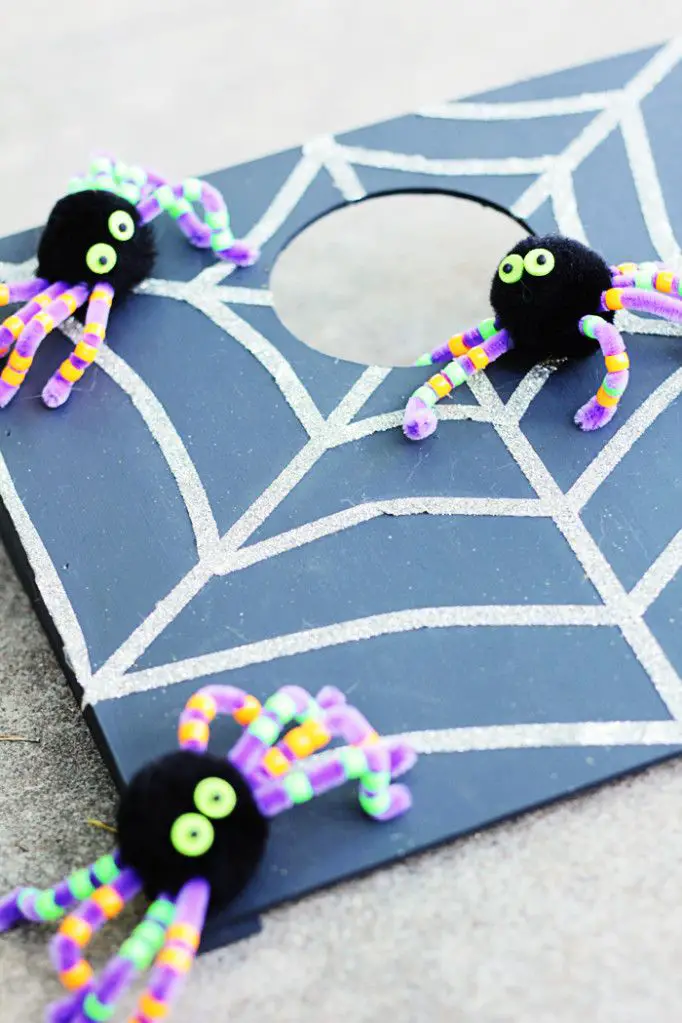 Source: https://www.goodhousekeeping.com/holidays/halloween-ideas/g2618/halloween-games/?slide=26
A test of both a child's and adult's skills and anatomical knowledge, a skeleton jigsaw can be great fun for Halloween. You can print your own skeleton out from the internet to make this easier, or draw one yourself if you're artistic.
Components
You're going to need:
Foam
Human skeleton printed on white paper
Mini magnets
Magnetic board
Scissors
Glue
Step 1: Cut Out The Bones And Foam
Cut out the skeleton bones and glue each one to the foam, and then cut out the foam roughly around the bone shapes. This does not need to be perfect; you just want some representations for people to play with. If you use black foam, it will make the bones stand out more, which will help.
Step 2: Glue The Magnets
Glue the magnets to the back of the foam pieces. Make sure they are very firmly stuck, especially if there will be little children at your party; you don't want anyone eating magnets.
You may want a couple of magnets per foam piece to make them stick evenly.
Step 3: Prepare Your Magnetic Board
If you don't have a magnetic board, you can either buy one or get some magnetic paint (or use your fridge!).
Put all the pieces jumbled up off to the side and let your guests race to see who can build a skeleton fastest. You could even provide a stopwatch of some sort if your guests want to get competitive.
For a harder challenge, choose non-human skeletons and see who can put it together with other kinds of animals quickly and correctly.
Conclusion
Hopefully, you now have some great Halloween puzzle games for your guests to enjoy. These will make your party really memorable, and fun for both the oldest and youngest guests. All are simple, require minimal setup, and shouldn't need a lot of supervision either!
Comments
0 comments