I haven't worked with colored pencils seriously since high school, so I'm rounding up this list of colored pencil techniques for you!
It's so fun to see the swelling popularity of colored pencils, what with the adult coloring craze and all. Let's check out some amazing ways to use those colored pencils, now.
Related: Check out my book, Draw Your Own Damn Coloring Book
Colored Pencil Techniques
Basic Pencil-Only Color Pencil Techniques
Burnishing – This is a short but fantastic explanation of colored pencil burnishing. You could even copy his drawing to practice before you start using the technique on your own.
Isn't it amazing to see the steps and how the look of the colored pencil on paper is transformed?
Tip: Remember to use less pressure with your pencils the sharper they are – you don't want to snap your tip or leave gouge marks in the paper.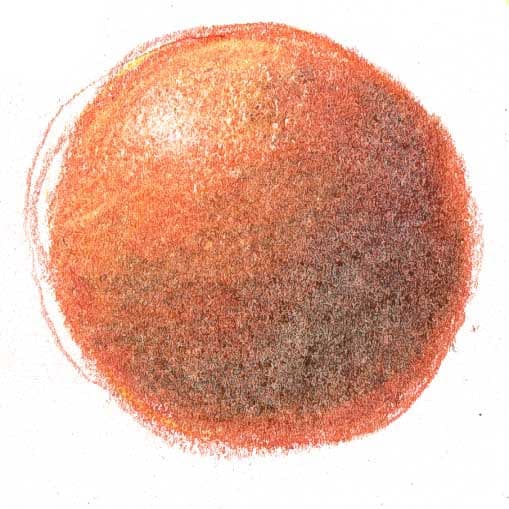 Layering – This takes patience, which I have had to work SO HARD to cultivate. You work really lightly with one color/layer, and keep building up over that layer.
This can give such a beautiful dimensional look to colored pencils, and your eye will blend all the colors together when you are looking at different layered colors.
(Sometimes it's helpful to take a deep breath and slow yourself down mentally before tapping into letting yourself work slowly.)
I love this easy-to-follow tutorial by John Muir Laws on layering and blending. (Hint: don't press too hard, or you will burnish!)
Cross-hatching – what a great tutorial on Wikihow! There are a bunch of short videos to follow, and each step is broken down completely.
Disclaimer: this is a drawing pencil technique, but the same technique applies to colored pencils.
Scumbling – Scumbling is actually a really cool technique because it's just basically drawing a million little loops with your colored pencils.
Tiny, tiny loops, lightly, and overlapping a whole bunch to build up layers of color. You can see how it differs in look here, and read more about colored pencil techniques on this WetCanvas post.
Mixed Media Color Pencil Techniques
Art is Fun has such awesome tutorials on her site, and here she shows in detail how to use watercolor both on top of, and under the colored pencils.
You can follow along and make a dog based on this one, or simply use the techniques she shows to make your own art.
Colored Pencil Techniques Incorporating Other Materials
Solvents – You can use rubbing alcohol, turpentine, or rubber cement thinner to blend colored pencils, and this tutorial will give you some good ideas on how to do this. Work in a ventilated area!
I've used both alcohol and turpentine on colored pencils, and you really can get some great melty mixing effects.
Baby oil acts as a solvent, too. I haven't tried it, so I can't attest to if it works just like the other solvents, but here's an interesting read by someone who tried it and recorded her results and thoughts on using baby oil over other solvents for blending colored pencils.
Scraping with blade
You can use a blade with colored pencils to scrape away large or small areas. This technique is great for making small detail lines, but can easily damage (or go through) your paper, so be careful.
It works best over lots of layers of colored pencils to reveal a layer below.
Incising lines
Take a piece of wax paper and lay it over your drawing paper. You can then draw on the wax paper to make textured areas in your drawing paper.
Use the sides of your colored pencils to color over the incised lines and you'll get sort of a reverse crayon rubbing effect.
Colored Pencil Supplies
Colored pencils
I do love Prismacolor colored pencils a whole bunch. I fact, try not to drool when you look at this photo:
This is the 132 color-set and includes blender pencils and a sharpener. Nice deal.
But! You have a tough choice here. Faber Castell colored pencils are amazing to work with, layer so beautifully, and dare I say they have a cult following?
If you are ready to spend a bit more on colored pencils, definitely give them a try.
And then there are these…. awwwwwww, I couldn't resist:
 3 Pack Cute Cartoon Bear Drawing Mini Colored Pencils with Sharpener, 3.5
Colored Pencil Paper
Decide if you want your paper to be smooth, or have a little texture. I usually prefer smooth when I paint and draw, but that's totally personal preference.
You'll also need to choose between white/cream/colors and weight of paper.
I would always choose a nice, heavy paper so you don't risk tearing, and I tend to like white paper over the others.
Here are some good colored pencil paper options:
 Strathmore Artagain Pad, Assorted Tints
 Strathmore Colored Pencil Pad
 Strathmore Bristol Vellum Pad
 Stonehenge 100% Cotton Loose Papers
Books About Colored Pencils
These look good, but the texture one really caught my eye. What a great way to practice your colored pencil techniques!
Colored Pencil Painting Bible: Techniques for Achieving Luminous Color and Ultrarealistic Effects
Colored Pencil Painting Portraits: Master a Revolutionary Method for Rendering Depth and Imitating Life
101 Textures in Colored Pencil: Practical step-by-step drawing techniques for rendering a variety of surfaces & textures
Colored Pencil Online Classes
These 3 classes look phenomenal to get you started or brush up on some colored pencil techniques and skills. Did I tell you how excited I get that there are so many amazing online art classes?
Startup Library: Colored Pencil
The Colored Pencil Drawing Course
Drawing with Colored Pencils: Basic Blending Tips & Techniques
Related Reading: Acrylic painting techniques and Gelli plate printing techniques
Photo by Jess Watters on Unsplash