Many kids eagerly wait for their summer vacation so they can take a seasonal break off school and enjoy a sunny beach trip with the family. And one of the iconic seashore sights that kids always remember is gorgeous seashells.
If you want to add an element of fantastic fun to your kids' summer trip, then seashell craft ideas are the perfect way to keep your kids busy in a productive manner and build objects that will always remind them of a happy memory.
Fortunately, there are plenty of simple and fun seashell crafts for kids, especially when there's such a wide variety of seashells available at the beach. Maybe your kids even like to collect them and surprise you.
So if you want a budget-friendly way to give your kids a productive morning, read on for the best seashell craft ideas for kids.
Crab and Turtle Shell Fridge Magnets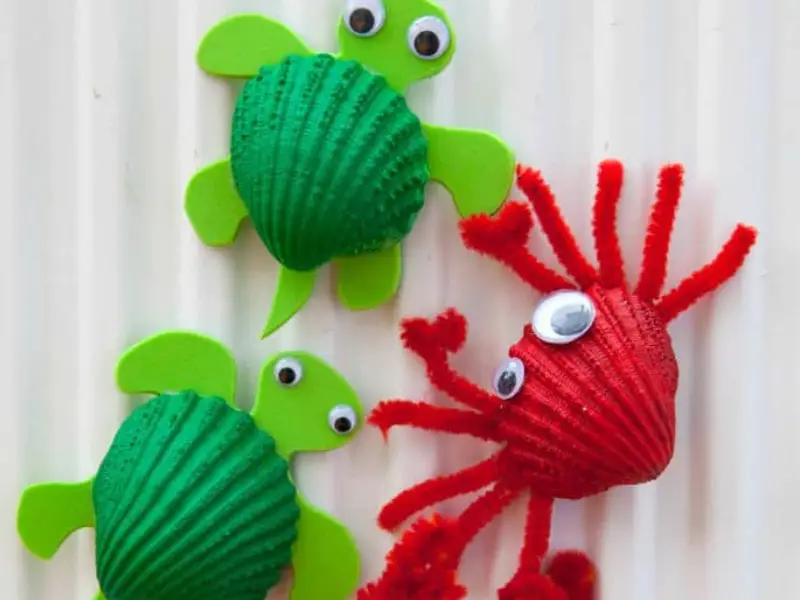 If your kids love animals, and specifically marine animals, then they'll love making these super cute sea creatures with their googly eyes. It takes shells and a few basic supplies like paint (different colors for different animals), a magnet, and glitter glue.
This is an excellent idea for arty, crafty kids who like to see their work brandished around the house since it'll fit nicely onto your fridge and look great at it!
Check out some instructions for crab and turtle shell fridge magnets on Red Ted Art.
Seashell Necklace
Necklaces are some of the most popular automatics for kids to make since they are often simple and look great as an adornment, and seashell necklaces are no different!
If your kid has an adorable seashell, then all they need is a piece of yarn to turn it into a fashionable necklace that they'll enjoy. Moreover, if you have a few small shells, your kid can make multiple necklaces for their friends, too!
Here is an implementation of seashell necklaces on Castle View Academy.
Mermaid Necklaces
Another fun idea that branches off our previous craft is a mermaid necklace. And although this one requires a few more supplies, it's one of the most amazing seashell crafts for kids who love mermaids.
It's a stunning and shiny pendant, as well. And who knows, once your kids learn this craft, maybe they'll surprise you with your mermaid necklace one day!
For instructions, read this tutorial on mermaid necklaces by Mama Papa Bubba.
Seashell Ornaments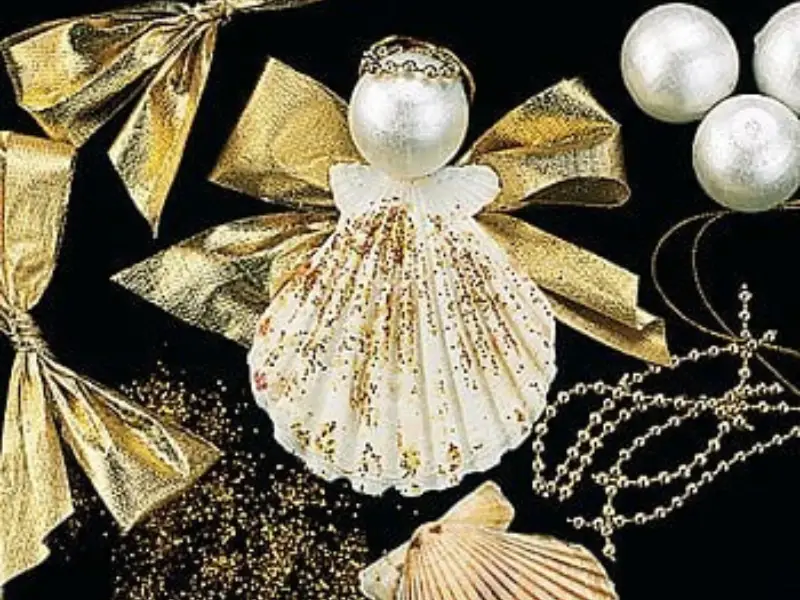 If you went to a pacific island with your family and stayed at a local themed hotel instead of a popular one, then there's no way you or your kids missed the iconic sea-inspired decor.
Luckily, your kids can add a touch of the sea to your house using this brilliant DIY seashell craft. These ornaments look fabulous and can fit in different rooms around the house, depending on the look and different colors of the seashells your kids have.
Check out this DIY tutorial on seashell ornaments by Holidappy.
Seashell Collage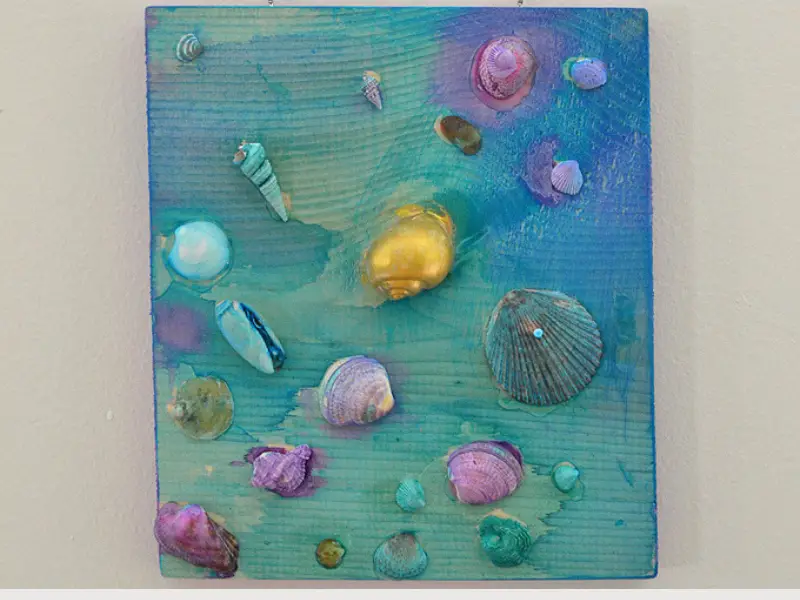 Sometimes, the missing piece in the puzzle to turn an average room into a warmful one is a cool art piece. And this seashell collage is a cool idea that will spark your kids' room up.
Besides, this is a very creative project! Your kids can draw up practically any scenery they want on the board and decorate it as they like with their colorful seashells. And when you hang it on their walls, it'll be the new room icon for a while.
Find out more about creating a seashell collage on the Art Bar Blog.
Salt Dough Pendants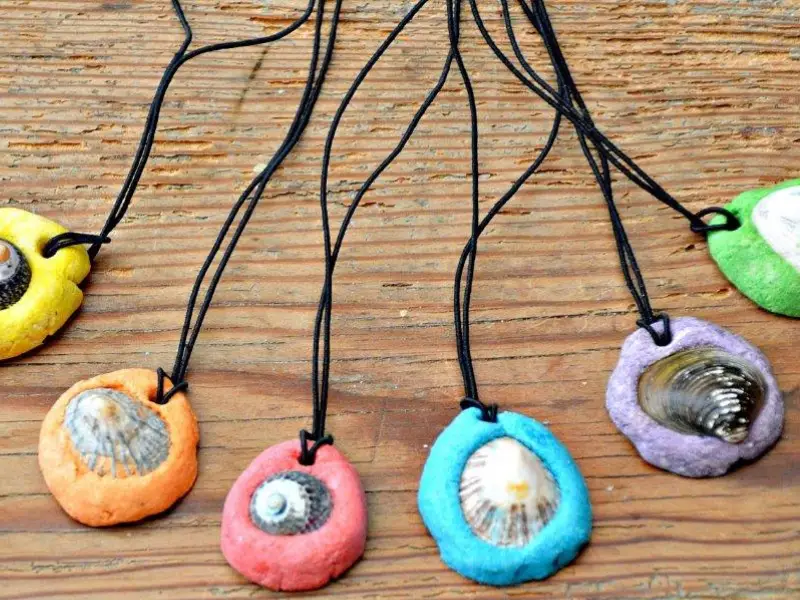 When you factor in the wide and colorful variety of dough and seashells, you realize just how many possible seashell craft ideas these two can make, and one of them is pendants.
These cute accessories are a fun way to keep your kids busy making themselves a new ornament to show off to their friends. Besides, they're brilliant gift ideas among kids.
Follow this guide on salt dough pendants on Red Ted Art.
Sea Shell People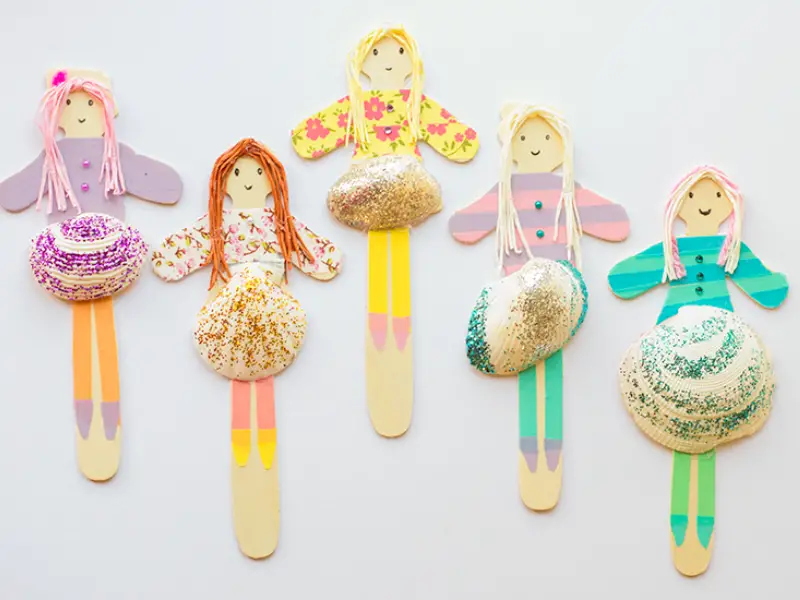 If you want to give your kids a seashell craft that also doubles as a fun toy to play with, then these sea shell people are an easy peasy and fun way to do so!
Your children can get as creative as they want with these shell people. Just make sure they've glued all the pieces properly together because there are more than a couple.
Here's a wonderful example of sea shell people by Let's Do Something Crafty.
Colorful Seashells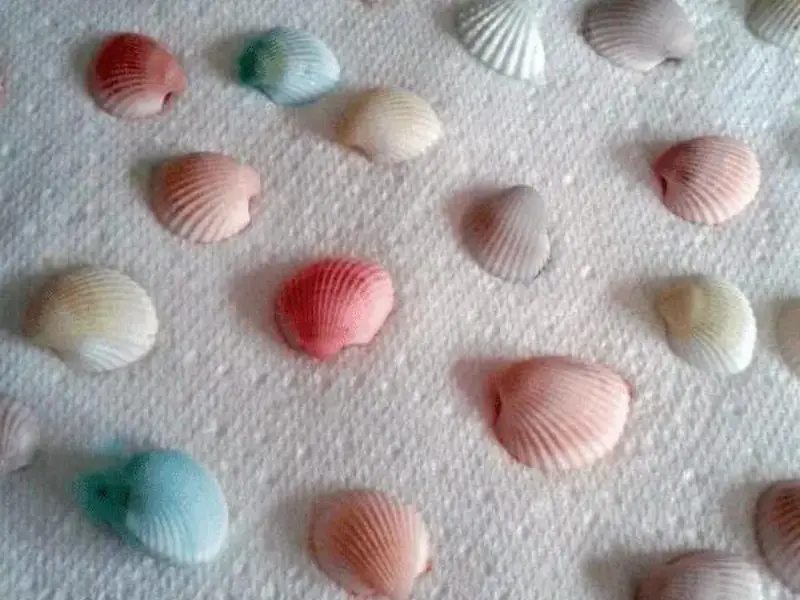 Seashell crafts for kids shouldn't be too complicated or involve too many parts. Sometimes, all your children want is colorful seashells to play with or decorate their rooms. And you can help them make it happen with a few simple shells and supplies.
This is a fairly versatile and simple craft since your children can use as many shells as they have in whatever color they want to create their lovely collection. It's even suitable for toddlers!
Here's a step-by-step guide on coloring seashells by Rainy Day Mum.
Ocean and Waves Discovery Bottle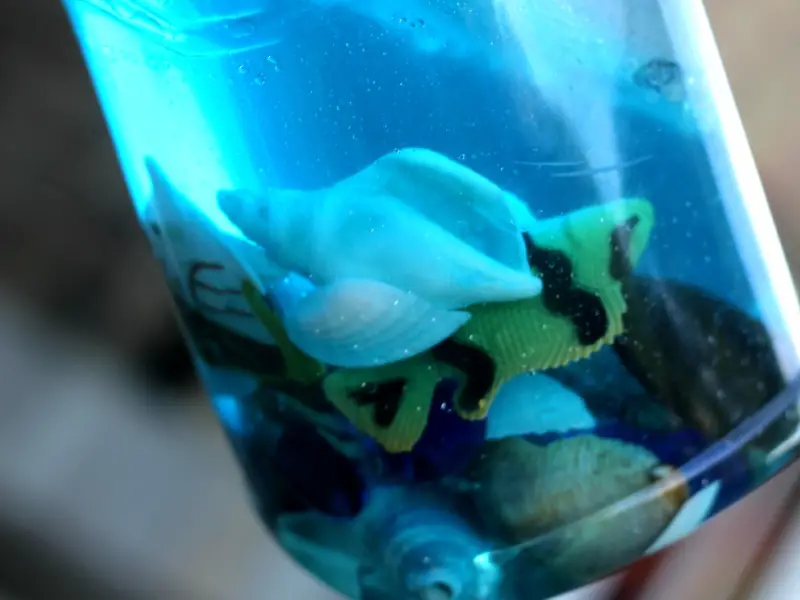 This is an excellent seashell craft that your kids can make to decorate their rooms and keep engaged all summer long!
All your kids need is water, gel color, and sea shells. Then they can build their shiny slice of marine life into a small, portable bottle that will always bring a cute summer vibe to the house.
If you want some inspiration on making an ocean and waves discovery bottle, here's a guide by the Imagination Tree.
Seashell Jellyfish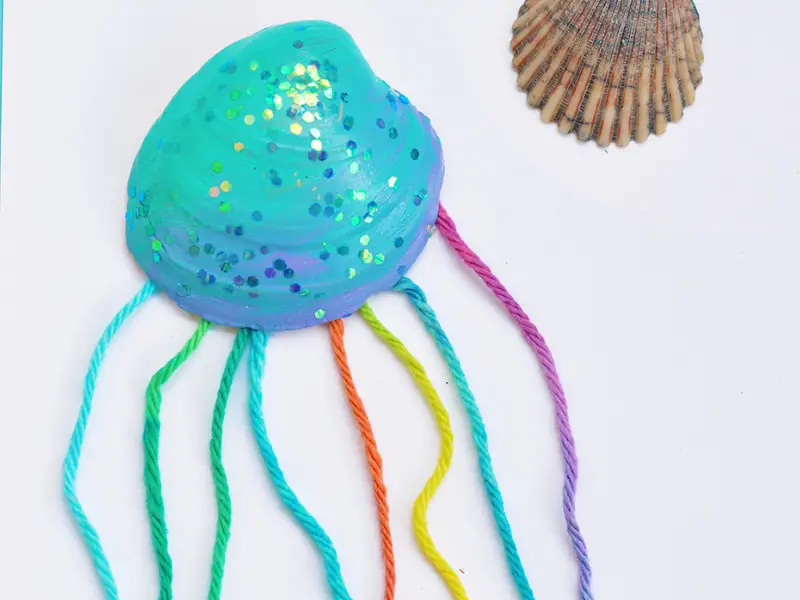 Jellyfish are fascinating creatures. And for kids who are still learning about animals, and especially marine animals, they must've been fascinated by these peculiar sea species.
Now you can help your kids bring these jellyfish into the house by making them out of seashells! And your kids can even add some adorable googly eyes to give the jellyfish a little more personality.
Check out this seashell jellyfish how-to by I Heart Arts n Craft to get started.
Seashell Mosaics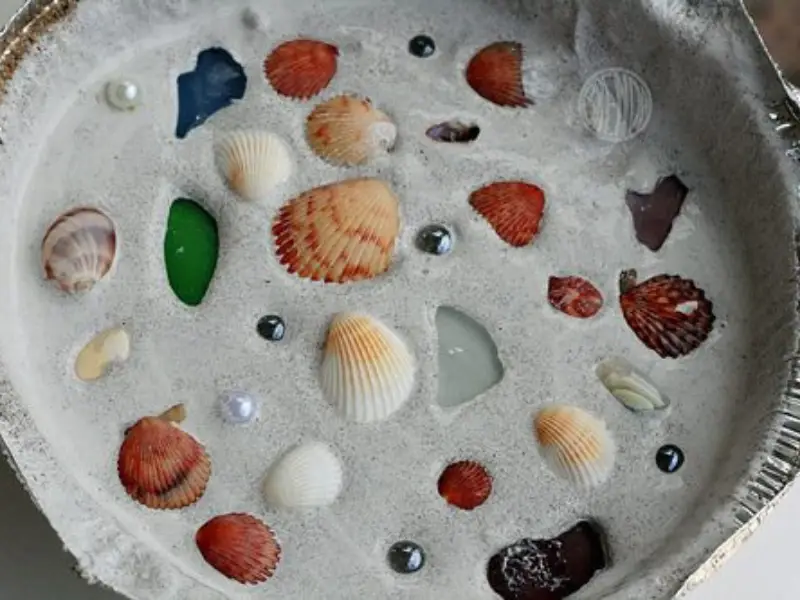 Some kids grow to be collectors. And if your kids like to collect seashells, they can combine their colorful collection into one adorable mosaic shell craft.
As a bonus, this will keep your kids busy all summer long. And it will also help you if you find organizing your kids' collections a challenge. Besides, their seashells will never be scattered around!
To learn more, here are the directions to make seashell mosaics by Alpha Mom.
Seashell Ladybug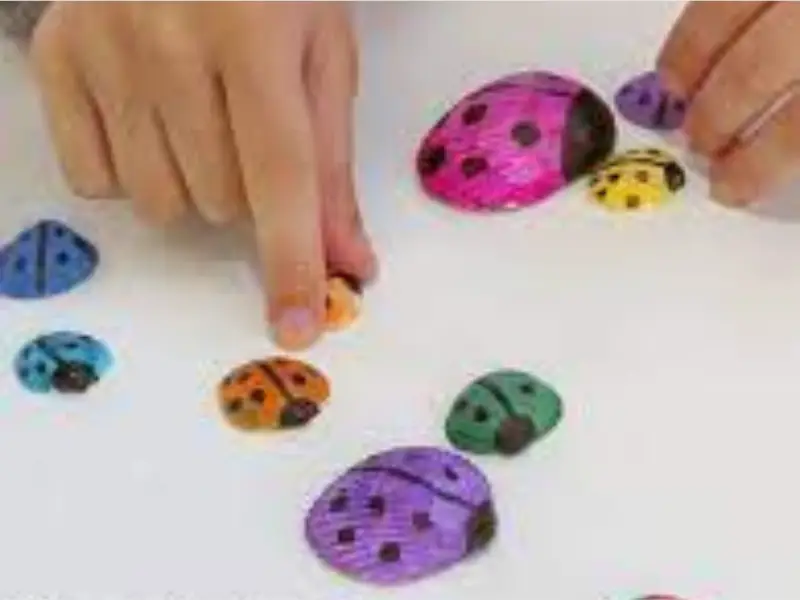 Many kids are fascinated by ladybugs because of their bright and adorable shells. And your kids can use seashells to create their ladybug toys with their little hands!
This seashell craft will also train your kids at eye-hand coordination since they'll surely want to get the stripes colored correctly, so keep an eye on them.
Read this fantastic tutorial on seashell ladybugs by Still Playing School to get started.
Crystal Seashells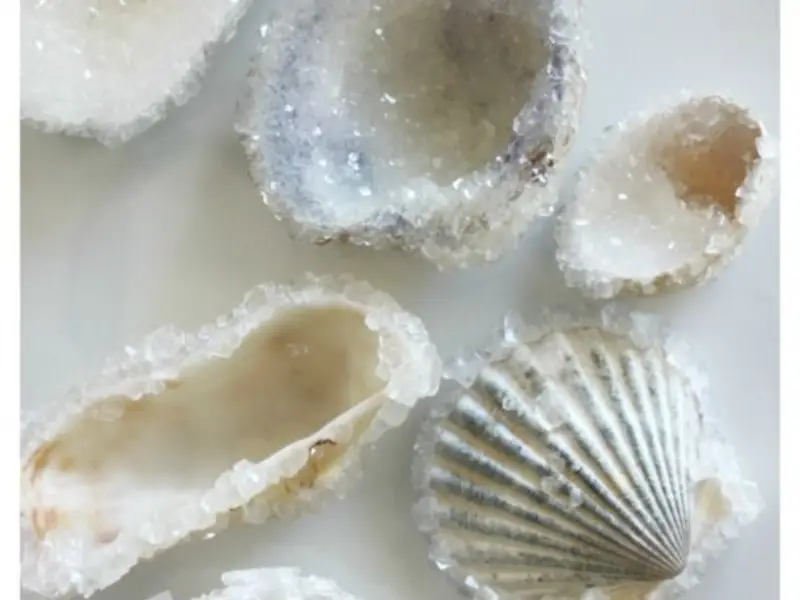 Although crystals often look and feel intimidating to craft with, especially when it's kids crafting them, this crystal seashell craft is quite an easy one! It's also a craft and a science experiment in one, so it's a must-try STEM project for curious kids who love the summer.
So get your borax because your kids will soon start mixing until the crystals form. And once they do, the result is a shiny and adorable seashell.
Here's a tutorial on crystal seashells by Little Bins for Little Hands.
Seashell Covered Vase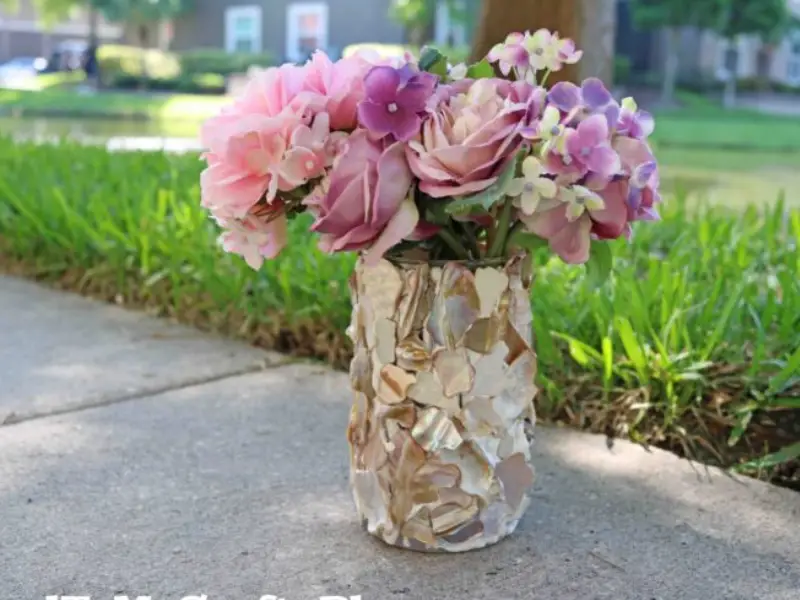 Not all seashell crafts for kids need to be about building something from scratch. Sometimes, all kids want to do is decorate their favorite items or ornaments with adorable seashells. This is one such craft.
The instructions are simple, the end product is gorgeous, and it will keep your kids busy and add a cute summer vibe to your house.
Learn more about how to create a seashell vase on Glued To My Crafts.
Salt Dough Shell Fossils Imprints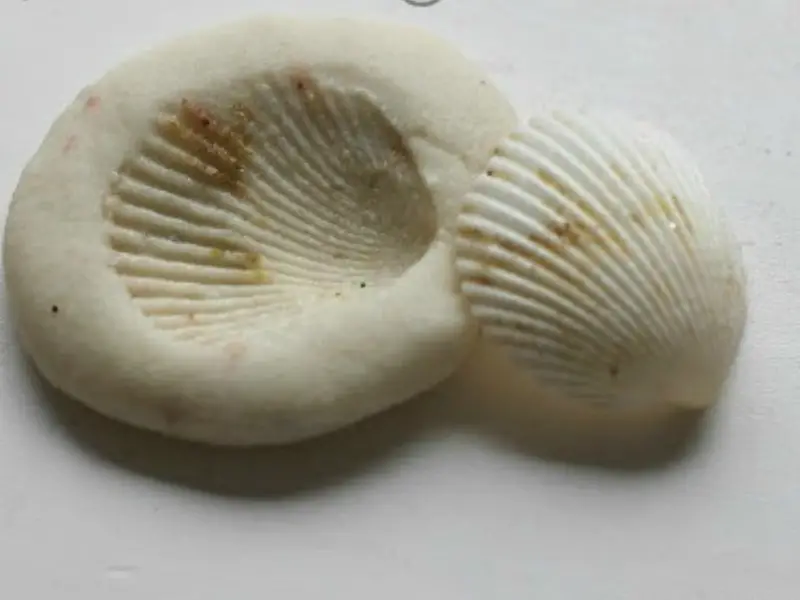 Dough is a decades-old favorite among kids because it just brings endless creative possibilities! Many adults also love it because it keeps their kids busy for a long time.
With this seashell craft, your kids can keep lifelong traces of their seashell collection to hang on their walls or decorate their room with.
Check out this step-by-step tutorial on salt dough shell fossils on theimaginationtree.com.
Seashell Alphabet Activity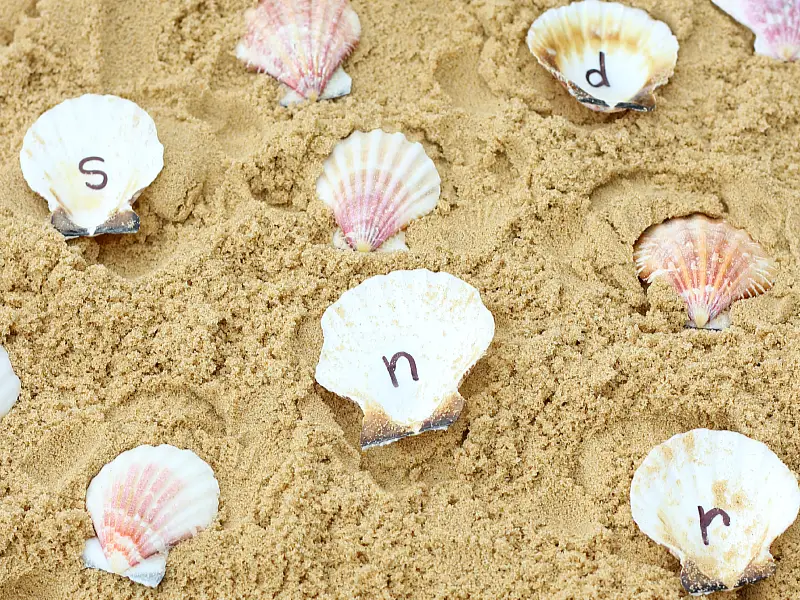 Seashell craft ideas can be a joyful and engaging learning experience for kids. So not only will you keep your kids busy with this activity, but you'll also help them learn the alphabet.
This craft/activity also opens the door for kids to learn about words that start with each alphabet letter, names, and more. It's very versatile, and you can adjust it to your kids' needs.
Here's an implementation of seashell alphabet activity by Pre-K Pages.
Seashell Key Chains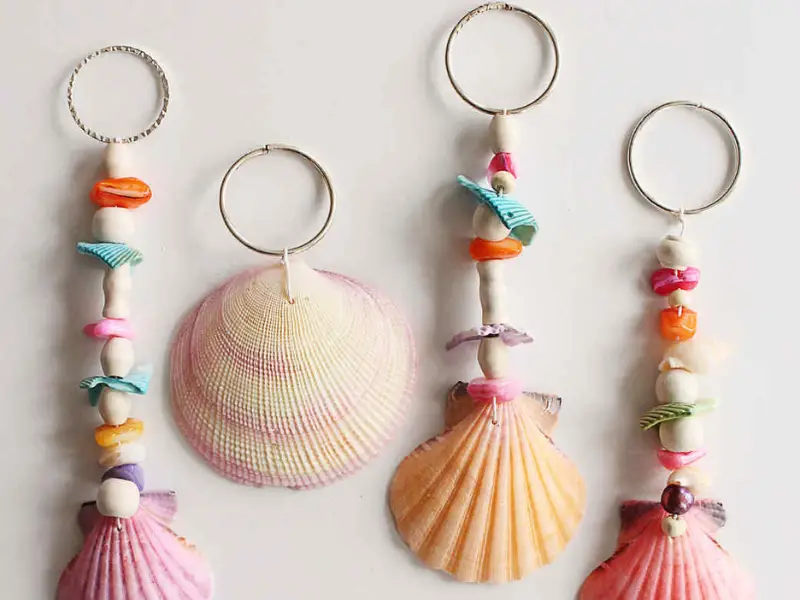 As winter rolls around, your kid can keep memories of the summer and beach by latching these adorable seashell key chains onto their school bag.
This is a simple yet engaging afternoon activity that you can enjoy with your kids after a morning by the beach.
For instructions, read this tutorial on seashell key chains by Martha Stewart.
Seashell Pencil Holder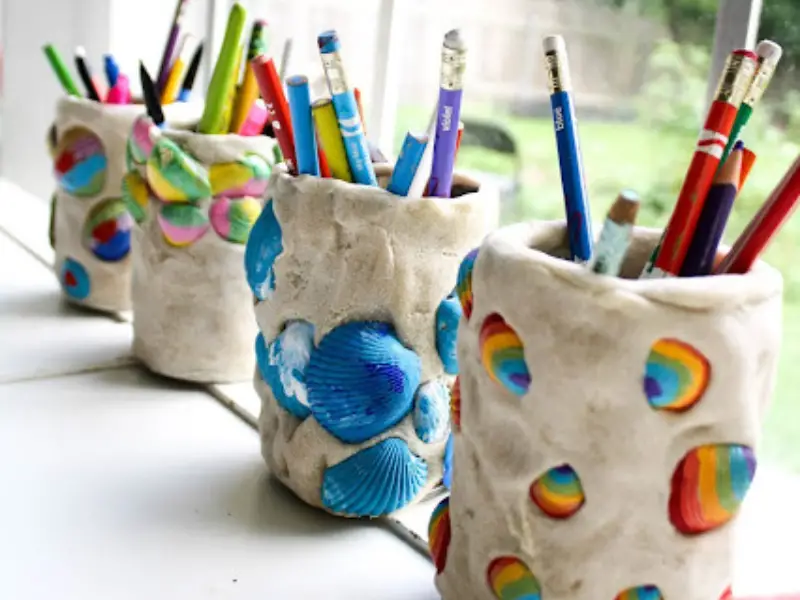 Here's a life-saver for moms and dads whose kids like to collect seashells around without turning them into something!
Your kids can either use dough to create a new pencil holder or glue the seashells onto a solid holder they already have. It's really up to you and them.
Here's how to create a seashell pencil holder by Having Fun At Home.
Seashell Peacock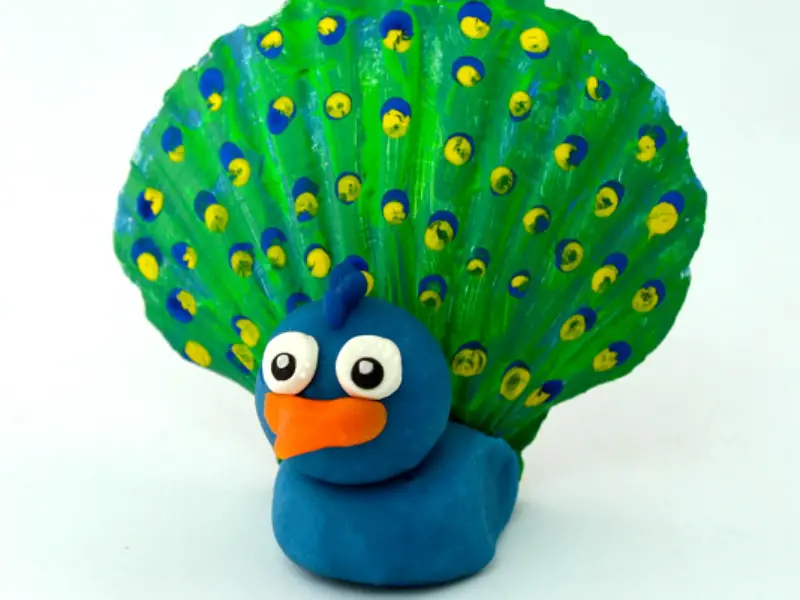 Some animals are easy to create with just play dough. Others, like peacocks, aren't as easy. And while your kids can try to make peacocks out of play dough, it might feel like something's missing.
That missing piece of the puzzle is a seashell. It's incredible how similar seashells and peacock tails look. And with some proper colors and a few lines, your kids' seashells will be ready to decorate their play dough peacocks.
Check out this wonderful tutorial on seashell peacocks on Crafty Morning to get started.
Santa Seashell Ornament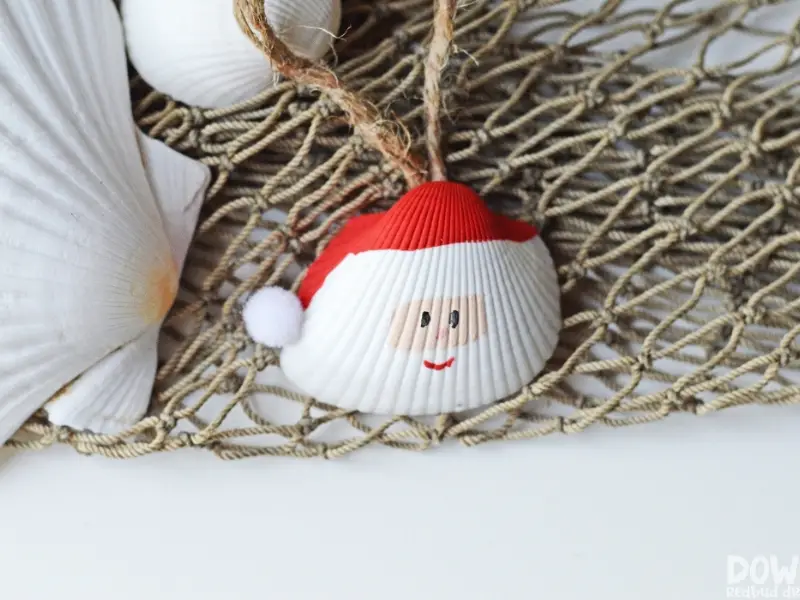 Who knew you could keep a summer vibe even during winter months, and especially on Christmas? There are actually several adorable seashell crafts for kids that fuse between summer and winter, and this is one of our favorites.
Depending on the seashells your kids have, you can create a Santa Claus ornament or pendant of different sizes and shapes.
Here's a nice Santa seashell DIY tutorial on Down Redbud Drive.
Seashell Earrings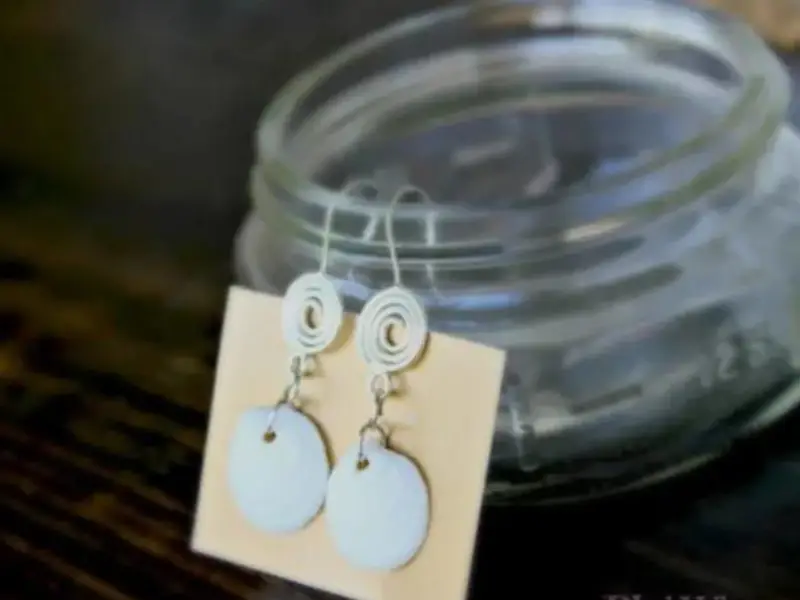 We've covered how to create a necklace, pendant, and ornament using seashells. Now it's time for some adorable seashell earrings!
These DIY seashell earrings are so easy to make and look gorgeous. It's a suitable craft for kids and adults, and it's also a marvelous gift.
For a tutorial, read these steps on making seashell earrings by Moms and Crafters.
Tabletop Seashell Christmas Tree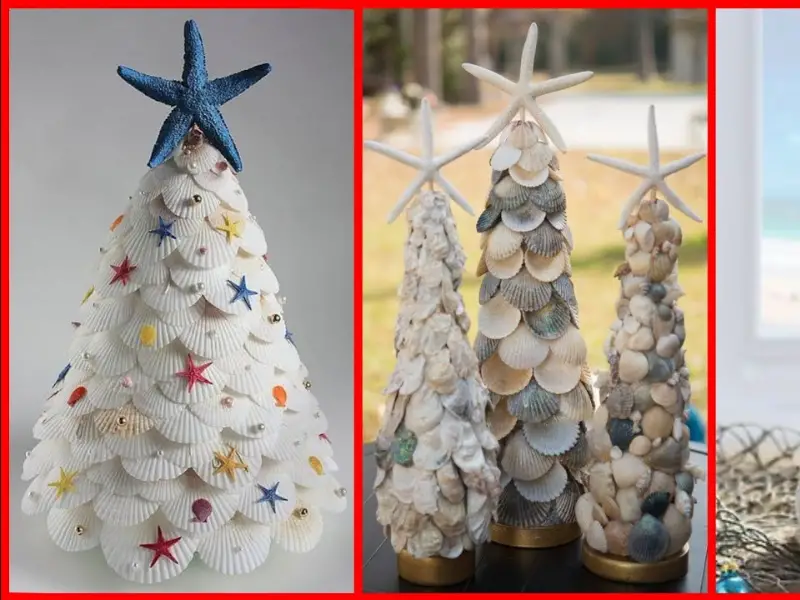 Here's another fabulous seashell craft that fuses summer and winter. These miniature Christmas trees are made of a collection of seashells and will adorn your Christmas dinner table like magic!
There's also a significant creative element in these miniature Christmas trees. Your kids can make them however they like and with whatever colors they choose.
Credits for this tabletop seashell Christmas tree idea go to Holidappy.
Oyster Seashells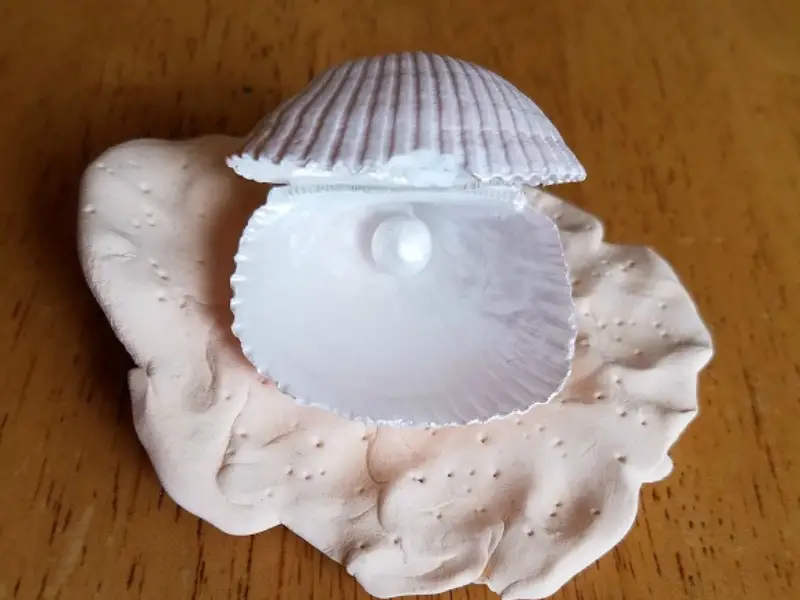 Oysters are great icons of the deep ocean. And now you can help your kids bring this fascinating piece of marine biology into your home using a pair of seashells and a few other basic supplies!
Here's an easy guide on making oyster seashells by Crafty Morning.
That's all for our list of seashell crafts for kids! Remember that you can add a lot of variation to most of these crafts since seashells come in various shapes and colors, and many of the products are also varied. So let your kids unleash their creativity with these seashell crafts.
Comments
0 comments