Is summer break coming up, and you're looking for a fun activity for your kids to do at home? Or maybe it's school time, and your kid has an art project due soon. Whatever the case is, creative painting ideas are the way to go.
Painting is not only great fun for all ages, but it's especially beneficial for kids since it's a new way for them to express ideas and convey their emotions. And not to mention, working with small brushes helps improve their fine motor skills like eye-hand coordination.
However, we know that the classic brush and canvas aren't so easy for everyone. So we've come up with a list of super fun ideas for your little ones to try. So you can refer to this list of painting ideas for kids if you want to bring a large smile to your kids' faces.
DIY Sidewalk Chalk Paint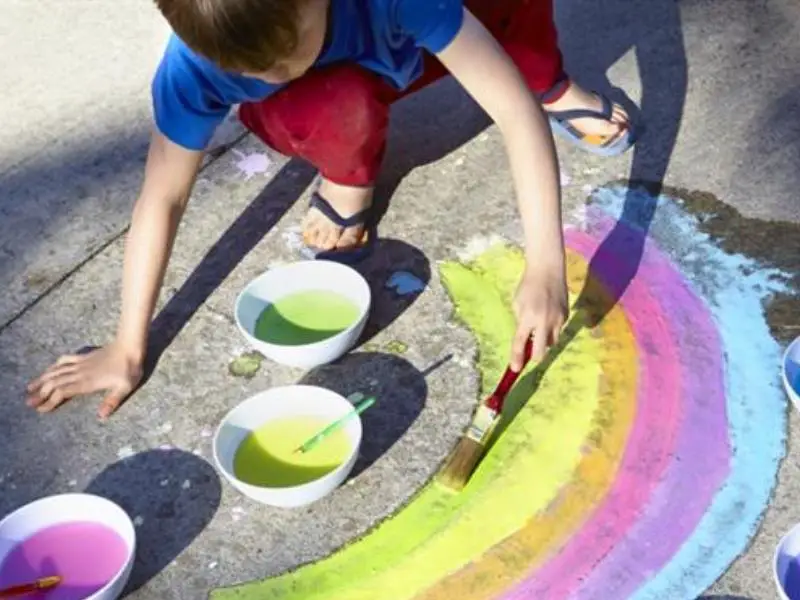 What's so great about this particular activity is that it's three different types of fun. First of all, the DIY process of creating chalk paint, which is a fun way to learn about color combinations.
Second, there's coming up with awesome painting ideas, which is where your kids will have to unleash their creativity. And lastly, there's the actual painting, which is so much fun on its own.
Check out this DIY tutorial on sidewalk chalk paint by Argo.
Finger Painting Monet Craft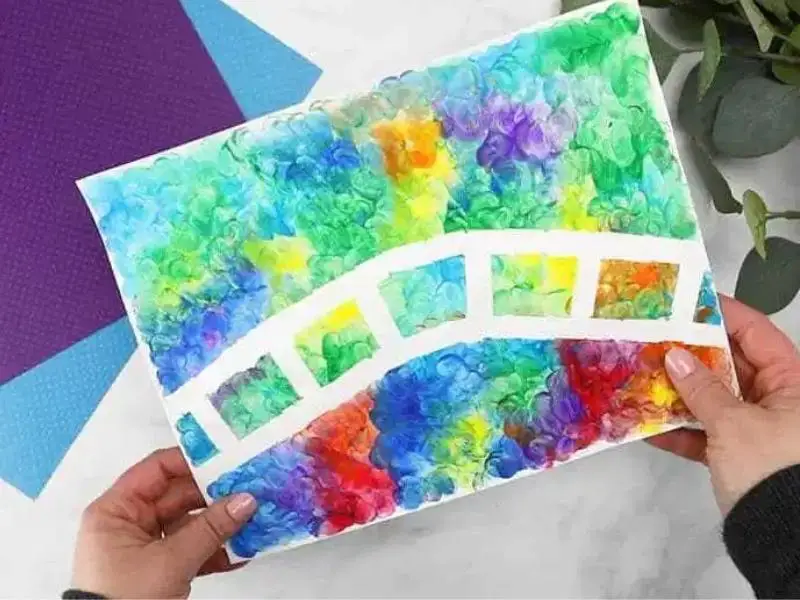 Here's a fun painting idea for kids who love art, especially if they follow French artists of the past. And if your kids love getting hands-on with their art projects, they'll enjoy finger painting ideas like this Monet-style craft.
So strap in and prepare to create a fun mess with your kids because this fun art activity will keep the kids busy for a while and leave them satisfied at the end.
Check out this guide on Monet-inspired kids art by the Crafty Classroom.
Ice Cream Painted Rocks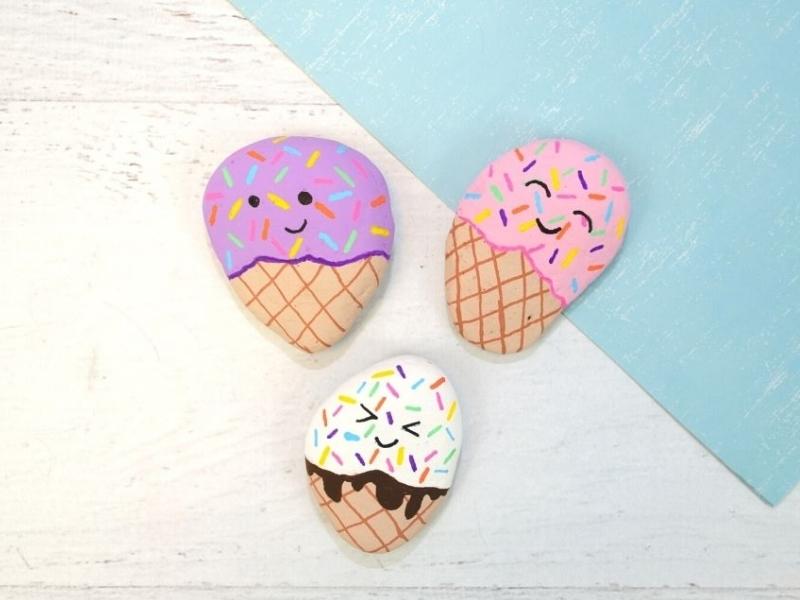 Everyone loves ice cream, but perhaps kids do more than anybody else since they're always waiting for this fun surprise. And one of the best ways to get a kid hooked into an activity is to relate it to something they like.
So if your kids have a river rock collection and you'd like to help them put it to good use, introduce them to this colorful craft.
Read more about ice cream- painted rocks on Projects With Kids.
Window Glass Painting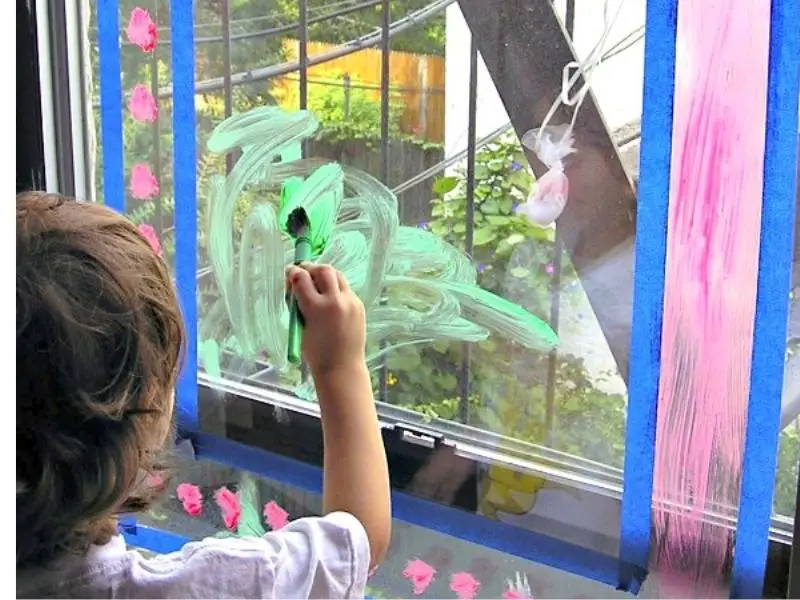 Kids enjoy decorating their bedrooms and adding their personalities over every landmark in their kingdom. One of these landmarks is their windows, especially bedside windows.
And your children will enjoy this project even more if you have windows that don't stare at pretty scenery, so to say. So if you'd like to cover it up, take a look at this project.
For more inspiration, here are 14 window glass painting ideas by What Do We Do All Day.
Rainbow Painted Flower Pots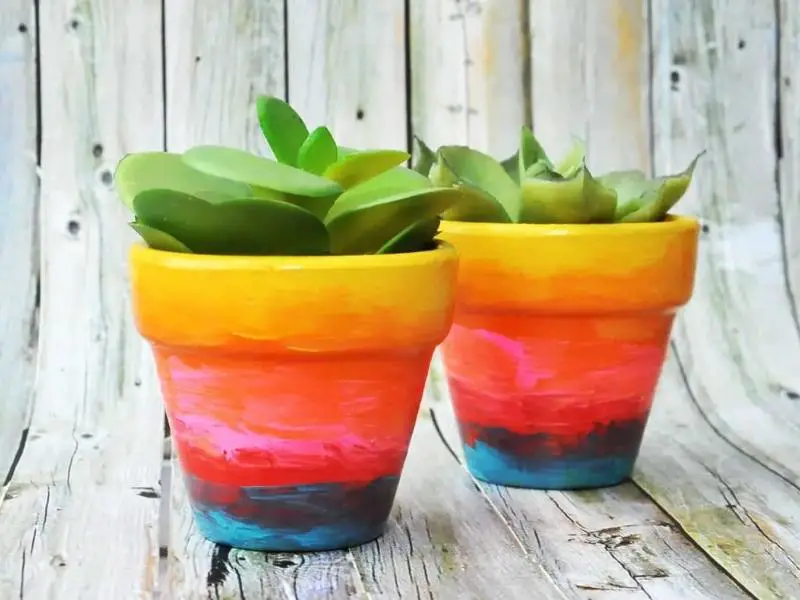 Flowers are all about their beautiful colors. But it doesn't have to be limited to flowers only, since flower pots can also be an attractive house decor.
This is one of the easiest painting ideas for kids. And you can use acrylic paint with a brush since it's such a versatile project. You could also apply this project to a flower vase or join in on the action! It's a fun idea for kids and adults alike.
Read more about how to make rainbow flower pots on DIY Candy.
Scrape Painting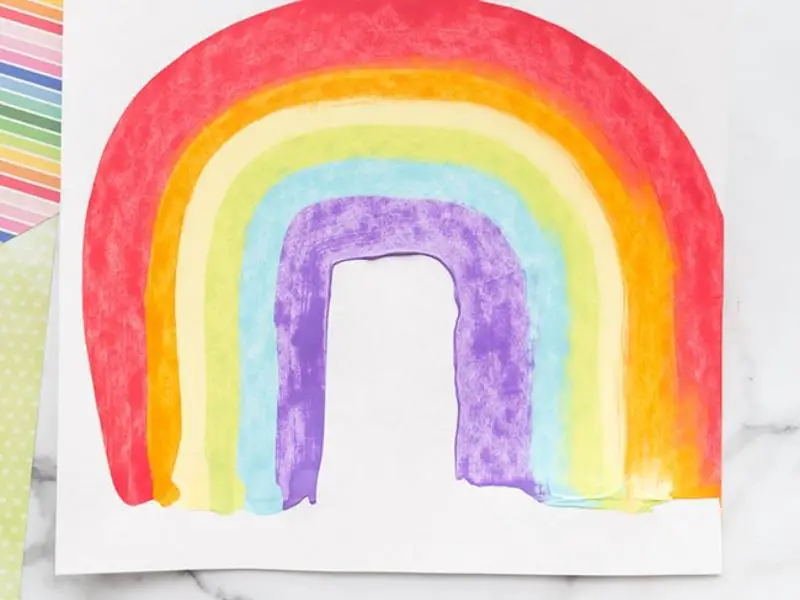 Paint scraping is another easy art project for little kids and older kids. It's also one of these projects where it feels like you're building up for something great, and the result appears suddenly – at least from a kids' perspective.
You need white cardboard, a template, and some easy-to-get items to get started. And the gradient levels your kids can make with these supplies are incredible.
Here's a tutorial on shamrock scrape painting ideas on the Best Ideas for Kids.
Bedroom Wall Painting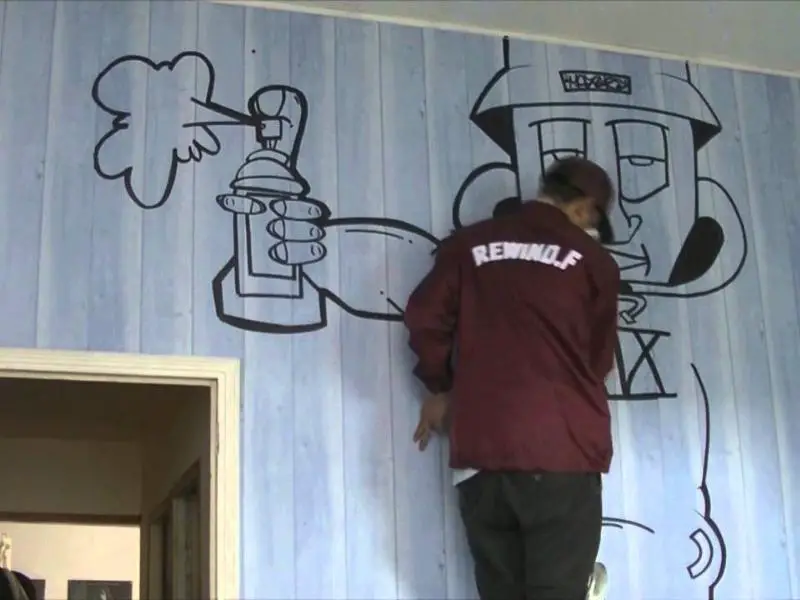 We just talked about painting on bedroom doors and windows. But let's not forget bedroom walls, too! And you can apply wallpaper before they start painting if you'd like to recycle their walls.
Walls come in a plain color by default. But kids with their creative minds wouldn't miss out on a chance to turn their bedroom walls into the next Starry Night. But unless your kid is Vincent van Gogh, they'll have to do with simpler paintings.
For more insight, check out inspiring these wall painting ideas by K4 Craft.
Easter Eggs Coloring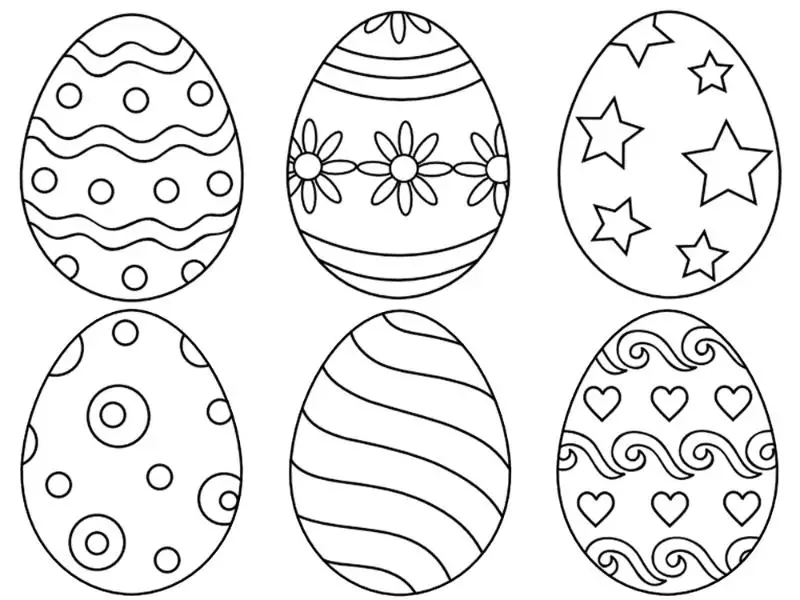 Painting on small everyday objects like eggs is a great way for little children to refine their motor skills and train their finger muscles.
Fortunately, you don't have to wait for Easter to get your kids painting on eggs. And you also don't need a fancy set-up since you'll mostly use common household items.
To get started, read this step-by-step guide on coloring easter eggs by the Spruce Crafts.
Sweet Strawberry Painted Rocks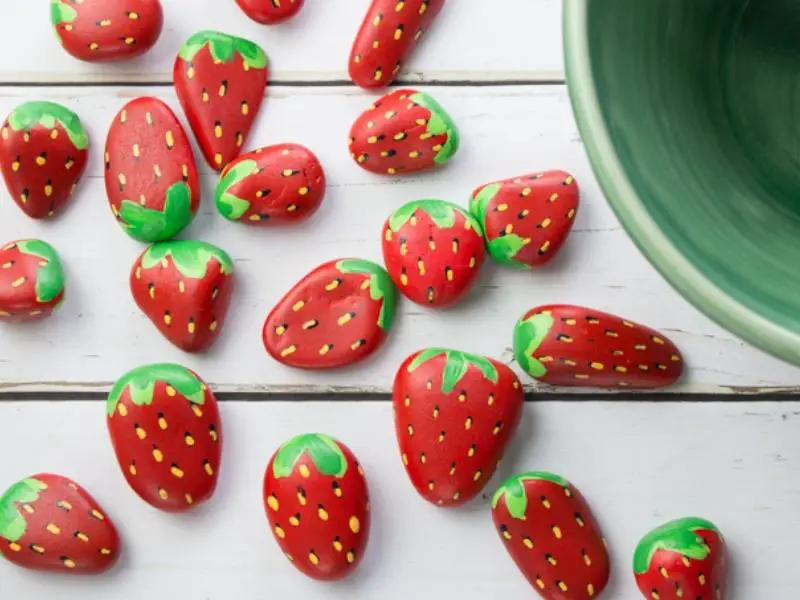 If you struggle with getting your kids to eat healthily, you can get them more interested in eating fruits and vegetables by incorporating these foods (and their shapes) into their day-to-day lives.
Of course, these strawberry-painted rocks aren't edible. But they're still great painting ideas for kids. Besides, they look appealing and will leave your kids wanting some strawberries.
Read more about sweet strawberry rocks on Sustain My Craft Habit.
Balloon Dart Painting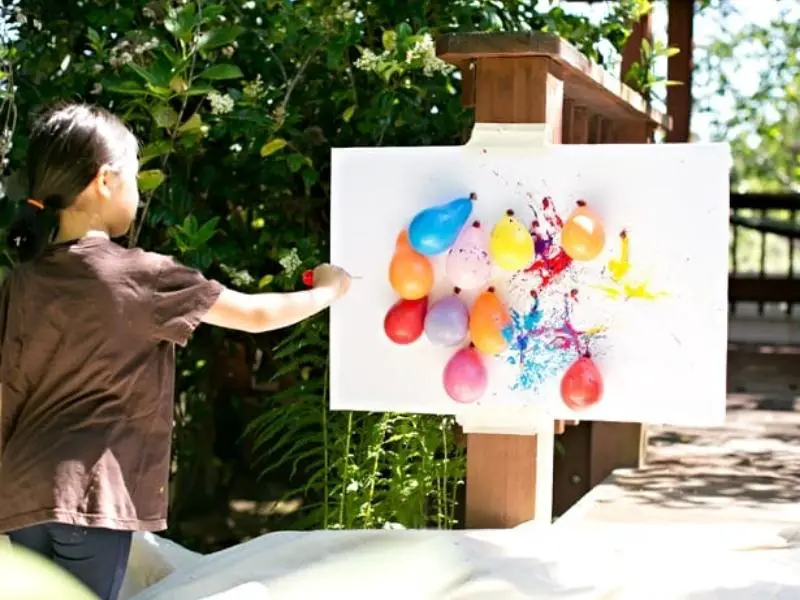 Can't get your kids into painting the traditional way with brushes? No problem! You can combine art with a fun game to create wonderful painting ideas for kids.
Once you've set up the paint-filled balloons on a board, set it outdoors and have your kids aim at the balloons with their darts. It's super fun when the colors splash when you land a hit, too! So maybe you could join in for a few throws.
For more information, check out this balloon dart painting tutorial on Hello Wonderful.
Umbrella Watercolors Painting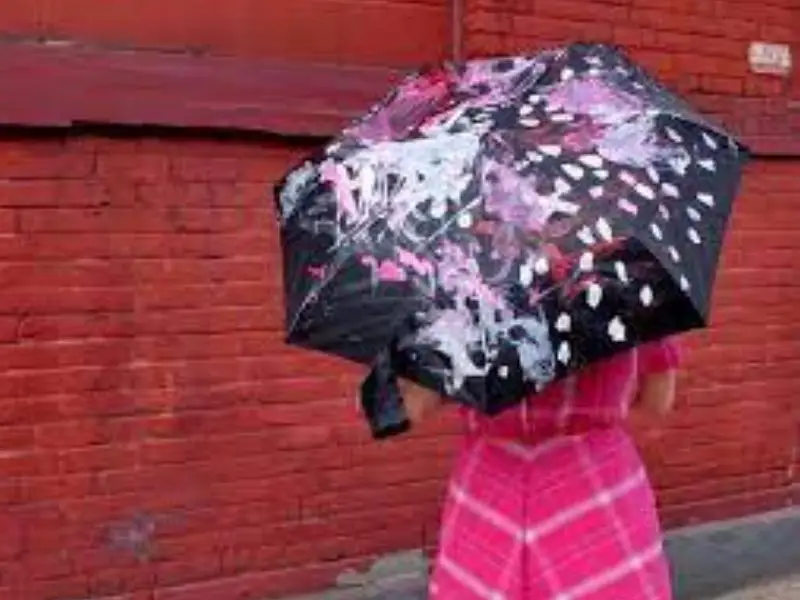 It's always fun for kids to upscale their work to larger objects, like umbrellas. And if you have a few plain umbrellas lying around, you can give your kids some craft paint or watercolors and let them unleash their creativity on it.
The finished umbrellas will also bring a lot of joy on a rather rainy day, so that's another plus!
Read more about umbrella painting with watercolors on Pink Stripey Socks.
Lamp Shades Painting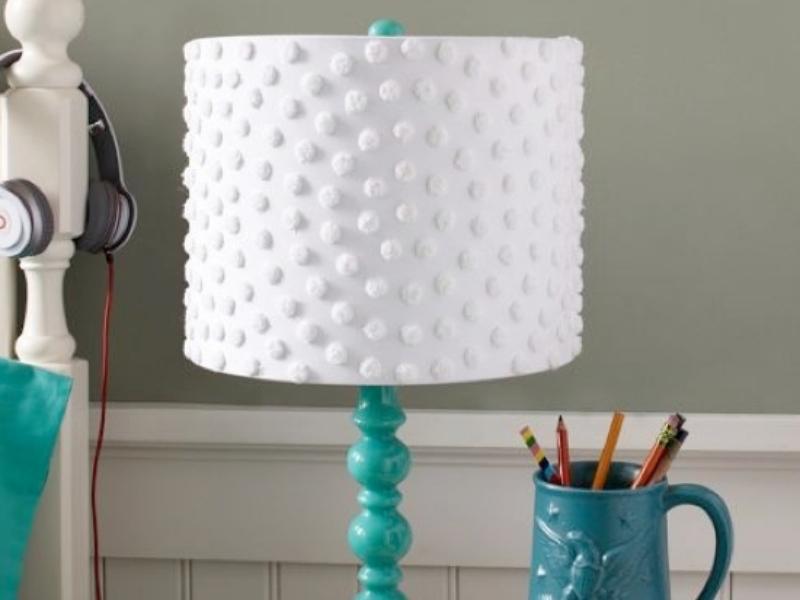 Lampshade crafts are a massive world because they open up a sea of possibilities that other crafts can't achieve. And when you turn on the lamp, you can make the room explode with personality.
There are also many ways to decorate a lampshade, and each yields a different mind-blowing result. And you can upscale the project to floor lamps in the future.
For more creative lampshade crafts ideas, including painting ideas for kids, check out Kids Kubby.
Marbled Seashell Painting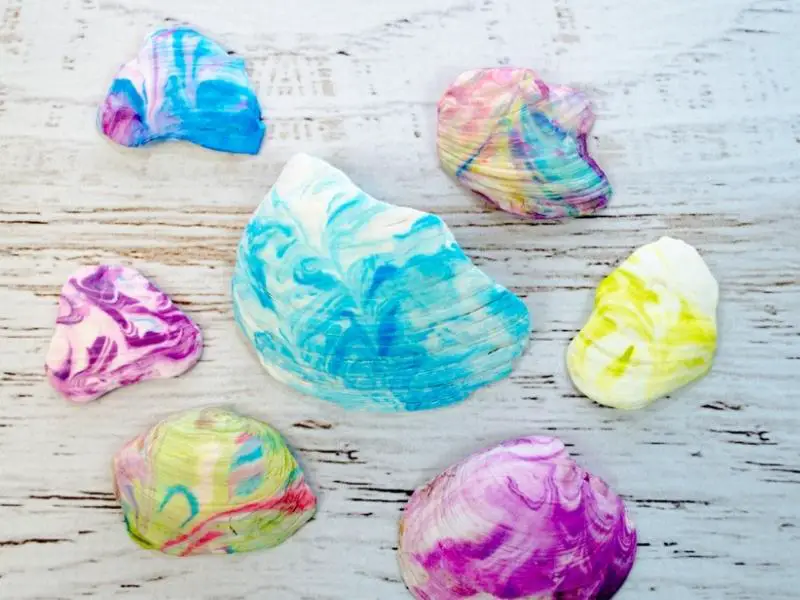 If you have some extra free time, you could get your kids to make these beautiful marbleized seashells.
It's also a great summer afternoon activity. You go out hunting for seashells with your kids, then back indoors to paint them. It's also versatile since you can paint so many different designs. Just be ready for the mess your kids will make!
Find out more on this marbled seashell painting tutorial by Projects With Kids.
Spin Art Project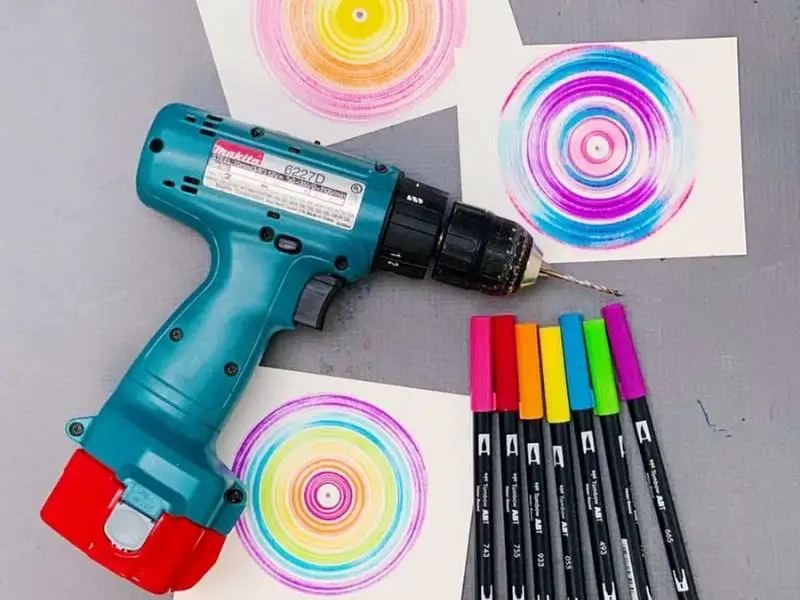 Here's a simple yet great art project for your little ones! Spin art is so popular because it's not very time-consuming, and it's as simple as sticking a piece of paper or cardboard on a power drill and seeing a mesmerizing painting form as you color it.
You should handle this project with extreme supervision, though, since power drills are unsafe for kids to handle. But you could also use a salad spinner or any other device that spins quickly, and you'll get similar results.
Here's a tutorial on power drill spin art for kids on Hello Wonderful.
Bubble Painting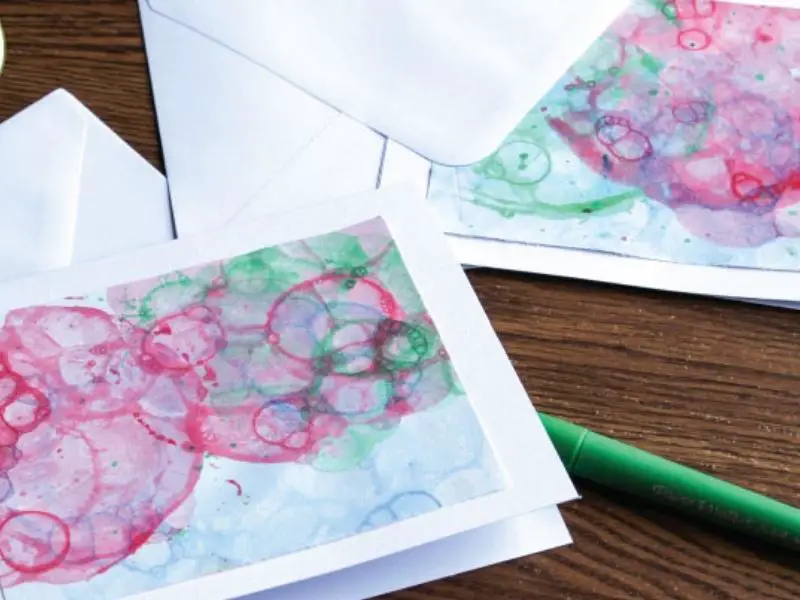 Blowing bubbles is already great fun for kids. Now imagine what it's like painting with bubbles and creating beautiful art?
It may sound intimidating, but it's a straightforward art project. Once you have your hands on the supplies you need, your kids can start. And once they do, they'll have plenty of fun blowing colorful bubbles and seeing their paintings take shape.
Check out this tutorial on how to paint with bubbles by Early Learning Ideas.
Big Canvas Painting With Feet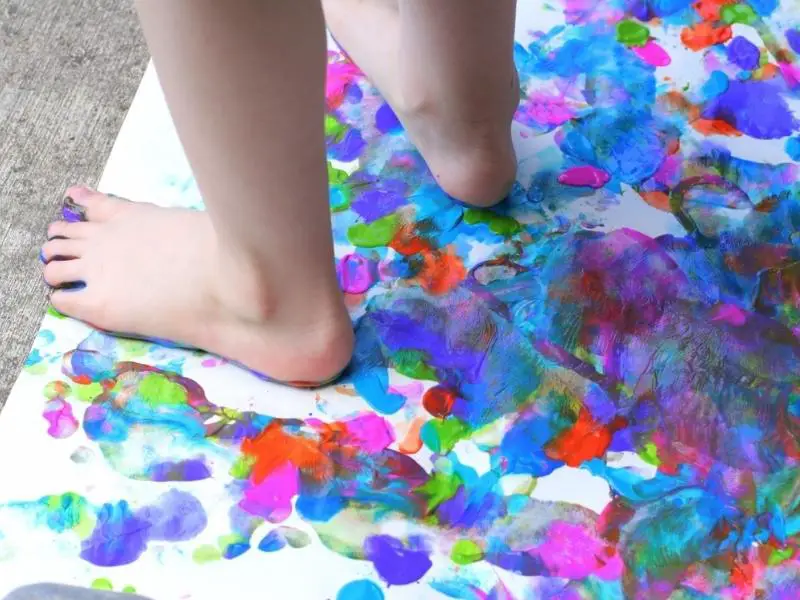 Here's another beautiful idea for kids who can't get into traditional painting with a palette and brushes.
When you think of it as dancing to create art, doesn't it sound like the type of fun your kids would love? Besides, all you need to get started is a huge piece of paper and some paint. And you can join in with your kids, too.
Find out how to start painting with your feet on Fun at Home with Kids.
Dot Painting With Q-Tips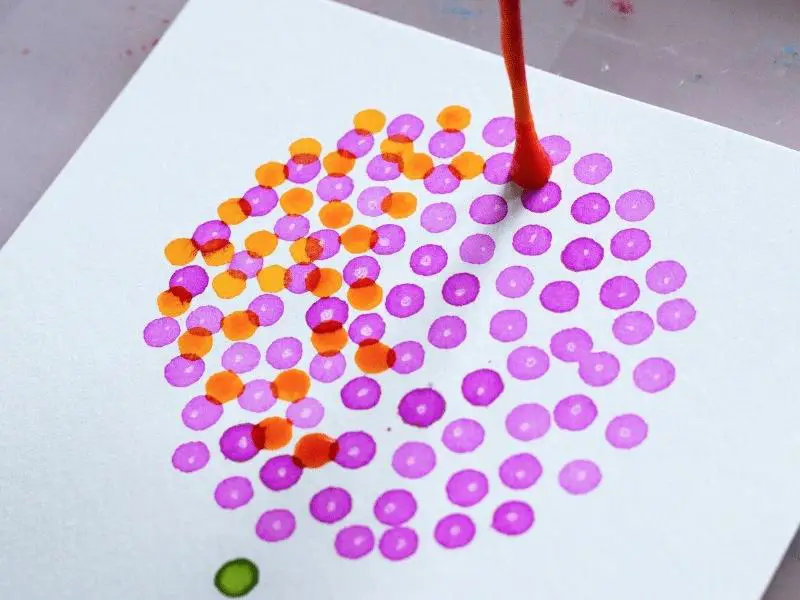 Q-tip painting ideas are great for kids because they teach them how to precisely use small objects to create delicate paintings.
The art is abstract, but that's a good thing! Your kids can start painting and finish whenever they want, and the result will never look incomplete.
To read more about dot painting with q-tips, here's a tutorial by the Artful Parent.
Painting Plates With Food Coloring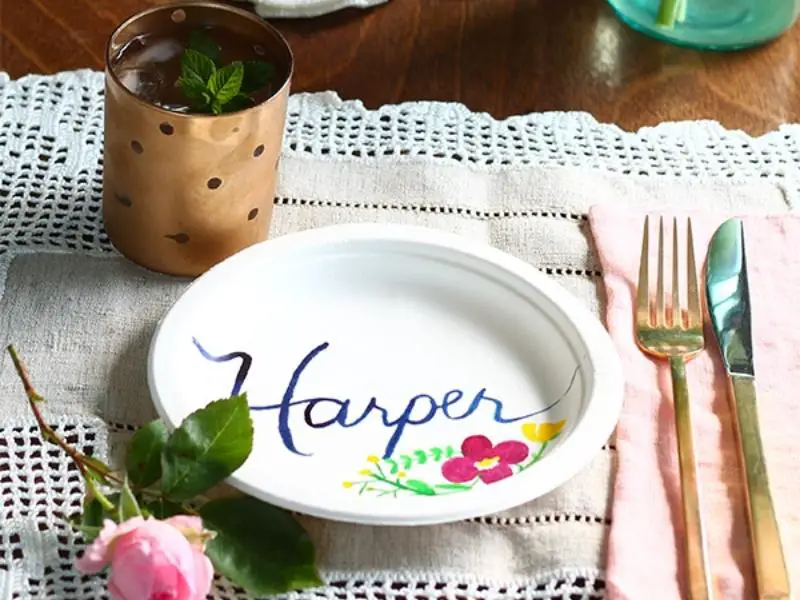 Plates are another one of those objects that we use every day, but they're often just one slab of plain color, at least in a child's mind. And, of course, it's unsafe to use regular paint or watercolors since they'd contaminate any food you put on the plate.
That's why using food coloring to paint plates is a brilliant idea. Your children can draw their favorite designs on plain white plates, and they'll remember those specific plates when it's mealtime.
Here's a tutorial on painting plates with food coloring by Squirrelly Minds.
Paint Pouring With Tempera Paint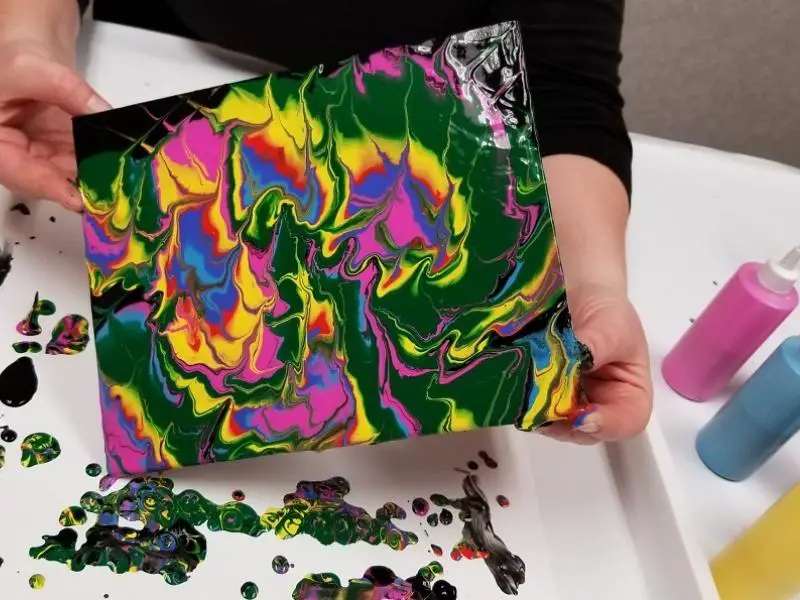 Paint pouring has recently gained popularity because it's an easy and budget-friendly way to unleash your creativity, whether you're a child or an adult.
You can use acrylic paint for this project, but we found that tempera paint is less expensive than acrylic paints and achieves similar results, so we went with that.
Click here for a DIY paint pouring with tempera paint tutorial by S&S Blog.
Puffy Paint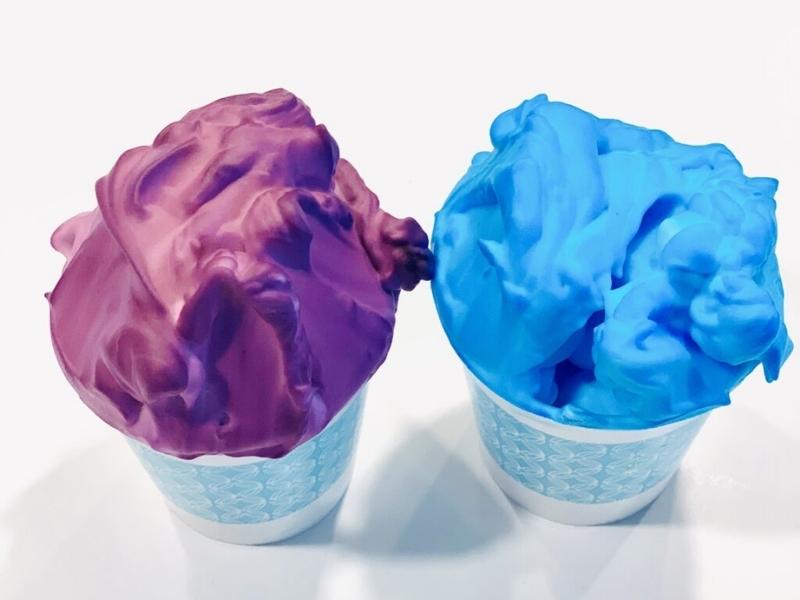 Painting on paper with standard paint is one thing. But when that paint becomes puffy and tangible, that's an entirely different thing. That's why we had to include this fantastic puffy paint tutorial.
You'll need a dispenser, some shaving cream, glue, and colors to create your paint. Once you have it ready, the possibilities are endless. Your children can draw whatever they want and wait a bit for it to foam up and become puffy.
Check out this tutorial on how to make puffy paint by Sunlit Spaces.
Aluminum Foil Painting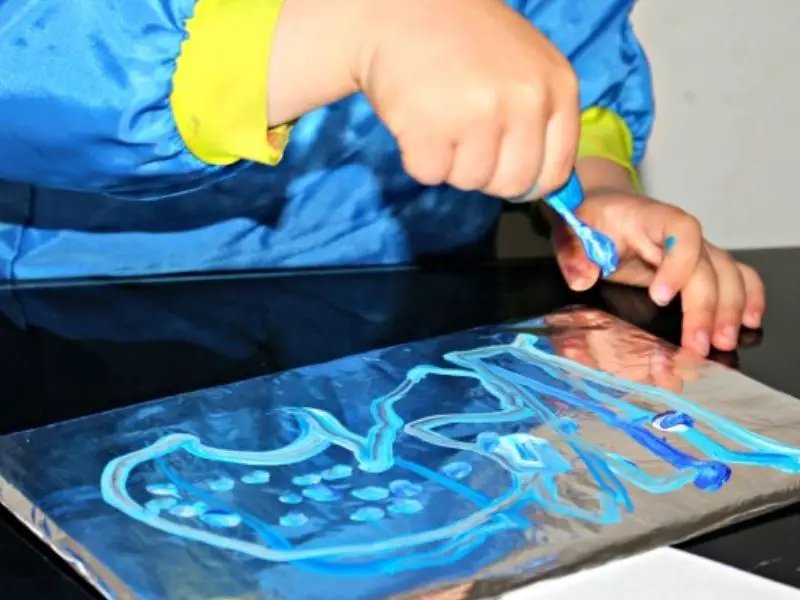 Combining aluminum foils with Q-tip painting provides children an easy and fun way to let out their artistic imaginations. It also provides younger children with a medium to learn about mixing colors and how different color schemes fit together.
This project also requires some coordination to train your children's fine motor skills as well.
Read about the Starry Night aluminum foil painting by Messy Little Monster.
Kids Art Coasters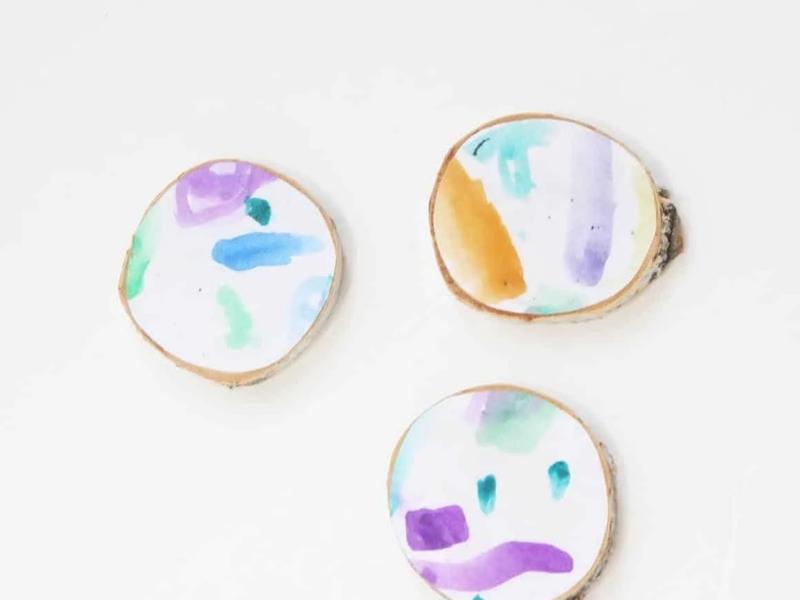 Here's a great Father's Day gift your kids can make. You can either give your kids ready-made coasters or have them make ones from scratch using Mod Podge.
We recommend painting on a round foam brush then applying it onto the coaster so that if your kids make a mistake, they can start over instead of wasting a coaster.
Find out how to paint on coasters by Mod Podge Rocks.
And that's it! Painting projects can help your kid refine their sensory-motor skills. And once your kid has one of these projects down, you can upscale it or add a personal touch to keep things interesting.
Comments
0 comments