My husband tells me that the current midlife crisis sign is 40 year old men on skateboards. In our economy it's cheaper than a sports car, but still can be (relatively) fast and dangerous.
This does not mean they have to be shiny black or decorated with obscure skater iconography. They can be an art lesson for your kids! In fact, Christian asked Fen to decorate a skateboard to add to his Etsy store. He said she could choose any charity she liked to donate the proceeds to, and she chose ASPCA. Not surprising- girls love their cute little fuzzy animals, but it's a good one. Who doesn't like cute fuzzy animals?
I'll shut my pie hole now and get on with the creation: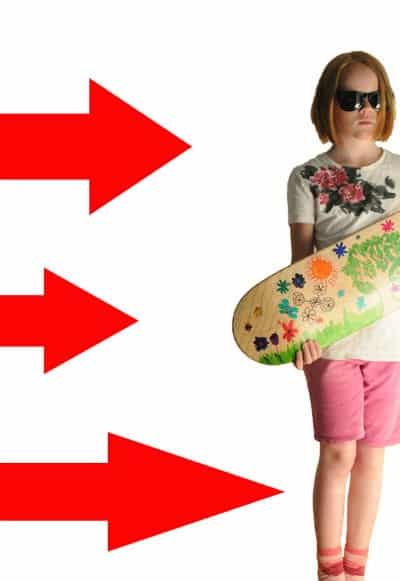 Check out that expression- she's good at taking direction from her parents. When it comes to being photographed.
It's all done with Sharpie markers- Fen got the million-pack of Sharpies for Christmas.
Christian ordered the skateboard blanks on eBay; they're maple, but lots of sellers have different colors! I'm not going to link to specific sellers, but if you do a search for 'skateboard blanks' you'll get a ton of results.
*****
Mark Rivard is a skateboard artist/educator who shares his love of this art form as an artist in residence and through his website, Rivard Art Education. This is a quote of him talking about why skateboard art appeals to kids in such a big way:
The "Cool" factor is high, which in turn, results in dedicated attention…. The skateboard is such a different and unique canvas that even the most un-art-interested students are intrigued and challenged because they feel that the skateboard separates them from "the norm".
He's worked with kids in schools around the world, and you can book him for your school or order his skateboard templates or skateboard blanks on his site.
This is supposed to be an incredibly thorough and substantive compilation of skateboard art, very well-reviewed and highly regarded. I think it would be a great unexpected gift for a skateboarding enthusiast.
I think skateboard art appeals to kids for the cool factor, definitely, but also for the thrill of drawing on a functional object and a nontraditional surface. Triple whammy. Great fun.