Finding craft activities your one-year-old can enjoy playing isn't the most straightforward task. Ideally, you'll want craft ideas that are safe for toddlers and aid their sensory activity, hand-eye coordination, and fine motor skills. Of course, if they're mess-free, that's an added plus.
Luckily, we've curated many toddler activities parents can do with their one-year-olds and which they'll find so much fun. So keep reading to learn about these arts and crafts ideas that can be introduced into your child's life in their first year.
1. Finger Painting
Painting using fingers is a great way to improve your toddler's fine motor skills if you don't mind the mess. It's one of those kids' activities that they can do without the need for too many supplies or materials. Better yet, moms can join in the fun, too! And you can let your kid play with the paints on a wipeable surface like a baking sheet to reduce the messiness.
Visit Parents for more information on Finger Painting with your child.
2. Frozen Pom-Poms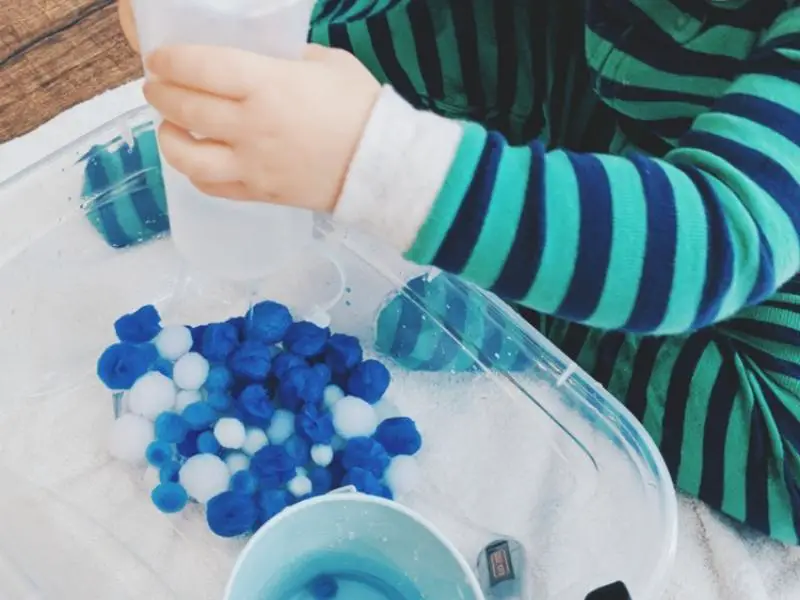 If you're looking for new, creative activities your child can do inside or outside the house, give freezing pom-poms a try. First, get a bunch of miniature pom-poms with varying colors and some ice cube trays, and let your little one sort the pom-poms into the trays. Next, help your child fill each tray with water and stick them in a freezer.
Not only is this activity fun, but it also helps young kids identify colors. Plus, it's one of those crafts ideas that's good for more than one day since you can sort and freeze the pom-poms on one day and let your kids play with them on another.
Check out Oh Hey Let's Play to learn how to set up this Frozen Pom-Poms activity.
3. Crayons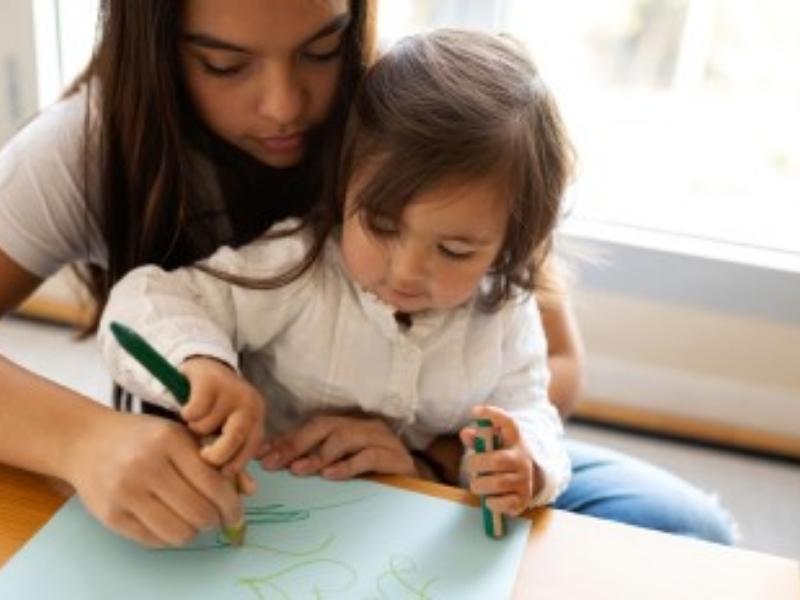 Bring out the inner artist in your toddler by setting them loose with a handful of washable crayons. However, you'll have to keep a watchful eye on your toddler to keep them from sticking crayons in their mouth. And make sure to tape the paper to the ground to secure it while your little one scribbles all shapes willy nilly.
You can learn more about this fun Crayons activity if you head over to Sleeping Should Be Easy.
4. Painting With Water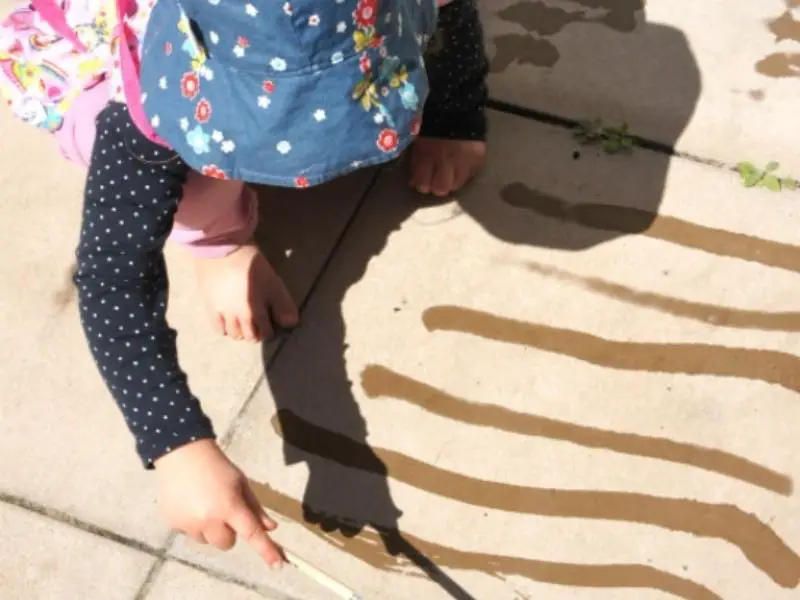 Why not let your one-year-old try painting with water for a mess-free version of crafts involving painting. As with finger painting, little ones can hone their fine motor skills with this fun craft activity. Give your kid a graspable paintbrush and a water dish and guide their hand to get them going.
With this fun activity, your one-year-old can draw on construction paper or other surfaces and explore their creativity.
Learn all about Painting With Water over at Parents.
5. Pom-Pom Sensory Bin
Dump some pom-poms into a bin, provide your child with a spoon and some bowls, and watch them play: that's the simple idea behind this sensory craft. Some kids might even ignore the scooping tools altogether, preferring to get handsy with the pom-poms. Either way, they'll have loads of fun with this activity.
Visit Oh Hey Let's Play for more information about the Pom-Pom Sensory Bin.
6. Play Dough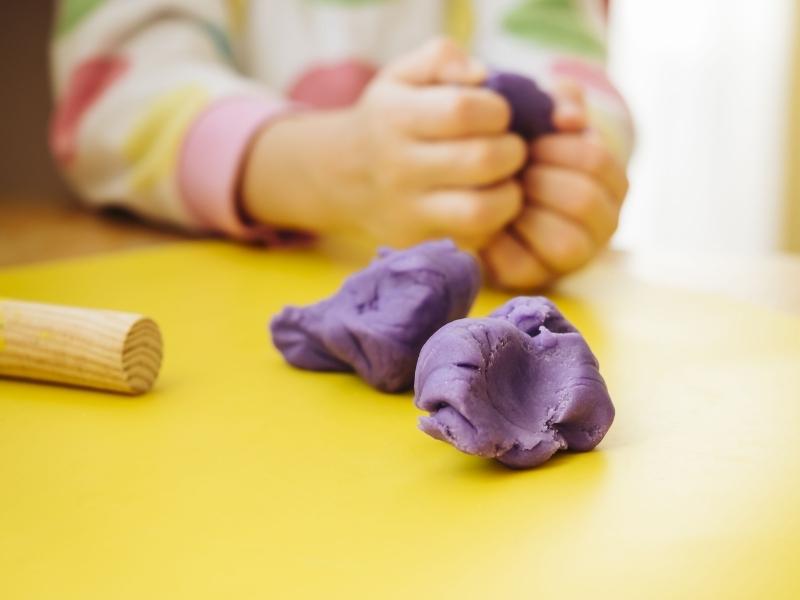 With nothing more than a lump of dough, you can ignite your one-year-old's imagination with the different ways this versatile material can be molded and squished into different shapes. Consider showing your one-year-old how to join two colors of playdough into one. Also, as with crayon play, keep an eagle eye on the little ones the whole time.
You can either buy or make homemade play dough in a slow cooker.
Get the lowdown on this fun Play Dough activity at Sleeping Should Be Easy.
7. Ice Cube Transfer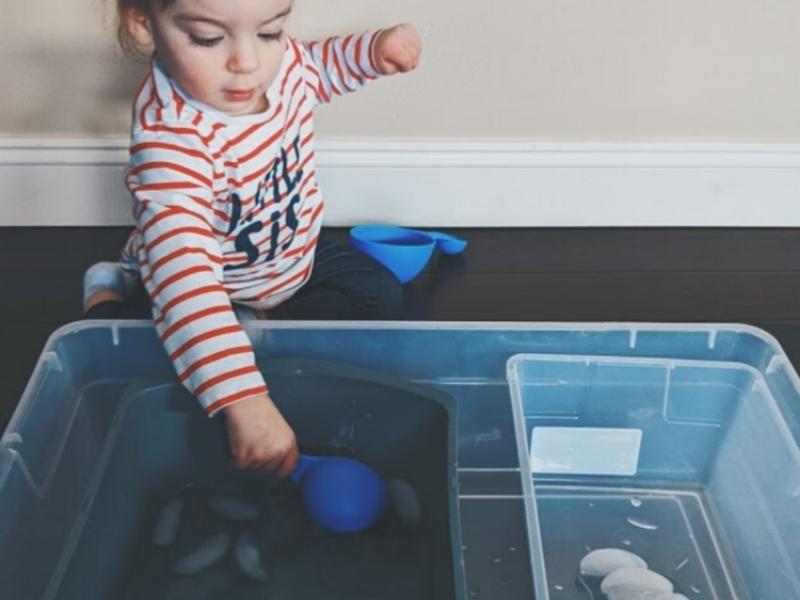 With this activity, your kids can play for hours on end. Set two tubs in front of your kid and put some ice cubes in one. Then, demonstrating how to do it, let your little one transfer the ice cubes from one tub to another using a ladle. However, note that ice cube transfer is one of those craft ideas requiring adults' supervision since ice cubes constitute a choking hazard.
Visit Oh Hey Let's Play for everything you need to set up this fun Ice Cube Transfer activity for your one-year-old.
8. DIY Ladybug Craft for Toddlers
If you're looking for an engaging way to bond with your child while also promoting exploration of their natural surroundings, then check out this DIY ladybug craft. Young kids at ages one and over are usually eager to explore the world around them. This fun activity helps them do that and improves their fine motor skills.
Learn about this DIY Ladybug Craft for Toddlers by visiting All Crafty Things.
9. Crayons and a Coloring Book
With crafts for kids, sometimes less is more, and that's the entire idea behind this craft project. Hand your child some crayons and a coloring book, and let them do the rest. Some kids might color, while others might entertain themselves by flipping through the coloring book. Either way, you have something to hold your child's attention for a couple of minutes.
Head over to Oh Hey Let's Play for more information about using Crayons and a Coloring Book.
10. Stickers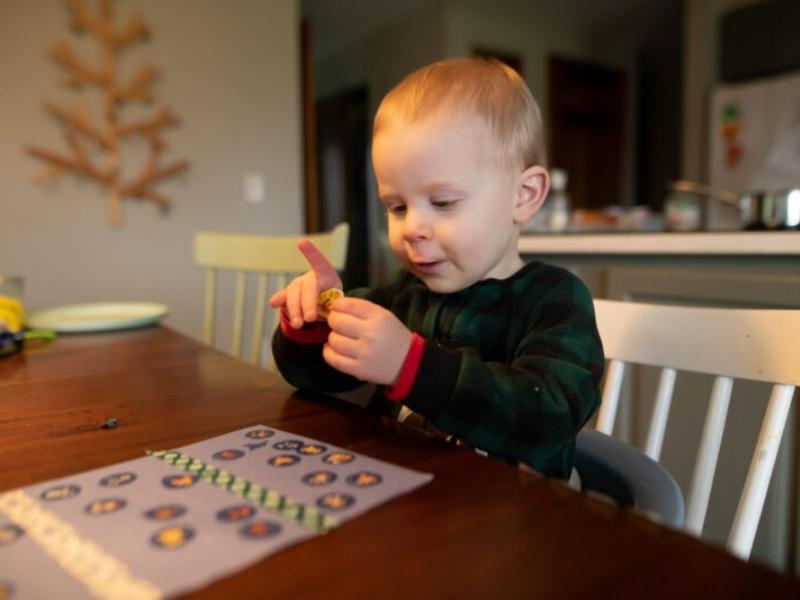 Playing with stickers is great for toddlers because they help them control their grip. To do this activity, lift the sticker enough for your child to grasp and then let them pull it off by themselves.
Adding the stickers to a piece of paper or another flat surface should suffice, and your one-year-old will love playing with them.
Check out Sleeping Should Be Easy to learn more about Stickers.
11. Painting With Frozen Paint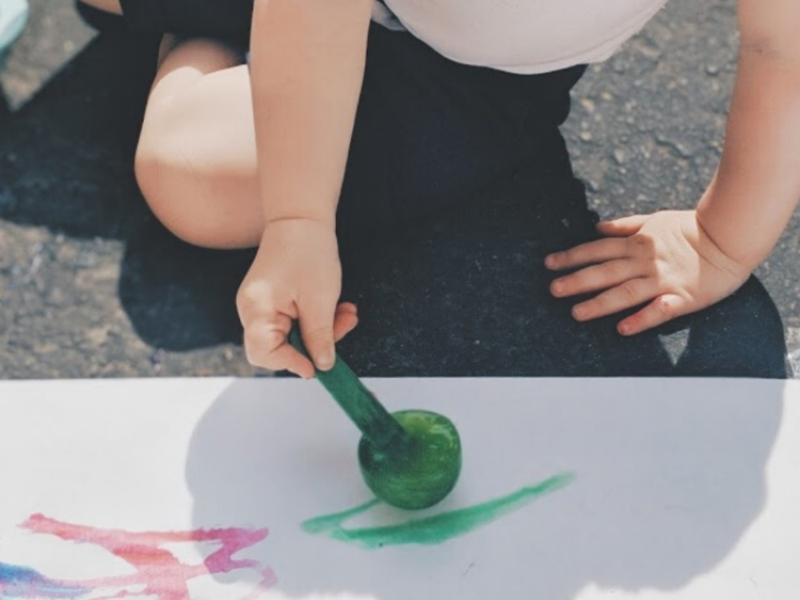 With some food coloring, ice cube trays, and colored craft sticks, you can inspire your child's creative spirit with this frozen paint activity. You'll have to do some prep and freeze your little artist's "paintbrushes" overnight, but your child can have oodles of fun painting once set up.
Additionally, frozen paints aren't as messy as finger painting, so your little child can go wild.
For the full tutorial on setting this Painting With Frozen Paint activity up, head over to Oh Hey Let's Play.
12. Stringing Beads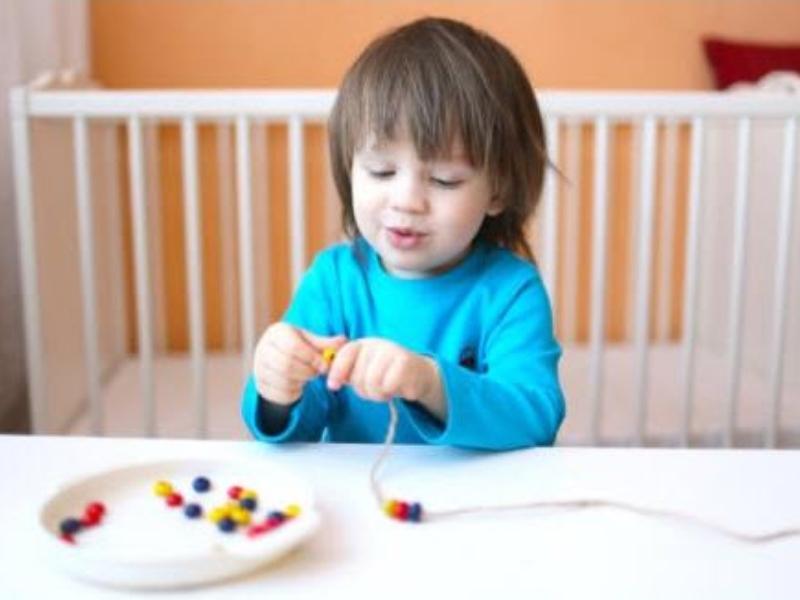 Let your one-year-old string beads on some pipe cleaners. Stringing beads is another one of those kids' activities that requires strict supervision from parents, as beads can present a choking hazard. Swap out the beads for some O-shaped pasta to get around the issue.
The primary benefit of this activity is that it improves your child's hand-eye coordination. However, you'll have to play the role of a cheerleader as your kid might get frustrated along the way.
Visit Parents to learn more about getting your child into Stringing Beads.
13. Tear and Glue
With the help of some construction paper, you and your toddler can create a collage. Start by showing your child how to rip the sheet into tiny pieces, providing them with one large sheet they can tear into littler ones. Then, together, glue the pieces on bit by bit.
To make the activity even more fun for toddlers, you can let your baby dip the pieces in a bowl of glue or handle the glue stick before sticking them onto the collage. And for more crafts involving glue, head over to Craft Whack.
You'll learn more about Tear and Glue over at Sleeping Should Be Easy.
14. Colored Beans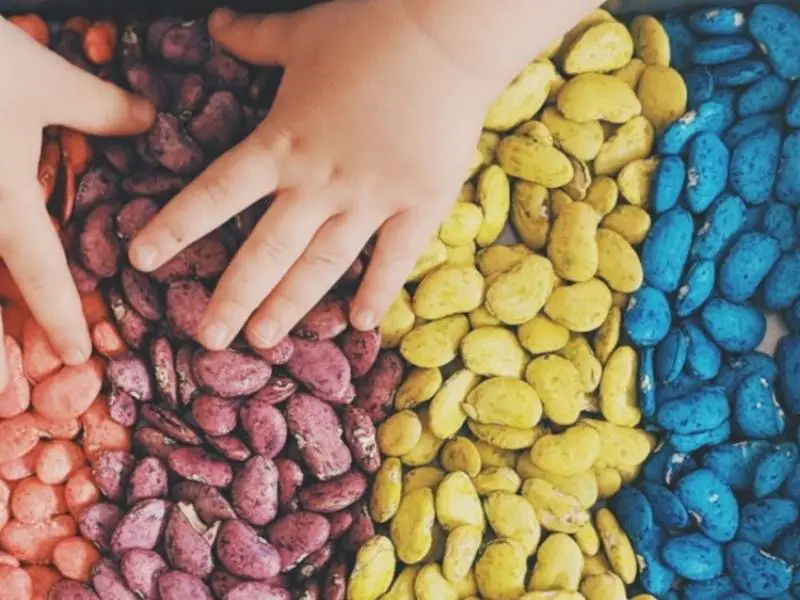 Give your kid some brightly colored kidney beans and watch them have fun – that's the idea behind this sensory play craft for your little child. However, because it's a craft that involves small objects, you'll have to watch carefully, so the beans don't find their way into your child's mouth. Otherwise, this activity is another great way to introduce children to colors.
Given how enticing the colored beans turn out, you'll have a hard time not wanting to join in!
You'll find the complete step-by-step guide on how to set up this Colored Beans activity at Oh Hey Let's Play.
15. Edible Finger Paint
Edible finger paint is probably the only arts and crafts idea on this list that's safe for toddlers who'll stick anything in their mouths! With this activity, children can explore their creativity while painting and creating edible art.
Check out the tutorial at All Crafty Things to learn more about how to create some yummy Edible Finger Paint for your toddler.
16. Markers in a Box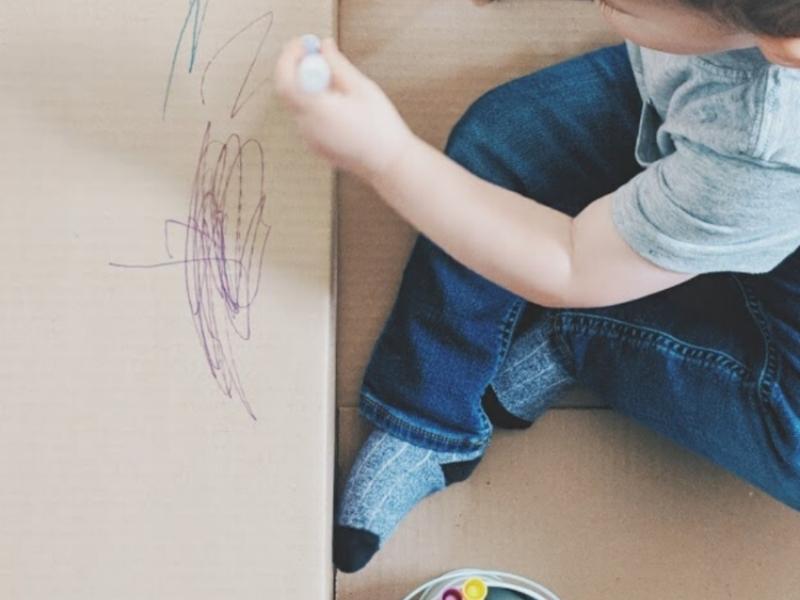 When a child and a cardboard box meet, the fun time begins! Throw in a bucket of markers, and you have yourself an activity that'll keep kids engaged while you cook a meal or get on with some other short chore around the house.
It's quite simple: Give your toddler some markers, set them in a cardboard box, and you're good to go.
You'll find more information about Markers in Box at Oh Hey Let's Play.
17. Drawing With Sidewalk Chalk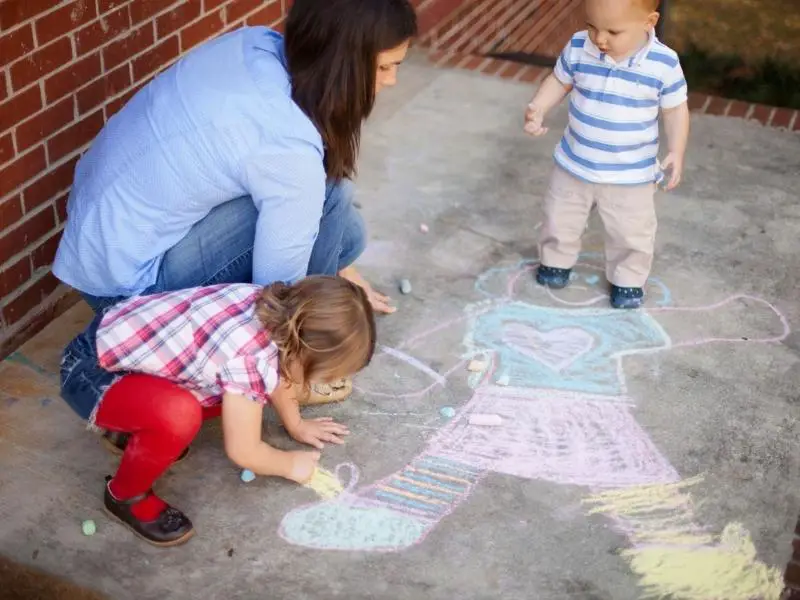 On a nice sunny day, you and your one-year-old can have loads of fun drawing with sidewalk chalk. This activity is less messy than crafts that involve paints, and your child will get to flex their imagination while working on their small muscle control and fine motor skills.
As usual, keep an eye on your child if they decide they'd rather eat the sidewalk chalk than draw with it.
Learn more about Drawing With Sidewalk Chalk at Parents.
18. Easy Paper Chick Craft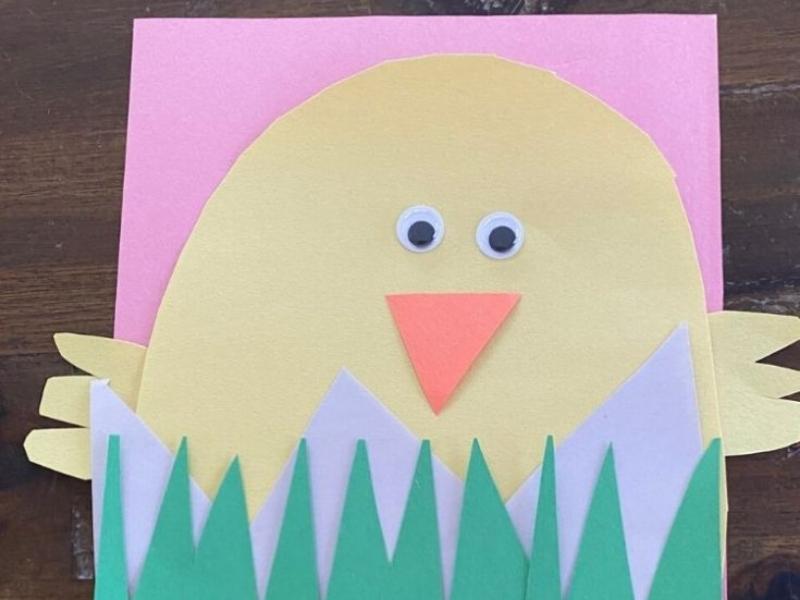 Arts and crafts ideas like this easy paper chick craft give children the opportunity to be creative, promoting exploration of shape and color. Although it's one of those art projects that'll require a few more supplies like scissors (which aren't safe for young kids) and contact paper, your toddler will be delighted with the end product.
Learn how to get started on this Easy Paper Chick Craft by visiting All Crafty Things.
19. Bubble Wrap Sensory Paint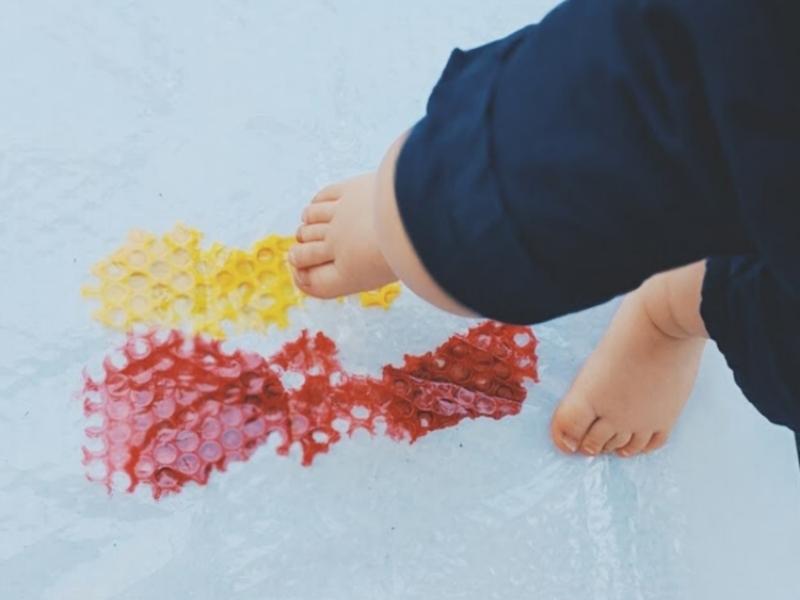 Children and adults alike love bubble wrap, which is why this craft is one of the most fun ideas on our list. First, tape some paper down on the ground and squirt some paint. Secondly, tape bubble wrap on the paper and let your little tyke walk on it!
You can tape the bubble wrap with the bubbles facing the paper or your child's feet, with the latter option providing a more sensory experience. At the end of this activity, you'll have some exciting art to tape to the fridge.
Head over to Oh Hey Let's Play for the full tutorial on the Bubble Wrap Sensory Paint activity.
20. Paint With Cookie Cutters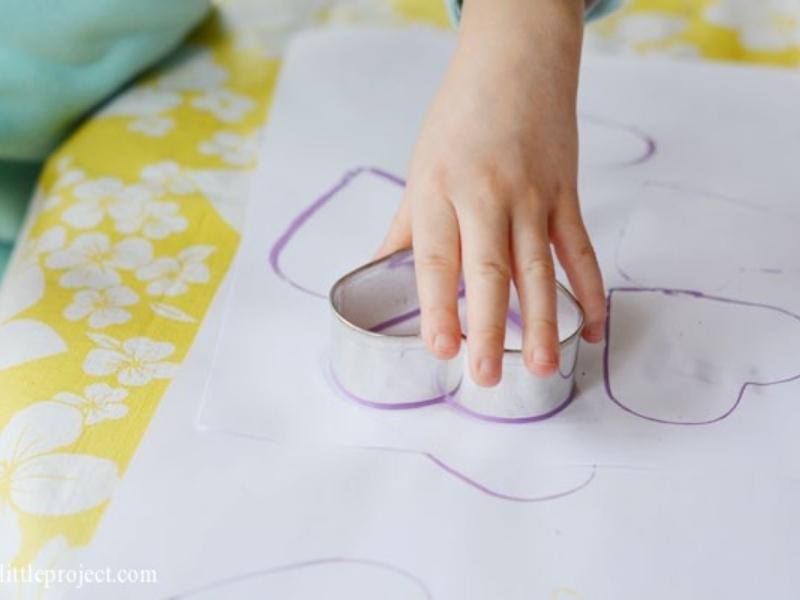 You can let your toddler paint using cookie cutters for a fun twist on art projects that involve paint. Parents can show their little ones how by dipping the cutter in some paint and then pressing it into the paper to print its shape into the sheet. Then, they can hand it over to their baby and let them take over from there.
Check out Learn Play Imagine for a tutorial explaining how to get started with Paint With Cookie Cutters.
21. Balls in a Pool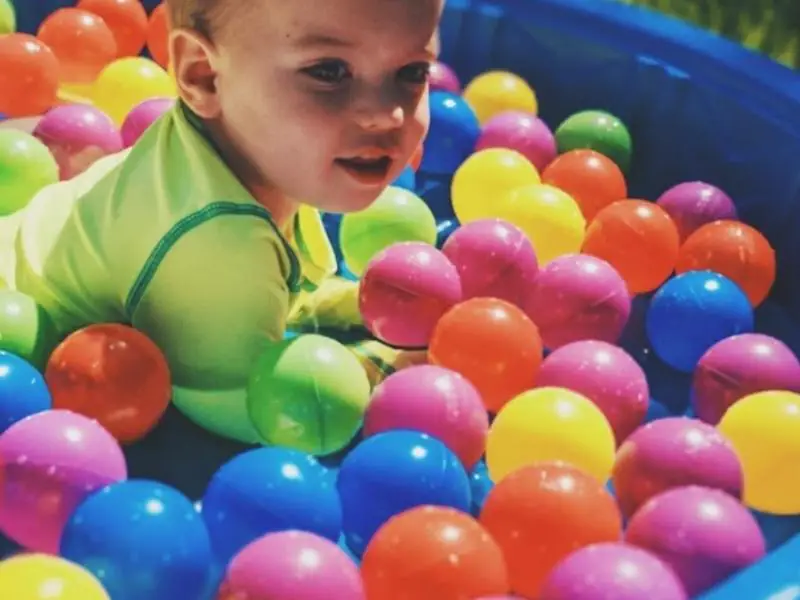 Young children enjoy a nice swim during the summer, making playing with balls in a pool a fun activity for toddlers. Fill an inflatable kiddie pool with some water, add the balls, set your toddler loose in the water, and watch them have all the joy in the world.
You can keep your toddler occupied for at least an hour, making this one of the best ideas for parents who have to split their focus between their baby and work.
Check out Oh Hey Let's Play for setting up the Balls in a Pool activity.
So as you can see, there are a lot of toddler fun crafts out there. With the right amount of supervision, your one-year-olds can have a blast interacting with the world around them while enhancing their development on a physical and sensory level.
Comments
0 comments