Some friends are just so priceless that you want to be around them at all times, even when you aren't. Friendship bracelets are a way to do that, a reminder that you're in this together, which is why we've made this list of stunning friendship bracelet patterns.
Whether you want a sophisticated friendship bracelet, an old-school summer camp one, or other fun crafts, we've got you. Also, we've added friendship bracelet patterns that are perfect for beginners, pros, and everything in between. So, if you're looking for a fun and easy way to make these designs, tag along!
1. Diamond Pattern Friendship Bracelet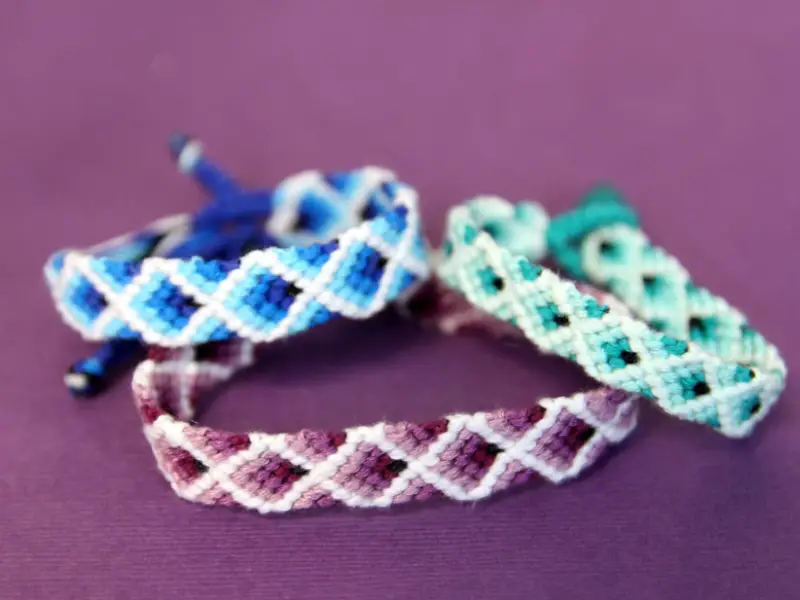 We can't talk about easy friendship bracelet patterns without mentioning the diamond patterns. This craft project has such a basic logic that you'll get after a few rounds, so you won't constantly have to check the instructions. Plus, the diamonds are super cute!
Read more about the Diamond Pattern Friendship Bracelet on momsandcrafters.com
2. Alternating Knots Bracelet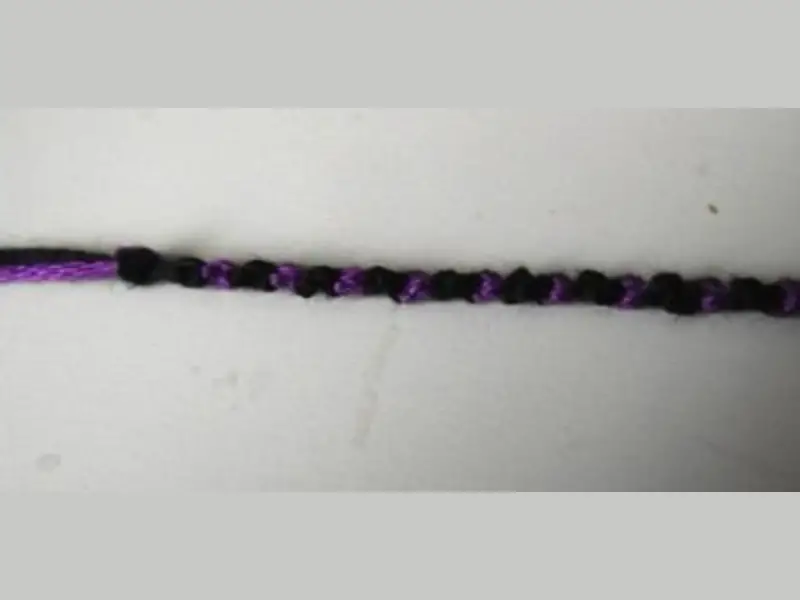 Believe it or not, two colors make a cool pattern! You can forward knot your way through the tutorial, so it's super easy to follow! The final product is also on the slimmer side if that's what you're into crafting.
Check out the instructions for Alternating Knots Bracelet at braceletbook.com
3. Three-Strand Braid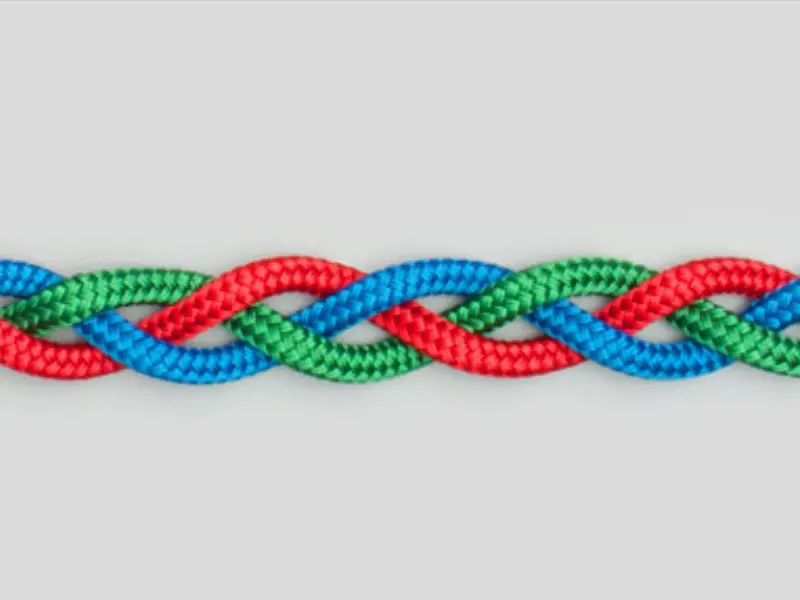 Do you have leftover strings from other patterns you've knotted? This braided bracelet with three strands is a chance for you to use three different colors. We're pretty sure you've used this pattern before, even if this is your first-ever friendship bracelet because it's the one you use for braids. Also, the video makes it even easier!
Make your Three Strand Braid bracelet design with animatedknots.com
4. Chevron Friendship Bracelet Pattern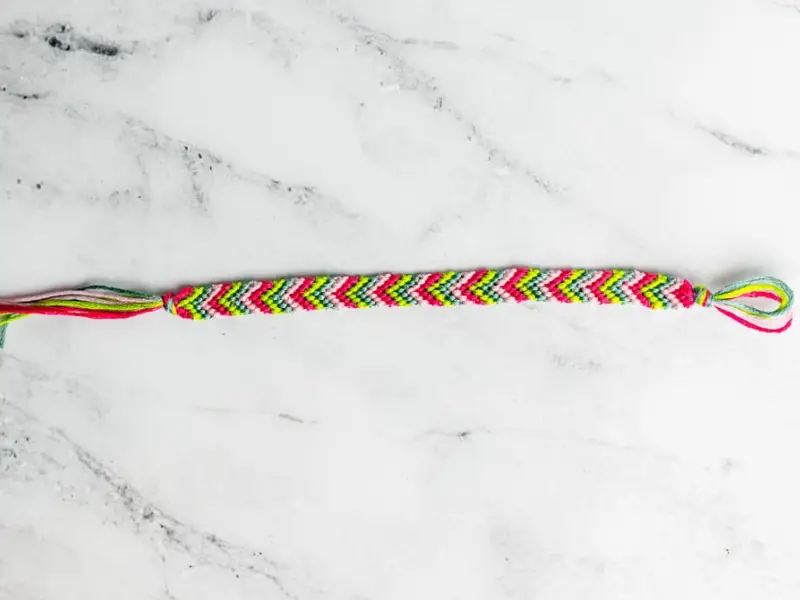 The chevron friendship bracelet will forever be a classic. Do you want to practice your forward and backward knot? Then, the chevron pattern is the way to go. It's also surprisingly easy to memorize, and the bracelet design looks so professional and detailed.
Get the details for the Chevron Friendship Bracelet Pattern on sarahmaker.com
5. Skinny Chevron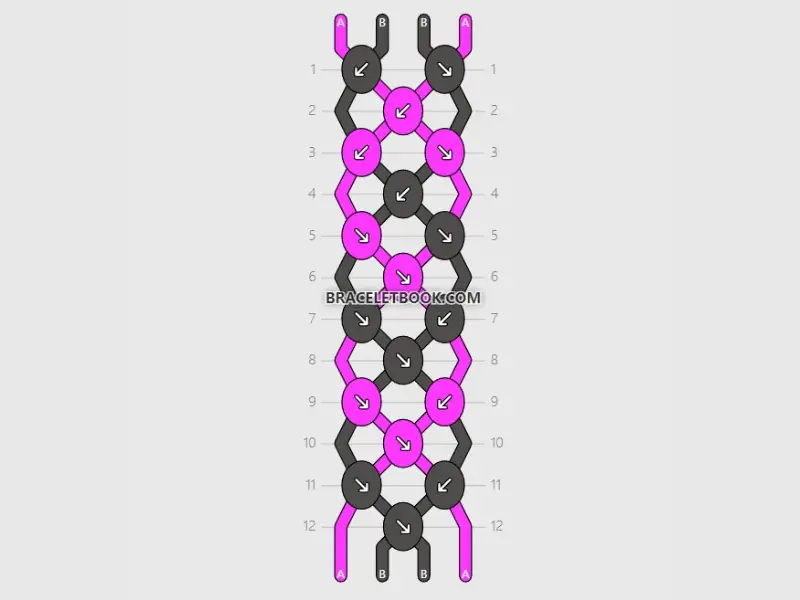 If you want a twist on the classic chevron design, you've got it. This bracelet pattern is a slimmer version with only four strings, so you'll get it done in no time. Then, you and your best friends can rock these chevrons!
Check out the instructions for the Skinny Chevron on the braceletbook.com
6. Chinese Ladder Friendship Bracelet Pattern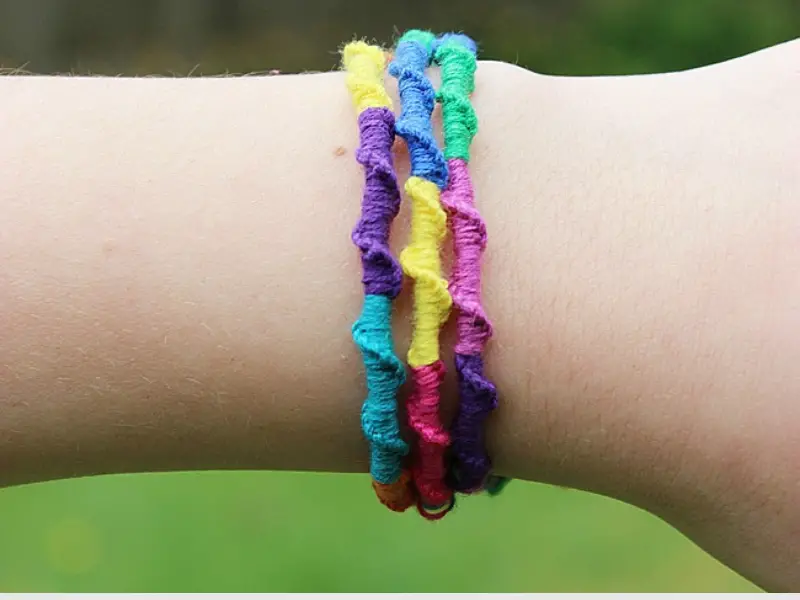 Another OG bracelet pattern is the Chinese staircase, also known as the spiral staircase. With basic forward knots around clusters of strings, you can make these artistic spiral bracelets. Of course, you get to personalize the Chinese ladder friendship bracelets by using any color combination you can dream of!
Get the instructions for the Chinese Ladder Friendship Bracelet Pattern on designdazzle.com
7. Zig Zag Friendship Bracelet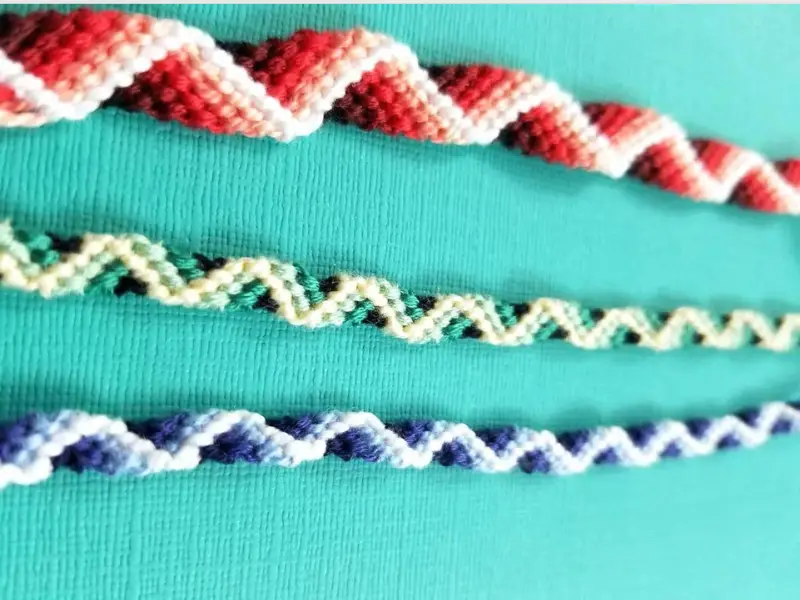 Let's kick it up a notch with this zigzag friendship bracelet pattern! You can select shades of the same color for a graduating effect or analogous colors for a 3D ribbon effect. As you can already tell, this bracelet pattern is one-of-a-kind. Not to mention, it's still accessible, requiring only four basic knots, which are thoroughly explained.
Learn how to make Zig Zag Friendship Bracelet from momsandcrafters.com
8. T-Shirt Bracelets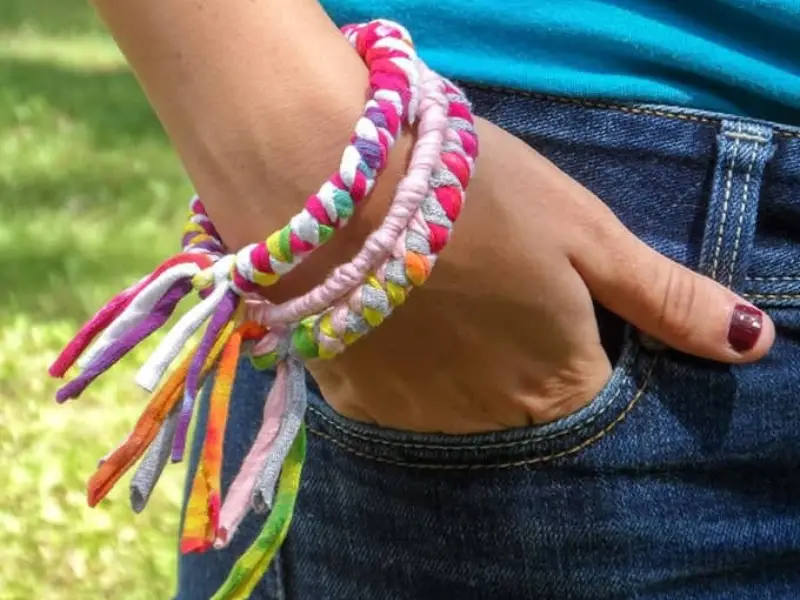 If you have some old or stained t-shirts, why not recycle them to make t-shirt yarn? Then, you can use them instead of regular embroidery floss! This way, you can speed through the bracelet-making process. Also, the bangle bracelets are used to give the final result more volume.
Read about T-Shirt Bracelets on craftsbyamanda.com
9. Zipper Bracelet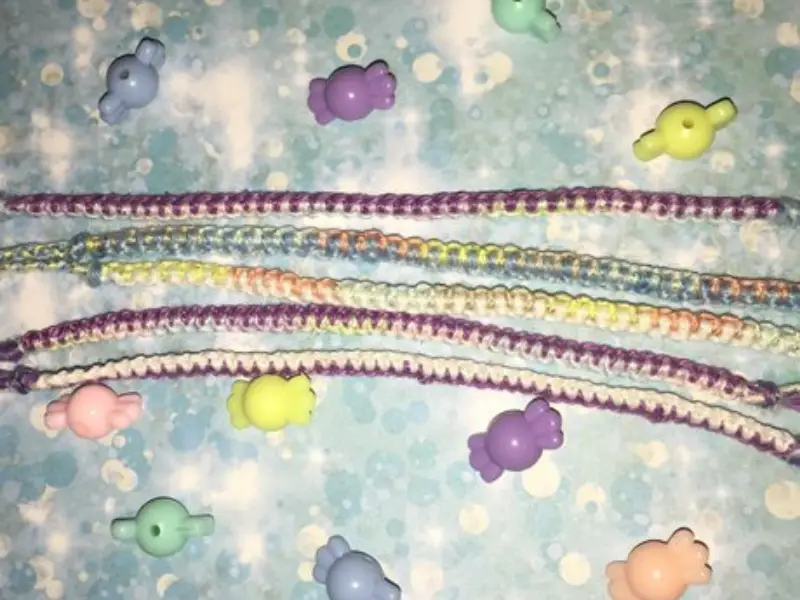 These friendship bracelets are easy to make, as they require three strings: one basic string and two outer ones. Also, you can give the zipper style an edgier and chunkier twist by switching your embroidery floss for thick hemp or yarn.
Get the instructions for Zipper Bracelet making on braceletbook.com
10. Heart Friendship Bracelet Pattern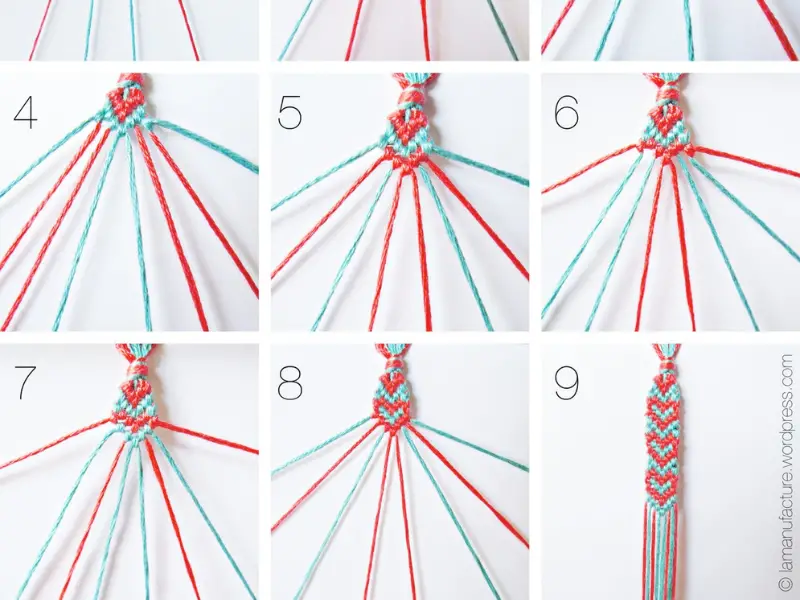 Make the message crystal clear with heart friendship bracelets. The hearts are so cute and easy to make if you know the basics of a chevron pattern. But if you don't, that's why this tutorial is here! You can choose two colors to make these friendship bracelets.
Read more about the Heart Friendship Bracelet Pattern on lamanufacture.wordpress.com
11. Fishtail Braid Friendship Bracelet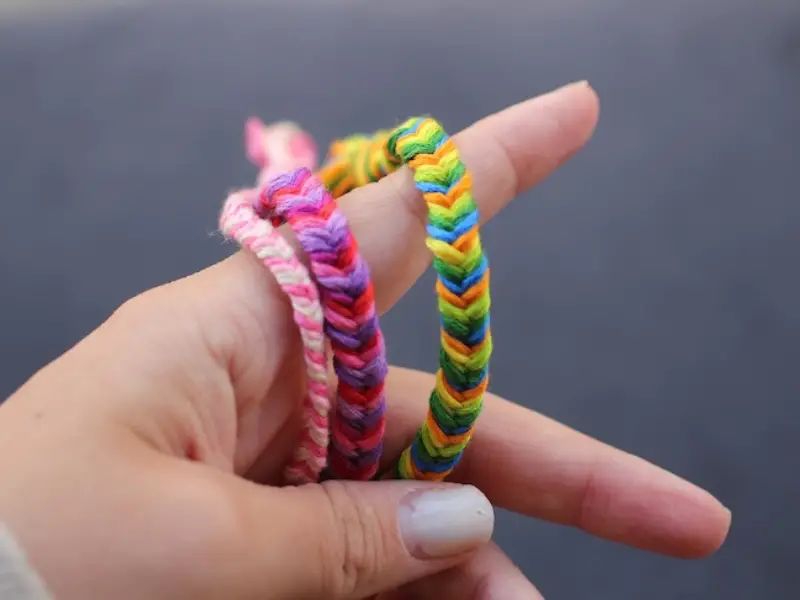 A fishtail braid is cute, no question about it. But try it with your embroidery floss, and you'll be surprised as to how adorable, sturdy, and easy to make it is compared to classic knotted friendship bracelets.
Find the details for the Fishtail Braid Friendship Bracelet on thestripe.com
12. Jellyfish Bracelet
We're obsessed with this seven-strand bracelet, and its thin, long dangling thread design certainly explains the name! The bracelet-making project needs a paper wheel. But don't worry; you'll find tutorials to help you use the paper wheel and even make it if you want to. Overall, this bracelet pattern is intricate, and dainty, and will look good on your friends' wrists and yours.
Learn about the Jellyfish Bracelet from thecraftingchicks.com
13. Fancy Friendship Bracelets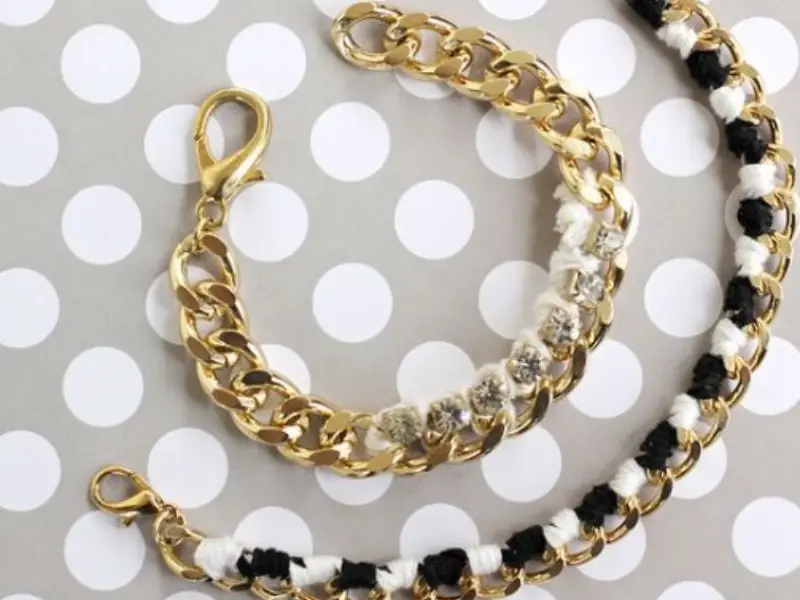 Are you looking for more grown-up friendship bracelet ideas? Weave in some jewels for a classy look. Also, you can create unique friendship bracelets by swapping jewels and jewelry chains. This way, you and your friends can have a fun night out and wear your own friendship bracelets.
Find out how to create Fancy Friendship Bracelets on abeautifulmess.com
14. Classic Diagonal Stripe Friendship Bracelet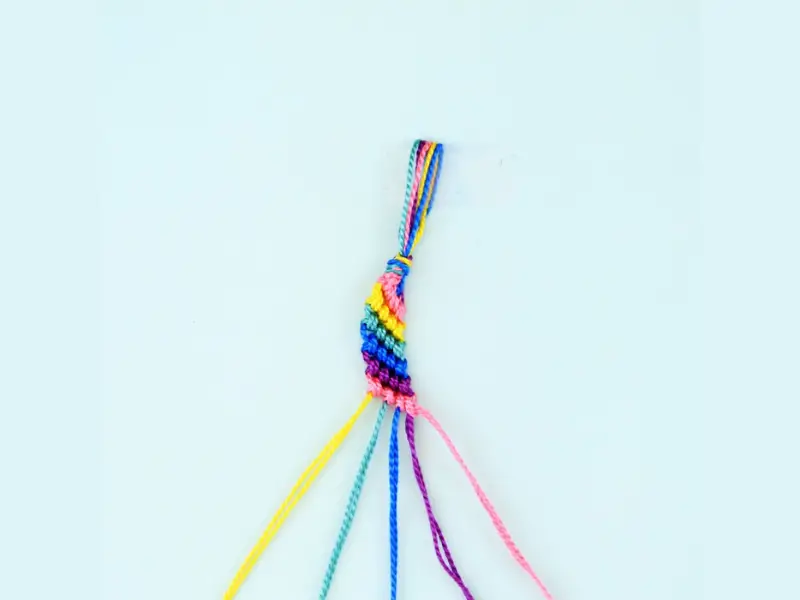 If you're up for a challenge, may we present the diagonal friendship bracelet pattern? And you get a guide with pictures and directions so that you aren't lost. Not only can you control the length of the bracelet, but you can also tailor its width. Not to mention, you can use all different palettes, two colors, or just one color.
Read about the Classic Diagonal Stripe Friendship Bracelet on craftjam.co
15. DIY Round Braid Leather Friendship Bracelets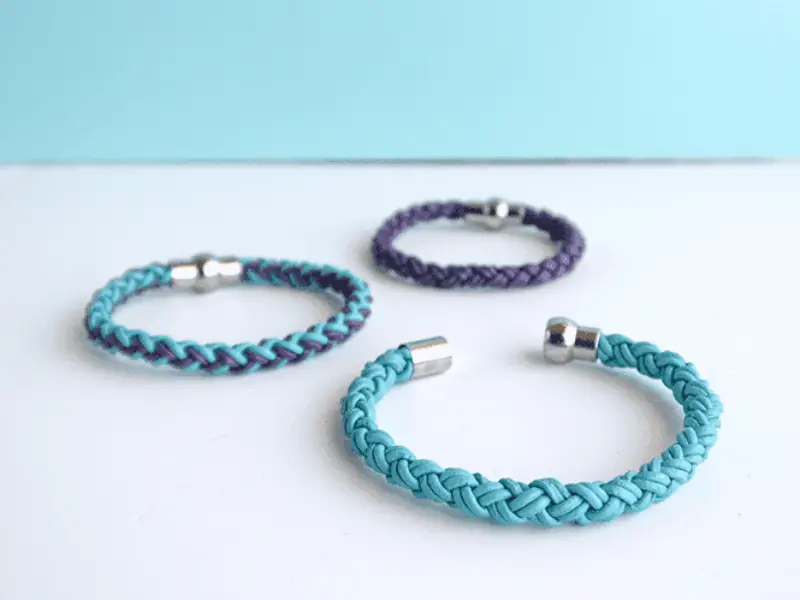 You can choose your favorite leather cord colors; they make for such an upgrade from regular ones with embroidery floss. What we have for you is a four-strand round simple braid style. Also, you can go monochrome or multicolor; the possibilities are endless.
Get the details for DIY Round Braid Leather Friendship Bracelets on curlymade.pt
16. Easy Braided Friendship Bracelet Patterns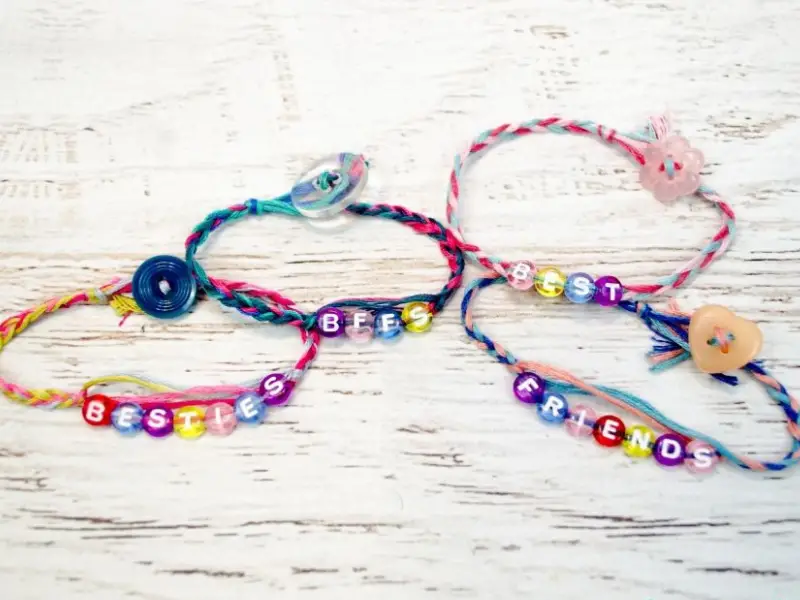 These friendship bracelet patterns are possibly the cutest crafts we've seen so far, and just when we thought they couldn't get any cuter, we noticed the sweet button closures! But, of course, you can replace them with a simple knot closure for a more adult design.
Also, the addition of letter beads as a centerpiece gives these bracelets a nostalgic factor. Moreover, you won't face any difficulty with the knots since you're making a simple braid. Overall, the use of beads renders these bracelets excellent for little crafters.
Learn to make Easy Braided Friendship Bracelet Patterns on projectswithkids.com
17. The Crazy Complicated Friendship Bracelet Pattern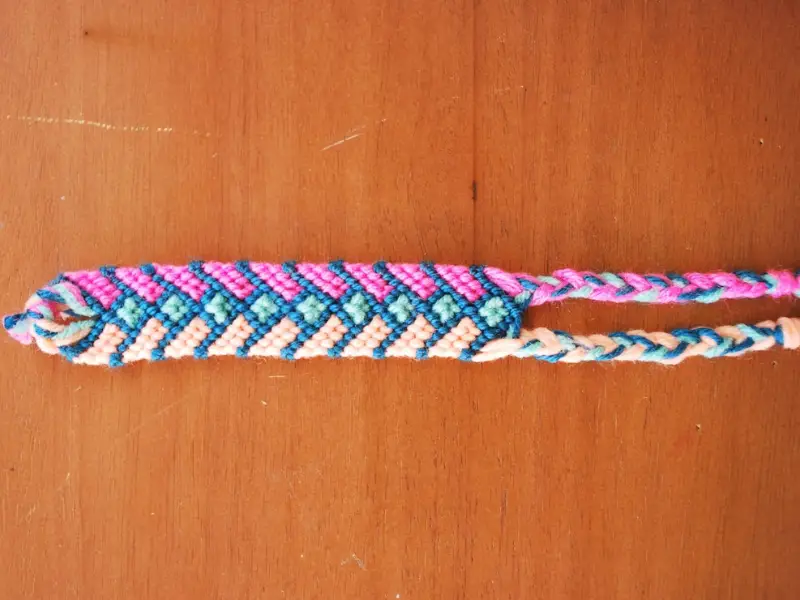 Are you confident in your skills when it comes to making friendship bracelets, especially chevrons? Well, you can put them to the test with this friendship bracelet pattern. They're so worth the time, though. We're in love with their chunkier look, cool colors, and artistic pattern.
Read more about The Crazy Complicated Friendship Bracelet Pattern on heywanderer.com
18. Candy Stripe Friendship Bracelet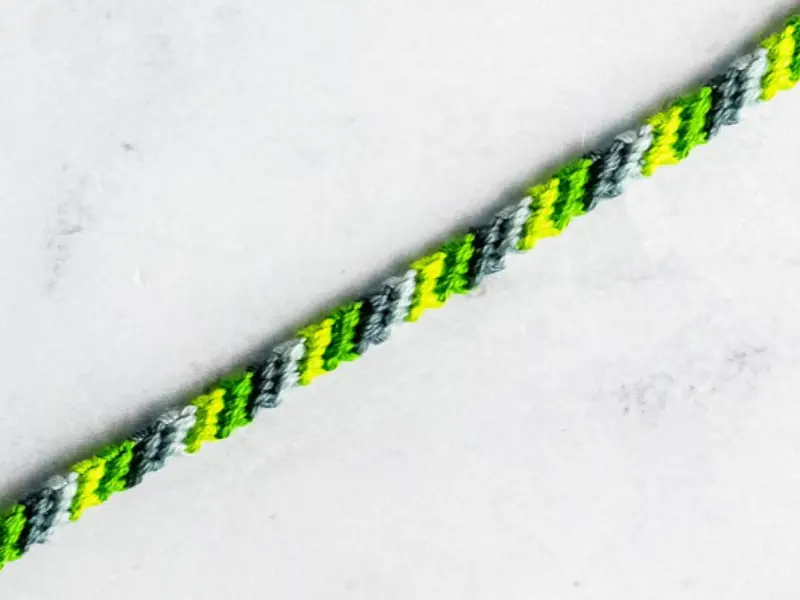 An excellent friendship bracelet for beginners is the candy stripe friendship bracelet. The pattern is very straightforward and requires you to learn only one-knot type, so you shouldn't have any difficulty memorizing it.
Also, you can make the friendship bracelet with anything from four to eight strings, depending on how thick or thin you want the accessories on your wrist to be.
Get the details for the Candy Strip Friendship Bracelet from sarahmaker.com
19. Sliding Knot Beaded Friendship Bracelets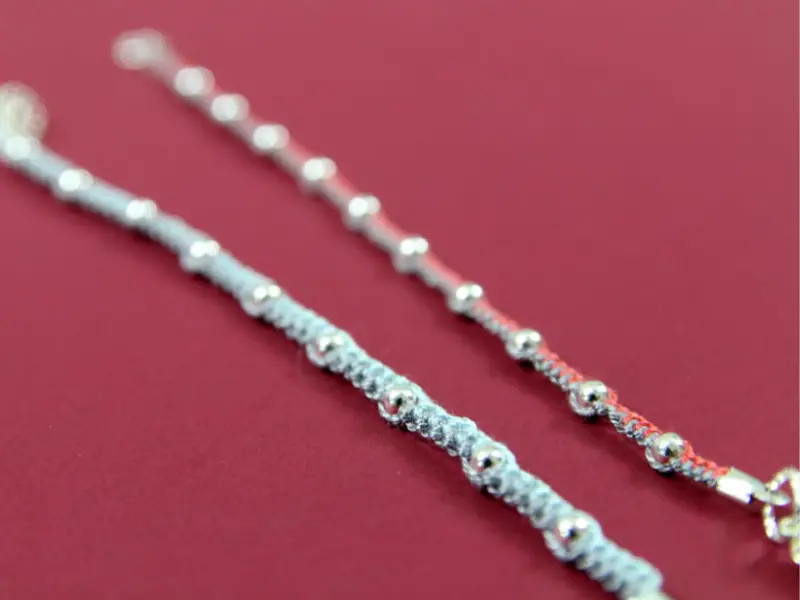 We've had quite the collection of easy patterns, but this friendship bracelet takes the cake. To illustrate, if you've learned the sliding knot bracelet for the central string, you're all set. Then, the pattern is just knot, bead, and repeat! Also, you can get creative with your beads and knots.
Learn to create Sliding Knot Beaded Friendship Bracelets from momsandcrafters.com
20. Rainbow Zig Zag Pattern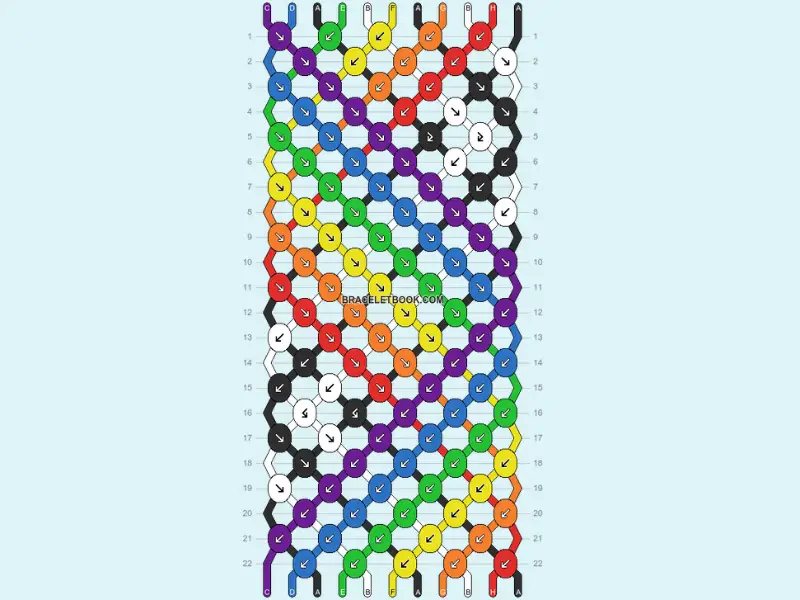 If you're looking for a retro design, check out this zigzag pattern. Its zigzag friendship bracelet pattern has a rainbow color palette, so it may be the pop of color you need.
Read about the Rainbow Zig Zag Pattern on braceletbook.com
21. DIY Bracelet Buckle Tutorial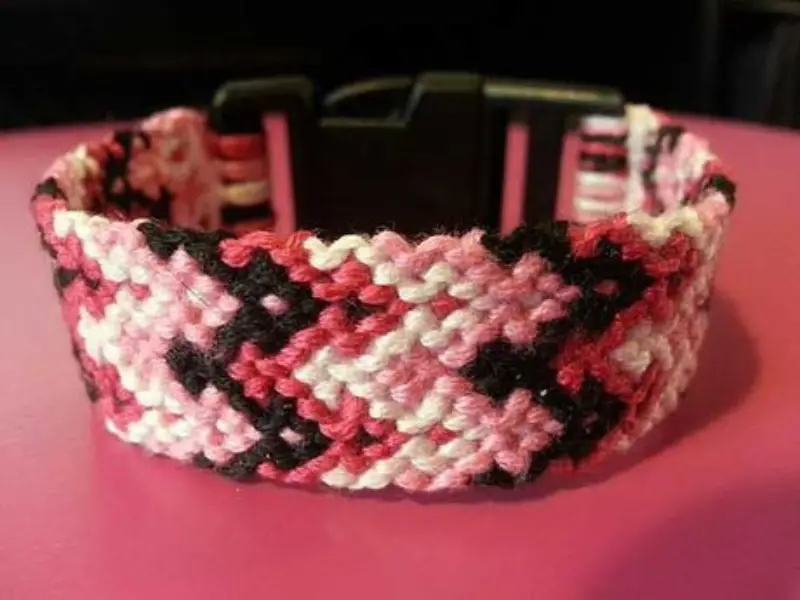 You didn't think we'd leave you to struggle with tying your bracelets, did you? Here's a cool way to tie your bracelet so that you aren't counting on a safety pin or a leftover piece of floss to hold your bracelet in place. Instead, you have a handy buckle to hook your bracelet.
Make a DIY Bracelet Buckle Tutorial with braceletbook.com
22. Fabric Scrap Friendship Bracelet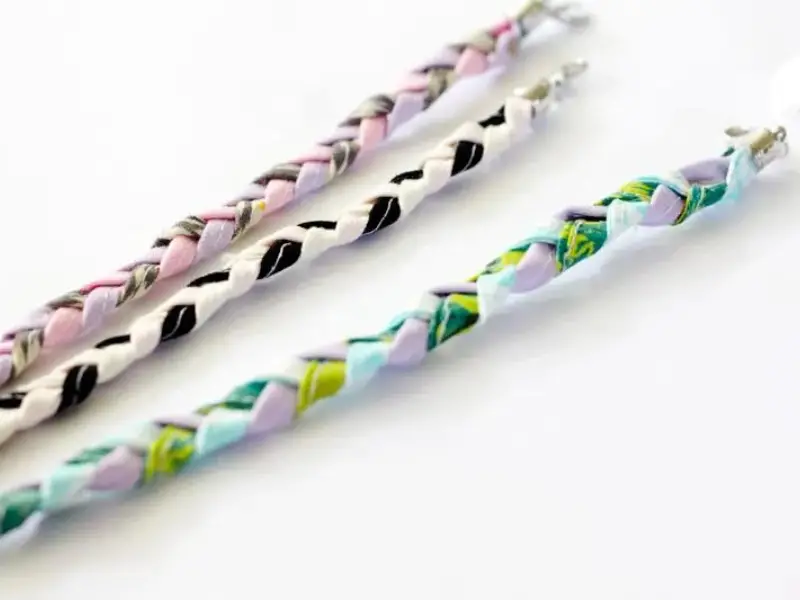 Here's a great trick to use when you have fabric scraps or you're short on the floss. Use three fabric stripes instead of regular threads, and make braids. Then, finish the friendship bracelet patterns with jewelry endcaps for an elegant gift.
This DIY has a unique texture compared to traditional friendship bracelets. However, it's also different from t-shirt scrap bracelets because it isn't as chunky.
Go to skiptomylou.org for a comprehensive guide and tips to make Fabric Scrap Friendship Bracelet.
23. Chain Link Bracelet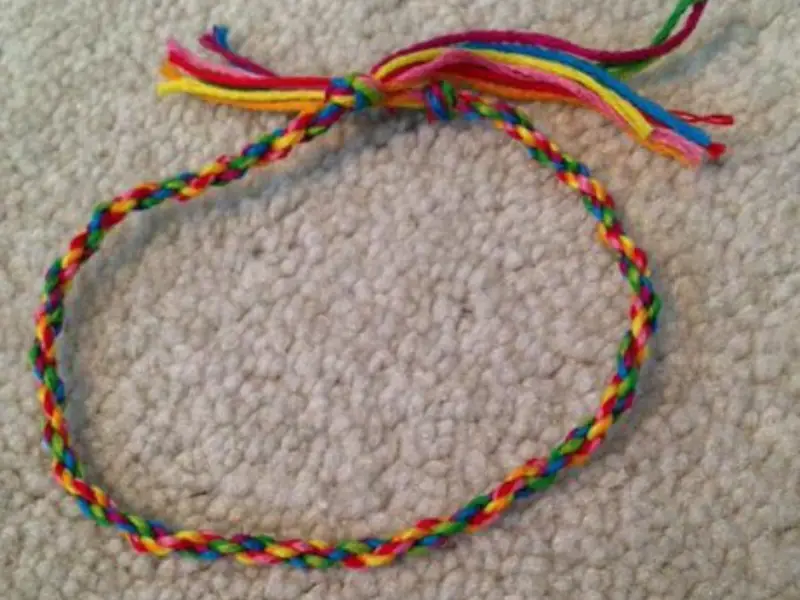 Do you want your knotting technique to have a 3D effect? This chain link bracelet has two main lines that attach at equal intervals, creating a pretty open design. As you might've guessed, this is a rather different pattern from the typical friendship bracelet patterns you used to wear.
Get the details for this Chain Link Bracelet from braceletbook.com
24. Striped Friendship Bracelet Pattern
Many bracelets go at a diagonal, which isn't always the easiest. For that reason, we love this pattern with stripes. It's also a great chance for you to unleash your creativity when it comes to colors. You can go from dark to bright tones of the same color.
To craft this Striped Friendship Bracelet Pattern, go to kaijumaddy.com
25. Friendship Bracelets for Grown-Ups
Just because we're listing friendship bracelet patterns doesn't mean they're only for middle school kids. In fact, we've got one for older teens and adults. This is a great variation of the traditional chevrons, and what's different about it is the bling!
Add tassels, beads, rhinestones, and metal closures to the bracelets. All of these bright colors and accessories will give you the perfect blend of nostalgia and fun.
Read more about these Friendship Bracelets for Grown-Ups on goodinthesimple.com
26. Alpha Patterns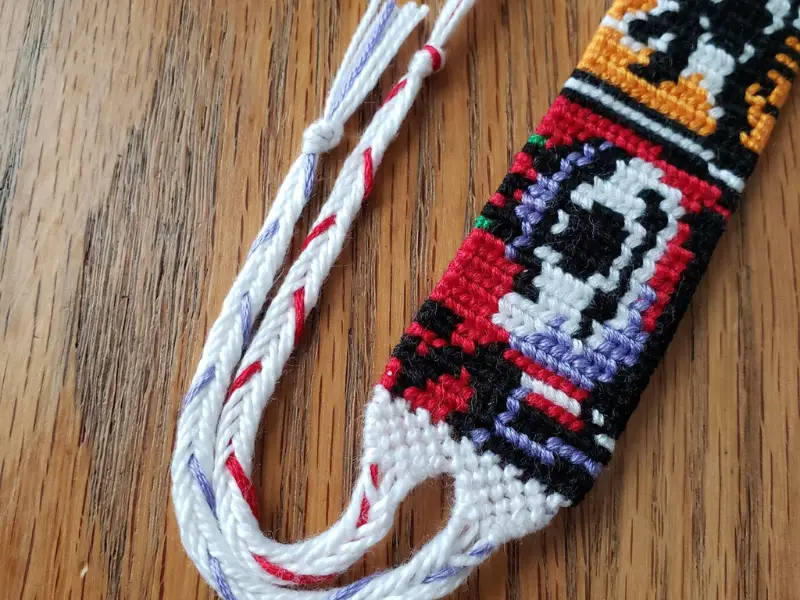 We've saved the best for last. This is arguably the prettiest of designs. We love its sunflower illustrations on a darker background. It's also a unique friendship bracelet pattern, but it's certainly not for the faint-hearted. After all, there are no video tutorials, just an illustration. So, embark on this journey if you're practiced in making friendship bracelets.
Get the details for Alpha Patterns on braceletbook.com
Overall, our favorite friendship bracelet patterns feature something for everyone. Some of the crafts are vibrant and colorful, but others are more simple. Some are perfect for beginners, while others are more difficult, so take your pick!
Comments
0 comments