Kids love St Patrick's Day, and what better way to celebrate it than by making a unique leprechaun trap. Children would be extra happy to wake up on St Patrick's Day and find out that the leprechaun traps they worked so hard on have got the job done.
With some craft supplies, we'll explore some of the most fun leprechaun trap ideas that barely require anything that's not already around the house. So, let's get started right away!
Rainbow Road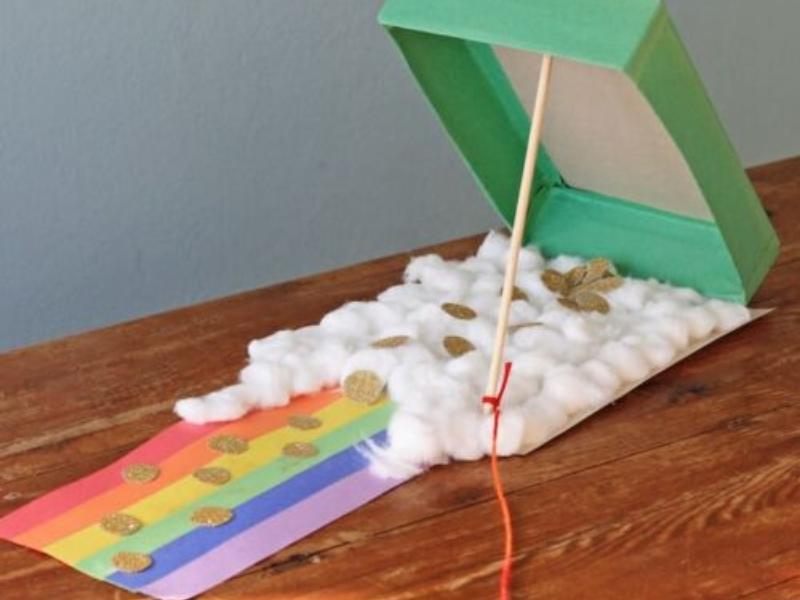 Leprechauns are obsessed with rainbows, no doubt about that. Luckily, you can build this trap with simple supplies, including rainbow-stripped paper and a green cardboard box with a half-skewer.
Give your kids the chance to add decorations on the sides of the box and the rainbow sheet, and put a pot of coins right under the cardboard box. As soon as a leprechaun sees a rainbow, he'll walk to the trap, and the box will fall.
Check out the detailed rainbow road tutorial from instagram.com/ohheyms.a.
Leprechaun Garden
Sneaky leprechauns can't just see a secret trap door and let it pass. Use green craft sticks to build a ladder and fixate it against a wooden box while keeping the top of the box covered with paper. When a leprechaun climbs the ladder, he'll fall into the box.
Make your leprechaun trap unique by decorating it with printable signs.
Learn how to make a leprechaun garden trap at harpercollins.com.
Home Sweet Home Trap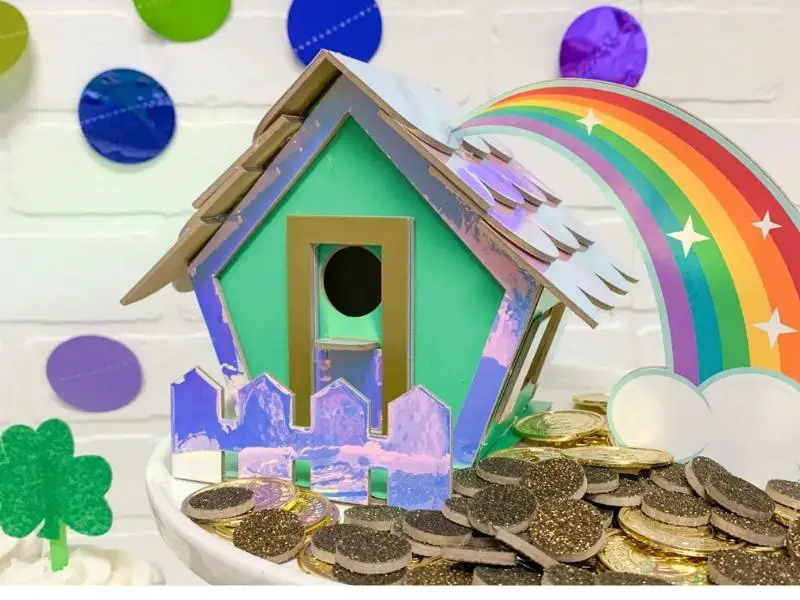 This is one of our favorite St Patrick's Day ideas for kids. The little ones enjoy it because there's lots of painting involved. Basically, they'd paint a small birdhouse with rainbow colors and put the house on a platter with foam dots and chocolate coins around.
The key trick here to attract leprechauns is to attach a rainbow made out of cardstock to the roof.
Find the in-depth home sweet home leprechaun trap idea tutorial at instagram.com/everydaypartymagazine.
Green Top Hat Leprechaun Trap
What can you make with a green poster board? You guessed it; a green top hat leprechaun trap. Building this leprechaun trap is so much fun because you'll add a pipe cleaner rainbow with cotton ball clouds on top of the poster board to mimic the appearance of the hat.
Put a gold-filled black pot and voilà !
Check out the step-by-step instructions at thesuburbansoapbox.com.
Gold Inside Leprechaun Trap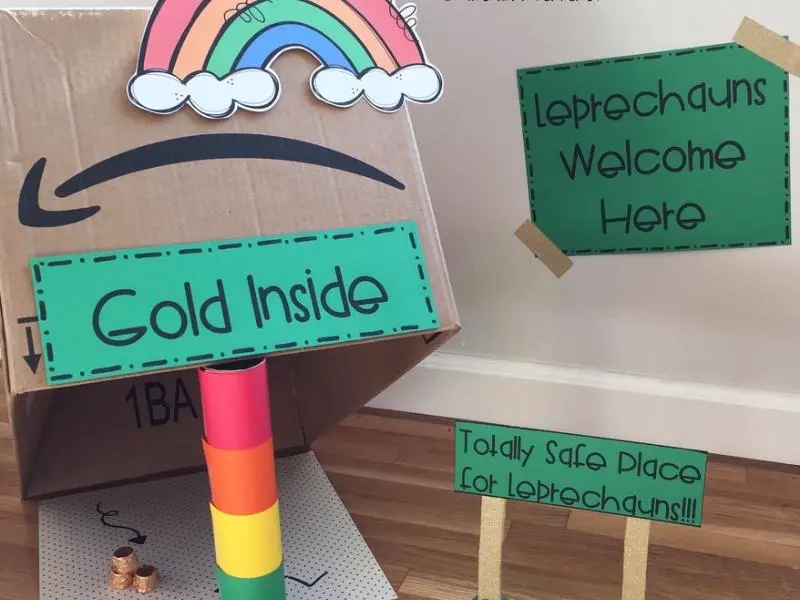 Turn your Amazon shipping cardboard box into a fun leprechaun trap idea. Balance the box with a paper towel tube wrapped in rainbow stripes. Then, attach the tube to a string so that when the leprechaun walks under the box, he gets trapped.
Make sure that you move the tube and put gold coins under the box when your kids wake up so that they know their St. Patrick's Day leprechaun traps are working!
Get the step-by-step tutorial from mrshenryinfirst.com.
DIY Leprechaun Trap Box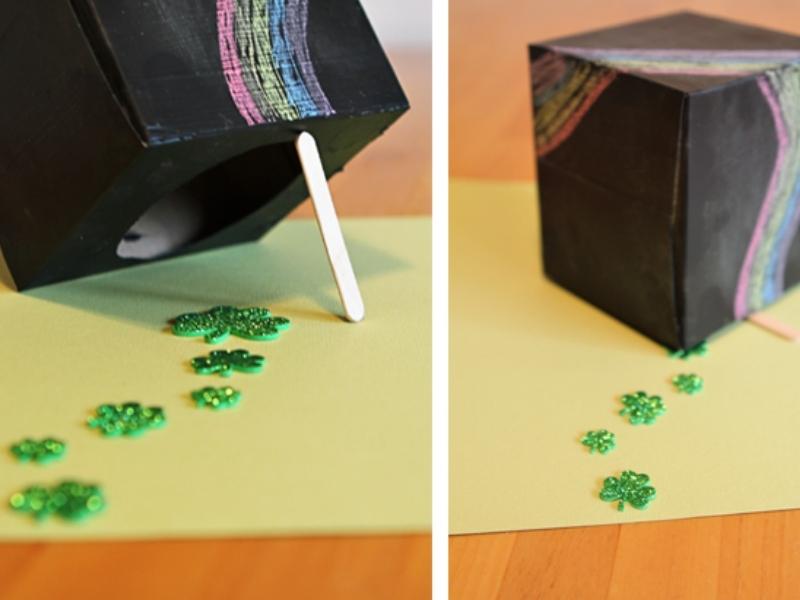 Making your own leprechaun trap with your kids doesn't have to take the whole day. This simple DIY leprechaun trap box is super easy to make, and your kids will still end up with some free gold coins on St Patrick's Day.
All you need is a brown box and some green paint, along with a rainbow made out of pipe cleaners to craft this trap. Oh, and don't forget to add some sparkly shamrock shapes.
Learn how to build this DIY leprechaun trap box at modernparentsmessykids.com.
Leprechaun Plant Trap
Got an old plant pot in the basement? Well, this can be a fun way to make your own trap for St Patrick's Day with your little guy or girl.
Pave a road to the plant pot out of gold washi tape and line it up with some flowers and nuggets. Next, add a ladder (made with colorful sticks) for the leprechaun to climb on and make sure that it's rainbow-colored.
Don't forget the lucky charms, and maybe also add a rainbow lollipop to the pot to make it more attractive for the leprechaun.
Get the detailed leprechaun plant trap guide from momjunky.com.
Leprechaun Trap With Signs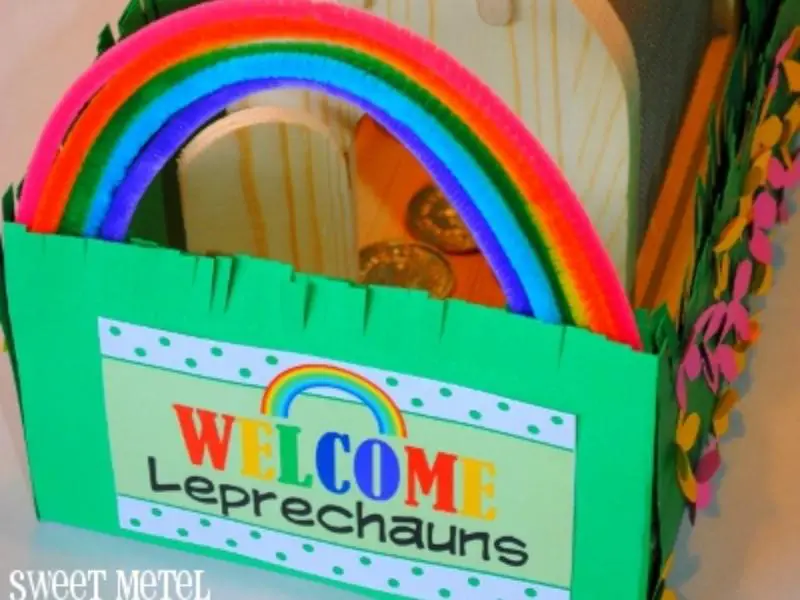 Create a small leprechaun motel out of signs. Revive the fun tradition with this unique leprechaun and add a "Welcome Leprechauns" sign at the front of the motel to increase your chances of catching a leprechaun. Also, add some paper flowers to the sides of the building for decoration.
Follow the leprechaun trap with signs tutorial at sweetmetelmoments.blogspot.com.
LEGO Leprechaun Trap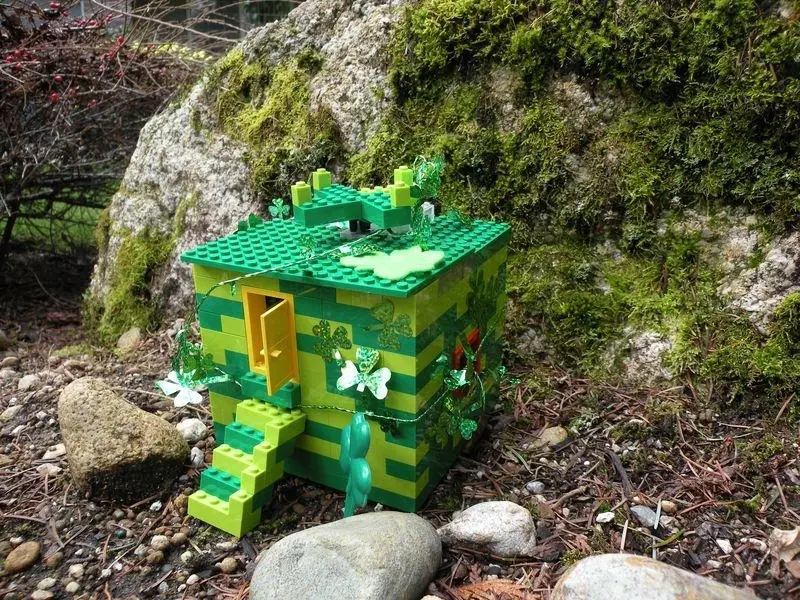 Kids just love LEGOs, period. But do you know what they'd love more? a LEGO leprechaun trap on St Patrick's Day. This is one of the most fun leprechaun trap ideas that will make your kids excited to catch a leprechaun.
Use green and yellow LEGO blocks to build a tiny house with a door. When the leprechaun gets inside, the door closes automatically, locking him inside.
Check out how to construct these LEGO leprechaun traps at potsandpins.com.
Leprechaun Trap With Slide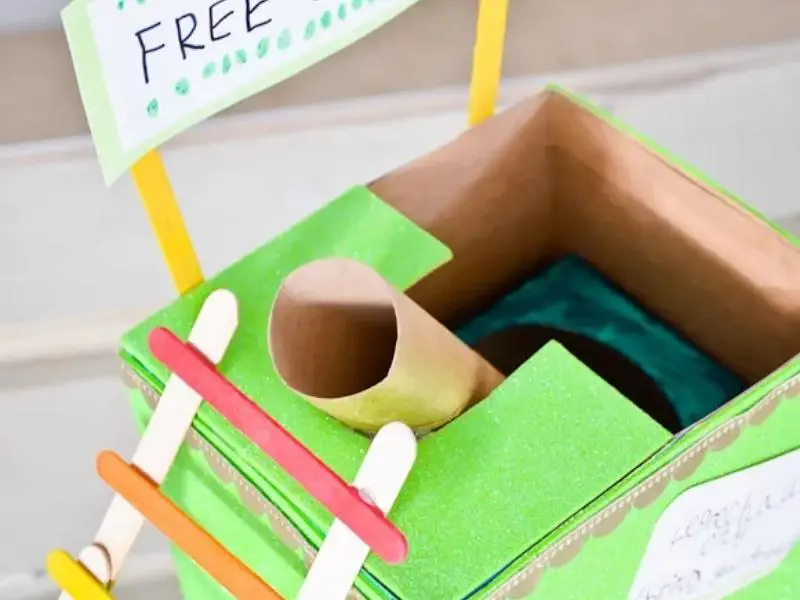 Make a trap with a slide on St Patrick's Day in a creative way to catch a leprechaun. A leprechaun won't resist a trap that has a fun slide, especially when there are gold coins inside.
Use green construction paper to make the box and get a paper towel roll to use as a slide. Of course, it's important that you put a rainbow ladder to intrigue the leprechaun to climb up the ladder.
Check out this leprechaun trap with slide at greyhouseharbor.com.
Shadowbox Leprechaun Trap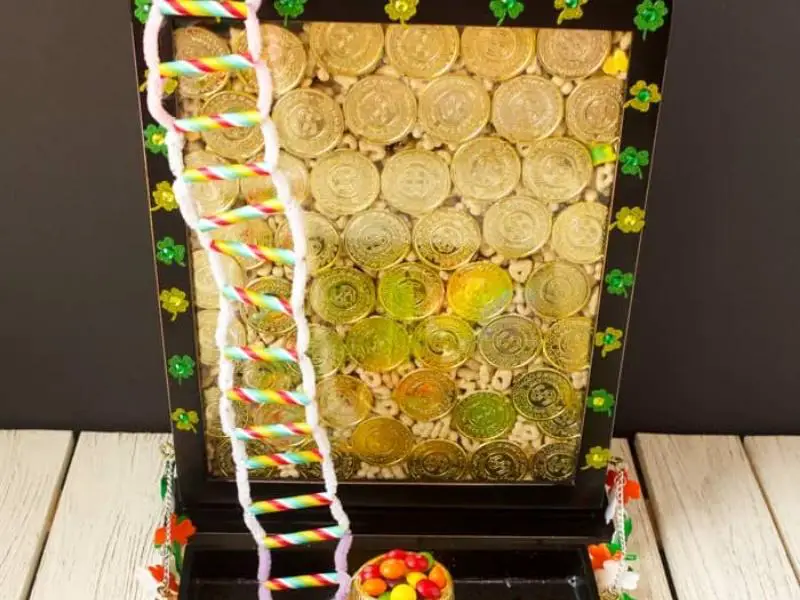 This shadowbox leprechaun trap should be the star of the show in a "how to catch a leprechaun" 101 guide. Cut sparkly cardstock into the size of a shadowbox and make a cutout at the front. Then, create a pathway to the cutout and put some gold coins inside.
Put a "Help yourself to a treat but don't pull the handle" label above the cutout, and the leprechaun won't be able to resist.
Read the extensive shadowbox leprechaun trap tutorial from momsandmunchkins.ca.
Baby Wipes Box Leprechaun Trap for Kids
Wait, don't throw away that baby wipes box in the bathroom. The best leprechaun traps are made with simple items already in your home.
This baby wipes box leprechaun trap for kids consists of a baby wipes box topped with cotton balls and a "free gold" sign in front of a rainbow. If you love decorating your crafts, add some lucky charms and maybe a couple of free printables for the most fun St Patrick's Day ever.
Get the step-by-step baby wipes box leprechaun trap for kids instructions from premeditatedleftovers.com.
Empty Oatmeal Container Top Hat Trap
Got an empty oats container? You can literally create a leprechaun in less than 5 minutes. All you need are some twigs for the ladder, and green felt paper to decorate the container.
To trick the leprechauns, put a "Don't climb the ladder" sign. These sneaky little creatures like to lure around interesting traps to search for a hidden pot of gold.
Follow the comprehensive empty container top hat trap tutorial at loveseweetlove.blogspot.com.
Leprechaun Printables
If you don't have enough time to create a real trap for St Patrick's Day, consider downloading some of these leprechaun bait printables. You can use them to create a leprechaun trap illustration that will get you as close as possible to the real deal.
Some of the available leprechaun printables include bait, a pot of gold, a ladder, and more. Put the printables together and make a stunning 2D leprechaun trap to celebrate this special holiday.
Check out the leprechaun printables at kidsactivitiesblog.com
Rainbow Popsicle Stick Trap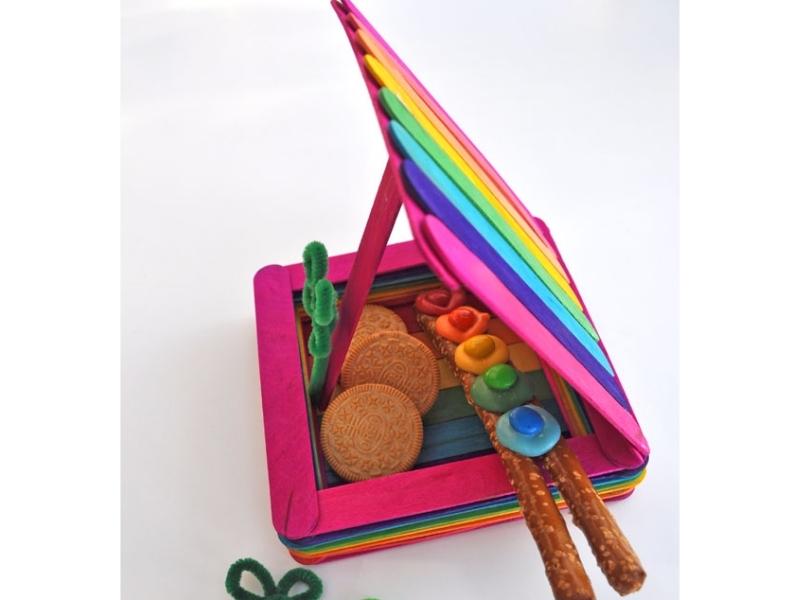 Make a box with popsicle sticks and fill it with goodies to attract that sneaky leprechaun. This rainbow popsicle stick trap looks super cute, so moms can use them as a toy for their kids.
Attach the popsicle sticks with glue while making sure that their colors are similar to that of a rainbow. Hold the cover of the box with one popsicle stick so that when the leprechaun gets insides, the lid falls and traps him.
Get the step-by-step rainbow popsicle stick trap tutorial from club.chicacircle.com.
Leprechaun Cake Trap
Everyone loves cakes, and leprechauns are no exception. This leprechaun cake trap won't disappoint you or your kids.
Put some fragile bars in the middle of the cake and cover them with gold coins. So, when a leprechaun tries to steal the coins, he falls into the cake and gets trapped. Don't forget to put a gold pot and rainbow board to attract the leprechaun.
Figure out how to make a leprechaun cake trap at notmartha.org.
Donut Trap
This cute donut trap would definitely trick the sneakiest creatures ever: leprechauns! All you need is a glazed donut, green frosting, and chocolate gold coins.
Add a trap sign at the top of the donut and make the gold visible to trick leprechauns and make them attempt to steal it.
Learn how to build a donut trap from scratch at thesitsgirls.com.
Shoe Box and Ladder Leprechaun Trap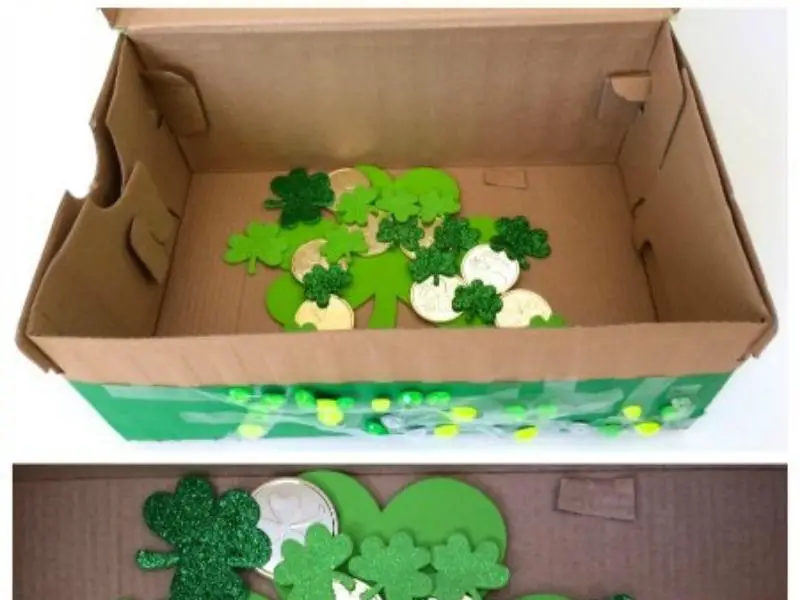 If you're one of those people that don't throw old shoe boxes, you're in luck. This box and ladder leprechaun trap would only require you to decorate it with some glitter and colors.
Wrap the box with green paper and cut a rectangular hole in the middle of the box. Set up a ladder that leads directly to the hole. Wait for the leprechaun to try to grab the pot of gold at night.
Find the thorough shoe box and ladder leprechaun trap tutorial at creeksidelearning.com.
DIY Leprechaun Trap Ideas Round-Up
So these were our favorite DIY leprechaun trap ideas that you can make with your children and their mom on St Patrick's Day. Most trap ideas only require some free printables, green paper, and of course, chocolate gold coins.
Just make sure that you create evidence that the trap worked by making it look like the trap was a success. You might also want to add some small leprechaun footprints. Kids will love that!
So what are you waiting for? Outsmart those little leprechauns and start creating the design.
Check out more leprechaun traps at craftwhack.com, and don't forget to tell us which idea you liked the most!
Comments
0 comments