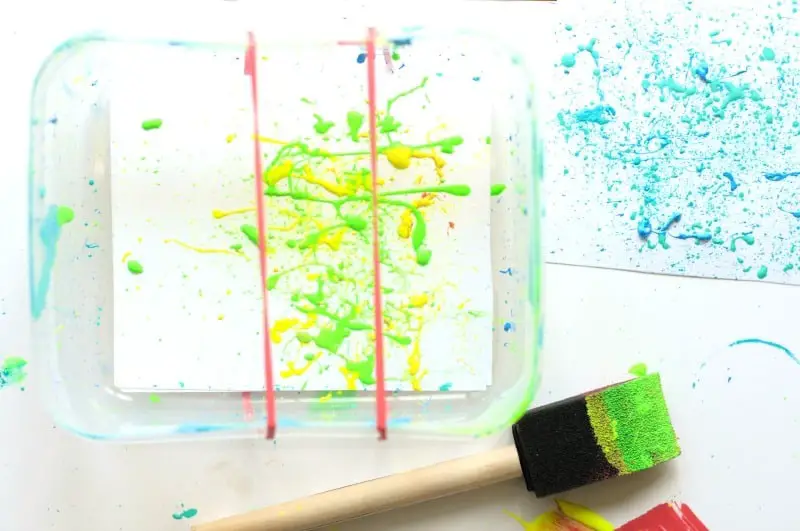 Rubber Band snap painting is crazy fun. And messy- if you're not in the mood for mess, step back for a day and do something else. This project gets paint all over the place. I had it on my glasses and shirt and face when I went to pick up Fen from Archery class, and she gave me a weird tween look and stopped just short of rolling her eyes.
I've come to realize that I actually prefer art projects that aren't overly messy. Maybe it's my age- maybe I'm just finally letting myself be true to my fussy nature. I'd much rather draw or print or paint in a contained way…
BUT! I think messy is fabulous for kids, and there are plenty of options for messy creative play to be found. There's something about kids putting their whole beings into making art that is exciting in a forbidden way. They're so used to being hushed and wiped off and calmed down, that a sanctioned session of rollicking physical art making will be extra-fun.
In fact, my post of 20 messy activities for kids is one of my favorites, and I'm sure the activities are favorites of the kids who have tried them.
Beckett and I played around with rubber band snap painting based on a project from Maryann Kohl and Barbara Zaborowski's new book, Action Art.
 At first, I set him up with a shoe-sized plastic box with big old rubber bands around it. I had cut the paper pieces in half, and they fit perfectly. It was cool- so satisfying, because FLYING PAINT.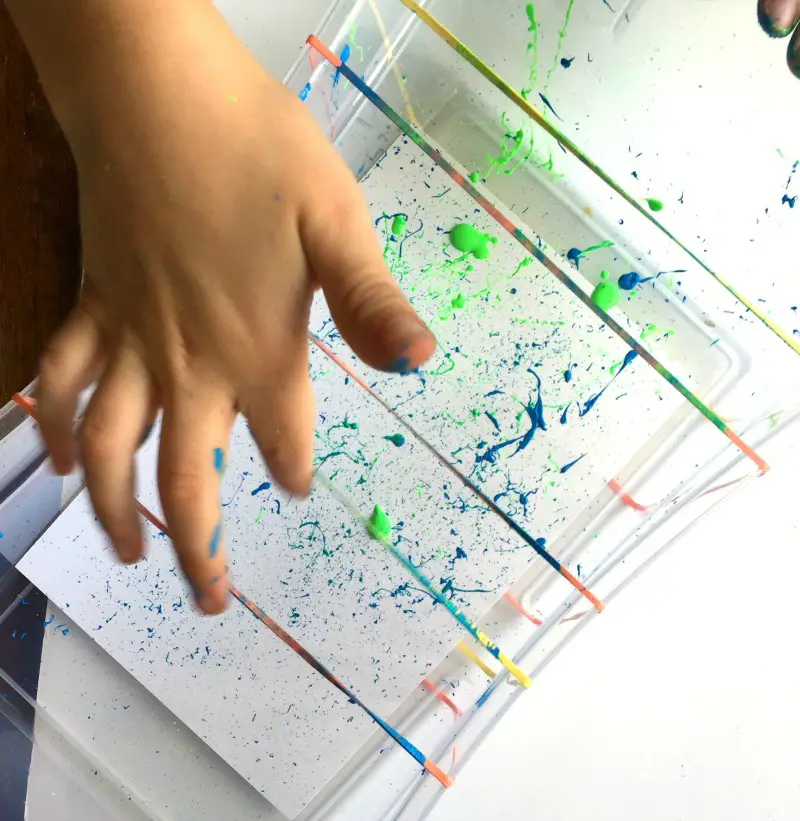 Beckett wanted to then use the box as a jail for his little Batman guy, so I continued experimenting. I grabbed a smaller plastic container from the kitchen drawer, cut the papers down even further, and snapped paint all over them.
This was totally liberating- (I'm usually the one who ends up doing these after projects long after the kids have moved onto something else.) I gave into the paint splatters and enjoyed watching where the paint landed.
Anyway- the book! This book is jam-packed with over 50 art activities for kids, all of them totally hands on. Like majorly hands on: think rolling pins, bubble wrap, balloons, tires, plungers, etc. This is process art at its most crazy. Your kids will love these, and you'll get some amazing photo ops.
Find the book on Amazon here,
 and be sure to check out all of Maryann's tons of art book for kids.
Ooh! Also check out our very messy Splatter Paint Universe project.