Watercolors are becoming the latest trend for everything "" from phone covers to laptop cases all the way to bookmarks.
And if you're an avid reader, you'll probably want to spice up your reading sessions by using fun-looking, individualized bookmarks, such as watercolor ones.
And this is why we're here! The sleepy old bookmark can now be transformed into a vibrant one using our awesome DIY watercolor bookmark ideas. So, without further ado, read on to get inspired!
1. Mother's Day Bookmark Watercolor Project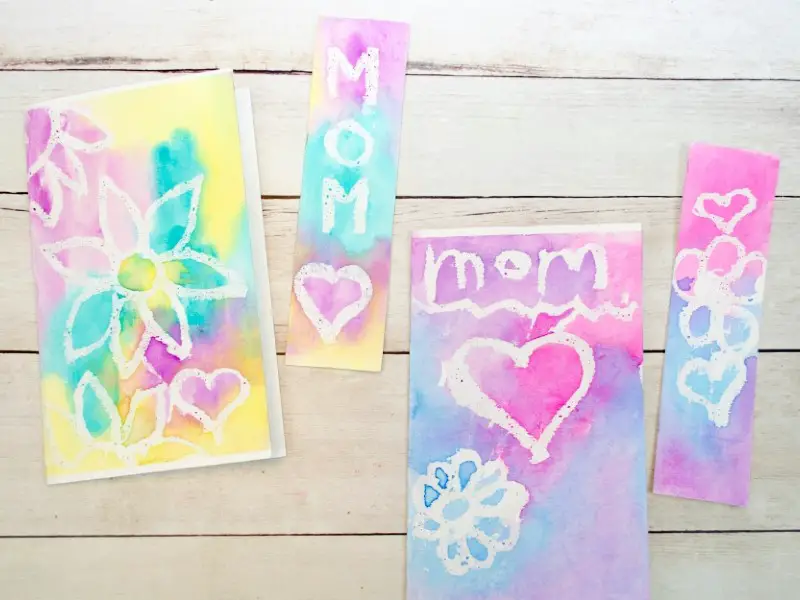 The Mother's Day bookmark is a wonderful hand-crafted gift option on Mother's Day. Your kid can mix brilliant colors on paper to produce unique and creative designs.
In this project, the paint is applied in a thin layer, which results in a smooth surface. This minimizes the appearance of brushstrokes, so the painting will look more like it was painted by a machine.
So this bookmark will surely delight the youngsters and leave mothers happy with their gifts.
Check out more about the Mother's Day Bookmark Watercolor Project at projectswithkids.com.
2. Father's Day Bookmark Watercolor Project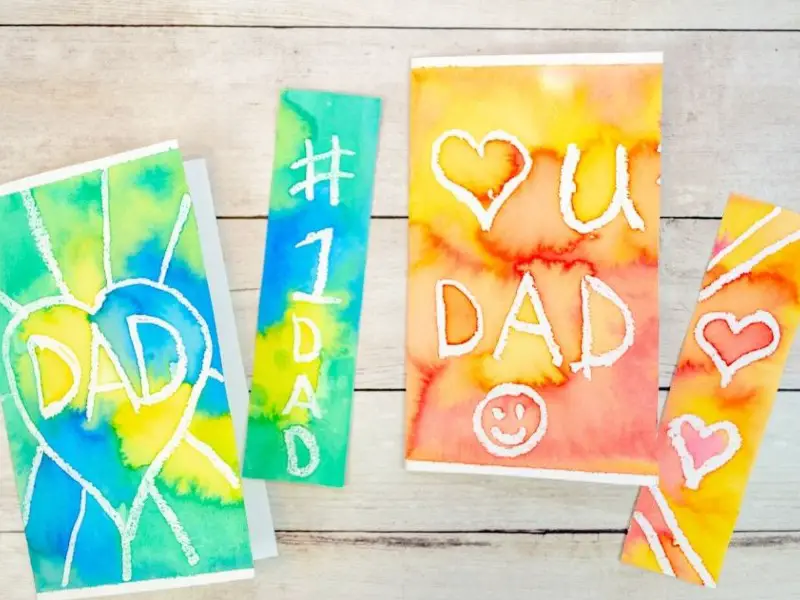 Similar to mothers, fathers need a gift as well. This Father's Day bookmark is an excellent way for children to show their love to their dads.
In addition, it's a fantastic surprise that children will enjoy crafting, and fathers will enjoy receiving it!
To make this project truly one-of-a-kind, kids can develop their own original graphics and words.
What better way to make your dad feel special on Father's Day than with a true-blue, hand-crafted gift.
Visit projectswithkids.com to view the instructions on how to make this beautiful Father's Day Bookmark Watercolor Project.
3. Back to School Monster Bookmarks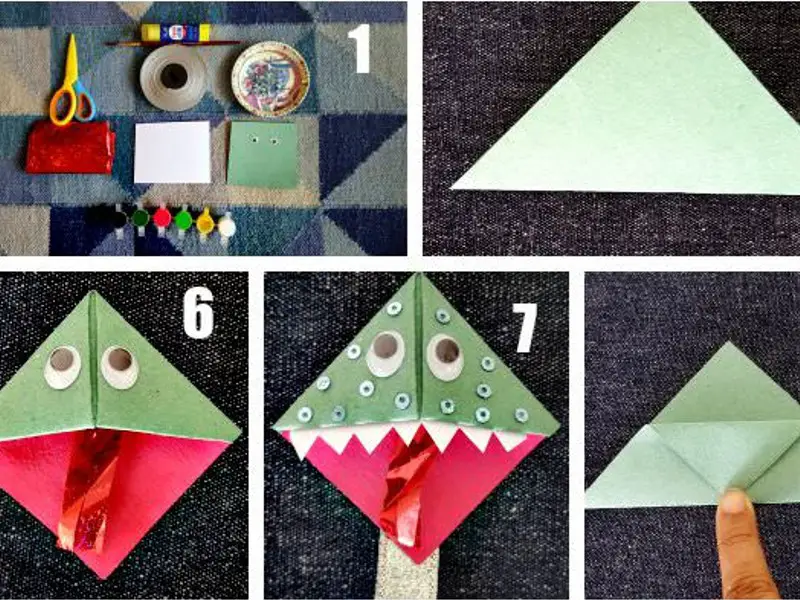 Back to School Monster Bookmarks are easy to make, fun to customize, and will be your new favorite bookmark.
So whether you're looking for something cute for your little one's book or a classic design for your favorite novel, this Monster Bookmark has got you covered.
In addition, it's a fun project for kids of all ages! All you need is some square pieces of construction paper, white paper, red paper, paintbrush, pink paint, scissors, and glue.
Visit artsycraftsymom.com to learn more about the Back to School Monster Bookmark.
4. Galaxy Watercolor Bookmarks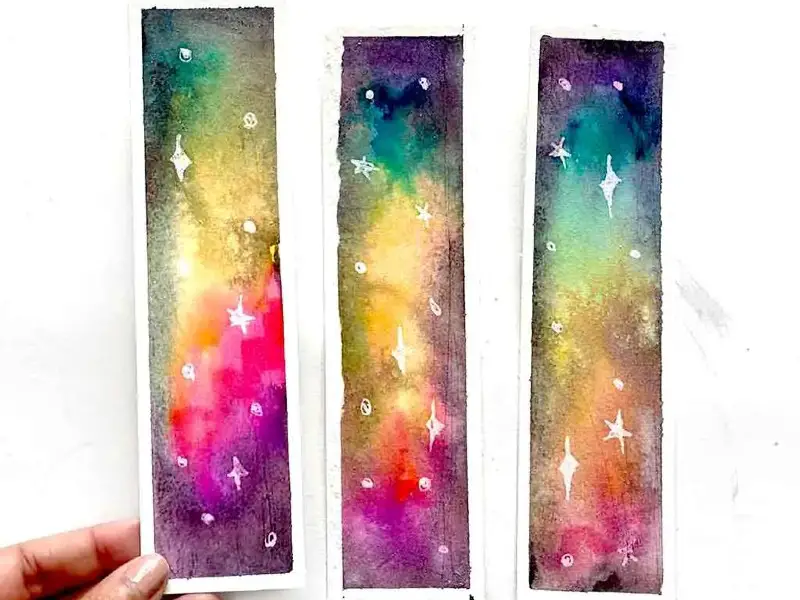 With space-themed colors and patterns, these galaxy watercolor bookmarks are out of this world!
What's more, after painting the bookmark with purple, blue, or green colors, you can sprinkle some salt while the paint is still wet.
Interestingly, salt can transform the whole theme into a more space-like one, and you'll feel that you have the galaxy on your bookmark!
You can also add celestial creations to your final result. And it's pretty easy to make, so you can let your kids join in on the fun.
Visit smilingcolors.com to learn how to make these Galaxy Watercolor Bookmarks.
5. Little Monsters: Watercolor Bookmark
This idea is a fun and creative way to help your kids learn about shapes, colors, and patterns. And the best part is that you and your kids can paint the bookmarks any way you want!
For example, you could do little x's or + signs, dots, flowers, leaves, or if you wanted to get really creative with it, you could try making your own patterns.
Get inspired with this Little Monsters: Watercolor Bookmark at 5littlemonsters.com.
6. Watercolor Bookmarks: Easy Idea That Kids Can Do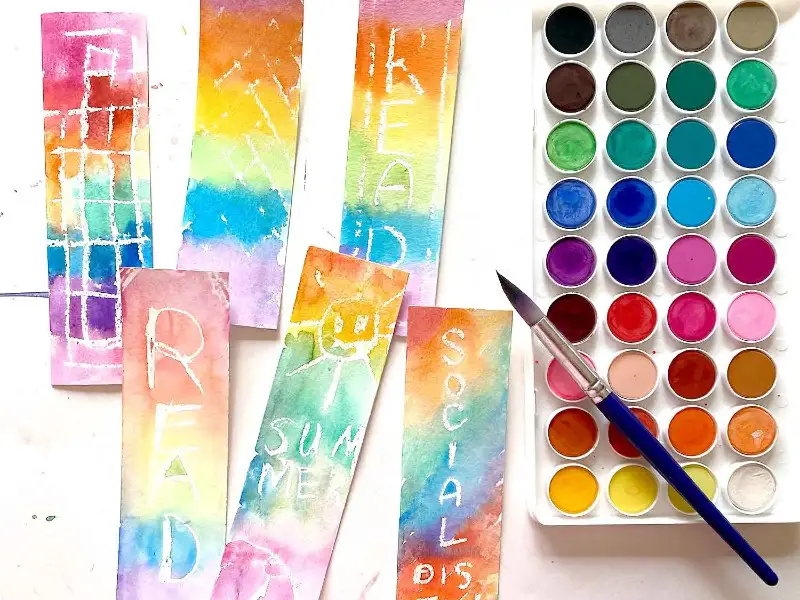 Creating watercolor bookmarks using a crayon resist technique is easy and entertaining.
Additionally, this technique is perfect for beginners, so children can go for it and explore their creativity.
The resist process draws out negative space between the pencil lines and creates an interesting watercolor effect.
In this one, you'll paint on wax paper with crayons to create colorful artwork that you can display or hang up afterward.
Then, press down in certain areas on your paper. This way, the wax won't take the color, which leaves white space to add words or images.
Tip: Try to use toothpicks to draw more creative designs.
You'll find more details about Watercolor Bookmarks: Easy Idea That Kids Can Do at smilingcolors.com.
7. Hand-Lettered Watercolor Bookmarks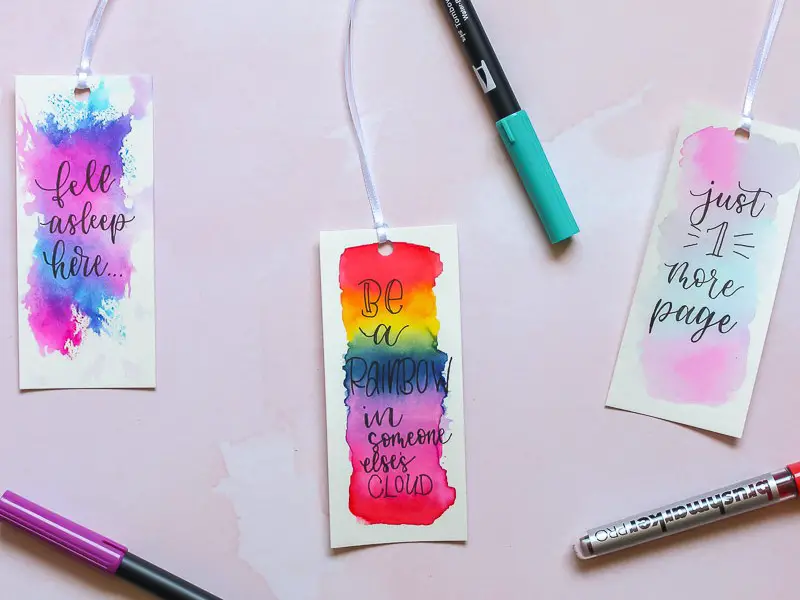 These hand-lettered watercolor bookmarks are effortless and fun to make. You can also customize them, so they're perfect to be given as gifts. In addition, you can use the supplies you already have at home.
And the best part is that there are so many ways to craft this project. You can change the design or the colors and layer the marks; it's never boring.
And when it comes to time, it takes about five minutes, which is worth the beautiful bookmark that can be used for years to come.
Learn how to make these Hand-Lettered Watercolor Bookmarks at byamandakay.com.
8. Space Corner Bookmark
We all know that reading can be a fun adventure, especially if you have a funky bookmark to keep you company. This space-themed bookmark is so simple; it's made of two triangles that are glued together.
So you'll need to apply glue on one triangle and press the other one on it. Then, let the glue dry completely before using this bookmark, as you don't want it sticking on a page from the book.
In addition, this space corner bookmark is perfect for your little astronaut who loves exploring. It's also great to be given as a gift or to be put as a decoration for your room.
Learn how to make this Space Corner Bookmark at easypeasyandfun.com.
9. Floral Design Bookmark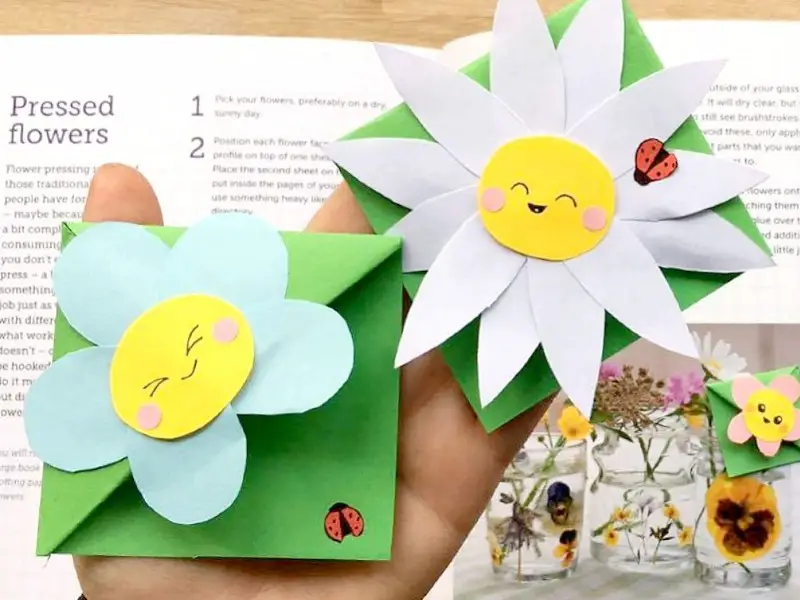 Floral watercolor bookmarks can be a delightful addition to your paper crafting collection.
And the good news is that anyone can create these floral-designed bookmarks because they don't require any special skills or complicated techniques.
An easy step-by-step guide to making this Floral Design Bookmark is available at mycrafts.com.
10. Thumbprint Heart Bookmark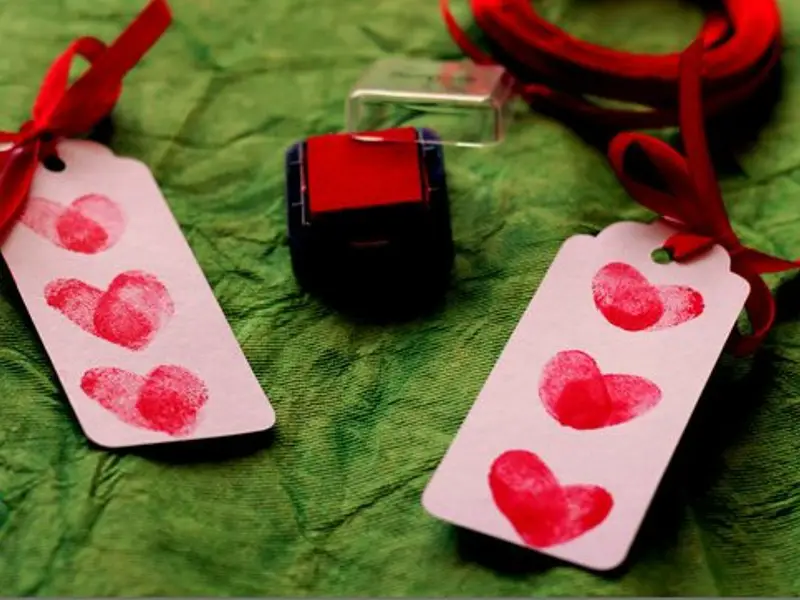 This thumbprint heart bookmark is a great way to show how much you love someone. So you can use this idea to make a personalized gift for the people you care about.
Also, it's simple and easy for children, and they'll learn about showing their love to friends and family.
To do this project, simply stamp your thumbprint onto a piece of cardstock with red ink, then cut it to the desired size.
Next, tie on a length of red satin ribbon, and you're done!
Visit artsycraftsymom.com for more information about this cute Thumbprint Heart Bookmark.
11. Penguin Bookmark Craft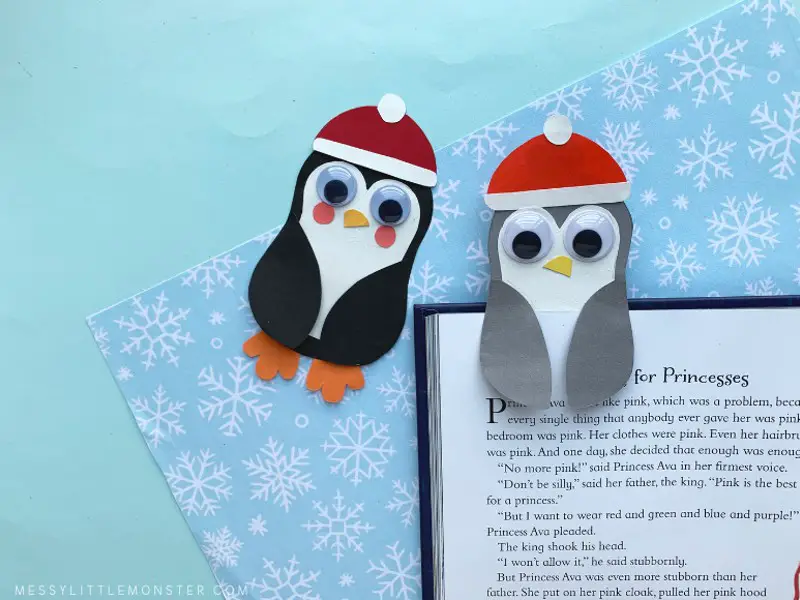 It's winter, and you're stuck inside with the kids. What do you do? Create these penguin bookmarks!
This easy-to-follow craft is a great way to keep the kids occupied and have fun on a cold winter day. They'll love this adorable project and will be proud of their finished product.
And it's not so complicated; your kid will be making a bookmark with only a penguin's shape and flippers. Plus, the penguin's outer shape can be traced on black craft papers.
Catch glimpses of what your child can achieve with this Penguin Bookmark Craft at messylittlemonster.com.
12. Bookish Craft Watercolor Bookmarks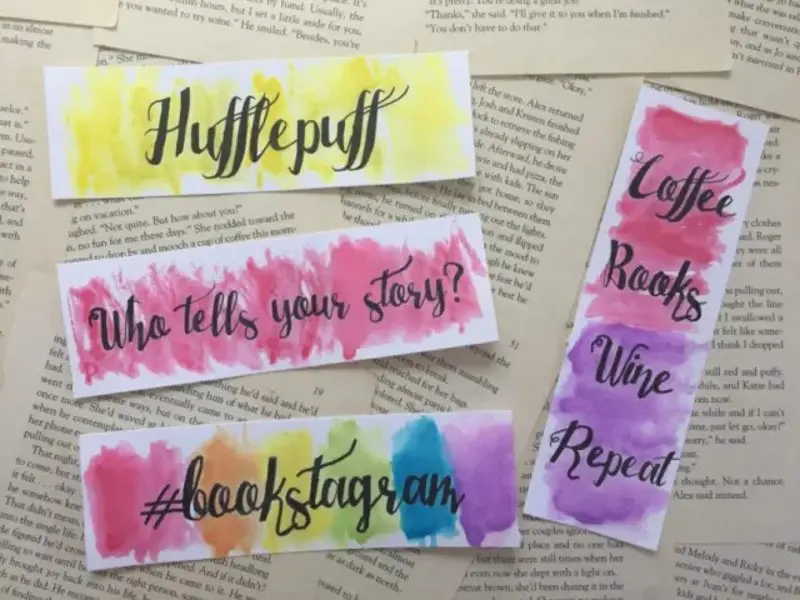 Another idea to craft while you're stuck indoors on a rainy afternoon. These handmade watercolor bookmarks are perfect to be shared with friends and family.
You'll just need to punch out circles, cut them out using scissors, trace onto your traced paper, and then cut out the shape. You're now ready to paint your bookmarks.
And there's no wrong way to make them, so just have fun and make some crafts that reflect you.
These Bookish Craft Watercolor Bookmarks are easy to follow on falonballard.com.
13. DIY Watercolor Bookmarks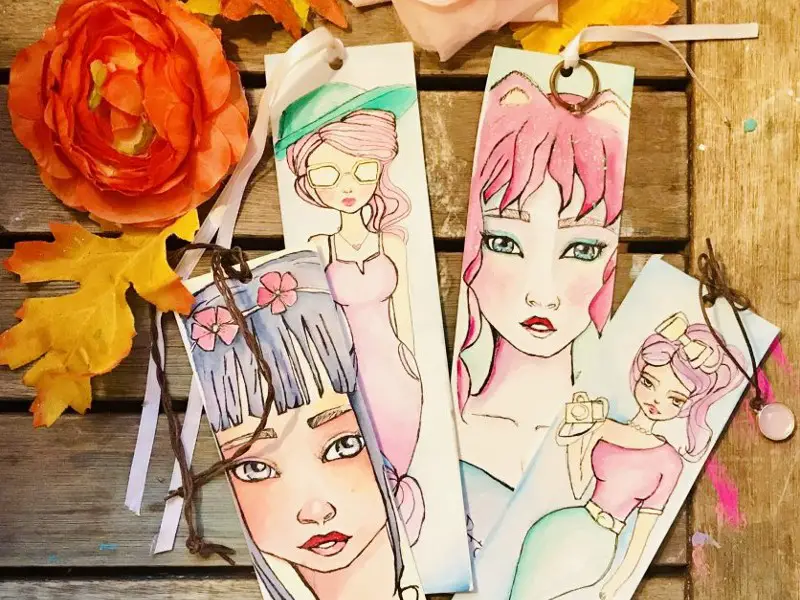 We know that writing on bookmarks might seem scary or a bit too artistic. But don't worry; you don't need to be a calligraphy expert.
Also, it's not necessary to have good handwriting to make your own bookmarks. You just need the courage to write a few words on them.
You can use random quotes from your favorite book or movie so that people will know what kind of books you like.
With these personalized watercolor bookmarks, you can give your loved ones special gifts that they'll remember in their reading sessions!
The instructions at pinksparkstudio.com will help you create mind-blowing DIY Watercolor Bookmarks.
14. Ice-cream Stick Animal Bookmark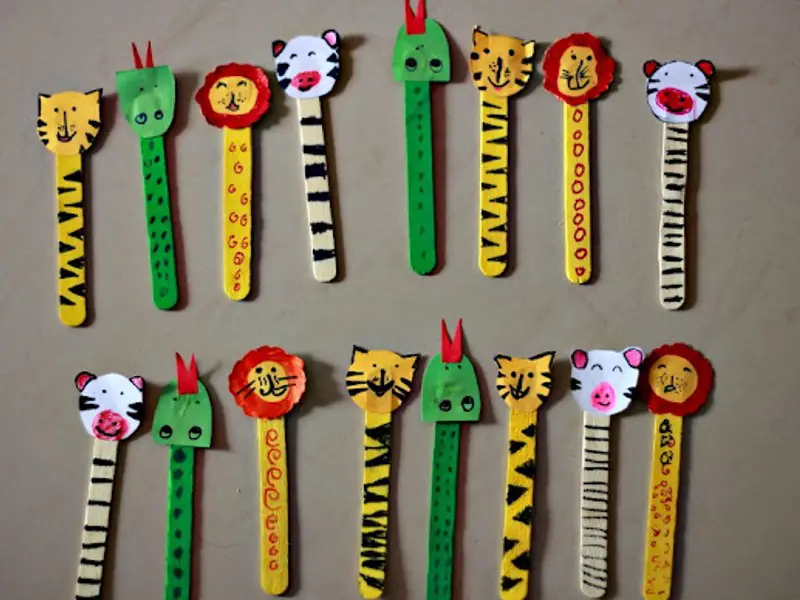 There are a ton of kid's crafts that can be made with lollipop sticks or ice cream sticks. And in this idea, your kids will learn to make their own crafty animal bookmarks and enjoy showing them to their friends.
They can create adorable barnyard animals, bugs, and other amazing ice cream stick animal bookmarks within minutes!
Get instructions to create this Icecream Stick Animal Bookmark at artsycraftsymom.com
15. DIY Madhubani Style Kite Bookmark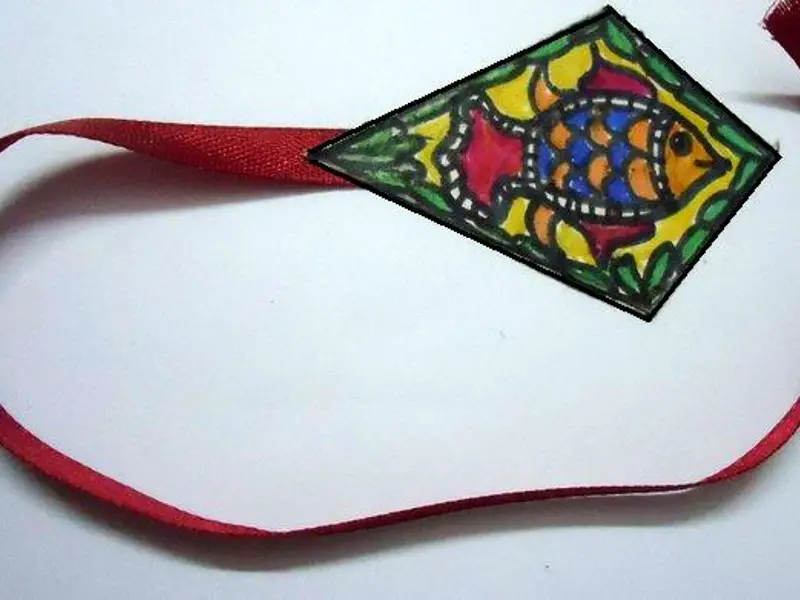 In this project, you can make these awesome DIY Madhubani style bookmarks that'll remind you of your childhood. You can also let your kids participate and make it a family activity.
And the best part about this idea is that you can go crazy with bright colors that'll remind you and your kids of clear skies. In addition, you can add glitters and ribbons that'll add elegance to the final result.
Learn how to make these DIY Madhubani Style Kite Bookmarks at artsycraftsymom.com.
16. Paint Chip Pokémon Pikachu Bookmark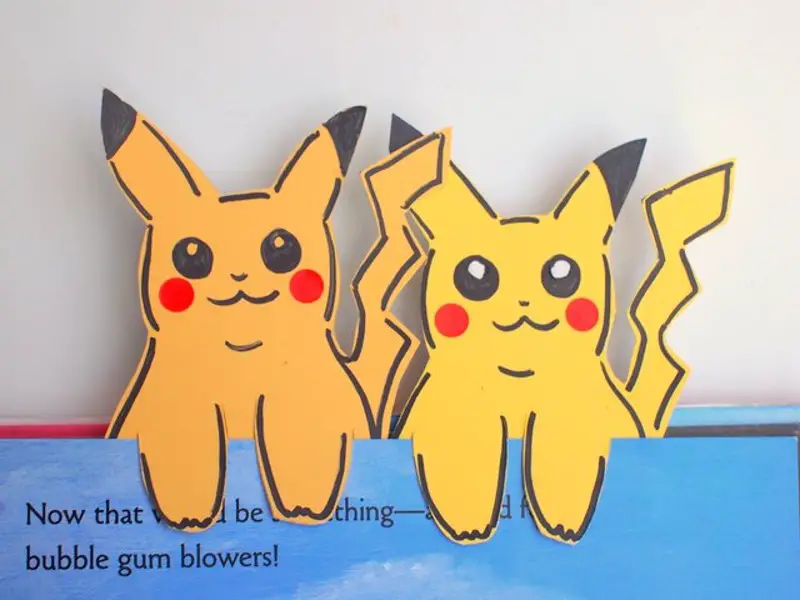 This paint chip bookmark project is ideal for young and old Pokémon fans.
It's simple to make, and you probably have all the materials on hand. So gather your children and poke balls, and let's get started right away!
All you have to do is trace a Pikachu onto a paint chip or print it onto a piece of yellow card stock and then cut it out.
You can use any Pikachu image that you want. And once you have your bookmark, all you have to do is put it on the corner of the page, and voila!
Head over to pinkstripeysocks.com to learn how to make this Paint Chip Pokémon Pikachu Bookmark.
17. Four-Season Watercolor Bookmark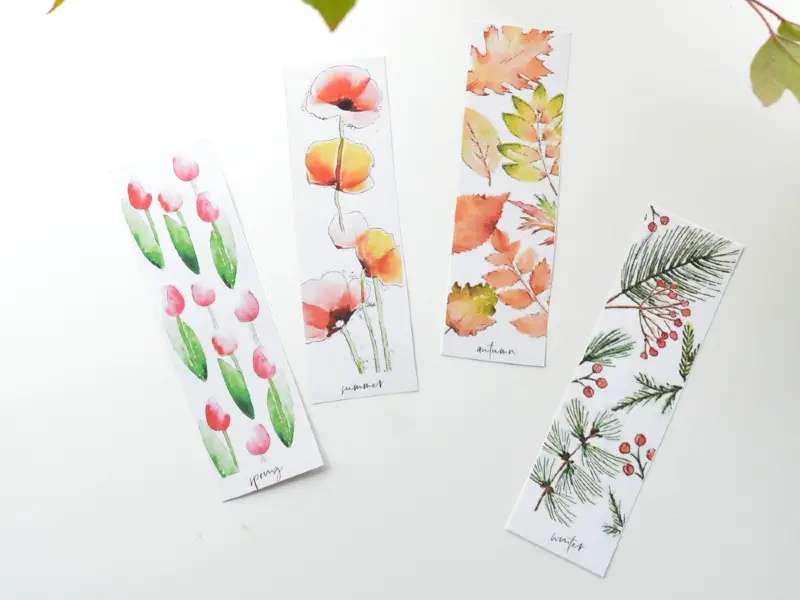 Designing these four-season watercolor bookmarks is a great way to bring some joy to your off-hours.
When you need a break from your daily grind, why not take some time for creative self-care? These bookmarks are also a beautiful way to decorate your desk.
Because what's better than having different seasons' themes on a bookmark?
Check centsationalstyle.com to learn how to make these Four-Season Watercolor Bookmarks.
18. Beautiful DIY Watercolor Bookmark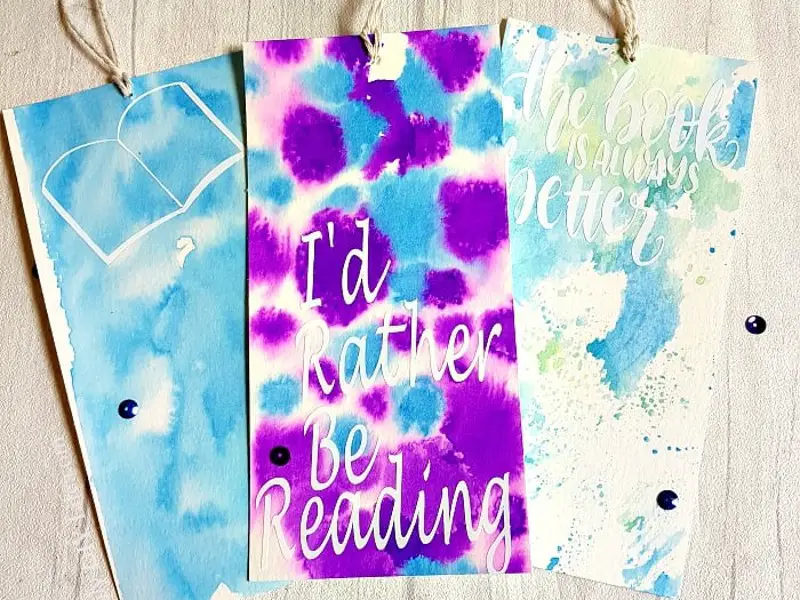 With this idea, you'll just need paper towels, painter's tape, water, watercolor paper, and a paint palette.
When you're ready with these supplies, you'll be able to create beautiful watercolor bookmarks using three different techniques.
For example, you can use a traditional watercolor painting, saltwater coloring, or the plastic bag marbling effect.
Learn more about crafting the Beautiful DIY Watercolor Bookmark using the three techniques at dailydiylife.com.
19. Minion Bookmark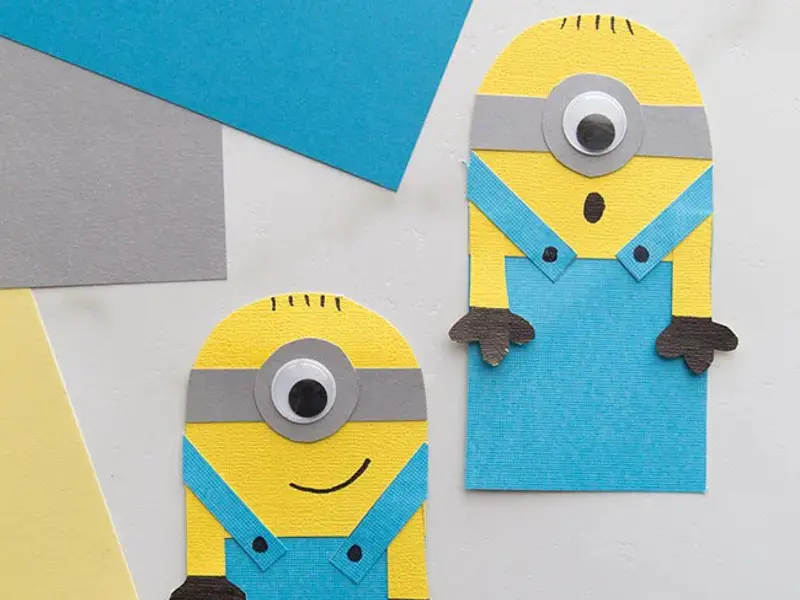 Keep your place in a book and share your love for minions with this easy-to-make, easy-to-use bookmark.
In this one, the arms fold over the page and keep your place marked while the head hugs your book. Not only will you like using this bookmark, but you'll also enjoy making it!
And about colors, you'll need yellow for the head and hands, blue for clothing, and gray and black for eyes.
Get more information about this fabulous Minion Bookmark at thebestideasforkids.com.
20. Diagonal Striped Watercolor Bookmarks
Sometimes simple works best when using watercolors. So instead of depicting landscape scenes or making elaborate patterns, you can decorate a bookmark with nothing more than diagonal stripes.
Using washi tape to hold down the card stock that'll serve as the bookmark, paint the diagonal stripes on it in your favorite colors. You'll have a lovely bookmark to help you remember your place in your favorite novel once the paint dries. Add a hand-lettered positive affirmation for the final touch, so you'll get a burst of good vibes anytime you see it.
You'll find the full guide for making these diagonal striped watercolor bookmarks at Craftic.
21. DIY Botanical Watercolor Bookmark
If you love flowers and know how to doodle and paint, you could try making this botanical-themed bookmark. This watercolor project is excellent, whether for personal use or made as a gift. Also, if the recipient of the gift understands the language of flowers, the bookmark can take on a deeper meaning depending on what species you decide to draw.
Start by painting the card stock to give your flower drawing a colored background. You can paint each half of the card a different color for an interesting gradient effect. Then, draw the flowers on after letting the paint dry completely. You'll have a lovely bookmark you can use to remember the last page you read in your book.
Visit The Pigeon Letters to get started making this DIY botanical watercolor bookmark.
22. DIY Hand-Lettered Watercolor Bookmarks
Do you have good handwriting, or are you excellent at drawing letters in different styles? If so, incorporate these skills into your next DIY watercolor bookmark project! Your artistic talents can transform a piece of cardboard into a bookmark featuring heart-warming or blood-pumping motivational quotes!
You'll need the usual art supplies like watercolor paper, markers, and a paintbrush to get started on this project. Give the bookmarks a colorful rainbow background with the watercolors before drawing your hand-lettered message with the markers. This is a super easy and fun project to practice lettering and working with watercolors.
Get started on these DIY hand-lettered watercolor bookmarks using the step-by-step guide at By Amanda Kay.
23. Sticker Resist Valentine Watercolor Bookmarks
DIY watercolor bookmarks can make excellent gifts for special occasions. For example, your kids will love the idea of giving Valentine-themed bookmarks to their friends on Valentine's Day. The final look of the bookmarks draws inspiration from tie-dye resist techniques, with the little white heart stickers adding a touch of cuteness and fun.
Let your kids work on taped-down watercolor paper when painting the background. When applying the heart stickers, the bookmarks need to be dry; else, the wet paper will mess with the sticker's adhesion. Also, let your kids use pink or red paint to keep Valentine's spirit alive.
Visit Projects With Kids to learn how to make sticker resist Valentine watercolor bookmarks. For more Valentine's Day painting ideas, visit craftwhack.com.
24. DIY Watercolor Bookmarks
A good way to personalize DIY bookmarks is by drawing characters on them. For example, bookmarks featuring cute girls, princesses, and mermaids are the perfect project for tween and teen girls with good drawing skills. Meanwhile, drawing a cartoon version of oneself makes for an extremely personal bookmark.
Before putting a pencil to bookmark, you'll need to paint in the background. We think using muted watercolors helps the pencil drawings stand out against the bookmarks, so that's something to consider before you go over the sketch lines with a drawing marker. And for final embellishments, add a ribbon, tassel, or charm.
Try making DIY watercolor bookmarks like the ones by Pink Spark Studio.
25. Easy DIY Watercolor Bookmarks
Despite their narrow dimensions, bookmarks can serve as fantastic canvasses for artistic expression. Whether they feature beautifully evocative landscape watercolor paintings of a sailboat at sea or cacti in a desert during sunset, they can transport you someplace far away.
Begin by experimenting with blending colors on scrap card stock, paying attention to the quantity of water and ink that works best for the background. When you're satisfied with the results, paint your watercolor background. Then, once the paint dries, add the silhouettes of the subjects of your scene using black ink.
Check out the step-by-step guide for these easy DIY watercolor bookmarks at Kelly Creates.
26. Christmas Watercolor Bookmarks
Next Christmas, gift your friends and family bookmarks featuring a landscape painting of the iconic Northern Lights. You can create these elegant bookmarks using different shades of blue, green, black, and white for the stars littering the night sky.
To work on this project, you'll need a full sheet of card stock. The sheet should be set horizontally in landscape orientation to provide more room to paint on. Also, ensure you plan your composition well, so every standalone bookmark that's cut from the card stock has something interesting on it.
Get the guide for these Christmas watercolor bookmarks at Makoccino.
27. Abstract Watercolor Bookmarks
Abstract art is open to interpretation and may take on a different meaning depending on who you ask. So you can have so much fun painting on bookmarks in this art style and asking friends and family for their impressions. Also, using watercolors in this way can be extremely therapeutic, making this bookmark idea an excellent one to try if you want to relax.
The main idea is to move your brush without worrying about watercolor techniques or what the final art will look like. Simply enjoy the process of using vibrant colors to make blots, strokes, and speckles on the card stock; interpretations and meaning can come later.
Visit Positively Splendid Home to learn more about making abstract watercolor bookmarks.
28. Father's Day Outer Space Watercolor Bookmarks
Give your child some crayons and a paintbrush and encourage them to make outer space-themed watercolor bookmarks as a Father's Day gift. Their dad will be blown away by the scribbly-cute charm of these out-of-this-world bookmarks.
As usual, the project will begin with creating a background using watercolors. Then, once the paint dries, the real fun starts, as your kids can scribble suns, stars, and planets using different colored crayons.
Get the Father's Day outer space watercolor bookmarks tutorial from Make and Takes.
29. Printable Watercolor Bookmarks
Suppose you're looking for watercolor bookmark ideas that don't require you to break out the brushes and watercolors: does such an option exist? Absolutely!
Put away the watercolor paper because you won't need it when working with downloadable printables! Some come with elaborate designs and quotes, while others are minimalist and only feature a single color fading into white.
Visit Almost Makes Perfect for these printable watercolor bookmarks.
30. Easy Mother's Day Watercolor Bookmark
Mother's Day gifts don't have to be expensive and store-bought. In fact, a hand-made gift with a personalized greeting is a million times more intimate and thoughtful.
Therefore, we think creating these easy watercolor bookmarks will be a massive hit with your momma the next Mother's Day.
Visit Huckleberry Hearts for more information about these Mother's Day bookmarks.
31. Watercolor Bookmarks for Grandma and Grandpa
Grandparents appreciate hand-made gifts from their grandchildren because such presents come with a personal touch. So before your next visit, get the kids to create some beautiful bookmarks using watercolors.
Visit Colorations for more information about watercolor bookmarks for grandma and grandpa.
32. Floral
When incorporated into a design, flowers bring elegance and beauty that's unrivaled by other design elements. So it's not surprising that this bookmark featuring a watercolor depiction of a lone watering can with flowers in it is simply gorgeous.
Visit Instructables to learn how to make a floral watercolor bookmark.
33. Geometric Pattern
Want an unforgettable way to bookmark your pages? Try making bookmarks featuring geometric patterns.
Triangles and polygons work best for designs like this, and you can fill them in with watercolor tree branches, tribal patterns, wooden textures, and the like. Also, the abstract textures and geometric patterns make this project the perfect back-to-school gift for kids.
Head to With Love, Melissa Shop for the geometric watercolor bookmark tutorial.
34. Feathers Bookmark
Even though you're more likely to think of a quill when you think of feathers and books, watercolor plumage looks amazing on a bookmark. So, if you know your bird species well and have enough card stock, you can use different colors to make a collection of feathers.
Visit World of Printables for more information on making bookmarks featuring watercolor feathers.
35. Painting Snowy Evergreen Bookmarks
It's hard not to associate pine trees and snow with Christmas. Thus, bookmarks featuring a watercolor depiction of a snowcapped landscape and pine trees make excellent Christmas gifts for friends and family.
You can play with the scene's mood by using lighter or darker shades, with indigo working well to give it that Holy night feeling. Also, playing with the sizes of the trees will give the scene more dynamism, so make one tree the focal point of the composition.
Check out Finding Silver Pennies for more on painting snowy evergreen bookmarks.
36. Seascape Bookmark
Watercolor projects featuring ocean scenes can have a calming effect that fills you with hope. So the next time you decide to paint a bookmark with watercolors, why not create a seascape? You can do some interesting things with the horizon line (where sky and ocean meet) like give it a sunset or some ships.
Learn how to create a seascape bookmark from The Pigeon Letters.
37. Laminated Bookmarks
The next time you grab some brushes and have a bookmark watercolor paint session with the kids, laminate the results to preserve the brush strokes and details drawn by your little artist forever! It doesn't matter what the kids create; all results are fair game for the lamination treatment.
Check out Making Things Is Awesome for more on laminated bookmarks featuring watercolors.
38. Easy Watercolor Gnome Bookmark
Draw inspiration from European folklore and create a bookmark (or two) featuring a gnome. It's up to you whether you paint the background first or sketch the gnome before filling the colors in. Either way, you should end up with a cute bookmark featuring these adorable-looking mythical creatures.
Visit Ruffles and Rain Boots to learn how to make an easy watercolor gnome bookmark.
39. Sky Bookmarks
Like ocean scenes, bookmarks featuring scenes of the sky are calming to look at. You can add in some tiny birds in silhouette to depict the sky's vastness and give the scene a sense of freedom and adventure and fluffy clouds to make the bookmark more playful.
Head to Pumpkin Emily for more on this bookmark featuring a watercolor sky.
40. Beach Watercolor Bookmarks
Usher in the summer season with a bookmark depicting fun times at the beach. You can add props like a parasol and beach ball to make the scene more colorful, though sand and sea are all you need to set the mood.
Learn more about using watercolors to make a beach-themed bookmark at World of Printables.
41. Ombre Watercolor Bookmarks
Try making a bookmark with a watercolor painting in silhouette. You can depict a butterfly perched on a blade of grass at sunset, using pink for the background and black paint for the foreground silhouette.
Visit Pumpkin Emily for the step-by-step ombre watercolor bookmarks guide.
42. Hot Air Balloons Bookmarks
Travel-themed bookmarks can rouse your sense of adventure and exploration, so a watercolor landscape with hot air balloons is excellent fuel for wanderlust. Give this project as a gift to that friend of yours whose nose is always in a book and watch them get excited about the world again.
Learn more about how to make hot air balloons bookmarks from World of Printables.
As you can see, there's a myriad of watercolor ideas out there to create unique bookmarks. So grab your tools, watercolors, and most importantly, your creativity, and start crafting!
And remember, there's no limit; you can go as wild as you wish!
Comments
0 comments