January and February are approaching, and with that comes Valentines day.
The most straightforward painting idea for a beautiful Valentine's day gift can start with a paint brush and a canvas.
The art projects you can create have the power to turn Valentine's days into your favorite holidays.
Valentine Canvas Painting Ideas
To start easy, you can draw super cute heart shapes, flowers, tree varieties, family, classmates, and even pinecones.
All is fair on Valentine's Day!
Acrylic Enamel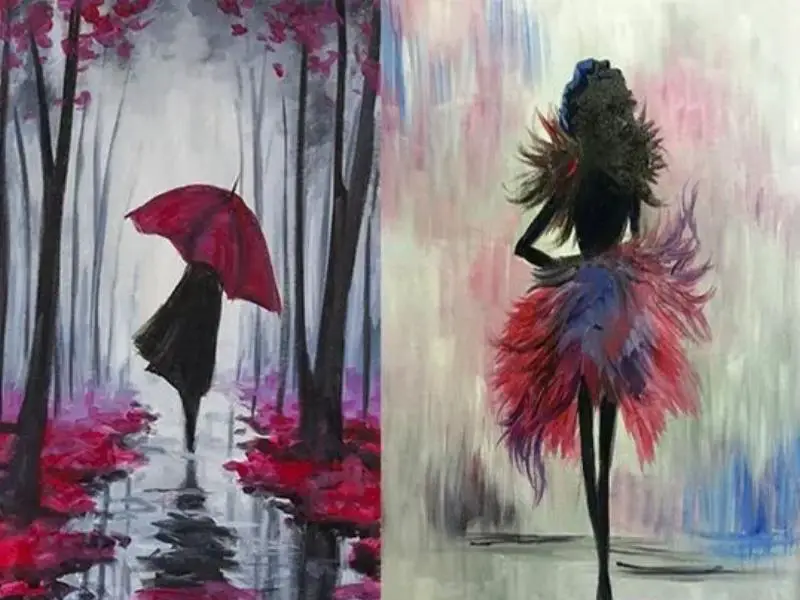 There are so many accessories you can use and techniques you can apply that'll get you to enjoy making your fun Valentine's Day painting. Besides, most of these techniques don't require an advanced skill level.
One of these is using acrylic enamel while painting. Acrylic enamel is raised from the painting, giving a sensory appeal to the artwork and making it more of a 3-D project than just a 2-D one.
Check out 50+ Best Easy Painting Ideas For Wall Beginners and Canvas from ajaxblender.
Watercolor Paintings
Now, we'll talk about the simple or complicated watercolor paintings, the base of any Valentine's Day DIY project that includes paint.
Kids love them, and adults love them, and most people who love canvas creations will have so much fun making watercolor paintings.
You can put anything down on a painting using watercolors! So, we'll run a few ideas, traditional and eccentric, by you.
That way, you can choose one that's perfect for your personal use and the holiday of love.
Easy Valentine's Special Tree With Hanging Hearts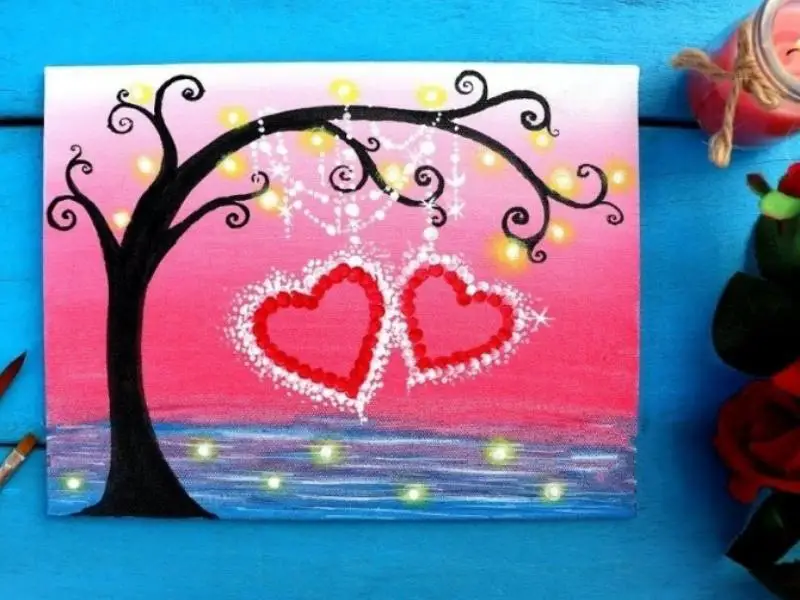 Naturally, the first shape that comes to anybody's mind when thinking about a gift that's perfect for Valentine's Day would be a heart painting. And this one is a tree with dangling hearts.
Moreover, you can add so many other elements into such a fun painting and use tons of cute ideas and supplies.
That can include pieces of photography, different brushes, a stamp, and even sponges. Once your masterpiece has dried, you'll be proud of it!
Take a look at Easy Valentine's Special Tree With Dangling Hearts from Goodness in You.
How to DIY Geometric Art That Looks High-End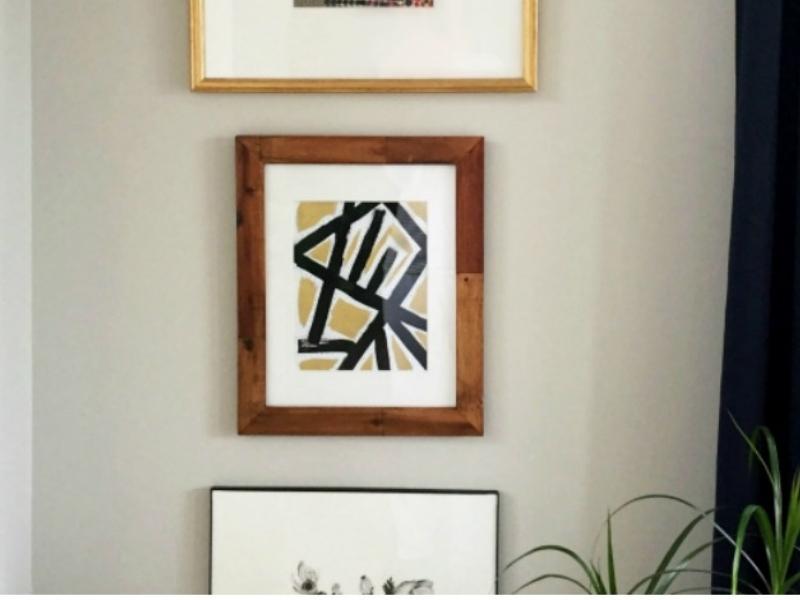 Keep in mind when you take up your pen and paper that Valentines Day isn't just about your partner or spouse! You can include crafts and paintings for your children, grandparents, or step-dad.
Do they see things with a different eye? If they're interested in the more irregular forms of contemporary art, then maybe these black and gold abstracts and geometrical shapes will present better ideas.
Check out How to DIY Geometric Art That Looks High-End by thisisourbliss.
Paint a Valentine Heart Tree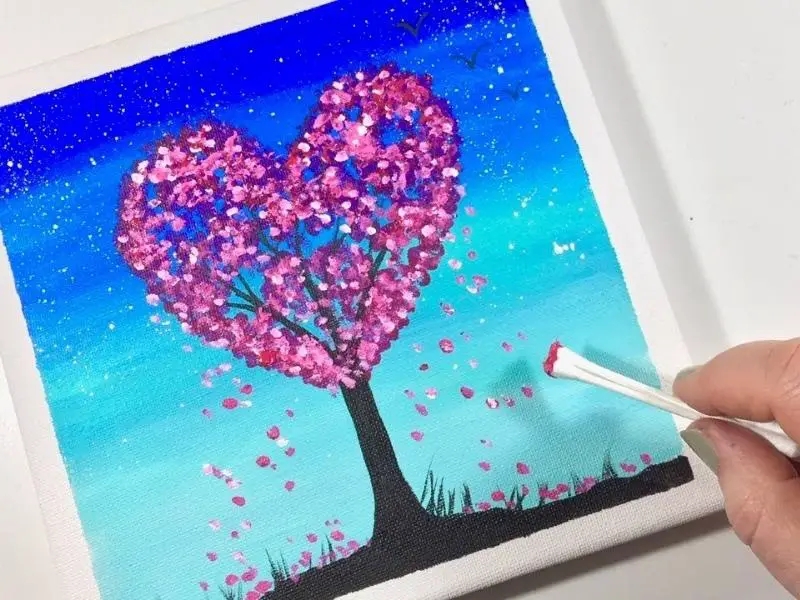 A tree is another heart painting idea that you can have so much fun making many crafts out of.
Hearts, birds, stars, and even children all work perfectly well with it. This design is simple, lovely, and to the point, blending essential love elements.
Yet, no matter what you decide to draw, get creative, and you'll produce awesome art with a tree as the centerpiece of your art.
Take a look at Paint a Valentine Heart Tree from AnnaC Paints.
Enrouge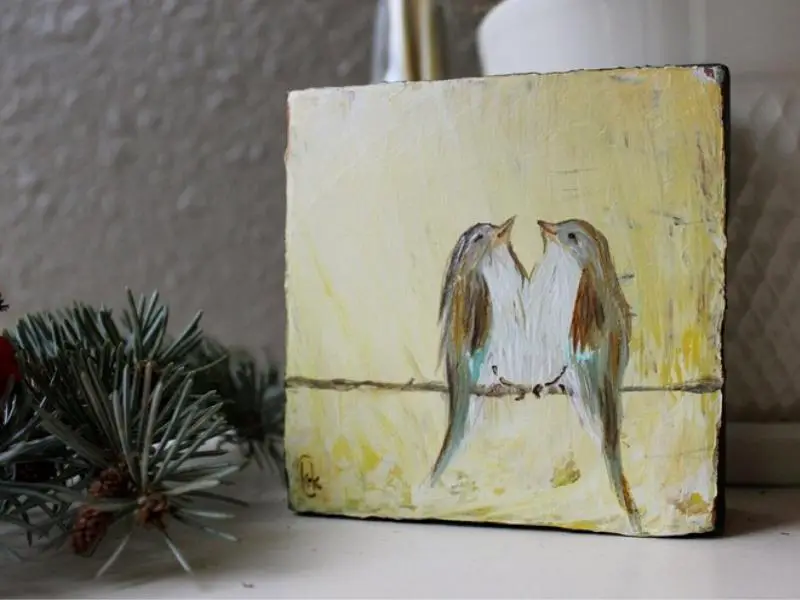 In this artwork, two lovely birds, hanging out, in a calm fall palette are exceptionally beautiful.
So, if that's the direction you wish to go, grab your paint and a new paper, and choose one of the many birds that can rightfully express your feelings towards a particular person on Valentine's Day.
Check out Enrouge from Etsy.
Flamingo Couple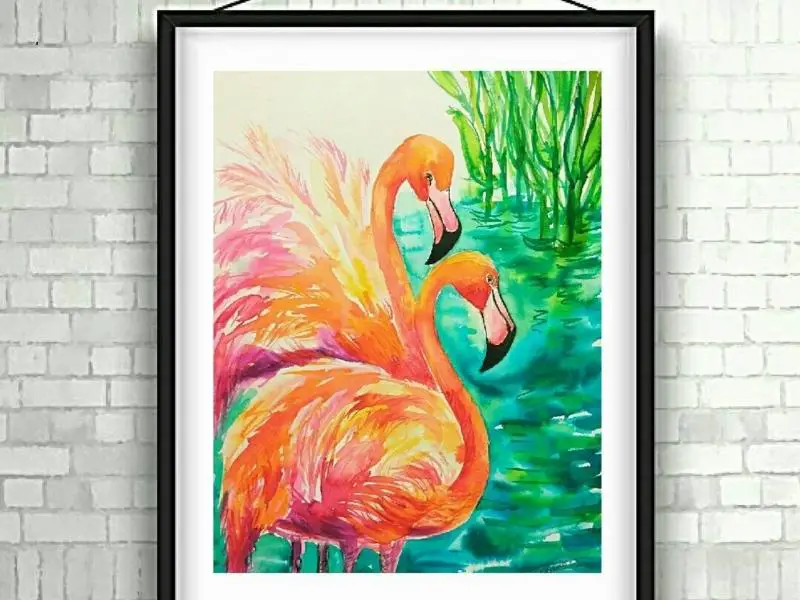 Flamingos and Valentine's Day go well together, as they're a symbol of love, which is portrayed by this colorful pairing.
Small and older kids are obsessed with animals, and everyone can have a lot of fun painting beautiful flamingos on paper.
That's especially true because you can implement many techniques, such as abstract painting, and add other elements.
Take a look at Flamingo Couple on Etsy.
Wave Painting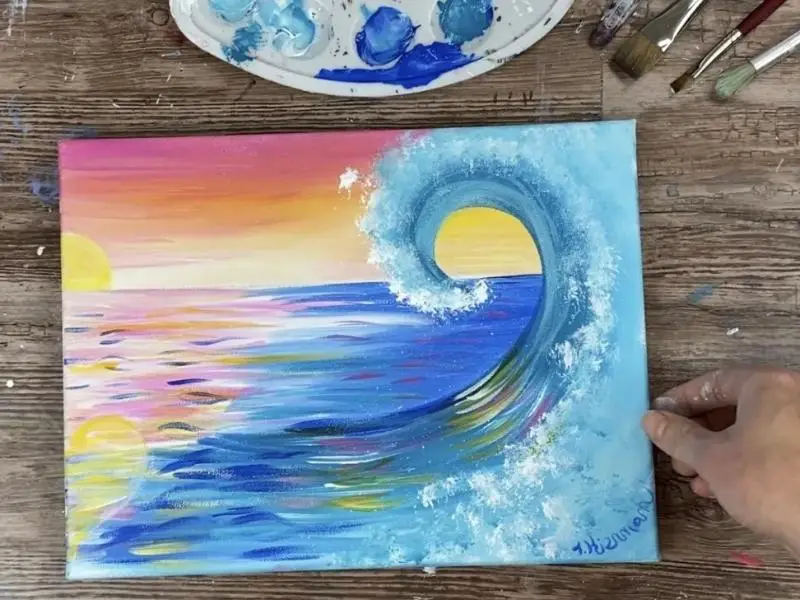 Oceans, rivers, creeks, and waves are all elements that can rival a heart painting.
This painting beautifully blends several color palettes, while adding a few elements of magic all around.
So, learning how to put pen to paper and make beautiful scenes of various waterfronts can create an unparalleled gift for Valentine's Day.
Check out Wave Painting by Step By Step Painting.
How to Paint an Eiffel Tower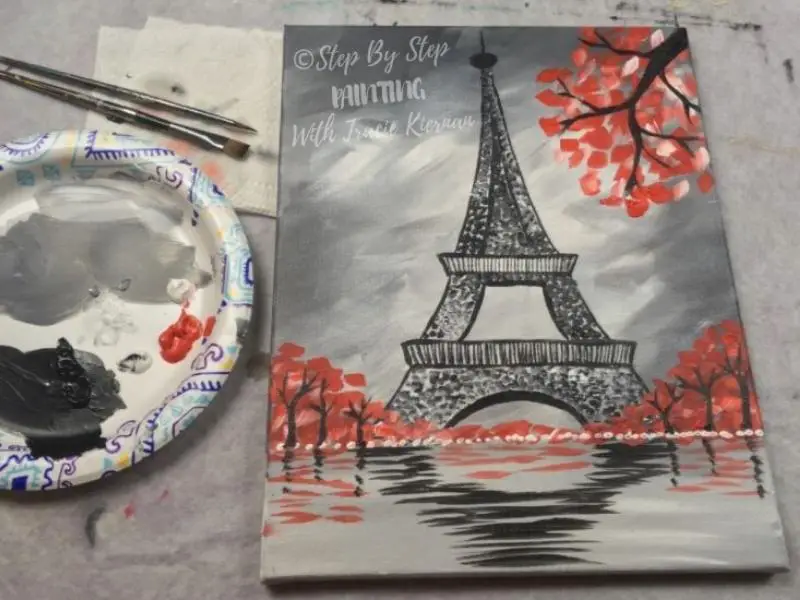 The Eiffel Tower is at the top of this list, and creating it on paper using high levels of contrast is a solid idea.
We especially love how this piece requires you to paint with only three colors, which makes it easy and manageable.
Take a look at How to Paint an Eiffel Tower by Step By Step Painting.
Perfect Fit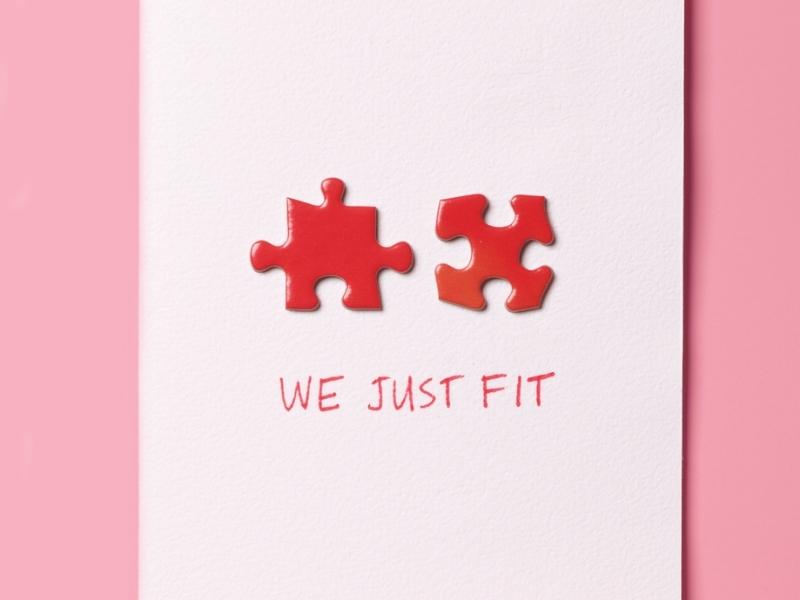 So many individuals prefer to spend their days doing different types of puzzles.
For those, you can either go with something a little bit silly and cute, like "we are perfect for each other," or you could go full out and create an intricate puzzle that'll turn into a creative masterpiece once it has dried.
Take a look at PerfectFit by RealSimple.
Out of This World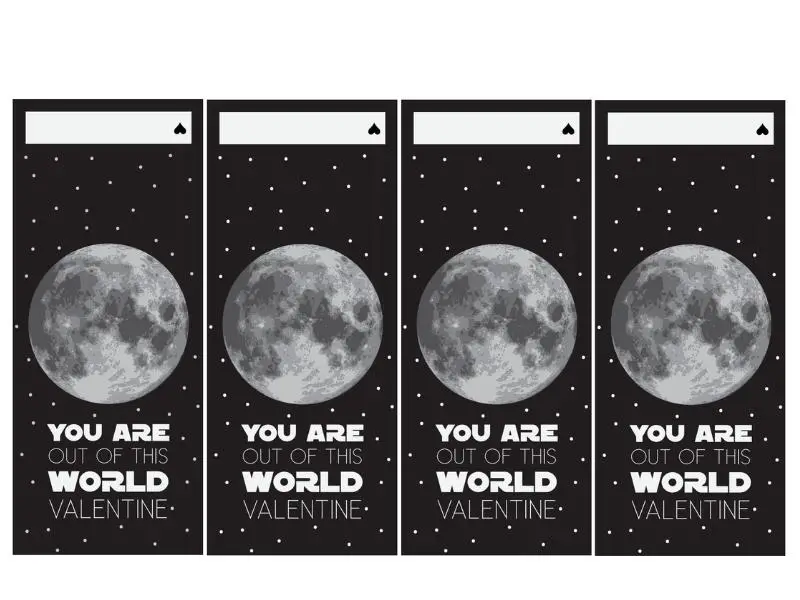 The moon, the stars, the sun, different meteors, and planets are all elements that get everyone excited, kids and adults alike.
And such Valentine's day cards incorporating them express how your significant other represents your entire world or planet.
Check out Out of This World from Dropbox.
Friends Show Valentine's Card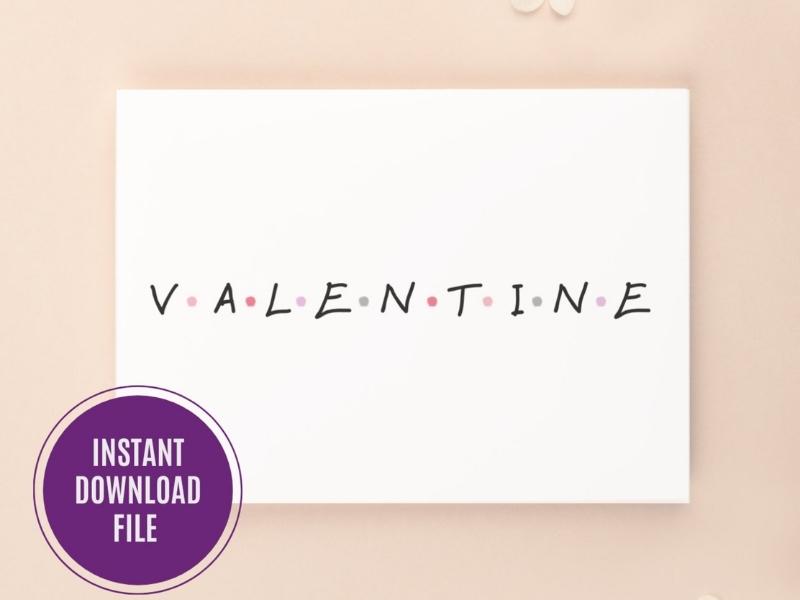 Friends is and probably always will be a cultural phenomenon.
Consequently, incorporating that into a Valentine's Day painting or card can bring about a lot of excitement and personalization.
Use an iconic quote or reference to the show, and there you have it!
Take a look at Friends Show Valentine's Card by Etsy.
Freddy Krueger Valentine Card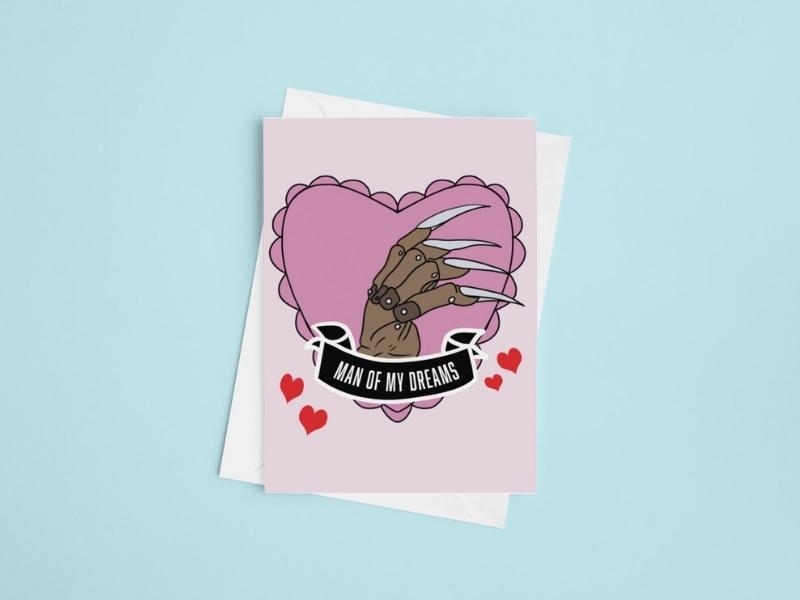 Since movies are mostly a one-time thing, they tend to leave lasting impressions on us.
So, if your significant other is a fan of a Nightmare on Elm Street, you might want to paint them a Freddy Krueger valentine's card.
Check out Freddy Krueger Valentine Card from Etsy.
Chris Stapleton Lyrics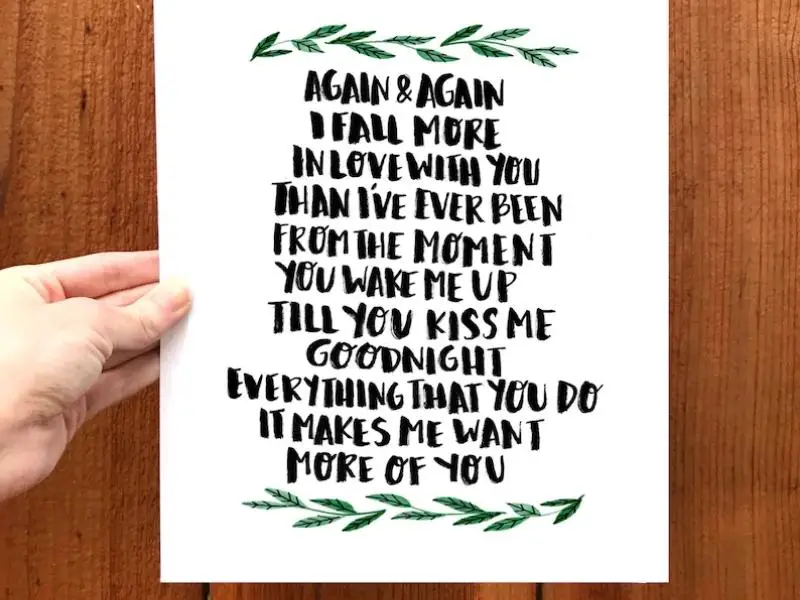 Music is our daily companion.
We clean to music, work out with it, and even finish our work with our favorite singers blasting in our ears.
If your significant other loves Chris Stapleton, including the lyrics of their favorite song in the art projects we give them on Valentine's Day can never be considered seasonal crafts.
These ideas and pictures will be forever awesome gifts.
Take a look at Chris Stapleton Lyrics on Etsy.
Tape Resistant Valentine Painting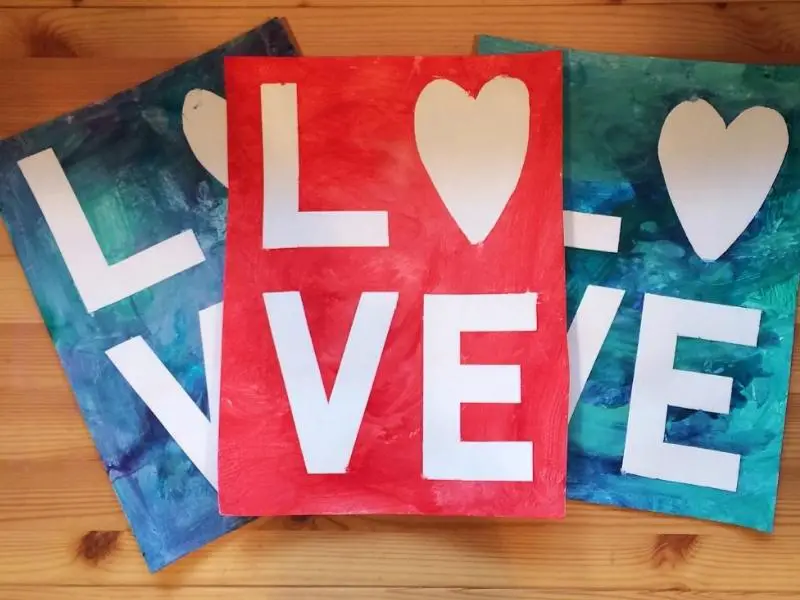 Tape painting helps create abstract shapes by constructing and protecting the borders of your painting, which is perfect for a valentine's day gift.
This fun technique compartmentalizes your pieces of art in a visually appealing manner.
Take a look at Tape Resistant Valentine Painting from projectsinparenting.
Valentine's Day Painting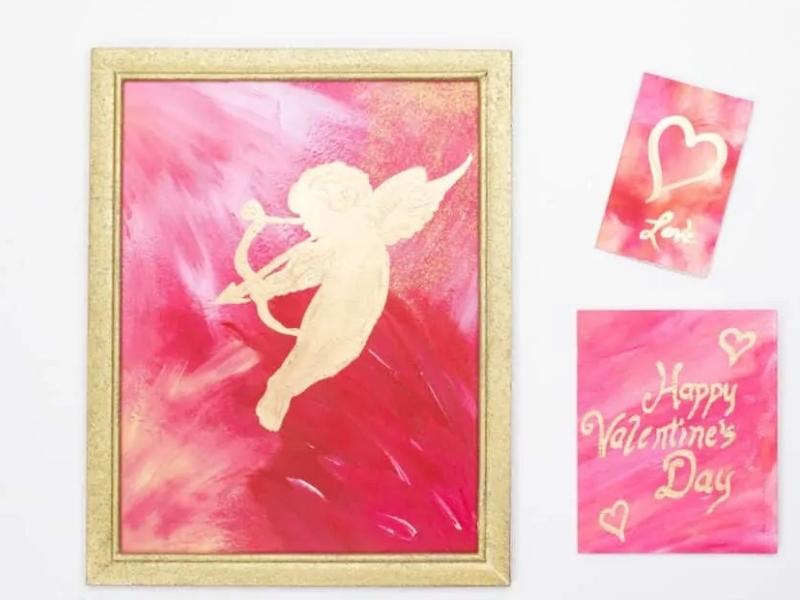 Valentine's Day cards can easily rock anybody's day. There are countless routes that you can take to decide on a Valentine's Day card.
This painting has Cupid with his bow and arrow in elegant hues of gold and pinks, rendering it perfect for Valentines Day!
Check out Valentine's Day Painting from 5minutesformom.
Other Valentine's Day Crafts
Painting and picture creation doesn't stop at particular types of paper, pens, and canvas.
It can include other elements of art to compile the perfect Valentine's Day gift, and we'll speak about some of them momentarily.
Arty Stones for Kids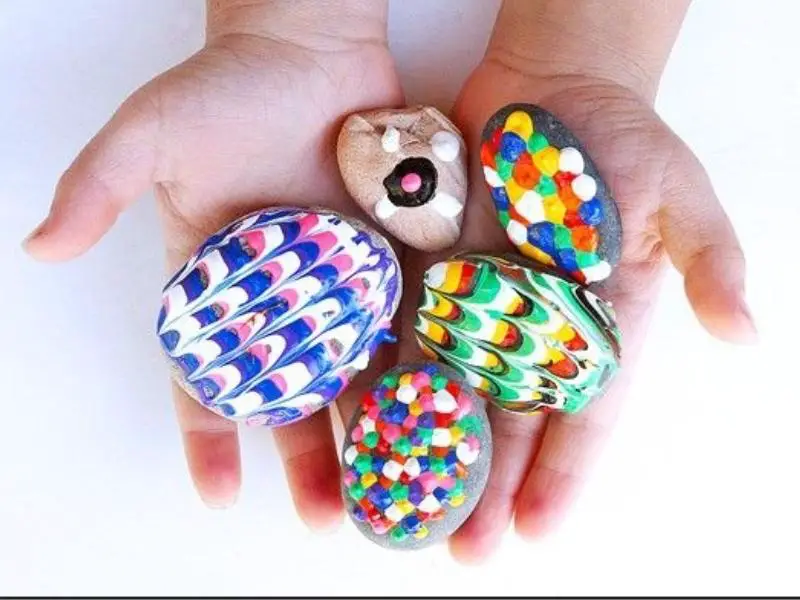 In general, heart rocks or painted rocks are some of the most versatile Valentine's Day crafts.
You can use rocks from anywhere with different shapes, colors, and sizes. You might also be lucky enough to dig out a heart-shaped rock, which would be a great addition to your collection.
Take a look at Arty Stones for Kids from ajaxblender.
Clever Heart Doily Crafts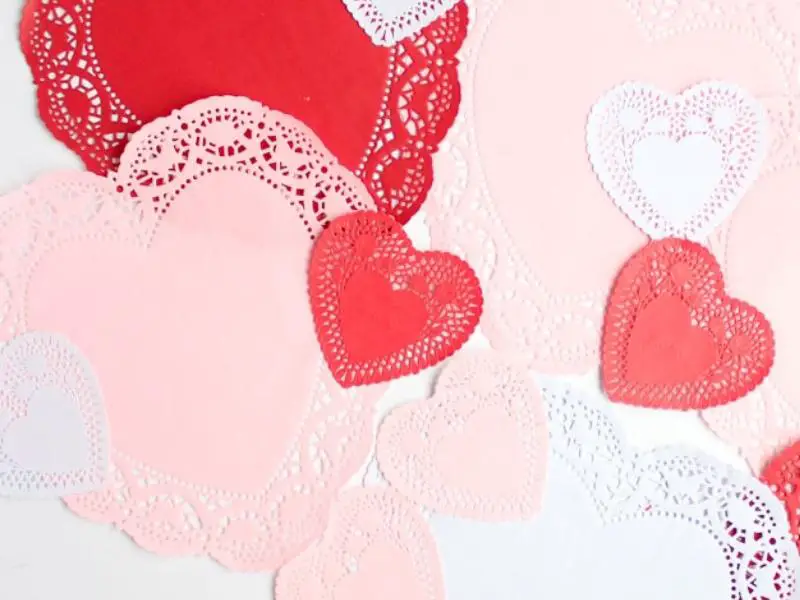 Doilies are a brilliant accessory that you can add to any art idea you've got to those unfamiliar with them.
They elevate your crafts and paintings, as they're pretty elegant and flexible.
Do you want a doily that's a heart shape? You've got it. Do you want one that's shaped like a tree?
Sure, why not! A frame? Definitely. Do you want it hollow in the center? You can find that too.
Check out 10 Clever Heart Doily Crafts from designimprovised.
Crayon Etching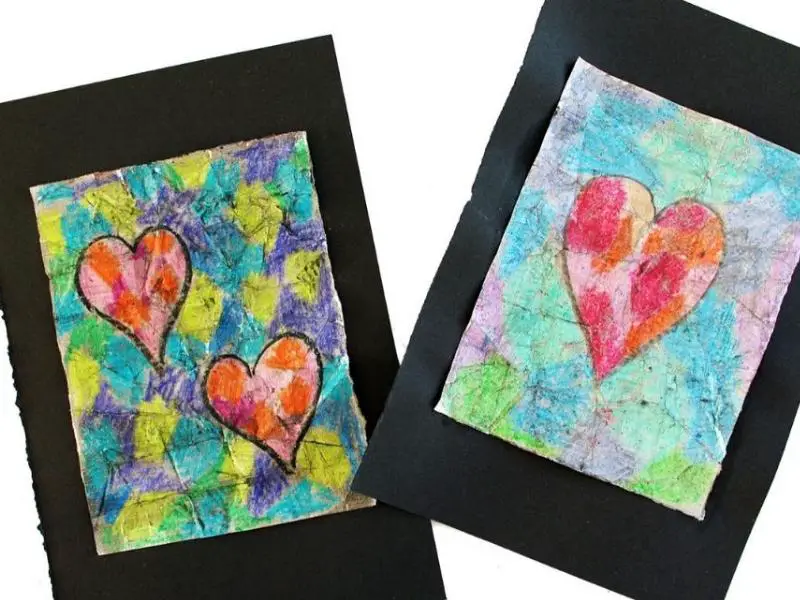 The entire painting idea of crayon etching revolves around creating two layers of color.
The first layer is every color under the sun; fill the whole page with colored markers, leaving out the black, of course.
Take a look at Crayon Etching from kinderart.
Valentine's Day Crafts for Children
There's hardly anything more adorable or endearing than the excitement of toddlers and kids when they get to create and explore Valentine's Day projects, mostly finger paint, and crafts for the parents.
Subsequently, if you wish to help your toddlers have fun with their arts and give them a few crafts ideas, we've got your back.
Q-Tip Painted Heart Art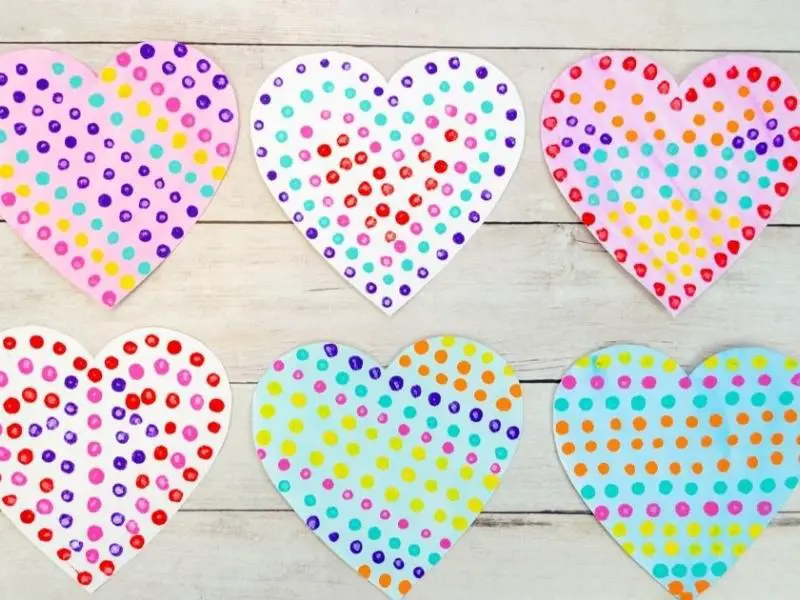 Q-tip painting gives your toddler more space for creativity with paint, as they have a few more tools to grab and have fun with.
Besides, Q-tips are small and way more manageable when it comes to kids and their tiny hands.
Accordingly, they'll use the Q-tips to create all hearts and romantic shapes that stand out with the acrylic paint.
Check out Easy Q-Tip Painted Heart Art from projectswithkids.
Hidden Message Valentine Hearts
In hidden message hearts, your kids will be using a white crayon to create anything that comes to their minds and still maintain the element of magic and mystery.
The final reveal will showcase their message appearing from under the watercolors without them doing anything else!
Check out Hidden Message Valentine Hearts from MeaningfulMama.
Popsicle Stick Valentine Frames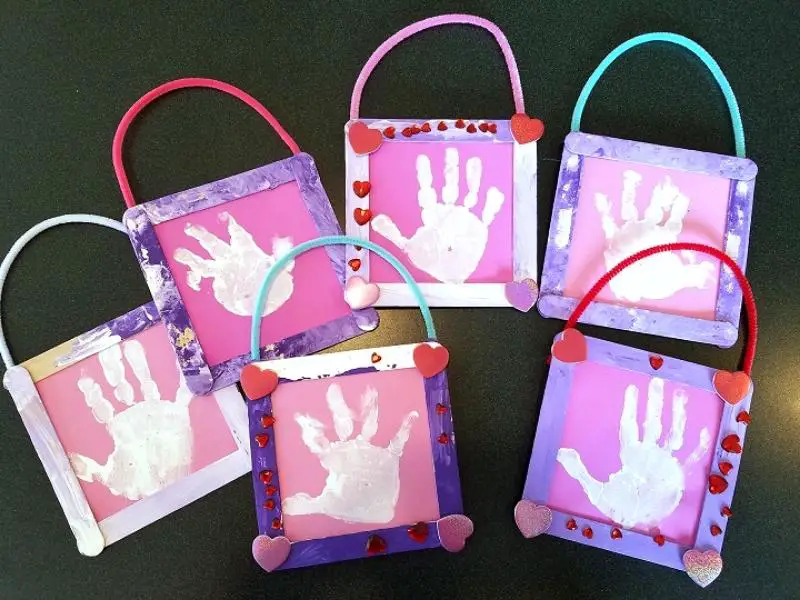 Your child can bring out their inner artist through a multitude of adorable ideas. So, they can use stuff lying around the house and still manage to have a great time.
That's by using some glue to create a frame out of popsicle sticks and adorn it with flowers and any other awesome additions they might have.
Take a look at Popsicle Stick Valentine Frames by CraftyMorning.
Stained Glass Heart Suncatcher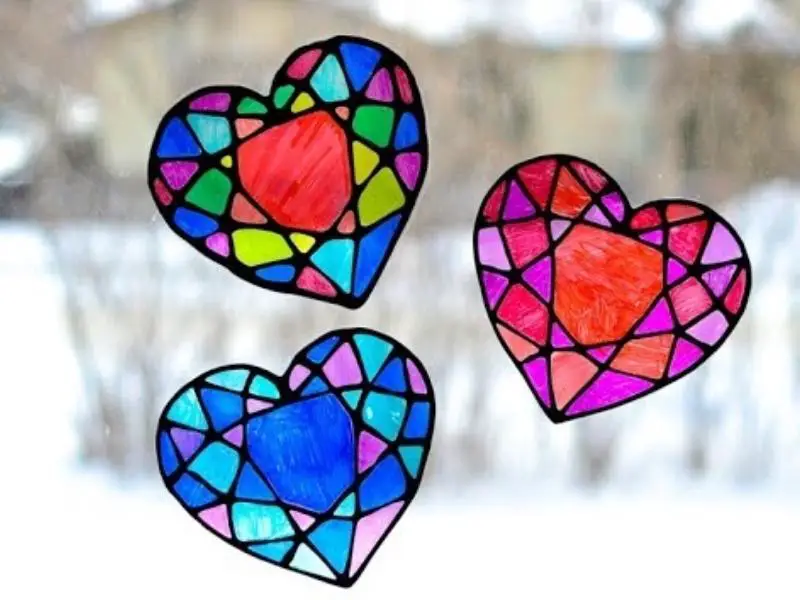 Heart suncatchers are one of those ideas that preschoolers can make. Yet, they impress people of all ages.
With different colors of paint and glue, your family and friends will enjoy making these extra cute and fun valentine's day crafts.
Heart suncatchers can be anywhere, which makes them one of the perfect crafts and painting ideas for the holiday of love.
Check out Stained Glass Heart Suncatcher by Adventure in a box.
Valentine's Day Heart Thumbprint Art Craft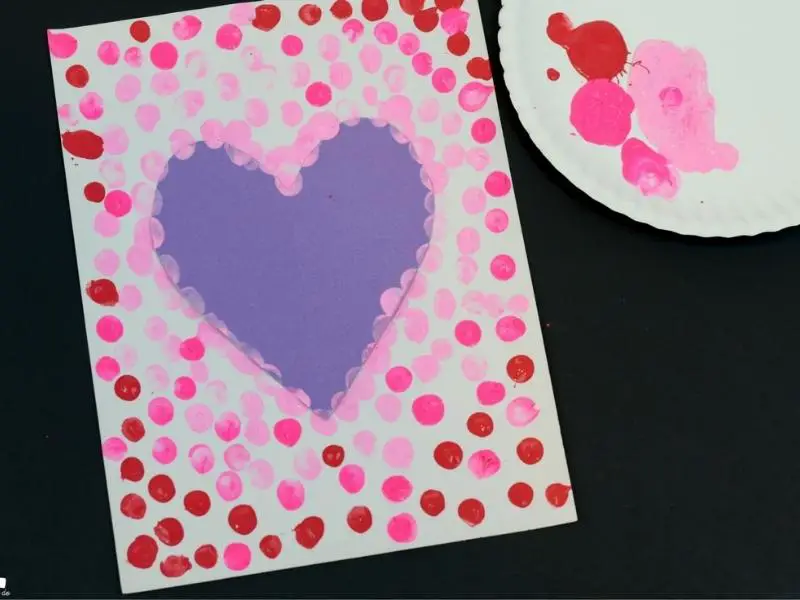 Heart thumbprints allow you to do all sorts of crafts on Valentines Day. You'll paint hearts, cut, glue, and create the cutest shapes along with your toddlers and preschoolers.
You can also employ a stamp, tape, a pin, and anything at your disposal to create a gift that's perfect for Valentine's Day.
Take a look at Valentine's Day Heart Thumbprint Art Craft by A Dab Of Glue Will Do.
Heart Handprint Canvas for Grandma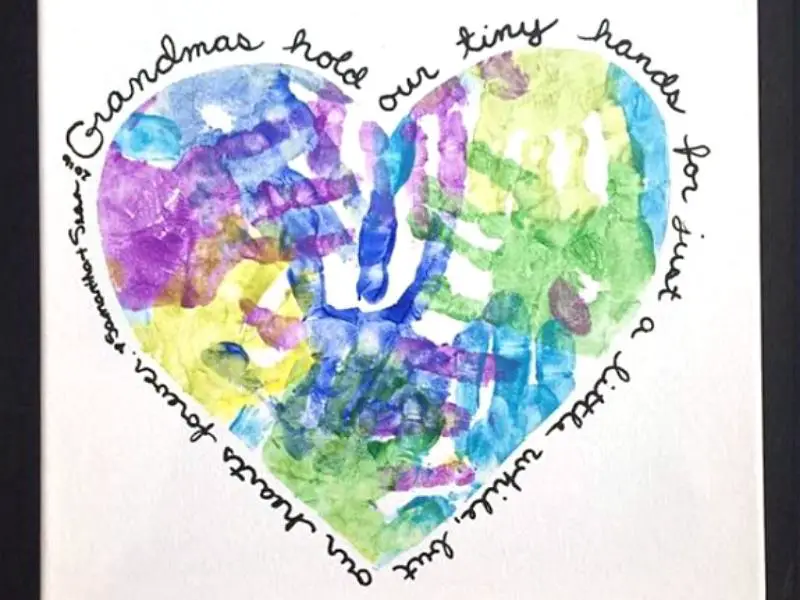 Rather than getting your toddlers to have fun painting around the heart, they'll paint inside of it.
They'll have much fun with countless cute painting ideas, such as placing a handprint inside, a tree, or a small drawing of the mother.
Any art added by a toddler will look adorable on this Valentine's Day craft. And they can gift it to their grandma, making her day.
Check out Heart Handprint for Grandma by CraftyMorning.
As we've seen, the artist inside of you or your toddler doesn't have to restrict themselves to a paintbrush; there are many Valentine's projects that we hope you can use your creativity for on a piece of canvas.
Comments
0 comments