Christmas is just around the corner, which means the time has come to get your Christmas cards in check. While it's always a great idea to DIY your cards instead of buying them, it can get quite overwhelming.
If you find yourself in that position, watercolor is your answer. What makes watercolor paint perfect for Christmas DIYs is its versatility, foolproof nature, and artsy creations. You can then share your handmade cards with your loved ones this holiday season and watch them fall in love.
We've put together 37 watercolor ideas for your cards this Christmas to give you a little push of inspiration. So let's get straight into it
1. Watercolor Tree Card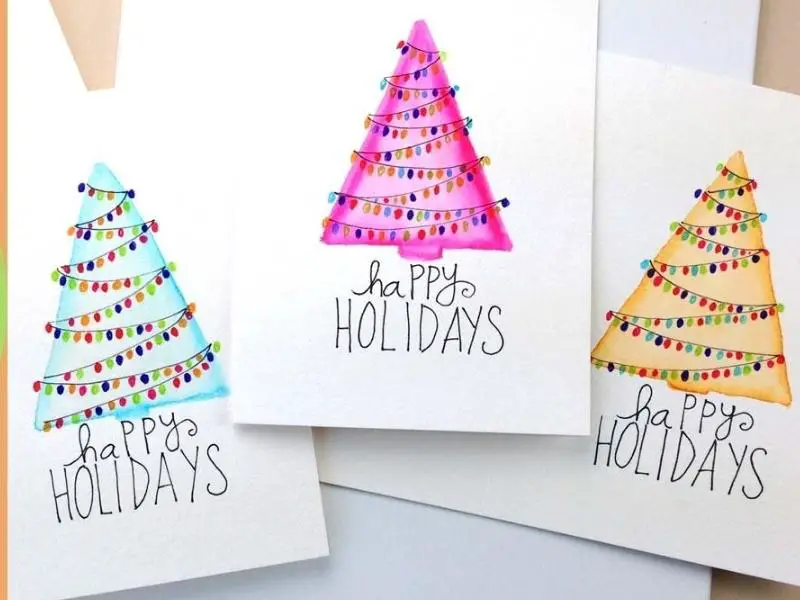 You can never go wrong with a watercolor Christmas tree card. These cards are so easy to make and customize that you'll be able to make a bunch in one sitting. In addition, the watercolor dual brush pens are absolute game-changers.
DIY Hand-Painted Holiday Cards from Tombow.
2. Winter Snow Globe Place Cards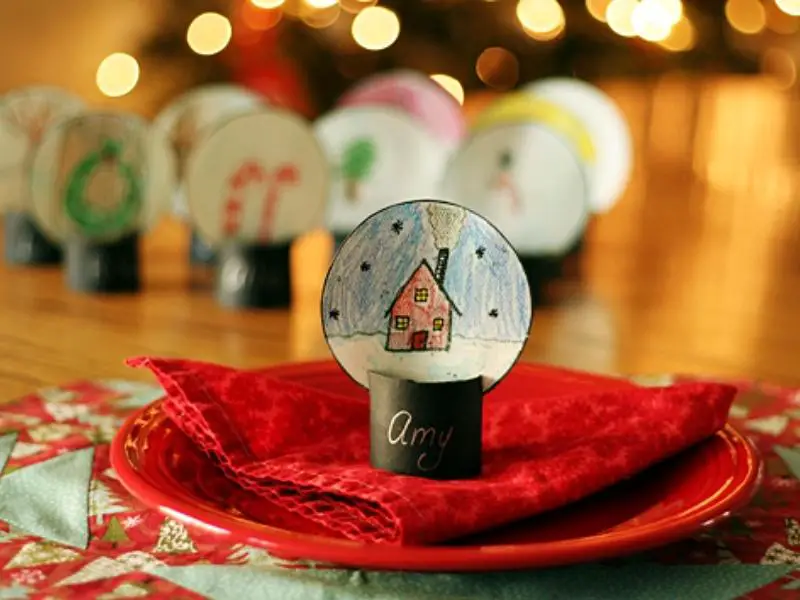 Want to add a unique touch to your holiday table while giving your kids something fun to do? These DIY snow globe place cards are exactly what you're looking for.
Using this step-by-step tutorial from Makes and Takes, you'll create the cutest Winter Snow Globe Place Cards.
3. Watercolor Gift Tags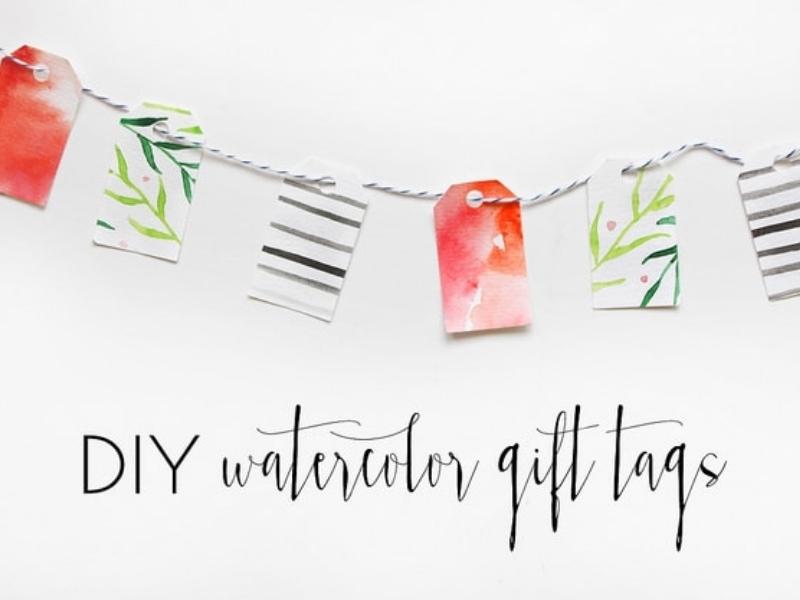 One of the best things about Christmas is the gifts. Have your presents stand out with these beautiful DIY gift tags. Your friends and family will love them!
Follow this DIY tutorial from Lolly Jane to make DIY Sweet and Simple Watercolor Gift Tags that'll take your gift wrapping to the next level.
4. Watercolor Snowflake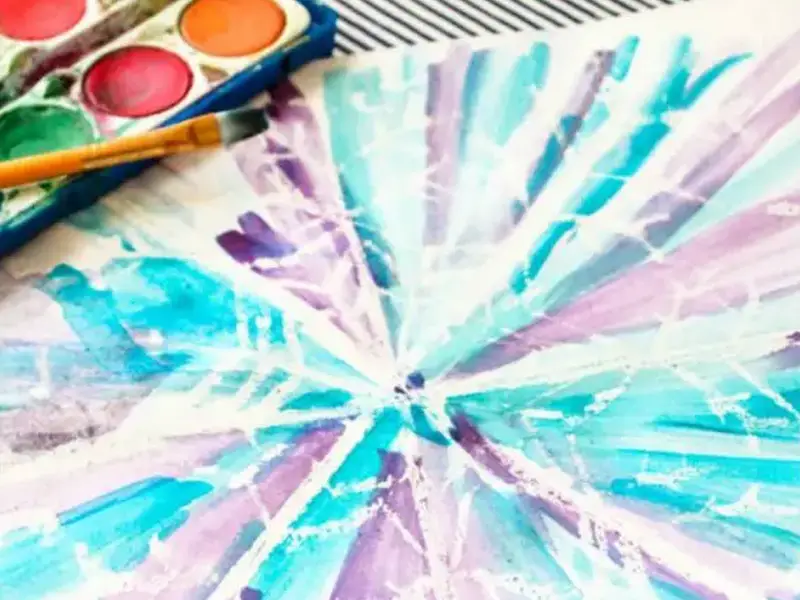 Resist art is quite the experience. The idea is to create your outline with oily paint then add watercolors to fill the gaps.
Create this Watercolor and Oil Pastel Resist Snowflake with your kids by following this easy tutorial from Arty Crafty Kids.
5. DIY Cut-Out Ornament Card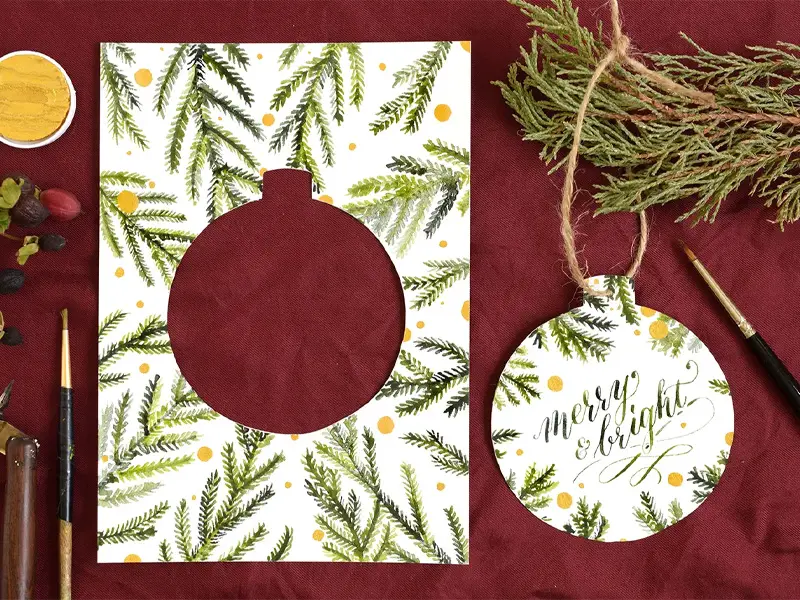 Multi-purpose Christmas cards are the next hype. You'll be able to create beautiful watercolor Christmas cards that can be taken apart and used as ornaments. You can then customize these with hand-lettering or calligraphy.
Cut-Out Ornament DIY Holiday Card from The Postman's Knock.
6. Watercolor Christmas Cards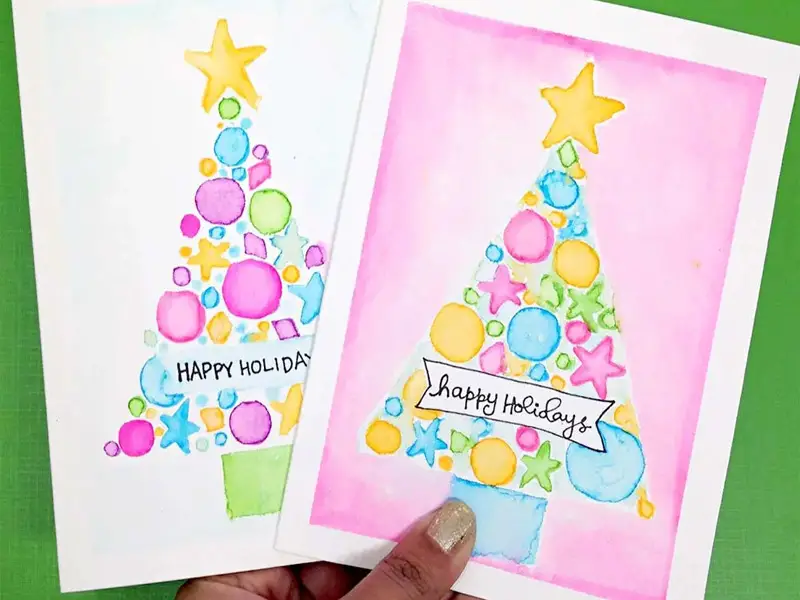 If you want to create handmade watercolor cards but are too scared to paint freehand, you can always use a template. With this Christmas tree printable, you can make unique holiday cards with ease and love.
Watercolor Christmas Cards from Smiling Colors.
7. Ornament-Themed Christmas Card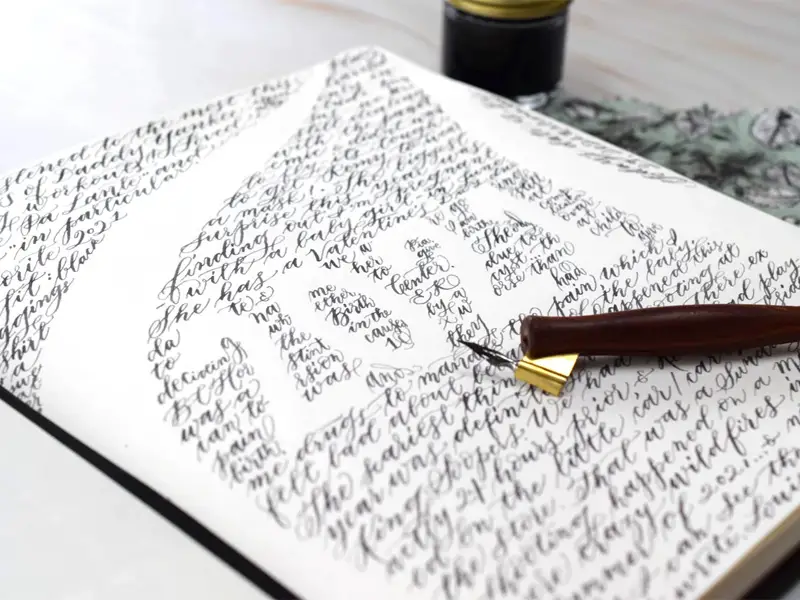 The best hand-painted holiday cards should be easy to make and cool to receive, and this Christmas card does both.
With this quick tutorial from The Postman's Knock, you'll be able to create your own artsy, individualized Artistic Ornaments.
8. Watercolor Christmas Tree Card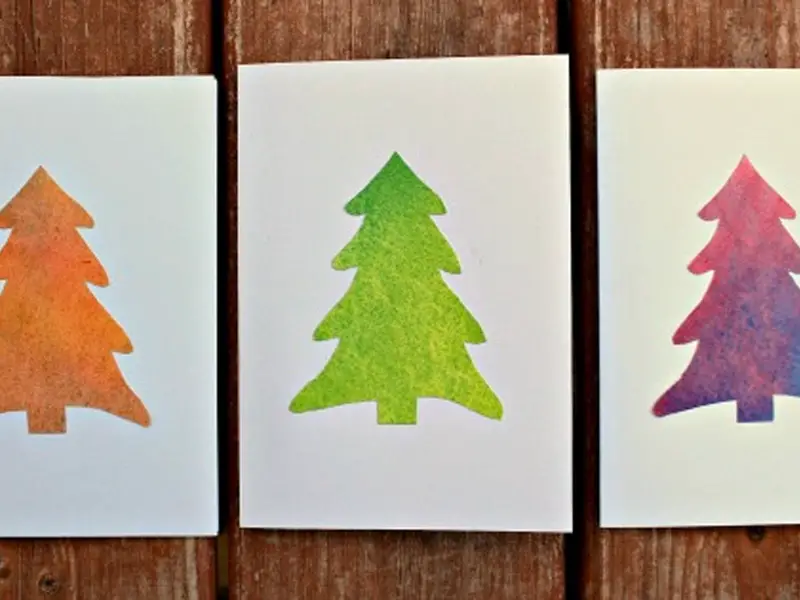 Why pile up your child's old art when you can create Christmas tree cards with it? You can either recycle old watercolor art in this DIY or create new ones; the results look great either way. Cut up your watercolor paintings into little Christmas trees and stick them onto your blank cards for an easy holiday craft.
Watercolor Christmas Tree Cards from Rhythms of Play.
9. DIY Christmas Cards
Christmas trees are a no-brainer when it comes to Christmas cards. You can then frame your piece and use it as decor during your holiday!
Check this tutorial from Faber-Castell and create DIY Christmas Cards that look like movie posters.
10. Watercolor Powder Resist Card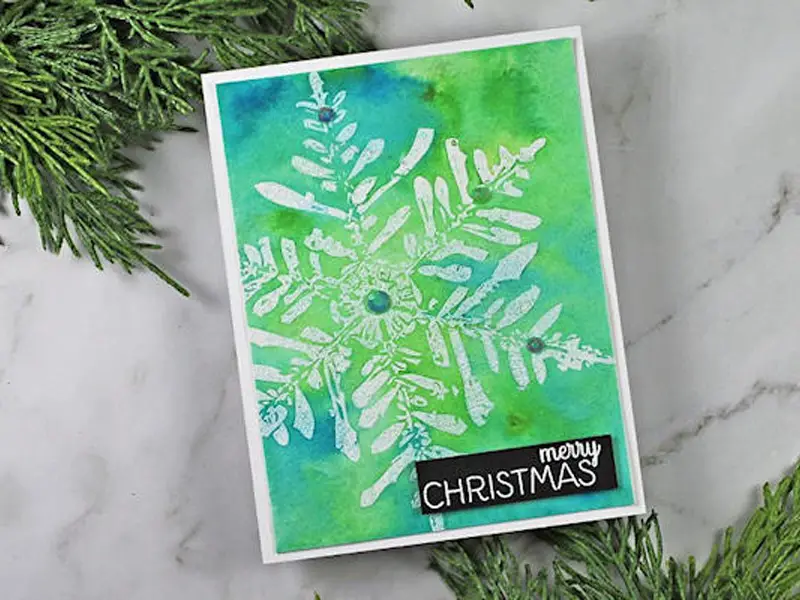 Another resist art DIY Christmas card here, but this one's a little more complicated. Here, you'll be utilizing watercolor powders and paper, embossing ink and powder, a heat tool, and a stamping platform in addition to your casual art supplies.
Watercolor Powder Resist from Splitcoaststampers.
11. Hand-Lettered Merry DIY Christmas Card
This watercolor painting looks so good you won't believe it's this simple to make. Paint five colorful letters on the front of your card and finish it off with some fun paint splatter and you're all set.
Easy DIY Watercolor Christmas Cards from Ebb & Flow Creative Co.
12. Watercolor Christmas Wreath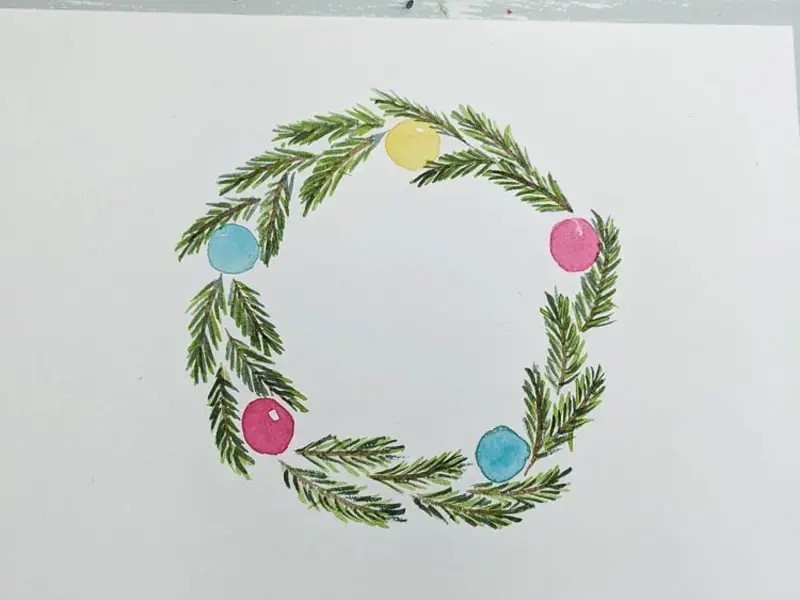 While Christmas wreaths can be intimidating to paint, this tutorial makes it so much easier. So get your thin paintbrushes ready and follow seven straightforward steps for unique and sophisticated Christmas cards.
Easy DIY Watercolor Christmas Cards from Ebb & Flow Creative Co.
13. Christmas Lights DIY Card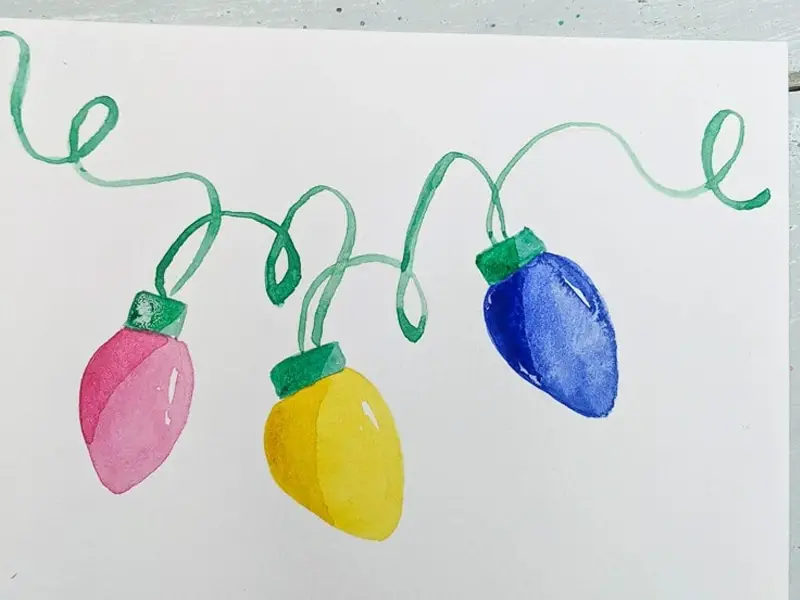 Christmas lights may not come to mind first when thinking of card ideas, but you're definitely going to love these. Also, it's perfect for beginners!
Sketch out three beautiful Christmas light bulbs and chords with this Easy DIY Watercolor Christmas Cards tutorial from Ebb & Flow Creative Co.
14. Christmas Tree Card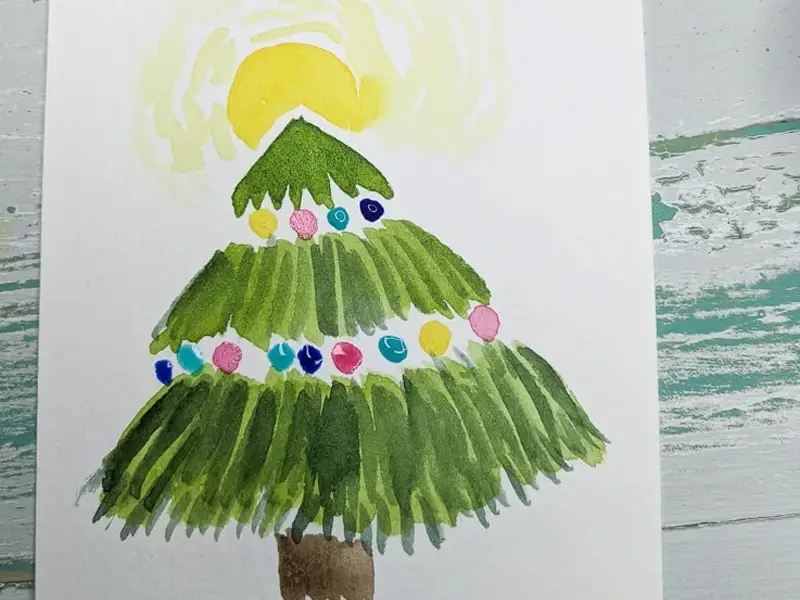 This Christmas tree painting is so pretty that you're going to want to hang it. If you're looking for an easy painting that also looks effortlessly gorgeous, you're going to love this. You can also add little Christmas ornaments to your card tree.
Easy DIY Watercolor Christmas Cards from Ebb & Flow Creative Co.
15. Hand-Painted Watercolor Christmas Cards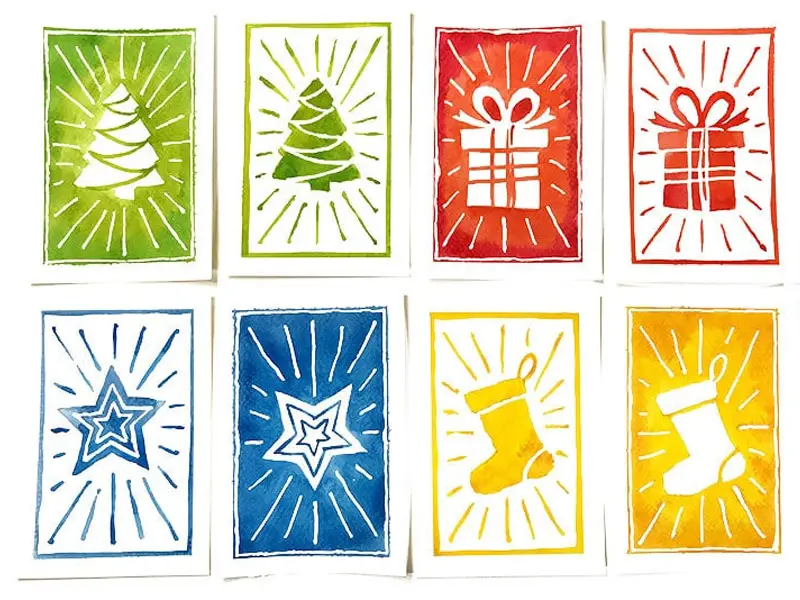 In this piece, you'll be able to work with negative and positive spaces to create beautiful Christmas art. You can also use this technique to create two versions of the same design.
Hand-Painted Watercolor Christmas Cards from Watercolor Affair.
16. Watercolor Brush Indent Designs
Watercolor brush indent Christmas cards are as basic as it gets; you can create gorgeous designs with minimal supplies and effort. This DIY is perfect for both kids and beginners to enjoy.
Watercolor Brush Indent Designs from Makes and Takes.
17. Crayon Resist Watercolor Card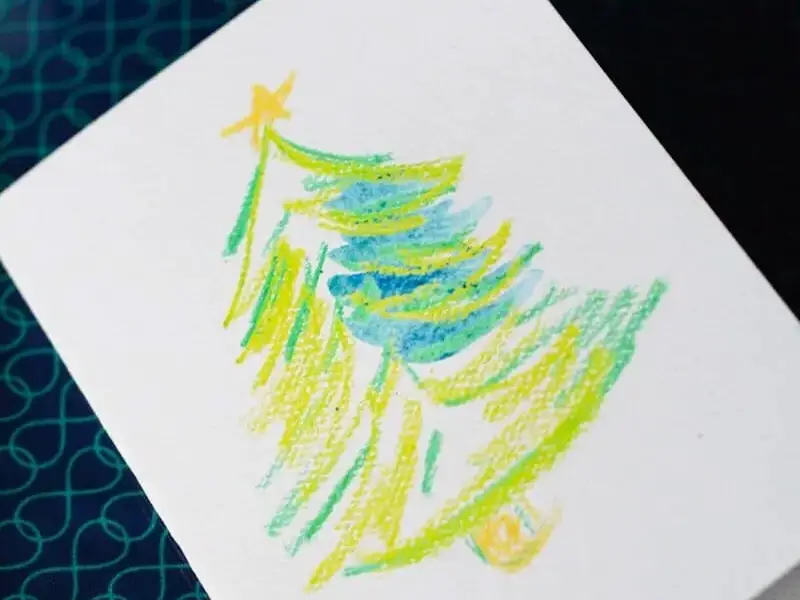 It's time to try some crayon resist art. With this painting, the crayons serve to create the wax layer needed for the resist technique. So top your crayon Christmas tree drawing with watercolor paint and watch as your masterpiece unfolds.
Crayon Resist Watercolor Paint from The DIY Nuts.
18. Snowflake Watercolor Christmas Card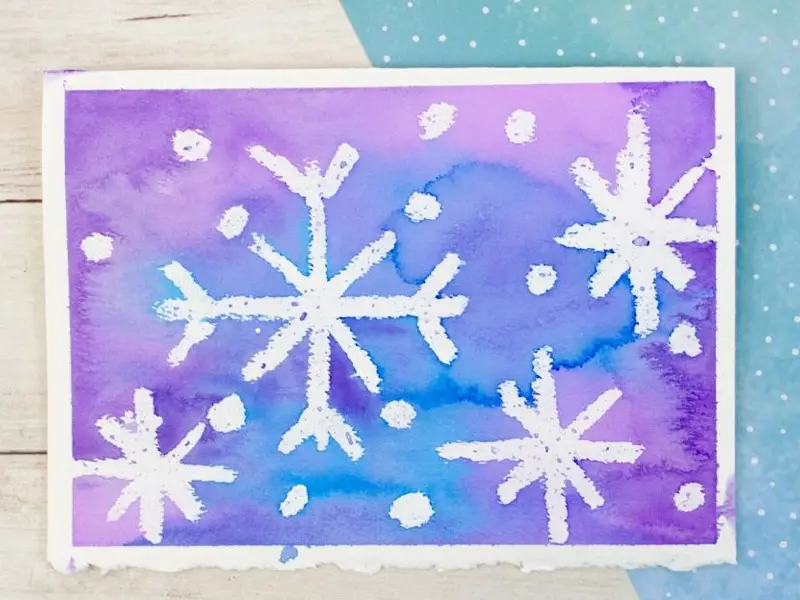 Oil pastel resists art has to be one of the best techniques to blend watercolors. Create your snowflake design using white oil pastel and paint your paper with blue and purple watercolor paint to form the background.
Don't forget to press the pastels down properly to create the resist layer.
Snowflake Watercolor Christmas Card from Projects With Kids.
19. Watercolor Tree Christmas Card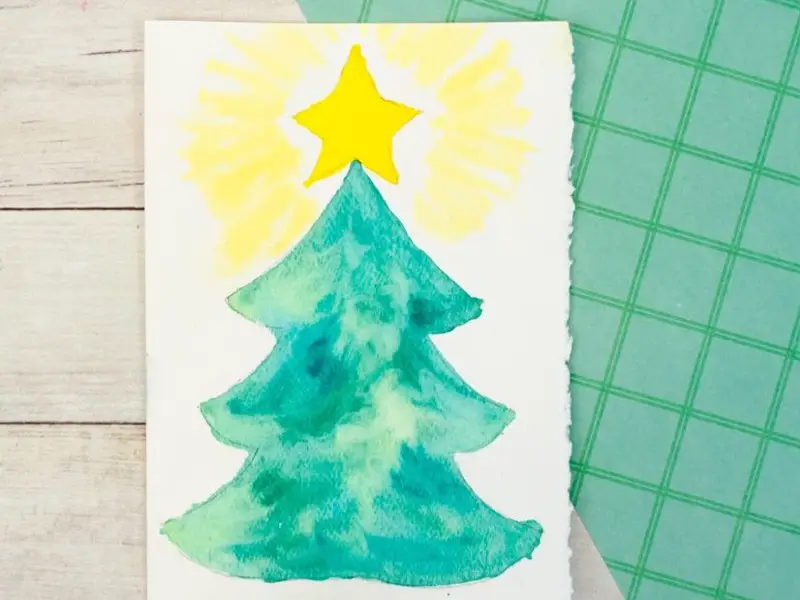 Try the wet-on-wet watercolor blending technique with this Christmas card. Using different shades of green for your Christmas tree isn't only fun to experiment with but will also add a touch of sophistication to your card.
Christmas Tree Watercolor Christmas Card from Projects With Kids.
20. Angel Watercolor Christmas Card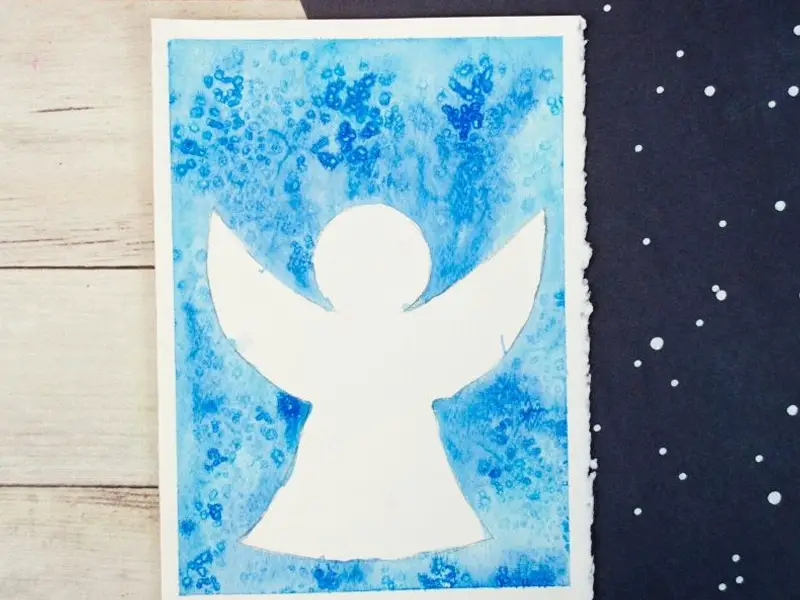 Kids will love this watercolor salt painting. While your painting is still wet, sprinkle coarse salt over it and watch the cool patterns form. The salt can be brushed right off once the Christmas cards are all dried up.
Simple Angel Watercolor Christmas Card from Projects With Kids.
21. Fingerprint Christmas Tree Cards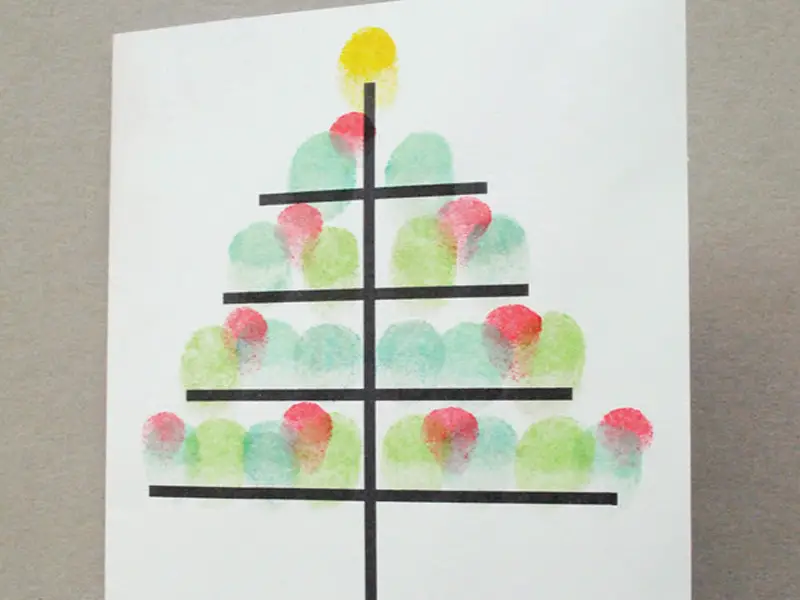 This minimalistic chic DIY is one of the most fabulous ideas you can try this holiday season. With watercolor paint and some fingers, you can create the coolest family tree holiday card.
Fingerprint Christmas Tree Cards from Mer Mag.
22. Black and Gold Ornaments Card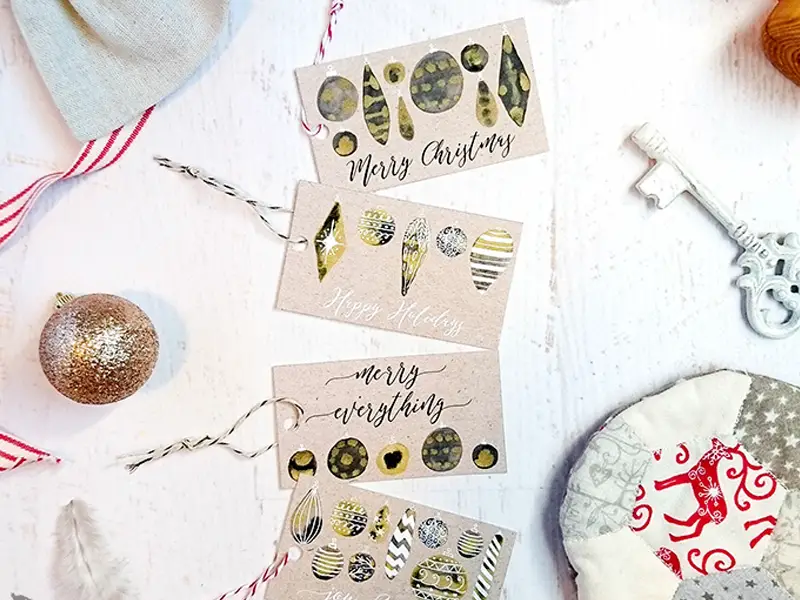 This DIY will give your creativity all the room it needs. Don't be afraid to experiment with different ornament shapes and styles for your card.
Easy DIY Watercolor Christmas Cards from Fox + Hazel.
23. Watercolor Wreath Cards and Envelope Liners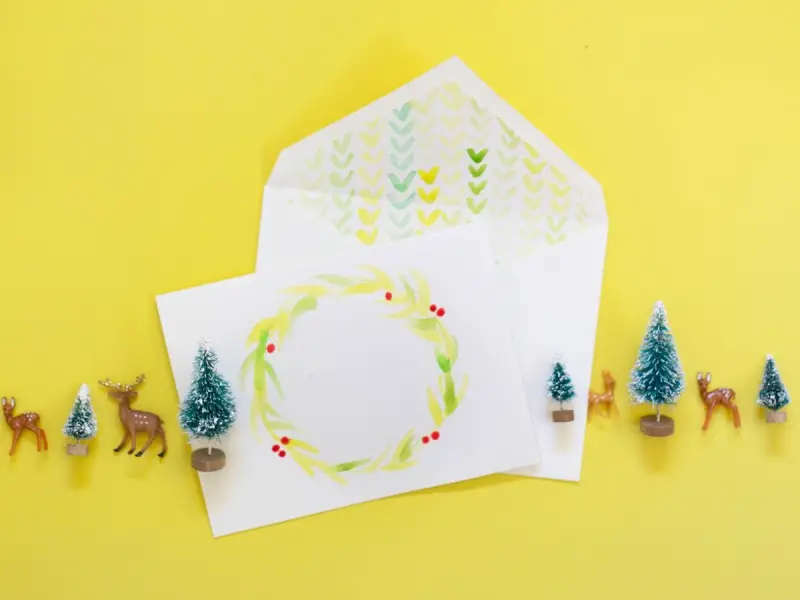 Handmade Christmas cards are already exceptional, but to hand paint, the envelope liners is taking the cards to a whole new level. A simple wreath card with a matching envelope is all you'll need this holiday season.
Watercolor Holiday Cards and Envelope Liners from Lovely Indeed.
24. Mistletoe Watercolor Christmas Card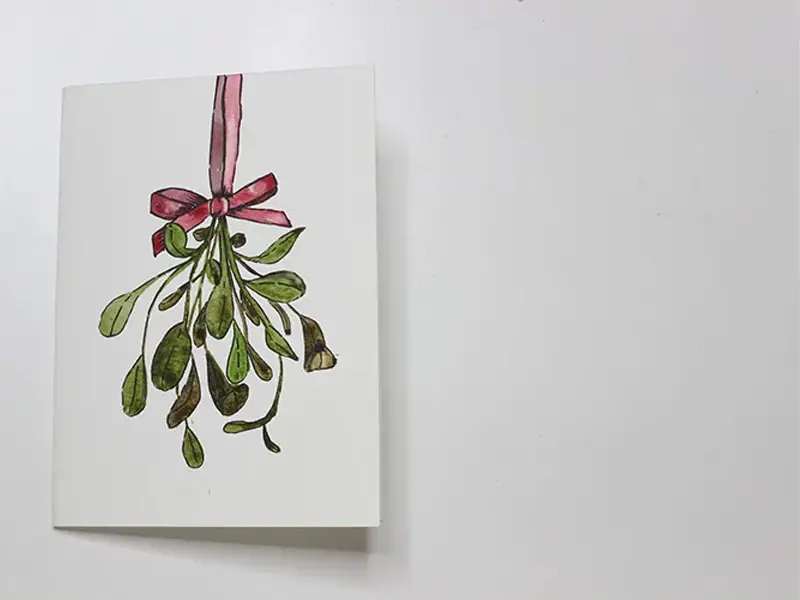 A green and red mistletoe card is all the Christmas vibes you need. You'll use ink and watercolor paint to create this easy project. Also, the technique is basic that all beginners would love!
Mistletoe Watercolour Christmas Card from Wonder Forest.
25. Printable Watercolor Design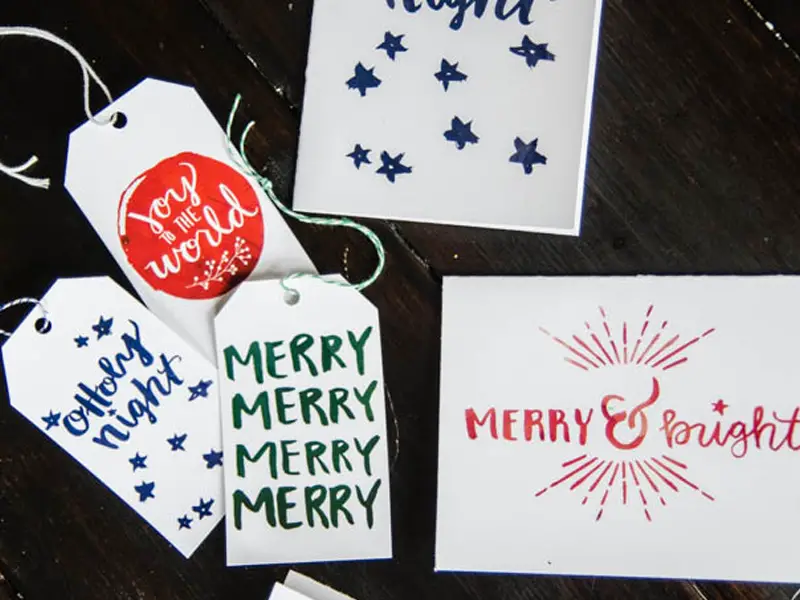 Is it cheating to use ready-made watercolor printables? We'll leave that up to you. You can use these professional watercolor designs if you want the handmade look but lack the skill or the time to make one.
Hand Lettered Holiday Cards & Tags from Lemon Thistle.
26. Marbled Watercolor Ornaments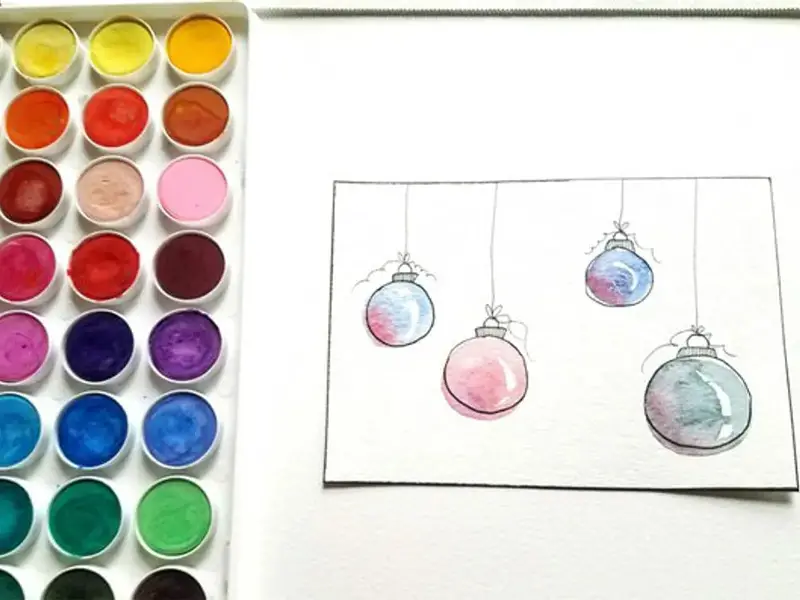 Watch the watercolors blend and bleed into each other with this Christmas project. Mix and match different paint colors and enjoy the unique results.
Marbled Ornaments from Odyssey.
27. Watercolor Christmas Cactus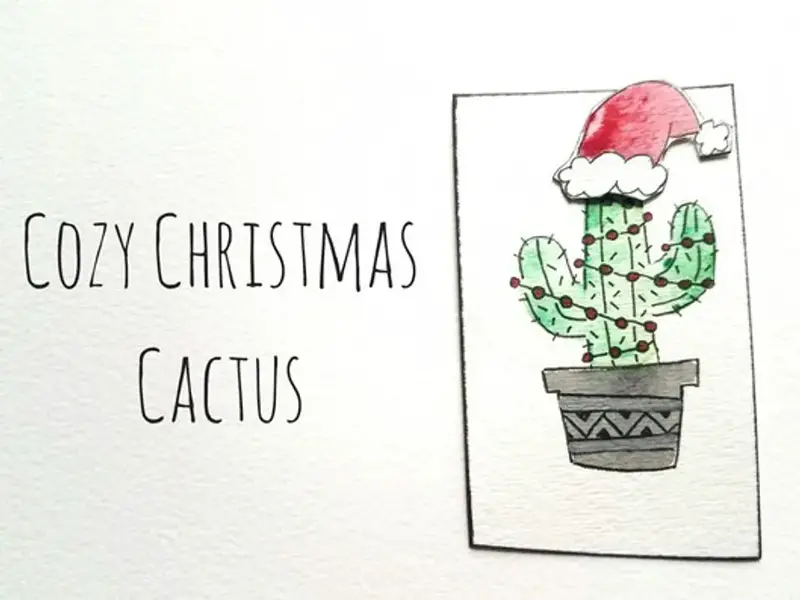 Add a festive touch to your basic cactus with this DIY. A Christmas hat on top and some lighting all around the succulent deliver a cozy piece of work.
Cozy Christmas Cactus from Odyssey.
28. Friends, Hats, and Scarves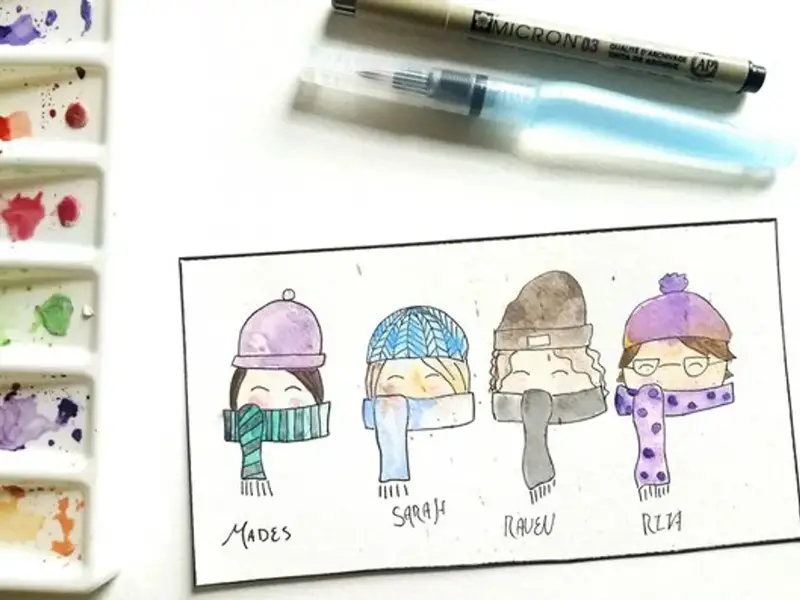 Holidays are all about sharing love and laughs. So paint cartoons of your friends and family for their Christmas cards; they're guaranteed to love it.
Friends, Hats, and Scarves from Odyssey.
29. Splattered Watercolor Christmas Tree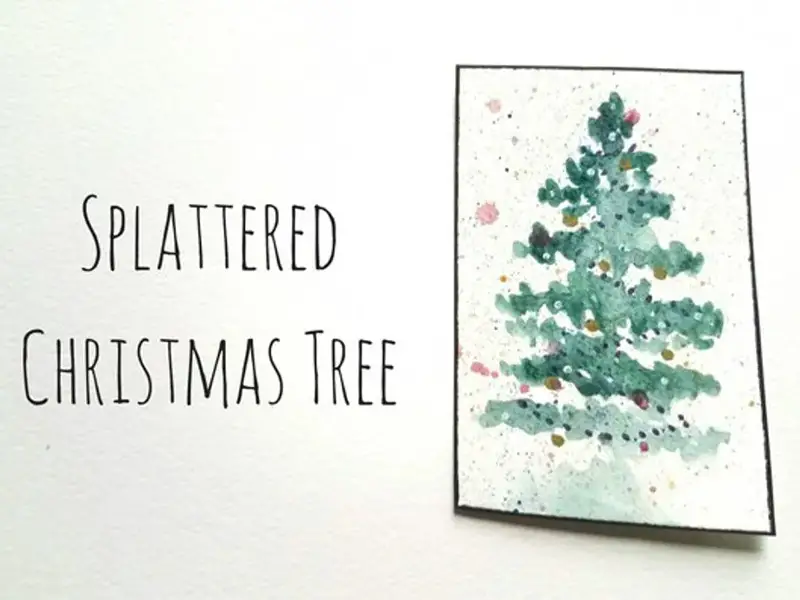 This simple, almost abstract Christmas tree is so easy to paint. Use different shades of green to paint the tree and splatter some maroons, silvers, and golds to add depth to your card.
Splattered Christmas Tree from Odyssey
30. Watercolor Wreath Card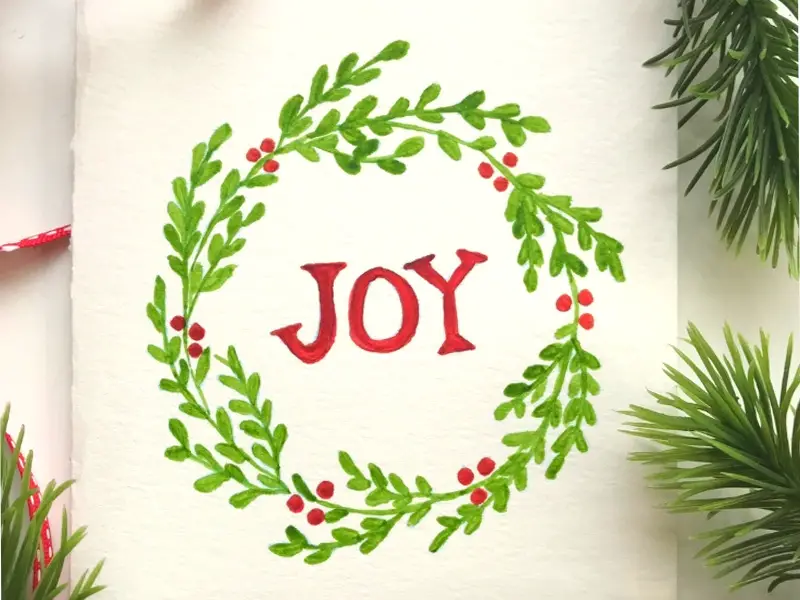 This wreath is excellent if you want something that's both easy to paint and customize. It's so versatile and dries quickly, too!
Follow this step-by-step tutorial from Lily & Thistle to make your own Wreath Watercolor Christmas Card.
31. Triangle Christmas Trees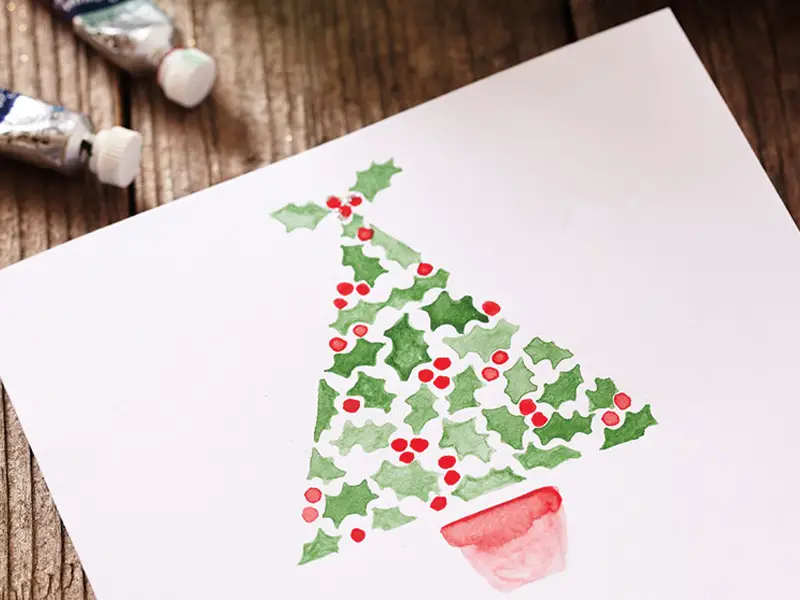 Outline a triangle and fill it in with your choice of paint and patterns to make your tree. For example, you can do colorful stars for a fun look or go with the signature green and red leaves for a more classic look.
Triangle Christmas Trees from Woman's Weekly.
32. Holly Day Card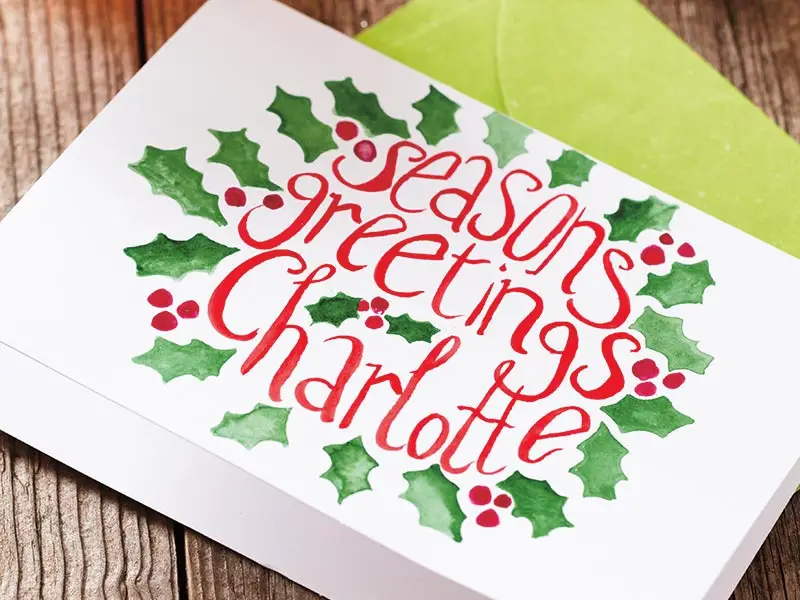 Holly leaves are big on Christmas. So surround your customized card message with red and green holly leaves to create a signature holiday look.
Holly Day Card from Woman's Weekly.
33. Merry and Bright Card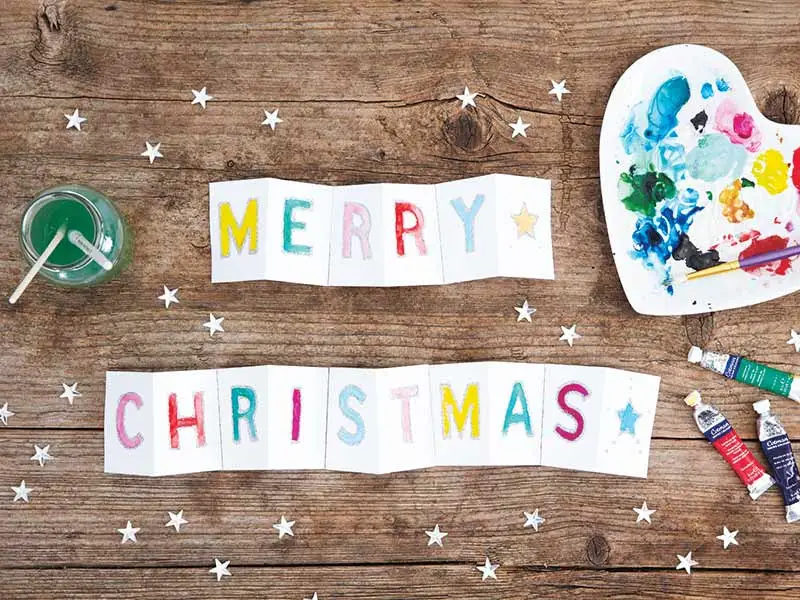 Spell out "Merry Christmas" on eight equally sized pieces of paper, one for each letter. Then, add two more pieces for your stars and assemble everything on your card.
Merry and Bright Card from Woman's Weekly.
34. Mini Wreath Gift Tags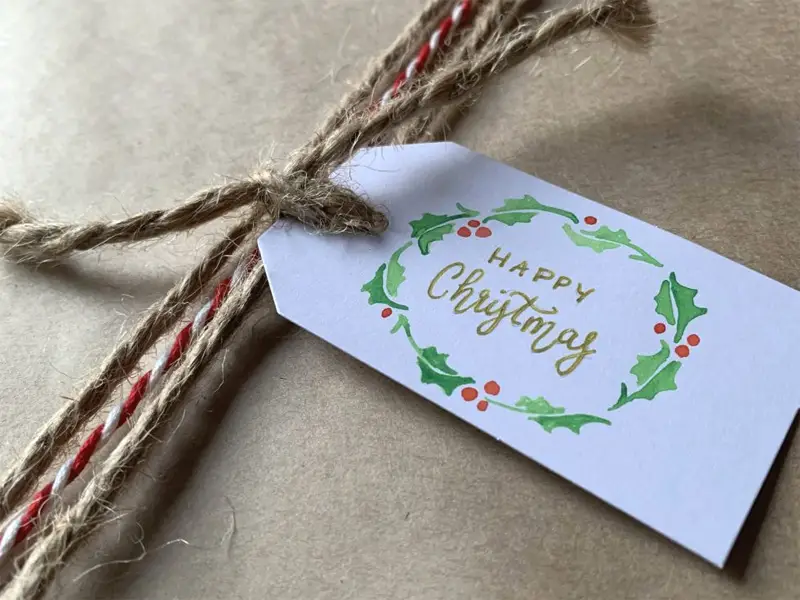 These super easy mini wreath gift tags are the cutest. However, because of how tiny they are, these tags can be tricky to make. So, to master this design, make sure you practice beforehand. You can also personalize the wreaths with whatever names or messages you like; the sky is your limit.
Mini Wreath Gift Tags from Little Button Blue.
35. Geometric Tree Cards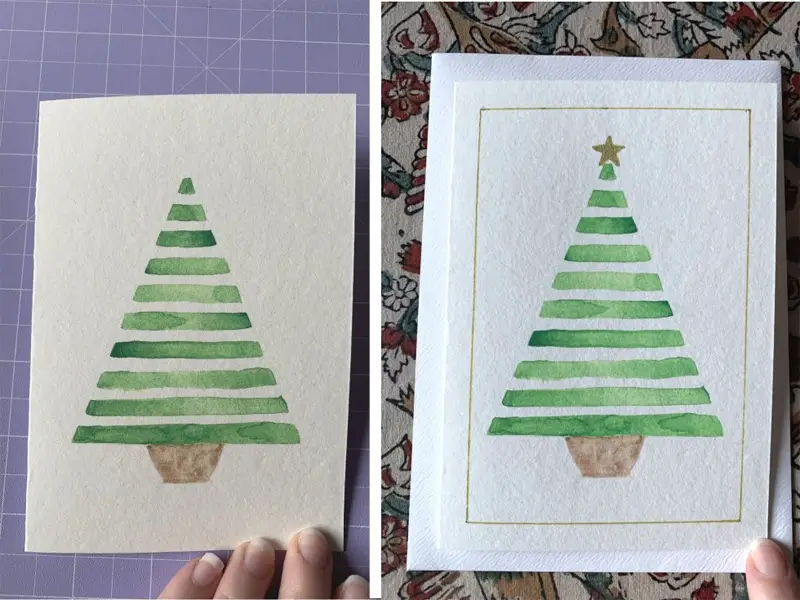 As the name suggests, the tree on this card is geometric and clean. With a few green lines of different lengths, you can make a special holiday card. Then, top it off with a star and a gold frame to bring your design together.
Simple Watercolor Christmas Cards from Little Button Blue.
36. Basic Hanging Bubbles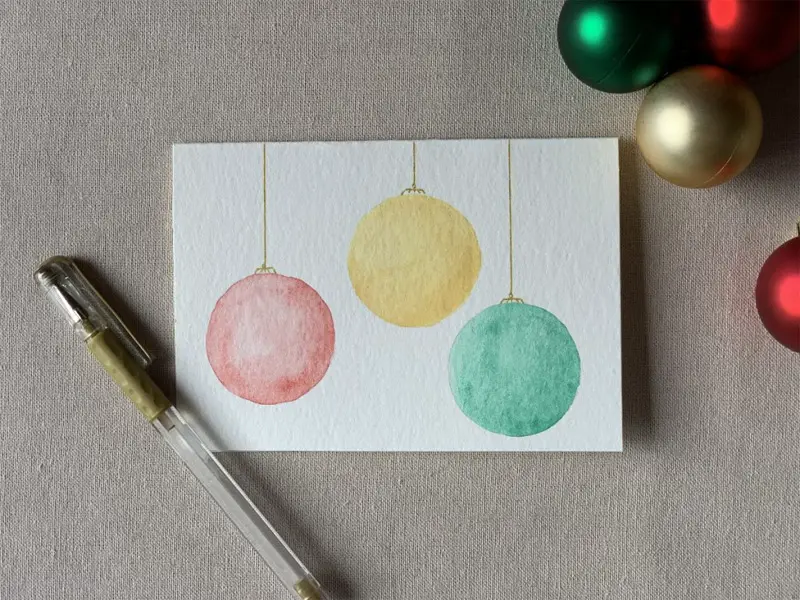 Three watercolor circles and three gold lines are all it takes to make a fancy holiday card. Place your baubles at different lengths and add the gold strings to create the prettiest handmade card.
Basic Hanging Baubles from Little Button Blue.
37. Simple Circles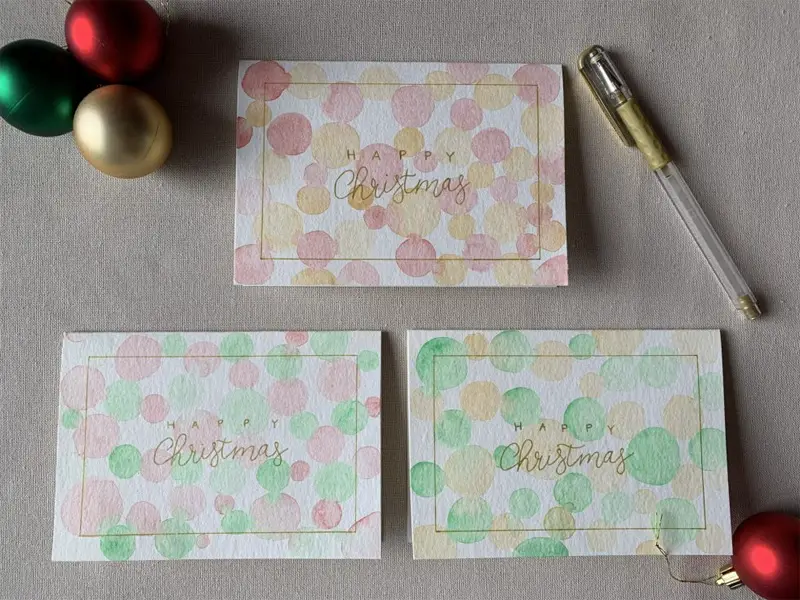 Two watercolors and a gold pen are all you need for this simple and practical design. The barely-overlapping colors create a beautiful bubbles effect, and the gold detail makes it all fancy – a truly sophisticated design.
Simple Circles from Little Button Blue.
Watercolors are just perfect for making holiday cards. So now that you're all inspired, get your watercolors ready and paint some Christmas cards.
Comments
0 comments