Cereal Box PinatasI'm so excited to share this fun mini cereal box pinata craft with you! Not only are they a snap to make, they are perfect for kid birthday parties at home. Each kid gets their very own mini pinata to break open, so there's no massive brawl breaking out to get all the candy.
You can use mini cereal boxes, or any small cardboard box, but make sure the cardboard is thin- you want the kids to be able to actually break through the cardboard with a few good whacks!
Now, you can do so much with these pinatas – from painting to tissue paper and streamers – or even add some cool little paper mache elements. I wouldn't cover the whole thing with paper mache, as that would make it hard for little ones to break through.
Want to know how to make mini cereal box pinatas? Let's go!
Supplies: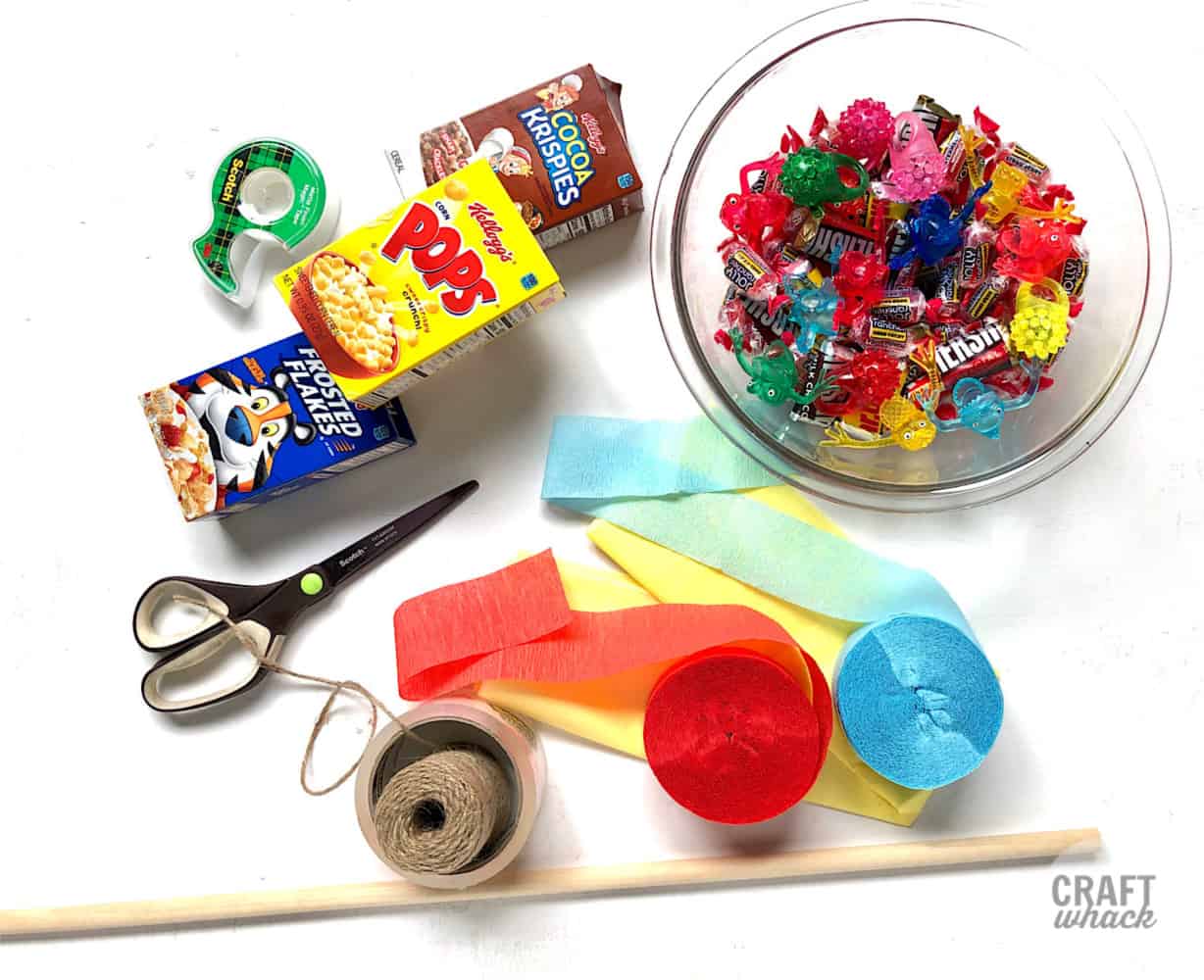 Directions For Mini Pinatas: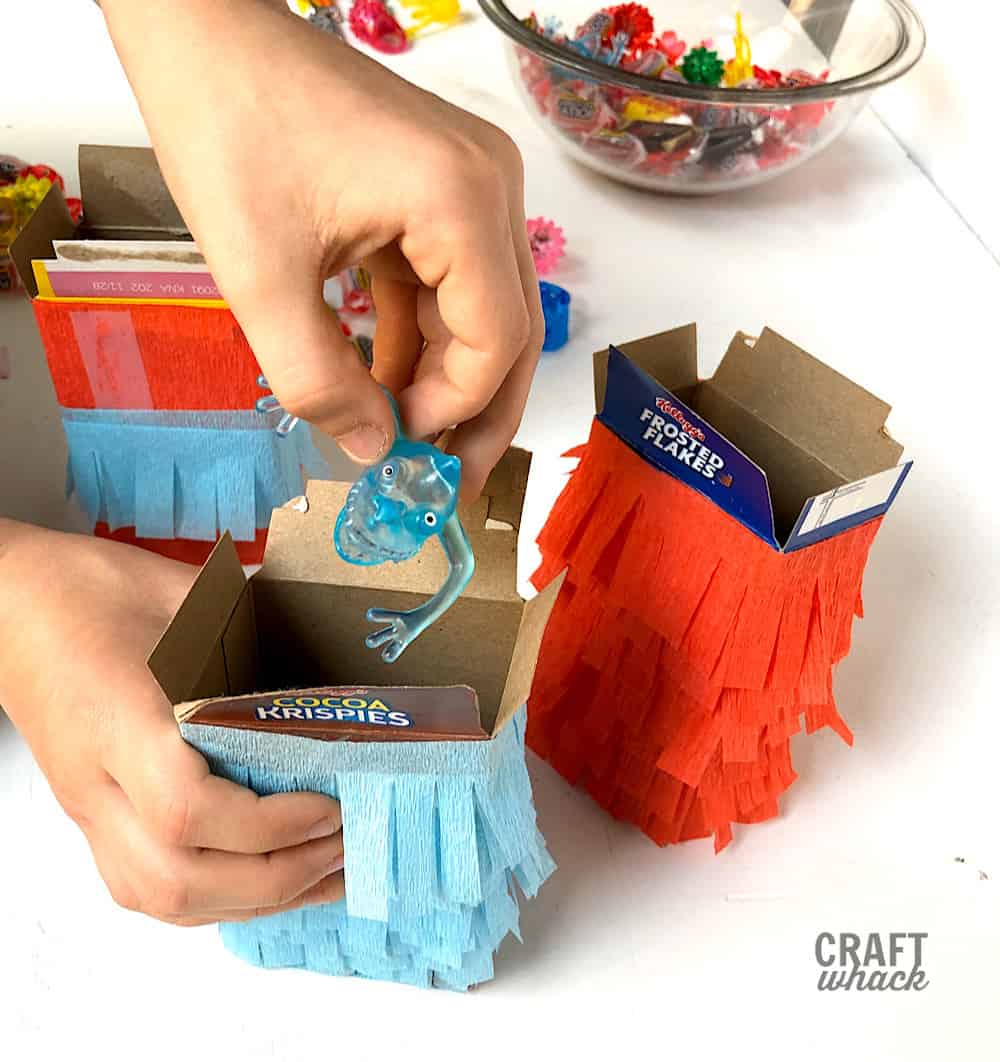 Take the cereal out of the boxes and fill them with all the candy and goodies. Cut fringe halfway through the width of a whole lotta streamers. How much you cut depends on how many pinatas you are making, so just make sure you have a lot cut before you start wrapping it around the boxes.Cover the cereal boxes in streamers, starting from the bottom and winding your way up to the top. Overlap the layers so you don't see the cereal box peeking through. You can add little pieces of tape to secure the streamers to the boxes as you wrap it.Once you've reached the top, tape the end of the streamer or dab a little glue on to secure the end to the box.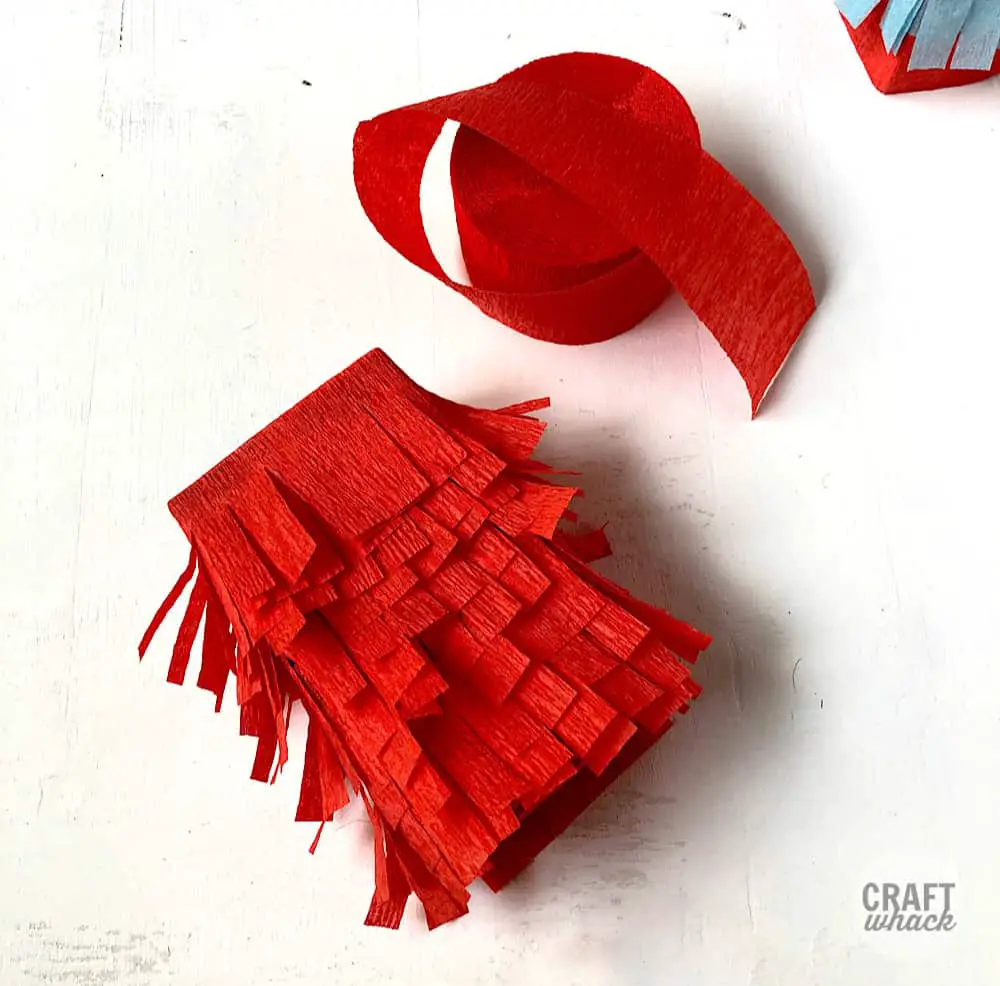 Add tissue paper or streamer decorations! We made tiny pinched tissue flowers. Just cut a small circle of tissue paper, pinch the bottom and glue it on. You can glue these on to cover up any tape or cereal box peeking through.We used a hot glue gun to secure these on, but if you are more patient than us, regular glue will work, too. You just have to let it dry.Poke a hole in either side of the box and string a long piece of twine through the hole. You can tie it at the top wherever you will be hanging it, and adjust it for height.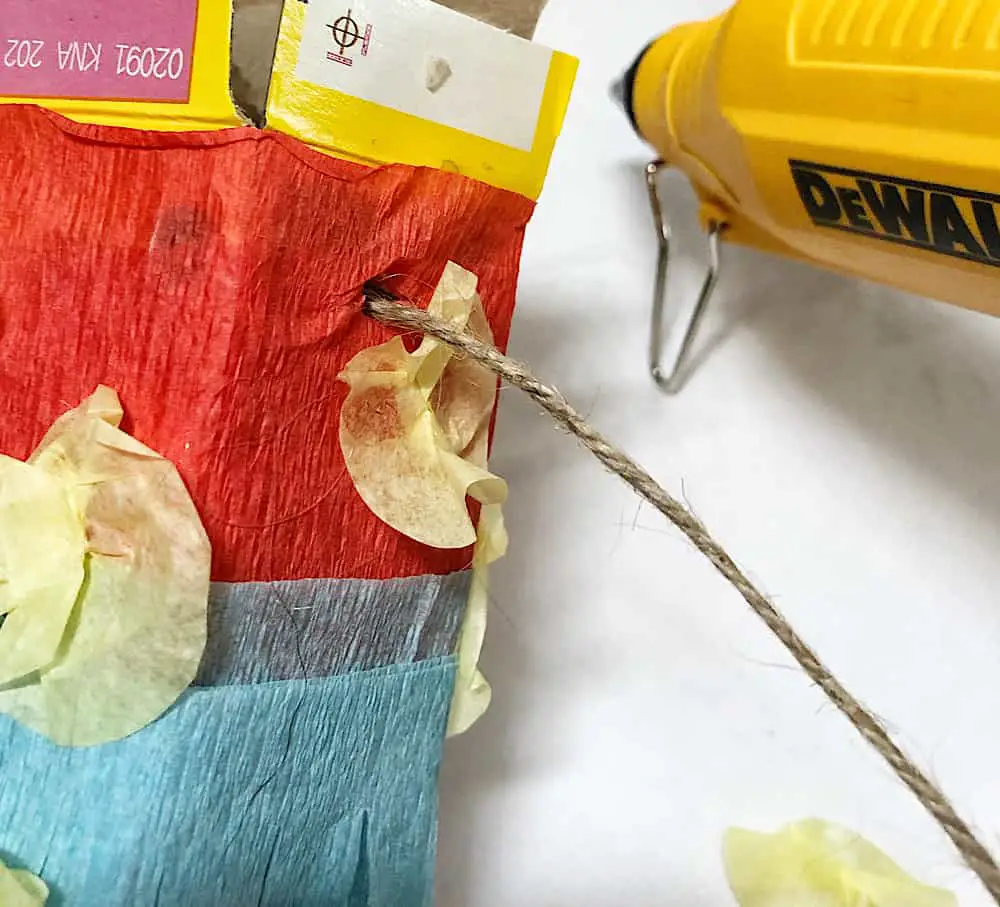 Tape the tops of the boxes back on. Cut 2 pieces of streamer and glue them to the top and bottom of the boxes to cover them.If you will be making a stick for hitting the pinatas, grab a wooden dowel and wind streamers around it, gluing every few winds.Glue some fringed streamer pieces to the end of the dowel rod. Wrap a finishing streamer piece around them to decorate the hitting stick.
We decided against blindfolds for this pinata so there weren't any injuries. 🙂 These are such a fun back yard craft activity for kids.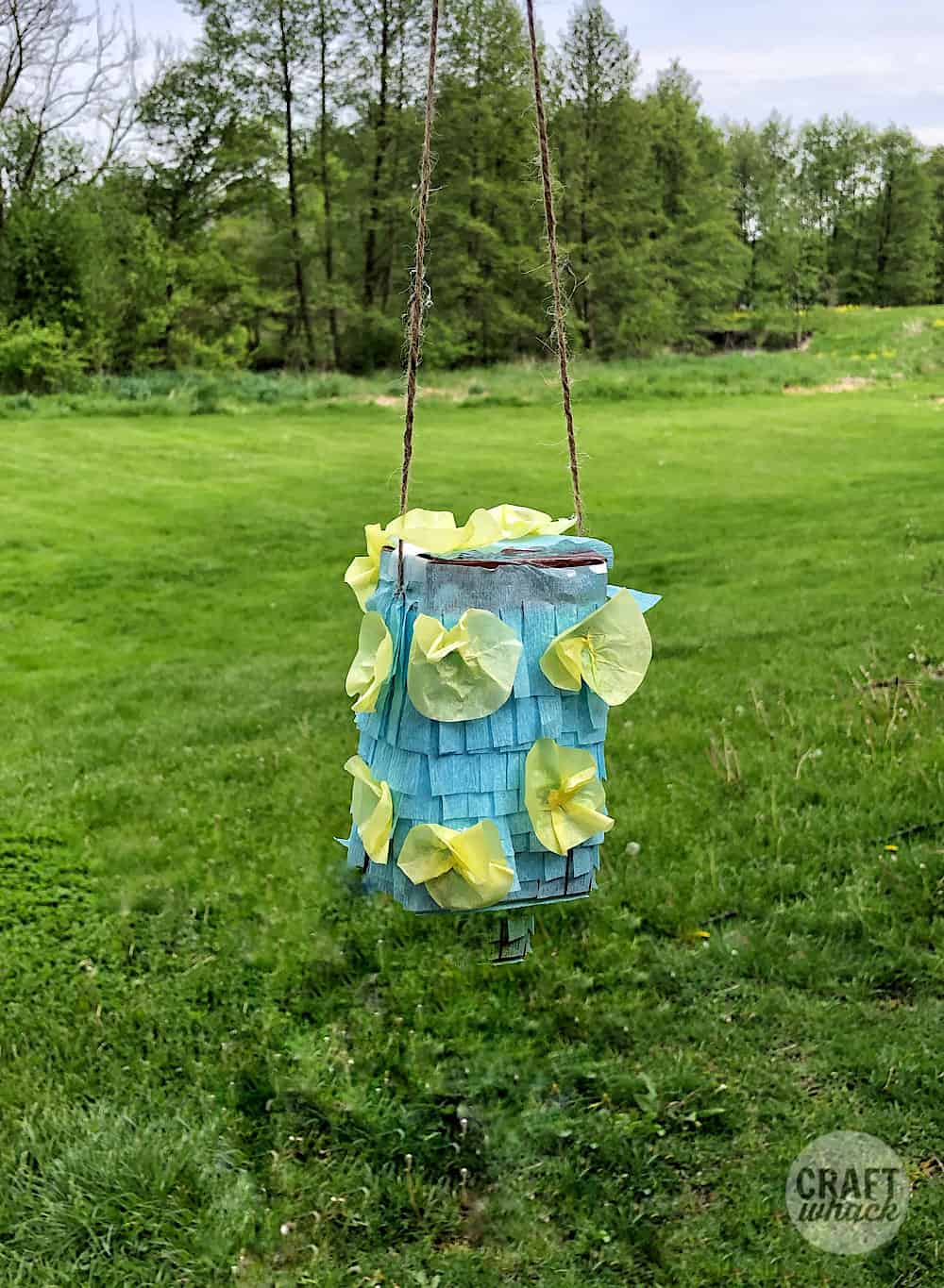 Want to make these cute little cereal box pinatas? Pin it so you remember!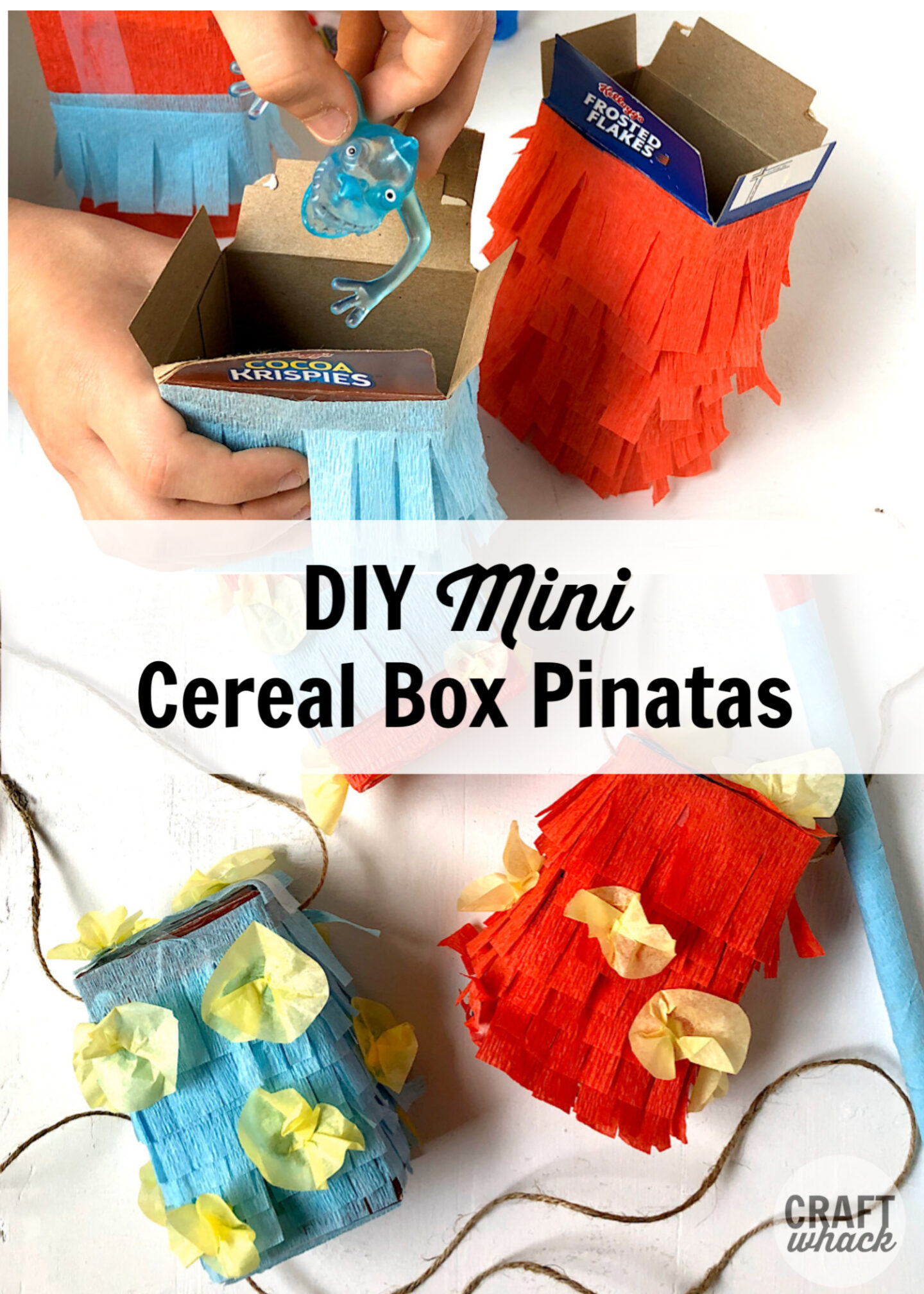 Comments
0 comments